AstrillVPN – Is This VPN Worth Its Price Tag?
|
Back in 2009, Astrill VPN launched its VPN service as a means to enhance users' online security and help them bypass the internet's limitations. Now, in 2020, the Seychelles-based service is more of a mixed bag. It has great features, decent speeds, yet it's very expensive. It took us a while, but we're finally reviewing Astrill VPN. Here's everything you need to know.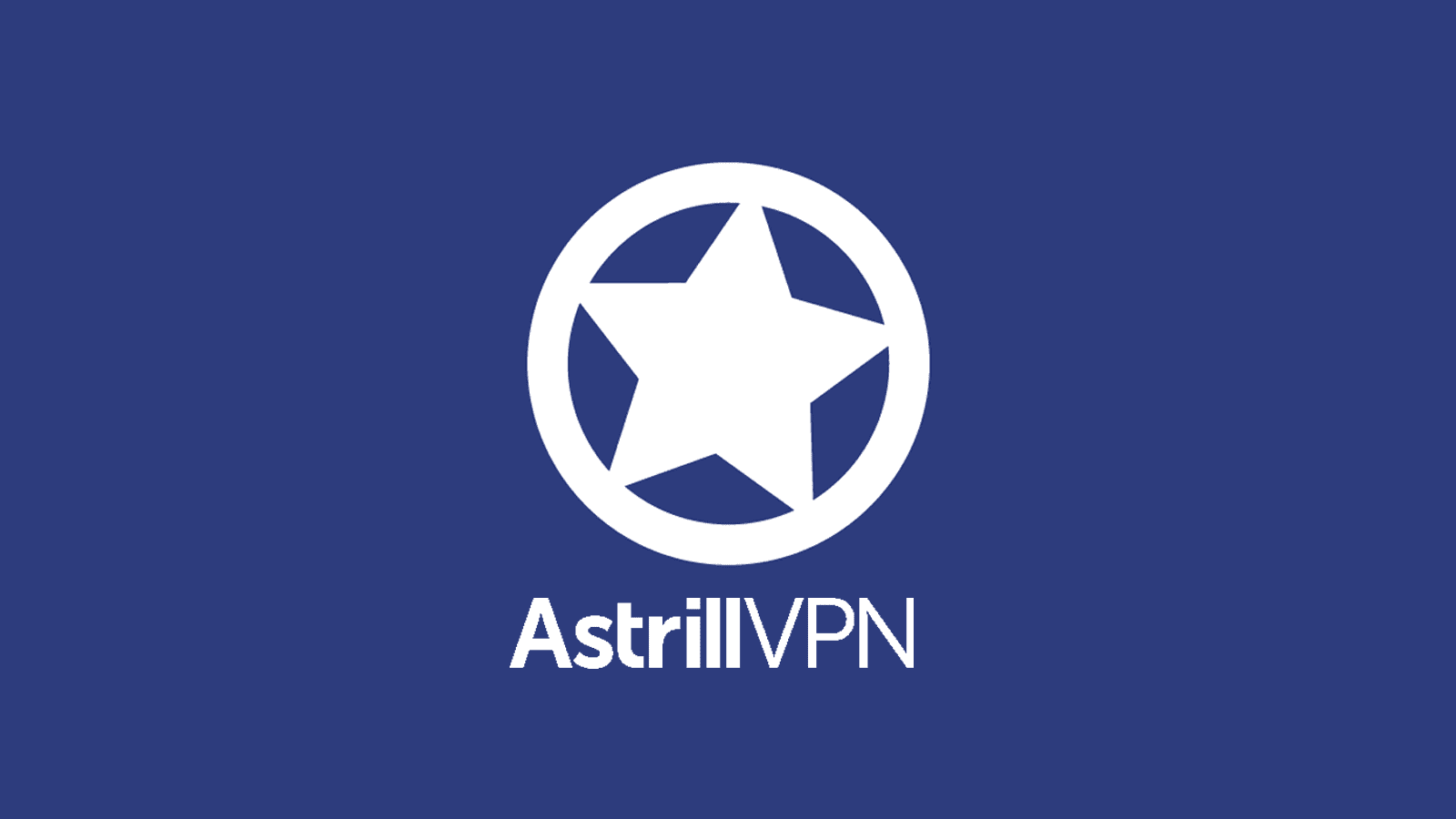 Astrill VPN Review- Content Index
Astrill VPN has gained a lot of popularity throughout the years, which is why we came up with this review in the first place. We wanted to shed some light on what this VPN is capable of. So, according to our strict evaluation process, here's the full Astrill VPN review:
Quick Stats
| | |
| --- | --- |
| Money-back guarantee | No Refund Policy |
| Allowed concurrent connections | 5 devices |
| Supported streaming services | Netflix and Hulu |
| No logs policy | Yes |
| Encryption | 256-AES, RSA-4096 |
| Protocols | IPSec, OpenVPN, PPTP, L2TP, SSTP, WireGuard |
| Special features | Kill Switch, Ad-Blocker, Split-tunneling, VPN Sharing, and Multi-Hop. |
| Customer support | 24/7 live support |
| Server locations | 60+ countries |
| Number of servers | 114 Server locations |
| Server Switches | Unlimited |
| Data traffic | Unlimited |
| Supported devices & web extensions | Windows, Linux, Mac, iOS, macOS, and routers |
| VPN legal jurisdiction | Seychelles |
Astrill VPN – Pros and Cons
Every VPN has advantages and disadvantages, and Astrill VPN is no different. We did like some of the services it offers, but to be honest, there are some cons that should be considered. Take a look below and see what we're talking about:
Pros:
User-friendly interface.
Decent speeds.
Strong encryption
WebRTC and DNS leak protection
5 simultaneous connections
P2P-friendly
Zero activity logs
Excellent add-ons.
Accepts Bitcoin
7-day free trial
24/7 live chat support.
Split-tunneling.
Kill switch.
Unblocks Netflix and Hulu.
Cons:
Very expensive.
No Smart DNS.
BBC iPlayer and Prime Videos are not supported.
No refund policy.
Outdated design.
No free trial in China.
Apps and Interface
Our Astrill VPN client's experience wasn't that good. It did not disappoint in terms of performance, but the app itself wasn't that practical compared to what other VPNs in the industry offer.
If users were experienced in the VPN department, the advanced features it offers would please them. along with the customization settings.
New users, on the other hand, may feel a bit like they were thrown into the deep end. We assessed two of their clients, the Mac app and the Android one.
Although there is no automatic server-selection feature, the main screen allows you to easily connect to your most recent server location by clicking the big button in the middle.
The Mac application felt like the VPN hasn't been around for 11 years or so. It's very simple, and it's small. We weren't able to resize its windows at all.
However, the connection process was very fast. We barely clicked on the connect button, and Astrill established a VPN connection to the United States.



On the top right of the application, we were able to choose from four different security protocols, including OpenVPN, and WireGuard
To be honest, Astrill is one of the few VPNs that use WireGuard as it's still new among providers in the business.
Android
Android VPN applications have always been our favorites. They're simple, easy on the eye, and straightforward. Astrill's app is not different.
The logging process was fast and the connection was even faster. Just like the Mac client, Astrill's Android app established a connection very quickly.
We used a US server, and even though it's a distant server, it connected almost instantly. The app itself isn't bad, it's better than the one Mac uses.
Here's what we got:




Simplicity is always good, especially for users who don't have any background on the software. But too much of it can damage the app.
You can't compete with top VPN providers with such a weak interface. In both apps, OpenWeb is available, which adds a "tunnel browser only" option to the menu.
We were able to switch to all apps, including everything on our device within the VPN connection. The apps also allow VPN connection sharing with other devices, where you set your gateway and DNS to a certain IP provided by Astrill.
Finally, Astrill offers a kill switch in the form of an "App Guard." The negative side of this is that it's not supported on the mobile clients, only desktops.
App Store Reviews
While we review a certain product, we take into consideration what other users have encountered while using it.
We already reviewed the applications, but we have to see what others who have used them experienced while doing so. That's why we went ahead and checked what the official App Stores had to say.
In the iOS App Store, Astrill VPN's client received a 4.2/5 rating, which is considered to be good. That, of course, is based on 441 reviews, which is more than enough to determine how credible the VPN is.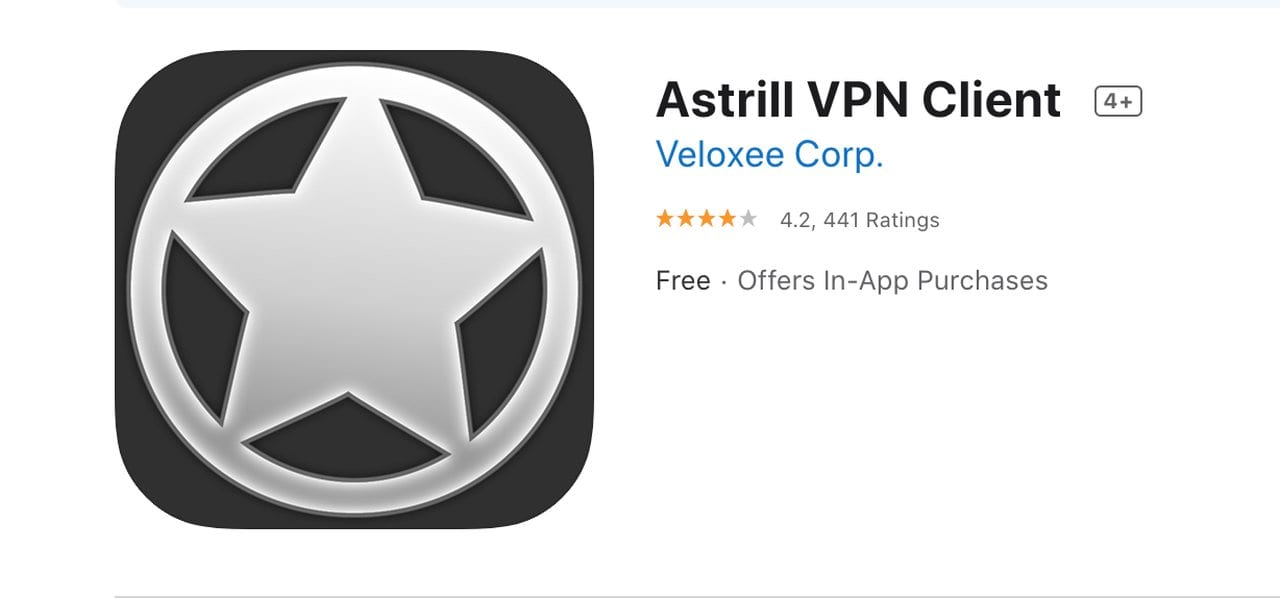 As for it's Android counterpart, the client received a 3.8/5 rating on Google Play Store. The ratings are based on 5000 reviews, which is definitely more reliable than that of iOS.
100,000 downloads is a good number, but it pales in comparison to the top providers that harness millions. Overall, the App Store rating of Astrill VPN is considered to be good.
Trustpilot Reviews
If our readers are not fond of Trustpilot, they should check it out immediately. We rely on this credible website when we're evaluating VPN products.
The reviews there are based on users' experience, and any fake comment that helps spike up the VPN's ranking is instantly removed by the website.
The VPN posting such comments is then de-ranked and penalized on the website, which is what happened to several providers before.
Astrill VPN does not have good ratings on Trustpilot. In fact, as the website states, it's poor, gaining 2.5/5, based on 21 reviews.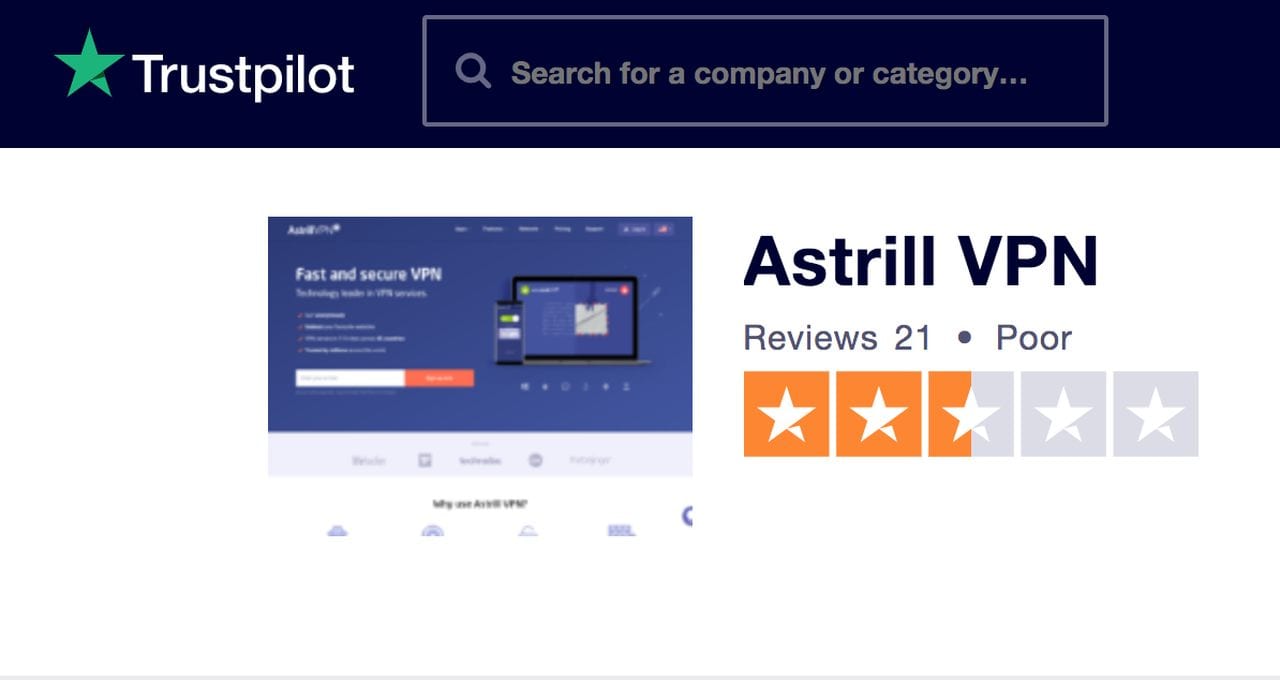 We stumbled upon this review:
"Astrill has been a reliable VPN in China for years. When people had issues with Express and other cheaper options, I almost took pleasure in knowing I have little to no issues with mine.

Unfortunately, it all changed recently and Astrill is not what is used to be: it barely works on my phone (you can find free VPN with equal "quality") and I constanlty keep changing servers on my computer to get a reliable connection.

Astrill is well-aware of the issue and they have taken a completely wrong approach: they deny issues, block public complaints on their facebook page, do not offer any option of money return and basically just keep giving you basic suggestions to refresh, restart, reinstall, change options, etc.

Basically, they make a fool out of you while they are perfectly aware that the service they offer is not good anymore. They have been unresponsive to some of my friends too. On top of it, they are the most expensive VPN by far. Avoid."
The user is urging others to avoid the VPN. Why is that? Is Astrill really that bad? We'll be covering everything in this review.
Server Network
A server network that covers a lot of countries is a very important feature to have in a VPN. That way users will have several options to choose from.
Whether they're looking to unblock geo-restricted content, circumvent restrictions, or maintain speed by connecting to nearby servers, a wide server spread is essential.
From what we've seen, Astill VPN utilizes a decent network with enough server locations to avoid constant overloads and slow speeds.
Their servers are physical, connected to high-quality network nodes and usually on 1Gbit or 10Gbit lines. Users can connect to more than 114 server locations across 61 countries, and all the servers support all of Astrill VPN's security protocols (We'll be talking about that later on in the article).
As for now, the following are the countries that Astrill VPN covers in terms of servers:
United States
Hong Kong
United Kingdom
Japan
Taiwan
Albania
Austria
Bosnia and Herzegovina
Belgium
Bulgaria
Switzerland
Cyprus
Czech Republic
Germany
Denmark
Estonia
Spain
Finland
France
Greece
Croatia
Hungary
Ireland
Italy
Lithuania
Luxembourg
Latvia
Moldova
Macedonia
Netherlands
Norway
Poland
Portugal
Romania
Serbia
Russia
Sweden
Slovenia
Slovakia
Ukraine
Canada
Mexico
Egypt
South Africa
United Arab Emirates
Indonesia
Israel
India
Korea
Malaysia
Pakistan
Singapore
Thailand
Turkey
Vietnam
Australia
New Zealand
Argentina
Brazil
Chile
Panama
Speed Performance
A VPN that doesn't offer good speeds is practically useless. They should have optimized servers for HD streaming in case a user wants to unblock streaming channels abroad.
If that's not the case, they'll suffer from buffering and quality issues along the way. That's why we tested how fast Astrill VPN is before we checked how it fares with streaming channels, and the results were as such:
First, this is our connection without connecting to Astrill VPN.
Next, we used a server in the Netherlands. The connection remained stable and a slight drop was witnessed, yet it did not affect our streaming.
The US server we connected to next showed a huge drop. That's mainly because the server is far away from our actual location.
The most shocking result we got was when we connected to the UK, which is practically a nearby server. The connection dropped drastically – up to 90%.
The speeds aren't that good, especially when it comes to the US and UK. These are key countries where top streaming services are available.
Streaming Capability/Incapability
We'd like to think that VPNs are used to enhance users' security and privacy. However, the reality is that they're often used for entertainment purposes.
In other words, online users operate Virtual Private Networks to spoof their online location and access geo-restricted content from abroad, mostly, streaming channels.
These services apply geo-blocking – a mechanism used to restrict user access to specific locations, mainly for copyright reasons.
Geo-blocking isn't the only problem users face nowadays. In fact, streaming channels are able to detect VPN usage and block them instantly. We're talking about top channels such as Netflix, Hulu, Amazon Prime, and BBC iPlayer.
If a VPN manages to unblock the aforementioned services, it's credible enough to use it for streaming purposes.
We performed a couple of tests on major streaming services to see how Astrill fares when put to the test. Here's what we got:
Netflix
Netflix has one of the toughest VPN blocks in the streaming industry. This is our main issue for now. The channel doesn't apply the same geo-blocks as others do since it's mostly available in every country.
However, what it actually does is assign certain catalogs to specific regions, i.e., to users with a certain IP address.
So far, the US library is the richest among all and it has become the main attraction to online streamers all over the world.
When a VPN does don't optimize its servers enough, Netflix will be able to detect its activities, blocking it in the process. The following error message appears:
"Pardon the interruption. You seem to be using an unblocker or proxy. Please turn off any of these services and try again. Error Code: M7111-5059."
Based on the tests we performed, Astrill does not fall into the blocked VPNs' category. In fact, it was able to unblock the channel using the first US server we connected to.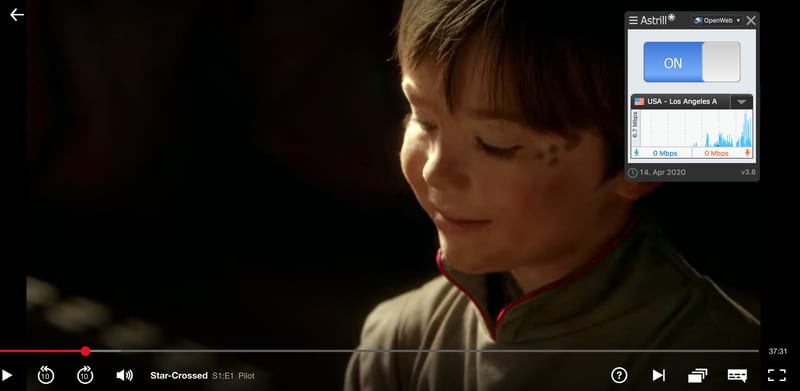 So, it's safe to say that Astrill is more than capable of unblocking one of the toughest channels in the world, Netflix.
Hulu
Hulu is another channel that applies strict VPN blocks. However, what differs here from Netflix is that Hulu only operates within the United States.
It does not assign libraries to other countries – strictly available in the US. If users from abroad try to access the channel, they'll be doing so holding a foreign IP address (Non-US), which will result in an instant block.
"Video not available in this location. The Video is not available to watch in your current location. Please select something else to watch. Error Code: BYA-403-007."

Unfortunately, that's not the only problem streamers will face when it comes to Hulu. Even with a VPN, the service can detect that your traffic is coming from a proxy/unblocker, resulting in the following:
"It looks like you're using an anonymous proxy. You'll need to disable it to watch Hulu. Hulu Error Code: P-EDU101."
When we put Astrill to the test using the same VPN server we used with Netflix, the service did not disappoint. Hulu did not show any of the previous errors. Instead, it started streaming our video (Future Man) almost instantly.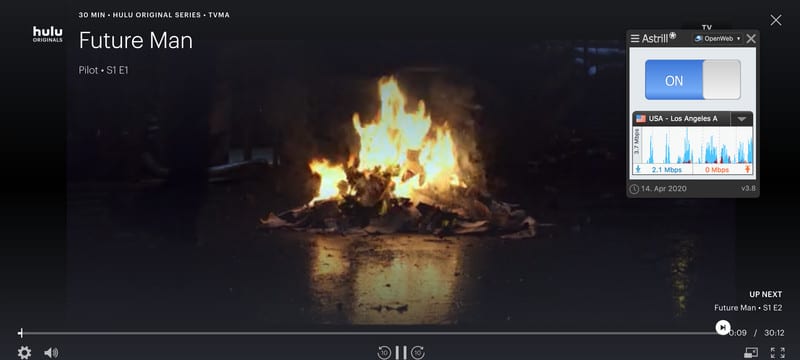 Hulu is yet another streaming service that Astrill was able to unblock without a hitch. Can it keep up with this unblocking roll? Let's find out.
Amazon Prime Video
Just like Netflix, Amazon Prime assigns certain catalogs to every country it's available in. It's also able to determine whether a user is accessing its service with a VPN or not.
Amazon's best catalog is in the United States. Therefore, we remained connected to Astill VPN through the US server we used on Netflix and Hulu.
However, here's where things turned south as Astrill was not able to access Amazon Prime. We tried several other servers and got the same result.
"Your.device is connected to the internet using a VPN. Please disable it and try again."
As seen in the image above, Astrill VPN wasn't able to work around Amazon Prime's VPN blocking mechanism. It's kind of disappointing, but it doesn't stop here. There's one more channel to try.
BBC iPlayer
BBC iPlayer is one of the most popular streaming services in the United Kingdom. It's free and has a lot of content to scroll through.
However, it turned out to be an impossible task for Astrill VPN as it determined where our traffic is coming from and blocked us instantly.
The VPN has 6 servers in the United Kingdom and for some reason, two of them were down and inaccessible.
We tried BBC iPlayer on two platforms, hoping that one of them would work eventually. However, the channel on both Android and Mac did not work:
Android: "This content is not currently available."
macOS: "BBC Player only works in the Uk, it's due to rights issues."
As seen above, Astrill VPN isn't that reliable when it comes to streaming content from abroad. It managed to unblock Netflix and Hulu but failed with two other top streaming services – Amazon Prime and BBC iPlayer.
Smart DNS
Smart DNS proxies are a very good alternative for VPNs as they don't encrypt user data, which allows them to maintain perfect speeds while unblocking restricted content.
The lack of security and privacy is the only con. However, those who only wish to stream blocked content wouldn't have to worry about that.
Most top VPNs offer this feature, despite being well optimized for fast connections. However, as it turned out, Astrill VPN lacks this feature. Here's what their support representative had to say: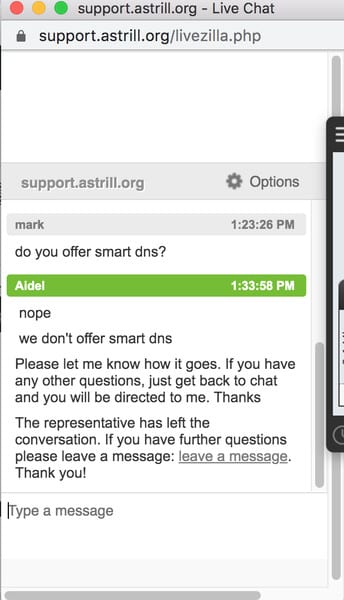 Smart DNS is an added plus, especially when it lacks the ability to unblock some streaming services. Astrill VPN didn't access a couple of channels, and Smart DNS would've solved the problem, but they don't offer it.
P2P Support
Torrenting can be a tricky practice, especially if you're not well protected. Some VPNs do not support torrenting, which makes them useless to those who practice this hobby often.
As for Astrill VPN, it does allow P2P actions, but there's a catch. Users cannot use torrenting apps unless they're operating in OpenVPN or Stealth Mode.
We tried this on the app. In fact, none of the P2P-friendly servers showed up when we were using other modes. Once we chose StealthVPN, a star popped up next to several servers.
Apparently, these are the ones marked that support BitTorrent-based apps. Here's what it looks like: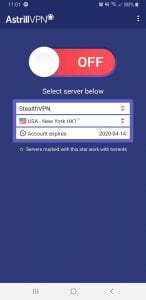 Aside from that, users can use manual port forwarding by enabling it from the Astrill App and using the assigned port in the P2P client.
When it comes to automatic port forwarding, we used port range 40000-49999 and enabled NAT-PMP or UPnP in our P2P client. 
Astrill VPN – Privacy
Astrill VPN launched back in 2009 and is registered in the Seychelles – an archipelago consisting of 115 islands in the Indian Ocean.
The service's location is perfect in terms of privacy as it's one of the most private places to host a VPN in. First, it's far away from the reach of the Five Eyes Alliance.
Second, the government in the region has no single law that addresses data collection and use of personal information.
Their privacy policy clearly states that they collect no logs of users' browsing activities. However, any customer's active sessions are tracked then removed when disconnected. This includes users' IP address, device type, and more.
On the Android app, there's a section where we were able to see our logs. When we opened the settings section, there's an option called "View Logs." It shows everything about our sessions and the device we're operating.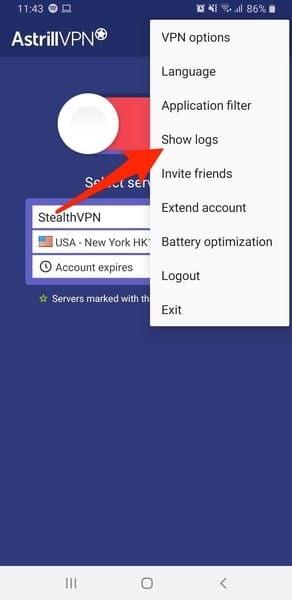 That was a bit alarming, but when we disconnected, we noticed that all of our sessions had been discarded.
So, we can say here that despite their "no-log" claim, some information is indeed being recorded, even if it didn't tie back to us.
Moreover, users' personal information is not kept, but Astrill does monitor it. Overall, identifiable data is tracked by the service, but is not kept in their records, which justifies Astrill's no-logs claim.
The Privacy Features
Aside from their headquarters and no-logging policy, Astrill VPN offers a couple of features for users to maintain their privacy. Here's what they provide:
Kill Switch/App Guard: A technology used to terminate internet access if a sudden drop in the VPN connection occurs. This happened a couple of times when we minimized the application on our Android, which brings us to how important a kill switch is with Astrill VPN.
Split-Tunneling: Astrill VPN allows users to choose the application they want to encrypt with their service.
Ad-Blocker: An important feature that blocks intrusive ads and tracking websites when enabled.
Privacy-wise, Astrill lives up to its reputation. It offers quite useful features for privacy-minded users.
Astrill VPN Review – Security
When it came to security, we were very pleased with what Astrill VPN had to offer. The service is based on TCP and encrypted using 256-bit AES, making it next to impossible to be detected by deep packet inspection.
Also, Astrill has a long list of VPN protocols, two of them are Astrill exclusive. The provider uses the likes of OpenVPN, PPTP, SSTP, L2TP/IPSec, IKEv2/IPSec.
However, it also has Cisco IPSec, which is a modification of IKEv1/IPSec created by Cisco and Microsoft. The problem is that none other than Windows doesn't support this protocol. Ironic, right?
Finally, Astrill is one of the few VPN providers that have WireGuard, the new ultra-fast protocol. It's still in its early stages, but it's good to see that Astrill is working more on security.
Having such security measures is a great way to show how credible a VPN is. However, there are a couple more steps we take to solidify that fact. We're talking about several tests. Take a look below:
Virus Scan
A virus test is very crucial whenever users install a new application on their device. We're not just referring to VPN clients – any app installed should be run through such a test.
A clean VPN client is what we look for, which is why we ran Astrill VPN through a unique and credible VPN scan while we were evaluating it.
The results were great, scoring green colors based on 59 credible sources.

The app is completely clean and no sign of virus infection was detected. That's a great pro for Astrill VPN.
DNS Leak Test
If a VPN is not used, all the browsing activities conducted will run through the ISP's server, making them completely visible and trackable.
However, some VPN Apps would not route the DNS requests through their own DNS servers and would expose the hostnames of domains/services users are operating through their ISP's servers.
This is what we call a DNS leak, which in turn, exposes everything and compromises users' privacy.
That's why it's very important to run a VPN service through a DNS leak test to see how credible it is in that department.
We used a reputable source to check if Astrill VPN was leaking our data. As for IP leaks, nothing was recorded when we connected to a US server.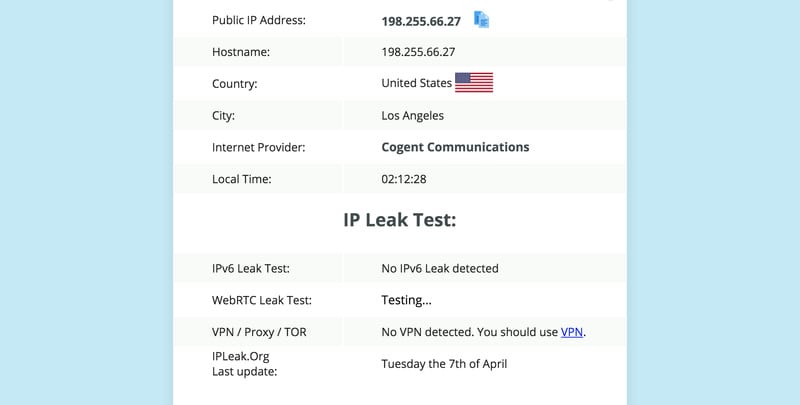 As for any DNS Leak, the test showed also great results when connected to the same server used above.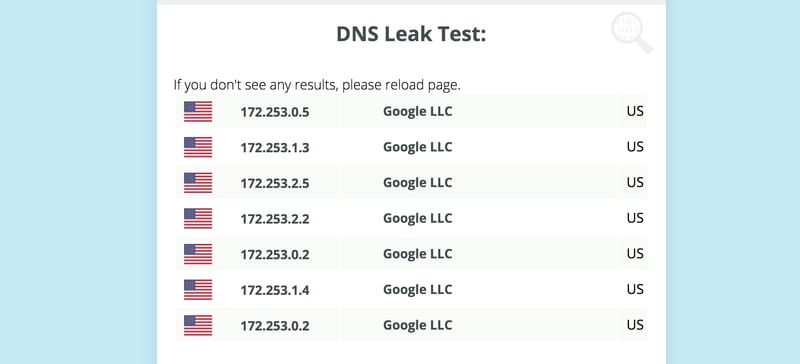 Basically, the service maintains a high level of privacy and its DNS leak protection is more than legit. Well done Astrill VPN.
Third-Party Auditing
Independent audits are used to assess the efficiency of a VPN's service. Some VPN providers allow third parties to test their clients in hopes of showing how transparent they are.
However, some of them don't, including Astrill VPN. No audits have been done on the service, but from what we've seen, the provider is completely transparent.
They also include a section of what the collect when users connect to their service. Here's what their privacy policy states:
"Our system keeps track of active sessions – connection time, IP address, device type and Astrill VPN application version during the duration of your VPN session. Once you disconnect from VPN this information is removed permanently from our system. This information is solely used to limit the number of devices connecting from single account simultaneously. You can check all active sessions from member zone and you can erase them at any time."
If a provider is this transparent when it comes to what they collect, no audits are needed. But it's also a good idea to let experts assess the service you're offering in the end.
WireGuard Support
As we mentioned, Astrill VPN is one of the few providers that support the next-generation, open-source secure tunneling protocol WireGuard.
The so-called "Future of VPNS" is a layer 3 network tunnel that promises ultimate security and blazing-fast speeds. It is said to be faster than the popular OpenVPN, but it's still in development.
Most VPNs haven't adopted the protocol yet, so it's an added plus to see that Astrill has. It's a good step towards better online security.
Warrant Canaries
VPNs are always under a keen eye when it comes to the government's monitoring habits. From time to time, depending on the situation, law enforcement might issue a subpoena, forcing VPNs to hand over user data.
It's illegal for the VPN to inform their customers of such a gag order, which brings us to Warrant Canaries. They're an indirect way for a provider to notify their users in case such orders are received.
Astrill VPN does not have a Warrant Canary, but it's fully transparent about data sharing. According to their privacy policy:
"Astrill.com does not sell, rent, or trade your personal information with anybody. Your information is protected and stays with us."
And based on their strict no-logging policy, nothing would be found in case the government stepped in. However, let's not forget that Seychelles has no laws that address data collection or the use of information.
Astrill VPN – Customer Support
Atrill VPN's support was a very good experience, despite taking some time to answer one of our questions.
In fact, the service works well on its support department as they don't direct you through FAQs and knowledgebase guides.
You can directly access their live-chat option on the bottom right of the screen and an agent helps you out within minutes.
Some VPNs just claim to have live-chat, where they don't mention when it is available. Some of them don't work on weekends, or have certain hours a day.
Well, Astrill VPN isn't among them as their live-chat support is available 24/7, at least, according to what their agent stated.



We also asked about how many concurrent connections they allowed per account, and the answer was Five.
In general, support wasn't bad at all. When we asked about Smart DNS before, it took them around 10 minutes to answer. However, they were quick the next time we reached out.
Astrill VPN – Pricing
This part is very important since, without a doubt, it's the first thing users check before they opt for a service.
Users on a budget need a VPN that offers low subscription rates. If that's the case, then Astrill VPN isn't what they're looking for.
By far, this is the most expensive VPN we came across. We used to say that ExpressVPN is one of the most expensive ones until this one came around.
At least, ExpressVPN offers more options, which justifies why it has such high subscription rates. But to reach $20/month, that's a bit too much.
Here are the subscription plans offered by Astrill VPN:
1 Month: $20
1 Year: $120/yearly, $10/month
6 Months: $90/6 months, $15/month
It's a known fact that whenever a subscription is longer, the price becomes cheaper. That's common between all VPNs. However, with Astrill VPN, the yearly subscription is still very expensive compared to the other competitors on the market.
Moreover, to add to the already-expensive subscription, Astrill VPN allows extra add-ons. Users can add private IP addresses for $5 each per month and a VIP addition for $10 per 100GB per month that allows you to use a multi-hop connection.

Moreover, the provider also offers a router with Astrill preinstalled on it for $50, excluding shipping, which costs also $50.
With such a monthly subscription, Astrill VPN should provide all of the above (excluding the router) at no additional cost. The pricing department is a complete "FAIL."
Its streaming capabilities are ok, but is it worth the $20? Of course not. We've reviewed providers such as BulletVPN before. To be honest, the service has more to give than Astrill and it's 4 times cheaper, costing $5/month.
Payment Options
Aside from subscription plans, a credible VPN should offer a wide variety of payment options. As seen in the image below, Astrill VPN delivers in this territory, allowing payment through Visa, Paypal, and most importantly, cryptocurrency.

Bitcoin is the perfect way for users to pay their fees anonymously, which is one of the main jobs for a VPN to maintain. That's an advantage for Astrill VPN.
Refund Policy and Free Trial
This part gave us mixed feelings about the service. While other VPN providers offer a refund policy for every subscription, this one doesn't.
The likes of ExpressVPN, NordVPN, and BulletVPN allow users to try their service out for 30 days. If they don't like it, they can ask for a full refund.
Now, for a VPN that bills users for $20/month, this option should be available, no questions asked, yet it's not. We asked their support team and they did confirm that no refund policy is available.
And according to their website:
"If our product is not working on your computer because VPN service is blocked by your ISP, we are not responsible, no refunds will be provided in such case."
To make it up for the lack of refund policies, Astrill VPN offers a 7-day free trial. No credit card information is needed. However, when we applied for one, we were asked to submit our phone number as well, which we weren't very fond of.
Also, the free trial isn't available for users who reside in China. We don't know the reason, but that's what their support agent told us.
No refund policy and a free trial that requires a phone number aren't endurance policies users look for. We hope Astrill VPN fixes that in the near future.
Astrill VPN Review – Final Words
Overall, the service is not bad, yet it has a lot of flaws. The interface is quite annoying due to its size, the servers are fast-ish, and it's expensive.
Switching servers was ultra-quick, yet it did not unblock Amazon Prime Video and BBC iPlayer. Astrill offers security features without sacrificing speed and performance, which is very good.
However, it's that very high price that bothered us in this review, along with other minor details. There are plenty of better VPN alternatives for half the price out there. Check the review well and see whether Astrill VPN fits your needs or not. Let us know about your experience in the comments below.
Astrill VPN Review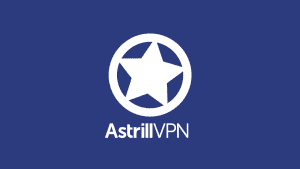 Name: Astrill VPN
Description: Launched in 2009, Astrill offers a wide variety of privacy features as well as decent speeds across multiple servers.
Price: 20
Currency: $
Operating System: Windows, OS X, Android, iOS
Application Category: Multimedia
Free Trial

Speed

Support

VPN Apps

Unblocking Capabilities

Pricing
Comments Rating
( reviews)