Avast has been around for quite some time now. As the Anti-Virus we all know, the software provided top browser security, antivirus software, computer security, firewall, anti-spam, anti-phishing, and antispyware, among other services. As credible as it is, Avast harnessed more than 435 million users who seek ultimate online security. However, deep down, the software seems to have some malicious intentions towards your privacy.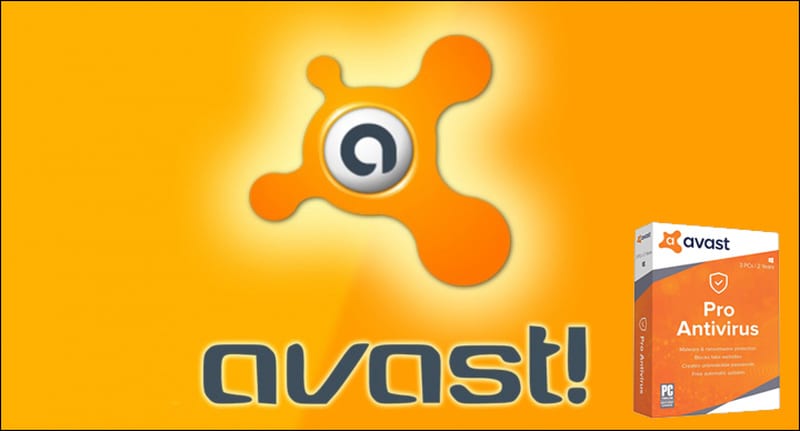 When you put your trust in Anti-Virus software, it comes as devastating news to learn that it may be doing the thing it is supposed to be protecting you from. Avast protects you from incoming threats.
However, as reports state, the software turned out to be interested in your outgoing browsing activities. It may be collecting your data and then selling it to third parties. So the question is: How safe is Avast Anti-Virus? What do we know about the scandal? Find out in the article below.
Avast – An Anti-Privacy Software?
I always say this in my articles, and this one is no different. Avast offers its services for free, but are they really? No matter how popular a certain product is, if it's free, there's always a catch.
Actually, we don't call it a product anymore. Why? Because you become the main product in this equation. As it has been reported, Avast collects your browsing data and sells it to third parties.
What's worse is that the amount of data collected exceeds what we consider to be necessary or appropriate, even for security extensions.
Collecting that amount of data to serve us better? I'm sorry, but this isn't justifiable at all. Even if you don't have the Extension installed on your browser, there are still users who operate on Avast Secure Browser.
Well, bad news guys, Avast Online Security is there by default. You won't find it that easy as it's hidden from the extension listing and cannot be uninstalled by regular means.
What Kind of Data is Avast Collecting
The information Avast gathers is quite alarming. If you have the extension installed on your browser, the company will be able to harvest all the following data:
The URLs your visiting/navigated from
Whether you visited the page in the past
The version of the browser you're using
Your country code
The Operating System of your device (if Avast Antivirus is installed)
Avast knows that Californians are obsessed with Selfie Sticks from Amazon.com, as well as that people in Maine buy lots of coconut oil. But how? All this data is analyzed by Jumpshot, a company that's 65%-owned by Avast.
They use the data they collect from scanning the 150 billion URLs their users visit each month. Jumpshot lists "clickstream data from 100 million global online shoppers and 20 million global app users" as its product. I'll leave you to take a guess at where your data is heading.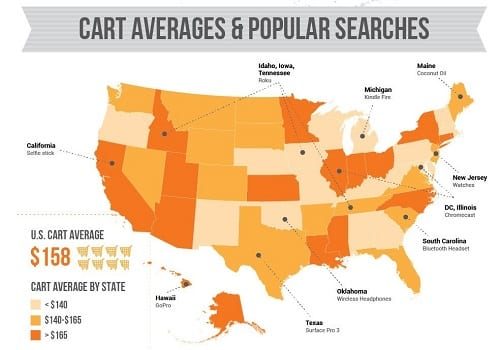 That's a detailed map showing Amazon.com shopping cart values by state. If that much information is collected, how safe is your privacy?
You Need Proof – We Got It
When you visit a webpage while the Avast extension is present on your browser, you can do a few things to find out how the software is tracking your every move.
On your browser, use the mouse's "right-click" and head over to Inspect. Next, you will see a request to https://uib.ff.avast.com/v5/urlinfo whenever a new page loads in a tab.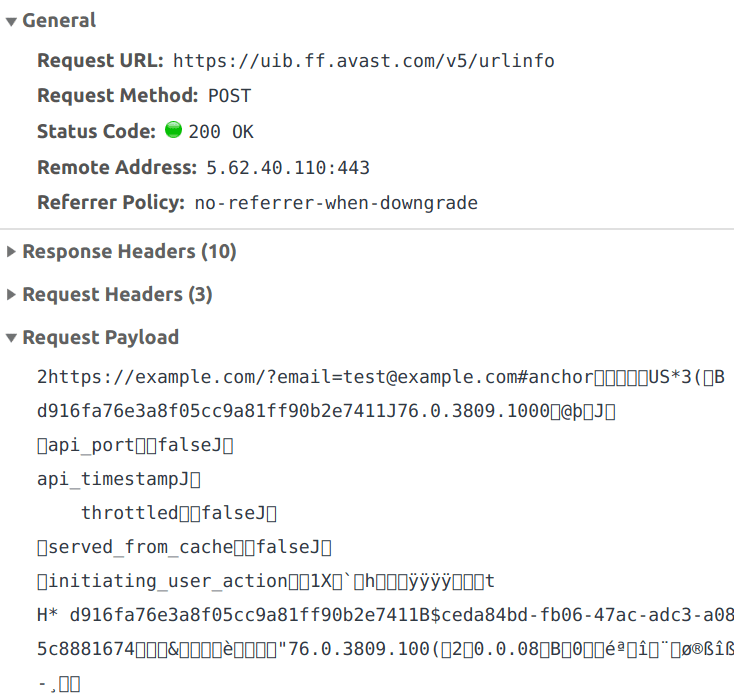 While the extension is on, it sends some data to itself so that it can determine whether the page is malicious or not. It's pretty obvious as you can see the full address of the page in the binary data. That includes the query part and anchor. 
If you think that's all, well, think again. You don't even have to navigate to a page. Avast also sends the request whenever you switch tabs. So, basically, there's no way around it.
A Browser Yanked the Anti-Virus
Mozilla Firefox took the first step and blocked Avast and AVG products on its official Add-ons website. The scenarios are that Mozilla will add the extensions to the blocklist it maintains or will request that Avast makes changes to the extensions. Otherwise, Mozilla may never reinstate the extensions.
For the time being, if you try to search for Avast on the Add-ons' website, you'll notice that nothing comes out of it. All you'll be getting is an error message stating:
"Oops! We can't find that page."
As far as I know, Mozilla did not blacklist the extensions. However, they are on a blocklist. We don't know whether Mozilla will get the extensions back, but unless Avast does something about the privacy concern, I don't see its product coming back anytime soon.
But according to Avast, the company is working on meeting the requirements. You can see this in a statement they released a while ago:
"We have already implemented some of Mozilla's new requirements and will release further updated versions that are fully compliant and transparent per the new requirements. These will be available as usual in the Mozilla store in the near future."
They're Transparent After All
In their privacy policy, Avast states that they do collect information about their users. The following is some of the data Avast harvests if you use their product:
Billing Data includes your name, email address, credit card number, and in certain circumstances, your billing address and your phone number. In most circumstances, our products and services are purchased from a trusted third-party service provider, reseller, or app store. In those circumstances, your Billing Data is processed by the relevant third-party, and we only receive a subset of this data to keep proper business records.
Account Data includes your name, address, email address, phone number, photo, date of birth, gender, and interests, and this data is used to register an account with Avast.
Product Data includes two sub-categories:

Device Data includes information about the operating system; hardware; city/country of the device; error logs; browser; network; applications running on the device, including the Avast products; and
Service Data includes information about Avast product usage and events.
The Avast App Warns You
Avast COO Ondřej Vlček explains:
"We are aware that some users don't want any data – no matter how generic and depersonalized it is – to be used in market analysis. This is why we clearly state during the installation of our products what information we collect and what we do with it, and offer our users the ability to opt-out from having that data collected."
Technically, what Vlček is saying is true. When you install the Avast Anti-Virus, the software warns you that some of your data will be collected. Here's what you'll get the moment you launch the installation file: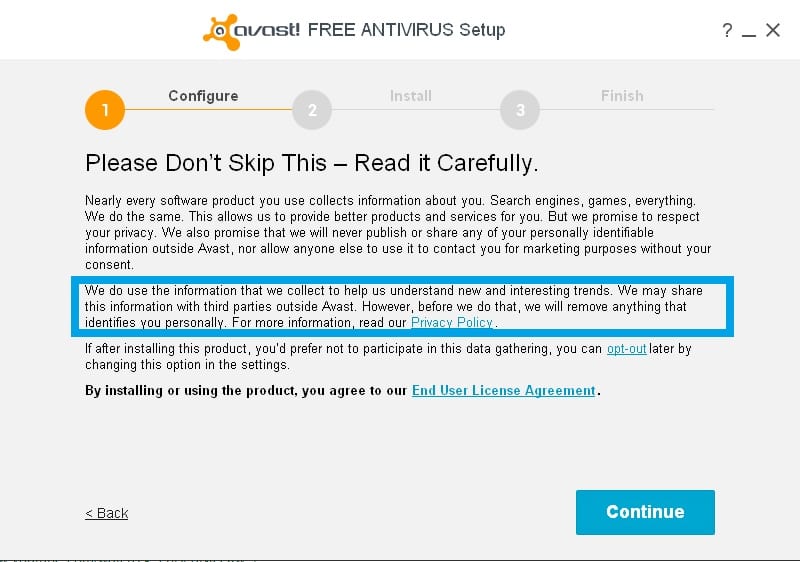 Alright, so what if you declined? Will Avast stop working? Does the software discard your data and never use it and sell it to third-parties? Well, no. Avast will collect your data either way.
However, the only difference is that if you accept, Avast retains and aggregates data reported by the browser extension, while if you decline, it discards the data after use. So either way, the software is going to use your data, whether you like it or not.
Important Note
"Avast itself does not deny that it collects data, but the company's executive director claims that there are no privacy violations, as Avast sells anonymized information, devoid of anything related to personal data of users."
Avast reserves the right to use your data however they wish to, including giving it to unnamed third parties for "trend analytics." That's where the note above comes in. If Avast anonymizes your data, I guess that protects your privacy, doesn't it?
Can You Turn It Off?
Quick answer, yes you can turn the feature off. First, let me show you what you can do about this on their application, then we'll head over to the extension.
First, launch the Avast Anti-Virus app and navigate to Settings.
In the Settings Window, go to General followed by Privacy.
Now, at the end of the page, you'll find everything that's related to data collection.
Finally, untick everything so that Avast doesn't harvest your data and store them.
You now know how to deactivate data collection while using the Avast application. Next, I'll show you have to turn it off if you're operating with an extension. By the way, it's pretty simple and only requires a few clicks here and there. Check it out:
On your browser, which is most probably Chrome, click on the Avast icon on the top right of your screen.
Tap on the Gear Icon to navigate to the Settings Section.
Scroll down, and you'll find "Allow Usage Data to be shared with Third Parties for Analytics."
Now, disable the feature, and you'll be all good.
Anonymous web browsing is something everyone should have. Just because you're provided with the latest security technology, doesn't give Avast the right to harvest your data.
The deactivation process is very easy to follow as you can see above. However, there's a more effective way to secure your privacy from Avast's data collection – Just uninstall the software, to begin with.
Is Avast Safe to use? – Final Thoughts
As I mentioned, Avast is an outstanding Anti-Virus that a lot of people use to protect their devices from incoming threats. However, privacy also comes first when it comes to browsing the internet and collecting user data is something such software should avoid if it's not necessary.
The company mentioned that it anonymizes your traffic so that it doesn't come back to identify you. What do you think? Is it true? Is one of the most successful and effective Anti-viruses a privacy threat? Share your thoughts in the comments below.