Based in India, Jio is one of the most relied upon communication services in the country. The company offers diversified services in the communication sector, and this makes it possible for the Indian people to reach their loved ones through all forms of mobile communication. With all these services provided, Jio still imposes restrictions that prevent a lot of their users from doing a wide range of things. One such thing is being unable to download your preferred apps on Jio 4G. To work around such restrictions, all you need to do is to get a credible VPN. Getting a reliable VPN means looking for a service that will make it possible to hide where exactly it is that you happen to be browsing from, so that the service then becomes unable to track your location down, and impose restrictions on your use.
Jio and VPN?
A credible VPN is able to hide your location by changing the actual IP address that you're used to, into the one that reflects the location of the server. This way, no website or online service will be able to trace exactly where you happen to be from. The VPN service allows you to mask your IP address with that of the server you've connected to, making it seem as though you're also found in the location of the remote server you've connected to.
Using a VPN not only allows you to change your location; you're also able to encrypt your traffic. Doing so helps make sure that nobody will be able to hack your connection and figure what you're up to. The service allows you to keep your online activities secure even from your ISP, so you'll be able to avoid any form of throttling that they could apply especially if they figure out you tend to use a lot of bandwidth to stream HD videos. With the many cyber threats that exist online, you might want to protect yourself by encrypting your connection. This way, you gain protection from hackers, spammers and anyone else that could possibly do any damage to your device.
It's important to choose a provider that you're sure has all the important features covered. You want to deal with a service that promises all-around protection, and also offers a good number of features that you won't find being offered by other competitors. In case you're just getting started with VPN, you might need a provider whose customer service is reliable, and is available to consult with whenever you come across an issue you can't solve by yourself.
Getting a VPN will also allow you to unblock and JioTV abroad. If you're a fan of Bollywood movies, TV shows, and cricket, but spent a lot of time outside India, connecting to an Indian VPN server will help you bridge the gap between you and your favorite content online.
Best VPN for Jio in 2021
Finding a credible provider that fits the bill can be quite difficult, as there are about 800 of them within the market. Sifting through all these to find out which one to subscribe to is something we're sure you won't be able to do, so we went ahead and did most of the groundwork for you. We've put together a list of VPN services that we're sure to have both the resources and the expertise to provide the kind of service you'll be happy to pay for.
We've also tried to see that most of these providers are based overseas, and this is because such providers aren't likely to keep any records of your browsing activity. You want to subscribe to a provider that isn't affected by any data restriction or regulation policies, and most of these are found outside the US. With that said, here's who we think you ought to sign up with:
1. ExpressVPN
If you've done even a bit of research on the best VPN service to sign up with, chances are high that you've likely come across ExpressVPN. This stellar service has a couple of VPN awards to its name, and this very fact solidifies its place as the number one spot on our list.
Based in the British Virgin Islands, the service is miles away from being influenced by any form of data restriction policy. Your browsing history doesn't get saved by the service thanks to its zero-logs policy, and security is top-notch courtesy of 256-bit AES encryption. The service has about 1500 servers well distributed across the world, with a special section of those called Stealth Servers that keep you safe and secured even in countries where the government is not as accommodating of online privacy.
The service also has one of the easiest VPN apps to use, and this is great especially if you're just getting started with VPN. Users have the option of including up to 5 simultaneous connections, so subscribers will have the chance to protect both their computer & mobile devices. The money-back guarantee goes for about 30 days, and this gives most people enough time to find out whatever they need to know from the service.
2. BulletVPN
BulletVPN has for a long time been known as the preferred provider for most people who are looking to do a lot of online gaming. The service also has a major advantage over most other providers and it is the speed.
Their server network stands at an impressive 150+, and they're found in more than 55 locations across the world. BulletVPN is also widely known for its security features such as the kill switch and Bullet Shield.
The service assures that there are no browsing restrictions that users can't get through, and with unlimited server switching, you don't have any limits to the number of servers you can switch back and forth from.
Also, the service has a really easy-to-use app, that allows users to do a one-click connection to their chosen servers. The service is headquartered in Estonia, which is far away from any data restriction and regulation policies that may cause you to worry. Try out their 30-day money-back offer and see exactly what the service can offer you.
3. NordVPN
At more than 4000 servers evenly distributed worldwide, NordVPN is anything but a mediocre provider. Its large network of servers ensures that users are easily able to log on to almost any geo-restricted site and online service undetected, regardless of wherever you may be from. The unique features offered by the service are second to none.
Its wide range of servers allows it to offer features such as DoubleVPN, where users use two servers instead of one to transmit their data, as well as CyberSec, which prevents ads and malware. The number of simultaneous connections allowed by the provider is among the highest in the industry at 6, and they also offer the option to optimize performance by connecting to servers that are suited for whatever you're up to online.
Based in Panama, this service ensures that you stay secured thanks to their 256-bit AES encryption, and users also get to choose from VPN protocols such as OpenVPN, PPTP, IPSec, and L2TP. Subscribers also get to benefit from DNS leak protection, as well as an automatic kill switch. Customer care is also top-notch since users are able to consult with the customer care team 24/7. To sample this service, you can sign up with NordVPN safe in the knowledge that they have their 30-day money-back guarantee on offer.
Summary of The Best VPN for Jio
As you might have noticed, all the three providers we've listed above have some duration within which users can test out the service. This is important because it allows users to sample the service before they actually subscribe, and it allows them to see what they stand to benefit once they start paying up. That does it for our Best Jio VPN review, and hopefully, we've been able to point you in the right direction regarding which credible service to subscribe to.
ExpressVPN Review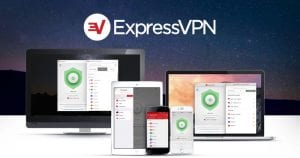 Name: ExpressVPN
Description: ExpressVPN is a VPN service that allows you to browse the web anonymously and unblock geo-restricted sites.
Price: 12.95
Currency: $
Operating System: Windows, OSX, Android, iOS
Application Category: Multimedia
Refund Policy

Speed

Support

VPN Apps