[Fixed] Watch Kayo Sports outside Australia – Best VPNs
|
If you live in Australia, you probably know that you don't have that many options when it comes to streaming your favorite sports online. However, all that is solved as Kayo Sports now exists in the region.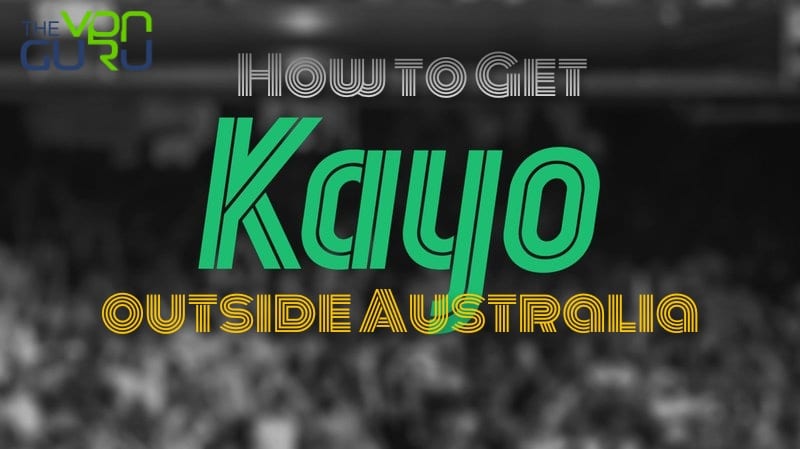 The channel brings together some of the most popular sports under one roof. There is just one problem. Kayo Sports is only available for users inside Australia.
If you want to access the channel abroad in New Zealand, the USA, Canada, the UK, and elsewhere, follow this comprehensive guide.
Kayo Sports Anywhere – Easy Steps
Time needed: 4 minutes
Getting Kayo to operate outside Australian borders has become an easy task thanks to BulletVPN. With the following steps, you'll be able to unblock the channel no matter where you reside:
Subscribe to BulletVPN.

You can create an account by visiting BulletVPN's website or signing up directly through their app.

Get the BulletVPN app.

You can download the app from BulletVPN's website or your dedicated App Store. There are clients on Android, iOS, PC, Mac, as well as FireStick.

Open the BulletVPN app.

Sign in with your BulletVPN credentials and connect to an Australian server.

Launch Kayo Sports.

On Windows/Mac you can watch Kayo through your browser. On any other device, you need to install the Kayo Sports app (Follow these steps if you don't have it already).

Start watching your favorite sports wherever you are.
Watch Kayo Sports Outside Australia – The Full Guide
We've provided all the steps you need to unblock Kayo Sports overseas. However, there's a lot more to learn about the channel, especially when it comes to creating an account, getting the app, and watching on any device.
The following guide represents an in-depth walkthrough that'll help you with your task. So, if you have the time, give it a read.
What You Need
Before you get to unblock Kayo Sports, you'll need to have everything in the following list:
A BulletVPN subscription.
Kayo Sports-compatible device.
Excellent internet connection.
Great Sportsmanship
What's Kayo Sports?
Kayo Sports is an online live and on-demand streaming channel operated by none other than Foxtel. As of May 2021, Kayo had more than 1 million subscribers. You get to stream over 50 sports worldwide not only in Australia.
The channel is well built to elevate your sports streaming experience. With a single subscription, whether it's basic or premium, you get a lot of privileges with the channel.
You can stream up to 4 games at once and jump to the events that changed the game if you're catching up. You can also select a No-Spoilers option where the channel hides all scores so you can stream replays without knowing what happened. That's only half of it.
Kayo Sports has two types of subscriptions, Basic and Premium. The basic one comes at 25$ a month while the premium costs 35$/month. The only difference is that in premium, you can use up to 3 simultaneous devices. While using basic, you only get 2. Other privileges are available for both.
In both subscription plans, you'll benefit from a 14-day free trial. You can literally take the channel for a test drive before making up your mind. Who knows, it might end up not satisfying your needs after all (Which we highly doubt).
Creating a Kayo Sports Account
Subscribing to a VPN will get you Kayo Sports outside Australia. However, in order to start watching, you must first create a Kayo Sports account. This is how you can do so:
First, use BulletVPN to connect to an Australian server.
Head to https://kayosports.com.au/.
Scroll down and choose your preferred plan.
Once you click on your plan, fill in the required details (name, email, Australian phone number, etc.)
Enter the code that Kayo sent to the Australian phone number.
You now have a Kayo Account.
Please note that Kayo requires no Australian payment method – you can use overseas payment options. However, if you live outside of Australia, contact anyone there to provide you with a mobile number in order to get the code.
As an alternative, you can use Australian SMS verification services such as TextPlus and the likes to receive such codes on your mobile. They might ask for a fee in exchange for the verification code.
Kayo Sports' Geo-Restrictions
Australia loves sports, but so does the whole world. Keeping a channel such as Kayo exclusive to the Australian region is unfair. The channel picks up on your location by examining your public IP address.
As you may know, your IP is what represents your actual physical location. If Kayo determines that you're living abroad and accessing its service outside its area of coverage, it will block you on the spot. All you'll be getting are these geo-error messages:
"Sorry, Kayo Sports is only available for sports fans within Australia."
"You don't have access to "http://auth.streamotion.com.au/authorise?" on this server."
With BulletVPN, and by following the steps above, you can easily circumvent the geo-restrictions applied on Kayo Sports content.
Not All VPNs Are Equal – Kayo Bans VPNs
If you go to their official website, you'll notice a very important statement considering VPNs. This is what the webpage has to say:
"Kayo does not support Virtual Private Networks (VPN). If you have a VPN enabled on your device, you will need to choose to disable it."
Not all VPNs can unblock Kayo abroad, regardless of how reputable they are. Some of the top providers cannot, and this error message is the only thing you'll get:
"We have detected you are on a VPN. Please Disable your VPN to view this content." As seen in the image above, any VPN won't be your ticket to an amazing world of sports. While Kayo was able to block VPN access over time, there are still VPNs that are able to elude the channel's defense mechanism.
However, they couldn't do it all the time. Only BulletVPN was consistent when it came to unblocking Kayo Sports outside Australia.
Best VPN for Kayo Sports – A Quick Look
If you type the word VPN in any store or search engine, you'll find that there are hundreds of providers. Be careful and don't use the ones that offer their service for free.
These are not reliable and may compromise your identity while browsing the web. Not to mention that most of them sell your data to sister companies for revenue. Check the top VPNs for Kayo below:
BulletVPN
ExpressVPN
Unlocator
NordVPN
BulletVPN offers servers in 55 different countries including Australia. We picked BulletVPN since it's the only one that has been consistent with Kayo Sport. Even ExpressVPN witnesses a hiccup every now and then.
In case you're having trouble accessing Kayo Sports from abroad, sign up with BulletVPN. User feedback and our tests have confirmed that their Aussie servers are working for both live and on-demand content.
BulletVPN showed to be the ultimate Kayo unblocker. It even has 6 servers in Australia labeled as Kayo.
These are solely created to unblock the channel everywhere. We tried them all – they all worked and provided blazing fast speeds.
BulletVPN is the only provider that reliably unblocks Kayo Sports, but others showed some potential. Check them out below.
Download, Install, and Watch Kayo Sports on Any Device
Kayo Sports might support most major streaming devices, but if you live abroad, you're going to need our help setting everything up. We're going to assume that you already got a Kayo Sports account.
With that said, here's how you can get Kayo Sports on the device you're operating:
Kayo Sports Overseas – FAQ Section
We know that you have more questions you need answered. If that's the case, this part is what you need:
What Devices Can I Stream Kayo Sports on?
You can watch Kayo Sports on Android, iOS, PC, Mac, Chromecast, Apple TV, Android TV, and Samsung Smart TV.
What Sports Can I Watch on Kayo Sports?
With a single account, you can unblock a wide range of sports on Kayo. You can stream AFL, Cricket, NFL, NBA, NBL, NRL, Tennis, Formula 1, Rugby Union, Golf, UFC, Wrestling, Boxing, and more.
Are There Any Free VPNs That Unblock Kayo?
Definitely not. Even the best premium providers in the industry fell short when it comes to unblocking Kayo Sports. Free VPNs don't have the technical capabilities to do so.
Does Kayo Sports Block VPNs?
Yes. Kayo Sports now blacklists IP addresses offered by VPN providers. However, some services, especially BulletVPN, managed to bypass the ban and access Kayo anywhere.
Can I Access Kayo Sports in New Zealand?
No, you can't. You won't be able to create an account, to begin with. But with BulletVPN, you'll be able to change your location and get Kayo in New Zealand with ease.
How Can I Get Kayo Sports for Free?
Kayo Sports is a channel that requires a paid subscription. If you want free access, you can benefit from their 14-day free trial as a new customer.
Do I Need an Australian Payment Method?
No. With Kayo Sports, overseas credit or debit cards work. You just need an Australian phone number to get the code.
Best VPN for Kayo Sports – Conclusion
You now have everything you need to know about the best VPN for Kayo Sports. The channel is a great deal for those who like to stream their favorite sports live.
Now, even if you reside outside Australia, Kayo Sports is all yours. Read the review well and subscribe to BulletVPN. After that, stream Kayo Sports anywhere in the world.
If you need any assistance, drop us a line or two in the comment section below.
Best VPN for Kayo Sports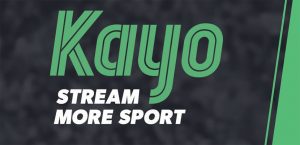 Name: BulletVPN
Description: BulletVPN is a solid choice for a provider as it unblocks geo-restrictions of all kinds anywhere.
Price: 10.98
Currency: $
Operating System: Windows, OSX, iOS, Android, Amazon Fire Stick
Application Category: Multimedia
VPN Apps

Access Blocked Content

Speed

Support

Refund Policy
Comments Rating
( reviews)