One of the many ways through which people are able to connect to the Internet involves the use of a router. The Linksys router happens to be one of the most popular choices for both homes and businesses alike, thanks to both its ease of use and durability. There are about five well-known versions of the Linksys router that are mainly categorized according to the level of speed and bandwidth. Once you've decided on the type of Linksys router you'd like to be using, the next thing you need to think about is how to protect yourself from the many dangers that lie within the Internet. Some of the measures you could take include installing an antivirus program on your computer or starting to use a Smart DNS service. Although both are sure to offer some level of protection, none of them come close to what you'd get from setting up a VPN connection on your router.
Why You Need a VPN Service
A VPN service allows you to enjoy a number of benefits that you would not traditionally be able get. Here are some of the features you can obtain once you have set up a VPN connection on your Linksys router.
Working Around Forms of Internet Censorship
There's a long list of countries that don't really believe in freedom in the type of Internet content accessed, and as a result, they heavily regulate what can and cannot be accessed within the borders of the country. If you happen to find yourself in such countries, either visiting or living as an expatriate, you'd need a VPN to break through such barriers.
Streaming Netflix From Anywhere
The copyright licensing arrangements make it difficult for companies such as Netflix, Hulu, and Amazon Prime to provide access to their content from anywhere. With such restrictions, many people don't get to enjoy such content if they travel outside the US. Through the help of a VPN provider, however, you're able to spoof your location and gain access to such sites.
Limit Google's Tracking Capabilities
If you use Google in association with most other things online, then there's a high chance that the service has a decent record about most of the things you search for, download, or even browse through, and its inventory just keeps getting larger with your continued use. If you'd like to stop Google from tracking you down, the best thing to do would be to use a VPN.
Avoid Getting Spied on by your ISP
Thanks to the full access that ISPs have to your browsing history, they're able to take a look at how you spend your time online, thereby invading your privacy. Anyone who is tired of having their ISP eavesdrop on their online activities needs to get a VPN service and encrypt their connection.
Stay Protected Over Public Wi-Fi
One of the most popular places from which hackers and cybercriminals are known to identify their victims is anywhere that free Wi-Fi happens to be offered. Because we know that everyone loves free Internet, it would be considered best practice to have measures that would at least protect you from any existing risks that you could face as a result of joining such a network. The most foolproof method to keep your connection secure is to join in having switched on your VPN service so that nobody is able to hack through to you.
Protect Your VOIP Calls
Voice-over-IP, better known as VOIP, is a very affordable way to use the Internet to make phone calls. It is also a very easy way to get hacked, and your communication monitored if you don't take the necessary steps to have your connection protected. A VPN service will help ensure that nobody gets to interfere with your calls.
The Best VPNs for Linksys Router
Now that we've gone over a number of the benefits that you should consider, let's have a look at some of the VPN providers that are sure to work well with a Linksys router.
ExpressVPN
Founded in 2009 and based in the British Virgin Islands, ExpressVPN is one service provider that continues to do the most in terms of providing exemplary service and seeing customers through all of their issues in the most professional way possible.
The top-tier service has managed to grow its server network to more than 2000 over the years, spanning over 94 countries and counting. The service has also won multiple awards as the best overall product and the fastest speed, thereby proving that they are indeed the best in the game.
The service is known to ask members to pay premium pricing for their services, so before you part with all those dollars, it might be prudent to take a shot at their 30-day money-back guarantee and see how well your money will get spent.
BulletVPN
BulletVPN is one of the few providers that hold quite a lot of clout in the VPN industry. Its large selection of over 150 servers in 55 countries means the service is able to provide access to a long list of geo-restricted websites, and its selection of VPN apps means the service is able to work on platforms running systems such as iOS, Android, Windows, Mac, and Linux.
Navigating through the app is also quite easy since its developers built it with ease of use in mind. The encryption level is military-grade, at 256-bit AES, and the protocols included with this package are OpenVPN, PPTP, L2TP/IPSec, and more.
If this sounds like a service that you'd like to try out, then you ought to take up their 30-day money-back guarantee and see how everything fares before you actually purchase a subscription.
NordVPN
Closing off our list we have NordVPN, a provider that's strategically based in Panama, and this allows the service to promise that no logs of their service are kept within their systems.
The service also offers great features such as double VPN, where your security is enhanced when your traffic gets transmitted through two servers, and an Internet kill switch, where your online connection gets cut off as soon as your VPN link up is found not to be working.
As a top-tier provider, NordVPN has an excellent customer care and support team, that's always ready to see you through any issues that you might have. Any prospective NordVPN customers can go on and try out their service by taking advantage of the 30-day money-back guarantee NordVPN offers.
Final Thoughts On The Best VPN for Linksys Router
One of the most efficient ways to save up your money and energy on connecting your numerous devices to a VPN is having the service installed on the router first. To do so, you'll need to flash your router and replace the industry firmware with more permissive versions such as DD-WRT or Tomato's Open Source firmware.
ExpressVPN Review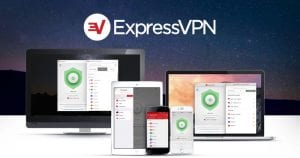 Name: ExpressVPN
Description: ExpressVPN is a VPN service that allows you to browse the web anonymously and unblock geo-restricted sites.
Price: 12.95
Currency: $
Operating System: Windows, OSX, Android, iOS
Application Category: Multimedia
Refund Policy

Speed

Support

VPN Apps