Designed for users who prefer a much more basic user interface, Tixati is a BitTorrent client that offers a long list of features which make it much more efficient to use compared to other available alternatives. It also comes in versions that can work on both Linux and Windows-based devices, so you shouldn't have to worry about compatibility. Downloads are efficient thanks to the advanced algorithms that are applied, and with measures such as RC4 encryption to make sure that your connection remains secure, you won't have a thing to worry about even when downloading content from sources that are not as credible.
Disclaimer: Neither the owner of this site nor the editor of this article nor any of the linked VPN service providers condone downloading, sharing, seeding, or peering copyright material. International laws prohibit such activities which are illegal. This guide serves educational purposes only.
Is Tixati Any Good?
Tixati is also very lean on your bandwidth, as it sources for and applies the best possible speeds for torrenting whenever you're looking for a particular file. The service also has one of the most efficient credibility tools that you can use to establish whether or not whoever you want to torrent from actually has the file you're looking for, as well as an automatic scheduling protocol that you can use to sequence your torrents.
Despite all these advanced features, Tixati still remains vulnerable to the measures that an ISP could apply to sniff out which of its customers are sucking up all the bandwidth through continuous torrenting. If you're not aware, ISPs tend to be very keen on how much of your bandwidth you actually consume, and if they find out that you're constantly doing something bandwidth-intensive, you can be sure that they may apply some measures to try and slow you down.
When they do this, it is referred to as ISP throttling, and it means you'll either have your browsing speeds significantly reduced or access to specific websites blocked. Now, either of these conditions works against your ability to torrent. If you'd like to continue with your activities uninterrupted, you'll have to look for a solution to bypass Internet throttling by your ISP.
How To Work Around ISP Throttling
One of the best ways to prevent throttling is to ensure that your ISP has no idea what you're up to online. How can you do this? By subscribing to a reliable Virtual Private Network service. Registering with a VPN service allows you to secure your connection through encryption, and therefore remain assured that nobody, including your ISP, is able to establish what you're up to online.
A VPN also helps you secure your identity in such a way that you're able to keep your identity even among your Peers private, as you get to have your actual IP address hidden. Whenever you connect to a remote server through a VPN, your actual IP address gets switched for a virtual one, and this happens based on the location that you'd want to seem as though you're from. To, therefore, ensure that you have a wide selection of servers that you can choose from, you'll need a service that has a wide footprint throughout the world. You'll also need a VPN service that sheds the least amount of speed from your bandwidth (VPNs take up bandwidth due to encryption), and also one whose customer service can always be relied upon.
Best VPNs for Tixati
To make sure that you don't end up with a provider who you might later regret signing up with, we've already done enough background checks to advise you on which ones you can turn to and not get disappointed. Here's our list of the services that we know to be the best for Tixati.
1. ExpressVPN
ExpressVPN continues to impress with its wide range of features and high quality of service, and this has seen it scoop various awards in recognition for its excellence in service. The provider boasts of around 2000 servers in more than 94 countries, and military-grade 256 bit AES protection to keep users and their data secure whenever they're online. The service also offers a series of stealth servers that you can use to anonymously use VPN, as well as torrent without the knowledge of your ISP.
ExpressVPN has the capacity to support up to 5 multiple connections, and with a VPN client that is sure to work with all Windows, Linux, Android, and iOS devices, you'll have a wide range of supported devices to choose from. The provider has full support for a wide range of VPN protocols, such as OpenVPN, SSTP, L2TP, and PPTP.
The service is based in the British Virgin Islands, and since this is a region that falls outside the area of jurisdiction of any data regulatory authorities, you should have no doubt that their zero-logging policy is fully implemented. To see what more features and services that ExpressVPN has in store, take a look at our more detailed ExpressVPN Review.
2. BulletVPN
BulletVPN also features on this list thanks to the level of support that it has for users who wish to torrent. The provider openly encourages torrenting on its website and supports anonymous torrenting without any limits placed on your P2P traffic.
The service is based in Estonia, and despite being close to many of the agencies responsible for online crackdowns, it still maintains that no user logs will be kept as a way to monitor its users' activities online.
BulletVPN has about 150 servers within its network, and they all happen to be blazing-fast. This means you'll get excellent speed rates and that no third parties will have the chance to infiltrate your connection, courtesy of the 256 bit AES encryption implemented.
BulletVPN places a strong emphasis on the speeds that it offers its subscribers, promising not to have them endure long delays when streaming, downloading, or torrenting.
The service's users get to enjoy both unlimited bandwidth and unlimited speeds after subscription. To find out more about what to expect from BulletVPN, have a look at our BulletVPN Review.
3. NordVPN
NordVPN is another serious provider that'll stop at nothing to ensure that your Internet connection remains well protected and encrypted. With up to 4000 servers within its scope, you should have no problem looking for a server to connect to.
The service also employs military-grade 256 bit AES security, as well as Double encryption to provide the highest level of security possible for your connection. Being based in Panama is a huge advantage since users won't have to worry about their browser logs being kept thanks to their well effected zero-logging policy.
NordVPN allows for up to 6 simultaneous connections, and thanks to their full support for torrenting, users are able to use all those 6 devices for torrenting without any problems. The service also allows for increased anonymity courtesy of their support for Tor, and also offers dedicated IPs for users that would like a more customer-focused service.
NordVPN also has CyberSec software to keep you guarded against any malicious ads and SmartPlay as a DNS service that allows you to hide your location by changing your IP. The service has a lot more to offer that hasn't been listed here, so to learn more about what's in store, have a look at our NordVPN Review.
Best VPN for Tixati – Conclusion
Using a reliable VPN service for Tixati assures you of a seamless torrenting experience since you'll be exempted from all the conditions that your ISP may have put up to slow your Internet speed down or restrict your torrenting. The three we've listed are among the best in the industry, but we still advise that you carry out your own tests by taking up their money-back guarantees, or their free trial period to see which one works out the best for you.
ExpressVPN Review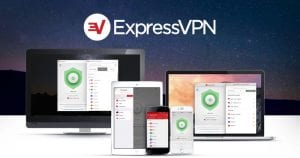 Name: ExpressVPN
Description: ExpressVPN is a VPN service that allows you to browse the web anonymously and unblock geo-restricted sites.
Price: 12.95
Currency: $
Operating System: Windows, OSX, Android, iOS
Application Category: Multimedia
Refund Policy

Speed

Support

VPN Apps