When you're looking for a VPN provider, there are a number of advanced features that you might want to ensure a provider has before you get to sign up with them. One of them should be the ability to shut down your Internet connection immediately when your VPN service gets compromised. An Internet kill switch is important because it prevents you from putting yourself at risk by browsing the Internet without any form of online protection, at any given point in time. This is a great security measure since ISPs or the geo-restrictive sites that you may be visiting only need a few seconds to capture your IP address and lock you out of their site for good.
Best VPN with Kill Switch – Intro
If your provider offers an Internet kill switch as one of its features, chances are that it also has a no-log policy in place. Offering these two features means that your provider is intent on ensuring your security online is upheld at all times and that your browsing traffic remains private and confidential only to you.
Best VPN with Kill Switch Review
In this review, we'll take a look at some of the providers that offer these two services, and also elaborate on the kind of service you should expect to receive from them.
1. ExpressVPN
First off on our list is ExpressVPN, one of the very few VPN providers that we can brand as being among the best in the world. These guys are serious about online privacy, and you get to see that through the quality of service they provide.
They make no attempt to log their users browsing history, and they put in place strong forms of encryption that ensure no third parties are able to infiltrate their customer's connections.
The service refers to the Internet kill switch mechanism as a Network Lock, and it can be activated on the General tab from the Options window. The service is actually enabled by default, so you don't really need to get anything set up if you're completely unfamiliar with VPN and the settings that need to be put in place for it to work.
Just below the 'enable' checkbox, you'll see a brief explanation of what to expect once you turn the service on: "It ensures your Internet traffic goes through ExpressVPN's secure tunnel and stops all traffic if ExpressVPN disconnects unexpectedly". Having tested the service, we can confirm that it works and that it's one that you can fully rely on.
2. BulletVPN
The level of commitment to user privacy demonstrated by BulletVPN in their services is one reason it has a legion of users who are never really tempted to switch to any other provider.
They assure their customers that no one will have access to a record of their browsing history and that nobody will also be able to intercept their users connection in the event that their VPN service stops working abruptly.
Their VPN kill switch options are actually available for all their supported devices, and this makes them one of the few providers that have thought about their Apple device users.
Among the list of options, you'll see when activating the kill switch is the option to cut your internet in case any sudden drop occurs. This ensures nobody is able to track your browsing activities and also works towards enhancing your security.
3. NordVPN – VPN Kill Switch for Windows
Third up on our list is NordVPN, a service that continues to grow in leaps and bounds as it checks all the boxes on the things that most of its providers would want to have from a provider. With its headquarters in Panama, NordVPN was established in 2012, and in its 3 years of service, it has already established itself as one of the best providers available in the market. One of the features that have made it widely popular is its kill switch technology.
NordVPN has an automatic Internet kill switch that works by kicking in whenever its VPN service gets interrupted for one reason or the other. In doing so, any applications that may be trying to spy on your work online get shut down as soon as you disconnect from the Internet.
This keeps you and your data safe from any third parties that might want to use your information for blackmail or malpractice. Sign up with NordVPN today, and you'll get an unrivaled level of customer service, coupled with one of the best levels of encryption available in the market today.
Conclusion on the Best VPNs with an Internet Kill Switch
With the services that we've listed above, you'll hardly ever be left vulnerable after your VPN service unexpectedly shuts down. A VPN kill switch will keep you and all your data protected, and your security maintained in case of anything as long as you have the kill switch turned on. Have any comments or feedback? Leave them in the section below & we'll be sure to respond.
ExpressVPN Review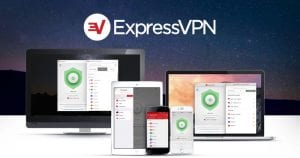 Name: ExpressVPN
Description: ExpressVPN is a VPN service that allows you to browse the web anonymously and unblock geo-restricted sites.
Price: 12.95
Currency: $
Operating System: Windows, OSX, Android, iOS
Application Category: Multimedia
Refund Policy

Speed

Support

VPN Apps