How to Install TweakBox on iPhone and iPad
|
Have you ever witnesses a jailbreak without a jailbreak on iOS? It sounds confusing, right? Well, if you've come across TweakBox, you would definitely know what I'm talking about. By installing TweakBox, users will have access to applications not available within a device's respective App Store. If you're not in the know, this might get a bit tricky. However, the following step by step guide will show you how to install TweakBox on iPhone and iPad with ease.
What's TweakBox?
TweakBox is an amazing application that allows you to install third-party content on iOS devices. We all know that anything not available on your App Store can't be downloaded via browsers. As a solution, iOS users tend to use TweakBox to access these applications without having to Jailbreak their devices.
TweakBox includes games, emulators, tools, and even versions of jailbreaks within its library. In other words, this application is for iOS operators that are sick and tired of their device's limitations.
How to Install TweakBox on iPhone/iPad
When it comes to App Store alternatives, then TweakBox is certainly among the best third-party app installers. I easily installed Kodi on my iPhone a while ago without having problems. If you're aiming to do the same, then follow the steps below:
On your iPhone or iPad, go to the TweekBox official website.
Click Install Now.
Once you hit Install, you'll get this message.
Hit Allow.
Now your Settings will open. Tap on Install.
If you've set a password for your device, Enter it.
Once you input your Passcode, Click Install again.
Your app is installed. Hit Done.
You'll find your Application on Home Screen.
Now, with that done, let's move on to the serious parts. Some of the apps on TweakBox won't download. Applications such as Kodi require you to "allow apps from unknown developers" in order to operate. This is an example when I tried to use "Acme":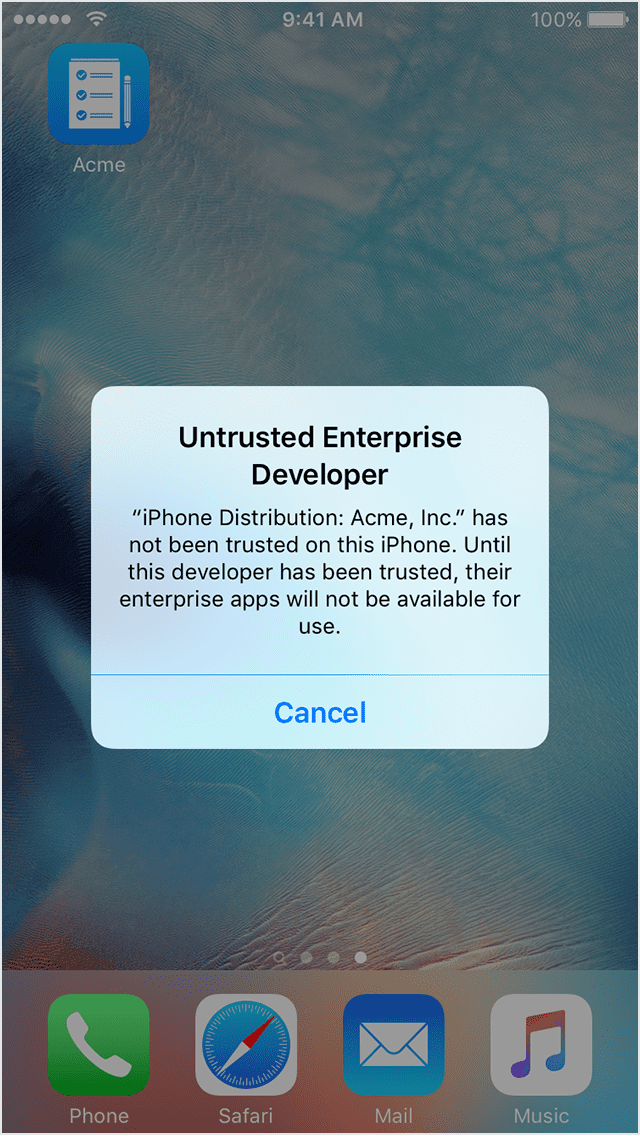 If you get this message while trying to install an app from TweakBox, then do the following:
Open Settings.
Click General.
Tap on Profiles & Device Management.
Choose the text located underneath the Enterprise App.
Click Trust.
When prompted, Click Trust again.
Popular Apps on TweakBox
The major benefit of this tool is to install the applications that are not available in your iTunes App Store. To give you a better idea, here are some top titles:
Kodi
Popcorn Time
NBA App++
GTA 3
GTA Vice City
Movie Box
BobbyMovie
Channels
GearBoy
iCleaner
iPlayTV
MediaBox HD
MovieBox
As I mentioned before, you can even download a jailbreak from this application. This includes the Electra iOS Jailbreak and so many more.
A VPN for TweakBox?
Whenever you install 3rd Party applications on your iOS, you might be compromising your device. These applications are not the official versions that you get on the App Store. They might be planted there to lure you in and harvest your personal data. Therefore, in order to secure your iOS device, you'll need to invest in a reputable VPN provider.
While connected with a Virtual Private Network, you encrypt your data and conceal your identity. That way, any possible hacking attempt will be shielded off with ease. To know your way around VPN providers, here's a list of the top VPNs for iOS.
How to Install TweakBox on iPhone/iPad
All types of the app at TweakBox, from entertainment, to tweak apps, emulators, and games patches are available free of cost. Some games are included with a certain hack that helps ease your gaming experience. Unlike other installers like Cydia, this one doesn't need a jailbreak to operate. So, you now have what it takes to install TweakBox on iOS. Enjoy.