Canadian TV needs no introduction due to the fact that it boasts one of the best go-to entertainment in the world. Movies, sports, series, you name it, all are available in that region. But there's one channel that stands out, CTV. However, as popular as the channel is in the country, it did not see the light abroad due to geo-restrictions.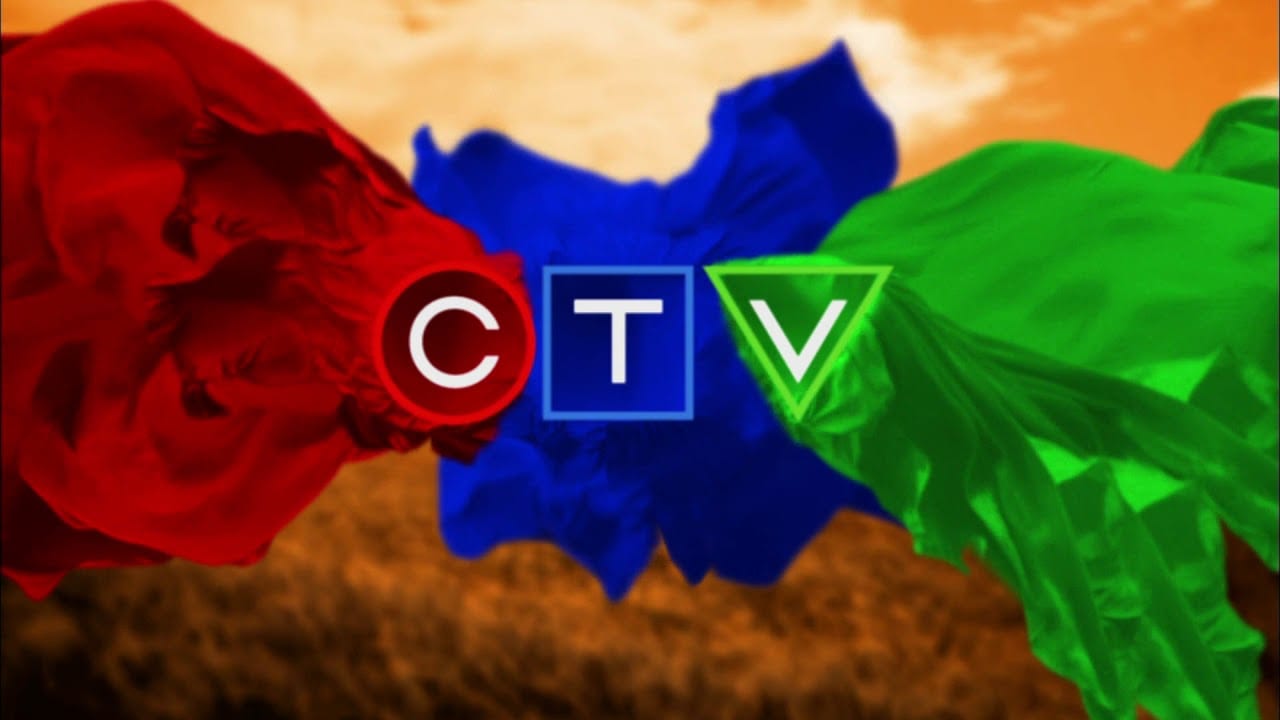 In other words, CTV only operates within Canadian borders. Those in the US, UK, Australia, and elsewhere overseas don't have access to what the channel has to offer. Well, we're going to change that now. This is how you can unblock CTV outside Canada and watch it anywhere.
Unblock CTV Anywhere – Quick Guide
Time needed: 4 minutes
We won't take much of your time. Here's how you can stream CTV's content wherever you are:
Subscribe to a reputable VPN provider.

We recommend ExpressVPN for its diversity in server locations.

Download and install the VPN app.

You can download the client from your native app store or the provider's website.

Activate the app on your device.

Sign in with your username and password.

Connect to a Canadian server.

This will give you a Canadian IP address.

Launch CTV's website or application.

Sign in with your TV Provider's account.

Watch CTV anywhere.

Enjoy CTV's content outside Canada.
Stream CTV Abroad – Full Walkthrough
CTV is a big channel, which means there's a lot to talk about. We created the following guide to shed more light on the matter. Make sure to skim through it.
What You Need
To unblock CTV, you must have the following:
An account with a Canadian TV provider.
A VPN subscription.
CTV-compatible device.
CTV Canadian Television – It's in the Name
CTV stands out as one of the biggest channels in the Canadian region due to the fact that it's met with over 20 million Canadian viewers on average weekly.
As we mentioned, CTV only operates within Canadian borders. Also, it's not an option for those who cut the cord as it requires a cable subscription.
This targets Canadian ex-pats more as their valid subscription will do them no good once they leave the country. In order to watch CTV, you need a cable deal with one of the following providers:
Bell Media
EastLink
Rogers
SaskTel
Shaw
Telus
CityWest
EBox
Rural Wave
Now, CTV applies geo-blocks, which means that it restricts its content access to a specific location, i.e. Canada. You see, streaming channels can determine your location by examining your IP address.
CTV is no different as it requires you to hold a Canadian IP address. If you live abroad, that's exactly what you lack and this geo-error message is the only thing you'll be getting from the channel:
"We're sorry, this content is only available for viewing in Canada. 72."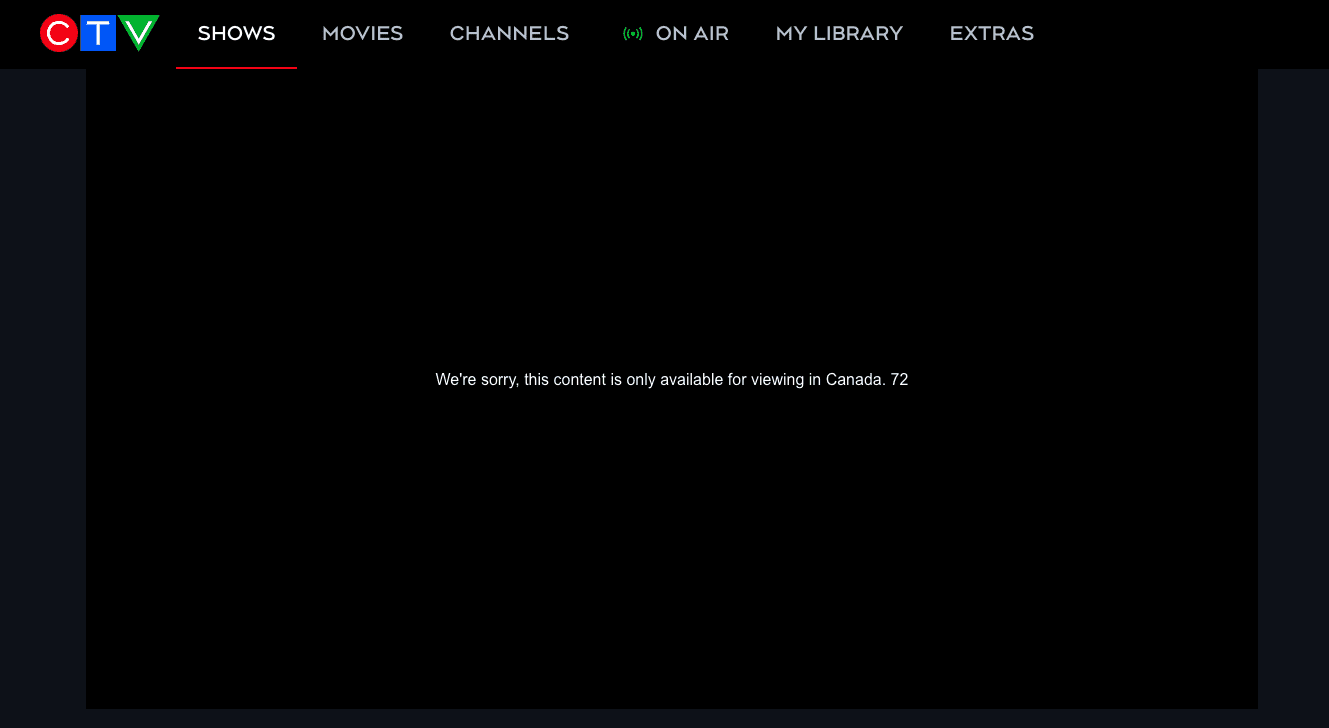 Now that we addressed the problem, which is your non-Canadian IP address, you'll know exactly how the steps above work.
CTV – Stream Top Canadian TV Anywhere
Apparently, Bell Media has no plans in purchasing licensing rights in any country other than Canada. That means those living abroad will have no way to access CTV unless they trick the channel into thinking that they're within its area of coverage.
The easiest and most effective way to do so is by using a Virtual Private Network. This is a cybersecurity tool that works by rerouting your data through a specific server of your choosing.
This helps you unblock geo-restricted content as the VPN encrypts your traffic and changes your IP address to one valid in the country where the server is located.
For example, if the server is in Canada, you'll obtain a Canadian IP address. Technically, that's all you need to unblock Canadian-restricted channels, including the likes of TSN, Shaw, and of course, CTV.
Evaluating and ranking VPN providers is not an easy task. We look at several factors to determine whether a service is credible or not. According to our tests, ExpressVPN topped the charts with excellent results.
Be it speed, security, privacy, or refund policy, the service has it all. Also, it offers a Smart DNS feature for those who are just looking to unblock restricted content. However, being on top does not omit the fact that there are other providers out there capable of getting you around geo-restrictions. You can see other best VPNs in the table below.
CTV Unblocked with Smart DNS
A VPN is a great way to circumvent geo-blocks, but it's not the only tool capable of doing so. There's a technology in the form of Smart DNS proxies.
This can be set up on your streaming device by tampering with your Wi-Fi settings. It allows you to get around these restrictions while maintaining perfect internet speed.
You see, Smart DNS reroutes the parts in your traffic that showcase your location. Once they're altered, you can access any channel supported by the provider.
Here's what Smart DNS does:
Keeps your IP address unchanged. This allows you to stream both geo-restricted channels and local ones without losing access to any of them.
It doesn't encrypt your data. Despite the lack of security, you'll still be operating with minimal speed loss.
Smart DNS can be configured on almost all streaming devices ou there. Unlike VPNs, you can set it up on Smart TV, PlayStation, Xbox, Apple TV, Chromecast, and Android TV, as well as the ones compatible with a VPN.
Smart DNS is a feature provided by all the VPNs mentioned on our list. It's included in their subscription plan. However, Unlocator offers the service as a single subscription (on its own). You don't have to opt for its VPN service if you're not looking for security and privacy.
On the other hand, Unlocator grants you access to more than 230 channels around the world. You can test their service out by signing up for their free 7-day trial.
Get CTV on Any Device Outside Canada
If you've reached this part, we're going to assume that you got yourself a Canadian provider's subscription. You can contact any of your friends or family members in Canada to provide you with one.
Now, with that out of the way, this is how you can get CTV on any device you might be operating:
If you're using an Android mobile, tablet, or TV (Sony Bravia, NVidea Shield, etc…), your task is very easy.
You can find VPN clients within the Play Store. Once you download and connect to a Canadian server, change your Play Store region to Canada, get the CTV app, and start watching.
If you have an iOS device, you can get the VPN app from your Apple Store. Next, connect to a Canadian server and change your iOS region to Canada.
Finally, get the CTV app, sign in, and start streaming your content anywhere.
The easiest device to get CTV on is practically a desktop. All you have to do is use the VPN to connect to a US server.
After that, just launch your preferred browser, head over to CTV's website, and start watching.
On Apple TV, the task is quite different as no VPN clients are compatible with the device. To get CTV, you need to install the VPN on your router or configure Smart DNS on your TV.
After that, change your Apple TV region to Canada, install CTV, and watch your content anywhere.
Xbox is also not natively compatible with VPN apps. To establish a connection, install the VPN on your router. However, you can also configure Smart DNS on your Xbox.
Once that is out of the way, change your Xbox region to Canada, download and install CTV, and you're done.
FireStick makes it easy for you. All you need to do is get the VPN app and connect to a Canadian server.
You must also change your Amazon account's country to Canada in order to install CTV on your Fire TV.
Note: You can always sideload CTV's app directly to your FireStick without having to change your Amazon account (If possible).
CTV Anywhere – FAQ
Do you want to learn more? Make sure to check the following section:
What Devices Can I Watch CTV on?
The channel is compatible with several devices including:
Windows
Mac
iPhone
iPad
Android
Apple TV
Samsung Smart TV
Xbox One
You might be wondering why would you go through all this trouble to get a single channel in your country. Well, take a look at those titles and see for yourself:
The Big Bang Theory
Blindspot
Blue Bloods
Cardinal
Carter
Criminal Minds
The Daily Show with Trevor Noah
The Amazing Race Canada
American Idol
American Ninja Warrior
Dr. Phil
The Ellen DeGeneres Show
For The People
The Good Doctor
Grey's Anatomy
MLB
NBA
CFL
Curling
How to Get Away with Murder
Law & Order: SVU
The Alec Baldwin Show
Magnum P.I.

NEW SERIES

MasterChef
MasterChef Canada
NHL
Canadian Open (Golf)
Unfortunately, there's no official add-on for CTV on Kodi. You can, however, watch CBC on the popular platform.
Can I Watch CTV for Free?
CTV requires a cable subscription to one of Canada's TV providers. If you have one of those, you can technically watch CTV for free using your credentials.
Is there Live Streaming on CTV?
Yes. When you sign in, you can watch both CTV's on-demand and live content.
CTV Anywhere – Final Words
Once you're done with this guide, the premium broadcasting channel won't be just available to those residing in Canada. Anyone around the world can watch top movies, shows, and sports with the help of a Virtual Private Network.
You have a very easy-to-follow guide in your hands. However, if you need any help, make sure to contact us in the comment section below.