New Netflix August 2019 Releases
|
4 years ago, August marked a historic time in Netflix history when Narcos debuted. A lot has changed since then. Netflix keeps on growing when it comes to producing original content. However, that's not all. Every month we get treated with a different set of new releases and August 2019 is no different. Get your pens or mobile notes ready. In this guide, I'll be listing everything coming to Netflix in August 2019, Make sure to write them down, it's going to be one heck of a (Netflix and Chill) experience. Let's go.
Netflix August 2019 Arrivals
The streaming service has dramatically increased its output of original and exclusive movies. That's why I'm here to help you with a comprehensive guide on what's coming to Netflix in August. That way, you get to keep a keen eye on its releases without having to go through all the trouble of researching on your own.
August will feature a lot of new Netflix Originals and as we know, Netflix has been upping its game when it comes to those. Did you see last month's Jinn? I loved it. Anyway, here's what's coming to Netflix in August 2019.
August 2nd
Otherhood (Film)
She-Ra and the Princess of Power (Season 3)
Dear White People (Season 3)
Derry Girls (Season 2)
Ask the Storybots (Season 3)
Patriot Act with Hasan Minhaj (Volume 4)
August 8th
The Naked Director (Film)
August 9th
Sintonia (Season 1)
Cable Girls (Season 4)
Glow (Season 3)
In the Shadow of the Moon (2019)
August 21st
American Factory (Documentary)
August 22nd
August 30th
The Dark Crystal: Age of Resistance (Season 1)
Personal Top Picks
We're getting a lot of new releases this month. I agree, everything that Netflix gets is binge-worthy, but if you do the math, some of the titles demand more attention than others. We're getting "The Dark Crytal" guys, if that doesn't fill our weekend I don't what will. I handpicked some of the titles from the list in order to give you a slight idea about what to expect from them. Some of the series I'll be talking about already have previous seasons. In case, you've watched those seasons, that's a big (Spoiler Alert). So, shall we take a look?
Dear White People (Season 3)
Have you seen School Daze? What about Grow-ish? Well, if so, mix the two and you get Dead White People. The third season of the hit series will return to the streaming giant's platform on August 2nd. All of the cast are expected to reprise their roles. If you're as excited as I am to see what's life like for Sam While and her classmates in the 3rd installment, then write down the date.
Did you see last year's annoying cliffhanger? Well, we caught a glimpse of a member of Order of X. But what's next? As I saw in the trailer, Esposito will indeed be a character in the new season. For those wondering exactly what his deal is, the wait is (almost) over: He'll be introduced right from the very first post-credits scene. At least that's what Simien said at a Banff World Media Festival:
"You don't have to wait a second longer. He's in the first scene."
The problem here is that Netflix is being very secretive about the show. All we know is about the cast. It appears that the entire main cast will return for season 3 of Dear White People. Logan Browning will reprise her role as Sam White. We'll see John Patrick Amedori as Gabe, Ashley Blaine Featherson as Joelle, Marque Richardson as Reggie, DeRon Horton as Lionel and Brandon P. Bell as Troy Fairbanks. Don't forget to tune in on August 2nd and watch Dead White People season 3.
Glow (Season 3)
Glow has been a very popular show on Netflix since it debuted. Last season, I thought that the show was drawing its last breath, but apparently, Netflix has other plans. We the girls ventured to Sin City to put on a live wrestling show following the cancellation of their short-lived TV series. However, if you follow them on Twitter, the return was confirmed by the show's official account in August.
Are a fan of classics? What would you say if I tell you that Geena Davis (AKA Thelma from Thelma and Louise) is joining the cast as Sandy Devereaux St. Clair, the entertainment director of the Fan-Tan Hotel and Casino, where the women will be putting on their wrestling show? Well, it's true and it's going to be amazing.
The third season will hit our screens with a 10-episode run. We'll get to see the ladies make their historically-inspired migration from Los Angeles to Las Vegas. How well do you think their wrestling career will survive there? Let's just wait and see. More about Glow season 3 in this sneak peek.
The Dark Crystal: Age of Resistance (Season 1)
The Dark Crystal: Age of Resistance is an upcoming Netflix original series, that will act as a prequel to The Dark Crystal. The streamer announced that all 10 episodes of "The Dark Crystal: Age of Resistance," produced by the Jim Henson.
Finally, we get to return to the world of Thra in a prequel to the 1982 movie. When three Gelfling heroes voiced by Taron Egerton, Anya Taylor-Joy, and Nathalie Emmanuel discover the horrifying secret behind the Skeksis' power. Our heroes will set off on a journey of rebellion in hopes of saving their world.
The world of Thra is dying. The Crystal of Truth is at the heart of Thra, a source of untold power. But it is damaged, corrupted by the evil Skeksis, and a sickness spreads across the land. How will our heroes prevail in this series? Tune in on August 30th and find out.
In the trailer below, you'll see how cool the visual effects are. Check it out and share your thoughts in the comment section below.
Create a Netflix Account
What good is knowing what's coming to Netflix if you don't have an account, to begin with? If you're new to the service and want to subscribe to one of the best streaming platforms in the world, here's how you do it:
Head over to Netflix's official website and select the "Try 30 Days Free" button.

On the next page, choose "See the Plans".
Netflix has 3 subscription plans. You get to choose between Basic ($8.99), Standard$12.99), or Premium ($15.99).
Now, your email and password are required.
Netflix allows you to choose several paying methods. You can pay using Visa, Mastercard, and even PayPal.

The final step is to click on Start Membership. Click on that and stream away.
Netflix Everywhere
Before you dive into the content Netflix is preparing for you in the month of August, I have to point one thing out. Netflix's content is region-selected, which means that every country gets its own set of titles that it can access. Go ahead, ask your friends living abroad, particularly in the US. Just ask if they have Star-Crossed. Their answer would be yes. However, if you're outside the United States, you won't be able to find the CW show anywhere. See?
It's really annoying but it can be circumvented with a VPN. Now, let's talk about that. Not every VPN can access Netflix abroad. You see, the channel is able to detect proxies and unblockers. That happens when you invest in a free VPN most of the time. Some of the premium ones also fell victim to the block, including the likes of IPVanish. 
When I was using TunnelBear a while ago, I tried to unblock Netflix's US library. This is what I got instead:
"You seem to be using an unblocker or proxy. Please turn off any of these services and try again."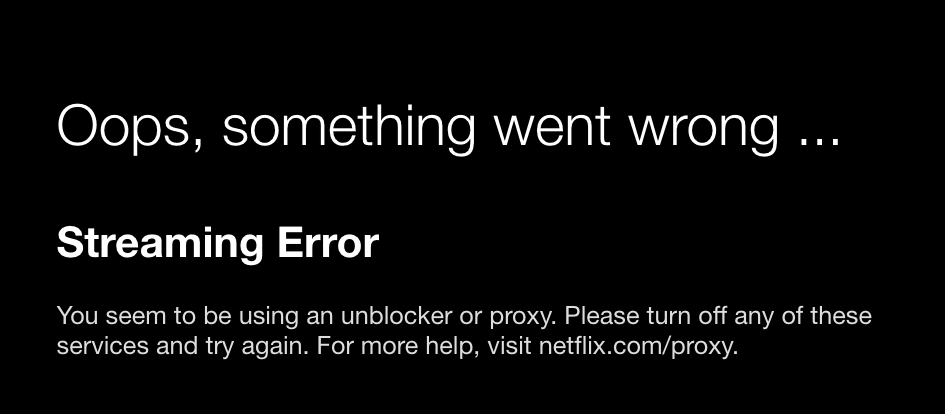 All you need is a reputable VPN to access US Netflix around the world. Don't go for free ones just because the word "free" is too tempting to pass on. Spend a few pennies and you'll get a whole new set of titles worth your money. Oh, you don't know which ones to choose. Maybe this review of the best VPNs for Netflix can help you out.
Last Updated Yesterday


30-Day Money-back Guarantee
Unlimited Bandwidth
Apps For All Your Devices
24/7 Live Support
Visit ExpressVPN
Netflix August 2019 Releases – Summing Up
It's time to start looking ahead to August and all the new TV shows, movies and Netflix Originals heading to Netflix this coming month. I've given you a slight idea of what's officially been confirmed, the rest of the list should be added during the month of July. Don't forget to use a VPN in order to unblock all the titles available on Netflix. What show are you looking forward to watching the most? Share your thoughts in the comments below.