If you have ever used a VPN before, you probably came across household names like ExpressVPN, IPVanish, and VyprVPN at some point. Just because these VPN service providers are popular, doesn't necessarily mean they're the best, though. There are other VPN service providers that are as equally impressive but less known. PrivateVPN, a Swedish-based VPN provider established in 2009, certainly falls into that category. If you're thinking about subscribing to PrivateVPN, you probably want to know whether this VPN provider is worth your money or not. With that in mind, we've prepared the following PrivateVPN review.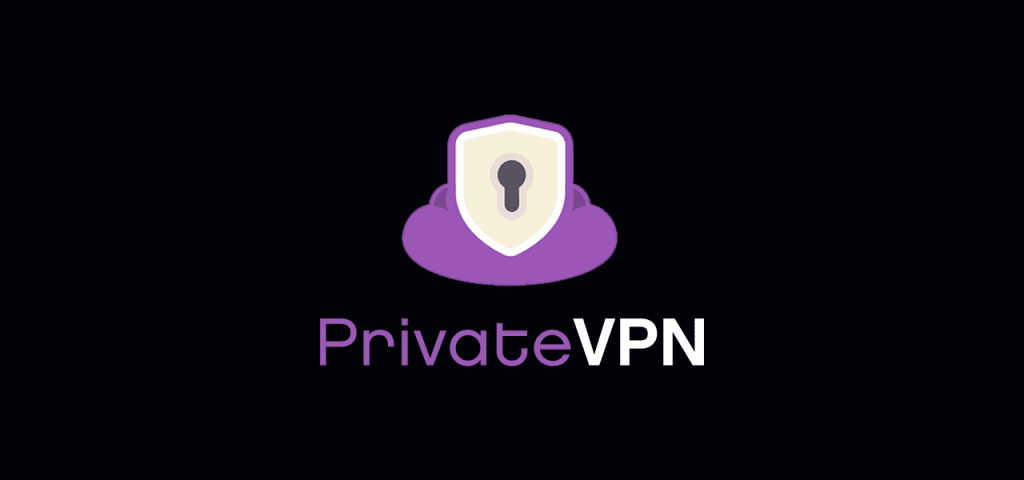 PrivateVPN Review – Content Index
A VPN is not proven credible unless some tests were performed. Based on a very strict evaluation process, we came up with this in-depth PrivateVPN review.
Quick Stats
| | |
| --- | --- |
| Money-back guarantee | 30 days |
| Allowed concurrent connections | Six Devices |
| Supported streaming services | Netflix, BBC iPlayer, Hulu, Amazon Prime, and Disney+ |
| No logs policy | Yes |
| Encryption | AES 256 encryption |
| Security Protocols | OpenVPN, PPTP, L2TP, IKEv2, and IPSec |
| Special features | Kill switch, Stealth VPN, and Port Forwarding |
| Customer support | 24/7 live support |
| Server locations | 63 countries |
| Number of servers | 200+ servers |
| Server Switches | Unlimited |
| Supported devices & web extensions | Windows, Mac, iOS, macOS |
| VPN legal jurisdiction | Sweden |
| Free Trial | 7 days |
Pros and Cons
There's no VPN provider with a perfect score. They all have their pros and cons, and that's exactly the case with PrivateVPN. Here's a sum of what we liked and disliked about the service:
Pros
6 simultaneous connections
Affordable pricing
2048-bit encryption with AES-256
Unlimited bandwidth
SOCKS5 and HTTP Proxy
Zero logging
Servers in 63 countries
30-day money-back guarantee
Torrenting/P2P supported
Free remote setup
Port forwarding
BitCoin payment option.
7-day free trial
Cons
Some servers on the Mac app didn't connect.
No Smart DNS proxy
PrivateVPN Applications
We have tested PrivateVPN's app and can say that its interface is fairly simple. Users can download the PrivateVPN app from their website, Google Play Store, or Apple Store.
To be honest, downloading the application from their website isn't that straightforward. Every VPN provider out there has an Apps section on its website, but this one doesn't.
We had to search the entire website for their app, and we finally found it under the "Why PrivateVPN?" Section. Next, we click on "View Our Software", and got to download the application.
It could've been easier, but at least we got the client. Now, with that out of the way, let's see what the apps look like:
Windows
The PrivateVPN app for Windows surprisingly had a lot of features, including the option to choose your VPN protocol, a billing section, and a connection guard (kill switch).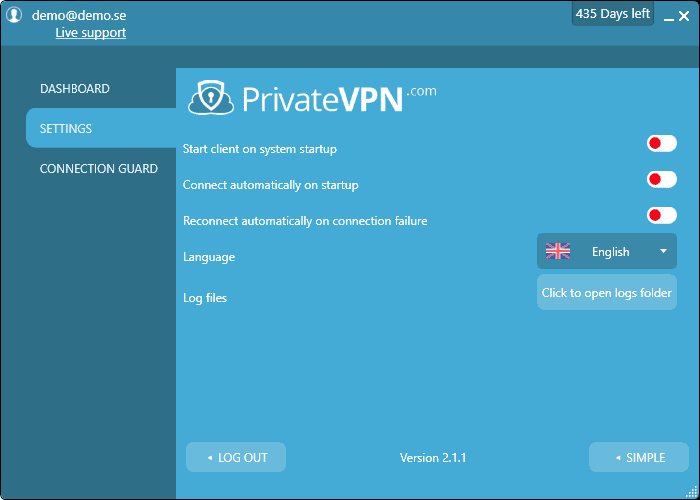 Overall, the installation process is easy and swift. It took us seconds to establish a connection, which is great for those who are not very familiar with how a VPN works.
macOS
As for the Mac application, we witnessed some ups and downs while examining it. Just like the PC version, PrivateVPN's app has a Simple and Advanced approach. Here's how the application looks like:



In the advanced section, users can choose their VPN protocol, enable the kill switch feature, or activate Stealth VPN. Also, you get to choose which server you wish to connect to and the VPN encryption you wish to have when connected.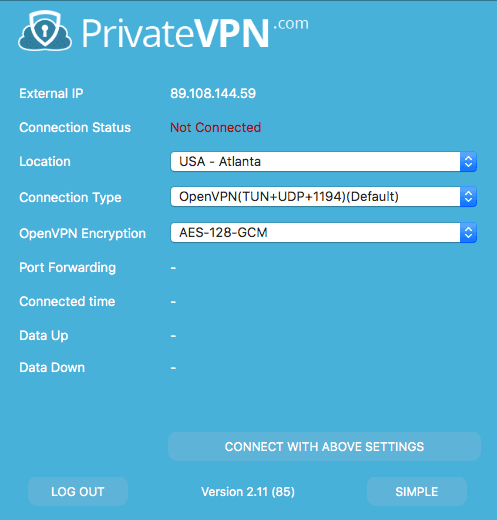 This version of the app isn't that easy on the users' eyes who do not know their way around VPN providers, but it's manageable with a bit of insight.
However, that's not the problem we wanted to talk about. While connecting to some servers took mere seconds, we encountered a problem with one of them, particularly New York 4.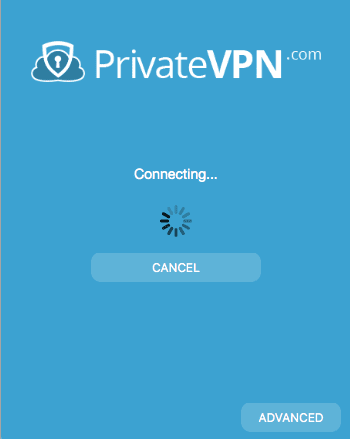 The server wouldn't connect at all. We even left it for around five minutes and it was still on the Connecting Screen. That was really disappointing as New York 4 is one of the servers that unblock Netflix.
Android
This one was our favorite. It's flashy, simple, and full of cool features to go through. The connection process was very smooth and fast. It didn't take more than three seconds to establish a connection in spite of the server's location. This is what the Android App looks like:




However, we did not like the fact that the Android client doesn't include a kill switch, but it does have the Stealth VPN feature. However, what we liked the most is the ability to connect to a specific server based on the streaming service you wish to unblock.
The Android app shows you a whole list of services around the world. We just pick one, and PrivateVPN will connect us to a respective server.


That's a very important feature if there are users who are not aware of a channel's host country. In this case, we highly applaud PrivateVPN for such an effort.
App Store Reviews
Google Play Store and the Apple Store have their own ratings based on what users experience while they're using a certain service. We have to take that into consideration as well.
According to the Google Play Store, PrivateVPN has a 4.4/5 rating and more than 100k downloads. That's a very good rating and if we were new customers, we would've been intrigued by how popular the app is.

As for iOS users, things got a lot better since the last time we saw the ratings. In fact, PrivateVPN used to have low ratings on the App Store, but now, it earned a solid 4.5/5.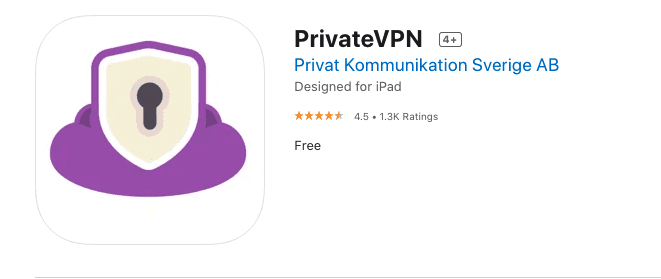 From 2.6 to 4.5, that's one heck of a jump in popularity and convenience. You can tell how satisfied PrivateVPN users are with the application.
Trustpilot Reviews
One of the most trusted websites to check the credibility of a certain company is Trustpilot. We always check what this review website has to say about a certain VPN provider while we're assessing it.
We searched for PrivateVPN, and the results were outstanding. Apparently, Trustpilot gave it a 4.8/5 rating, marking it as "an excellent service".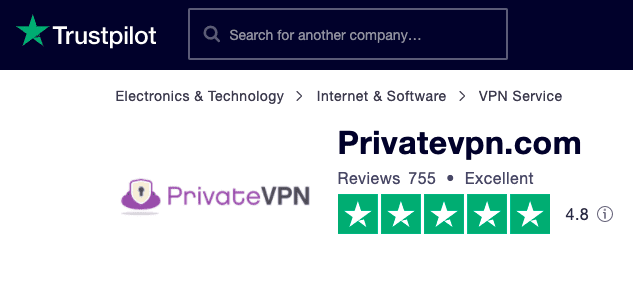 Sometimes these reviews come from a low number of users. However, PrivateVPN's rating comes from 755 reviews overall.
VPN Server Locations
PrivateVPN has over 200 servers in 63 different countries. Here's PrivateVPN's list of VPN server locations. Users get access to a global tier-1 network of servers. Apart from the USA (around 14 servers), all other countries listed below currently have either 1 or 2 VPN server locations.

UAE
Argentina
Austria
Australia
Brussels
Bulgaria
Brazil
Canada
Switzerland
Chile
Colombia
Costa Rica
Cyprus
Czech Republic
Germany
Denmark
Estonia
Spain
Finland
France
Greece
Hong Kong
Croatia
Hungary
Indonesia
Ireland
Israel
Isle of Man
India
Iceland
Italy
Japan
South Korea
Lithuania
Luxembourg
Latvia
Moldova
Malta
Mexico
Malaysia
Nigeria
Netherlands
Norway
New Zealand
Panama
Philippines
Poland
Portugal
Romania
Serbia
Russia
Sweden
Singapore
Slovakia
Thailand
Turkey
Taiwan
Ukraine
United Kingdom
United States
Vietnam
South Africa
Speed Performance
As with most other VPN service providers, some of these VPN servers are fast, while others can drag the Internet speed down a bit. But that is something users should expect whenever they're using a VPN.
We should note that we experienced no buffering nor poor streaming quality when using PrivateVPN to unblock American Netflix outside the USA. We performed some tests to see how PrivateVPN did when it came to speed. Here they are:
First, this is our connection without connecting to a PrivateVPN server. We're witnessing slow download speeds, but that won't affect our tests.
Next, we tried a US server. We picked Los Angeles as it's the only one available that can unblock Netflix. We would've used New York 4, but it wasn't connecting.
The UK server we connected to after that showed slightly better results, emphasis on "Slightly." However, the drop in the internet speed wasn't that much as well.
Finally, we connected to a nearby server, which we manually selected as the option is not available in the app. The results were actually good, recording only a 34% drop in speed.
What the tests showed was promising. Eventually, we were able to stream HD content without witnessing any buffering issues.
Unblocking Geo-Restrictions
Getting around regional blocks is one of the main tasks of a Virtual Private Network. We truly take this action seriously when we evaluate a certain provider.
Netflix
Bypassing geo-restrictions imposed on Netflix is where PrivateVPN truly shines. While most VPNs have dropped the towel and given up when it comes to unblocking American Netflix and the likes, PrivateVPN allows users to unblock 12 Netflix regions!
This includes USA, UK, Canada, Denmark, France, Germany, Finland, Poland, Sweden, Norway, Switzerland, and the Netherlands. We've tested all these regions and were able to watch Netflix every time. Well, except that one time when we got presented with that dreaded Netflix proxy error.
"Pardon the interruption. You seem to be using an unblocker or proxy. Please turn off any of these services and try again. Error Code: M7111-5059."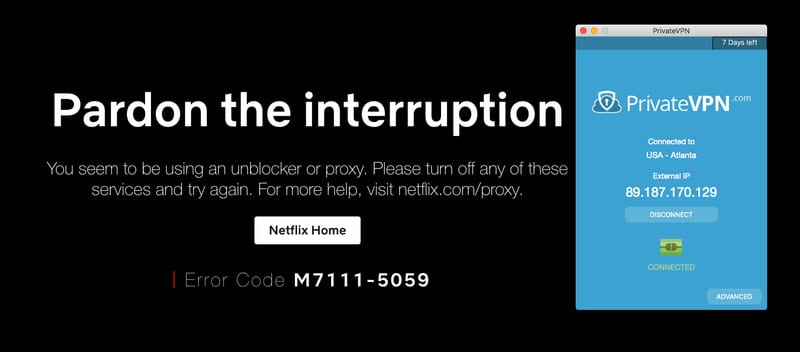 This occurred when we connected to a server in Atlanta. Apparently, out of all 14 servers in the United States, only five of them work with Netflix (We checked the By Services Section in the Android App).
Aside from the proxy error, we encountered another problem while signing in to Netflix. This is the first time that this has ever happened to us, and we've been doing this for a long time.
Upon signing in with our account (connected to PrivateVPN), this error popped up:
"Netflix Site Error. We were unable to process your request."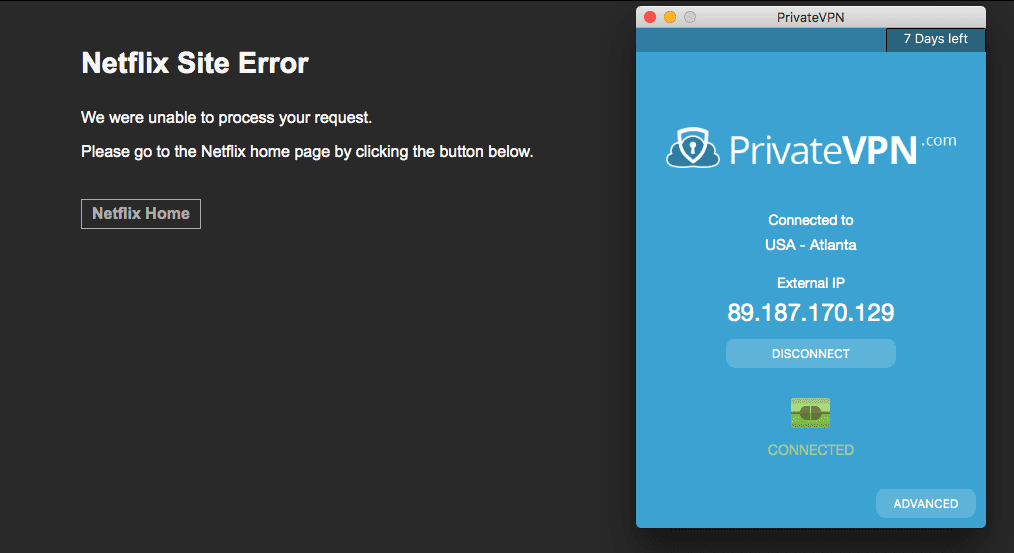 We wanted to give PrivateVPN the benefit of the doubt, but it turned out that it's causing such an issue. However, we were able to sign in the moment we disconnected from its server.
On the other hand, while we're testing on Mac, we had to use the Los Angeles server as we mentioned above that the New York one was not connecting. Once we connected to Los Angeles, we got to see Star-Crossed, one of Netflix US-exclusive titles.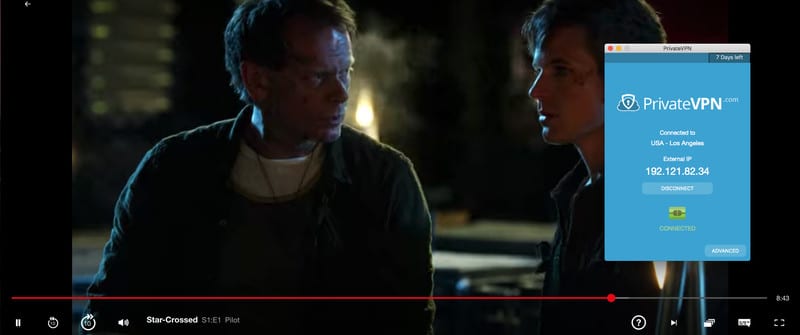 So, technically, with the right server, PrivateVPN is a good candidate to unblock American Netflix abroad.
PrivateVPN and Other Streaming Services
Obviously, Netflix isn't the only popular streaming service out there, neither is it the only one with a strict VPN blocking mechanism. That's why we also ran some tests on major platforms such as Hulu, BBC iPlayer, and Amazon Prime Video.
Amazon Prime
Again, without relying on the list within the Android app, we suffered an immediate block using Amazon Prime Video, for instance. The channel caught us in the act and gave us the following error message:
"Your device is connected to the internet using a VPN or proxy service. Please disable it and try again."
The Los Angeles server is the same one we used to unblock US Netflix. But apparently, It doesn't work with Amazon Prime. So, we relied on the list in the Mobile application and connected to a server in New York 4.
We used the mobile client this time since the server is not working on Mac. This time, the results were positive and we were able to unblock the American Amazon Prime in our country.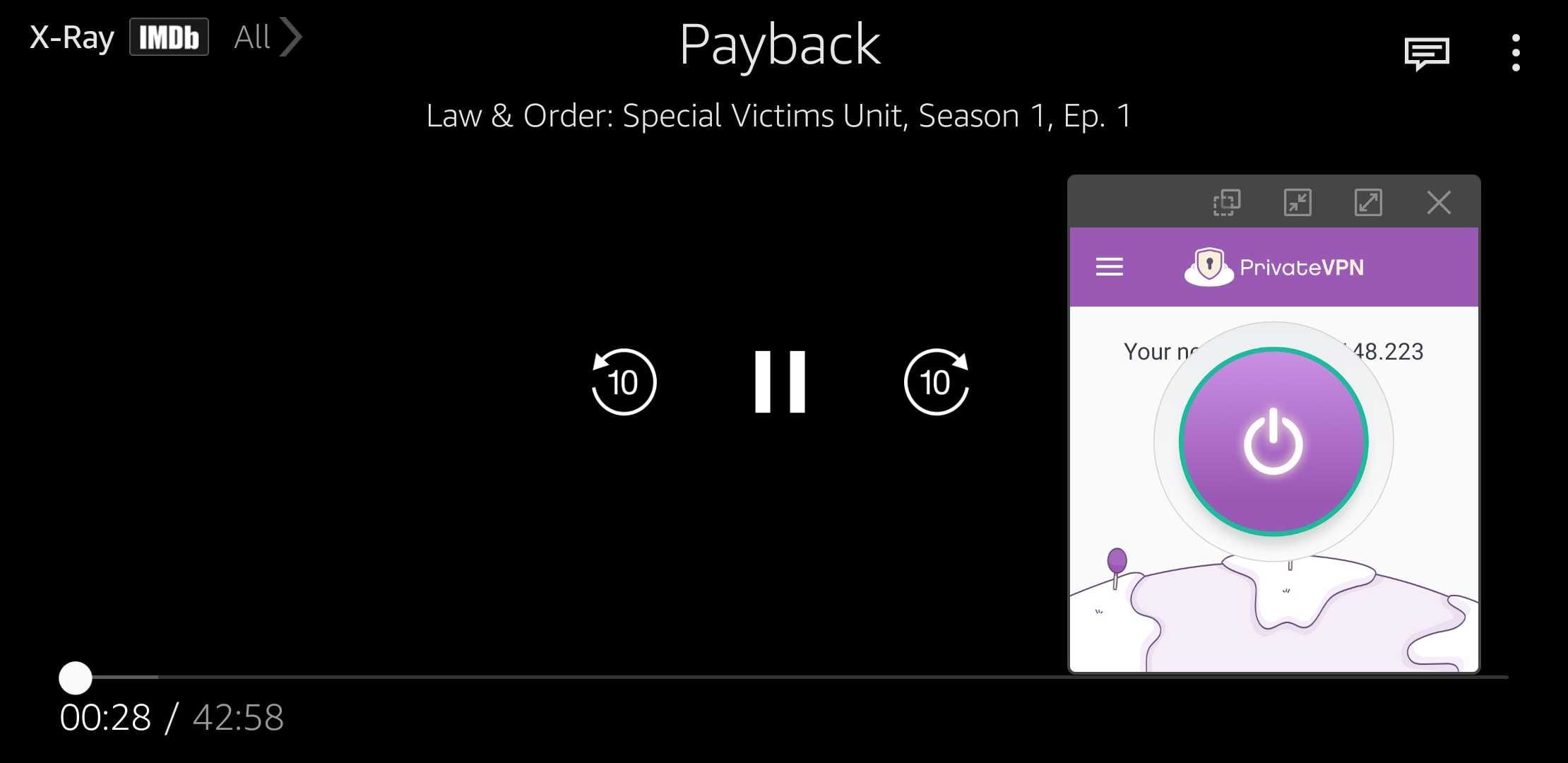 So, basically, PrivateVPN can unblock Amazon Prime as well. So far so good, huh?
Hulu
Hulu comes with very strong defense measures against VPNs. However, with PrivateVPN, that wasn't an issue for us to unblock in our region.
The process was smooth and instantly effective. We did not get blocked at all. We just connected to an American server in Los Angeles, established a connection, and streamed Hulu with ease.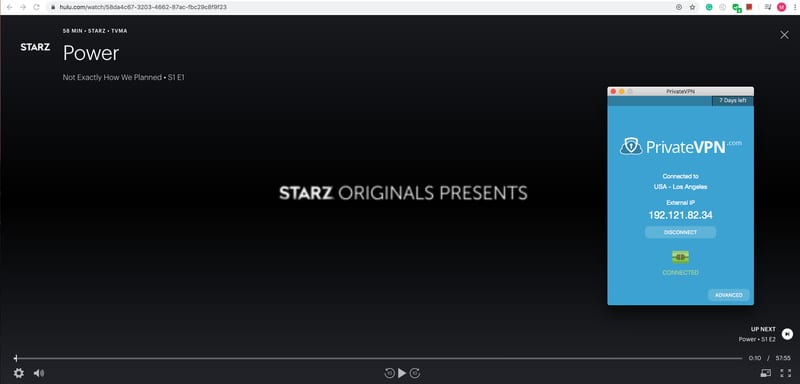 The same server that unblocked Netflix was used here with Hulu. As seen above, we were able to watch Power on our Mac device. We'd like to note that the Los Angeles server was not listed in the "By Service" section on Android. So, basically, we can't always rely on it.
BBC iPlayer
BBC iPlayer has been a major game-changer in the streaming industry within the United Kingdom. The service has millions of viewers, mainly because it offers its content for free.
However, despite being free, it still has one of the strongest VPN blocks available. And again, PrivateVPN proved to be a worthy adversary and managed to unblock the channel outside the UK.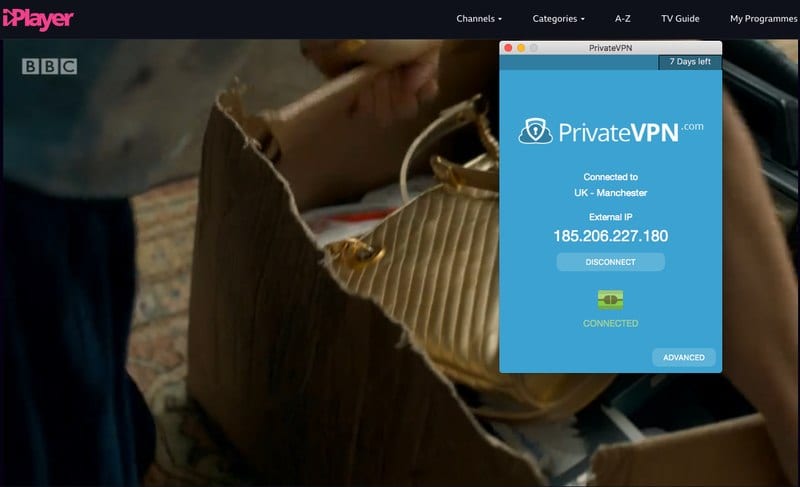 PrivateVPN has only two server locations in the United Kingdom. And using both of them allowed us to access BBC iPlayer in our region.
Smart DNS Proxies
Changing the DNS codes on a certain platform can easily circumvent geo-restrictions. That's why we take into consideration if the VPN we're assessing offers Smart DNS proxies.
Some VPN servers might fail to unblock certain channels. Therefore, Smart DNS is a great alternative in that case. Moreover, the technology also allows users to stream top channels with minimal speed loss as there's no encryption present to tamper with it.
However, it comes at a cost, users' security. But it's a very good substitute if users are just looking to stream restricted content. Now, nothing was mentioned on PrivateVPN's website so we took it to their support team.
They shed some light on the matter and informed us that no such feature is available within their service.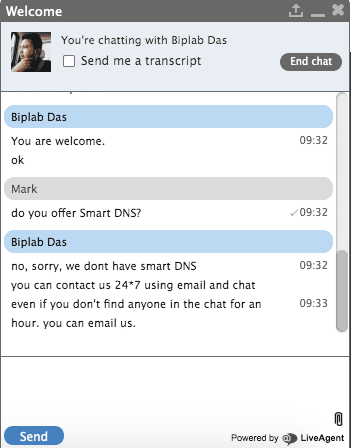 It's not a major con since the provider is able to unblock top channels like Netflix, Hulu, and BBC iPlayer, but it surely ranks it lower among other VPNs that do offer the service.
P2P Support
PrivateVPN is torrent-friendly and it supports unlimited P2P file sharing. Also, Port forwarding is available on specific servers. According to the Android application, here are the servers dedicated to P2P actions:
Brazil
Canada
Finland
France
Germany
Italy
Japan
Netherlands
Norway
Poland
Spain
Sweden
Switzerland
UK
USA
Despite having a variety of websites that allow anonymous P2P actions, PrivateVPN recommends their servers in Sweden to do so.
Privacy
The first thing users need to check before signing up with a VPN service is their data retention policy. We can not stress enough how important it is to only use VPNs that keep no logs of users' browsing activities.
PrivateVPN is based in Sweden, which is part of the Fourteen Eyes Association, an expanded version of the Five Eyes Alliance. This may raise a few questions considering the users' privacy.
The provider might be asked to collect user data for further use by law enforcement. However, PrivateVPN makes it quite clear that they neither keep logs; nor share their clients' details with third parties.
Their Privacy Policy is more than clear about how they do not collect our data:
"PrivateVPN does not collect or log any traffic or use of its service. If you are browsing our site, you don't have to give us any identifiable information. For more information, see the "cookies" section further down.
To be able to use our service, you need to register an account at our site. To register an account, you need to provide us with an e-mail address and a password. The e-mail address is your username.
All payments are made through Payson, Paypal, or Stripe, and we refer to their privacy policy and terms of use for further information about what kind of information they might collect. We do not track any activities outside of our site."
Never trust a VPN service provider that does not respect your privacy. Hotspot Shield, for instance, a well-known name in the VPN industry, was recently accused of selling its users' private data to third parties, effectively exposing these users online instead of providing them with an extra layer of privacy and security.
Kill Switch & Stealth Mode
Privacy features enhance a VPN's ability to protect its customers while browsing the web. This brings us to the kill switch technology, which cuts off a user's internet if the VPN connection takes a sudden drop.
PrivateVPN has an automatic kill switch, but it's not available on all platforms. For example, the Android client lacks such a feature. It was quite disappointing, but at least it makes up for it on the Mac app.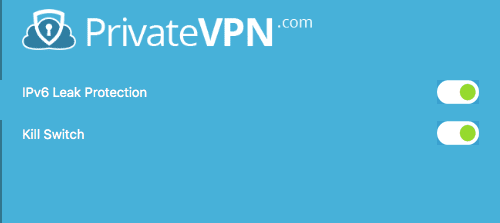 On the other hand, PrivateVPN has a Stealth VPN mode, which cloaks the fact that a user is accessing the web with a Virtual Private Network. This allows him/her to browse under the radar even in highly restrictive countries like China.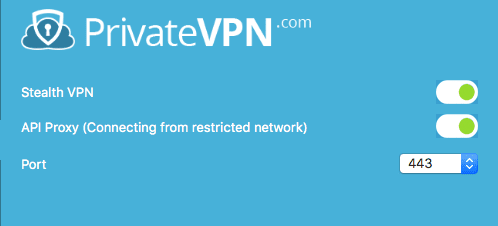 Speaking of China, PrivateVPN itself recommends a specific protocol to use in the country. According to their FAQ section:
"OpenVPN and, in some cases, PPTP are blocked by the Great Firewall. If you are connecting from China, please use L2TP"
Overall, Stealth VPN is a great feature for privacy. The provider has avoided explaining exactly how this technology works, but it's probably because this kind of information could reduce the mode's effectiveness.
Security
PrivateVPN uses 2048-bit Encryption With AES-256 along with several VPN protocols, including OpenVPN, L2TP, IPSec, IKEv2, and PPTP. In case users are manually setting up their VPN connection, or are using the Windows PrivateVPN app, they can choose the VPN protocol yourself.
The PrivateVPN app for Mac automatically selects the VPN protocol that best suits their network. We always recommend using OpenVPN given that it is the most secure. We recommend not to establish a VPN connection using PPTP unless absolutely necessary.
A VPN's encryption and its variety of protocol selection are important, but that doesn't deem it as secure all the way. Well, at least not according to our standards.
That's why we run a few tests to check whether there's more to it or not. Here's what we check for:
Virus Scan
Before installing any application, users should check if it has viruses or malware embedded within it. No matter how credible or legit the app might seem, there can be some malicious software behind it.
When we first downloaded the PrivateVPN Mac app, we ran a Virus scan to check if there's something hiding within it. Apparently, the app is as clean as they come.

Based on 59 sources, the PrivateVPN application showed no signs of virus or malware infections. All gree, all the way. We were definitely impressed as other VPNs recorded Trojan viruses and the likes.
DNS Leak Test
DNS leaks are very dangerous in terms of the privacy and security of your browsing activities. If this incident occurs, everything you were doing while connected to a VPN server will be revealed to your ISP's DNS servers.
So, despite the service's attempt to conceal them (Its main job), it can be jeopardizing them. We ran some DNS leak tests, depending on two sources. One of them is our won WebRTC Leak test.
Here's what the first test showed while connected to a UK server provided by PrivateVPN.
As seen above, PrivateVPN recorded no data leak at all. However, our WebRTC test showed that there is a possible leak. But that VPN's virtual IP address is the one leaking, so we're in the clear.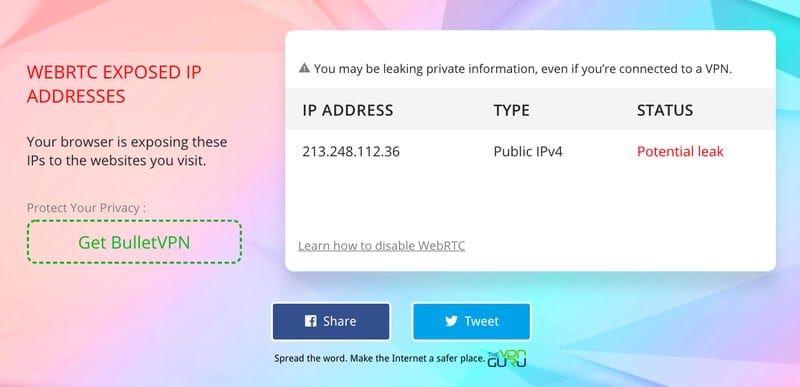 In general, the provider passed all IP, DNS, and WebRTC leak tests with flying colors, which is great news for their current and future subscribers.
Third-Party Auditing
Third-Party auditing plays an important role in our evaluation process. We always need what technology experts have to say about a certain product to determine whether it's credible to use or not.
Most companies and operators don't like third parties to access and assess their systems or software, which might be the case with PrivateVPN.
So far, there have been no audits for the provider. But on the bright side, there have been no reports of it failing in any department so far, especially when it comes to security and privacy.
Warrant Canary
Being based in Sweden is kind of worrying in terms of privacy. Users never know when the government may issue a subpoena, requesting to collect specific information about PrivateVPN's customers.
Even if they try to warn their customers, it's completely illegal. That's where a Warrant Canary comes in. It's an indirect message provided on the VPN's website, which informs users of its service receiving a gag order from law enforcement.
Now, we searched their website, yet no Canary Program was found. Some VPNs post a transparency policy where all they show how many requests they've received so far and how many did they disclose.
PrivateVPN also does not have that option. But as we said, no reports of it handing over data or collecting them in the first place, have been reported.
PrivateVPN Support
PrivateVPN does offer 24/7 live chat support. You can also contact their support via email. We got in touch with PrivateVPN support using either method and received a response almost immediately in both cases.
We contacted their live chat support to see how efficient their service is. They replied within seconds, which really impressed us. Also, we asked about how they operate, if it is a 24/7 live chat, and the answer was yes.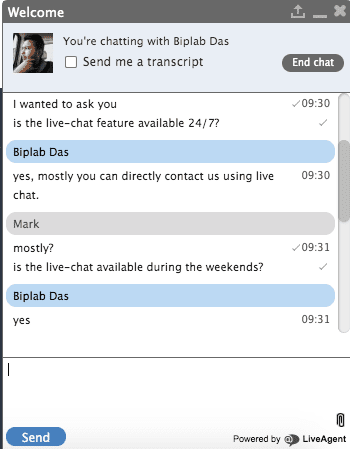 Moreover, we were able to access their live chat support through their website and the app as well, which redirected you to the official support page on their site.
Users can also get in touch with PrivateVPN and check any service updates by following their social media accounts on Facebook, Twitter, Google+, and Youtube.
There doesn't seem to be an option to contact PrivateVPN by phone, but we honestly think that phone support is redundant when it comes to VPN as any issues get resolved much quicker and easier online.
PrivateVPN – Plans and Pricing
Any person who has previously used a VPN before already knows that reliable VPN services come at a price. Free VPN service providers are neither worth anyone's time or effort.
If users are serious about their privacy and security online, a VPN provider that is both reasonably priced and reliable is what you need. After testing PrivateVPN for quite a while, we'd like to think that they are definitely worth your money. Here are their different subscription plans.
A One-month subscription for $9.99
A 24-month subscription for $2.50/month
Three months subscription for $6/month

The plans are really cheap and affordable compared to what users are getting in return. As for the 24-month plan, users can save up to 77% if they opt for it.
Payment Options
Users can purchase a PrivateVPN subscription using credit card payments or via online payment systems like PayPal, Payson Direct Bank Transfer, and Stripe.

But what truly caught our attention is that BitCoin is also supported. Cryptocurrency is not the most preferred way of making payments as it's totally secure and anonymous. We were very pleased to see that, just like other top VPN providers, PrivateVPN allows crypto payments.
Refund Policy
The money-back guarantee probably is one of the most categories users should keep a keen eye for when opting for a VPN service. They don't want to sign up blindly and then regret their decision and lose the money they spent.
PrivateVPN allows users to test their service for 30-days risk-free. If it didn't turn out the way they expected, they could ask for a full refund, provided they stick to the appointed duration.
Free Trial
Free trials are very rare among VPN providers, and if they do exist, they come with a catch. Users are, in some cases, requires to submit their credit information to benefit from the feature.
PrivateVPN offers a 7-day free trial, with no catch. We managed to sign up for the trial by submitting our email address only. And to top that, every premium feature is included in it.
All the servers were accessible, the kill switch, the VPN protocols, everything. Good job PrivateVPN, you've done what most providers didn't do.
PrivateVPN Review – The Final Verdict
If you're looking for a VPN service provider that supports changing Netflix regions, we can definitely recommend signing up with PrivateVPN. The Windows VPN application is one of the best around, and we were also promised that other versions would soon also have similar features implemented. The 30-day refund policy and free trial allow you to try out PrivateVPN risk-free.
When we first started testing PrivateVPN, we didn't know what to expect. It's safe to say that we were pleasantly surprised by the whole experience and give this particular VPN service provider our thumbs-up. Did you try it out? Let us know what you think in the comments below.