Ookla's Speedtest VPN 2023 Review
|
If you're an internet user, you've probably heard of Ookla's Speedtest. It's one of the most popular web engines to test your connection's performance. Now, the company is branching out into the virtual private network industry with a new mobile VPN that resides within the Speedtest App itself. What is Speedtest VPN? Does it offer enough features to deem itself a worthy VPN in 2023? Find out in this full Speedtest VPN review.
Ookla's SpeedtestVPN Review – Content Index
Ookla Speedtest apps are very popular among mobile users. Now, the company has added a free VPN option within the app to give its customers the chance to surf the web anonymously. The question is: Does it really do that? Does Speedtest VPN have what it takes to compete in this industry? We used our strict evaluation criteria to assess everything Speedtest VPN has to offer. As a result, this review was created.
Quick Stats
| | |
| --- | --- |
| Money-back guarantee | 7 days |
| Allowed concurrent connections | 1 |
| Supported streaming services | None |
| No logs policy | Collects Some Information |
| Encryption | Military-grade 256-bit AES |
| Protocols | OpenVPN |
| Special features | None |
| Customer support | Ticket support |
| Server locations | N/A |
| Number of servers | N/A |
| Server Switches | Unlimited |
| Data traffic | 2 GB (Free Version), Unlimited (Premium) |
| Supported devices & web extensions | iOS, Android |
| VPN legal jurisdiction | United States |
Speedtest VPN – Pros and Cons
With little to no special features to cover, Speedtest VPN proved to have more cons than pros. This section will give our readers a quick look at Ookla's VPN service and shed some light on what advantages and disadvantages this provider has to offer:
Pros:
Military-grade encryption
Easy-to-use apps
Free plan
Uses OpenVPN
Cons:
US-based
Collects some logs
Slow speeds
Can't choose servers
Unknown server network
Only available on mobile devices
Supports no streaming service
Data transfer limit for the free plan
Doesn't have a kill switch
No extra features
No live chat support
1 device per account
Application and Interface
For a new service, one would hope to get a standalone application for its Virtual Private Network. However, Speedtest decided to add this VPN as a feature within its already existing mobile client.
Before we head over to see what the app looks like, we have to note that Speedtest has no clients that include the VPN service on desktop devices. The feature is only available on mobile.
The option to manually set up your VPN connection is also not available for Speedtest VPN subscribers. That means that you will not be able to configure a VPN connection on your router or any other device, for that matter.
Also, Ookla states how easy it is to use the VPN feature on their application. In fact, it's too easy; nothing extra special about it can be found.
Sometimes less is good, but in this case, it's definitely not. The simplicity of Speedtest VPN is one of the main problems we faced during our tests.
We tried the Android version, and to be honest, we weren't that satisfied. It's too basic and lacks every single feature a VPN should have. Take a look:



Connecting to a server took quite some time. While this isn't the slowest VPN to establish a connection we've encountered, it's still too slow. It took almost 10+ seconds to connect, and it's a nearby server.
The design is very simple and lacks every single feature a VPN should provide. The settings section has nothing to do with the VPN service, only a help section that redirected us to their official website.
Finally, one of the main issues of both the Free and Premium versions is that a user is only allowed to use Speedtest VPN on one device simultaneously with the same account.
App Store Rating
Before we dig deeper into what Speedtest VPN is capable of, we have to mention what users went through while using the service. App Store ratings give a good idea about the application. It helps users determine whether it's worth downloading or not.
On the iOS Store, Speedtest has gained some popularity, earning a 4.1/5 rating. This is considered to be a good result, especially when if the rating is based on more than 8.5K users.
We also checked what Android users have to say about the app. There were a lot of positive reviews, which gave the app a rating of 4.4/5, marking it as excellent.
Despite the positive reviews, there were a lot of negative ones. But overall, the app has positive ratings on both App Stores.
Trustpilot Review
As mentioned, Speedtest VPN does not have an app of its own, so we'll be looking at the Ookla Speedtest app in general. Trustpilot is one of the most trusted websites to get honest reviews based on users' experience.
Apparently, Ookla's Speedtest isn't that accepted by most of those who reviewed its service. According to Trustpilot, the Speedtest service gained a 2.4/5 rating, marking it as poor.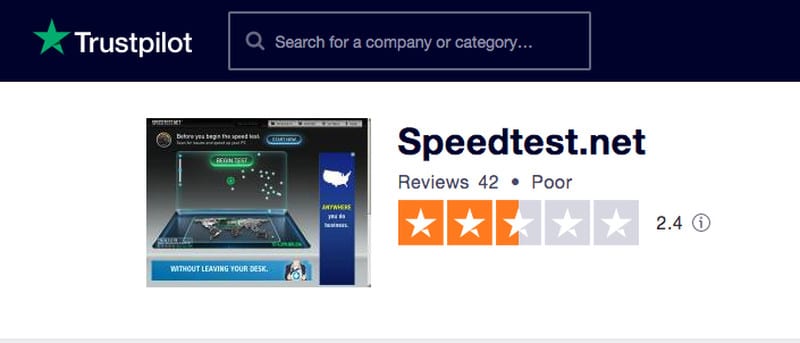 Most of the comments we read were calling it a scam. Here are a couple of reviews we found worth mentioning:
"Also had someone claiming to be from Sky direct me to this website. As soon as I told them what the download and upload speeds were, the line went dead – clearly, a scam, beware!"
Showing fake speed by taking money from providers!!! Scammers!
BAD BAD NEWS. Being used by scammers trying to hack into your computer.
This is a scam website. A man with an Asian accent will tell you he is from the BT Technical Department and asks you to go onto it and tell you your internet speed is too low. Then ask you to press consent at which stage the site you are on will steal all of your information.
In the privacy section later on in this article, we'll be shedding more light on sensitive information collection. Make sure to read it well before you download the app and give it your consent to harvest your data.
Server Network
Much like any other feature, Ookla Speedtest VPN is also not transparent when it comes to the servers it offers. The website already states that there are 40,000 different IP addresses that users can connect from. However, the total number of servers or the countries covered is not mentioned anywhere.
Based on our experience, we know that SpeedtestVPN has a server in Larnaca, Cyprus. That's due to the fact that we were automatically connected to it as, according to the app, it's the nearest server to us.
But our tests didn't stop there. When we first launched the Speedtest VPN app, a notification appeared asking for permission to use the mobile's location. It means that GPS is used, and we can easily fake that.
With a fake GPS app, we were able to shift our location to several countries in order to see if Speedtest VPN will connect us to a nearby server there. We didn't find a server in Canada, but the app did connect us to servers in the UK, USA, and France.



Speedtest VPN also covers more parts of the Americas, Europe, and some parts of Asia, including Hong Kong. That's actually a good thing, but having to fake our location to access different servers is simply too much work to do.
Finally, Ookla Speedtest VPN provides limited to no service in Qatar, Saudi Arabia, UAE, Iran, Cuba, Mainland China, Egypt, Kazakhstan, Myanmar, North Korea, Sudan, Syria, as well as several other countries not listed on their FAQs page.
Speed Performance
So we already established that we could not choose the server on our own. Instead, Speedtest VPN chooses the nearest and the fastest one possible. With that in mind, we wanted to see how the VPN performs in terms of speed.
First, we evaluated our own connection without using Speedtest VPN. As a result, the following screenshot represents our test's baseline.
Next, we connected using Speedtest VPN. The problem was that our internet was terminated at first. After several trial and error attempts, we finally got the results. Well, they weren't that satisfying also. The connection took a huge toll on our internet speed and caused a 70% drop in the download performance. The upload improved a bit, but the PING skyrocketed. The results are presented in the image below.
Speedtest VPN claims that it requires our device's location to determine the best server it can connect us to in terms of speed and performance. According to the test results we recorded, it still needs a lot of work. The download speed rate dropped drastically, which marks Speedtest VPN as unreliable for streaming content in UltraHD or even torrenting.
Unblocking Restricted Content
If you've seen our previous reviews or at least went through our evaluation criteria, you'd be aware of how important this part is. Unfortunately, it's going to be a short one when it comes to Speedtest VPN.
The provider doesn't allow users to pick their servers, and as we mentioned, it only connects to the nearest servers to the users' location. This doesn't help at all if unblocking geo-restricted content is the goal.
During our tests, the VPN connected us to Cyprus, which is nowhere near any country with major streaming services. Nonetheless, we're used to testing VPNs on channels like BBC iPlayer, Netflix, Hulu, and Amazon Prime, which gave us a bit of hassle while trying them out.
We started our Speedtest VPN test on Netflix and Amazon Prime Video. The reason why we performed this test wasn't about accessing the dedicated library in Cyprus. On the contrary, we were just checking whether Speedtest VPN can get around these channels' VPN blocking mechanism.
But we didn't stop there. We faked our GPS again and connected to different servers in the US and in the UK. We had to make sure that we covered the top streaming services in the world.
Well, according to the tests, Speedtest VPN falls into the category of blocked VPNs. Once we launched a video on any of the streaming services, a proxy error popped up. Here are the screenshots of SpeedtestVPN, along with all the channels tested these streaming channels; a proxy error popped up.



The same thing happened with Netflix, which deems Speedtest VPN as a non-credible provider for unblocking geo-restricted content. It's not about the inability to get around restrictions; it's also about the fact that we're not allowed to choose the server. Big fail in this department.
Torrenting
One of the most popular things to do on the internet is to download Torrent Files. P2P actions are dangerous as they reveal a user's IP address to whoever is sharing the same file.
That's just half of it. Torrenting, in general, is not illegal. However, downloading and sharing unsanctioned copyrighted material is very. Users who do so might get pursued by the authorities. Some countries ban torrent websites to avoid this predicament, to begin with.
With a VPN, users can hide their IP address, download torrents anonymously, and even access torrent files in regions where they're blocked. Now, when it came to testing if Speedtest VPN was up for the "protection" job, we had two problems at hand.
The first main issue is that the new service isn't transparent enough about P2P actions. The second problem is that Ookla Speedtest VPN is only available on iOS and Android. No one downloads torrents through their mobile devices nowadays.
Furthermore, as we mentioned in the speed section, Speedtest VPN isn't that fast when it comes to downloading. Also, we're not sure if the overall leak protection the service applies is even close to optimal yet.
Security
So far, we're not that impressed with what SpeedtestVPN has to offer. The VPN's "speed and unblocking capabilities" are not features users can rely on. Now, these two are important in a Virtual Private Network, but let's get into what a VPN is really about.
Another important element is the VPN's security. Most VPNs apply the industry-standard encryption 256-bit AES, which is exactly what SpeedtestVPN uses.
It's well known that this type of encryption is the strongest, as all the top providers apply it within their services. What's worth mentioning here is the lack of security protocols.
With top providers such as ExpressVPN and BulletVPN, users get to choose which protocol they want to operate with. It's more flexible and helps them browse the web the way they want, be it with more speed or more security.
In other words, the tunneling experience is very important to determine the type of online experience users are getting in return. Well, not with Ookla as Speedtest VPN only offers the popular protocol OpenVPN.
As a result, users get limited overall tunneling ability and, of course, limited device compatibility. This might explain why the feature is only available on mobile devices.
As for security features, Speedtest VPN has nothing of the sort. No multi-hop option, nor does it include a kill switch. Having such technologies protect customers from all sorts of threats.
Without a kill switch, for example, the users' browsing activities are always at risk of being compromised by their ISP if a sudden drop in the VPN connection occurs. And based on the new free VPN's efficiency, that might happen a lot.
Privacy
When it comes to privacy, the VPN's headquarters matter a lot. This determines whether your personal information can be compromised or not.
In Speedtest VPN's case, it matters a lot as it's based in the United States, so basically, it doesn't do the best in this segment. The provider is situated in Seattle, US, which means it has to oblige to the regulation of the 5/9/14 Eyes alliance.
In other words, if the government or authorities came snooping around for user data, the provider has to disclose them. User information does not necessarily have to stay in the US.
The 14 Eyes can share the information with any of the countries in the Alliance, including the likes of the UK, Australia, Canada, New Zealand, Germany, France, Italy, etc.
Storing users' logs and browsing activities is the exact opposite of what a VPN should do. When we were checking their Privacy Policy, it turned out that Speedtest VPN does collect some logs.
While the provider does not hide that fact, it's still something to consider. It's not the VPN in particular, the whole Ookla service does admit to logging the info on its users' connection sessions as well as their original IP address. Here's what they state in their policy.

Again, it's totally opposite to what users would want to get out of a Virtual Private Network. And based on what we've seen so far, we highly doubt that Speedtest VPN is a credible choice in terms of the security and privacy aspect.
The First Privacy-Related Encounter
We already knew all of the information above when we started our review, but one thing caught us off guard – the first launch of the app. When we first downloaded and activated the Speedtest app, the following message appeared.
"Ookla may use third-party services to collect data about your device and your usage of Speedtest and use it to improve the application experience and stability. Your location is used to choose the optimal server on which to run a speed test."
The notification also asks for the user's permission to "Allow Speedtest to collect advanced analytics and crash reports." Another message popped up asking us to allow the app to access our calls. The first question that came to our mind was, why?
We went to their help section and found that this had been asked before. This is the answer:
"Speedtest will never make or manage your phone calls. Our app requests this permission to determine your cellular connection and provider in order to display that information in your test result.

You can disable the phone state permission on your device at any time using the device's settings menu, but be aware that it could impact your results."
Well, despite clarifying everything, we still think that this is a vague statement and something is shady behind it. This is that Free VPN paranoia everyone should have.
Any DNS Leaks?
Leaks are probably the most dangerous incidents that may occur with a VPN. They expose everything a user is doing on the web to their ISP without even knowing about it.
If a VPN does not protect its customers from such leaks, it's certainly not doing the job it exists to do. Now, despite not having privacy and security features such as a kill switch, we performed a leak test using Speedtest VPN's service, and nothing came out.
The provider doesn't leak user data, and the results of the test can be seen in the screenshot below.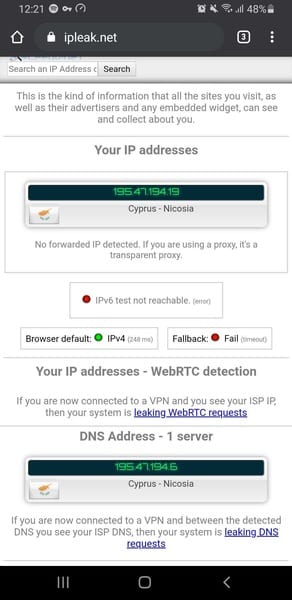 Everything shown in the test above corresponds to the server we're connected to. In other words, there's no data leak, and Speedtest VPN is doing a good job in this department.
Customer Support
Being able to help customers on the spot is probably one of the most important things a VPN can do. In other words, having a live-chat feature is essential.
However, unlike top providers in the industry, Speedtest VPN does not have a live chat option. The only way to contact their support team is by issuing a ticket, which might take a long time to get replied to.
When we visited their support section, one thing caught our attention. Apparently, if we're using the free version, it'll take more time to get help. Only premium customers get fast help.
We're not just saying this; it's there on their website.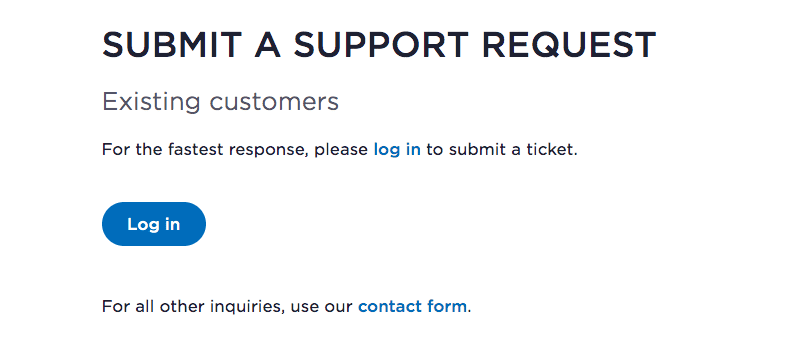 So, basically, premium customers can log in and submit a ticket for a faster response. Anyone using the app for free can fill out a contact form, which apparently, takes more time to answer.
Pricing (Free vs. Premium)
When a VPN offers a free version, we'd expect the premium one to add significant features in return. However, that's not the case with Speedtest VPN as it only upgrades a couple of things – no added features whatsoever.
First, we tried the free version. As seen in previous sections, we weren't able to choose the server we connected to. This remains the same when opting for the premium version.
The only upgrades we got targeted bandwidth usage and advertisements. The free version allows 2GBs per month, and the app's speed test bombards users with ads.

When it's premium, users have to pay $4.99 a month, which grants them unlimited bandwidth, and the ads in the Speed Test will cease to exist. Despite being beneficial, this is not enough. No new features – no added value.
Payment Method & Refund
Users get to download the Ookla Speedtest application directly from their respective App Store. That means the only way to pay for the premium service is by what the Store offers.
For example, users can pay using a credit card or PayPal. They can also cancel the subscription directly from their respective app store. Now, a VPN should give users a chance to test their service out.
Some providers offer free trials, while others provide a money-back guarantee. Top services in the industry have a 30-day refund policy, but Ookla only offers seven. Based on the lack of features in the app, 7 days are more than enough.
There's only one button to use – the Connect button. It'll give you the entire idea of what this VPN is capable of, which is practically not much.
Speedtest VPN Review – Final Thoughts
We'd like to conclude our Speedtest VPN evaluation here as there are no additional features to talk about or assess at this point. It's quite disappointing, actually.
Now, the question is: Do we recommend using Speedtest VPN? The answer is no. There are top VPNs out there with top-level security/privacy features, excellent speeds, live chat support, and dozens of supported streaming channels.
If you're looking for top alternatives, you can go through our Best VPN Services review. Check what the other options are, and let us know in the comments which one you ended up with.