How to Watch Bellator 225: Mitrione vs Kharitonov Live Online
|
No contest for a technicality? That is not how a Bellator fight should end. That's why we'll see Matt Mitrione face off against Sergei Kharitonov in Bellator 225 come August 24th, 2019. The two will get the opportunity to finish what they started in February. In fact, fans of the sports will also get to see yet another epic showdown between the two. Can't make it to the Webster Bank Arena in Bridgeport, Connecticut? Well then, here's how you can watch Bellator 225 live online.
Mitrione vs. Kharitonov 2 on DAZN
Not too long ago, DAZN got the rights to broadcast Bellator events in the United States. That came as a treat for fans who like to keep up with their monthly dose of MMA action. So, DAZN in the United States is a must if you're a fight fan.
According to DAZN CEO:
"It's simple; fans want to see great fighters in competitive fights so we've handed the keys to Scott Coker and his venerable team to go out and recruit even more top-level talent to further stack Bellator fight cards and build on their success,"
The channel is quite simple to work with. First, there's no need for a long-term cable subscription. All you have to do is pay a monthly fee of $19.99 or a yearly one for $99.99. That includes a 30-day free trial in case you're a new subscriber.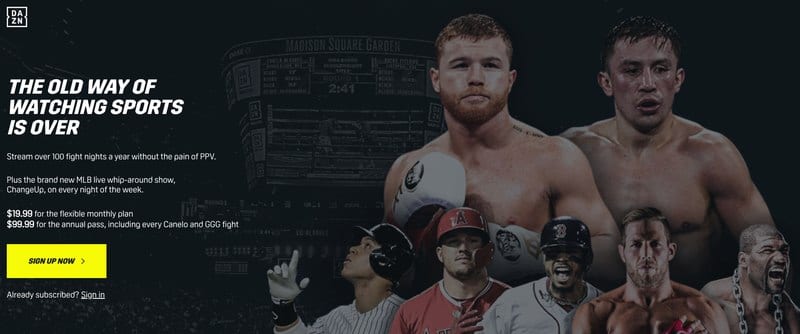 That's not all. DAZN has a wide coverage of sports as I stated above. However, it also covers all sorts of devices for you to enjoy it to the max. You get to stream Bellator, MLB, and other sports live on your iPhone, iPad, Xbox One, PlayStation, Apple TV, Chromecast, Amazon Fire Stick, Roku, Android, Windows PC, and macOS. 
As grand as it is, DAZN will only allow you to stream Bellator fights if you reside in the United States. Try it out. Stream a video from abroad and let me know what happens. Don't waste your time; this is the geo-error message you'll be getting:
"DAZN isn't available in this country."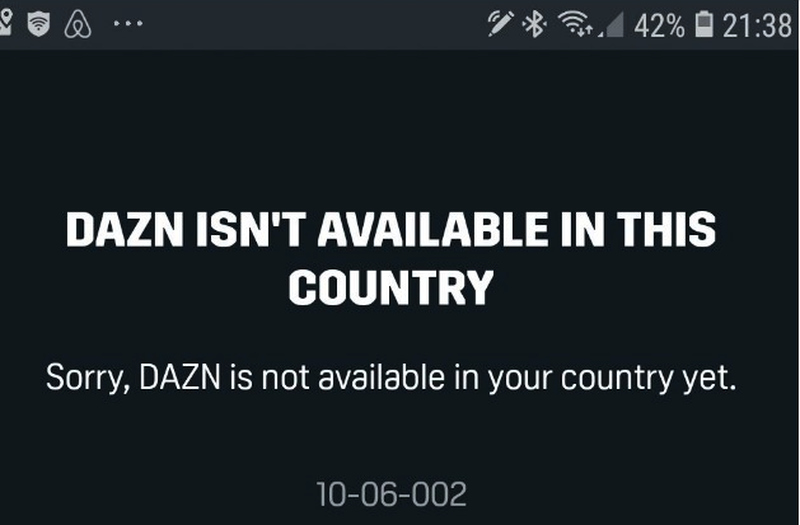 Don't worry. Once you skim through this guide, you'll have a way to circumvent the geo-restrictions imposed on the channel's content. Quick tip, you'll be using a VPN to change your online location. Now, let's head over to the solution part.
Stream Bellator 225 Live with a VPN
Before we begin, I should inform you that you can also stream the fight on Paramount Network. However, you'll need a valid cable subscription to operate the channel. That's why DAZN is your best bet here. Now, since both the channels are restricted to the US, you should make it appear as if you're in the region as well. That can only happen if you use a Virtual Private Network.
With a VPN, you'll be able to shift your virtual location and make it appear as if you're accessing the channel from a different country. The good thing about this process is that it's pretty simple. Just connect to a US server, and you'll become a temporary American resident. But how? Well, the VPN will cloak your public IP address and replace it with the one associated with the server's location, i.e., the United States. Now that you have an IP address in the US, you can access the likes of DAZN, Paramount Network, ABC GO, and dozens of other US-based services.
Furthermore, you get to bypass regional restrictions while shielded against all kinds of malicious online attacks. You see, VPNs existed to serve as security tools. They encrypt your data with the latest security protocols and hide your IP address. That protects your information from being hacked and lets you surf the web without being tracked.
The Steps
Need a more comprehensive look at how to stream Bellator 225 live anywhere? Follow my lead:
As a streamer and a VPN reviewer, I pick the best of the best VPNs to operate with. So far, my recommendation goes to ExpressVPN.
If you're convinced, subscribe to their service and download their dedicated application on your device. You will find clients for Windows, Mac, iOS, FireStick, and Android.
Once you get the app, launch it, and sign in with your newly created VPN account.
Navigate to the server list and connect to an American server. (This step will take a few seconds).
When the connection takes place, launch your preferred channel (DAZN or Paramount).
Now you can stream Bellator 225 despite being physically abroad.
You should know that DAZN has been able to block VPNs. When I used a free VPN to access the channel, I got an error message that tells me to turn off any unblocker or proxy. That's why I recommended ExpressVPN as it's been tested. Don't worry about the payment. You'll get a full refund in case it didn't turn out the way you wanted. Just make sure to ask for that within the first 30 days. As for other top VPNs for DAZN, check them out in the table below.
Last Updated Today


30-Day Money-back Guarantee
Unlimited Bandwidth
Apps For All Your Devices
24/7 Live Support
Visit ExpressVPN
Bellator 225: Mitrione vs. Kharitonov
We didn't get enough action back in February thanks to Mitrione of course. "Meathead" landed an accidental kick to his Russian opponent's groin just 15 seconds into the first round.
Kharitonov is a Russian heavyweight that only lost once in thirteen bouts over seven years. With a seven-fight unbeaten streak, The Paratrooper is looking to add Mitrione's name to his list. On the other hand, Mitrione has had a very successful debut in Bellator scoring four consecutive wins, including one over Emelianenko.
However, that good fortune turned upside down when Ryan Bader defeated him at the Heavyweight Grand Prix semi-finals. And then came the out-of-nowhere kick to the groin incident. Do you think he will be able to overcome the odds and pull one over the Russian-native come August 24th? Will he be able to erase the kick from all the fans' memories? We'll have to wait and see.
The fight will take place on Augst 24th, 2019. Mitrione vs. Kharitonov will headline the event along with other super epic showdowns. That includes the face-off between Valentin Moldavsky and Timothy Johnson. Valentin Moldavsky joined the Bellator promotion back in 2017. He had three matches ever since and won all of them, including a showdown against Linton Vassel. Timothy Johnson, on the other hand, had only one fight in Bellator that took place last October. It wasn't successful though, as he got knocked out by the French veteran Cheick Congo. I can tell that it's going to be one heck of a night, can you? Let's see what else is on the card:
Main Card
Matt Mitrione vs. Sergei Kharitonov
Valentin Moldavsky vs. Timothy Johnson
Preliminary Card
Alejandra Lara vs. Taylor Turner
Kastriot Xhema vs. Rodolfo Rocha
Corey Browning vs. Nick Newel
How to Watch Bellator 225 Live Anywhere – Summing Up
Bellator 225 features the rematch between the Russian heavyweight Sergei Kharitonov and American Matt Mitrione. You seriously don't want to miss out on the MMA action come August 24th, 2019. Therefore, get yourself a VPN such as ExpressVPN, unblock DAZN anywhere in the world, and watch Bellator 225 live. In case you run into trouble in the unblocking process, give me a shout out in the comment section below. We can also share predictions for the upcoming fight.