How to Watch Bellator 233: Salter vs. Van Steenis Live Online
|
Bellator fights aren't always about the main event of the night. Sometimes, a somewhat comeback might drive everyone crazy. On November 8th, 2019, King Mo will return to the cage after his retirement for one last time to take on Andrew Kapel at WinStar World Casino in Thackerville, Oklahoma. But we should not forget about the main event as well – Salter vs. Van Steenis. You can tell that Bellator 233 is packed with action. However, the real question is: Can it be streamed online anywhere? Normally, no as it's only in the US. But after this guide, you can watch Bellator 233 live wherever you are.
Bellator 233 on DAZN
Watching Bellator MMA events has never been easier ever since DAZN took on the official broadcaster role of the promotion. Now, in the US, the Netflix of Sports is your go-to home for such epic fights. That's probably why the channel has more than 4 million subscribers.
However, as most of you know, streaming channels around the world protect their content in certain geographical locations. In this case, DAZN restricts most of Bellator streaming to the United States.
That's a problem for MMA fans outside the country, don't you think? Instead of watching the return of King Mo, they get an error message that blocks their access instead. This is what the error looks like:
"DAZN isn't available in your country."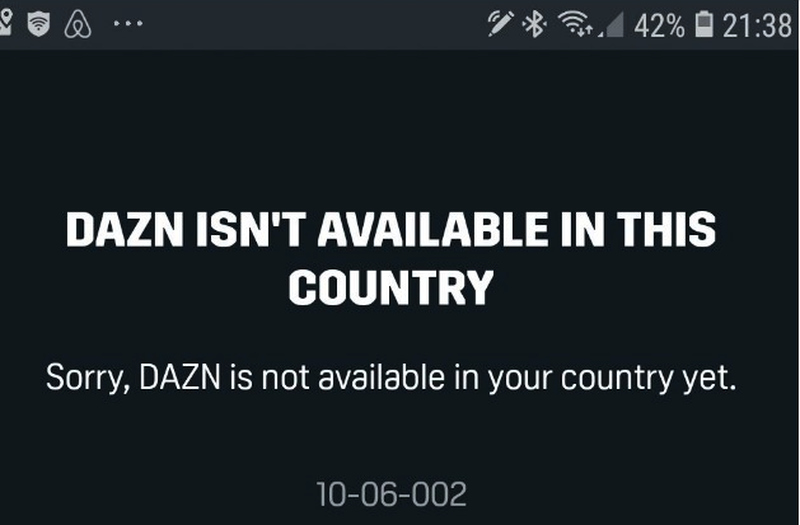 This is really annoying considering how popular the channel has become. It has spread out in nine countries, offering top sporting events for a cheap price. You don't even need a cable subscription to operate the channel. For example, in the US, you can pay $19.99/month and tap into everything DAZN has to offer.
You might think that an event like Bellator 233 would be provided as a PPV, but no, that's not the case. No matter what you want to watch, whether it's boxing, UFC, or Bellator, every event will be part of your subscription. That's it.
Now, we've seen the problem at hand and why is it important to get DAZN outside the US. Let's jump right to the solution part as Bellator 233 is on its way.
Stream Bellator 233: Salter vs. Van Steenis Anywhere
To watch DAZN, you need to be residing in the United States. Well, physically that's going to be hard, especially if it's a one-night event. So, how about I teach you how to virtually alter your location and appear as if you're in the States?
It's simple, just use a Virtual Private Network – a cybersecurity tool that encrypts your online traffic and reroutes it through a remote server in a country of your choosing.
Once you establish a VPN connection, you'll take on an IP address based on where the server is located. For example, if it's in the United States, you'll receive an American IP address. This will mark you as a current US resident with full access to what the United States restricted abroad, including DAZN.
The Steps
In case you need extra help in the process, here's what you need to do to watch Salter vs. Van Steenis live anywhere:
The first step would be to subscribe to a VPN service. If you're looking for a credible one, give ExpressVPN a try.
After you create an account, download the VPN's application on a compatible device. You'll find clients on almost every operating system available, including iOS, Android, PC, Mac, as well as Fire Stick.
Now that you have the app, run it and sign in with your username and password.
Connect to a US server and wait a few seconds.
Launch DAZN's website or application.
Watch Bellator 233 anywhere in the world.
ExpressVPN has been around for almost 10 years. Along the way, it climbed to the top of the food chain as it offers the best services in the industry. First, you have 3000 servers across 94 countries to choose from. Second, you can browse the web safely and anonymously courtesy of their military-grade encryption and zero-logging policy.
Third, you can stream HD content at maximum speed with MediaStreamer (Smart DNS). These are just some of the features that ExpressVPN offers. Check it out, you have a 30-day refund policy in case it didn't live up to your expectations. As for alternatives, you can take a look at the list below.
Last Updated Today


30-Day Money-back Guarantee
Unlimited Bandwidth
Apps For All Your Devices
24/7 Live Support
Visit ExpressVPN
Bellator 233 – Salter vs. Van Steenis
Bellator 233 will take place on November 8th, 2019 at WinStar World Casino in Thackerville, Oklahoma. Before I talk about the main event, let's cover the comeback of King Mo.
Technically, he's not back, this is a one time gig. Here's what he had to say:
I'm not really back. It's like a one-off. When you say someone's back, they're back to make a run for something. I'm going back so I can get a 'W' and then grab it and take off running again back to retirement. That's all I'm doing. Once I get that win, it's back to retirement and go back to coaching. That's it. … I just want to end on a win."
But the W won't come cheap as he faces a worthy opponent in Andrew Kapel. We don't know what the outcome of the match would be, but if King Mo is focused on winning, I bet the odds are in his favor. Remember, he has a lot at stake here as his last match wasn't successful back at RIZIN.
John Salter and Costello van Steenis will be squaring off at middleweight. This fight is a battle of finishers both wanting to claim the spotlight and a potential title shot. Who would come out victorious? We'll leave it to November 8th, 2019 to confirm that.
As for now, here's the full fight card of Bellator 233:
Main Card
John Salter vs. Costello Van Steenis
King Mo vs. Andrew Kapel
Leslie Smith vs. Arlene Blencowe
Tyrell Fortune vs. Azunna Anyanwu
Preliminary Card
Logan Storley vs. EJ Brooks
Christian Edwards vs. Cesar Bennett
Kyle Crutchmer vs. Antonio Jones
Jordan Young vs. Julius Anglickas
Romero Cotton vs. Jason Perrotta
Janay Harding vs. Amanda Bell
Davion Franklin vs. Christian Adams
Aaron McKenzie vs. Sean Clements
Lucas Brennan vs. Jacob Landin
Grant Neal vs. Jimmy Lugo
Stream Bellator 233 Anywhere – Final Thoughts
The card is stacked with amazing talent and we cannot forget that the return of Mo is here. Now, you can use a VPN and watch DAZN anywhere. Make use of the information you gained here to never skip a Bellator fight no matter where you are.
By the way, I'm a Bellator fan and I'd love a discussion about what's about to go down. So, if you have any predictions, please share them below.