The Belmont Stakes is upon us, so horse racing fans, stay put. On June 11th, 2023, the third and final leg of the Triple Crown hits our calendars, and the excitement is indescribable. Unfortunately, not everyone can stream it, as NBC Sports/Peacock is geo-blocked outside the United States.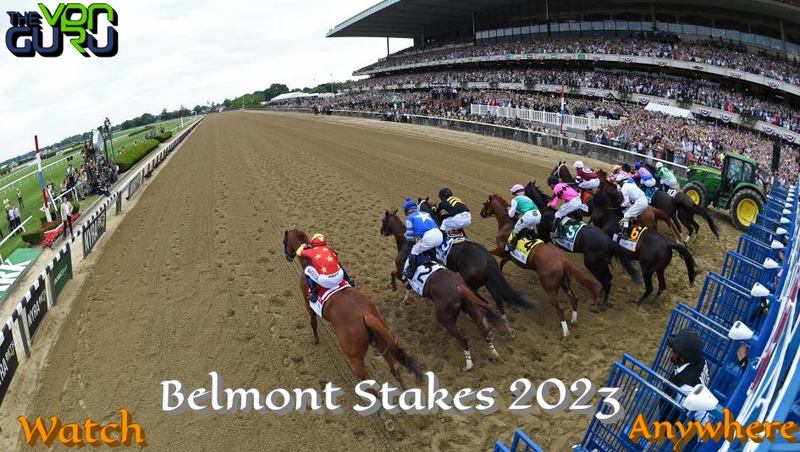 In other words, those living in the UK, Canada, Australia, Germany, and elsewhere overseas cannot tune into the action due to geo-restrictions.
We've already solved your problem in past races, such as the Preakness Stakes. Now, we're going to do the same. Here's how you can stream the 2023 Belmont Stakes live anywhere.
Belmont Stakes Live – Quick Steps
Time needed: 5 minutes
To watch the 2023 Belmont Stakes outside the United States, the following steps are required:
Subscribe to a VPN service.

For efficient American servers, we recommend using ExpressVPN.

Get the VPN application.

Download and install the VPN app on your Android, iOS, PC, or Mac.

Sign in with your account.

Open the VPN app and submit your credentials.

Connect to an American server.

Once the connection is established, you'll receive a US IP address.

Launch NBC Peacock's website or app.

Sign in with your account.

Stream the 2023 Belmont Stakes live.

Enjoy the last race of the Triple Crown wherever you are.
Belmont Stakes Anywhere – The Full Process
Unblocking the channel and watching Belmont Stakes is an easy task. But before you get to that, we had to go through a bigger process. We shared everything in the following detailed guide:
What You Need
To unblock Peacock and stream the race, make sure you have everything on the list below:
A VPN subscription.
An NBC Peacock account.
A Peacock TV compatible device.
NBC Peacock and Geo-Restrictions
When it comes to sports streaming in the United States, only a handful of channels make the list of the best services. Of course, Peacock is considered one of them, as it acts as the sole broadcaster of numerous sporting events, including the Belmont Stakes.
The channel just keeps on getting more popular as time goes by. In fact, it recently added 5 million paid subscribers, bringing its total to 20 million.
Unfortunately, this popularity reached nowhere outside the United States. Due to broadcasting rights, Peacock is not permitted to air anything overseas.
It examines your IP address to determine your location once you visit its website or launch its app. If you're living abroad, you won't have the required US IP address, resulting in the following error message:
"Sorry, Peacock is not yet supported in your region. [OVP_00012]"

Geo-blocking can be a hassle, especially for those who are avid online streamers. However, with the steps provided above, not only can you unblock Peacock and stream the 2023 Belmont Stakes, you can also gain access to numerous streaming services around the world (Depending on the server you connect to).
What is a VPN?
Before we explain what a Virtual Private Network is, we have to state that the entire task is not possible without having one.
If you use a VPN, you can elevate your online security and privacy with a push of a button. Once you connect to a server of your choosing, the VPN will shield your data using military-grade encryption.
This deems it totally unreadable by third parties, including hijackers, your ISP, and even your government. Moreover, the VPN cloaks your IP address and replaces it with a temporary one in the country where the server is located.
Not only does this anonymize your browsing activities, but it also allows you to access geo-restricted content in that region.
For example, if you connect to an American server, you'll receive a US IP address. As a result, you get to watch Peacock and other US-based services wherever you may be.
When it comes to unblocking content, the VPN you're operating with plays a huge role. You can't just use any VPN you come across, especially in Peacock's case, as it can detect VPN traffic.
We tested several VPN providers and rounded up a couple that can aid you in this task. Our top recommendation goes to ExpressVPN due to its wide range of servers across the globe and the top-notch security features it provides.
However, other VPNs were also capable of accessing Peacock abroad, so we rounded them up in the table below in case ExpressVPN did not live up to your expectations.
The 2023 Belmont Stakes
Additional information about this year's Belmont Stakes is provided in the following FAQ section:
When Will the Belmont Stakes 2023 Occur?
The 2023 Belmont Stakes will take place on June 11th, 2023.
Where Will the Belmont Stakes be Held?
As usual, the Belmont Stakes will take place at Belmont Park in New York.
Can I Watch the Race for Free?
Unfortunately, that's not an option. You can't watch the 2023 Belmont Stakes for free.
Can I Watch Belmont Stakes without a Cable Subscription?
While NBC Sports requires a cable subscription, you can always subscribe to NBC Peacock to bypass that requirement.
What Devices Can I Stream the 2023 Belmont Stakes on?
Since Peacock TV is broadcasting the race, you can stream it on the following devices:
Amazon Fire TV
Apple TV
Google Chromecast
Roku
iPhone/iPad
PC
Mac
Android Phone/Tablet
Android TV
LG Smart TV
Samsung Smart TV
Xbox One
Xbox Series X/S
PS4
PS5
Stream Belmont Stakes Anywhere – Final Thoughts
The Belmont Stakes is taking place on June 11th, 2023, concluding the Triple Crown events. This race is a must-see, which is why we created this guide.
Now, you have everything you need to stream the 2023 Belmont Stakes. If you have any additional questions, make sure to drop them in the comment section below.