How to Watch Tyson Fury vs. Otto Wallin Live Online
|
Tickets are sold out, and over 18000 fans are ready to fill up the T-Mobile Arena on September 14th, 2019. Why? Because Tyson Fury will go head to head against Otto Wallin for the second time on US soil. Well, the seats in the arena are gone. Care to take a virtual seat and watch the fight online? Then here's how you can stream Tyson Fury vs Otto Wallin live from the UK, USA, Australia, or anywhere else in the world.
Fury vs Wallin – Live Streaming
The bout at the T-Mobile Arena will be available for streaming in two countries, the US and the UK. Both countries have official broadcasters for such fights. While that comes as good news for residents in the country, it's not so amusing for those who live abroad.
The channels broadcasting the Fury vs. Wallin fight are geo-restricted to their respective countries. That means anyone living overseas cannot access their content where they are.
You see, such streaming services examine your IP address to determine your location. Once they figure out you're not within the area where they have broadcasting rights, you'll be blocked almost instantly.
However, there is a way to circumvent the issue, which I'll be talking about later on in this guide. But for now, let's see what the (Fury vs. Wallin) channels are:
ESPN+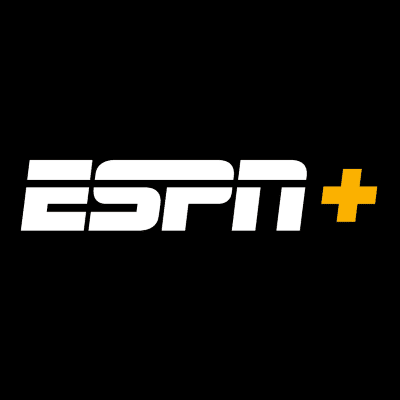 Fury vs. Wallin will stream live and exclusively in the United States on ESPN+. There are several positive things about ESPN hosting this event.
First, it won't be the last as ESPN has the rights to broadcast Top Rank fights for a long time in the future.
You'll be watching the fight as Joe Tessitore, and former world champions Timothy Bradley Jr. and Andre Ward call the fight from ringside. So, you'll be seeing and hearing the action at its fullest.
ESPN+ is the companies OTT service that doesn't require a cable subscription. Anyone in the United States (emphasis on the United States) can subscribe to the channel for a fee of $4.99/monoth or $49.99/year with a 7-day free trial.
However, those living abroad won't be able to access the channel, as I mentioned above. If they try to launch its official website, this geo-error message will pop up:
"ESPN+ is not available in your country due to content rights issues."

But that's ok. Once you're done with this guide, you'll be able to get yourself a subscription and stream Fury vs. Wallin live on
Android
iOS
Apple TV
Fire Stick
Chromecast
Roku
Xbox One
PlayStation 4
Windows PC
macOS
BT Sport Box Office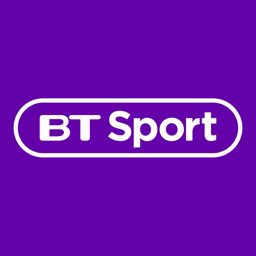 Fury will be trying to secure the 29th win of his professional career when he faces Wallin. So, fans in the UK, prepare yourself, you also have a home for epic fights in the form of BT Sport Box Office.
BT Sport Box Office is the place to watch the most eagerly anticipated events in the calendar. You can even find top UFC events for a certain price.
But the problem is, lately fans have been disappointed with the broadcaster. It used to allow them to stream their fights without having to pay an extra fee above the already existing subscription. Now, they'll have to shell out £19.95 to watch the event starting at approximately midnight (UK time).
Also, another problem for expats who are leaving the country. The channel is only available in the UK, which means if you're living abroad, you'll receive an error message similar to that of ESPN+:
"Sorry, this video is not available in your country."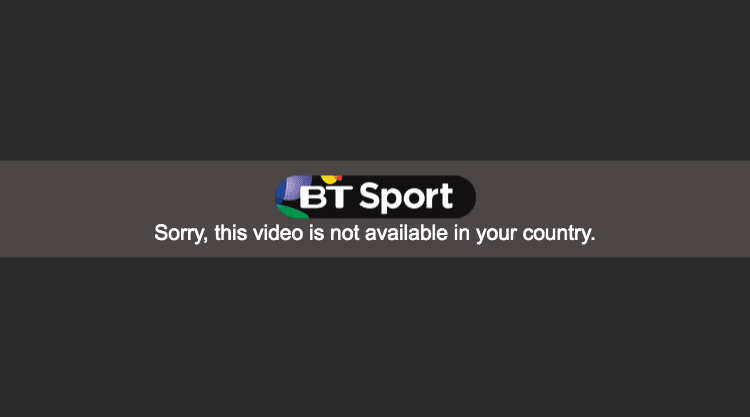 Again, geo-restrictions won't be able to limit your access to these channels anymore. The solution is next. Scroll a bit further and learn how to unblock BT Sport and watch Fury vs. Wallin live on:
Apple TV
Smart TV
PlayStation 4
Tyson Fury vs Otto Wallin – Stream Anywhere
It's pretty easy. All you have to do is disguise your device's location so that it appears as if it's in the country of your choosing. No matter what the channel you choose to stream on, there's only one way to access it abroad, a Virtual Private Network.
A VPN allows you to take on an IP address in a different country. You'll obtain that IP based on the server you choose to connect to. Let's take ESPN+ as an example here. The channel is only available in the United States, which means it requires an American IP address.
So, basically, just connect to a VPN server in the US, and your problem is solved. You'll receive a US IP address, and the channel will think that you're a current American resident (location-spoofing). As a result, you can go ahead and stream the fight live on ESPN+ despite being physically abroad.
The Steps
It's a simple task. Just follow the steps below and watch Fury vs. Wallin live anywhere:
Begin the process by signing up for a VPN service provider. ExpressVPN is a good way to start.
Next, download their VPN application and install it on your device.
Sign in with your username and password.
Connect to a server based on the channel you chose:

US server for ESPN+.
UK server for BT Sport.

Finally, launch the channel's website or its dedicated app.
Stream Tyson Fury vs. Otto Wallin anywhere
There are hundreds of VPNs out there to do the job for you, but only a few stand out in terms of quality, speed, and reliability. ExpressVPN is one of the best in the VPN industry boasting over 3000 servers in 94 countries. When it comes to privacy, you're taken care of using its kill switch, no-log policy, and split tunneling. In case that's not your choice, make sure to take a look at other options below.
Last Updated Yesterday


30-Day Money-back Guarantee
Unlimited Bandwidth
Apps For All Your Devices
24/7 Live Support
Visit ExpressVPN
Tyson Fury vs Otto Wallin – Everything About the Fight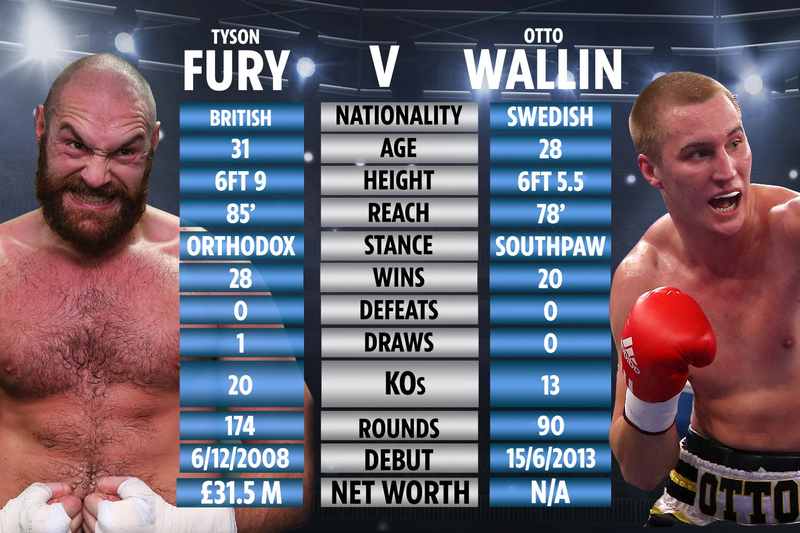 The English champion Tyson Fury has his eyes set on knocking out Sweden's own, Otto Wallin come September 14th, 2019. The main event at the T-Mobile Arena will begin at 11 p.m right after the undercard on ESPN+. In case you've picked BT Sport, then the event goes live at Midnight.
Just three months ago, Fury made his US debut against Tom Schwarz, where he knocked him out in the second round. But that's not what is important. If you don't know this, Fury isn't that focused on Otto; it's what's coming next that he's looking forward to.
Back in December, Fury went up against Deontay Wilder. The match ended in a draw and bout was scheduled for February 2020 if Fury wins the upcoming fight.
On the other hand, this will mark Wallin's second bout in the United States. His first one was back in April when he faced off against Kisner at the Boardwalk Hall in Atlantic City.
The 28-year old is considered to be the underdog in this fight, and a lot of fans have been speculating that he'll lose via knockout. Well, we can't assume anything unless we see what goes on in the ring, don't you think?
As for now, here's the full fight card of the Tyson Fury vs. Otto Wallin epic upcoming bout:
Main Card
Tyson Fury vs. Otto Wallin
Emanuel Navarrete vs. Juan Miguel Elorde
Jose Pedraza vs. Jose Zepeda
Undercard
Carlos Cuadras vs. Jose Maria Cardenas
Gabriel Flores Jr. vs. Miguel Angel Perez Aispuro
Felix Valera vs. Vyacheslav Shabranskyy
Isaac Lowe vs. Ruben Garcia Hernandez
Isidro Ochoa vs. Iskander Kharsan
Guido Vianello vs. Cassius Anderson
Abraham Martinez vs. Kevin Johnson
Stream Tyson Fury vs Otto Wallin Anywhere
Remember, fans in the UK will have to wait until the early hours of Sunday 15th September, around midnight. Be careful and set your alarms; you don't want to miss this.
As for those abroad, you won't be missing any fight from now on. You have a Virtual Private Network now, the ultimate tool for online freedom. Make use of such technology and stream Fury vs. Wallin anywhere in the world.
I'm a huge Wallin fan, and I would love to see him win this, what about you? Who do you think will come out victorious? Share your predictions below.