How to Watch Game of Thrones Season 8 Live Online
|
The Wall is down and the Night King is on his way to Westeros. Ladies and gentle, for the first time in 9 years, Winter is Here. The 8th and final season of Game of Thrones is hitting our screens come April 14th, 2019. With only 6-episodes to determine the fate of our favorite character (Mine would be Khaleesi of course), fans start to go berserk in order to find a way to stream it online. Stop looking, you guys. Here's how you can watch GoT season 8 anywhere.
Game of Thrones Season 8 Streaming Channels
The show is a worldwide phenomenon. Therefore, you can possibly imagine how many channels would air the 8th season of this legendary show. Check them out below:
Stream Game of Thrones S8 Anywhere with a VPN
If you happen to live outside any of the aforementioned channels' regions or simply don't like the subscription plans of your local channel, you can always use a VPN to change your current virtual location and appear in a different country of your choosing.
With a Virtual Private Network, all you have to do is connect to a server where your selected channel has coverage rights. After that, you'll receive an IP address valid for the channel to operate without blocking your access. For example, if you live outside the UK and want to watch GoT on Now TV, connect to a British server and you're done. It's as simple as that. To make it even easier for you, follow this step-by-step process:
Sign up with a credible VPN provider that offers servers in the regions mentioned above. ExpressVPN would be a great example.
On their website, download their application by clicking on the icon that represents your device. You'll find apps on the major operating systems including iOS, Mac, Android, Windows, and Fire TV.
Sign in with your VPN account once you launch the application.
Connect to a server based on the channel you wish to use:

US server for HBO Now or HBO Go.
UK server for Now TV or Sky Go.
Australian server for Foxtel Now.

Once connected, launch your channel's website or their dedicated application.
Enjoy the final epic season of Game of Thrones wherever you are.
When it comes to choosing the right VPN, you have to consider what every VPN provider has to offer in terms of their server network, security, and privacy features. Luckily, ExpressVPN has them all. If you don't agree, you can always check out the table below of the best VPNs of 2019.
Last Updated Yesterday


30-Day Money-back Guarantee
Unlimited Bandwidth
Apps For All Your Devices
24/7 Live Support
Visit ExpressVPN
Watch Game of Thrones 2019 in the US
Game of Thrones is an HBO original. So, it's no shock to anyone that it will be available on both of these services:
HBO Now: This video on demand service is operated by none other than the American premium cable network HBO. You can access the mega channel's library with a simple subscription to the linear television channel. A year ago, HBO Now's subscribers have exceeded 5 million. You can access the channel using Amazon Fire TV, Android TV, Apple TV, PS4, Roku, Xbox One, PC, Mac, Android, and iOS. HBO's subscription fee is not too expensive compared to what you'll get in return. All it takes to tap into a wide variety of original content is a 14.99$ monthly payment and that's all.
HBO Go: This one works differently than HBO Now. You can stream more than 400 hours of HBO originals, specials, and so much more only if you have a cable subscription. The service was originally available on browsers, iOS, and Android. After 2011, it added Roku, Apple TV, Chromecast, PlayStation, Samsung Smart TV, and Xbox.

To watch the 8th season of Game of Thrones you need to have one of the following cable subscriptions:

AT&T U-verse
Comcast
Cox Communications
Time Warner Cable
DirecTV
Dish Network
Suddenlink Communications
Charter Communications
Google TV
Verizon FiOS
Stream GoT Season 8 in the UK
Fans in the UK can enjoy hours of Game of Thrones episodes if they're operating on the following channels:
Sky Go: The channel offers you material from all the Sky Channels, including Sky Atlantic. Sky dedicates 50% of American screening to HBO. It has official rights to HBO's entire archive, new programming, and a first look deal on all co-productions. The service allows users to watch live and on-demand video content from their Mac, Windows PC, Android, iOS, Xbox 360, Xbox One, PlayStation 3 or PlayStation 4. If you're a Sky TV subscriber, you can access content on Sky Go without any extra cost. However, what you get is based on the package you choose. Take a look below:
Now TV: In case you didn't know, you can watch every episode from GoT on NOW TV. All you need is an "Entertainment Month Pass" and you'll have Sky Atlantic's content along with 10 other channels on your TV. The price is quite cheap compared to what you get in return. You'll have to pay 7.99$ a month with a 14-day free trial.
How to Watch the 8th Season of Game of Thrones in Australia
Foxtel Now will serve as your final GoT showdown in Australia. It is the easiest way to watch the show and it'll be only part of the basic starter pack that costs 25$ a month. The good thing about Foxtel Now is that there's no lock-in contract.
New episodes are added shortly after they air in the US and you'll be able to stream them in no time. Foxtel is currently offering Australian customers a free two-week trial of Foxtel Now. So, hurry up and try it out.
Foxtel Now is available on several streaming platforms. Check them out below:
PC
Mac
Xbox
PlayStation
Chromecast
Samsung Smart TVs
Android
iOS
How to Watch Game of Thrones S8 in Canada
A while ago, viewers can only stream Game of Thrones through HBO Canada. Sadly, it did not last for too long as swapping of hands occurred. Canadians will be able to stream Game of Thrones exclusively on Bell Media's Crave service. This streaming giant is the only game (of thrones) in town. There are two subscriptions for the channel with each one granting you a certain amount of material to tap into. It goes like this:

Stream Game of Thrones Series Finale in India
Game of Thrones' eighth and final season will be shown on Hotstar in India. This means that any subscriber to the streaming service can watch the highly-awaited return of the epic fantasy series at the same time as HBO subscribers in the US. "Game of Thrones" episodes usually air at 9 p.m in America. So, if you're an Indian resident, you better tune into Hotstar at 6:30 a.m to catch up with the new episode.
Hotstar has pretty decent subscription plans. They're considered to be very cheap compared to other streaming services out there. You can purchase the VIP plan for only 5.27$ a month. However, you might want to go Premium as it costs 2.88$/month and 14.43$/year.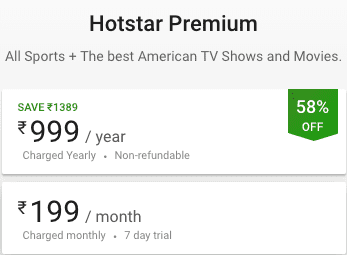 Choose your subscription plan and watch Game of Thrones live on PC, Mac, iOS, Android, Apple TV, or Chromecast.
Keep in mind that in case you currently live outside India, you won't be able to subscribe to Hotstar. This is due to the fact SMS authentication via an Indian number is required when signing up with Hotstar.
Watch Game of Thrones' Final Season in New Zealand
The final season of Game of Thrones will screen in New Zealand at the same time it screens in the US on Sky Go NZ. The channel lets you stream content from several Sky channels including SoHo. This channel features the very best in premium drama and entertainment from around the world, especially HBO content.
If you happen to be in New Zealand, turn on Sky Go on April 15th at 1 P.M and watch the final season's premiere live online on your Android, iOS, PC, or Mac.
Other Ways?
Sling TV is another way to stream HBO content on your TV. You can simply subscribe for Sling Orange ($25), Sling Blue ($25), and Sling Orange + Blue ($40) a month and stream Game of Thrones. Sling TV is available on Apple TV, Roku, Amazon Fire TV, Chromecast, Android TV,  iOS, Android,  Xbox One, and Browsers.
DirecTV Now also offers you the chance to watch Game of Thrones with a subscription based on Live a Little ($35), Just Right ($50), Go Big ($60), and Gotta Have It ($70) a month. You can view the channel on your Apple TV, Chromecast, Fire TV, Roku, Samsung Smart TVs, iOS, Android, and Browsers.
Amazon Prime Video grants you access to HBO as an add-on. You'll be able to purchase it for $12.99/month. Once you do that, you can stream Game of Thrones on your Amazon Fire TV, Smart TVs, PlayStation, Xbox, iOS, Android, Roku, PC, and Mac
Is Game of Thrones Available on Hulu?
Another way to stream Game of Thrones is through Hulu. The fabulous American streaming platform offers VoD and "live TV" services to its subscribers. You can get HBO for free during the first 7 days and then you pay only 14.99$/month which is a great price for such a premium service.
Those who pay $14.99 for the "Unlimited Streams" feature can watch content on as many devices they want as long as they're connected to the Home network. Other than that, you'll be limited to 3 simultaneous connections. Hulu is available on a plethora of devices such as:
iOS
Android
Amazon Fire TV
Amazon Fire Stick
Roku
Chromecast
Apple TV
Xbox One
Xbox 360
PC
Mac
PlayStation
Is Game of Thrones Available on Netflix?
I'm sorry you guys, but that's a hard no. None of the seasons of Game of Thrones are available on Netflix. In short, Netflix and HBO are big rivals on the premium entertainment space. In the very early days of Netflix, the streaming giant vowed to never put any of HBO's titles in its library. This issue continued right up to this date.
So, to sum it up, Netflix will never add Game of Thrones to its catalog as HBO won't allow it to.
Game of Thrones Season 8 – Free Streaming?
You will find hundreds of websites that offer you scheduled releases of the episodes. However, these links are not to be trusted. While you entertain yourself with a direct airing of the episode, you'll be compromising your device's security and privacy. These websites are pirated, which means that they're not legal.
Not only that, but you'll also get bombarded by dozens of ads every 10 minutes or so. This will definitely ruin the Game of Thrones finale experience you've been waiting to go through for almost 2 years. Do you want that? Are you willing to risk everything you hold private just to save yourself a couple of pennies? Think about it. What's 10$ when it comes to sacrificing your own private data?
Game of Thrones Season 8 – What to Expect
I've been watching the show ever since its 2011 debut. I know that you're all angry about the fact that this season will only consist of 6 episodes. But hey, you'll be treated with a full action-packed season come April. My favorite dragon Viserion is now an ice dragon. It's kind of cool but the heartbreaking moment we all saw is where Daenerys felt the heart-ache for one of her children. With so many storylines are yet to be unfolded in the upcoming season, one would wonder about certain mind-blowing discoveries. Here's what I have in mind:
John Snow is the personification of "Ice" in the series and considering his heritage, he's a Targaryen. Therefore, Viserion might end up as his own dragon. No?
I celebrated the death of King Geoffrey for 3 days in a row. I will do the same if The Mountain meets his fate this season. It's rumored to happen you know.
A new arc for the series will unfold when Daenerys and Jon Snow learn about their actual ancestry after what they did.
Cersei is definitely going to stab everybody to save herself and her throne.
We'll learn more about the Three Heads in this season and I think Tyrion is one of them.
Is Bran the Night's King? Wow, that would be a shocker.
Take a look at what's about to come on the 8th and final season of Game of Thrones.
How to Watch Game of Thrones 2019 Live Anywhere
The 8th season is about to kick off. If you haven't got the chance to finish the seventh, then go ahead as you still have time. Last season's finale was a bit of shocker. I never thought the wall can be destroyed and by none other than Viserion. If you're excited to see what goes on in the battle of the thrones come April 14th, then you have the right guide for it. Enjoy.