BBC iPlayer isn't entirely accessible to an international audience. UK residents are the only ones who can access and stream the British service. I learned that the hard way. I didn't know geo-restrictions existed before I attempted to access BBC iPlayer in Germany. While there are restrictions that forbid outside access, two tools can help alleviate the situation.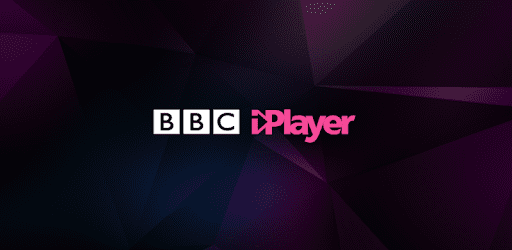 Is BBC iPlayer Available Outside the UK?
No, BBC iPlayer is only available within the UK. UK expats who already have an account with the service will not be able to access BBC iPlayer if they're off UK soil. In fact, if you try accessing the service outside of the British borders, you'll probably receive messages like this:
"BBC iPlayer only works in the UK. Sorry, it's due to rights issues."
or
"BBC iPlayer programmes are available to play in the UK only."
So, your screen will look something like this: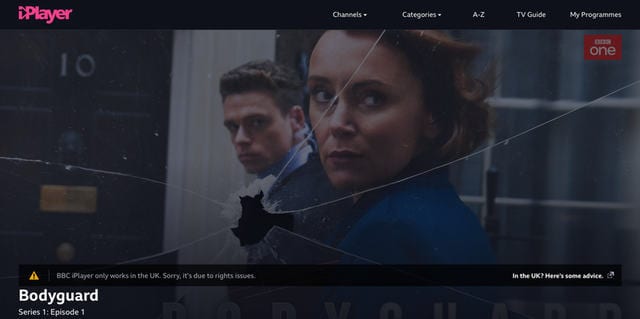 Now, this isn't some attempt at discrimination by the BBC. The reason the service is restricted to the UK is to comply with copyright rules and laws. BBC iPlayer enforces IP bans on anyone not from the UK to make sure that their content can only be viewable in the country where they have the right to broadcast it.
That being said, there are two tools you can employ to access BBC iPlayer in Germany and anywhere else in the world: A VPN and a Smart DNS.
Get BBC iPlayer in Germany Using a VPN
The first method you can apply comes from a VPN subscription.
A VPN stands for Virtual Private Network which is a cybersecurity tool that allows users to unblock content as well as gain internet security and online privacy. Its two main functions include encrypting traveling data through its servers and spoofing your public IP. 
These two functions qualify a VPN as a super secure online tool that protects users from online harm like data theft. Besides encryptions, the re-routing process makes your traffic appear to be coming from a different place. You, in turn, appear to be in a different country.
Upon connecting to a VPN, your IP address will automatically change to match the IP address of the server that is located in the country you chose. To gain control over your IP address and change it however you like, all you need to do is connect to a VPN server in the country of your choice.
So, if you want to appear to be in the UK, all you have to do is connect to a UK server. You will have to do that if you want a chance at watching BBC iPlayer while you are in Germany. Here's how the BBC iPlayer unblocking process works:
The first thing you need to do is look for a credible VPN provider. Our advise for you would be signing up with "ExpressVPN".
You can then download the VPN app on your Windows, MacOS, iOS, and Android devices.
Install the application and then launch the app on your streaming device.
Sign into your account and then explore the VPNs' services.
After scanning the servers, connect to a UK server.
Wait for the connection to be made.
Finally, visit BBC iPlayer and watch whatever you want in Germany.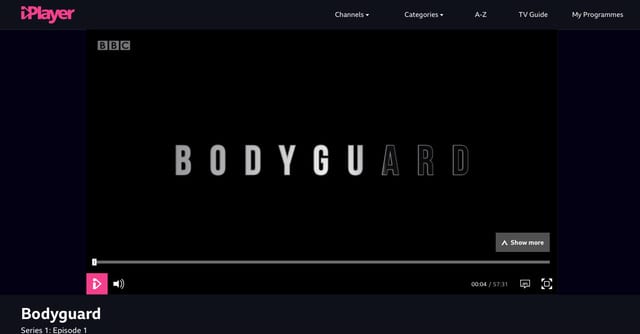 How to Unblock BBC iPlayer in Germany with a Smart DNS Proxy
While a VPN is a super secure tool that encrypts users' data, a Smart DNS doesn't offer the same security standards. Both these tools, however, can help users bypass geo-restricted content, but using different approaches. A VPN doesn't allow users' data to pass through its private tunnel without encrypting it. On the other hand, a Smart DNS prefers speed to security, which is why it doesn't encrypt users' data.  
So, if you don't care about the extra security provided by a VPN, you can use a Smart DNS proxy to unblock content. You can then watch BBC iPlayer in Germany while streaming US's Hulu in another browser. This is possible because a Smart DNS proxy doesn't modify your IP address. It only reroutes your traffic through one of its designated servers, allowing you to gain access to restricted content. Here's what else you need to know about a Smart DNS.
It neither encrypts your data nor changes your IP address.
You don't gain online anonymity.
You can configure a Smart DNS on many platforms and devices like iOS, Mac, Apple TV, Roku, PS3/4, Chromecast, Amazon Fire TV, and Xbox One.
The smart DNS might not work if your ISP uses DNS hijacking or transparent proxies.
Now, if you want a Smart DNS that can unblock BBC iPlayer, we recommend Unlocator. This service can unblock over 200 channels, and BBC iPlayer is one of them. Additionally, the Danish company offers a free 7-day trial period and a 14-day refund policy. You can give it a try before you make any commitments.
Best VPN for Germany
ExpressVPN is the best VPN service provider to be used in Germany. In fact, Charles even wrote a whole article about it.
With ExpressVPN, you can connect to over 2000 servers in more than 94 countries, a highly supportive customer team, and a 30-day money-back guarantee. This policy is beneficial because it gives you time to think before you choose to commit. 
If you don't think ExpressVPN is suitable for you, you can always look at other providers. Check them out in the table below. Give these top-tier providers a chance.
Watch BBC iPlayer in Germany
Okay, so before you get all excited, you should know that neither a VPN nor a Smart DNS can get you free subscriptions! That's not how it works. It only grants you access to the content you want, not bypass registration fees imposed by let's say BBC iPlayer- if any existed.
It was quite the revelation! I watched everything on BBC iPlayer while I was in Germany. I didn't have to miss an episode of Match of the Day, and for a VPN/Smart DNS, I am thankful. You can be too. click here for an ExpressVPN subscription and here for an Unlocator one. Let us know which one you're going to pick in the comment section below.