Virtual Private Networks have become a necessity in our daily online browsing habits. Signing up with one allows users to access multiple shared VPN Servers, granting them anonymity and unlimited internet surfing. However, we stumbled up a provider that grants the same results, yet in a different manner. UTunnel VPN, as it markets itself, allows customers to create their own business VPN server at their premises or with a virtual machine created with their desired cloud provider. While this might sound complicated, our evaluation showed otherwise. To give our readers a better picture of what this not-so-typical VPN can do, we created this in-depth UTunnel VPN review.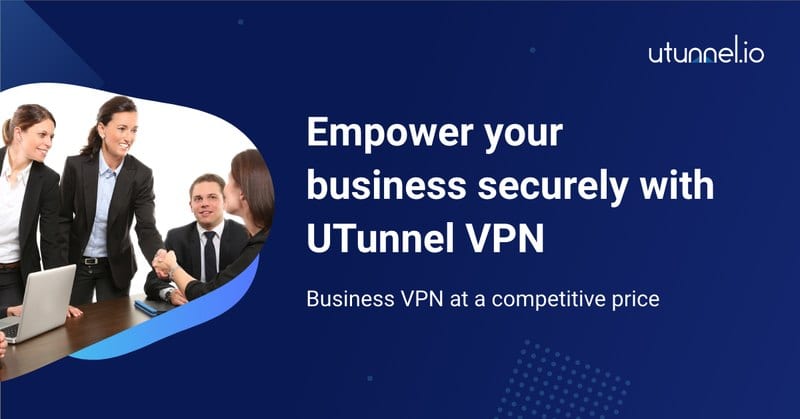 UTunnel VPN Review – Content Index
A VPN claiming that its a VPN like no other is quite tempting to check out. We were very curious to see what this VPN had to offer, which lead us to this review.
Based on a very keen evaluation process, we assed every single feature UTunnel VPN has up within its arsenal. So, with that said, here's everything our readers need to know about UTunnel VPN:
Quick Stats
| | |
| --- | --- |
| Money-back guarantee | None |
| Allowed concurrent connections | As Many As the User Chooses |
| Supported streaming services | Amazon Prime |
| No logs policy | Yes (Can be enabled/disabled by the user) |
| Encryption | Military-grade 256-bit AES |
| Protocols | OpenVPN and IPSec IKEV2 |
| Special features | Split tunneling, VPN obfuscation, and a Firewall |
| Customer support | Email |
| Server locations | 18 Server locations |
| Number of servers | N/A |
| Server Switches | Unlimited |
| Data traffic | Limited (Users pick their data traffic for an extra fee) |
| Supported devices & web extensions | Windows, Linux, Mac, iOS, macOS, Routers, and Android |
| VPN legal jurisdiction | The United States |
UTunnel VPN – Pros and Cons
Despite marketing itself as a VPN that resembles none other in the industry, UTunnel VPN is still a VPN that has its advantages and disadvantages. Let's shed some light on them before we proceed:
Pros:
Cloud or on-premise server deployment
Dedicated IP Addresses
Split Tunneling
Military-grade encryption
Logs are enabled/disabled at will
Excellent device support
Multiple servers (Your Own Servers)
Flexible pricing plans
User-friendly interface
Scrambling technology
UTunnel Firewall
Cons:
No refund policy
Can't unblock Netflix and Hulu
Kill Switch is not within the app
Based in the United States
A few setup issues
No live chat support
Not good for torrenting
Signing Up with UTunnel VPN
Usually, the signing up process is the easiest task to do when opting for a VPN. With UTunnel VPN, it gets a bit complicated, especially for users who have no background in Virtual Private Networks.
At first, we tried to get a Cloud server, which was very easy. We simply chose the Cloud provider, picked a location, and gave a name to the server.
As for the On-Premise server, we had two options – either set up our own device or create one with an external Cloud provider like AWS, Azure, Google Cloud, Oracle Cloud, etc…
We chose AWS (Amazon Web Services) and we had to sign up before we could proceed. AWS shows the available location once we sign up. Next, we have to select the location of the server and choose Ubuntu 18.04 64 bit to be installed on the server.
Finally, once the server is set up, we would be able to see the IP address, which we should enter during setting up our UTunnel VPN On-Premise server.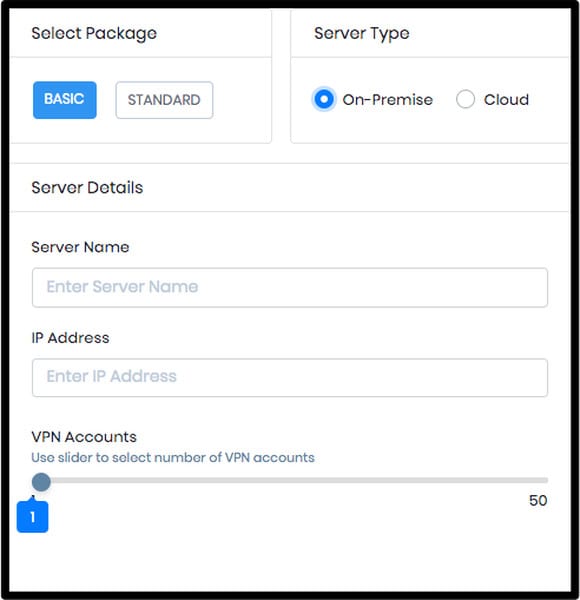 Finally, we were able to create our Cloud server and move on to the app testing part.
Testing the Application
Once we got ourselves a server, we proceeded to the UTunnel VPN app testing. We downloaded the Android version as most users operate a VPN on a mobile device.
The client is user-friendly, but we did face a couple of problems with it. First, we couldn't sign in with our account – it kept saying "wrong username or password."
We didn't know what was wrong with it, despite using our credentials to sign in to our profile on UTunnel's website. With a few trial and error attempts, we switched to mobile data.
That's when the app allowed us to log into our account. Both our tests using mobile data and Wi-Fi are presented in the images below:
As seen above, the pic on the left represents the error we got while trying to sign in using Wi-FI. Once we switched to mobile data, we were able to log in and use the UTunnel VPN application instantly.
Another Problem and A Solution!
Getting inside the app didn't solve our problems. In fact, we faced a different one immediately as we tried to connect to the server we created. The issue was in the connection process as it did not happen.
We tried switching the protocols in hopes of getting a connection but nothing happened. The app kept giving us a time duration for a new connection attempt, but nothing happened.
The only thing we got is a longer duration, not a connection. It started at 2 seconds, then 8, then 16, and all the way to 256 seconds.
This was very frustrating and we have all the technical knowledge about VPNs. Imagine if a new user is trying to connect, he/she would never be able to figure out what to do.
We contacted customer support and they asked us to download an Android Terminal app, type in the server we're using, and send them a screenshot. A few minutes later, they informed us that everything is ok and that we can connect now.
They were right. They fixed the problem and we were able to connect to the US server we created. So, here's how the app looks while fully functional.
The app is user-friendly and it has Fingerprint Authentication – a feature that none of the VPNs we came across have. However, one important security feature is missing.
While users can set up split tunneling and a Firewall inside their account, they can also enable UTunnel's kill switch, but not in the way we're used to. Most VPN providers include this technology inside their apps.
It's a feature that cuts the internet if the connection drops to ensure that none of the data goes passing back through the ISP's servers. UTunnel's can be enabled (on Android) by going to Network Settings then VPN.
App Store Reviews
Checking what other users have to say is always a great way to determine the credibility of any product. This doesn't just apply to Virtual Private Networks, everyone has to check what other individuals have experienced.
Unfortunately, both Google Play Store and the Apple Store were no help to us. No user reviews were found about UTunnel VPN, which raises some questions.
Why would a product on the App Stores have no reviews? There's no star rating also. All the other apps have a couple of reviews, why doesn't this one?
We don't know what's going on, but we're here to share our experience if the App Stores have none. This review will show our readers everything they need to know about UTunnel VPN in the best comprehensive and unbiased way possible.
Trustpilot Review
If our readers have gone through our previous reviews, they'd know that we rely on other sources to determine a VPN's credibility. One of those sources would definitely be Trustpilot, as it's one of the most credible websites that include honest and unbiased reviews of several products.
Trustpilot helps us a lot, especially due to the fact that it doesn't allow any fake review to be posted on its page. If such reviews were made, the website would penalize the provider by downgrading its ratings.
However, despite its credibility, we can't judge UTunnel VPN based on Trustpilot this time as it only has one review for the service. This gave UTunnel VPN a 3.7/5 rating, marking it as Average.
The only review we found is the following:
"Faced no hassles setting up a Cloud VPN Server with Utunnel. Signed up and got 10 licences for free and deployed my private server on an AWS free tier instance in a few clicks. Works fine as of now."
The user gave UTunnel VPN a 5/5 rating, stating that he witnessed no issues while using its Cloud VPN server. He also mentioned that setting it up was very easy, but according to what we've gone through, that wasn't the case – at least partially.
Servers – Numbers and Types
We already mentioned how the signing up process is and what we did to get a functioning server in the end. With other VPN providers, users simply sign up for the service, download the app, and gain access to a server network provided by the service.
This is not the case with UTunnel VPN as the users themselves create the servers they want to use. The self-proclaimed "different" VPN offers dedicated VPN servers that only one account can access.
The creator of the account can decide how many people can connect and no other users can access and use the VPN  servers other than them, their organization, family, or team.
There are two ways to create servers. The first one would be Cloud servers, where the provider integrates with leading cloud providers such as Linode, Upcloud, Digital Ocean, and Hetzner.
These providers allow customers to create servers in cloud infrastructures or networks that span across over 18 locations around the world. Here's how the servers are distributed based on each Cloud Provider:
Linode
Atlanta
Frankfurt
Fremont
London
Mumbai
Singapore
Tokyo
Toronto
DigitalOcean
Amsterdam
Bangalore
Frankfurt
London
New York
Singapore
Toronto
Upcloud
Chicago
Frankfurt
San Jose
Hetzner
The second way to connect is by using their On-Premise server option. With that, users can bring in their own server and set it up. However, there's also a different option if they don't own a server.
All they have to do is sign up with a cloud provider, obtain the credentials of any server they want, and create their own on-premise server. We did that with AWS, but UTunnel VPN offers more options with providers such as Azure, Google Cloud, Oracle Cloud, and more.
Streaming Capabilities
As mentioned above, connecting to a server isn't what users are typically used to. We had so many problems while trying to obtain one American server, and as soon as we did, we performed a couple more tests to see what this self-proclaimed unique VPN can do.
It's well known that a VPN is a tool for enhancing security and privacy. However, and it may come as a shocker for most, this software is commonly used as a means to bypass the internet's censorship and restrictions.
In other words, around 50% of VPN users operate with the software to bypass regional restrictions and access blocked websites in their countries. Some of these websites are dedicated to torrenting, but what most seek are streaming services.
Online channels apply what we call geo-blocking, where they restrict user access based on their location. They do so by examining the users' IP addresses to determine their current whereabouts.
If the users are not within their area of coverage, the streaming services block their access almost instantly even if they managed to get a hold of a valid account.
Unfortunately for streamers, that's not the only problem they'll face as most major services have adapted a tough VPN ban, blocking VPN traffic when detected. That of course depends on the provider's credibility.
Now, this brings us to the tests we performed as we tried the server we obtained (previously informed that it works) while attempting to access services like Netflix, Hulu, and Amazon Prime. Here's what we got:
Netflix
Netflix is by far the largest entertainment platform in the world. The company revealed that it added 10.1 million subscribers between April and June, and now has a total of 190 million users worldwide.
The streaming giant does apply geo-blocking on its content, but it's not the typical banning mechanism. Since Netflix is a global service (Available almost everywhere), it assigns specific catalogs to each region.
For example, US residents get a different library than those in Canada and any other country where the channel is available. It all depends on the IP address of the individual. This mechanism applies everywhere except in the countries where Netflix is not available, to begin with.
We're talking about the likes of China, North Korea, Syria, and Crimea. Now, the US library has always been the richest among all of the other regions and a US IP address can get us that.
However, not any VPN can get the job done since Netflix has one of the toughest VPN bans in the industry. If the VPN is not credible enough, users will either see Netflix originals only or get the following proxy error:
"You seem to be using an unblocker or proxy. Please turn off any of these services and try again. Error Code: M7111-5059."

We've seen this proxy error many times while evaluating other VPNs. This means one thing: Despite their ability to grant their customers a US IP address, not all VPNs have what it takes to access Netflix.
They might give the illusion as the titles might show up, but when trying to view them, users end up with a proxy error.
The Test
During our tests with UTunnel VPN, no proxy error popped up. Instead, we were able to locate one of the US-only titles – Children of the Sea and watch it without a hitch.
The black screen is part of Netflix's copyright protection, which prevents us from taking screenshots of the actual content while playing. What's important here is the outcome, and UTunnel VPN is a perfect way to unblock Netflix anywhere.
Hulu
With over 32 million subscribers in the United States, Hulu has taken its rightful place as one of the best streaming platforms in the industry. Aside from that, Hulu is well known for its over-the-top originals and the fact that it also shows Disney content.
Moreover, Hulu offers a live feature, which Netflix lacks, offering more than 60 channels including CBS, NBC, and Food Network among many others.
Netflix and Hulu do indeed share one thing, they both geo-block their content. However, the mechanism in which it's applied is what differs here. While Netflix is available on a global scale, Hulu only allows those who reside in the US to access its library.
In other words, only users with an American IP address can watch Hulu. Technically speaking, all VPNs can provide an American IP, but just like Netflix, only worthy VPNs can bypass the ban Hulu has to shield its material.
We remained connected to the same server UTunnel VPN provided us and hoped that it gives us positive results with Hulu. Well, it didn't. Hulu did manage to determine that our traffic was coming from a VPN and welcomed us with a proxy error:
"You appear to be using an anonymous proxy tool. Disable it to play videos on Hulu. Error Code: BYA 403-011."

As seen above, UTunnel was not credible enough to access Hulu. The channel instantly blocked our access and prohibited us from watching the video we selected.
So far, UTunnel's claims of unblocking any streaming service in the US have not been true. There are two more tests that show if UTunnel VPN can redeem itself in the unblocking department.
BBC iPlayer
iPlayer is another streaming service that everyone has eyes on, but it's only available in the United Kingdom. A couple of years ago, the streaming service received millions of requests from outside the UK, and they were all successful.
Now, it's one of the hardest channels to get a hold of as it applies a tough VPN blocking mechanism, banning any VPN that is not credible enough to access its services.
We've previously tried out top providers and they managed to bypass its ban. Now, with UTunnel VPN, we go through the same test once more. We used a UK server provided by one of the agents.
UTunnel VPN managed to unblock BBC iPlayer without any problem and from the first try.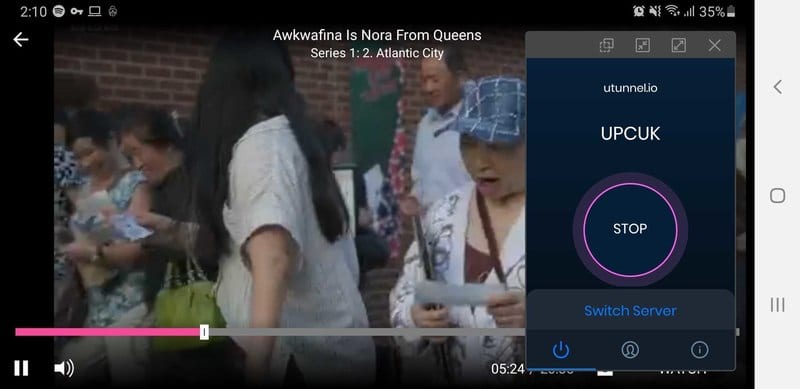 So UTunnel is a great tool for accessing BBC iPlayer outside the UK. We have one more test to check and we'll see how credible this VPN is when it comes to unblocking content.
Amazon Prime Video
Amazon Prime Video would be our last test in this department. The channel offers its services on a global scale, and just like Netflix, it assigns specific catalogs based on the user's location.
This criterion only goes to the countries where Amazon Prime is available, so we have to exclude the likes of Mainland China, Iran, North Korea, and Syria.
Every IP address allows a certain library, which can be changed with a VPN. But we have to note that, just like with the previous service, getting the required IP address does not give the free pass everyone's looking for.
Amazon Prime also applies a VPN ban, and it's a strong one. If the VPN wasn't credible, it can determine that the traffic is coming from a VPN server, and block the user in the process.
"Your device is connected to the internet using a VPN or proxy service. Please disable it and try again."

We tried the US server we created with UTunnel VPN to if it works with Amazon Prime Video. This time around, it didn't fail as it did with the previous channels.
On the contrary, UTunnel VPN managed to bypass Prime Videos' blocking mechanism and allowed us to watch The Tick without any issue along the way.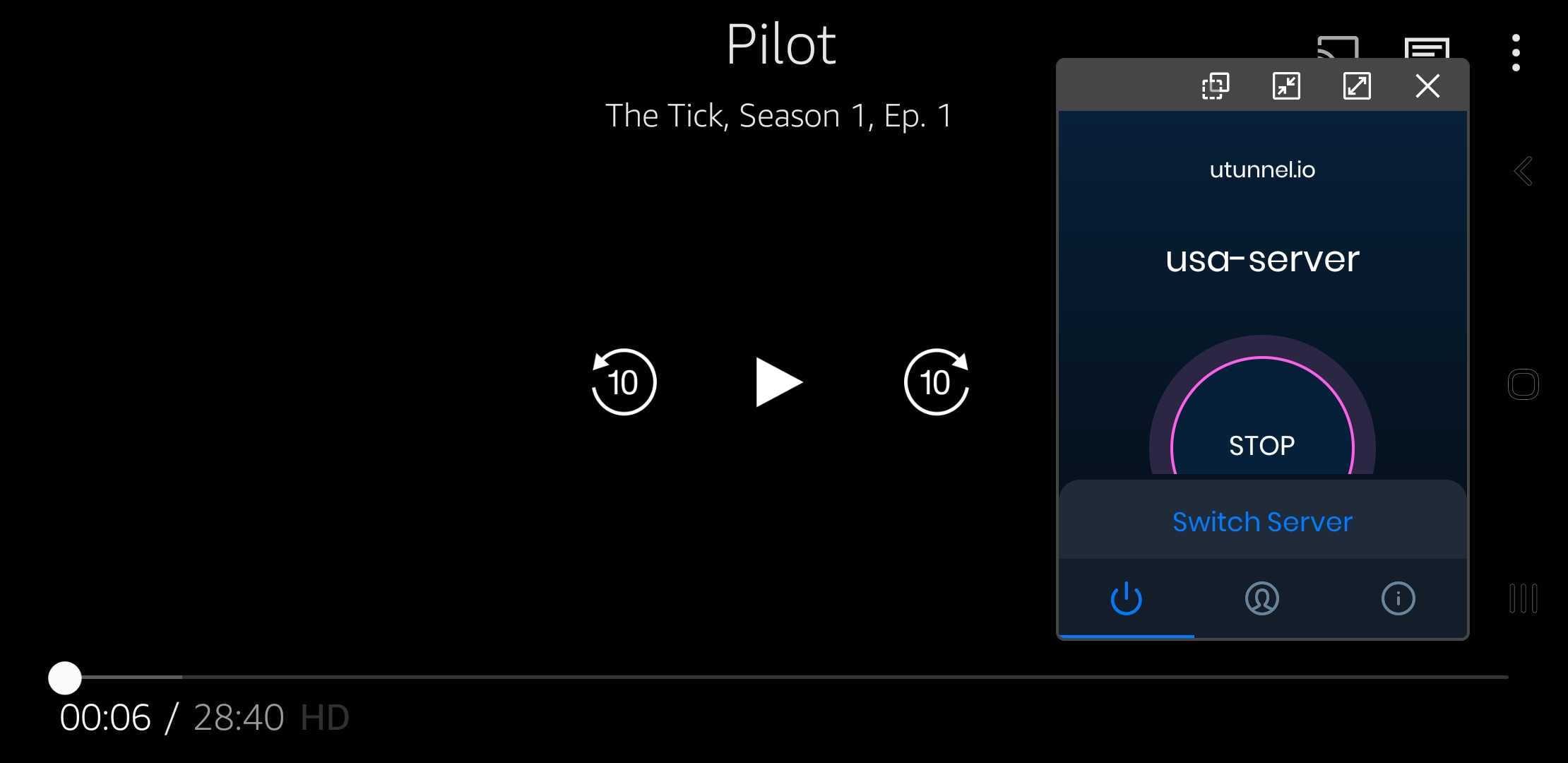 UTunnel VPN managed to unblock 3 out of the four services we tested it on. Being able to get around Amazon Prime Video, BBC iPlayer, and Netflix's VPN ban is quite an accomplishment.
However, we already mentioned that most users around the world operate a VPN to enjoy unlimited streaming on any kind of streaming service, and UTunnel VPN failed to deliver most of the time. Not to mention that getting servers would cost 5-7$, which is is a bit much in comparison to other top tier providers.
Smart DNS Proxy
It's well-known that a VPN connection causes the internet speed to drop. That's mainly because it encrypts the data and the traffic gets rerouted along the way.
Some VPNs have managed to optimize their servers so that users won't notice the difference, and some simply didn't. In an attempt to give customers the convenience they need while streaming geo-blocked content, VPNs started implementing Smart DNS Technology.
This feature is solely created for bypassing regional restrictions. It doesn't change the user's IP address (No anonymity) and it certainly doesn't encrypt their traffic (No security).
What it does is replace the ISP-assigned DNS address with a new one that doesn't contain any information that can reveal the users' real geo-location.
The VPN/Smart DNS provider uses proxy servers located all over the world, so the server can be anywhere. Once Smart DNS is set up, users can stream their online content without having to lose their speed.
We checked UTunnel VPN's website and there was nothing about Smart DNS. The service clearly states that it's there to enhance security and privacy, which was proven by how poor it was while testing its unblocking capabilities.
P2P Support
Downloading torrent files is a common practice around the world as it enables users to get music, TV series, movies, books, games, and lots of other digital goods for free.
However, while torrenting is convenient, a lot of countries deem it as illegal due to it violating copyright laws. However, some other regions penalize whoever shares torrent files even if it was violating anything.
Other than that, torrenting can easily compromise the users' location as their IP address is visible to whoever is sharing the same file. Everyone is connected to each other in what we call a Swarm.
Everyone in that swarm can see each other's IP addresses. If one of the individuals sharing the files is a cybercriminal, they can determine a lot of private information about whoever they want, including the location of a target.
With a VPN, torrenting can be a lot safer and more private. It hides the users' IP address and replaces it with one of its own based on the server they connect to.
As a result, everyone in the swarm can only see the VPN server's IP address and not the users' original one.
Does UTunnel Support P2P?
With that said, we always advise against downloading illegal content, so don't do it. In fact, UTunnel VPN itself doesn't condone such practices, and based on their answer to my question, whether they support P2P or not is kind of vague.
The provider states that it doesn't provide anonymity as the user doesn't share a server with thousands of others. Here's what they had to say:
"UTunnel on the other hand lets users create their own private/dedicated VPN servers at their preferred location and connect to them. This does not give you anonymity as only you and the users decided by you will be using the servers.

Generally for P2P transfers involving pirated software or media, you would need anonymity. So, our solution would not be the best for that purpose. But, of course you can do P2P transfers, if you are using it for legitimate purposes and our VPN service do support it."
While they do support it, or so they say, we don't recommend this. Anonymity is everything when it comes to torrenting, and if users are in a country that bans it, they might get in big trouble, get fined, or face imprisonment.
UTunnel VPN proved to be unreliable in this territory, so everyone would be better off with a VPN that allows anonymous torrenting.
Privacy
When it comes to privacy, we always check the provider's origin first. UTunnel VPN is based in the United States, which can be very alarming considering the country is one of the Five Eyes Alliance.
If we were to speak of it in a general way, we'd say that the agreement allows intelligence agencies in Australia, Canada, New Zealand, the United Kingdom, and the USA to spy on the world.
To be specific about it, each country of the association can conduct several privacy-intrusive acts, including acquisition, interception, collection, analysis, and decryption of data.
They also share the information obtained with one another, which can compromise a user's privacy and browsing activities. Now, thanks to the way UTunnel VPN operates, none of these countries, especially the US, can get a hold of the information.
With UTunnel VPN, customers are the ones in control. The server they're using is their own, and inside the account, they can turn logs on and off as they will. So, basically, there's nothing to worry about as no logs are kept.
More Features
That's not all. UTunnel VPN markets itself as a VPN for ultimate privacy and security, not just anonymity. The fact is, and based on the features we found, it does hold its end of the bargain:
Dedicated IP Addresses: Extra security and anonymity.
Inbuilt Firewall: Blocks blacklisted websites.
Two-Factor Authentication: Probably the first VPN to use this feature. It allows users to choose an extra sign-in method to ensure that no one else uses their account.
Split Tunneling: Users get to choose which traffic goes through the VPN servers and which don't (ISP's servers).
VPN Obfuscation: This feature disguises VPN traffic as regular internet traffic, allowing UTunnel VPN in locations where VPNs are blocked such as KSA, China, Russia, Iran, and UAE.
The option of creating one's own server shows how UTunnel VPN handles the privacy of its customers. That, and the multiple features it offers, makes UTunnel VPN a great choice for privacy.
Security
Despite stating that it's not anyone's conventional VPN, UTunnel sure does have a lot in common with other providers on the market. That goes specifically to the security department – the thing that a VPN was created for.
Just like most VPNs, UTunnel VPN allows users to secure every bit of data they send/receive over the internet with the ultra-secure military-grade 256 bit AES encryption.
This is the industry-standard, which is also used by the NSA to deliver sensitive data without compromising it. Aside from the encryption, we have to speak of the protocols this VPN supports.
Now we found that it has some shortage in protocols, but UTunnel VPN does use two of the most popular ones in the industry, OpenVPN and IPSec IKEV2. These are considered world-class encryption standards to safeguard users' data.
Offering a wider variety would've been better as it gives customers more options for better convenience. Including WireGuard would've also given it plus as the protocol is considered to be the future of VPNs, promising better security and faster speeds.
Basically, OpenVPN and IKEv2 are the only protocols they have. We found nothing of WireGuard or any other protocol in their service. Stating what UTunnel VPN has to offer when it comes to security is very important, but we had some tests of our own to check its credibility as well.
Virus Scan
In today's internet world, every application can be a ticket for hackers to infiltrate users' devices. Even if the app is available on official app stores, that doesn't mean that it's safe.
Hacking has evolved, and cybercriminals have all the means to disguise themselves as legit apps in order to inject devices with any kind of malware, viruses, or malicious software to harvest their data.
That's why, no matter what the app is, users should run it through a credible virus test before they install it on their device – VPNs are no exception, despite being security tools.
We ran UTunnel VPN's Mac installer through a reputable Virus Tester and the results came in green colors.


UTunnel sure does live up to its claims as the VPN is as secure as they can be. Their application is clean, they enhance a user's privacy and security to the maximum, and all the results in this department have come up positive.
DNS Leak Test
A VPN is first and foremost a security tool that hides a user's identity, anonymize his/her browsing activities, and conceals the performed DNS requests.
However, some VPNs, despite their attempts to conceal these activities cause a security flaw that allows DNS requests to be revealed to ISP DNS servers – that's what we call a DNS Leak.
Such a leak allows ISPs, as well as any on-path eavesdroppers, to monitor what websites a user may be visiting, which is a complete privacy risk.
In fact, if DNS leaks occur, it means that the VPN is not doing the job it was created to do. That's why, in our reviews, we test for such leaks to see if the VPN is reliable when it comes to protecting our data.
We examined UTunnel VPN's connection to the two servers we have. We performed a DNS leak test as well as a WebRTC one. The VPN recorded excellent results as no leaks were found.
As seen in the images above, there's no DNS leak on either of the servers. However, users might be concerned about the potential leak alert in the WebRTC test, but there's nothing to worry about.
As long as the IP address shown in the test is the one provided by the VPN, there's no concern – our real IP address is not leaking.
Third-Party Auditing
Not a lot of VPNs allow third-parties to examine their clients. With such an audit, VPN providers show their customers how transparent they are about their service.
VPN providers who wish to show how credible they are, hire an independent company to perform an audit to verify that the company has succeeded in this endeavor (no matter what the examined department is).
Most VPN audits revolve around the provider's no-logging policy. The independent company tests the provider's service and makes sure it meets all the requirements of the chosen standard and continues to meet the requirements on an ongoing basis.
Finally, they provide certification to the company and give customers confidence in the service they opted for. We searched for such an audit for UTunnel but found nothing in the process. 
Now, UTunnel VPN customers are operating their own servers and can enable/disable logs at will. However, an independent audit helps a lot if building a trusting relationship between the company and the customer, which is always recommended.
Warrant Canary
Warrant Canaries are statements on a service provider's website that helps inform users that it has not received any subpoenas or secret warrants that force them to submit data to authorities.
The name comes from an old method, where birds were taken down mineshafts to alert workers of the existence of toxic gases. The same applies to VPN providers.
The statement is regularly updated, which also means that the service has not been served with anything. However, if it's either outdated or removed, users are to assume that the host has been served with such a gag order.
UTunnel VPN does not have a warrant canary, but their privacy policy clearly states how private the service is. Let's not forget that users get to create their own servers and decided whether to store their logs or not.
So, if any kind of authority came knocking, users have the power to provide them with the information they need or leave them empty-handed.
Customer Support
Sometimes, no matter how good and easy-to-use a VPN is, customers might need help with an issue they face. That goes specifically to UTunnel VPN as it's not one of those straightforward providers.
Getting a VPN server and establishing a connection isn't an easy task and credible customer support is important to help them go through the process.
The best way to get aid from a VPN provider is via live chat, which, unfortunately, UTunnel VPN does not provide. We had to contact them by sending a ticket that took hours to reply to.
On the other hand, we also tried their social media platform and contacted them via Facebook messenger. We hoped that the replies would've been faster, but it wasn't as well.
We also had to wait for hours to get a reply. To be honest, other VPNs take days to reply to tickets. However, those VPNs we're talking about provide an already-set-up application with easy ways to connect.
The shocking part was contacting one of their agents via email. Once we mentioned that there was a problem, emailing them shifted into a live-chat option. The email replies were very fast, and Tom was very helpful.
He guided us through every single step and solved our connectivity problems. While it took us a lot of time to figure out what was happening, in the end, Tom solved it all.
Their email replies took a lot of time at first. However, mentioning a problem changed all that. But still, if UTunnel wants to be the stand-out VPN it claims it is, a better customer support department should be present, with at least a live chat feature. Setting it up is not easy, users need help with it, and the provider should provide that on the spot.
Pricing and Subscriptions
We can't deny that most VPN services attract new customers by offering long-term subscriptions that look cheap. In fact, it's true, as the price decreases the longer the user's subscription is.
However, the negative version of this is that they'll have to with the VPN provider even if there are not satisfied with their service. Now a refund policy might help, but imagine passing that.
Also, most VPNs offer 3 to four subscription plans: Monthly, Yearly, 6-months, and a 2-year plan. Well, not UTunnel as users only get to pay their dues on a monthly basis. Let's take a look at what UTunnel VPN has to offer:
Pricing
The service offers flexible monthly plans at competitive prices. Users get their own private VPN server with a dedicated IP address solely used and managed by them or the users they authorize. Having said that, UTunnel VPN bills new customers according to two factors:
Basic ($5.00 /User/Month)
Cloud VPN Server
On-Premise VPN Server
Static IP
Multiple Protocols
OpenVPN on custom protocol and port
Obfuscate OpenVPN
Manual VPN connection
VPN client apps for Windows, macOS,
iOS & Android
Standard ($7.50/User/Month)
All of the Basic Subscription features
External DNS server
Split routing
Router Configuration
Enable logs
Live status
Priority support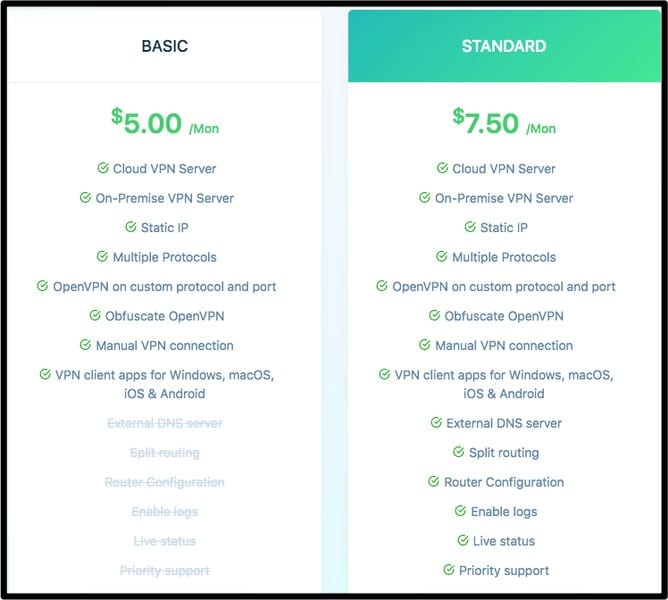 Now, although these are the formats in which users get to subscribe, selecting what kind of server they wish to get also affects the pricing process.
Deciding to get an on-premise server will only cost $5 per user, depending on how many you want to sign up. That also goes for the Standard plan, where a single user costs $7.50.
As for getting a Cloud server, both the number of users and servers are taken into consideration. In the Basic plan, both cost $5 per user/server. However, the price goes up to $7.5 per user and $10 for every added server.
That's kind of expensive, despite all the advantages the users get out of a private server. For example, if the user is looking to bypass regional restrictions and access channels like BBC, Hulu, TSN, and Sky Go NZ, he/she will have to purchase servers in the US, UK, Canada, and New Zealand.
Picking four servers costs 40$ (We used the Standard Plan as an example), aside from the $5 fee for a single user. That's a lot to pay in one month compared to what other providers offer for $10/month.
Refund Policy and Free Trial
A money-back guarantee is a perfect way to gain a new customer's trust. Despite giving them the ability to cancel anytime, providing a refund period allows them to test the service before opting for a long term deal.
UTunnel VPN does offer cheap prices, but for better convenience, a user must pay a lot, especially when he/she wants to add more servers or concurrent connections.
Offering a refund policy, in this case, is the ultimate way to satisfy newcomers, but unfortunately, UTunnel does not have this option. While it does market itself as a different kind of VPN, it certainly did not inherit this part from other leaders in the industry.
No refund policy is mentioned on their website. The only risk-free option users get is that they can cancel anytime, which is shown in the statement below:
"We have a no questions asked cancellation policy. Try us out today and cancel anytime you want. We provide an easy month to month billing."
In their terms and condition section, there's also some kind of mentioning of the refund policy. However, it was vague and had nothing to do with the subscription.
As for free trials, there might be something that users can benefit from. If they want to dig deeper and find out what the provider is all about, the can request a free demo.

Getting accepted to be part of those trying UTunnel's demo version is a good step to show customers how transparent they can be. Also, UTunnel offers 10 Free user-licenses for new users on their first VPN server for 3 months. They're not ashamed of what they offer, on the contrary, they're proud and they're allowing new customers to try them out.
UTunnel VPN Review – Final Words
UTunnel VPN is indeed a different way to ensure security and privacy. It offers maximum flexibility with their prices and gives its users their own private VPN server and their own dedicated IP address.
We did run through a lot of issues while reviewing this provider, but we do acknowledge the end-result. The provider is excellent when it comes to security and privacy. However, it did fail in the unblocking department, where top providers have prevailed.
If you're looking for ultimate security at competitive prices, this VPN is recommended. But if you're looking for an all-rounder VPN that can unblock major streaming services and protect you, UTunnel VPN is not the recommended choice.
The review is in your hands now, you have to decide whether UTunnel VPN fits your needs or not. Don't forget to let us know what you think in the comment section below.
UTunnel VPN Review
Security and Privacy

Support

VPN Apps

Unblocking Capabilities