How to Stream Britain's Got Talent: The Champions Live
|
Britain's Got Talent is back – but in All-Star Mode this time. The new show will see winners, finalists and former contestants from around the world competing against each other by the end of August. But before you tune in to one of the biggest competitions, you should know that ITV (BGT's official broadcaster) is only available in the UK. Don't worry. There's a particular talent you're going to acquire in this guide that will help you out with this issue. Here's how you can watch Britain's Got Talent: The Champions live anywhere.
BGT: The Champions on ITV
BGT fans have been waiting for their new Champions edition to hit screens. You'll be able to stream the full show live on ITV by the end of August. However, you'll only be able to do that if you currently reside in the United Kingdom. If that's not the case, ITV will block your access almost instantly.
ITV is a streaming service that restricts access to its content to UK-viewership. It can pinpoint your location to determine whether you're within its area of coverage or not. You may ask yourself, how? Well, it's all based on your public IP address. If you're abroad, you don't hold a UK IP address. Therefore, an error message will pop up instead of your video. To make it clearer, this is what I got when I tried to watch a sneak peek video on the channel outside the UK:
"This video is restricted from playing in your current geographic region."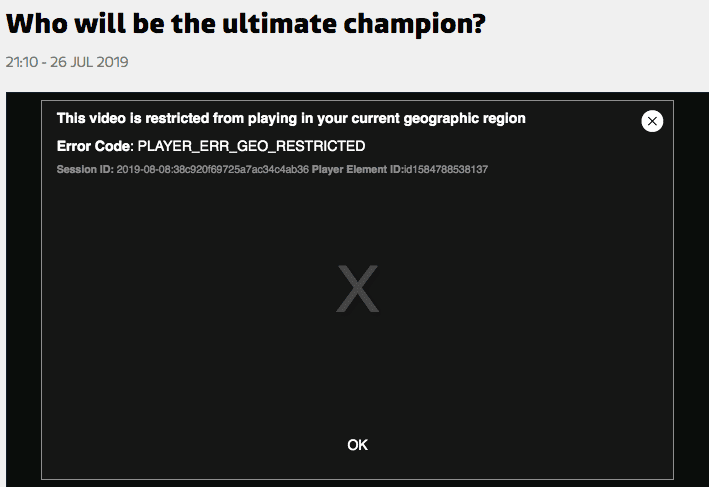 That won't be all. Once the show is ready to go live on ITV Hub, you'll also be getting the likes of this geo-error message:
"We've detected that you're outside the UK. ITV Hub is only available for viewing in the UK."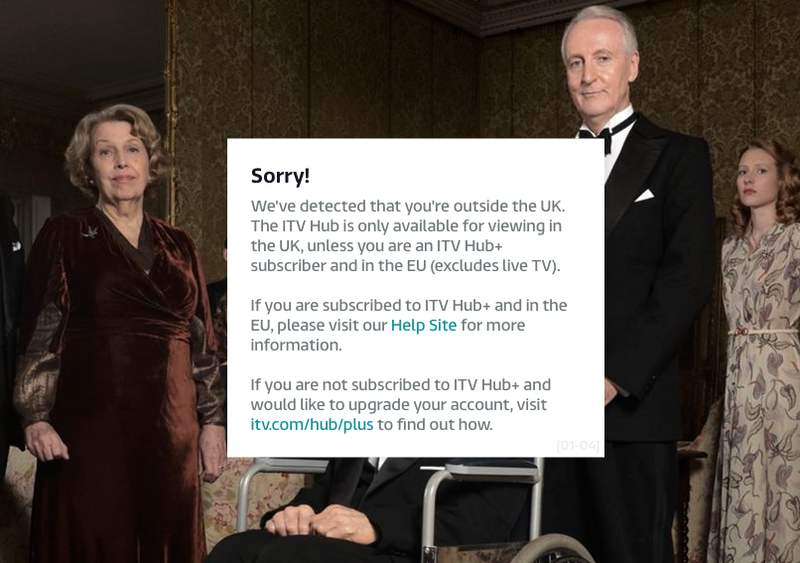 Please don't freak out already. As the title of this guide states, you'll be able to watch BGT: The Champions live wherever you are. Bear with me and scroll a bit further to find out how to do so.
But First – Create an ITV Account
Before we head to the ITV unblocking process, you should create an account to be able to watch the channel's content. ITV is totally free; no fees are required. So, without further ado, here's how you can sign up for ITV:
To create an ITV account, first, you must head to their official website.
On their home page, select Sign In.
Now, you don't have an account. Therefore, your only option should be Sign Up Now.

Submit all the required data and use "WC1X 0AA" for Postcode.
Agree to the Terms and Condition.
Hit Submit.
An email will be sent to you. Follow the link provided and confirm your account.
With that out of the way, let's learn how to watch Britain's Got Talent: The Champions.
Stream Britain's Got Talent: The Champions Live with a VPN
A Virtual Private Network is the ultimate tool to enjoy the best internet freedom. First, it hides your identity and relocates your virtual whereabouts to a different country of your choosing. All you have to do is connect to a server in the selected region. Et voila; you're there with a valid IP address in the territory. Now, your destination should be the UK if you're looking to unblock ITV. Therefore connect to a UK server, obtain a UK IP address, and ITV is at your disposal.
VPNs have more in stores for internet users than you think. Before being able to unblock content, they were tools to secure one's connection and anonymize their identity. Once you're connected to a server, the VPN will add an extra layer of protection courtesy of its military-grade encryption. Not only that but since it hides your IP address, you'll be able to surf the internet without being monitored by third-parties, including your ISP and government.
The Steps
I've always believed that bullet points are easier on the eye. If that's your case, here's a comprehensive look at how you can unblock ITV and watch BGT: The Champions anywhere in the world:
After signing up with ITV, you have to create a VPN account. I suggest you invest in ExpressVPN as it has blazing fast servers in the UK.
Once you have an account, download the VPN application on your device. You can get their client on Android, PC, macOS, iPhone, iPad, and FireStick.
Log in with your VPN credentials and connect to a server in the United Kingdom.
This will take a few seconds. When the connection takes place, launch ITV Hub.
Stream Britain's Got Talent: The Champions live anywhere.
You might wonder why I recommended ExpressVPN above. The provider has been working like a charm with me. I can bypass regional restrictions in 94 countries thanks to its wide server network. As for my privacy, it can't get any better. ExpressVPN offers a strict no-log policy, a kill switch to hide what I'm doing if the VPN connections take a sudden drop, as well as a solid 30-day money-back guarantee. However, there are other VPNs fit for the job. Check out the best VPNs for ITV below.
Last Updated Today


30-Day Money-back Guarantee
Unlimited Bandwidth
Apps For All Your Devices
24/7 Live Support
Visit ExpressVPN
Britain's Got Talent: The Champions
Many finalists and winners will be heading back to the stage where it all began in a bid to be crowned the champion of champions. Fans are yet to receive an exact date for the show. Even the judges themselves don't know when the show hits the screen. BGT: The Champions will follow its American version's footsteps. Well, Simon Cowell is in common, don't forget that. Take a look at what he had to say:
"So we've now got AGT and we've got AGT Champions. That was a very good change, so there will be a BGT Champions. We are 100 percent not resting on our laurels. I would never want to sit and watch a show like The X Factor slowly fade away and fail but there is only one risk and that's doing nothing."
The four current BGT judges are likely to sit on the panel. As for the contestants, I managed to get you a scoop or two on who's joining the show. I have three names that are certainly entering the All-Star competition, including Susan Boyle, MerseyGirls, and Boogie Storm. Remember Boogie Storm's performances? They're one of the few groups that grabbed Simon's attention throughout 13 seasons.
Now, as for the rumored ones, we might see the likes of Diversity, Lost Voice Guy, Stavros Flatley, George Sampson, Ashleigh Butler, Issy Simpson, Paul Potts, Marc Spelmann, and last year's winner Colin Thackery. You never know who's going to win between these acts. There's a huge diversity in the upcoming show. But if you want my personal opinion, I hope Marc Spelmann makes an appearance. His I AM X persona was to die for back in 2018. Well, nothing is confirmed yet, but if you want more details, check this.
Was there a Leak?
Unfortunately, yes. As you may know, BGT doesn't air live on any channel; it's pre-recorded. The winner was seen outside the Wembley Arena showing off his/her/their trophy and taking pictures. Here at theVPN.guru, we opted not to expose the ultimate champ; we don't want to spoil anything for you guys.
The champion wasn't disrespecting the show or anything; it was over-excitement after picking up the trophy in front of an audience Wembley Arena. I don't know what BGT's going to do with this. Are they going to let them keep the trophy? Will they strip it and give it to the runner-up? It's quite a bad start for a show's premiere, don't you think?
Stream BGT: The Champions Live – Final Words
It wasn't that long ago when we heard: "We have a winner! ". Britain's Got Talent crowned Thackery as the champion. Now, the previous champion might be competing with other top talents around the world. To stream the biggest talent show in the UK, you must get a VPN and unblock ITV first. After that, come back here and share the experience in the comment section. We can even exchange predictions if you want. Hit me up.