How to Watch Pro Bowl Games 2023 Streaming Live Online
|
It's the AFC All-Pro vs the NFC All-Pro at the Allegiant Stadium in Las Vegas, Nevada on February 5th, 2023. Those who like to stream their NFL matches online should know that there are several broadcasters this year for the event. However, these channels are only available in the US.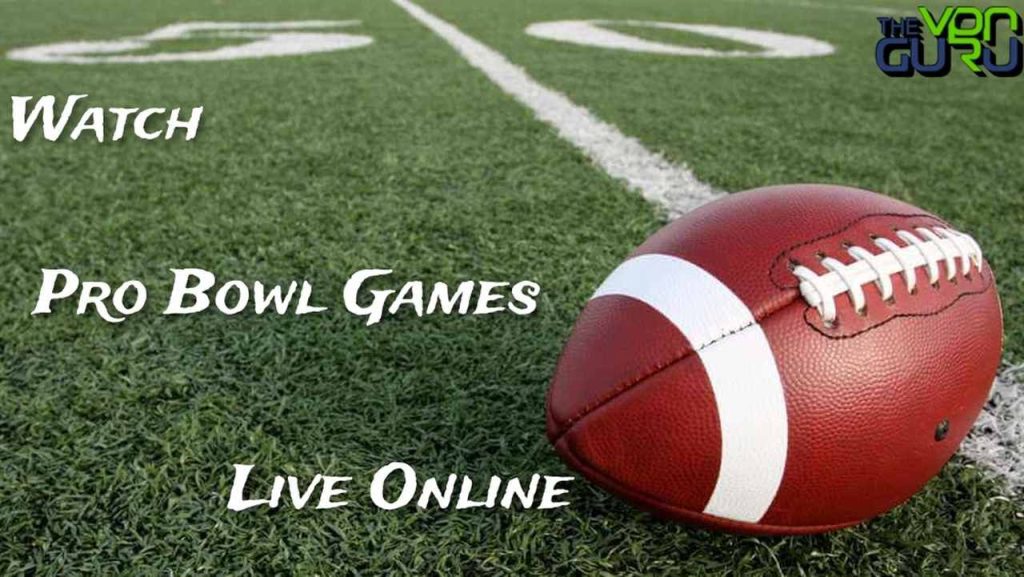 On the road to the Super Bowl, we're used to taking a 1-day stop to see the all-exciting Pro Bowl. Well, not this year as the NFL reinvented it to a multi-day AFC vs. NFC competition that will culminate in an action-packed flag game – The Pro Bowl Games.
To watch the NFL excitement, you'll have to deal with those geo-restrictions, which we've got covered in this article. So, if you're a US ex-pat or just a fan living abroad, here's how you can watch Pro Bowl 2023 live anywhere.
Pro Bowl Games 2023 Live – Quick Guide
Time needed: 5 minutes
Unblocking the channels broadcasting the 2023 Pro Bowl Games is an easy task. All you need to do is follow the steps provided below:
Subscribe to a premium VPN provider.

You'll need blazing-fast servers for seamless streaming. To do so, we recommend ExpressVPN.

Download and install the VPN application on your device.

You'll find dedicated apps on Android, PC, Mac, as well as iOS.

Activate the software and sign in with your credentials.

If ExpressVPN is your choice, you might be prompted to enter a verification code found within your account.

Connect to an American server.

This process will grant you a US IP address.

Launch the channel's app or website.

We'll show you how to get the ESPN app in a detailed guide below.

Sign in with your cable provider's credentials.

You need to have a US cable provider subscription to access the Pro Bowl channels.

Stream Pro Bowl 2023 live anywhere.

Enjoy as the NFC goes head to head with AFC live wherever you are.
Pro Bowl Live Streaming – Full Walkthrough
It doesn't end here. We have a lot to discuss, which is why we created this in-depth guide:
The Requirements
To watch Pro Bowl 2023, you'll need the following:
A VPN subscription.
Any ESPN-compatible device.
A US Cable subscription.
Please note that you can subscribe to the international NFL Game Pass if you don't have a US cable subscription.
Pro Bowl 2023 Streaming Channels
A couple of streaming channels will take on the regional broadcasting rights to the 2023 Pro Bowl. However, you need to know that they only show the event in the United States.
You see, these channels use what we call geo-blocking. It's a way to protect their broadcasting rights as they restrict access to their content to a specific location.
These channels rely on your IP address to determine your location. If you live outside the United States, you'll receive a geo-error message that blocks your way. That's mainly because you don't hold an American IP address.
We'll be shedding more light on the matter later on. For the time being, here are the official 2023 Pro Bowl Games channels:
There's another problem you might face if you're a subscriber to NFL Game Pass. Despite being the official NFL streaming service, it falls victim to regional blackouts. This incident occurs when there's an official television broadcaster of the promotion in the country.
And since we have three of those simulcasting the Pro Bowl, rest assured, NFL Game Pass is blacked out. Now, whether you're living outside the US or facing blackout restrictions on your NFL GP, we're here to help you out regardless.
ESPN, Disney XD, and ABC Unblocked Internationally.
As we mentioned, all the channels listed above are geo-blocked outside the United States. That means you won't be able to watch the games live online unless you live in a region where they are available.
To unblock Pro Bowl 2023 streaming channels, you have to change your IP address to an American one as that's what they require. The best and most effective way to do so is by using a Virtual Private Network.
A VPN reroutes your traffic through a dedicated server in a country of your choosing. The moment you hit the connect button, the VPN will encrypt your data (safeguards it from cyber threats) and hide your IP address (anonymizes your internet browsing).
As it hides your IP, it replaces it with a temporary one based on the server you connect to. If it's in the US, you get an American IP address, which unblocks any of the streaming channels above.
Now, for those suffering blackouts, you need to connect to a server inside the US where no official broadcaster is present. Once you do so, NFL Game Pass will allow you to use its live-streaming option. In other words, you won't be getting this blackout message:
"This video is not working or is not available in your region."
Also, you can subscribe to the international Game Pass by connecting to a server, let's say, in Germany. If you do what we've included in this guide, you'll be watching the Pro Bowl wherever you are in no time.
Pro Bowl 2023 VPN – Anywhere and Blackout-Free
Now you know what a VPN is and what it is capable of. Whether you wish to unblock the streaming channels or workaround NFL GP's blackouts, we'll recommend what VPN you should use.
Our top choice is ExpressVPN as it showed great results in the evaluation process we conducted. The provider proved to be efficient when it comes to bypassing regional restrictions.
ExpressVPN showed great speeds and no DNS leaks if you care about your privacy along with your entertainment. Plus, we got to see how legit their 30-day money-back guarantee was, and it's as credible as they come.
Despite serving quality service, ExpressVPN wasn't the only provider that caught our attention. There are several ones that passed almost everything in our evaluation techniques and they're presented in the table below.
Get ESPN Anywhere on Any Device
Before you get to watch anything, you'll need a cable subscription. If you're in the United States, that's an easy task. If not, you might want to contact any family member or friend to share theirs.
Once you have that, proceed with the following steps to get ESPN:
Mobile
Whether you're using Android or iOS devices, you can easily get the ESPN app. All you need to do is the following:
Connect to an American server.
Download the ESPN app through your device's native app store: (A region change might be required):
Launch the app and sign in with your TV cable credentials.
Watch the 2023 Pro Bowl Games anywhere.
Desktop
If you want to watch the Pro Bowl on your PC or Mac, this is what you need to do:
Launch your VPN and connect to a US server.
Open your preferred browser and head over to ESPN's website.
Sign in with your cable provider's username and password.
Start streaming live.
Roku
When it comes to streaming the Pro Bowl on Roku, these steps should be taken:
Install the VPN on your router and connect to a US server.
Change your Roku region to the US and get the ESPN app.
Sign in with your provider's credentials.
Select your video and start watching.
Apple TV
VPNs don't have dedicated apps on Apple TV. To establish a connection, this is what you need to do:
Set up the VPN on your router and establish a US VPN connection.
Change your Apple TV Store's region to the USA and get the ESPN app.
Sign in with your credentials and start streaming.
The 2023 Pro Bowl – FAQ
If you want to know more about the 2023 Pro Bowl Games, make sure to check the section below:
When Will the Pro Bowl Take Place?
This year's NFL All-Stars game will take place on February 6th, 2022.
Where Will the Pro Bowl Be Held?
The all-star game will be hosted at the Allegiant Stadium in Las Vegas, Nevada.
Can I Watch the Game on NFL Game Pass?
Without a VPN, the game on NFL Game Pass is blacked out. If you use a VPN though, you'll be able to stream it live.
Why Can't I Find the ESPN App?
This might be due to two reasons: Your device's software version is not compatible with ESPN or you're living outside of the United States.
How to Stream 2023 Pro Bowl Live Online
Although the Pro Bowl isn't as prestigious as it once was, it is definitely still a football game worth watching. And now, you know how to do so with a push o a button. Which All-Star team do you think will come out on top this weekend? Share your predictions below.