How to Watch UFC 249: Ferguson vs. Gaethje Live Online
|
UFC has been trying to set a face-off between current champion Khabib Nurmagomedov and former interim champion Tony Ferguson for a long time now. However, just like before, the bout was canceled for a fifth time due to issues related to the COVID-19 pandemic. Instead, on May 9th, 2020, Tony Ferguson and Justin Gaethje will fill the main event slot during UFC 249 at the VyStar Veterans Memorial Arena in Jacksonville, Florida, United States.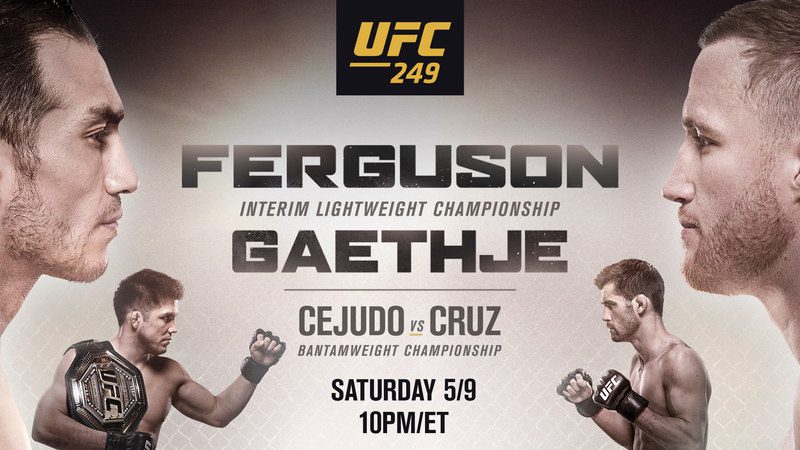 It has been around two months since UFC last put on a fight card amid the coronavirus pandemic. However, the comeback is grand, featuring all kinds of PPV-worthy matches. But the question is: Where and how can you watch UFC 249 live online? Well, the answer is right below.
UFC 249: Gaethje vs. Ferguson – Content Index
The upcoming highly-anticipated mixed martial arts event headlined by Justin Gaethje and Tony Ferguson is coming to your screens live on May 9th, 2020. In this guide, we have everything you need to know about how to watch live online. Here's a glance at what you're going to encounter in this article:
Stream UFC 249 Live Anywhere
UFC is now considered to be the top premium global brand and the largest PPV event provider across the globe. It has millions of viewers across the globe. But the question is, how are these MMA fans watching UFC PPVs in their countries? We've got the answer just below:
The United States

For over a year now, ESPN+ has taken over the official rights to broadcast UFC events in the United States. So, whoever is used to seeing the fights on Fox, it's time to switch the channel.
In case you didn't know, ESPN+ has millions of subscribers in the country. To be exact, there are more than 6.6 million subscribers.
The best thing about this is that the channel needs no cable subscription to be accessed, unlike its counterpart ESPN. However, UFC fights come in in the form of Pay Per Views, which means you have to pay extra on top of your subscription to get them.
We know that most of you would say that they'll get the fight through UFC's official streaming service "Fight Pass," but unfortunately, that's not possible.
You see, UFC Fight Pass is subject to blackouts in the country since ESPN+ has the rights to air the events. You can check it out for yourself. Once you head over to UFC Fight Pass to purchase UFC 249, this will show up: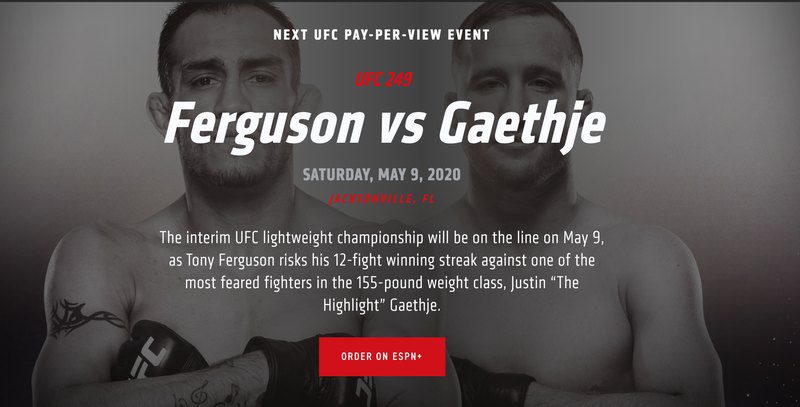 So, the only way to stream UFC 249 in the US is through ESPN+. The service is not expensive at all. Subscription costs 5$ a month or 50$ annually.
However, New subscribers have the option to add an exclusive UFC pay-per-view event with an annual subscription for $85. If you're an existing subscriber, you'll have to pay around $65 for each event. Consider it as a one-time bundle.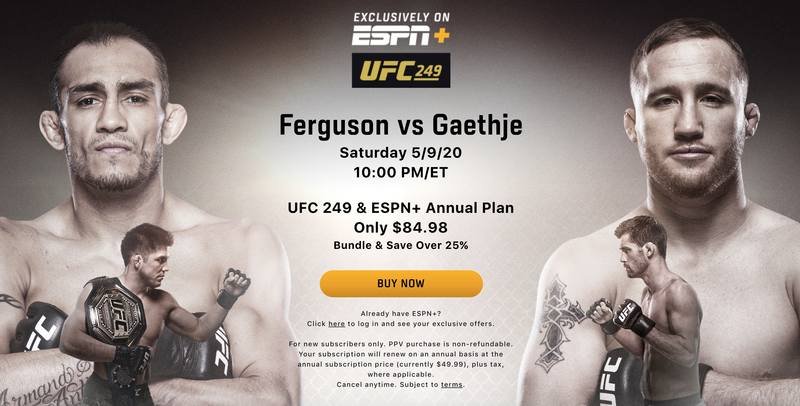 ESPN+ allows new users to try its service out for a 7-day duration for free. You can download the app on Apple TV, Roku, iOS, Android, Chromecast, PlayStation, PC, Mac, Xbox, and FireStick and stream UFC 249 instantly.
The United Kingdom

Ever since UFC 239 occurred, UFC events were shown on BT Sport Box Office.
However, the last couple of events weren't, which resulted in a lot of respect from the channel's subscribers.
They didn't want to pay extra on top of their subscription, along with staying up all night to see a certain fight.
They even threatened to unsubscribe and search for alternatives. We think BT Sport is trying to make amends with its subscribers. This time around, we believe BT Sport will stick to having UFC 249 as part of the subscription.
Most probably, if it's anything like the previous fight, users can stream the" 249″ event live at no extra cost on BT Sport 2 at approximately 3:00 a.m, May 9th, 2020.
Now that you know where and when you can stream UFC 249, there's one thing you should do. Just download the BT Sport app on your Chromecast, Apple TV, PC, Mac, Xbox, PlayStation, iOS, or Android, and stream the epic fight between Gaethje and Ferguson live in the United Kingdom.
Canada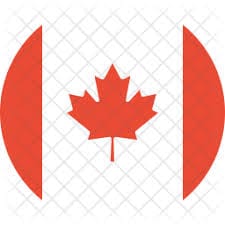 Canada has two ways to stream UFC events, each one having specific content to show. We know it's a bit daunting, but we're going to explain everything now.
First, we have none other than the famous Canadian channel, TSN. The broadcaster has the rights to air the prelims of numbered UFC events, emphasis on prelims.
You won't be able to watch what goes around on the main card. So, if that's ok with you and the undercard is enough to fill your weekend with the MMA action you need, TSN is your go-to channel.

TSN is available on a wide range of devices, including Android, iOS, PC, Mac, Xbox One, Apple TV, and Samsung Smart TV. Therefore, you won't be running out of options or screens to stream the fight.
Now, we already acknowledge the fact that once there's an official broadcaster, Fight Pass will be subject to blackouts. Well, not in Canada. If you want to watch the main card, you can simply subscribe to Fight Pass for only $9.99/month and $95.99/year.

We don't know if the prelims will be blacked out, but we do know that the main card won't be. So, get yourself a valid subscription, wait till May 9th, 2020, and stream Gaethje vs. Ferguson live on Amazon Fire TV, Mac, Apple TV, Smart TV, Roku, Chromecast, Windows, Android, or iOS.
Australia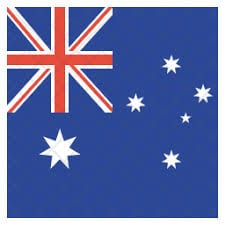 In the Land Down Under, streaming UFC events has never been easier thanks to the existence of Main Event. The service doesn't only allow users to watch UFC fights; they can also tune into the biggest boxing events, Impact Wrestling PPVs, WWE, and even concerts.
No subscription needed. All you have to do is pay for what you want to stream. That, of course, goes along with your Foxtel or Optus subscription. And let's face it, most of the Australians are subscribed to either one of these providers.
Main Event has been the home to all major PPV events in Australia. According to their website:
"MAIN EVENT is Australia's only Pay-Per-View channel that lets you enjoy the biggest sporting moments from around the world in the comfort of your own home LIVE in HD. We bring you a wide range of events including, but not limited to WWE, UFC, local and international boxing."
So far, there has not been an official price for the event. We'll have to wait a little longer to find out more about it. But if it's anything like the ones before, UFC 249 will stand at $54.95.

Again, as we mentioned, you pay for what you want to stream. Once you purchase a certain event, in today's case, UFC 249, you can watch through the following:
Foxtel: PlayStation, Smart TVs, PC, Mac, Android, iOS, and Chromecast.
Optus: Fire Stick, Android TV, Apple TV, Chromecast, Android, iOS, PC, Mac, and Xbox.
See, it's pretty easy. UFC is very popular in Australia, and it's fitting to have such a service that provides UFC events in the country.
Germany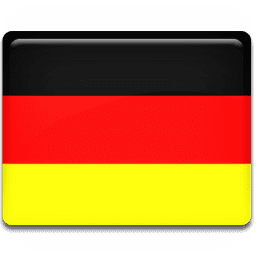 Germany perhaps has the easiest and most effective ways to stream UFC or any other sports.
If you're into sports, you must know DAZN (Da-Zone).
The channel started small, but now, it has over 8 million subscribers. The number is still growing since the channel keeps on acquiring broadcasting rights for every single sport that may attract a viewer.
In fact, it's the one-stop channel for all Bellator events, which include one of our favorite fighters, Ryan Bader.
The best thing about this channel is that it does not require a cable subscription. Yeah, you might say that ESPN+ does that as well, but there's a difference here. In the US, you're required to purchase the UFC event as a PPB.
However, in Germany, DAZN offers every single UFC fight as part of the already cheap subscription. You don't have to pay an extra penny.
DAZN costs EUR11.99/month and EUR119.99/year. This is a low price compared to what you'll be getting in return.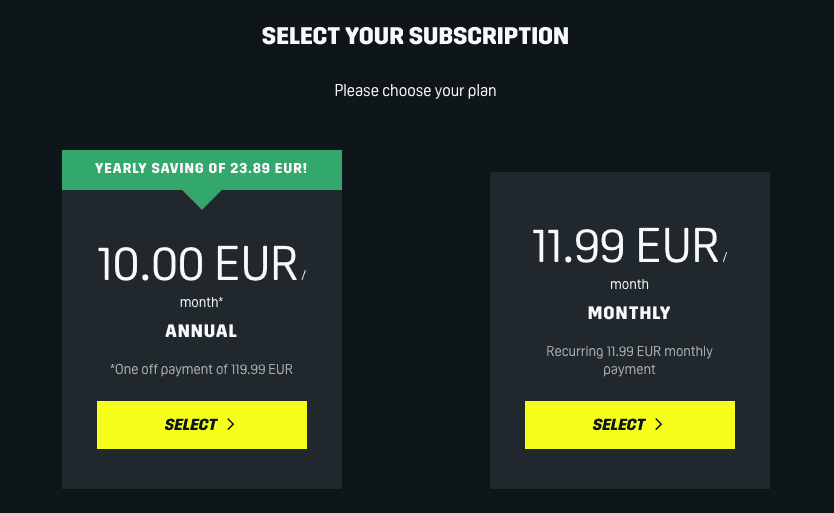 Those of you who know about DAZN might state that it's not only available in Germany. Yeah, in fact, it's available in nine countries. But geo-restrictions are applied, and the content you get is different in each region.
DAZN has the right to broadcast UFC in five regions, including Spain, Austria, Japan, Italy, and of course, Germany. Moreover, if you're a new subscriber, you get the event for free courtesy of DAZN's 30-day free trial.
And finally, with a valid DAZN subscription, you can watch UFC 249 live on PC, Mac, Chromecast, Roku, Android TV, Fire Stick, Android, Apple TV, Xbox, and PlayStation.
The Middle East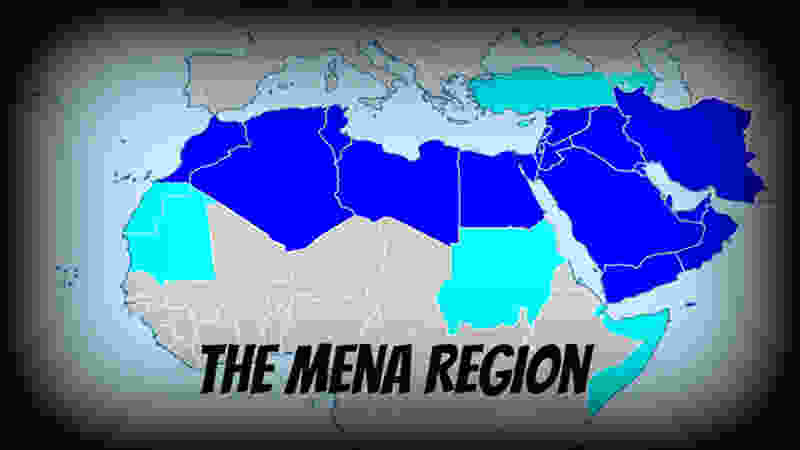 In the Middle East, UFC has had a home for its events in OSN for a long time now. The deal is not going anywhere, and OSN will broadcast UFC events, including live numbered events, the Ultimate Fighter series, and several other programmings in the future.
It's a known fact that almost everyone has a cable subscription and access to OSN in the MENA region, which makes it so much easier to stream the new UFC 249 fight.
And.just like BT Sport (Maybe), the fight will be at no extra charge. You just need to have a cable subscription, and the fight will be available within it.
But you should know that Fight Pass won't operate due to blackout restrictions, so don't try your luck with the platform. However, if you're looking for a subscription-based service, we can help with that.
UFC Arabia, the new streaming service for live PPV events, and a wide selection of UFC on-demand content in the MENA region. Before we get into the pricing and stuff, we should note that, no, this service is not blacked out for some reason.
It did not give us an error message, which is why we took it to their support. We asked them if there are blackouts due to OSN owning the UFC rights, but the answer was no.
The service is fully operational. Here's what the support agent told us via email:

UFC Arabia only costs $4.99/month or 49.99$/year. It's a good price, and it comes with a 30-day free trial for new users.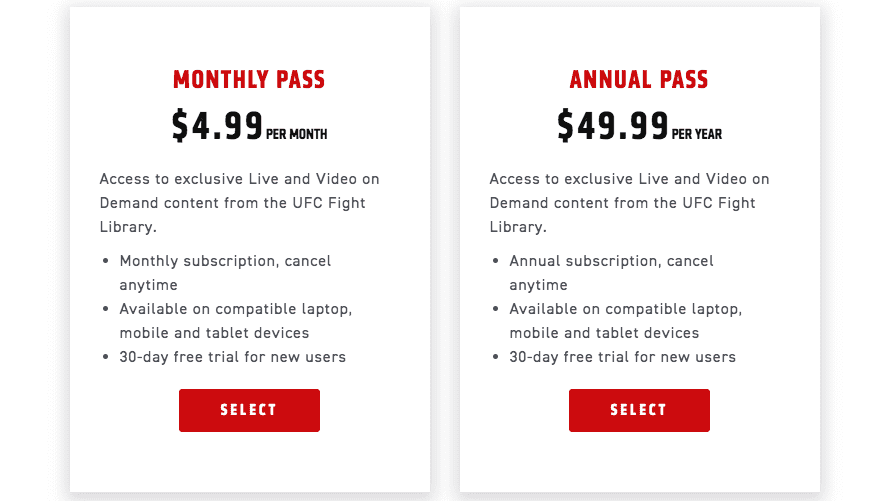 Finally, you can watch UFC 249 on UFC Arabia using PC, Mac, Android, iOS, and Chromecast. Their official website is hinting at expanding the device compatibility range, but we don't know when.
Kodi Live-Streaming
While Kodi might be one of the top streaming platforms anyone could have, sports fans are also included, particularly those who love UFC.
If you have Kodi, you'd know that there are almost add-ons for everything. Well, there is, and Kodi has a DAZN add-on, which is one of the major broadcasters of the UFC promotion.
We did mention DAZN here because Kodi doesn't offer ESPN+. It used to have BT Sport Video, but not anymore. So, DAZN is your only way to stream the upcoming UFC 249 fight.
With that said, here's how you can get DAZN on Kodi:
Activate the Kodi App.
Go to Kodi Add-ons.
Click on My Add-Ons, followed by Install from Repository.
Select Kodi Add-on Repository.
Choose Video Add-ons.
Select the DAZN Add-on and click on install
Return to Kodi Home Screen. Run the DAZN channel.
Sign in with your account. You must sign up if you're not subscribed to DAZN.
Stream UFC 249 live on your Kodi app.
DAZN is one of those channels that apply geo-blocks. And in the add-on's case, it's only available in Germany. But that can be fixed with a simple tool, a VPN.
All you have to do is connect to a server in Germany. This will grant you a German IP address, which will trick the channel into thinking that you reside within its area of coverage.
As a result, you'll be able to sign in and watch UFC 249 no matter where you are across the globe.
Stream UFC 249 on Amazon Fire Stick
While Kodi hosts dozens of official add-ons, Amazon Fire Stick excels in the streaming department with hundreds of applications. One of these apps is none other than ESPN.
Don't get confused. Yes, ESPN won't show you UFC 249, but the app on FireStick is a bit different. You can activate your ESPN+ account within it and stream the latest UFC fight on the popular platform. Here's what you need to do:
Turn on your Amazon Fire Stick.
Search for ESPN.
Choose the ESPN application.
Select Download.
The installation process takes a few minutes. Wait for it to finalize.
Head over to the Fire Stick's Home Screen and activate the ESPN application.
Next, go to Settings to activate your account.
Choose Subscriptions.
Click on ESPN+.
Sign in with your account.
Next, you'll get an activation code.
On your browser, type in the activation code, and log in with your username and password.
Your subscription is linked to your Amazon Fire TV.
Buy UFC 249 PPV from ESPN+'s website, and you're done.
Similar to the DAZN add-on or any other streaming channel out there, ESPN+ is also restricted to a specific location, the United States. So, a VPN comes in again to save the day.
Now, you have to use a server in the United States instead, to obtain an American IP address. With that, you're practically a US resident with full access to any restricted US online content, including ESPN+.
UFC 249 – Free?
This is an unfortunate part of the article. Yes, you can find dozens of websites that offer UFC streaming for free, but we don't recommend those for a couple of reasons.
First, it's illegal. We know that the word free has its temptations, but users often don't think of the precautions it may cause. You might get sued even if you're not the one hosting the live-stream. 
UFC has been waging wars against such websites/applications for years now. They even sued a Staten Island man for distributing UFC PPV content in exchange for revenues.
That's not all; they also sued bars and restaurants who host fight nights using illegal streams. PPV events are the best way to get revenue for the promotion, which explains why it's been hunting down whoever steals the content and distribute it for free.
On the other hand, aside from legal issues, the websites that offer such streams are not safe. You might end up on a site hosted by hackers, waiting for your click to steal your private information.
Under no circumstance, you should visit these websites, let alone submit any personal information on these pages. Haven't you used one before? Didn't you witness how poor the quality of the stream is?
These websites are full of malware and malicious software that may infect your device. Not to mention the frustrating pop-up ads that'll bombard you, ruining the full experience.
It's easy. Just avoid such streaming websites for your safety and peace of mind. Don't jeopardize your private information just to save up on a few pennies.
UFC: Ferguson vs. Gaethje – The Official Broadcasters
We've already mentioned how popular the promotion has become on a global scale. However, the broadcasters above are not the only ones with the rights to air UFC events. For a better look, here are the UFC 249 official streaming channels:
UFC 249: Tony Ferguson vs. Justin Gaethje
The UFC 249 event was nothing like this a while ago, as Ferguson had another opponent to face in the form of Nurmagomedov. The match was then canceled for a fifth time as a result of the coronavirus pandemic.
"The Eagle" went back to his native Dagestan. However, now, he's been unable to leave due to travel restrictions. In the aftermath, Ferguson was booked to fight Justin Gaethje for the interim lightweight belt on the upcoming UFC 249 card come May 9th, 2020.
Ferguson said his fight is "for the real belt" and kept on throwing words at Nurmagomedov:
"F— Khabib," Ferguson said. "I'm defending my belt for the third time. This is for the real belt, this is not for an interim title. This is for the real championship b—. That dude fell off the face of the Earth to me. The only dudes who sign on the dotted line are real f—ing men."
Some big words huh? Well, we'll have to see if Ferguson can get his hands on the title he was stripped off once more in the upcoming weekend.
Another fight to be excited about is between Henry Cejudo and Dominick Cruz, which will be for the Bantamweight title. We already told you how stacked the card is – well, after being absent for quite some time, it's kind of fair to make an impact upon returning.
The Fight Card
We did mention how grand the event is and that the fights are all main-event-worthy. Aside from the epic clash between Ferguson and Gaethje, the fight card includes the following:
Tony Ferguson vs. Justin Gaethje (Interim lightweight title)
Henry Cejudo (c) vs. Dominick Cruz (Bantamweight title)
Francis Ngannou vs. Jair Rozenstruik
Calvin Kattar vs. Jeremy Stephens
Greg Hardy vs. Yorgan De Castro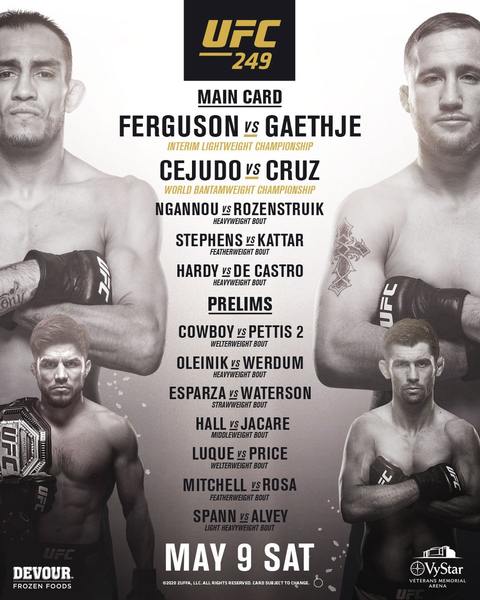 Anthony Pettis vs. Donald Cerrone
Vicente Luque vs. Niko Price
Fabricio Werdum vs. Aleksei Oleinik
Ronaldo Souza vs. Uriah Hall
Carla Esparza vs. Michelle Waterson
Bryce Mitchell vs. Charles Rosa
Ryan Spann vs. Sam Alvey
Watch UFC 249 Anywhere – Final Words
Finding the right channel that broadcasts UFC in your country isn't that hard if you know your way around. This guide has all the information you need to watch UFC 249 in any region.
Now tell us, who are you rooting for? Do you think Tony Ferguson has what it takes to defeat Justin Gaethje for the title? Share your predictions below.