How to Watch UFC 256: Figueiredo vs. Moreno Live Online
|
2020 was definitely not expected to be this way, and the COVID-19 pandemic has affected everything in our lives, including sporting events such as MMA's best – UFC. However, the unexpected continues to happen as UFC 256 goes down next weekend with matches worthy of ending this year with.  On December 12th, 2020, Flyweight champ Deiveison Figueiredo will defend his title for the second time in 3 weeks against Brandon Moreno. We also have top names on the card, but we'll leave that till later on in the article. For now, we're here to help you watch UFC 256 live online anywhere. Let's go.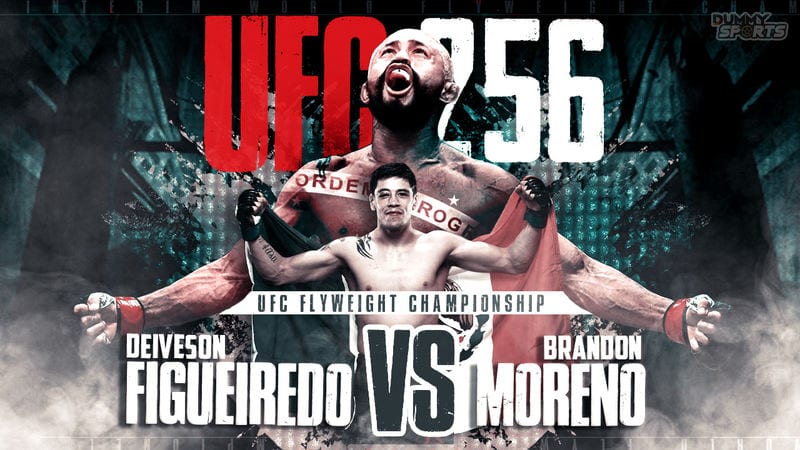 UFC 256: Figueiredo vs. Moreno – Content Index
In November, UFC's 255 event wasn't as strong as anyone hoped it would be. However, on December 12th, 2020, the card is stacked with amazing matches to look forward to. So, with that said, here's how you can watch it online:
Stream UFC 256 Live Anywhere
UFC is a popular MMA promotion watched all over the world. The sport is broadcasted over 165 countries and has an estimated broadcast reach of 1.1 billion TV households.
Last month's event wasn't that much of a success, but who are we kidding. If UFC promotes a fight, everyone around the world will be watching. In fact, there are reports that more than 300 million fans worldwide wait for each fight to watch on their screens.
That many viewers cannot get access to UFC fights if it weren't for the broadcasting partners all over the world. Now, you're here to find out how to watch the newest edition of UFC events, and that's exactly what we'll show you next. Here's how you can stream UFC 256 in each country:
The United States

Fox used to be the dominant sports network just because it has the official rights to the Ultimate Fighting Championship. However, a while ago, ESPN+ took that privilege from Fox's grasps and now acts as the official broadcaster in the United States.
Moreover, some fans still rely on UFC's Fight Pass to watch such events, but that's all in the past. Fight Pass is always subject to blackouts when major fights are on.
Purchasing the UFC 256 event is not available on UFC Fight Pass. Instead, as seen in the image below, the December 12th, 2020 schedule only includes the prelims and post-fight press conference.

The only way to purchase the event now in the United States is through ESPN+. Luckily, the channel is a subscription-based service, which means that no cable provider is needed to stream the fight or any other sport in its library.
ESPN+ has become one of the biggest streaming services in the US, harnessing over 6.6 million subscribers. As mentioned, it's the only home for UFC events in the country, which means a subscription is needed to purchase the 256 fight.
Purchasing UFC 256 through ESPN+
Existing subscribers can purchase a UFC PPV event for $64.99 by itself. However, newcomers can benefit from ESPN+'s deal by paying  $84.98 and getting UFC PPV 256 along with an ESPN+ annual subscription that auto-renews at $49.99 per year.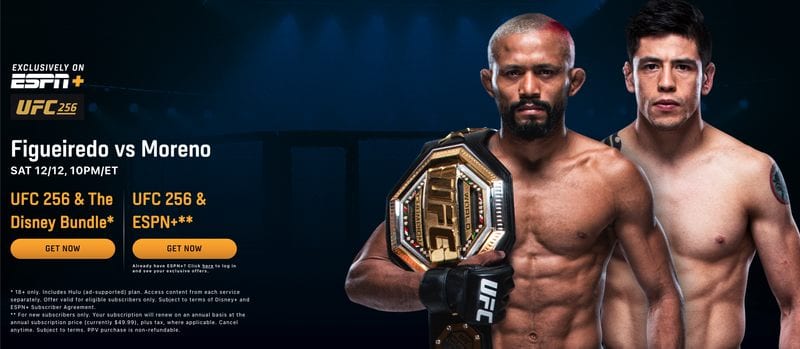 It's a very good deal, actually, but ESPN+ has more to offer. Now that the channel is owned by Disney, more and more bundles are on the table. ESPN+, by itself costs $5.99 a month. However, if users shell out $12.99/month, they can get a 3 in 1 deal, gaining access to Disney+, Hulu, and ESPN+ simultaneously.
The most unfortunate turn of events is the fact that ESPN+ no longer offers a 7-day free trial. Regardless, the subscription prices are affordable, and it's the only way to watch UFC, so it is the best (only) option available.
Once you subscribe to ESPN+ and purchase the event, you can stream it live on PlayStation, Apple TV, Roku, iOS, Android, Chromecast, PC, Mac, Xbox, and FireStick.
The United Kingdom

BT Sport has owned the rights to show UFC fights for quite some time now. It did start well as it showed them for free if a user has an existing BT Broadband.
However, a while ago, the channel decided to make more money by offering UFC events as PPV, which of course, angered their customers.
Now, BT made everything right by changing the whole equation. The fight will most likely be on BT Sport 1 – a channel that can be accessed for those who have a BT Broadband with BT TV and Sport in their contract. If they don't have them, they have to pay £15.00 per month.
If UFC is not enough and they're looking for a wider channel selection, they have to shell out an extra £40 per month for the 'Big Sport' package, gaining access to BT Sports and 11 Sky Sports channels via Now TV pass.
Here's where things take a turn to the brightest side in BT history. The service has finally launched a subscription-based method that doesn't need cable contracts or long term commitments.
It's called BT Sport Monthly Pass, where subscribers can get a hold of the BT Sport app, along with all four BT Sport channels for £25. Please note that they can cancel the subscription anytime they want as well.

BT Sport has made it clear that it wants to dominate the sports coverage industry, and it's not kidding. Those who have the BT Sport app can watch UFC 256 on almost any device out there, including Samsung Smart TV, Xbox One, PC, Mac, iOS, Android, Chromecast, Apple TV, Android TV, NOW TV devices, Amazon Fire TV devices, Roku players, and Sony PlayStation 4.
Canada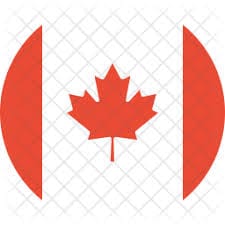 Canada has a lot of options to offers its residents when it comes to watching UFC fights. Most residents have cable subscriptions to either one of the major providers in the country.
We're referring to the likes of Bell, Rogers, Shaw, Telus, and Eastlink. All of these broadcast UFC's events as PPV for a certain price.
Anyone who wishes to watch UFC 256 will have to pay an average of $64.99. There's no hassle in it. What's required is a simple purchase of the event on the provider's website and, of course, to tune in to the dedicated channel using the provider's app or receiver to watch it live.
Let's take Rogers as an example. On the website, users would have to pay $64.99, and when the fight is due, you can use your Ignite TV, tune in to channel 499, and watch the fight instantly.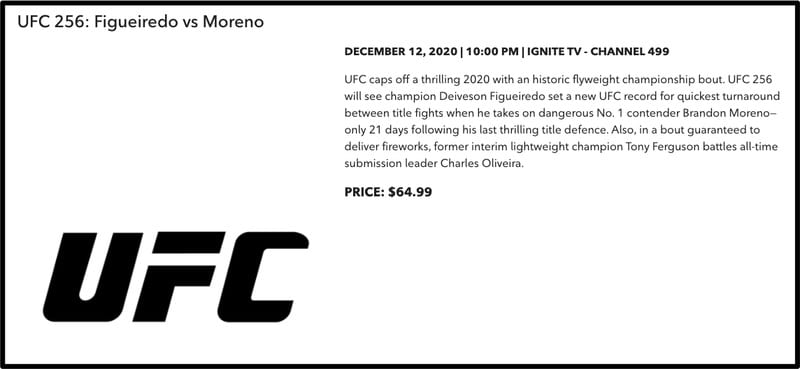 Please note that every provider offers the same way of purchasing the event. So, it should be easy for anyone regardless of their cable subscription.
Moreover, there's another way to stream UFC, but unfortunately, it only shows chunks of the event. To be exact, it only broadcasts the preliminary round.
We're talking about none other than TSN, which has been showing prelims for a long time. This method won't be our recommendation as users will be missing out on the big fights, and no one wants that. You can see how TSN's schedule looks like in the image below:

Users can find the TSN app on Android, iOS, PC, Mac, Xbox One, Apple TV, and Samsung Smart TV.
Fight Pass is Functional in Canada
And the final way to way UFC in Canada is through the promotion's own, UFC Fight Pass. Despite having so many broadcasters, UFC Fight Pass in the country is not blacked out. If you want access to 1000+ hours of UFC and early prelims, you can subscribe to Fight Pass for only $9.99/month and $95.99/year.

However, UFC's exciting Pay-Per-View events are available as a separate purchase, so you don't have to be subscribed at all. All you need is to buy the event for $64.99 and wait for the event's date.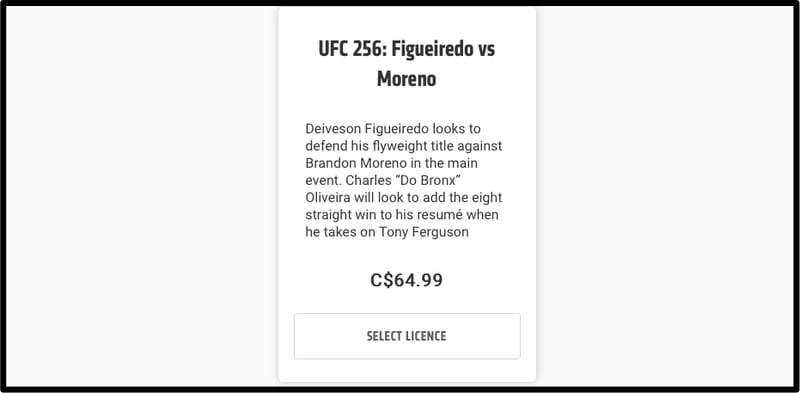 Then you can watch it live on Chromecast, Windows, Android, Amazon Fire TV, Mac, Apple TV, Smart TV, Roku, or iOS.
Australia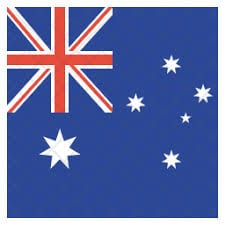 Main Event is the main attraction for those who wish to watch UFC fights in Australia. It's easy; it's convenient, and quick to purchase the fight through.
The website doesn't only give access to UFC; users can also watch boxing matches, full live concerts, WWE PPVs, and even Impact Wrestling.
UFC streamers have quite an easy task in Australia. All they have to do is choose their event and purchase it. However, watching it has to be through Foxtel or Optus, and that requires a cable subscription.
And let's face it, rarely do we find anyone without a subscription to either one of those. So far, the price is not mentioned on the official website.
Regardless, ever since Main Event took over the broadcasting of UFC events, every single fight stood at $54.95, which is probably what UFC 256 will cost.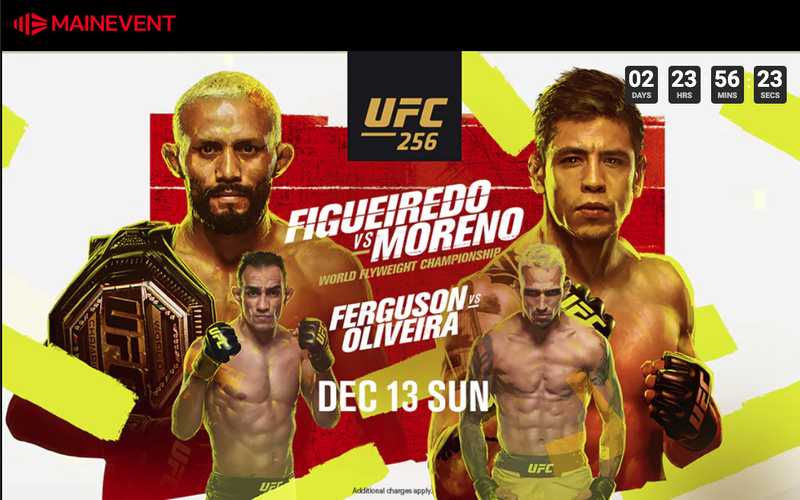 No matter what provider you're subscribed to, you can watch the fight on several devices:
Foxtel: PC, Mac, Android, PlayStation, Smart TVs, iOS, and Chromecast.
Optus: Android, iOS, PC, Fire Stick, Android TV, Apple TV, Chromecast, Mac, and Xbox.
The prelims are available on Kayo Sports if anyone's interested, though the big fights will be missing, and the card is stacked with those. Finally, we get to UFC Fight Pass, which is also not blacked out in the country.
A Fight Pass subscription will cost AU$10.99/month and AU$104.99/year, giving you access to thousands of MMA streaming hours.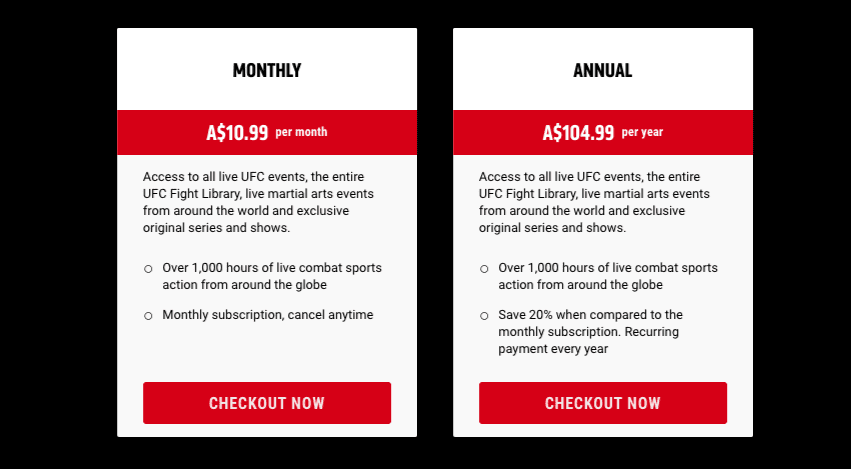 Just like in Canada, you don't need a subscription to purchase UFC 256. You can pay $54.95 and get it instantly. Take a look at the image below.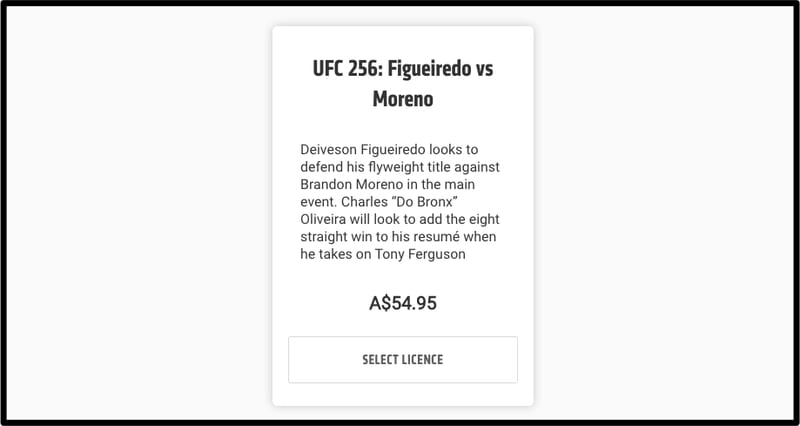 Once you get it, you can stream it live on December 13th, 2020 (Australia) using Chromecast, Amazon Fire TV, Mac, Apple TV, Smart TV, Roku, Windows, Android, or iOS.
Germany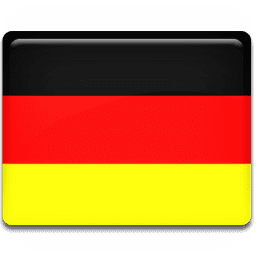 In Germany, residents who love MMA and UFC, in particular, have probably the best streaming service to stream the promotion live online.
If you don't know what we're referring to, it's DAZN (Da-Zone) – a streaming service that has over 8 million subscribers.
DAZN started quite small, but now, it has so broadcasting rights to many sporting events, attracting millions of subscribers that are interested in what it has to offer.
You name it, Bellator, Premier League, Boxing, Champions League, MLB, Cricket, Darts, eSports, Golf, and so many more. DAZN has it all. It's even the only channel that shows all of Canello Alvares' fights with an 11-fight contract that will pay him at least $365 million.
Now let's talk about how you can access UFC 256 via DAZN. The channel is subscription-based, but unlike ESPN+, you don't have to pay for the fight as a PPV event.
On the contrary, once you've subscribed, you'll have access to any UFC event available as part of your subscription. In Germany, users have to pay EUR11.99/month or EUR119.99/year.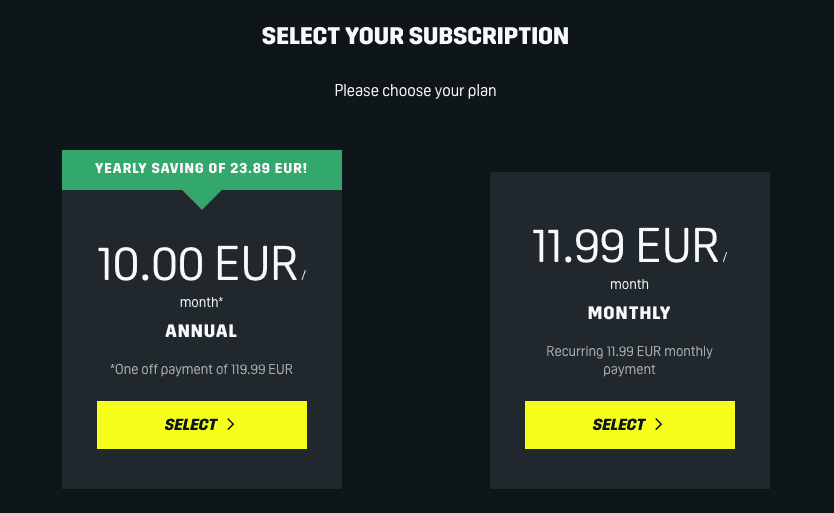 While the channel is available on a semi-global scale, UFC rights are still withheld in countries Italy, Spain, Austria, Japan, and of course, Germany.
To add a cherry on top, new customers get a 30-day free trial when they subscribe. In other words, they get to watch UFC 256 for free without paying a dime.
Aside from that, DAZN can be streamed on a wide range of devices, including the likes of Xbox, Chromecast, Roku, PC, Mac, FireStick, PlayStation, iOS, Android TV, Apple TV, and Android.
The Middle East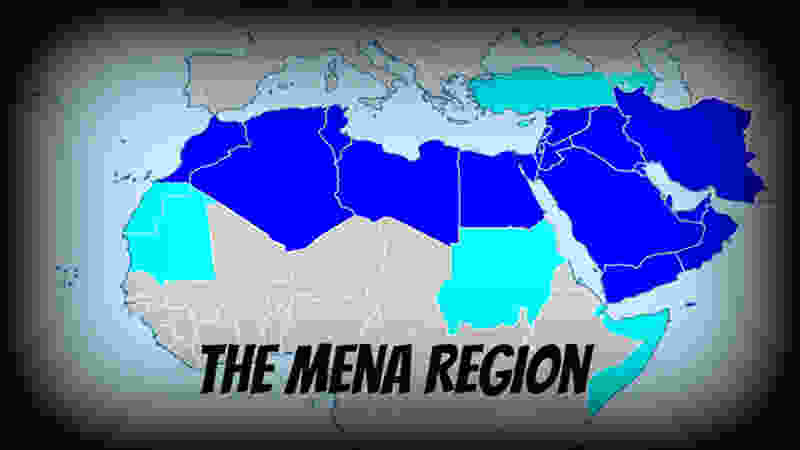 On December 12th, 2020, residents in the Middle East can tune into OSN to watch the fight live. The channel has had the official rights to the promotion for a long time now, and we don't think it's planning on letting it go anytime soon.
While OSN needs a cable subscription, we have to state that it's very rare to find any household without one. Almost every house has direct access to OSN, which makes it easy to watch the upcoming event.
There's no extra cost and no PPV purchase. The fight is available within the subscription. Just tune in when the fight is due and start watching. That's it.
Another Way? Cable-Free
UFC Fight pass won't be available since it'll be blacked out during the fight. However, there's an alternative that shook the UFC streaming world in the MENA region – UFC Arabia.
Now, UFC fans in the area don't need a cable subscription anymore. The new channel has thousands of streamable UFC hours along with live events such as UFC 256 – blackout-free.
We were confused by this fact since OSN holds the official rights, so we decided to contact their support to make sure it's true. Apparently, it is, and the agent's reply was as such:

We noticed that UFC Arabia is quite cheap compared to what it offers in return. In fact, the subscription-based service costs $4.99/month or 49.99$/year. There's also a 30-day free trial for new users.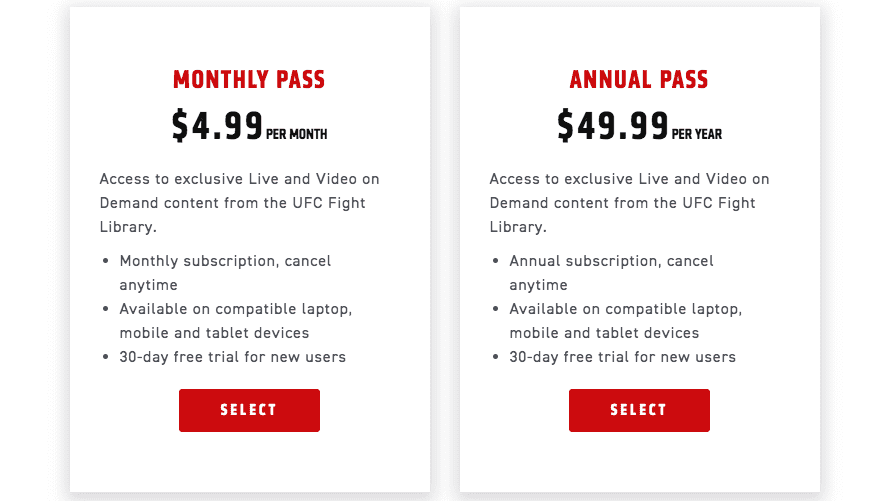 Since it was new, UFC Arabia didn't support as many devices as one would hope. But that all changed. Now, you can stream UFC 256 on UFC Arabia using Android, iOS, PC, Mac, Samsung Smart TV, Android TV, Chromecast, Xbox, and Apple TV.
Although their website stated that support for Roku and PlayStation is planned in 2019, we haven't seen anything of the sort yet.
Figueiredo vs. Moreno – Kodi Live-Streaming
Kodi has become a very popular application on millions of devices. Back in 2017, the platform recorded more than 38 million users, so we know how good and effective it is for all sorts of things, especially streaming.
Anyone who has Kodi can download add-ons according to what they're looking to stream. When it comes to UFC, they have none other than DAZN to install. So, to help you out, here's how you can install DAZN on Kodi and watch UFC 256 live online:
Open the Kodi App.
Go to Kodi Add-ons.
Choose My Add-Ons, and then Install from Repository.
Select Kodi Add-on Repository.
Next, head over to Video Add-ons.
Click on the DAZN Add-on and hit install.
Head back to Kodi Home Screen. Launch the DAZN channel.
Log in with your credentials. You must sign up if you're not subscribed to DAZN.
Stream UFC 256 live on your Kodi app.
Please note that DAZN's add-on works the same way as the channel does; it applies geo-restrictions. In other words, if you're outside Germany, you won't be able to access the channel at all.
What you need to do here is install a reputable VPN on your device, connect to a German server, and obtain a German IP address in the process. Then and only then do you get full access to DAZN on Kodi.
Figueiredo vs. Moreno on Amazon Fire Stick
Let's talk about a streaming device that has over 40 million users – Amazon Fire Stick. This platform hosts dozens of official streaming services to use, including the original one for UFC fights.
The app is none other than ESPN. No, it's not ESPN+, which means you'll have to take extra steps in order to stream UFC 256 using your FireStick. Here's what you need to do:
Launch your Amazon Fire Stick.
Search for ESPN.
Choose the ESPN application.
Select Download.
The installation process takes a few minutes. Wait for it to finish.
Go back to Fire Stick's Home Screen and launch the ESPN application.
Next, go to Settings to activate your account.
Select Subscriptions.
Click on ESPN+.
Log in with your account.
After that, you'll get an activation code.
Using your browser, enter the activation code, and sign in with your credentials.
Your subscription is linked to your Amazon Fire TV.
Purchase UFC 256 PPV from ESPN+'s website, and start watching.
ESPN+ also applies geo-blockings as it's only available in the United States. If you're outside the US, you'll need to get yourself a VPN and connect to a US server.
With an established connection, you'll receive a US IP address, and you'll be able to watch UFC 256 anywhere in the world on Fire Stick.
UFC 256 Free Streaming?
Streaming such big events can be really tempting, and we all know why. The only thing on UFC fans' minds would be: Why would I pay that much money when I can watch the fight for free?
Pirated websites offer almost everything there is to find on premium channels for free. Unfortunately, it has become very popular, reaching more than 190 billion visits to pirate sites in 2018 only.
50% of these recorded visits went to streaming sites, which remain the go-to tool for most users. So, let's dig deeper into the matter and show our readers why exactly we're against this.
Well, we can state a couple of reasons. When it comes to a device's security, the risks of illegal streaming are often underestimated. And no, closing those annoying pop-ups and avoiding shady app downloads won't protect you, not make you immune to threats.
Any of these websites can be a way created by hackers to lure victims in and take over their devices. They can easily install malware on the devices of whoever visits the page and steal their private information.
It's Also Illegal!
That's one problem. Now, the other would be that streaming pirated content is illegal. Whoever is caught committing such acts can face a lot of legal issues, resulting in penalties, be it fines or imprisonment.
UFC doesn't tolerate pirated streaming, especially since it costs them a lot. UFC chief legal officer Kirk Hendrick stated that the promotion's losses are "millions and millions" of dollars yearly.
This led them to aggressively pursue whoever watches UFC fights illegally, sue third party websites, and file subpoenas in an attempt to gather IP addresses of those who distribute copyrighted material related to the promotion.
You don't want to be at the other end of a lawsuit. All you have to do is subscribe to a premium channel or purchase the event via PPV. Spend some coins instead of spending thousands on lawsuits or paying with your own personal information.
UFC: Figueiredo vs. Moreno – The Official Broadcasters
You do know that the channels mentioned above aren't the only ones that are available, right? If that was the case, UFC wouldn't have reached the global popularity it has today.
There are a lot of broadcasters around the world, and you can see most of them in the list below:
UFC 256: Figueiredo vs. Moreno – Inside the Fight
On December 12th, 2020, the Flyweight championship will be on the line as Deiveison Figueiredo goes up against Brandon Moreno at the UFC Apex, Las Vegas, Nevada, United States.
While the match is epic on its own, it wasn't the one UFC had in mind for the event at first. In fact, the promotion was targeting a UFC Welterweight Championship bout between current champion Kamaru Usman and Gilbert Burns to serve as the event headliner.
That was canceled though, due to Covid-19, of course. Apparently, the match was supposed to happen at UFC 251, but Burns and his coach, Greg Jones, both tested positive.
Burns isn't the only reason the match got canceled. Usman couldn't compete due to undisclosed injuries he suffered during a match with Jorge Masvidal, where he came out victorious.
On the other hand, the promotion also targeted the women's division with a UFC Women's Featherweight Championship fight between the current champion Amanda Nunes and former Invicta FC Featherweight Champion Megan Anderson.
This bout was rescheduled to 2021 due to Nunes' undisclosed injury. The canceled bout sure did bring UFC fans down, but what we got as alternatives are outstanding. Here's how the Fight Card looks like so far:
Main Card
Deiveson Figueiredo (c) vs. Brandon Moreno
Tony Ferguson vs. Charles Oliveira
Renato Moicano vs. Rafael Fiziev
Kevin Holland vs. Ronaldo Souza
Junior Dos Santos vs. Ciryl Gane
Preliminary Card
Cub Swanson vs. Daniel Pineda
Mackenzie Dern vs. Virna Jandiroba
Gavin Tucker vs. Billy Quarantillo
Early Preliminary Card
Sergey Spivak vs. Jared Vanderaa
Li Jingliang vs. TBA
Chase Hooper vs. Peter Barret
Stream Figueiredo vs. Moreno Anywhere – Final Words
UFC 256 goes down on December 12th, 2020, and it's going to be epic. The Flyweight champ Deiveison Figueiredo will defend his title for the second time in 21 days, which makes us a question: Does he still enough juice for a fight like this?
Well, we'll have to see as he takes on Brandon Moreno for the title. Who are you cheering for? What channel are you using to stream the fight live online? Let us know in the comments below.