Best VPN for Streaming in HD or 4K UHD
|
What is the best VPN for streaming? Streaming in High Definition had long been a privilege to only those that could afford the highest broadband packages almost two decades ago. Now, however, anyone dealing with a credible ISP provider is able to bump up their package to a broadband service without causing that much of a dent to their pocket. As High Speed Internet access continues to reduce in cost, this makes it easier for a majority to get to avoid the kind of problems associated with a slow internet connection. Despite these advancements, streaming in High Definition attracts a high privacy risk, similar to most of the other broadband intensive activities you're likely to carry out online. It is possible to protect yourself from these risks, but only if you can identify a worthwhile VPN provider to subscribe to.
Overcome ISP Throttling Through a Credible VPN
Aside from the risk to your privacy, your connection might also be interfered with by your ISP, in an effort to limit your bandwidth consumption. This results in your videos taking longer to load or even download, whether you're streaming from YouTube, Amazon Instant Videos, or Netflix.
A dependable VPN service should be able to help you overcome this, and one of the elements that allow it to do so is encryption. If your VPN subscription is active, your ISP won't be able to distinguish between your traffic and that of its other users, making it difficult for it to be seen as though you're streaming HD videos, thus preventing any form of throttling from their end.
If for some reason your ISP is still able to decipher the kind of traffic going through your device, then we have a number of tips you might want to try and prevent the same:
An ideal solution, though slightly more technical, would be to include another layer of encryption. This can be done quite fast on Linux, though it would take slightly longer to make an SSH tunnel on Windows.

You can try and switch ports, for example, to either TCP port 80 or TCP port 443. These ports are often unmonitored, so this would be great to prevent any form of throttling.

If you're not too sure about SSH, then maybe an SSL tunnel could be more of a better option. The two are not that different, but SSL tunnels are more readily offered by a number of VPN providers such as NordVPN. If not included with yours, then you could as well download the Stunnel software and proceed from there.
What To Do To Bolster Your Buffering Speed
If by any chance, ISP throttling isn't the precise cause of your connection's reduced speed, there are still a couple more things you could do to speed things up:
It's not uncommon to find out that your device doesn't have any support for High Definition viewing, and this is likely the problem if your device happens to stutter instead of buffer whenever you're streaming such video formats. You might want to play the same format on your PC or laptop if you really have to watch those videos.

There is a couple of VPN protocols that are considered more advanced than others, and their advancements help reduce the margin of speed that gets cut down by virtue of using a VPN. You'll find that the default for most providers is OpenVPN, but if you're fine with compromising a bit of your privacy for better speeds, then we advise trying out the PPTP or L2TP/IPSec as your preferred protocols.

Another issue that might be slowing things down could be an unreliable wireless connection. If your signal strength keeps on changing, then your speed might also keep fluctuating. The best way to resolve this would be to plug directly into a router, or if possible, use an ethernet connection. These two have been known to be far more stable than wireless connections.

Although this is more of the last option, changing your VPN provider might actually solve your problem. Your slow speeds with your current provider could be because their servers are not as close to your location. A VPN network with a closer server might result to increased speeds.
Best VPN for Streaming
Now that we've covered what you should do to get a better streaming speed, let's take a look at the kind of VPN services you should be able to rely on not to keep your speed on the low:
1. ExpressVPN – Our Top Recommendation
ExpressVPN is one provider that has some of the most well-distributed servers among all the players within the VPN market. They have over 1,500 servers in around 94 countries.
The coverage is quite dependable, and the speeds are indeed good enough to stream ultra HD content. You'll also be able to measure the speed of whichever server you're connected to and decide whether or not to change.
Matters encryption are also well catered for, with users getting to enjoy a 256-bit AES encryption. There's also a zero-logging policy in place, DNS leak protection and an internet kill switch to keep the connection secure.
2. BulletVPN
With a modest server network of 150+ servers in more than 55 countries, BulletVPN is well poised to ensure fast load speeds for users looking to spend most of their time online streaming HD videos.
They also have hundreds of IP addresses for users to choose from, and advanced 256-bit AES encryption to keep all its users safe from hackers and spammers.
You'll also be able to benefit from their zero-logging policy, and uninterrupted torrent downloading support. DNS leak protection and an automated kill switch to shut down your internet connection in case your VPN fails come as standard.
3. NordVPN
NordVPN is quite popular among internet users especially because of its capacity to handle upto 6 simultaneous connections. This means you'll get to enjoy HD viewing on your tablet, mobile, laptop, smart TV or any other device you could have, provided they support such formats.
NordVPN users can connect to over 2,000 servers distributed all over the world. Coupled with a well respected zero-logging policy, NordVPN users shouldn't have anything to worry about regarding their privacy.
The service also offers dedicated servers that allow for double encryption, improved P2P download speeds and access to American Netflix.
Best VPN For Streaming – Bottom Line
If you take action on a few of the pointers that we've offered in this review, things such as buffering and interrupted streaming will be a thing of the past. Now that you know your ISP is very well capable of slowing down your speed after having infiltrated on your privacy, there's no better reason to get subscribed with a credible VPN service. Doing so will greatly improve your streaming speeds, and keep your activity and personal information hidden from anyone looking to intercept your connection. Stay safe, get yourself a credible VPN.
ExpressVPN Review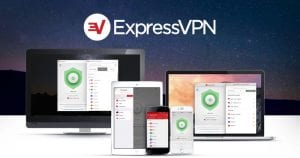 Name: ExpressVPN
Description: ExpressVPN is a VPN service that allows you to browse the web anonymously and unblock geo-restricted sites.
Price: 12.95
Currency: $
Operating System: Windows, OSX, Android, iOS
Application Category: Multimedia
Refund Policy

Speed

Support

VPN Apps