Best VPN for UK – 2023 Review Guide
|
The UK has fast become one of the best countries to visit thanks to beautiful tourist attraction sites such as the Buckingham Palace, Kelvingrove Gallery, Clyde Waterfront, and Roman Baths. However, when it comes to the internet, England has become one of the most surveilled states in the world thanks to the Investigatory Power Act (A.K.A. the Snoopers Charter). This explains why online privacy awareness has resulted in a substantial increase in UK VPN users. More people in the United Kingdom are turning to virtual private networks to improve their browsing experience, be it to bypass limitations or access blocked content in and out of the country. But the question is: What is the best VPN for the UK? Find out in this full comprehensive review.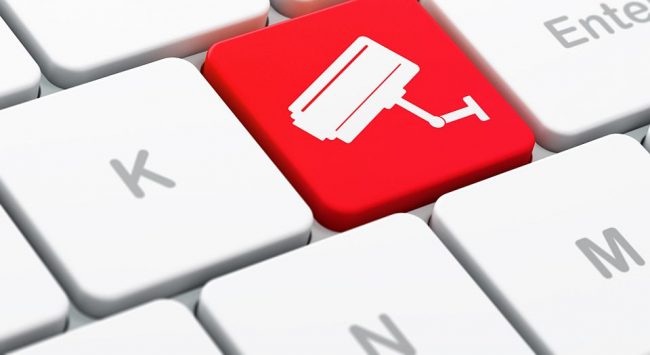 Best VPN for the UK – Content Index
As mentioned above, using a VPN has become a necessity to online users in the United Kingdom. However, not every VPN is deemed credible for anonymous browsing and free internet access.
In this review, we'll be looking at the best VPNs for the UK based on in-depth tests and analysis. Check them out:
Why Do I Need VPN in UK – Top Reasons
In 2019, the UK recorded that 93% of its households use the internet. During the same year, reports state that 45.1 million individuals use the internet on a daily basis.
However, despite the massive usage of the World Wide Web, it still has its limitations, which forces UK residents to resort to Virtual Private Networks.
There are a lot of reasons to use a VPN in the country and we've stated a couple of them below so that our readers can know what to expect while they're browsing the web there.
Mass Surveillance And Data Sharing
The United Kingdom is well-known to be one of the most surveillance-heavy countries across the globe. It constantly monitoring what internet users within its regions are doing and snoops on their browsing activities.
With the Investigatory Powers Act, the monitoring process is only getting worse. Now, another this to mention is that the UK is a key member of the NSA-led Five Eyes spying alliance.
Users don't just have to worry about data collection. We must note that if any of these countries (USA, UK, Canada, Australia, and New Zealand) gains access to users' data online, rest assured that it can then be shared with other countries.
The Alliance later expanded, adding countries to form what we call now the Fourteen Eyes. Also, before choosing a VPN, users should make sure that it's not based in one of those countries, or at least check if it offers a strict no-logging policy.
Snooper's Charter & Brexit
The UK government has recently passed the Investigatory Powers Act 2016. Also known as Snooper's Charter, the new law grants government agencies the right to snoop on users' online activities.
This allows UK data to be transferred, uninterrupted, into the EU, which includes users' browsing history, downloads, as well as what they're watching online.
The information mentioned above can paint a detailed picture of whoever the government is monitoring. It gives away data about who the user is talking to, as well as other information such as political views, religious beliefs, and daily habits.
There have been many concerns about the newly applied Act, as privacy activists claim that it legalized a frighteningly far-reaching state surveillance apparatus.
Moreover, Liberty, the human rights advocacy group states that Snooper's Charter is probably the "most intrusive mass surveillance regime ever introduced in a democracy."
If that's not enough, there are concerns about the UK's surveillance post-Brexit. The United Kingdom left the EU on 31 January 2020 and there have been reports that surveillance will get worse.
Britain is on its own now, but if it wants to continue to do business with the EU, it would still require many surveillance and privacy-related changes, which should comply with EU law.
Living in a country with such an Act means that users' privacy is always compromised. With a VPN, users' internet activities are always concealed the moment they hit the connect button.
It encrypts their data and anonymizes their browsing activities, making them totally unidentifiable while surfing the internet.
Online Streaming
Streaming online is one of the most common practices among every single internet user. We're talking about accessing major channels like Netflix, Hulu, BBC iPlayer, ITV, and more.
As popular as they are around the world, it's sad to say that they are only available in specific regions, where no one abroad can get a hold of them. These services apply what we call geo-blocking, a mechanism used to restrict user access based on his/her location.
A channel looks up the users' IP addresses to determine their whereabouts. Once it figures out where they reside and it's not within its area of coverage, the user gets blocked instantly.
For example, Hulu and the US version of Netflix have always been in demand outside the US. But unfortunately, neither Hulu nor the US Netflix is available abroad. If users in the UK try to access Hulu in their region, they'll get blocked, and the following error message appears:
The same goes for UK ex-pats living abroad as they too can't access their local channels back home. Without a UK IP address, the likes of ITV, BBC iPlayer, Channel 5, and Sky Go will also block their access. Here's a sample error of what ITV will give:
With a Virtual Private Network, users can get around such blocking mechanisms with ease. All they have to do is connect to a server in the channel's respective country and they'll obtain the required local IP address.
For example, if UK residents want to access Hulu, they have to connect to a US server. This connection allows them to obtain a US IP address and direct access to Hulu and other US streaming services despite physically being in the UK.
Torrents
Torrenting opens a lot of possible routes to get files that are not available elsewhere. We're talking about music albums, TV shows, movies, e-books, and even games.
However, the act of File-Sharing is deemed illegal in a lot of countries, with the UK being one of them. File-Sharing that violates copyright laws is met with severe consequences.
First, the government might send notices and legal statements to whoever is sharing a file. For example, media companies in the UK urge the government to force internet service providers (ISPs) to identify online users suspected of file sharing and to take action against them.
BPI (British Phonographic Industry) is one of those institutions and now, the five main ISPs (BT, Virgin Media, Sky, TalkTalk, EE) in the country are responsible for notifying users if they ever share any of the company's files.
Music industries aren't the only ones affected by torrenting. In fact, gaming giants such as Atari, Codemasters, TopWare Interactive, Reality Pump, and Techland also sent notices to over 25,000 UK Internet users for breaching their copyrights.
The identified users were caught downloading or sharing games on file-sharing websites. The companies demanded a £300 payment if the targets wish to settle the matter out of court. Any failure in payment would result in legal actions.
Aside from that, torrenting compromises whoever is sharing a file. The IP address of the user is shown to anyone sharing the same file or any cybercriminal monitoring their activities.
Downloading harmless files is not illegal, but it is privacy-compromising. But to avoid this whole predicament, users opt for VPN providers. They hide their IP addresses and allow them to download torrents anonymously, making them completely untrackable online.
Banned Sites in the UK
The UK hosts a lot of big names when it comes to the streaming industry. Such websites show how much the country offers on the internet. However, as it provides some, it surely restricted access to others.
Browsing some websites might be difficult in the United Kingdom as the big 5 ISPs have been blocking dozens of them for quite some time now. According to Section 97A of the Copyright, Designs and Patents Act 1988, BT Group, EE, Sky Broadband, Talk Talk, and Virgin Media have to use various methods to blocks websites that violate copyright and trademark infringement.
There's a long list of names on the UK's banned list. Whenever a user attempts to visit any of those websites while residing in the UK, he/she will be forwarded to www.ukispcourtorders.co.uk, where all the website names are provided.
Users can manually visit the page and check what websites they can't access in the UK. However, we'll be mentioning a couple of them here so that they have a quick idea about what to expect:
Abmp3
BeeMp3
Bomb-Mp3
eMp3World
Filecrop
Mp3Juices
Mp3lemon
Mp3skull
Limetorrents
NowTorrents
Picktorrent
Seedpeer
The Pirate Bay
Torrentexpress
TorrentFunk
watchseries.It
stream-tv.me
movie25.cm
As seen in the list above, the websites represent pages that allow users to download torrents, music, or watch movies/shows for free. This violates copyright laws, which is why the UK blocked all of them.
We don't encourage such actions, but when it's harmless, it does not violate any law, especially when it comes to downloading torrents. There have been times where countries blocked several websites (By Mistake) while banning others.
So, with a VPN, users can shift their online location and appear to be accessing the web from a whole different country. They just have to pick a server in a region where P2P is allowed. Once they get the respective IP address, they can do so freely while still physically residing in the UK.
Best VPN for the UK
Picking the best VPN is a hard task, to be honest. There are a lot of options out there, but not all of them are suitable to use in the country. We already mentioned that the UK is part of the Five Eyes alliance, which allows authorities in the region to demand user information from VPN providers and they'll have to comply.
A VPN with a strict no-logging policy is what we're looking for, but that's just the half of it. We reviewed dozens of VPNs before settling for the ones in this review. Based on a strict evaluation process, we found that the following are the best VPNs for the UK.
ExpressVPN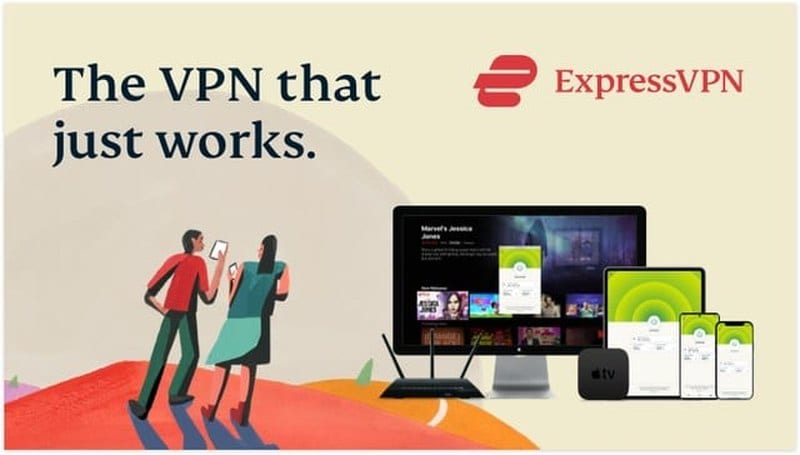 ExpressVPN is a top tier UK VPN provider that offers only the best in quality of service. The VPN is based in the British Virgin Islands, where no data retention laws are present.
Also, it's out of the reach of the Five Eyes associations. The provider is very conversant with the censorship issues that residents from the UK deal with every now and then, and with servers in 94 countries, they're capable of making sure their customers are able to bypass their restrictions. 
Moreover, ExpressVPN adopts a strict no-logs policy, meaning that even if the government ceased any of its websites, no data can be found. That's exactly what happened in Turkey when authorities ceased an ExpressVPN server but found nothing to harvest in the process.
As for streaming, ExpressVPN was able to unblock all major streaming services during our tests. That's not all. It also did that while maintaining blazing-fast speeds despite offering strong encryption.
Our connection barely dropped, but if users still want better speeds, they can use ExpressVPN's MediaStreamer (Smart DNS) to access their desired channel on a wide variety of devices, including VPN incompatible ones such as PlayStation, Xbox, Chromecast, Apple TV, and so many more.
ExpressVPN also has a kill switch – a feature that activates if the VPN connection suddenly drops, blocking internet access in the process until the VPN connection reboots. This prevents any of the users' data from leaking into their ISP's servers.
ExpressVPN's 30-day refund guarantee shows that signing up with them is simply risk-free. Whether you want to bypass geographic restrictions, prevent prying eyes from spying on you, or watch/download movies anonymously, ExpressVPN is a go-to-tool.
Pros:
148 VPN server locations in 94 countries.

Five simultaneous connections

No bandwidth limit

Military-grade encryption

Kill Switch

Full device compatibility

Smart DNS

24/7 live support

Accepts Bitcoin 

30-day money-back guarantee

Browser extensions
Split tunneling
Cons:
No free VPN trial period.
BulletVPN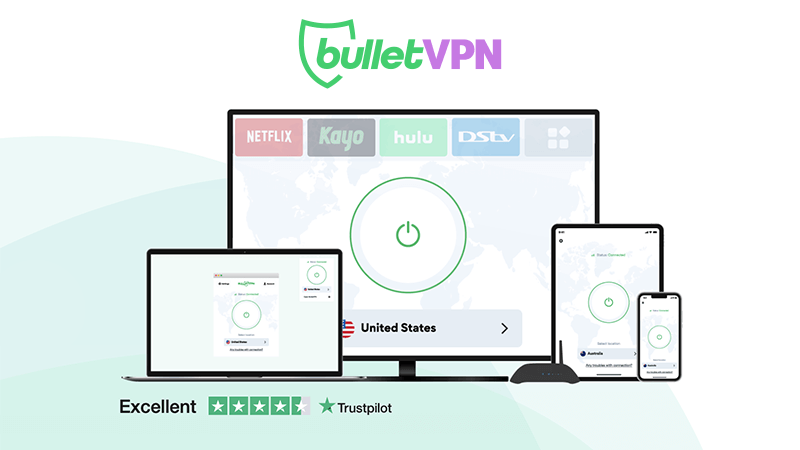 BulletVPN is an Estonian based VPN provider that certainly grants users very fast service. It doesn't matter if customers are looking to unblock restricted content or bypass government-controlled filters, this VPN will deliver.
Being based in Estonia certainly omits any questions related to whether this VPN shares data with the government or not. The country is outside the Five Eyes' reach and BulletVPN has a no-logging policy.
The provider is pretty great at streaming blocked content as it offers excellent speeds and unblocks all major streaming channels, including ones that a lot of VPNs fell victim to its blocking mechanism – DStv.
BulletVPN has more than 100 server locations across 51 countries. Within their list, we found a couple labeled as UltraHD Support. We tried them out, performed a speed test, and got excellent results, including one where our connection increased. Not to mention that they also offer a free Smart DNS service for those who want to unblock content with no speed loss.
As for security, users can pick from OpenVPN, L2TP/IPSec, IPSec, IKEv2, and PPTP. Moreover, there's a kill switch for any sudden connection drops, and Bullet Shield, which doesn't allow users to connect back unless they're using BulletVPN. Privacy at its best.
Finally, BulletVPN has a 30-day refund policy. But before we get to that, new customers using Android and those who contact customer support can benefit from a 1-day free trial. With that, they can test what the service has to offer before opting for any plan.
Pros:
111 VPN server locations in 51 countries.

Six concurrent connections

Unlimited bandwidth

256-bit AES encryption

Kill Switch

Supports all major devices

Smart DNS

Live chat support

Accepts Bitcoin 

30-day money-back guarantee

Bullet Shield
1-day free trial
Cons:
No split tunneling

Lacks browser extensions
Surfshark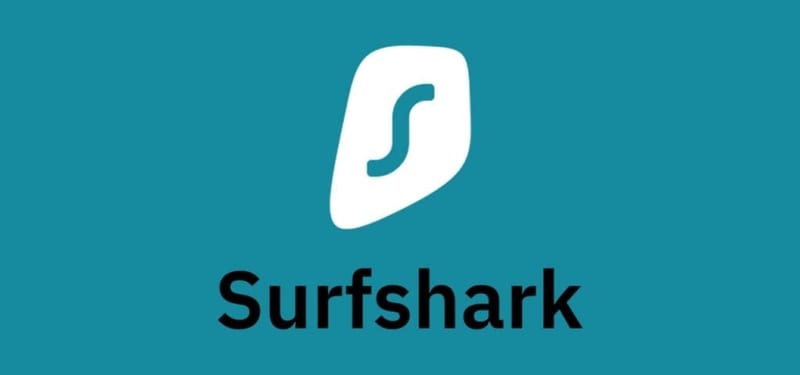 Surfshark has proven over time that it's one of the best VPN providers to date. The service has a lot of features to benefit from, especially when it comes to security and privacy.
Using top security protocols, including WireGuard, users are guaranteed a safe and private browsing experience. Not to mention that everything they do would be at top speeds.
Moreover, Surfshark has the ability to bypass VPN bans that many channels apply now. That includes the likes of Netflix, BBC iPlayer, Amazon Prime Video, and Disney+.
With a single subscription, you can connect unlimited devices. This is a feature none of the VPNs on our list offer. And with a 30-day refund policy, you can try the service out without having to worry about the money you spent.
Pros:
Unlimited concurrent connections

Unlimited bandwidth

Military-grade encryption

Kill Switch

Apps on major operating systems.

Smart DNS

Live chat

30-day money-back guarantee

AdBlocker
Multi-hop
Unlocator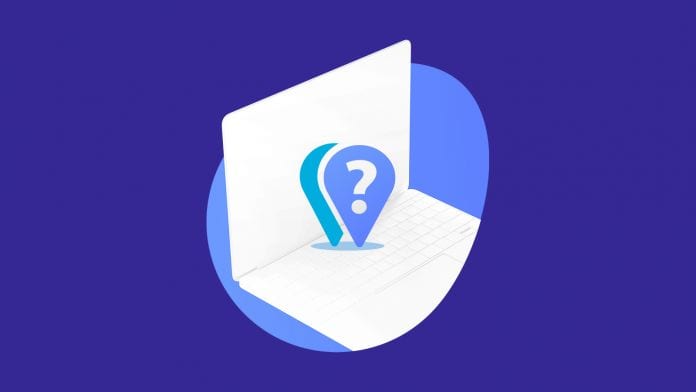 In 2018, this VPN would have never made it our list as it wasn't a VPN, to begin with. Unlocator launched in 2013 a Smart DNS service dedicated to unblocking geo-restricted content only.
In 2019, this whole criterion changed and Unlocator became a hybrid tool offering both Smart DNS and VPN. Unlocator is based in Denmark – one of the countries within the 14 Eyes alliance. This may sound alarming, but it's not courtesy of their no-logs policy.
As a once Smart DNS service, we were expecting great results in unblocking content, and great results are what we got. Unlocator was able to bypass regional restrictions and access the likes of Netflix, Hulu, BBC iPlayer, and many more with a push of a button.
Now, speed isn't that bad, but we've seen better. Based on our tests, Unlocator performed well using some servers but gave us some bumps while using others. The provider has around 51 servers across 38+ countries, which gives several options in terms of connection.
If speed is an issue with users, they can always use the Smart DNS feature to get around restrictions. Security-wise, Unlocator uses military-grade encryption, along with top security protocols.
It also has a kill switch and Unlocator Shield, which terminates internet access unless the user is connected through Unlocator's servers first.
Finally, Unlocator is the only provider on our list that offers a 7-day free trial. Once that ends, users can benefit from their 30-day refund policy and check out how credible the service is.
Pros:
Five concurrent connections

Unlimited bandwidth

High-level encryption

Kill Switch

Excellent device support

Smart DNS

Live chat

30-day money-back guarantee

Unlocator Shield
7-day free trial
Cons:
Smaller server network than the others
Doesn't accept Bitcoin
Inconsistent speeds

No split tunneling

No browser extensions
NordVPN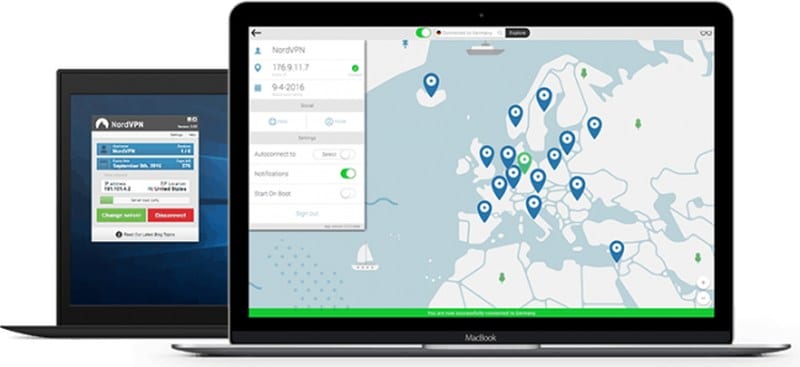 NordVPN is a robust tool that ensures the online protection of its users. This is done by using military-grade encryptions and of course the strict no-logs policy. With that, users can rest assured that no one would be prying on their activities while they're browsing the web.
On top of that, NordVPN is based in Panama, which has no data retention laws and VPN providers within the region don't have to submit any user information to authorities or members of the Five Eyes intelligence.
The service has servers across 59 countries, which makes it one of the biggest networks on our list today. As for unblocking content, NordVPN is also capable of unblocking all major streaming services in the US, UK, Germany, France, Canada, and more.
Speed-wise, we performed some tests and got pretty good results. Some servers managed to drop our connection (It was very noticeable), but others maintained good speeds. SmartPlay is NordVPN's Smart DNS feature, which allows users to access geo-restricted channels on a wide variety of platforms.
As for security, NordVPN has a couple of exclusive features that the others lack in this review. First, there's CyberSec, a technology that blocks malware from infecting users' devices.
Another feature is Double VPN, where the provider reroutes user traffic through two servers instead of one, doubling the encryption in the process. However, there's a con in this as it also doubles the speed loss the encryption inflicts on the connection. Not to mention its kill switch feature too.
NordVPN has some good prices and if users opt for longer subscriptions, the cost drops more. To give its customers a way out, NordVPN offers a 30-day refund policy as well.
Pros:
4900+ servers in 59 countries

Six concurrent connections

Unlimited bandwidth

Military-grade encryption

Kill Switch

Great device support

Smart DNS (SmartPlay)

24/7 live chat

30-day money-back guarantee

CyberSec
Double VPN
Split tunneling
Browser extensions
Cons:
No free trial
Some slow speeds
Best Free UK VPN 2023
In terms of free VPN services, we cannot really make any recommendations. Free VPN providers have proven to be unstable, unreliable, extremely slow, and potentially even hazardous time and time again.
Simply don't use free VPNs like Hola. You could be participating in illegal online activities without you even having a clue about it. A lot of these free VPNs allow others to use your public IP address.
That means that whatever that other person is doing online will be traced back to your IP address. This could include pirated streaming, illegal downloads, or other criminal activities. You should also consider the fact that such VPN providers drastically drag down your Internet speed. Seriously, stay away from free VPNs.
Top VPNs for the UK in 2023 – Wrap Up
The VPN providers in the review above are perfect examples of what top VPNs are. We assessed each and every feature in this review that might help users browse the internet freely in the United Kingdom.
Remember, stay away from free VPNs, they'll do you more harm than good, especially if they share your data with sister companies. Now, take a look at every VPN included in our review and let us know which one you ended up choosing in the comment section below.
Best VPN for UK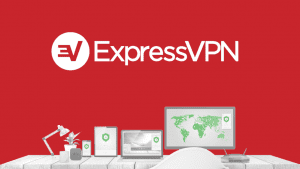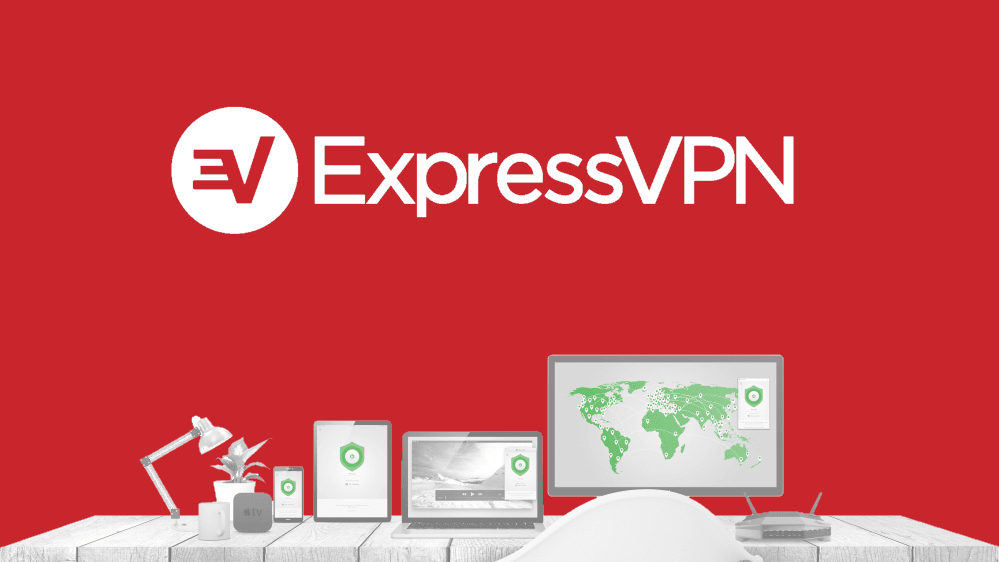 Name: ExpressVPN
Description: ExpressVPN is the most popular VPN service provider among Brits.
VPN Apps

Compatibility

Speed

Support

Access Geo-Restricted Content