You've probably heard of the number 1 Danish Smart DNS service, Unlocator. Ever since its debut back in 2013, this provider's main methodology has been a tool to unblock geo-restricted content all over the world. However, Unlocator now offers a way to access content abroad with added value – security. Yes, Unlocator VPN now exists, and I'm here to evaluate its efficiency. This is the full unbiased Unlocator review.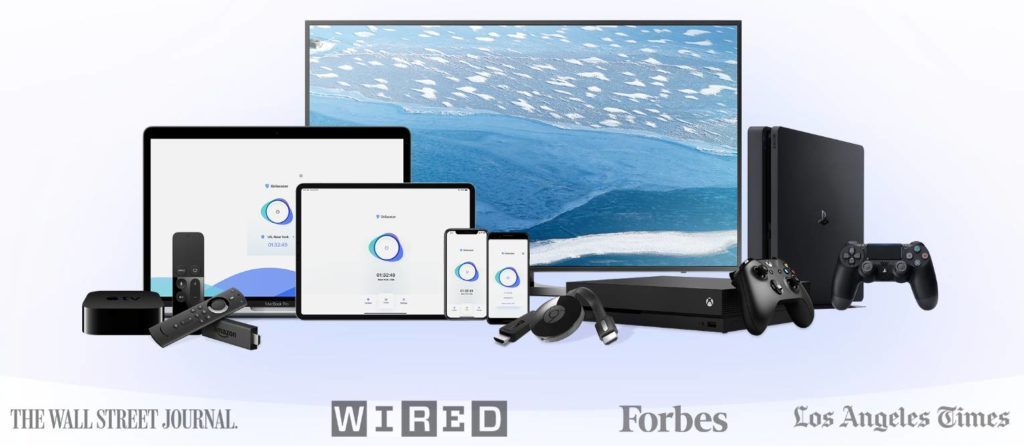 Unlocator VPN Review – Content Index
Below, you'll find everything you're about to see in this review.
Unlocator VPN – Quick View
Unlocator used to be a proxy service that could alter your location and let you access geo-restricted content no matter where you are. The best part about their Smart DNS service is that it's compatible with all streaming devices, including iOS, PC, Mac, Android, PlayStation, Xbox, Roku, Apple TV, and more. Smart DNS Proxy works by changing the URLs that showcase your actual location. Once that is done, you'll be able to appear to be accessing the channel's service from within its area of coverage.
However, Smart DNS exists to bypass regional restrictions only. That's where their new VPN service comes in. Now, you can surf the Internet with full security and privacy. This service hides your IP address and assigns you a new one based in the country where the server is located. As a result, you get to access that territory's content and browse the web anonymously.
Stats
| | |
| --- | --- |
| Cash-Back Guarantee | 30 days |
| Allowed Simultaneous Connections | 5 devices |
| Supported Streaming Channels | Netflix, BBC iPlayer, Hulu, and all other major streaming services |
| Zero-Log Policy | Yes |
| Encryption | Military-grade 256-bit AES |
| Protocols | OpenVPN, IPSec/IKEv1, IKEv2, and WireGuard |
| Special Features | VPN Split tunneling, Kill Switch, IP Address masking, Zero-knowledge DNS, Speed test, |
| Customer support | 24/7 live support |
| Server Locations | 39 Countries |
| Number of Servers | 43 Servers |
| Server Switches | Unlimited |
| Data traffic | Unlimited |
| Supported devices & web extensions | Windows, Linux, Mac, iOS, macOS, and Amazon FireTV. No browser extensions |
| Country of Origin | Denmark |
If you're here, you're probably thinking of investing in Unlocator's service. That's why you need to check if it suits your needs in terms of quality, security, features, and speed. Well, search no more. In this review, I've tested out everything that's included in Unlocator's subscription. Read this review well, and you'll find out whether or not you should make use of Unlocator or not.
Unlocator VPN – Subscription Fee
Before you purchase any merchandise, you check if its price is reasonable with what you're willing to pay. A reputable VPN provider should offer different plans to reach out to a bigger audience. Some of you prefer to pay on a monthly basis, while others tend to go for a longer-term plan.
Pricing
Since the service originated as a Smart DNS service, Unlocator kept its Smart DNS subscription valid. You can still sign up for the service without adding a Virtual Private Network option. That, of course, is for those who are not looking to add an extra layer of security to their browsing. If you're just seeking a content unblocker, these are your Unlocator Smart DNS payment plans:
You can pay 4.95$ if you want to use the service for one month only.
If your subscription involves a 6-month duration, your payment goes down to 4.58$ a month. This is billed 

every 6 Months for

$

27.50.

The third option which lowers the monthly price to 4.16$, is the yearly subscription. The total will be $

49.95, paid on a yearly basis.

The fourth and final offer would be the 2-year package. In my opinion, it's your best bet as the price gets a lot cheaper. You'll be purchasing Unlocator's Smart DNS service for 3.29$ only.
As for the VPN, you don't get to purchase it on its own. Unlocator VPN's subscription includes both VPN and Smart DNS services, making it a hybrid service. The prices are still good compared to what other VPNs bill their customers.
First, we have a monthly subscription that comes at 9.99$. You'll be billed every 30 days after you finish the 30-day cash-back period.
Second, you can subscribe to their 6 months plan. With that, your total would be 49$ billed every 6 months. You'd be saving up on the monthly fee as it becomes 8.17$.
Third, there's the 1-year plan which drops the monthly cost to 6.58$. The expected bill would be 79$ dollars collected on a yearly basis.
Finally, which is mostly the best offer, Unlocator offers a 2-year plan for 4.96$. So, apparently, the longer the subscription is, the cheaper it becomes.
The prices are fair compared to what other providers cost. However, if you read the review well, some features don't deserve such a price, especially when we speak about the number of servers Unlocator offers.
Payment Methods
The way you pay is very important when you're going to invest in a VPN service. Some providers offer you the chance to pay with Bitcoin and all sorts of other methods, including Paypal. Unfortunately, Unlocator doesn't have those, but it does include a plethora of ways to pay for its services.

You have six options to present your payment. You can either use Visa, MasterCard, Amex, Discover, Google Pay, and Apple Pay.
Money-back Guarantee
Before you make any long-term deals, you should test out the VPN's credibility. Luckily, Unlocator offers a 30-day cash-back guarantee in case you change your mind. That's plenty of time to get acquainted with the service and its features. Remember, you can only ask for a refund if you haven't exceeded the given period. Otherwise, you won't have the right to.
Free Trial
Before your Money-back period starts, you'll be able to give Unlocator a test drive during their 7-day free trial. How can you invest in a yearly plan without having thoroughly tested the service?
Some providers offer free trials with limited access to the VPN's features. You might lose the privileges a premium membership offers, but not with Unlocator. You'll be operating the full version of both the VPN and Smart DNS services free of cost for 7 days. That's good enough to check whether or not you want to continue.
Unlocator – Servers and Locations
This is a very important part when you're trying to pick a reputable VPN. A VPN wouldn't be worth much if it didn't allow you to connect to a decent number of locations. Unlocator has a server network of 43 servers in 39 countries. Not too shabby for a newcomer huh? We don't want to compare it with the ones who have been around for quite some time now. These services boast more than 5000 servers around the world. I'm quite sure that if this service kicks off well, it will cover more ground in the years to come.
For now, let's take a look at the countries Unlocator covers:
Australia
Austria
Belgium
Brazil
Bulgaria
Canada
Czech Republic
Denmark
Egypt
Finland
France
Germany
Greece
Hong Kong
India
Italy
Japan
Latvia
Mexico
Netherlands
New Zealand
Norway
Poland
Portugal
Romania
Singapore
Slovakia
South Africa
Spain
Sweden
Switzerland
Thailand
Turkey
Ukraine
United Kingdom
United States
The servers are strategically scattered across 36 countries. That means you can literally unblock whichever channel you want, provided it's located in these regions. The best thing in this area is that Unlocator allows you to switch between servers as much as you like. They don't put a limit to server switching, unlike other services with a frustrating cap on the number of times you choose to switch.
Unlocator VPN – How Safe Are You?
Your online safety and anonymity is the prime reason why a VPN exists in the first place. If a VPN can't offer that, it's not doing the job it was made for. After testing it for some time, this is what I came up with:
Security
Unlocator uses the latest technologies when it comes to encryption. The best VPN providers around the world also use the same type of encryption. We're talking about none other than AES-256 encryption. This is considered to be the highest security measure any VPN could offer.
As for protocols, that depends on the device you're using, Unlocator VPN supports a plethora of devices, including Android, iOS, PC, Mac, and Amazon Fire. Take a look at each device and the security VPN protocol it supports:
Android devices can operate with OpenVPN and none other than WireGuard, which is considered to be the most secure of them all.
MacOS also supports the OpenVPN protocol while using the Unlocator app.
As for Windows PC, you get to choose between OpenVPN and IKEv2. IKEv2, or Internet Key Exchange version 2, is particularly more suitable for mobile devices. So, stick to OpenVPN if you're using a Windows PC.
iOS users get to enjoy two protocols as well. You can navigate between IKEv2 and IPSec/IKEv1. Although iOS devices are secure already, the device's safety can get better with a VPN connection, especially when the popular WireGuard protocol is in place.
Finally, Amazon Fire Stick users can benefit from the OpenVPN protocol. It's just a one-click connect process, and you're all protected. However, in their latest application, you can also benefit from using the WireGuard protocol.
Do you like to tamper with your connection on your own? Unlocator allows you to set up the VPN connection manually. All the most advanced protocols, including OpenVPN, L2TP/IPSec, IKEv2, and WireGuard, are available if you set it up on your own without using the app to connect.
Privacy
Unlocator is based and operates in Denmark. This means that it falls under the 9 eyes'  jurisdiction and sovereignty. Denmark has mandatory data retention laws in place. However, this VPN service adopts a strict no-log policy, which means that it doesn't gather data about its users in any way. That includes IP addresses, browsing activities, whatever you download or buy online, consumed bandwidth, and more. You are totally anonymous when you surf the Internet.
Unlocator VPN hides your IP address when you're connected. This step is very important to avoid tracking and remain undetected while surfing the web. It cloaks your IP and replaces it with a burrowed one upon connecting. Here's my IP address once I connected to an Australian server using Unlocator VPN.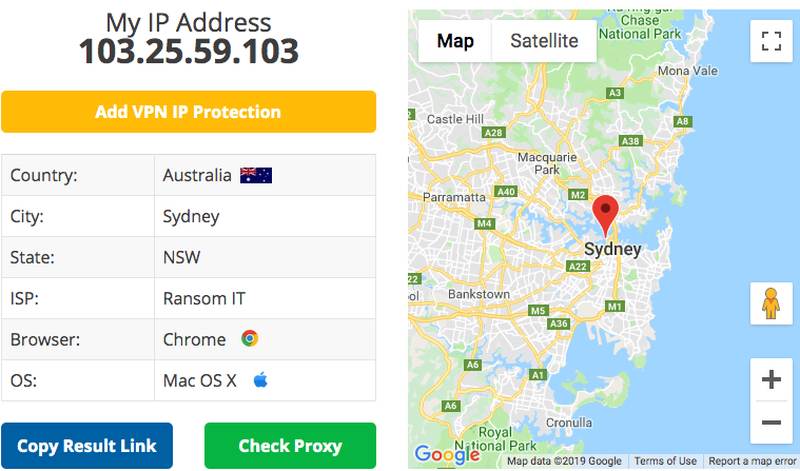 Easy Sign Up
Getting an Unlocator subscription can't get any easier. You don't need to submit any information except an email and a password for your account. As you may now know, Unlocator offers a 7-day free trial that doesn't require any additional details. Therefore, these are the only steps you should take:
First, you need to sign up for a free Unlocator trial.
Enter your email address and password.
You won't be asked to submit any detail, such as credit card info or so. The information will be asked for once the 7-day free trial ends.
Download Unlocator VPN's application from your dedicated store or from their website.
Sign in and connect.
Unlocator's VPN Application
I don't usually focus on the interface unless something pokes my interest. In Unlocator's situation, I have to comment because of the sheer ease of the application. I mean, you just sign in and connect. That's it. How easy can an app be? Some of you might think that it's a bad thing as they didn't put that much effort into their client. No, that's not the case at all. The app itself is nice to look at. Don't let its minimalism fool you. I'm going to give you two examples of the app's interface. I got the client on both my Mac and Android devices. There's not that much of a difference, but the application is actually ok and pretty easy to operate.
MacOS
Macintosh's version of the app is quite simple. This is how you can get an Unlocator VPN connection on MacOS:
Once you download the client, it will appear on the top of your screen.
After that, click on the application and sign in with your Unlocator account. This will bring you straight to this.
Now, click on the server list that's just below "Connect to". A server list will pop up.
Finally, double-click on the server you wish to connect to.
You now have a secure Unlocator VPN connection.
You can also access other settings, such as turning on the Kill Switch and so.
Android
Android's application is also very easy to use. Its interface is nice, and even non-tech-savvy users can use it without having any problems:
After you download the application, launch it and sign in with your Unlocator account.
The main screen is the same as the one with Mac. Click on the server below the connect button to access the list.
Select a server based on what you're actually looking for and hit connect.
You're now connected.
Unlocator – Device Compatibility
Unlocator has a very simple VPN application that works pretty well without the need for technical skills. Not much you can do with the up, actually; just choose and connect, and that's it. Oh, you can also turn on and off the Kill Switch Option.
This VPN provider allows you to access 41 servers when you're using Windows, Android, Mac, iOS, as well as Fire TV. That's pretty much what any VPN supports. To be honest, I've seen better applications, but the simplicity of this one grabs your attention. So, it's not considered to be a bad thing.
Furthermore, there's one thing that annoyed me, in particular, that you cannot get to benefit from its variety of protocols unless you set up the VPN connection manually. If you're using the app, you get what your device supports. They can work on that, and Unlocator's app would be much better.
As for other devices such as gaming consoles like PlayStation and Xbox, Unlocator is not natively compatible with those. If you want to protect these platforms or bypass regional restrictions while using them, you must install the VPN on your router. That way, whatever device that has the ability to connect to the internet can obtain a secure VPN connection.
DNS Leak
Now that's a tricky one. This one got me by surprise. Although Unlocator promises you complete anonymity, that wasn't the case when I was testing for DNS leaks.
When you're using a VPN or any anonymity tool, it's very crucial that all the data originating from your device is routed through a secure and private server. If your traffic leaks out of the private tunnel, whoever is monitoring your actions will be to harvest all your data and keep logs.
As soon as I connected to an Unlocator server, I used a DNS leak test to check if all the claimed was true. However, this is what I got in return.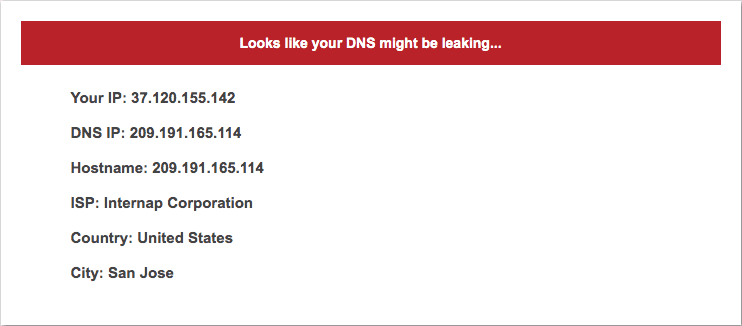 If you really need to know, the server I actually connected to is in Vienna, but the server that my traffic seems to be coming from is located in San Jose, United States. The DNS leak test showed that my DNS seems to be leaking. After I contacted the Unlocator Support team, they shed some light on the matter.
Unlocator uses a feature called Unlocator Hybrid. This service reroutes my internet traffic through another server of its own. So, in general, the DNS is not actually being leaked, and your ISP is still in the dark when it comes to your browsing activities.
Unlocator Support
Now, I give this a thumbs-up as their support team is always there and ready to answer all your questions on the spot. It took them seconds to reply, which is something you don't see in other VPNs.
There are various methods to contact Unlocator's support team. You can either send an email or chat with them via Live Chat. I used the live chat support feature on the website to inquire about whether or not their service can unblock American Netflix. It was pretty fast and the agent was very helpful and professional.
If you want to contact the support team:
First, you need to click on the icon that says "Need Help?" in the button right corner of the page.
After that choose which method you want to contact them with. You can select from Email or Live Chat.
I chose "chat" and spoke directly to one of the support members. Again he was very helpful and answered my question within seconds.
I don't want to seem biased or something, but their support service is so much more than others, including the ones leading the industry.
Unlocator VPN – Features
Before their VPN service saw the light, Unlocator was a pure Smart DNS proxy. Actually, they were considered to be the best ones to ever exist on the market. However, now, you can add an extra layer of protection to your web surfing habits with Unlocator VPN. But the question arises every time you wish to invest in a VPN: What makes it so good? Well, the answer is quite simple, its unique features. You get to see VPNs with exclusive qualities that put them ahead of their competitors. Although it's still new, Unlocator has some features of its own, including one we mentioned above, Unlocator Hybrid. So, with that said, let's take a deeper look at what Unlocator has to offer.
Smart DNS Proxy
We can't kick off their features without mentioning what Unlocator existed for in the first place. Since 2013, Unlocator has been working on becoming the biggest Smart DNS provider in the world, and to be honest, they succeeded.
This service unblocks more than 233 channels around the world. If you don't know how this works, it reroutes the traffic that helps a certain channel determine your location. When you approach the channel once more after your DNS settings have been altered, it will take on the impression of you residing inside its area of coverage. As a result, you'll have full access to its content no matter where you physically are.
But before you sink your teeth into this service, I must remind you that it's only for bypassing geo-restrictions. It has no added value to your security or privacy. If you're looking for that, Unlocator VPN is the way to go.
Kill Switch & Unlocator Shield
A VPN Kill Switch is a tool inside the VPN application that prevents any accidental connection exposure. To be honest, not every VPN provider adds such a reliable feature to its services.
It doesn't matter how credible the VPN you're using is; your connection always has a chance to drop or even suddenly disconnect. That's where a Kill Switch comes in. Imagine you're browsing anonymously, and all of a sudden, your VPN connection stops. This means that your data is not encrypted anymore, and you are connected to the webserver directly instead of being redirected through a VPN server.
Unlocator has a Kill Switch, but it doesn't come "On" automatically. You should go to the app's settings and activate yourself. While you're there, you might want to check out their Unlocator Shield option. In my opinion, it's not that big of a deal, as it only allows you to connect to the internet if a VPN connection is present. Furthermore, this feature cannot be activated without turning the Kill Switch on first. So, if you want to test out these features, open the Unlocator app, go to settings, and you'll see them under "App."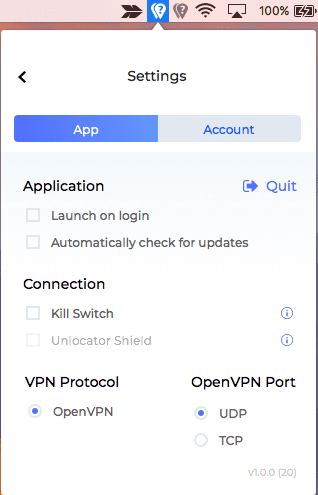 Unlocator Hybrid
This is a tricky one so hang on. If you connect to a US server, you'll be able to unblock whatever is exclusive in America, right? That's how a VPN normally works. However, as I mentioned in the DNS Leak part, Unlocator reroutes your traffic through its own Smart DNS servers. Even when you're connected to a VPN, your traffic will also flow through one of its Smart DNS servers.
In other words, connecting to a specific country to access its content is not necessary anymore. You can connect to an American server and watch BBC iPlayer (A UK channel). That's because you're operating through Unlocator's Smart DNS servers but with a VPN connection. According to their official website:
"Enjoy the privacy of VPN with the ease of Smart DNS streaming. Unlocator Hybrid is the best of both worlds combined in one."
Unlocator VPN for Netflix US
Just like the support agent informed me, Unlocator VPN does work with Netflix. If you don't know this, Netflix has the ability to block VPN attempts to access its content. I'm a Netflix streamer, and the first thing I asked the support team is that if it works with the streaming service. Fortunately, it does, which makes Unlocator one of the few VPNs that actually work with the service.
You see, some titles are only available in the United States, including the likes of Star-Crossed. After connecting to a server, I directly searched for the series, and you guessed it, I found what I was looking for.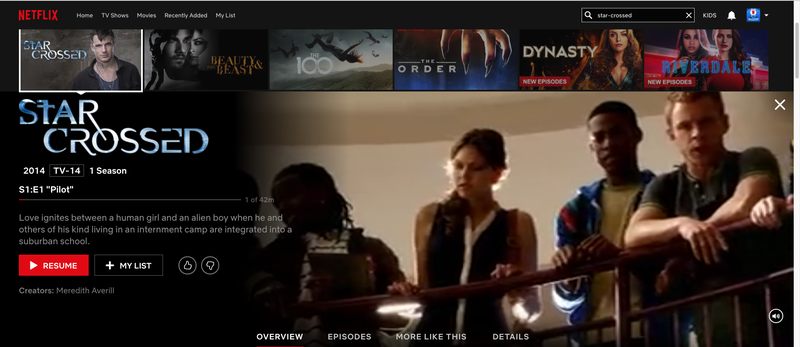 So, if you were curious to know if Unlocator can unblock Netflix outside the US, you just got your answer.
Unlocator VPN for Other Streaming Services
You're going to love this part just like I did. As we mentioned before, Unlocator uses its Smart DNS servers to reroute your data whenever you connect to a VPN server. Therefore, wait for it; any of the channels that are supported by the Smart DNS proxy can be unblocked when connected to VPN.
Below, I'm going to show you a list of TV channels that you can tap into whenever you're using Unlocator VPN. Note that Unlocator can unblock more than 200 channels (You can find the full list on their website. Therefore, I'm going to showcase the most demanded ones.
Netflix US
AMC
A&E
BBC iPlayer
BlinkBox
Prime Video
beIN Sports
Canal Play
FuboTV
Dplay
ESPN
Fox Sports
Hulu
ITV
NBC Sports
Now TV
Spotify
Starz
WWE Network
Channel 4
CBC
BT Sport
CTV
The CW
Unlocator VPN – The Final Verdict
This brings us to the final verdict. Do you think Unlocator VPN is worth investing in? Is it really that reliable or should we wait a bit to see if it's going to improve its services? For now, it looks promising. So, let's weigh its pros and cons for the time being.
Pros
7-day free trial.
30-day money-back guarantee.
Unblocks US Netflix.
Kill Switch.
Smart DNS service.
Military-grade encryption.
User-friendly interface.
WireGuard support.
Cons
Relatively small server network.
Unlocator VPN Review – Parting Words
You, me, and everybody who was interested in investing in Unlocator VPN's services now know what it's all about. For a new VPN, the service is quite decent but could use some additional features. Give it some time, and I'm sure it will get better in every aspect. Take your time assessing what I had to say in this review. If you have anything to add or ask about, chat with us.
Unlocator VPN Review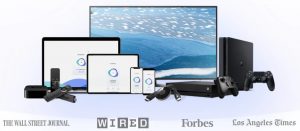 Name: Unlocator VPN
Description: Unlocator offers VPN and Smart DNS services so that you can unblock streaming channels all over the world.
VPN Apps

Access Blocked Content

Speed

Refund Policy

Free Trial

Support