Surfshark came into service recently, but it's already created a powerful VPN – triggering quite the buzz in the VPN industry. The VPN has all the desirable perks, including military-grade encryption techniques, impressive high speeds, exquisite capacity to unblock content, 24/ 7 customer support, affordable subscription rates, and many more.
Admittedly, the prospect of an upcoming VPN offering excellent connection service gives us the perfect reason to review it.
We've been testing with Surfshark to experience what the VPN provides. Maintaining our skepticism, we tried to look at the price, features, customer support, and connection ability of this VPN. Therefore, in this review, we will only give you our honest results and opinion.
SURFSHARK'S SUBSCRIPTION PROCESS
Surfshark has made significant changes to its site, giving it a premium look that is appealing.
To get started with Surfshark is pretty much easy:
Visit the official Surfshark site
Click on the green button, 'Get Surfshark'
Choose your plan
Enter your coupon if you have any
Enter your email
Select your payment option
Download and setup your preferred client app
Enter your correct login credentials and click connect
GETTING SURF SHARK'S CLIENT APP
All Surfshark client apps are pretty straightforward. They all stack well with exciting features. Downloading them couldn't be easier.
Unlike any VPN we came across during our reviews, SurfShark allows unlimited simultaneous connections. In this review, we tested with both Windows and iOS clients.
Windows Client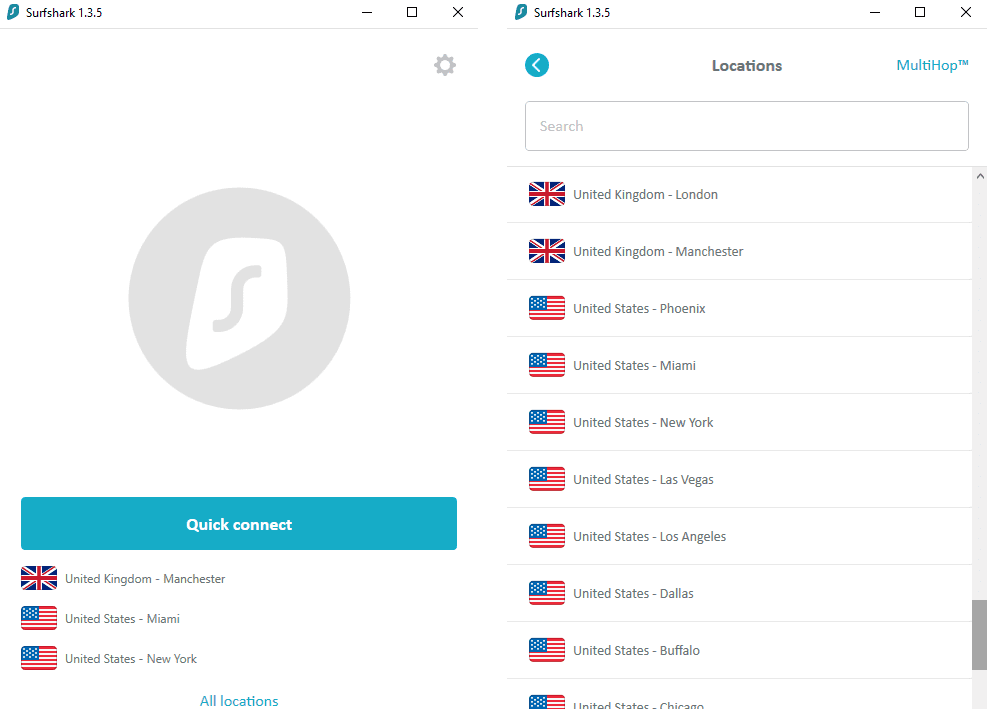 Surfshark's Windows client has a rare minimalistic design that is well simplified. When we first launched the app and signed in, we noticed a 'Quick Connect' button that automatically selects the best server to connect to at the moment.
There's also a link at the bottom named 'All locations,' which directed us to a page containing a complete list of servers.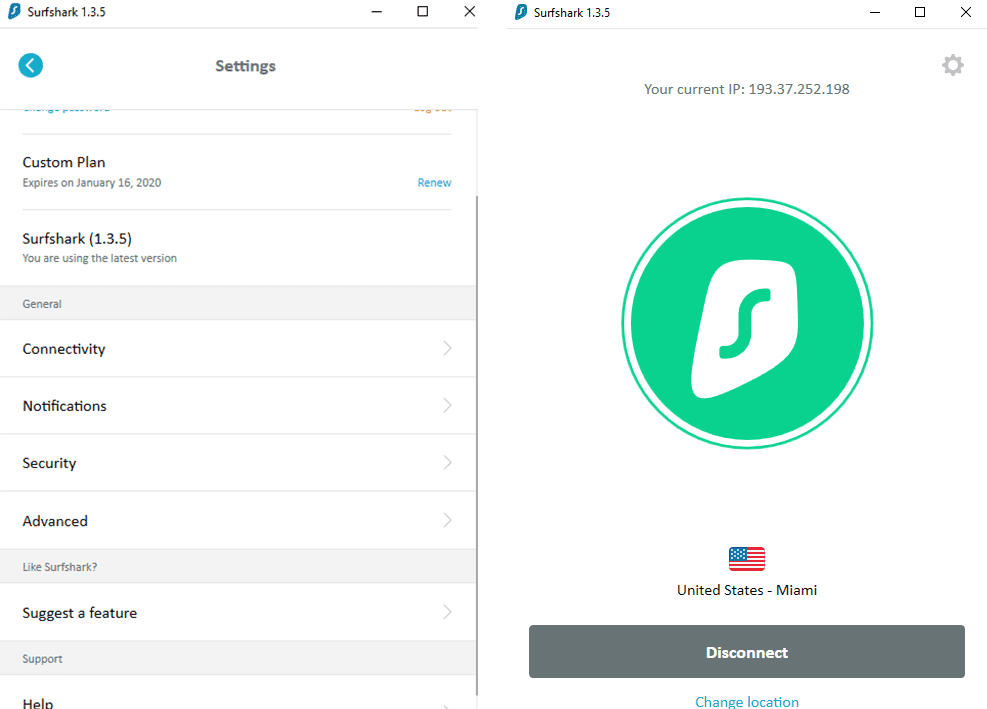 On the top right corner, you'll also see a 'settings icon' that will take you to the settings page – where you can tweak some features to serve you better.
iPhone/IPAD CLIENT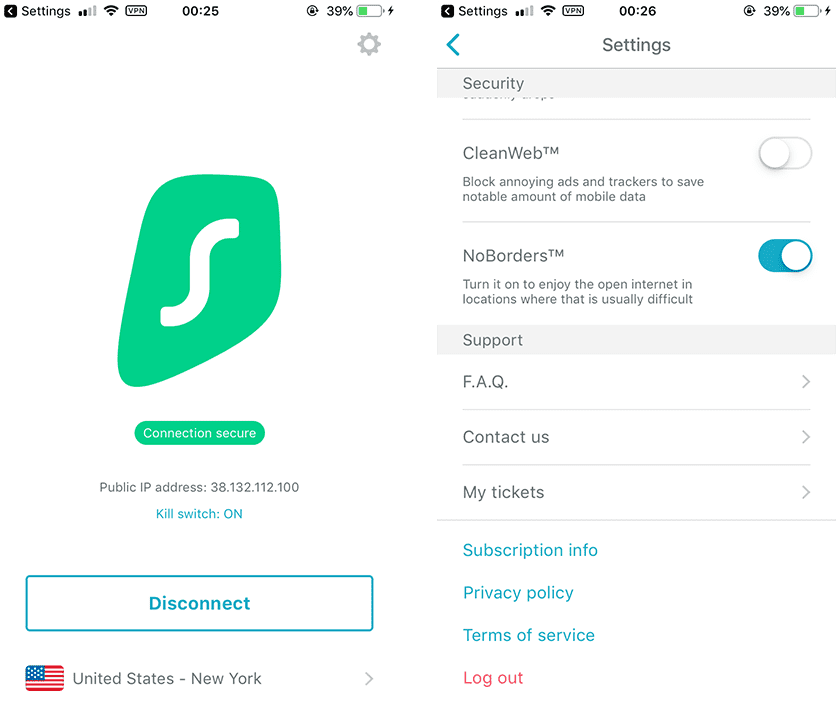 The iOS client app sports the same similarities with its Windows counterpart. The app packs the same type of settings and has the same number of servers.
For instance, to access the 'Settings' page, we clicked on the 'Settings icon' at the top-right corner, and to navigate to the list of servers available, we just clicked the 'All locations' link at the bottom of the home page. The iOS application has a 4.5 rating on the App Store based on 280 user reviews.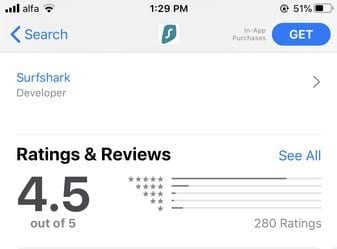 When it comes to the Android application, SurfShark has more than 1 Million downloads with a 3.9 rating.
The provider also has a promising review on Trustpilot, marking 4.5 (Excellent) on the credible reviewing website.

AN IMPRESSIVE SERVER DISTRIBUTION
Surfshark has 3000 servers across 100 countries globally. While its server coverage is not that convincing, we predict that it will keep expanding at an unprecedented rate.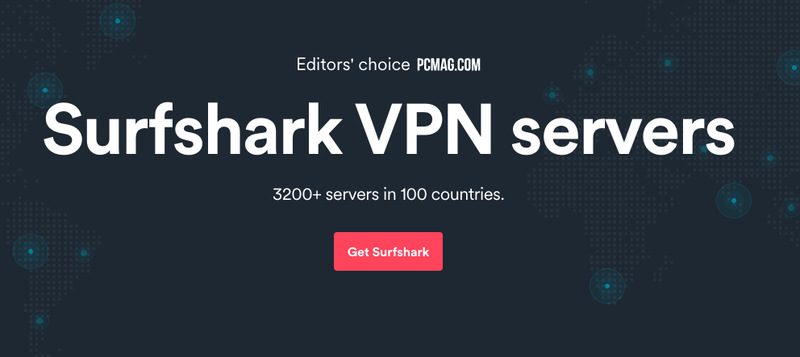 We were shocked to learn that they have good coverage in the middle-East and most parts of Asia and Africa alike. Only a few VPNs have such evenly distributed coverage worldwide.
Speed Tests
Surfshark often speaks highly of its fast speeds. Therefore, we decided to confirm their seemingly bold claims. We used SpeedTest to test their connection speeds. First, we experimented with the tool without a VPN connection, then tested with a server near our actual location and performed a third test with a server far away from our physical address.
Note: We performed our speed test on a relatively slow internet connection. Don't be alarmed by the ping intervals that we recorded.
Here is a snapshot of the results we recorded without a VPN connection.

In our second speed test, we connected to a server closer to our actual location. Observe how we recorded almost similar results as our first.

The results we recorded when we connected to a server far away from our physical location made us test again, but we recorded similar results.

We then concluded that Surfshark offers relatively high-speed connections, almost as they claim. The service is well-optimized for the effective streaming of media content in HD.
While trying to watch a video, we never encountered any buffering issues. The quality of the video did not change either.
SURFSHARK NETFLIX STREAMING
SurfShark, like a few others, offers unrestricted access to Netflix for users around the world. Moreover, Netflix is known for blacklisting common IP addresses that various VPNs use – but that's not the case for Surfshark. The VPN, somehow, has a way of staying clear of the dead zone set by the streaming giant.
We connected to three random US servers closer to our actual location and were able to Unlock US Netflix.
Then we searched for Star-Crossed, a show that's only available in the United States. Once we hit play, the video started normally.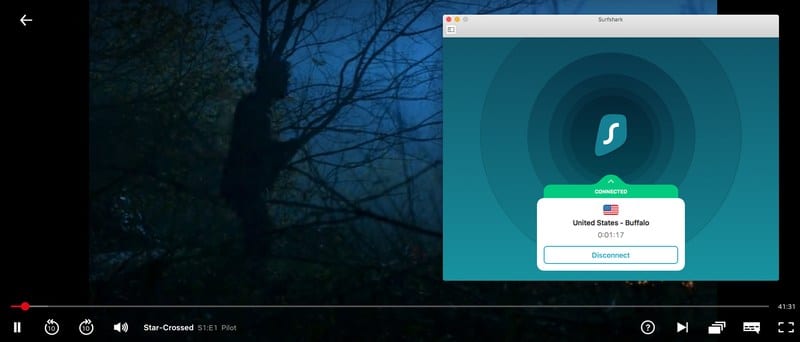 Results after we connected to a server in Chicago, Miami, and New York.
SURFSHARK AND OTHER STREAMING OUTLETS
Surfshark also works well with major streaming sites like BBC iPlayer, Hulu, and YouTube Red. Our focus in this section is on both BBC iPlayer and YouTube Red.
BBC iPlayer is only available to users in the UK. Equally, the streaming outlet is known for blocking VPNs, so we decided to find out just how SurfShark has a way around the huddle.
This is important because there are things that you can find on BBC iPlayer but not on other streaming channels.
Again we connected to a UK server (Manchester) and were happy to learn that Surfshark unblocks BBC iPlayer as advertised. Moreover, the UK streaming giant offers some content for free that you'll otherwise not get on Netflix.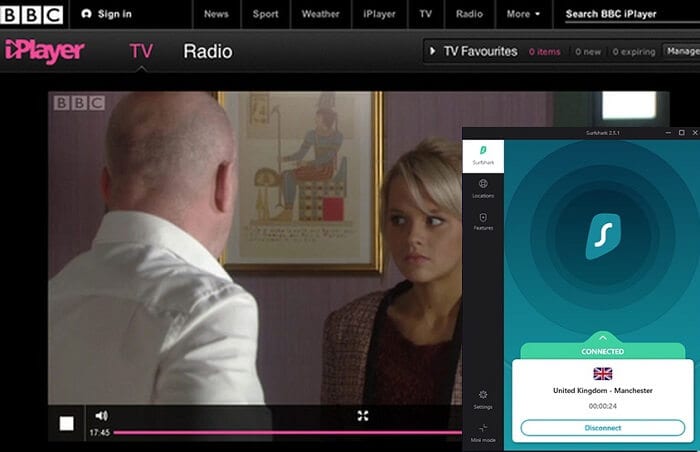 We found another option to bypass regional restrictions in SurfShark's features, Smart DNS. It's a free add-on within your subscription that helps users bypass censorship, access blocked websites, & browse privately. However, it does not hide your IP address nor does it encrypt your data.
Also, for Android users, SurfShark offers a similar feature called Trust DNS. Apparently, it only works on Android, and it has its own application on Google Play Store.
The tool is free, and you don't need a subscription or account to operate it. Here's what it looks like:
P2P SUPPORT
SurfShark allows P2P-related activities, including torrenting. In fact, in the application, there's a list dedicated to P2P-friendly servers.
Their P2P connections cover the likes of Ace Player, VLC, or PopcornTime, as well as torrent software like BitTorrent, qBitTorrent, Transmission, Vuze, or uTorrent.
Even if you're not using a dedicated P2P server, your traffic will be rerouted to one of their servers located in the Netherlands, Canada, or the United States, depending on your physical location.
For a quick insight, here are the P2P dedicated servers:
The United States,(US)
The United Kingdom, (UK)
Canada,(CA)
Germany, (DE)
Italy, (IT)
Poland, (PL)
Spain, (IS)
Norway, (NO)
Denmark, (DK)
Luxembourg, (LU)
Hong Kong, (HK)
Singapore(SG)
Netherlands (NL)
Bulgaria (BG)
Belgium (BE)
Switzerland (CH)
Slovakia (SK)
Serbia (RS)
Finland (FI)
PRIVACY
Surfshark is based in the British Virginia Islands – a perfect location that positions them beyond the reach of legal jurisdictions of any government or union. To be more exact, the Five Eyes.
Unlike other VPNs operating from the US and parts of Europe, Surfshark is not bound to share your user data with any government.
Besides, they have a strict no-logs policy which ensures they will have nothing to share if it gets to that.
Security
Surfshark packs enterprise-grade infrastructure that is reliable, private and secure. The VPN redirects all your traffic to a tunnel and uses its AES-256 encryption advanced techniques – ensuring your online privacy is observed.
The service also supports both OpenVPN and IKEv2 connection protocols. This allows for anonymous torrenting and secure P2P data sharing. What's more, Surfshark has a strict zero-logs policy, allowing for anonymous torrenting and secure P2P file sharing.
Surfshark packs some of the prominent features, such as a Kill switch, Multi-hop connections, Whitelister, CleanWeb, and a DNS leak protection functionality. Let's shed some light on the matter:
Whitelister: A feature that helps users during split-tunneling to single out apps and sites to bypass the VPN.
Kill switch feature: It comes in handy when you leave your connected device unattended – works by disconnecting you from the internet whenever your VPN connection drops.
CleanWeb: A technology to block ads and other popping adverts whenever you're surfing online. The feature plays a significant role in torrenting, considering it also blocks out suspicious download links that could comprise your privacy.

Multi-hop: A service to protect yourself from cyber-attackers and prying eyes of governments and local ISPs. The feature works by creating multiple VPN connections, making it hard to trace your identity.
Camouflage mode: This feature doesn't allow your Internet service provider to detect that you're connected to a VPN server.
Above all, the fact that Surfshark works well in China is a big plus. They offer an extra protocol, Shadowsocks, designed specifically to help users overcome the restrictions of the so-called Great Firewall of China. We were satisfied with the results when one of our colleagues gave it a try in the highly-restrictive country.
DNS LEAK PROTECTION TEST
The VPN recorded excellent results in our DNS leak test. Also, while it is rumored that some VPNs often leak data, Surfshark recorded zero DNS leaks. Here is an illustration of the results we received:
THIRD-PARTY AUDITING
Third-Party auditing plays an essential part in determining whether a VPN is good or not. VPNs are all about reputation, and one bad review can ruin it all. That's why security reviews of this kind are rare in the VPN industry. Most operators loathe allowing third-party access to their systems and software.
Shockingly, we found that SurfShark is very open about the results third-party audits came up with. One example is Cure53's assessment of SurfShark's browser extensions. This is what they had to say:
"Cure53 is highly satisfied to see such a strong security posture on the Surfshark VPN extensions, especially given the common vulnerability of similar products to privacy issues."
WARRANT CANARY
A lot of services and websites abide by what we call a Warrant Canary to inform their users that the service has been served with a government subpoena.
Legally, it's prohibited to reveal the existence of the gag order, but that's what a Warrant Canary does despite it. Surfshark is no different as they seek to be as transparent as they can be.
Now, this is not very common among VPNs, as there are only a few VPNs with Canary Programs. SurfShark is one of them. As of January 10th, 2023, SurfShark Warrant Canary states the following:
0 National Security letters;
0 Gag orders;
0 Warrants from any government organization
CUSTOMER SUPPORT
Surfshark has a noteworthy 24/7 customer support system. We found that their help center has a wide range of self-service tools that help users learn more about the VPN. From guides, troubleshooting tips, FAQs, and a ticketing system.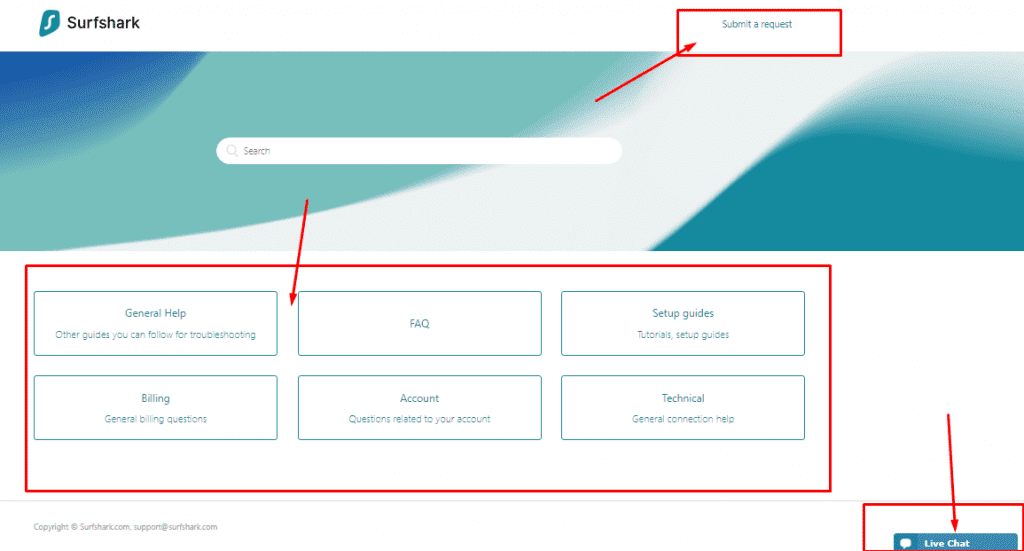 The VPN also has an outright 24/7 live chat support, which we were impressed with. In particular, we chatted with a support Agent who was fast, polite, and very responsive to all our inquiries.
PRICING AND AVAILABLE PLANS
Surfshark offers three subscription plans. There's the one-month subscription, which goes for $12.95 – an expensive option if you're on a budget.
There is also an annual plan (12 months) that retails at $3.99 every month – which will save you up to 69% of your money and is an ideal option if you want the service for a year.
Finally, Surfshark offers a 2-year plan which sells at $2.30 per month – very recommendable if you want to use the service for a long time, and it will save you up to 82% of your money.
PAYMENT OPTIONS
The British Virginia Islands VPN is quite flexible with its payment options. They have partnered with Checkout.com and Norton Security to accept some major credit/ debit cards and the global PayPal option. Moreover, this VPN allows for various global currencies, including USD, CAD, CNY, EUR, GBP, and AUD as well.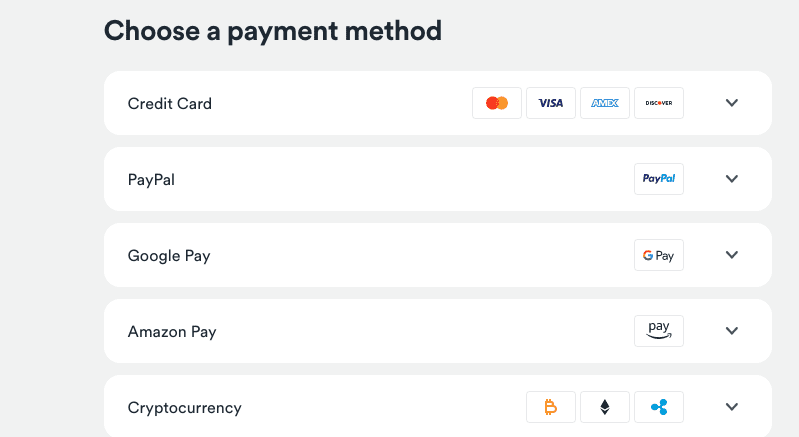 Surfshark is also among the few VPNs that accept Bitcoin payments and other cryptocurrency options. This is an excellent payment channel if you're looking to conceal your online identity even during payments – we strongly advise you to use this option all the time.
MONEY-BACK GUARANTEE AND FREE TRIAL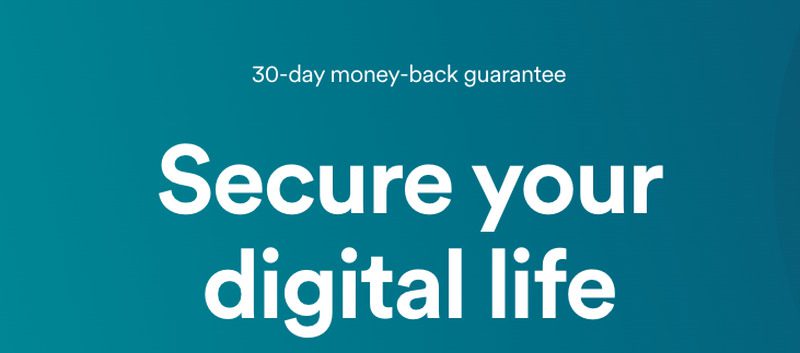 Surfshark has a generous 30-day money-back guarantee for all its subscribers. Thirty days is always considered enough period to test and have your experience with this VPN.
Moreover, while this option might seem suspicious, their money-back policy doesn't have any catch. All you have to do is cancel your subscription within the first 30 days of payment, and your money will be refunded in full.
There's more. When we tried to subscribe to their service, it turned out that SurfShark no longer provides a free trial like it used to do in the past.
SURF SHARK COMPARED TO OTHER VPNS
The table below will give you a better idea of how Surfshark compares to established VPN service providers such as ExpressVPN, NordVPN, and CyberGhost. It should be mentioned that you only get the $2.30/month pricing if you purchase the 2-year subscription.

CONCLUSION
If Surfshark's claims are anything to go by, then they truly deliver. Ultra-fast speeds, reliability, a strict no-logs policy, military-grade encryption, and its distribution of server locations globally. Moreover, Surf Shark VPN has legal jurisdiction in British Virginia Islands, solidifying its privacy for its users looking to stream and torrent media content.
The VPN also offers unlimited concurrent connections, a perk rarely seen among top-ranking VPNs. What's more, its 2-year plan is relatively cheap, considering it saves you up to 82% of your money. Moreover, if you feel like terminating your subscription, then you can utilize the 30-day money-back guarantee – which doesn't have any catch to refund.