There are so many VPN services out there, it can be quite difficult to choose the right one for you. You basically want a VPN that is fast, secure and keeps no logs. The VPN service provider you sign up with should also offer apps for all your different devices including PC, Mac, Android, iOS, and Amazon Fire TV. In this review guide, we will shed light on how BulletVPN stands next to other VPN providers in terms of apps, server locations, speed, features, pricing, refund policy, and more. Take a look at the BulletVPN Review below.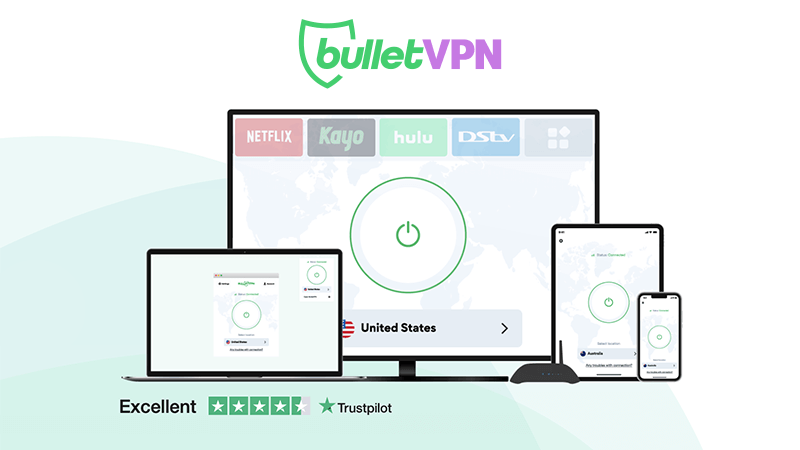 BulletVPN – The Ultimate 2023 Review
This unbiased review was created to help users decide whether BulletVPN is a good option for them or not. We covered every little detail about this VPN based on our evaluation techniques so that whoever is interested in this product may know what they're signing up with. Here's what this review covers:
Quick Stats
| | |
| --- | --- |
| Money-back guarantee | 30 days |
| Allowed concurrent connections | Six |
| Supported streaming services | Netflix, BBC iPlayer, Hulu, Amazon Prime, and others |
| No logs policy | Yes |
| Encryption | AES 256 encryption |
| Security Protocols | PPTP, L2TP, OpenVPN, IKEv1, IKEv2 |
| Special features | Kill switch, BulletShield, and Smart DNS |
| Customer support | 24/7 live support |
| Server locations | 55 countries |
| Number of servers | 154 server locations. |
| Server Switches | Unlimited |
| Supported devices & web extensions | Windows, Linux, Mac, iOS, macOS, Amazon FireTV. |
| VPN legal jurisdiction | Estonia |
| Free Trial | 1 day |
BulletVPN Pros and Cons
Before we get to the full review of the provider, let's have a quick look at both the advantages and disadvantages of BulletVPN:
Pros
High-level encryption.
Refund in 30 days.
Excellent server speeds.
Easy-to-use apps.
Free Smart DNS service.
Six simultaneous connections.
154 server locations in 55 countries.
Kill switch.
Bullet Shield.
1-day free trial.
Supports P2P.
24/7 live chat support.
Cons
No split tunneling.
Lacks browser extensions.
BulletVPN Overview
BulletVPN is based in Estonia. Their global VPN servers are spread across the globe; from popular countries such as the USA, Canada, Germany, UK, and Australia to less known regions such as Finland, Singapore, and Algeria.
BulletVPN also offers a free trial, which means users can try out their service before they commit to a certain deal. Moreover, they can ask for a full refund within 30 days of purchase.
BulletVPN's app can be easily downloaded and installed on Windows PC, Mac, Android, iPhone, iPad, as well as Amazon Fire TV and Amazon Fire Stick. The provider allows users to connect 6 devices simultaneously per account.
Last but not least, BulletVPN's Smart DNS proxy feature can be set up on devices that do not natively support VPN such as PS4, Xbox One, Chromecast, Smart TVs, Android TVs, and Apple TV along with the ones a VPN supports.
All in all, BulletVPN is shaping up to be a pretty impressive VPN service provider both in terms of online privacy as well as bypassing geo-restrictions imposed on various websites and streaming channels.
BulletVPN Apps
The premium VPN providers have applications for PC, Mac, Android, iPhone, and iPad. These VPN apps are user-friendly and we easily managed to navigate our way around them. Connecting to a VPN server in the United States only took us a couple of minutes. This included downloading the app from Google Play Store, installing it, signing in, and eventually connecting to the server.
If you own an Amazon Fire TV or Amazon Fire Stick, we definitely recommend signing up with BulletVPN. The VPN service provider is one of the few which actually offer their users a dedicated Fire TV VPN app.
BulletVPN Servers
You can get an IP address from all other major countries around the world by connecting to BulletVPN's servers. This includes the USA, Canada, Germany, Spain, France, Australia, India, Japan, and Brazil. Currently, BulletVPN subscribers can connect to 154 server locations in 55 countries. Here's the full BulletVPN server list.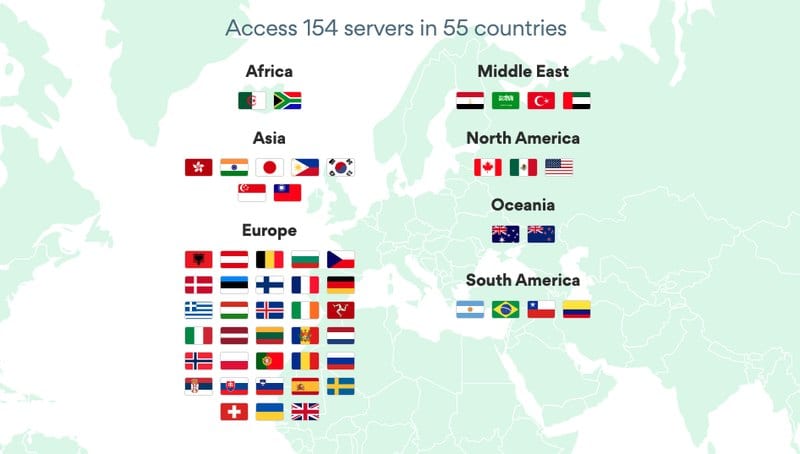 Europe
Austria
Albania
Belgium
Bulgaria
Germany
Denmark
Estonia
Czech Republic
Hungary
Italy
Latvia
Lithuania
Iceland
Ireland
Isle of Man
France
Finland
Romania
Netherlands
Norway
Greece
Poland
Portugal
Moldova
United Kingdom
Russia
Slovenia
Slovakia
Sweden
Serbia
Spain
Switzerland
Turkey
Ukraine
North America
USA (17 servers)
Canada
Mexico
South America
Brazil
Chile
Argentina
Colombia
Asia/Oceania
India
Hong Kong
Japan
Korea
Australia
New Zealand
Singapore
The Philippines
Taiwan
The Middle East
Saudi Arabia
United Arab Emirates
Africa
Algeria
South Africa
Egypt
The "Bullet" in BulletVPN
The "Bullet" represents BulletVPN's speed. One of the first things we test in a VPN provider is how fast it is while connecting and when it connects.
BulletVPN took up to 3 seconds to connect to a server, which is pretty convenient. Now, we all know that when we're connected to a VPN, our connection might witness a slight drop due to the encryption applied. 
However, with BulletVPN, it was hardly noticeable. We were able to stream HD-content without witnessing any buffering or lagging issues in the process. Not only that, but online gaming was smooth as well.
Speed tests are the ultimate way to prove how reliable a VPN can be, and that's exactly what we performed. Let's take a look at the results I came up with while testing BulletVPN's speed. Please note that we were based in Paris, France at the time of writing and we performed a couple of tests on a recommended server and a UK server.
As stated above, VPN encryption tampers with the internet's speed. That's why we should start by showing our connection prior to using BulletVPN. So far so good, yet not that safe.
Next, we connected to a server in the Netherlands (Under the recommended section). Shockingly, our connection took a sudden boost, which means only one thing, our ISP was throttling the connection. If a VPN is meant to drop our internet speed and it got boosted instead, you can imagine the level of throttling that was applied. Also, it might be that a server in the Netherland has better routing than that of our ISP's.
Finally, we used a UK server, which scored 260Mbps. The drop is noticeable, which is mostly evident considering we're in Paris and the server is a bit distant from our location. However, the speed is still super fast, especially if you're looking to stream content in UHD.
While we were browsing through their server list, we noticed some to have been labeled (High Speed). Apparently, these are the best-performing servers within their list.
The results above are based on these servers, which you can tell are excellent in terms of performance. The download speed is great and streaming couldn't get any smoother.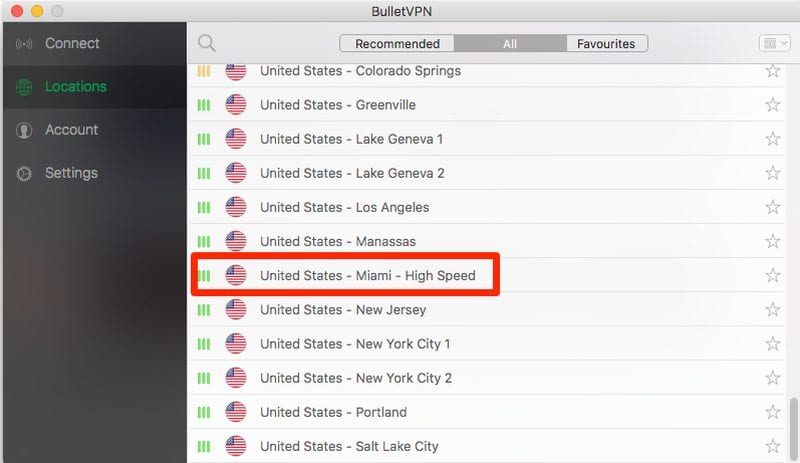 Unblocking Major Streaming Services
The best part about these servers is that no matter what channel you're looking to unblock, it's easily doable. Let us show you an example. Netflix has one of the toughest VPN banning mechanisms amongst all the streaming channels available.
If a VPN is not credible enough, the service will determine its presence and block its access almost instantly. This is the error you get:
"Streaming error. You seem to be using an unblocker or proxy. Please turn off any of these services and try again."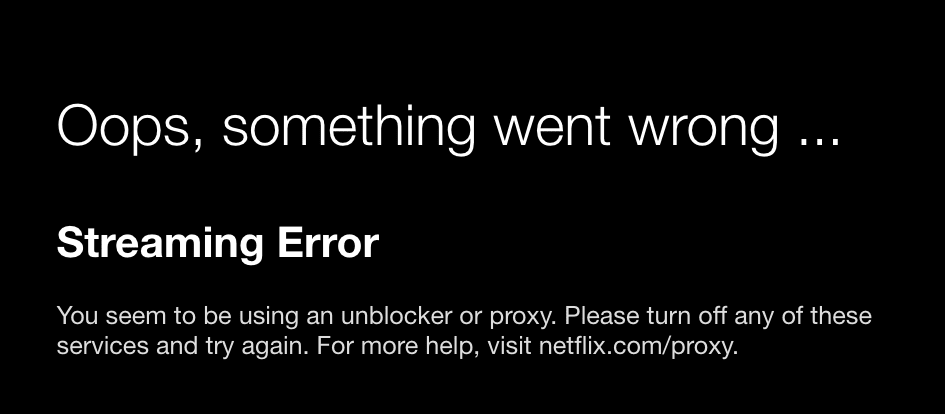 Netflix US is the most desirable among all streamers across the globe. Therefore, we're going to connect to a US server provided by BulletVPN and see what happens. Checking if we got the US catalog is easy. We simply searched for Star-Crossed as it's only available in the United States.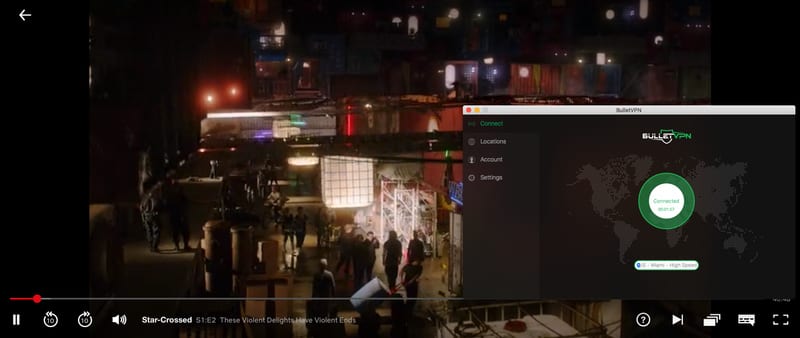 The Miami (High Speed) server worked just fine. However, Lake Geneva's servers did not unblock the channel. That was Netflix, but the question remains: How does BulletVPN fare against top streaming services in the industry? The screenshots below will show you each and every channel that BulletVPN unblocked:
BBC iPlayer
Hulu
HBO Max
Showmax
DStv
Kayo Sport
TVNZ
TenPlay
I'm trying to be unbiased as much as I can here, but tests and screenshots don't lie. I've tried dozens of VPNs, including what people consider as the giants in the industry, none of them were consistent enough to unblock all of the aforementioned channels, or keep them unblocked at least. In other words, BulletVPN is, without a doubt, the only service in 2023 with a perfect unblocking record.
BulletVPN Smart DNS Feature
There are many streaming devices that do not have a native VPN client. This includes PS4, Xbox One, Apple TV, and Smart TVs. Therefore, there is no way to install a VPN on these devices.
You can either set up your VPN connection on a compatible router or use Smart DNS proxies to unblock geo-restricted channels instead. BulletVPN is one of the few VPNs which offer their users a Smart DNS proxy service at no extra cost.
Smart DNS works in a different way. First, it doesn't change the user's IP to fake their location. Instead, it reroutes some of the traffic that gives away their whereabouts. So, alongside having access to restricted content, users will be able to watch their local channels at the same time.
Keep in mind that while Smart DNS does allow streamers to get around geo-restrictions, it does not hide their IP address nor does it encrypt their Internet traffic. Lack of encryption has both ups and downs.
Users will be lacking the extra layer of protection. However, they'll also be streaming content with minimal speed loss. So, if you're a frequent streamer, BulletVPN's Smart DNS feature a great option for you.
P2P Support
BulletVPN supports P2P file-sharing. Almost every server is P2P friendly. However, as we contacted their support, they recommended we don't use servers based in the US and the likes. They told us to use servers in Switzerland, the Netherlands, and Spain.
We also found that the VPN is compatible with torrenting apps like BitTorrent, which is a plus.
BulletVPN Privacy
BulletVPN is based in Estonia, which is far away from the reach of the 5-eyes association. Even if it was present in such countries, the provider follows a strict no-logs-kept policy.
Since 2017, when the provider launched, no data breaches have been reported, which indicates how legit their logging-policy is.
Their privacy policy strictly states that:
"BulletVPN does not collect logs of any user activity, nor can it link any other collected information to any specific user. We do not collect any logs of user browsing history, connection history, traffic and data transfer, or DNS queries, nor do we store VPN connection logs of any type."
This makes it impossible for anyone including BulletVPN to retrieve information about what data content is accessed by a specific user, what specific VPN server was used by a user at a certain date and time, or what source IP address did the user use to attempt and/or establish a VPN connection. The data presented below is what BulletVPN does not collect:
DNS queries.

Browsing history.

Connection history.

Traffic and data transfer.
BulletVPN also offers two main features to keep whatever you're doing as private as it can be. Let's dig deeper and see what they're all about:
Automatic Kill Switch
No matter how credible the VPN, a connection outage is bound to happen. Users never know what might occur and the provider has to offer proper precautions if such an incident occurs.
If the VPN connection drops, everything a user was doing while connected will travel through his/her ISP's servers. Hence, their privacy will be exposed.
That's where BulletVPN's kill switch feature comes in. It's a robust technology that terminates your internet access if your VPN connection suddenly drops.
This way, you'll make sure that none of your traffic flows back through your ISP's servers and complete anonymity is guaranteed. It was really easy to activate. We just entered the Settings section and enabled it from within.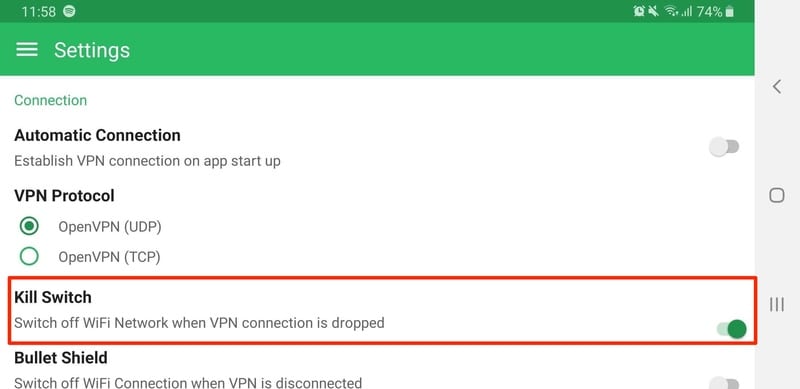 Bullet Shield
A Kill Switch is grand and all, but BulletVPN kicked it up a notch by adding an extra feature that works along with the technology. As we mentioned, a Kill Switch will cut off your internet if your VPN is down.
However, Bullet Shield blocks you from connecting to the network unless you're connected to a VPN server. So, in other words, exposed internet is not an option.
We weren't able to connect until a VPN connection was established. That's a big plus in the privacy department. We noticed one thing though.
BulletVPN's kill switch can be enabled at will. BulletShield, on the other hand, can only be activated while the Kill Switch is present. If it's not, the Bullet Shield button won't even budge.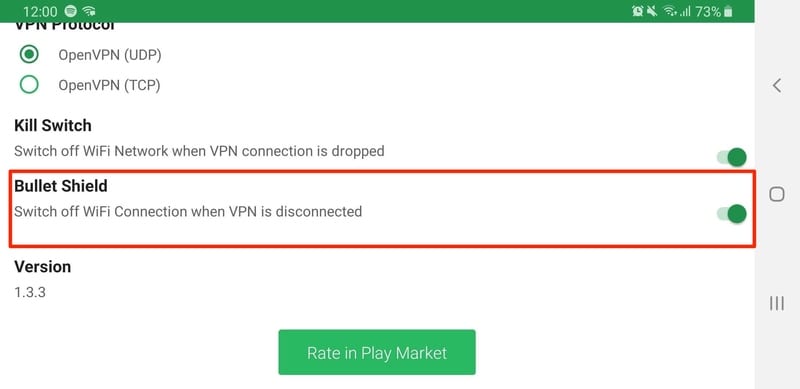 DNS/IP Leak Test
The smallest things any VPN should do is encrypt your data and cloak your IP address. You don't want any of your data, leaking back to your ISP's servers, right? The service should fully cloak your IP address and location from the websites you visit.
That's why I ran a couple of tests to check if BulletVPN might leak your IP/DNS. The best part about this is that it showed nothing of such leakings. My browsing activities were fully concealed and anonymized.
Let me show you exactly how my traffic looked like when I used a BulletVPN server in the United States, particularly the Miami High-Speed server.

I made this review in the United Kingdom, and as you can see, my real location is well-hidden. This proves how credible BulletVPN's IPv6 leak protection is.
You can see it clearly on the right side of the image. The "IPv6 test not reachable" part says it all.
Virus Scan
Checking what a "VPN" claims is not enough to determine its credibility. Along with our in-depth tests, we also rely on third-party reviews. Moreover, we take into consideration the tests performed by experienced auditors to check whether the VPN we're reviewing is secure or not.
In essence, we used VirusTotal, a product created by the Spanish security firm Hispasec Sistemas. It's an online tool that checks for viruses a certain tool may have missed and verifies against any false positives. We used the tool to check if BulletVPN applications contain any viruses, malware, or malicious software.
The results were absolutely positive as BulletVPN passed all 72 virus scans conducted. Here's how it looked like:

Warrant Canary
Finally, when it comes to privacy, we always check if a VPN has a Warrant Canary. This is a way a company informs its customers or users that it has not received secret requests for user data by government or law enforcement officers.
If a website/service had a Canary Program and it vanishes all of a sudden, this only reveals that the website has received at least one secret surveillance request.
BulletVPN does not offer one. But according to our tests in this review, there's nothing to worry about. A VPN that's – based in Estonia, doesn't collect logs, and comes with the latest military-grade encryptions does not need a Warrant Canary to protect its users. What it has is more than enough.
BulletVPN Security
When it comes to a VPN's security, there are two things you should consider, their encryption, as well as the VPN protocols they offer. BulletVPN provides a robust 256-bit AES encryption. 
This is exactly what the US military uses to send and receive confidential data. That combined with five security protocols, brings you the ultimate online security you need.
BulletVPN offers 5 different VPN protocols:
OpenVPN
L2TP/IPSec
IPSec
IKEv2
PPTP
I thoroughly scanned all BulletVPN apps using Avast, AVG, and McAfee and found no malicious malware or viruses either. So, their apps are completely safe to use, too.
So, Is BulletVPN Safe?
We ran the necessary tests, and BulletVPN passed each and every one of them. The provider proved to be an ultimate tool to maintain a user's online security and anonymity.
There were no DNS leaks, no viruses or malware, and there were definitely no legal actions against the service. So, as our final verdict in the security department, BulletVPN showed to be flawless.
BulletVPN Support Review
As with any other online service, the VPN provider's customer support is probably the most important feature. Although connecting to a VPN server is fairly simple thanks to user-friendly applications and software, you do need a helping hand in case you run into any issues.
BulletVPN offers live chat support. That means you can get real-time support. You can also contact their support team via Facebook, Twitter, and email. A contact form can also be found on the BulletVPN website.
BulletVPN Review – Pricing and Plans
Like almost all other VPNs, BulletVPN offers three plans; a one-month, semi-annual, and one-year subscription plan. Here's how much each subscription costs.
1-Month Subscription: $10.98
12-Month Subscription: $89.98 ($7.50/month)
3-Year Subscription: $118.58 ($3.29/month).
At $3.29 per month, BulletVPN can be considered one of the cheapest premium VPN services. Not to mention that users can benefit from a 72% discount, which is an offer they rarely find elsewhere.
BulletVPN Review – Refund Policy
I would never really recommend subscribing to a VPN that has a short refund policy. While a 14-day money-back guarantee is somehow acceptable, a 7-day refund period is simply not enough for you to fully test the VPN service.
BulletVPN offers its users a 30-day money-back refund guarantee. That means you can try their servers for a full month risk-free. Out of all the other VPNs, I've tried, only ExpressVPN and NordVPN offer similar refund guarantees.
Does BulletVPN Offer a Free Trial?
Yes, you can get a free BulletVPN trial. However, it is still not a straightforward process. You will need to contact BulletVPN's support team and request a free trial. Rest assured they will respond swiftly and grant you free access to their VPN service for about 3 days.
Also, if your an Android user, get the application and run it. On the main screen, you'll notice that the free trial is also offered below the "Sign in" button.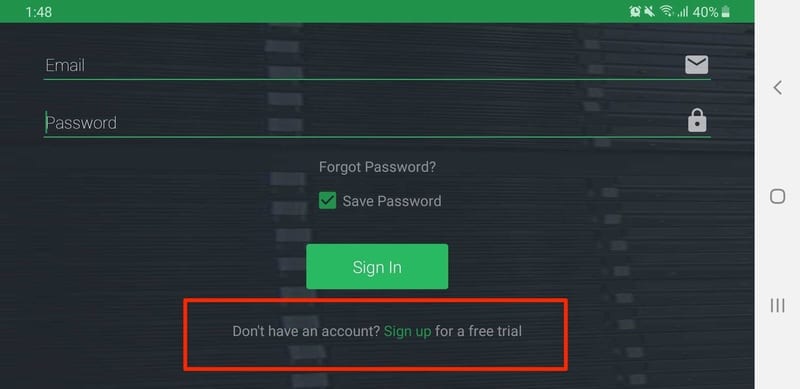 BulletVPN Review – The Verdict
If you are looking for a reliable, fast, and secure VPN provider, I would definitely recommend BulletVPN. Their support team was extremely friendly when I contacted them and the 30-day refund policy meant I got to try out their services risk-free.
I was also able to unblock American Netflix, Hulu, Amazon Prime Video, BBC iPlayer, and other geo-restricted streaming channels using their VPN servers. After reviewing this provider, I can definitely say that despite it being new, it measures up with the top VPN providers such as ExpressVPN and NordVPN
BulletVPN Review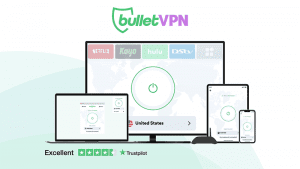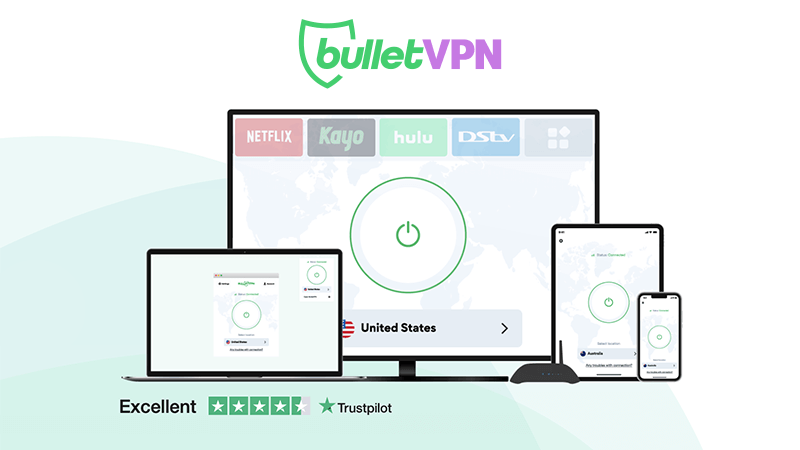 Name: Bullet VPN
Description: BulletVPN is a VPN provider that allows you browse the web privately. You can also use BulletVPN to access geoblocked websites and streaming channels.
Price: 10.98
Currency: $
Operating System: Windows, iOS, OSX, Android
Application Category: Multimedia
Refund Policy

Speed

Support

Apps