Private Internet Access, also known as PIA, is
one of the cheapest VPN service providers
out there. Does that mean that PIA is a VPN worth investing in?
A VPN is a software you can use to increase your online security and bypass geo-blocked content. The market is saturated with VPN providers, so it could get a little confusing picking one out on your own. In this review, we'll be going over the pros and cons of Private Internet Access for your benefit. We'll be looking at the features PIA offers when it comes to apps, server locations, speed, unblocking capability, online security, pricing, and refund policy.
PIA – The Ultimate 2023 Review
If users are looking for a VPN that doesn't cost much but still offers an extra level of security, then Private Internet Access may be the VPN to choose. However, price is not everything when it comes to evaluating a VPN. We follow certain criteria to determine whether a specific VPN is good enough or not.
Below, we've assessed PIA according to several tests and examinations. As a result, the following review was created.
Quick Stats
| | |
| --- | --- |
| Money-back guarantee | 30 Days |
| Allowed concurrent connections | Ten |
| Supported streaming services | Netflix, Amazon Prime, and others |
| No logs policy | Yes |
| Encryption | AES 256 encryption |
| Security Protocols | OpenVPN, IKEv2, WireGuard, and PPTP |
| Special features | Kill switch, Split-tunneling, Multiple VPN Gateways, SOCK5 Proxy, and MACE |
| Customer support | Email |
| Server locations | 78 countries |
| Number of servers | 35430+ servers |
| Server Switches | Unlimited |
| Supported devices & web extensions | Windows, Linux, Mac, iOS, and macOS |
| VPN legal jurisdiction | United States |
| Free Trial | No |
PIA Pros and Cons
Nothing in the world is perfect, and that also goes for Virtual Private Networks. Just like any VPN out there, Private Internet Access has its advantages and disadvantages. So, before we assess the provider in details, here are it's pros and cons:
Pros
Military-grade encryption
No-log policy
Kill switch
SOCK5 proxy
Ten concurrent connections
Affordable prices
Supports P2P
MACE
Multiple VPN gateways
WireGuard Protocol
Browser extensions
Unblocks US Netflix
30-day Refund Policy.
35430+ servers in 78 countries.
Cons
Based in the US
Doesn't unblock BBC iPlayer.
PIA – Clients and Apps
Similar to most other VPNs, PIA supports the most used operating systems and devices. PIA has an app for Mac, Windows, iOS, and Android users. The full device/OS supported list for PIA is:
Desktops:
Windows 7, 8, and 10
Mac OS (10.10 onwards)
Ubuntu (12.04 onwards)
Linux: Mint, Arch, Debian
Mobile Devices:
iOS ( 8 onwards)
Android (4.0 onwards)
Chrome extension (v48 onwards)
Routers:
DD-WRT (2011 Big/Mega Builds onwards)
Tomato (1.28 onwards)
PfSense (2.0 onwards)
Browser Extensions:
Now that we covered what devices PIA supports, let us show you our experience when we downloaded the iOS application. The dedicated client was very simple, and we found our way through all of its features without any hassle.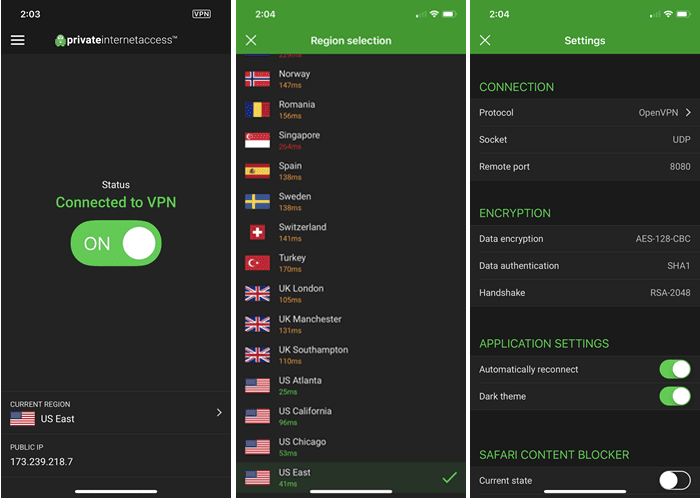 All we had to do is sign in, pick a server, and a few seconds later, we're connected. Also, the setting section is very simple. Users can activate any feature with a push of a button. So, our verdict, nicely organized app PIA.
Another positive shout out for the provider as their application is available in English, Arabic, Danish, Dutch, French, German, Italian, Japanese, Korean, Norwegian Bokmål, Polish, Portuguese, Russian, Simplified Chinese, Spanish, Thai, Traditional Chinese, and Turkish.
App Store/Google Play Ratings
While reviewing the app, we should take what actual users have to say as well. It's pretty fair considering that they're the consumers, and their experience helps a lot in evaluating a VPN's efficiency.
According to the iOS App Store, the PIA application has a 4.7/5 rating, which is considered to be very good. Unfortunately, the Apple App Store does not show how many downloads the VPN has had so far.
As for Android users, the app also got some positive reviews and ratings, as well as more than 1 million downloads on the platform. In other words, just as we expected, the app is pretty popular on Android.
Trustpilot
As we mentioned, reviews from credible sources are very important when users are looking for a good VPN to invest in. That said, we always turn to the credibility and transparency of none other than Trustpilot seeking such reviews.

And according to the website, the service is great, gaining more than 5,555 reviews and a 4/5 rating.
Private Internet Access – Servers and Locations
PIA has over 35430+ servers under its disposal across 78 countries. The large number of servers found in the most sought-after countries guarantee a smooth connection. In other words, while users find no servers in Russia, parts of the Middle East, and Africa, they will find stability in connecting to any of the servers PIA has to offer.
When users are looking for a server that geo-blocks your content, all the major countries are available.
PIA also offers unlimited server switches and has no cap on the bandwidth used. The provider used to have servers in Brazil and South Africa, but later, they removed them.
This is what their official website has to say about the matter:
"Private Internet Access is removing servers in Brazil and Johannesburg, South Africa. We are leaving South Africa due to the closing of our local datacenter partner's Johannesburg location. We are leaving Brazil for more serious, privacy reasons. Brazil is currently trying to force companies like VPN providers to comply with Brazilian logging laws which would obligate providers to store logs for an entire year."
As of now, the servers in Brazil and South Africa are back. We don't know whether they'll stay put or not, but for now, users can freely use them.
Private Internet Access – Speed
On average, it takes 3 to 4 seconds to connect to one of PIA's servers. However, the internet speed after connection didn't fare too brilliantly. After testing out three different servers, here's what we found:
First, we're going to show you what our internet speed performance looks like before we connect to any PIA server.
The UK server we connected to next saw a slight drop in the connection. However, it's still considered to be fair based on what encryption does to the speed.
After that, we tried a server in Switzerland. The fact is, the provider showed no improvement in speed. On the contrary, our connection dropped even more.
And finally, the worst results we got were by connecting to a server in the Netherlands. Obviously, these speeds are not in any way competent for streaming UHD content.
PIA obviously doesn't live it to its more expensive counterparts with the internet speed. Here, users are going to have to decide for themselves if compromising their speed is worth the lower subscription rates.
PIA's Netflix Support
Some internet users just use Virtual Private Networks to access geo-restricted content. Now, to test a VPN's ability, you should run the ultimate test, unblock US Netflix.
Netflix has a defense mechanism that's able to identify the usage of VPNs and block them almost instantly, regardless of the library you're trying to access.
If your VPN is not credible enough and it's already connected, even your own library won't be accessible. In PIA's case, we tried several US servers. The results were mixed as some fell victim to the VPN blocking, and others were successful.
First, we tried a VPN server in Florida. Unfortunately, connecting to this server was not enough to get Netflix to operate in our country.
Next, we tried a different server in Atlanta. This gave us the positive results we were looking for. This server allowed us to access US Netflix with ease.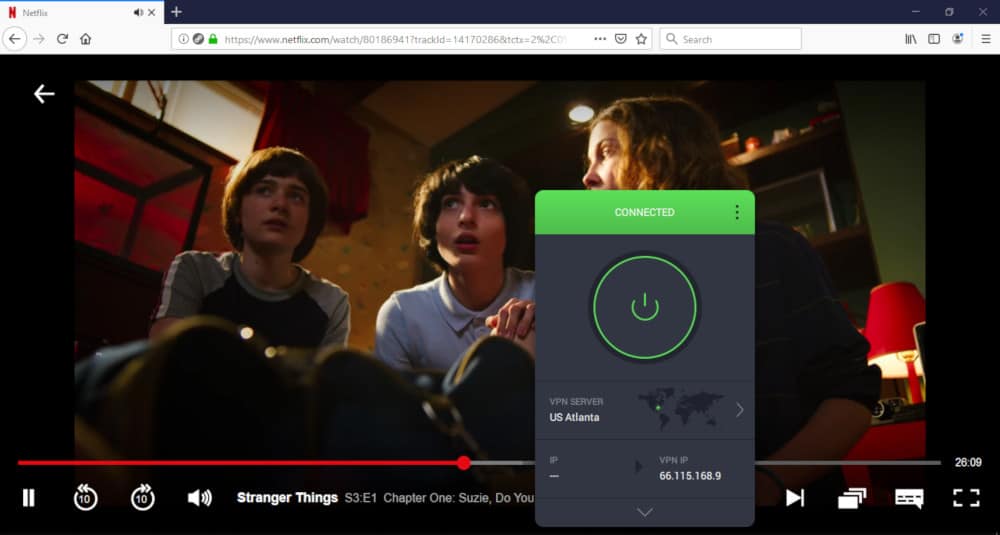 In general, despite being unable to unblock the channel on a couple of servers, Private Internet Access got the job done on a few others, and that's good enough for us.
Private Internet Access With Other Streaming Platforms
Using a Virtual Private Network to access geo-restricted websites is one of the most important features in a provider. Now that we tested Netflix, which is the hardest among all, we moved to BBC iPlayer, another streaming giant with the ability to block VPNs.
We connected to multiple UK locations, as we attempt to get around BBC iPlayer's restrictions. The channel did put up a fight on several servers, and eventually one the battle. PIA did not get into the service. This geo-error message kept on popping up despite us having a UK IP address provided by Private Internet Access:
"BBC iPlayer only works in the UK. Sorry, it's due to rights issues."

We then checked if this incident occurred among other PIA users, and apparently, it did. There's a whole forum website talking about the issue.
Other VPN services offer a Smart DNS proxy feature to ensure fast and buffering-free streaming. However, PIA does not do that. We don't know if they're going to join the leading companies in the market in the near future, but for now, connecting to their VPN servers is the only way to unblock geo-restricted content.
P2P Torrenting
As far as we know, every server provided by PIA supports torrenting and P2P activities. It might be simple to users, but in reality, it's a bit more complex than that.
So every server supports P2P, but that doesn't mean that the traffic is rerouted through them. The provider actually reroutes your data through servers where torrenting is safely done. We're talking about servers in the likes of the Netherlands and Switzerland.
Users can just connect to these servers as a faster route, instead of hopping through multiple locations and end up in the same destination back in those countries.
Privacy
Before we get into PIA's privacy and security features, there's a very important aspect of the VPN provider that we need to discuss.
PIA is based in Indiana, USA.
For those that know anything about internet security laws, you know that having a VPN in the US is tricky. On one hand, PIA does not keep logs. As far as we can tell, it's never had a problem with leaking data before, and its zero-log policy does hold true.
Here's where it could get a little complicated, though. The US government can impose a gag order on PIA since it's located on US property. What this means is that the US government can force PIA to start collecting data on its users without even telling them (that's why it's called a gag order). After all, the United States is part of the Five Eyes association.
Again, so far, there have not been any reports on PIA leaking data in any way, shape, or form. While this is all a possibility, it isn't necessarily a reality.
Security
Despite being in the US, PIA showed that it's one of the most secure VPN providers in the industry. We say that based on the features we found inside the application.
The provider first has a strict no-log policy, which means that if the government came snooping around, it'd find nothing about PIA's customers.
Other than that, the provider is packed with a lot of security features, including the following:
VPN protocols: OpenVPN, L2TP/IPsec, and PPTP
IPv6 and DNS leak protection
A built-in Kill Switch
SOCKS5 proxy
P2P support
128-bit and 256-bit AES encryptions
PIA's MACE
Private Internet Access has developed its own version of a built-in "ad-blocker," to state things simply. According to PIA, MACE "returns IP addresses of unwanted domain names as an address that's not routable on the public internet."
While that doesn't sound too understandable for anyone who isn't in the world of IT, they do offer up a solid explanation for what MACE does. To put it simply, it's a great ad/track blocker, which is a built-in extra level of security.
DNS Leak Protection
The service headquarters' location is quite questionable as it resides in the United States. Let's not forget that the country is one of the founding members of the Five Eyes Surveillance Alliance.
If PIA gets a hold of your data, rest assured that it would wind up in government databases all across the globe. But that's not the case, as they keep no-logs and no leaks were witnessed while examining the VPN.
Private Internet Access passed all our tests, including DNS, IP, and WebRTC leaks.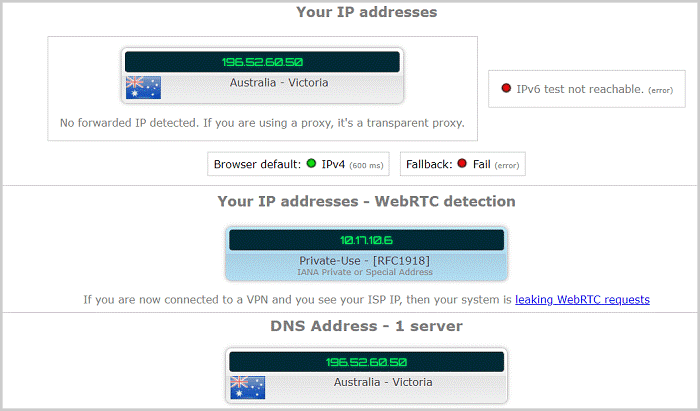 As an extra measure, we took it upon ourselves to examine whether the application has anything that relates to malware installed in it. Now, we can say that their installation software was 100% clean.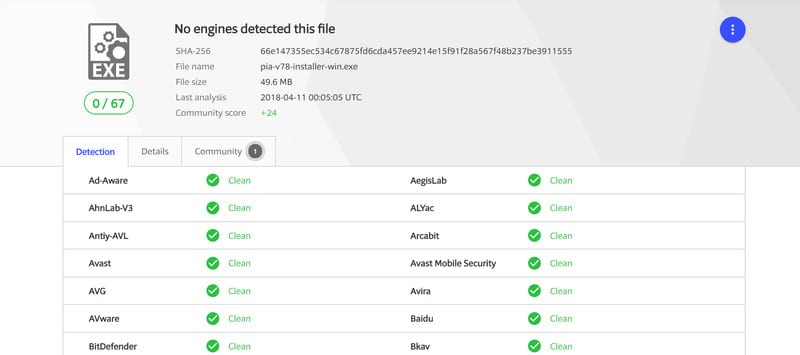 Security Third-Party Auditing
While evaluating a certain VPN, we search for more than what a typical review says about them. That's why we looked for a credible source that examined the VPN and conducted a well-trusted audit. In PIA's case, the provider helped fund an OpenVPN audit.
Before the release of the new version, PIA contacted  Dr. Matthew Green of Cryptography Engineering and the team at QuarksLab to audit the new version of the security protocol, OpenVPN 2.4.2.
Finally, Dr. Green summarized the audit and the results in the following:
"We took a detailed look at the implementation of OpenVPN 2.4. We focused on the cryptography and software quality of the project. With the release of OpenVPN 2.4.2 several issues uncovered in both our audit and a larger audit conducted by Quarks Lab will be resolved.  Our finding is that the OpenVPN 2.4.2 package is technically sound. We'd like to thank Private Internet Access for their sponsorship of both audits and their continued efforts on behalf of the security community."
Third-Party auditing is very important to get a better idea of what the VPN can do. And that's exactly what we got from a credible audit of PIA's OpenVPN protocol.
WireGuard Support
WireGuard protocol was developed back in 2018 and has become the talk of the industry ever since. The new layer 3 security tunnel promises high-level security and excellent speeds.
OpenVPN is the most used among VPNs nowadays, but WireGuard is said to be the future of the industry. As of now, it's not implemented by a lot of providers, but Private Internet Access supports it.
By our standards, that's an excellent move towards better online security, anonymity, and fast speeds.
Warrant Canary
A Warrant Canary is a way for the VPN provider to inform its customers that it has received a gag order from authorities. If the statement disappears, that means authorities have issued a subpoena and are preventing the company from talking about it.
So, to circumvent the gag order without breaking any laws, it removes the statement from its website. Private Internet Access does not offer a Warrant Canary, and there's a reason to that.
The site states that they don't need a Warrant Canary if they don't collect any information that jeopardizes their customers, to begin with. Here's what the website says:
"There are no logs. There is no identifying information that can be collected, regardless of the amount of force applied."
If such an order approaches PIA, they shut down their business in the country. That's exactly what happened in Russia when the country demanded that they start logging our users' identities, after seizing PIA servers. Well, they shut down their servers in the region after that.
Customer Support
Private Internet Access's customer support also failed in comparison to other VPNs. While PIA's customer support team does its best to solve every support ticket that comes through, PIA doesn't offer a live chat option.
The only way to get in contact with the customer support team is via email, which can get a little annoying if you're facing an urgent problem.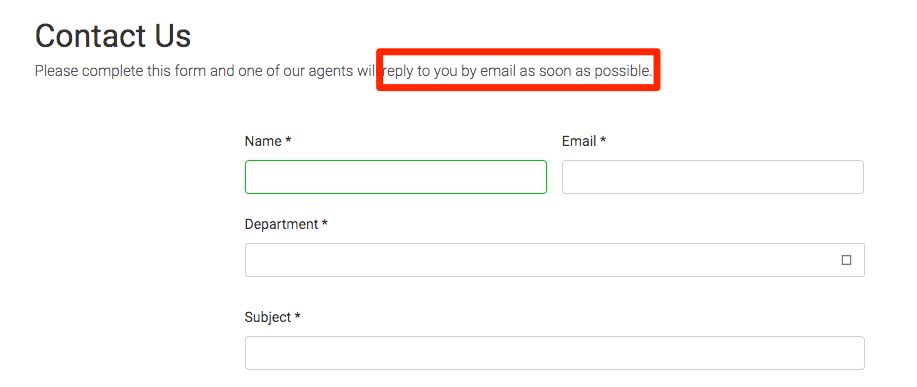 Private Internet Access Review – Pricing and Accounts
Known as one of the cheapest VPN providers out there, PIA's prices are hard to beat. They offer 3 different pricing plans: Monthly, Yearly, and Two Years. The Two Year subscription's price goes as lost as $2.91 per month, paid in bulk ($69.95).

When it comes to pricing, PIA really hits the mark. You can even use your account on ten devices simultaneously, making it a great offer for such a low price.
PIA Payment Options
Here is where it gets creative.
Even with how you pay for the subscription, PIA goes the extra mile to ensure that your payment is also confidential. Other than the typical credit card/ debit card payments (Visa, MasterCard, Amex, Discover, and JCB) Private Internet Access also accepts payment by: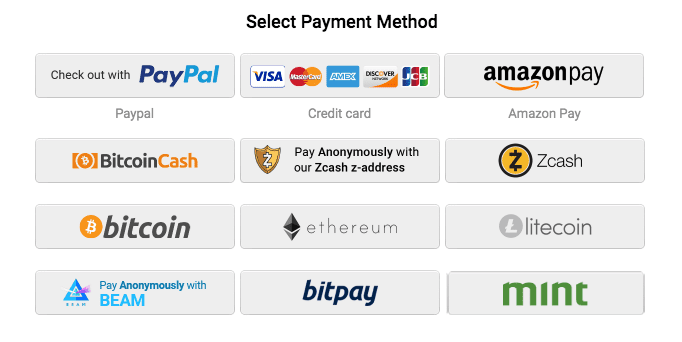 PayPal
AmazonPay
Bitcoin and BitcoinCash
bitpay
Mint
Private Internet Access Gift Card
Trading in any Gift Card for VPN access
That last point is what I wanted to discuss the most. Instead of paying for PIA with a credit card that can be traced back to you, you can simply trade the remaining balance on any major brand gift card for PIA access.
Examples of major brands would be Target, Starbucks, Best Buy, and Walmart. Your remaining gift card balance will be traded off in days with PIA access: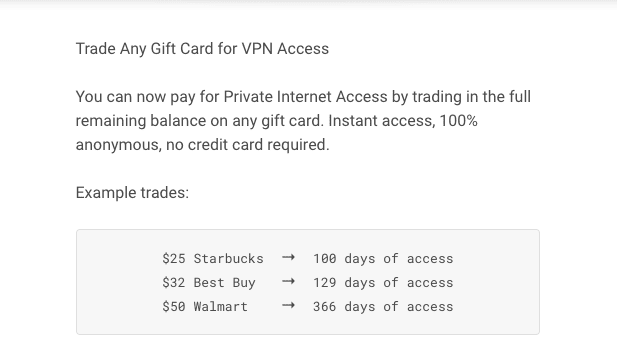 How's that for anonymity? We really liked the fact that you can use an anonymous gift card to subscribe to their service. In fact, that's an option we haven't seen in any other VPN no matter how popular they might be.
Money-Back Guarantee
This was a huge con to us, actually. PIA considers itself to be among the top providers in the world. However, it pales in comparison when it comes to their refund policy.
Top providers offer a 30 to 45 days money-back guarantee for users to test their service out before opting for long term deals. With PIA, you only get 7 days of those, which is not enough, by our standards at least.
Free Trial
If the provider only has a 7-day refund policy, we did not expect it to have a free trial at all. And guess what, we were right. Private Internet Access does not include a free trial in its service, and it's a huge drawback.
Private Internet Access – The Verdict
While Private Internet Access might not seem like the best VPN out there, and it isn't, we still think it's a good VPN to get you started. It's a cheap option that does offer better privacy online, which is technically what you want out of a VPN.
The server coverage might end up being a bit of a problem, as PIA doesn't have servers all over the world, but it does cover the major countries and cities needed. In the end, if you want to subscribe to a good VPN for cheap, Private Internet Access might be the choice for you.