UltraVPN Review – Why You Should Avoid This VPN
|
Network Connected Limited has been providing VPN services for quite some time now. Today we'll be evaluating UltraVPN, the third brand run by the company, which also owns both SafeVPN and PrivacyWeb products. The service claims to be one of the tops in the industry, providing enhanced security, ultimate privacy, and excellent speeds. Well, we'll be the judge of that. Does UltraVPN live up to its claims? Find out in this full comprehensive 2020 UltraVPN review.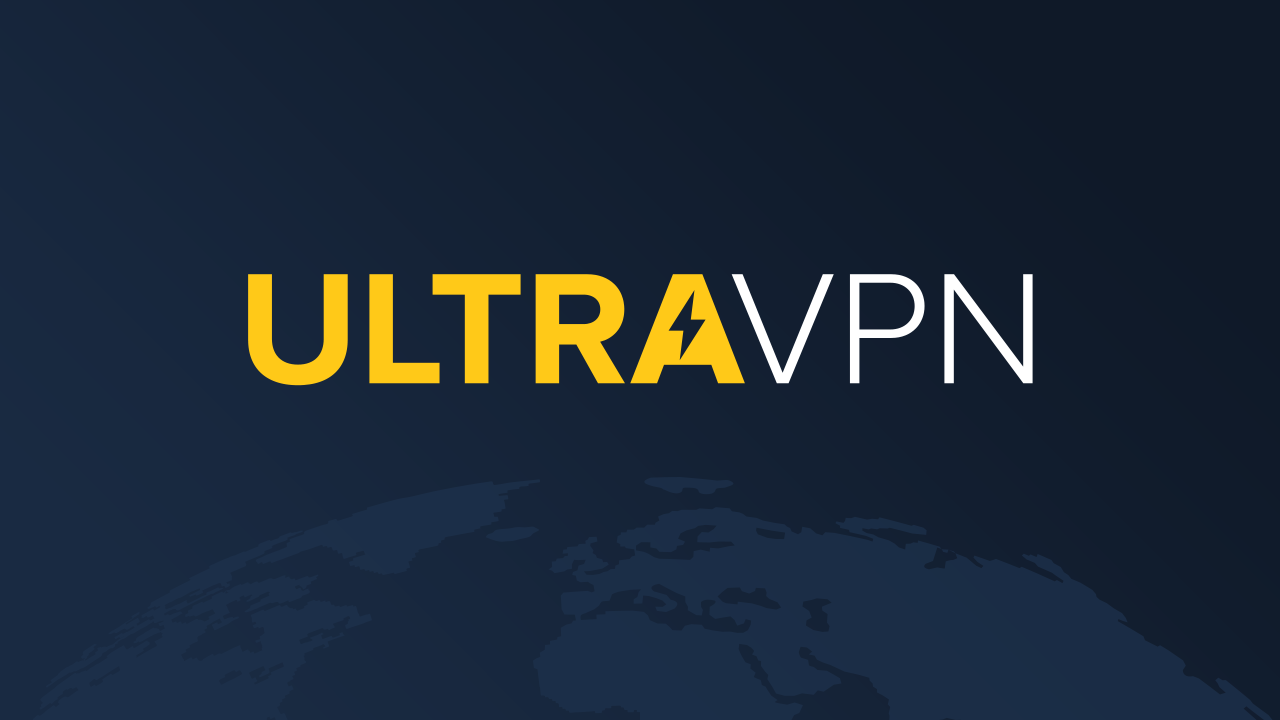 UltraVPN Review – Content Index
UltraVPN launched its product on August 18, 2018, and gained huge popularity ever since. We had to see what this VPN is capable of for ourselves, so we ran it through our strict evaluation process.
We assessed the VPN service at every angle possible, including speed, security, privacy, and streaming capabilities. As a result, the following review came into place.
Quick Stats
Money-back guarantee
30 days
Allowed concurrent connections

6 devices

Supported streaming services

Netflix, BBC iPlayer, Hulu, Amazon Prime, and more.

No logs policy

Yes (Collects some data)

Encryption

Military-grade 256-bit AES

Protocols

OpenVPN and

IKEv2
Special features

Kill Switch (Firewall)

Customer support

24/7 live and call support

Server locations

80+ countries

Number of servers

100+ servers

Server Switches

Unlimited

Data traffic

Unlimited

Supported devices & web extensions

Windows, macOS, Android, iOS

VPN legal jurisdiction

United Kingdom
Pros and Cons
Every VPN provider has its own pros and cons, and UltraVPN is no different. While it excelled in certain areas, it sure was disappointing in others. To shed some light on the matter before we assess the provider in a detailed review, here are the advantages and disadvantages of UltraVPN.
Pros:
100+ servers in 80+ countries
Military-grade encryption
User-friendly interface
Unblocks major streaming services
Kill Switch
Unlimited Bandwidth
6 Concurrent connections.
30-day refund policy
24/7 live chat support
Decent prices
P2P friendly
Cons:
Mobile app freezes
Mediocre speeds
Unreliable live chat customer support
Collects some data
Based in the United Kingdom
Lacks a lot features
Free trial requires credit card info
Confusing payment webpage
Apps and Interface
Whenever we evaluate a VPN, we have to assess every single part of their clients. Some users don't have the technical knowledge to operate tech-savvy apps, which VPNs should take into consideration before designing theirs.
Based on what we've seen, UltraVPN's applications couldn't get any easier to operate. The design is user-friendly, the server selection is swift, and the connection process is almost instant.
UltraVPN has apps for Android, iOS, PC, and Mac. We tried both macOS and Android's clients, and this is what we came up with:
Mac
Both Windows and Mac clients are identical, so we'll be presenting our macOS experience in this review. As a start, we encountered no issue while using the Mac application.
The client is straightforward, easy-to-navigate, and the connection process took around 3 seconds. Some VPNs allow their users to drag the application windows around. However, UltraVPN's Mac client sticks to the bar on the top of the screen.
It's not a con, actually, but it's a good option to include. Nonetheless, the server list is right there on the home screen and UltraVPN allows its customers to choose specific cities in the countries they support.
Not all VPNs do that, so we give them the plus in this department. As mentioned, the connection was swift, and here are the screenshots that show what our experience was like:


As seen in the images above, there's nothing that may confuse new users, especially those who are not that tech-savvy. One feature that might be a little vague to them is the Firewall option.
Basically, that's not a Firewall, it's UltraVPN's kill switch. This technology automatically terminates the users' internet connection if the secure VPN connection suddenly drops or becomes inactive.
We went to the Settings section next and found that there's technically nothing much to do there. Users can also enable the Kill switch feature and switch between Hydra and IKEv2 protocols.
That's it for features. However, we did appreciate the client's availability in multiple languages including English, German, French, Turkish, Spanish, Italian, and more.
The app is good in terms of interface, but it still lacks a lot of features, especially an auto-connect option that chooses the best nearby server for us automatically.
Android
The majority of people who use VPNs are more likely to do it from a mobile device. They're definitely more than those who operate the security software on desktop devices.
We always appreciate mobile applications and praise the providers that optimize their clients on this specific device. Just like its desktop counterpart, UltraVPN's Android client brings an ultimate ease-of-use and the same included features.
What differs is that the Android client uses Hydra only. Apparently, and based on what they had to say, Hydra is the best in terms of privacy and bypassing censorship. It's even harder to block than WireGuard is. This is how the Android App looks like:



So we did state that the app is easy-to-use, but we have to also note that we did have some problems with it. At first, we were able to log in without any issue. However, when we closed the app the first time, it did not launch again.
Admittedly, the software was very unresponsive, which definitely added a layer of frustration to using the software. Not really sure about this, but the app did drain our battery in a way we've never seen before.
Our Samsung mobile was connected to a "Fast Charger." When the app was stuck on its Home Screen, the phone heated up, and the battery got drained despite being charged.
That was our experience with Ultra VPN, and as we're writing the conclusion of this section, the app is still frozen and unresponsive (It's been like 8 minutes now).
App Store Rating
Checking out what users have to say about the apps they download is also a crucial part of our evaluation process. UltraVPN has clients on both Google Play Store and the Apple Store, which makes our job even easier.
We managed to assess their app on our own, but we had to see if other users have similar thoughts as well. Moreover, we wanted to dig deeper into the "Freezing Issue" matter and check if others encountered it as well. Let's begin:
Android
After experiencing the issues with the Android app, we were certain that the ratings on Google Play Store wouldn't be so good. However, we did not expect them to be that low.
This is the first time in our reviewing history where we encountered a VPN with a rating of less than 2/5 on Google Play. A couple of months later, the ratings jumped all the way to 3.6/5.


We browsed through the reviews to check if someone encountered the same "Startup issue" as we did while evaluation the Android app. Well, we did find several users that experienced the problem and one of them posted the following comment:
"Catch and Bait tactic! This app started well. I paid for the 2y premium service and it was fine for a good several months. Now, you click on the app, nothing happens; worse, your phone is frozen at the screen (Android). I have uninstalled and re-installed it and it works for a few days and back to its usual hiccups. The reviews are telling. If you can switch providers do it! They have refused to fix the bugs, in this era of competition."
So, we weren't the only ones such a hiccup. We tried to clear the apps Cashe and data, and it did work for a short period of time. Not for days as the review above states. It only took the app almost 15 minutes to freeze again.
UltraVPN has a lot of work to do in order to improve its apps' performance. Otherwise, it'll have no chance of competing in this already-packed VPN industry.
iOS
The ratings on iOS are also not what we expected. For a small VPN, regardless of the countries, it covers, UltraVPN does have excellent ratings on iOS. The provider gained 4.5/5.
When it comes to the startup problem, apparently, the Android client isn't the only one with such an issue. iOS users have also reported the bug and were frustrated as they were paying for a premium service that cannot be accessed, to begin with.
One user stated the following:
"So I have the desktop version of Ultravpn which works perfectly fine, I'd even suggest it if you don't already use a vpn. But for whatever reason they really dropped the ball with the iOS version. I've tried messing around with settings and restarting my phone multiple times, but after a fresh install I can only get to sign in and pick a server ONCE and from there on the app crashes on start up. Tried asking for support but they only proved useless information that only applies to the desktop version as if they forgot they even have a mobile version to begin with."

As we mentioned, such a problem affects the business drastically as a lot of customers will terminate their subscriptions. Who wants a VPN client that doesn't even launch? Again, if UltraVPN doesn't fix this problem, it will lose a lot of customers.
Trustpilot Review
Trustpilot is one of the most trusted sources if anyone wants to perform a background check about any application. It's also a very important feature in our review as we definitely rely on what reviews there state about a certain VPN.
UltraVPN has more than 600 reviews on Trustpilot, but not all of them are positive. Overall, whether positive or not, the app has good ratings on the review site, giving it 3.7/5, which by the site standards, is Average.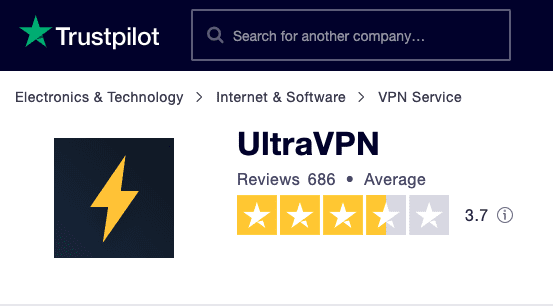 A negative review is always an eye-catcher, and when it's something we experienced as well, we have to bring it out the open. While browsing the UltraVPN reviews on Trustpilot, there were several users claiming that UltraVPN is scamming them. That didn't happen with us.
However, what we share with one of these users is the fact that the Android app wasn't launching. This is what he had to say:
"Andriod app is never gets open when trying to use. It sometimes takes 30 mins to open the app, sometime never open the app."

So, basically, we're not the only ones that had the problem. This issue is serious as no one's going to wait that long to use a VPN service they paid for. UltraVPN should fix this bug or whatever problem within their app, otherwise, they're going to lose their customers.
Server Network
UltraVPN hasn't been around for a long time, it launched back in 2018, so we can understand that they don't have as many server locations as other top providers in the industry do.
However, we have to admit that within these two years, the service's coverage has expanded. Now, UltraVPN offers more than 100+ servers across 80+ countries.
We found that most of their server locations are in the North American region. We can guess why as the country is a key location where the demand for online streaming and local data in the USA is phenomenal.
But we have to talk about how small server networks can affect a user's browsing experience. First, it can result in server overcrowding, which will definitely slow down the internet speed.
Despite this, UltraVPN does provide its customers with a great variety of locations. We mentioned above that UltraVPN has a lot of servers in the US. As a result, the users' connection speeds and access to US content shouldn't ever be a problem, especially when it comes to speed.
The Network
The service is constantly expanding its server network in hopes of giving its users a better experience, not having to worry about servers getting overburdened or running slow.
Based on what we've seen, UltraVPN is so much ahead of other competitors in terms of supported countries. As mentioned, the problem is with the small number of servers, not the server expansion itself.
We have to note that some of their servers were offline by the time of writing. They clearly state that on their website marking servers in Luxembourg, Slovenia, and Georgia with an X.
The provider is still new and from the looks of it, it's going places in the near future. But our evaluation does not stop here as there's so much more to cover in this review.
Speed Performance
Based on the name "Ultra," one would assume that UltraVPN does indeed offer excellent speeds for better browsing and streaming. However, a lot of VPNs claim to be the fastest, where results show the exact opposite.
That's exactly the case with UltraVPN as we performed numerous tests using several of its servers in different locations, and the results weren't that satisfying.
The Test (UltraVPN Evaluated)
Numbers do prove how a VPN performs, and the following screenshots highlight everything we did during our evaluation:
First, we recorded our connection's speed without using any of UltraVPN's servers.

Next, we used an UltraVPN server in the United States. Even before we got the results, we could feel the impact on our connection as it took longer to load a page. Our streaming was also affected, with videos dropping in quality all of sudden. Well, a 58.6% drop will definitely do that.

Another attempt includes a connection to a UK server, which also did not come up with good results. In fact, using UltraVPN's UK server made things worse, causing our connection to drop by 60%.

After that, we connected to a nearby server in France. It's well known that the closer the VPN server to our location, the faster the connection would be. Apparently, this is not the case with UltraVPN as our connection took an even bigger drop. We suffered an 81% hit, which is really bad considering that the server is close to us.

Finally, and the worst results that we got were when we connected to a German server. Practically, Germany isn't that far away, and it's definitely closer than the US. However, the results we got were not acceptable at all. As seen in the image below, our connection took a 98% hit, which is something we don't see much in this industry.

We kept trying to connect to servers in hopes of finding one with decent speeds. The one in the US was average, but we made up our mind the moment we tested the German server. A 98% drop is definitely a first for us ever since we started reviewing VPNs.
So, speed-wise, UltraVPN isn't that Ultra after all. It might give decent speeds on some servers, but the overall recordings show very disappointing results.
UltraVPN and Streaming
Using a VPN to bypass regional restrictions and access channels from all over the world is at least 50% of the reason to operate the software. In fact, most online users make use of a VPN for entertainment purposes, not worrying at all about their virtual well-being.
Streaming channels are all across the globe, but they all restrict their access to specific locations. These channels and websites apply what we call geo-blocking, which dictates what a user can access/visit based on his/her geographical location. This is mainly due to copyright and licensing reasons.
They do so by examining the users' IP addresses to determine their physical whereabouts. If they're not within the channels' area of coverage, they'll get blocked almost instantly.
A VPN is well known for enhancing security, but it also can change users' IP addresses based on the server they connect to. Wherever the server is based, the connected individual receives an IP address accordingly.
With a valid IP address, anyone can access channels in the selected region no matter where they reside. However, that's not our point here. While VPNs can change virtual locations, they cannot just bypass restrictions on any channel available.
Top services have adapted now and can block VPN traffic with ease. It's up to us to see if UltraVPN falls victim to such bans and what better way to do so than with a couple of tests. Let's go.
Netflix
US Netflix is probably the first target of VPN users as they wish to unblock the biggest library the streaming giant has to offer. Netflix is available globally, which means that its geo-blocking technique is different than other streaming channels.
Instead of restricting its access to a specific region, it assigns different streaming catalogs to the areas where it's available. That, of course, excludes the countries where the service is not available at all, to begin with. We're referring to the likes of China, North Korea, Syria, and Crimea.
Based on the user's IP address, he/she will obtain the respective Netflix catalog. In other words, the catalog in the US is so much different than the one in Canada. So far, it's the largest one in terms of content.
However, that's not the only problem users face when trying to unblock Netflix. The channel itself is able to block VPNs that are deemed unreliable in bypassing its VPN banning techniques.
If so, the only thing they'll be getting out of the service is a proxy error that looks exactly like this:
"You seem to be using an unblocker or proxy. Please turn off any of these services and try again. Error Code: M7111-5059."

After encountering several issues with UltraVPN, we had to make sure that it excels in this department. Otherwise, users should avoid it. Well, the provider proved to be a worthy unblocker as it managed to bypass Netflix's blocks and successfully accessed the channels US library.
They have dedicated servers called Ultraflix, which are well optimized for such a task. We connected to US Ultraflix and watched Norm of the North: Family Vacation (US-only Title) without a problem.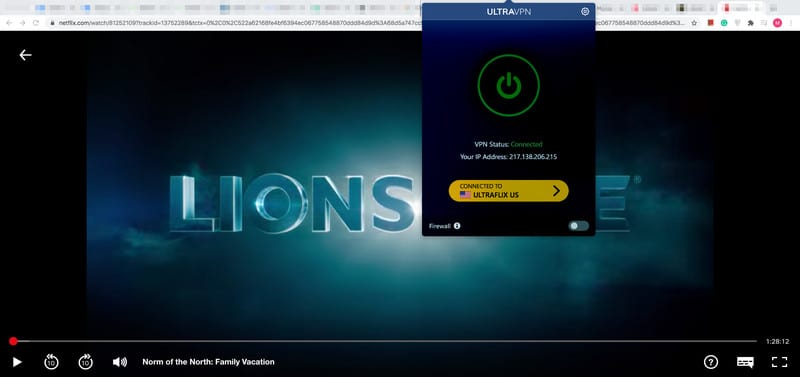 Normally, it takes us a couple of tries to unblock the channel, but with UltraVPN, we managed to do so from our first attempt. So, it's safe to say that UltraVPN is a credible VPN to access Netflix's US library.
Hulu
Hulu is another streaming giant that has perfected the art of blocking VPN providers. A lot of top VPN services fell victim to Hulu's blocks even after they were successful in bypassing Netflix's.
So, we can safely say that if a VPN unblocks Netflix, it's not bound to do so with the others such as Hulu. Now, Hulu differs from Netflix as it's only available in the United States.
In other words, it requires a US IP address to operate. Without it, an error message appears. Even with one, if obtained by unreliable VPNs, Hulu can easily block the user visiting its service.
If the VPN doesn't have the right tools to bypass Hulu's ban, this is what's going to appear:
"It looks like you're using an anonymous proxy. You'll need to disable it to watch Hulu. Hulu Error Code: P-EDU101."

We remained connected to the server we used with Netflix (UltraFlix US) and we launched Hulu's website. We chose a TV show and started watching normally – no proxy error appeared.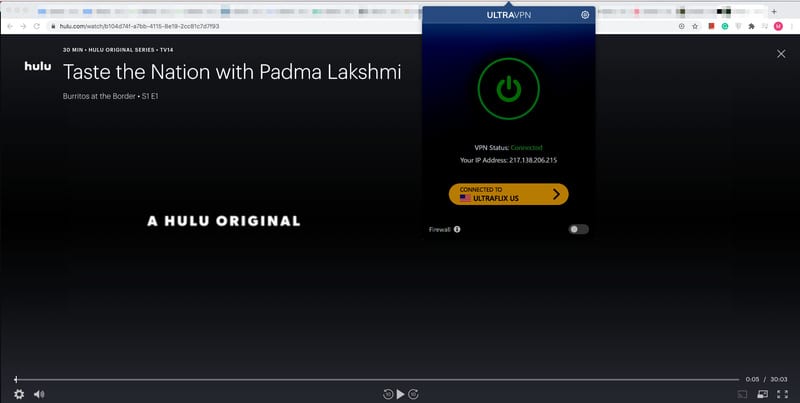 Another channel is successfully unblocked by UltraVPN, but the tests are far from over. Now that we know that the VPN has so much potential in the unblocking department, things have shifted to the better, especially after experiencing the issues in the mobile app.
Amazon Prime Video
Prime Video has been around for quite some time now and it has harnessed over 150 million subscribers around the world. The service is available almost everywhere, except for a few countries such as Mainland China, Iran, North Korea, and Syria.
As a global service, Amazon's geo-blocking works the same way as Netflix's does, by assigning specific catalogs to each region. So, the Amazon Prime Video customer will get the content based on his/her IP address.
Another common thing to talk about is that the US Prime Video hosts the biggest content catalog, which is why it's the destination everybody looks for. It requires an American IP address that can be obtained through Virtual Private Networks.
Almost any VPN can grant that, but not every provider can get Amazon Prime to operate. The final common practice between Prime Video, Netflix, and Hulu is the VPN blocking mechanism.
If a VPN does not optimize its servers well enough for such a task, this proxy error message is bound to appear:
"Your device is connected to the internet using a VPN or proxy service. Please disable it and try again."

From the beginning of our streaming evaluation, we remained connected to the same USA server, which has perfectly so far. Did it work with Amazon Prime Video? The answer is yes, it did.

We've seen reviews stating that UltraVPN lacks the tools to bypass Amazon Prime Video's VPN ban. However, that wasn't the case when we gave it a try. UltraVPN supports Amazon Prime Video and it unblocked it from our first try.
BBC iPlayer
We finally disconnected from the Ultraflix US server to try another one in a whole different country. As a final test, we had to see how UltraVPN fares against one of the most popular streaming channels in the UK – BBC iPlayer.
The channel already has its fair share of viewers daily. However, during the first 3 months of 2020, BBC iPlayer saw a record 1.4 billion requests, up 34 percent on the same quarter in 2019.
That's not all. It also increased its viewership rates during the first couple of months of quarantine. BBC iPlayer made a name for itself in the UK, and just like Hulu, it restricts its access in that country.
Despite its geo-blocking capabilities, BBC reported that 60 million+ people streamed the service for free outside of the UK by masking their location back in 2015. We're pretty sure that this number has increased drastically since then.
Now, since these people were able to watch BBC iPlayer abroad, that only means that they're using a credible VPN. The channel applies one of the toughest VPN blocks and only a few VPNs can bypass that. If not, the channel will present the following:
"BBC iPlayer only works in the UK. Sorry, it's due to rights issues."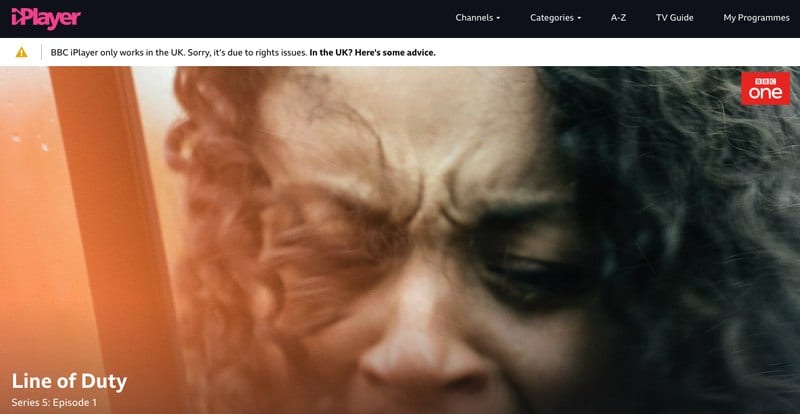 Since Ultraflix showed great results with the last three services, we decided to use the one in the UK in hopes of getting the same results with BBC iPlayer.
Once the connection was established, we launched the BBC iPlayer website and streamed without any issue.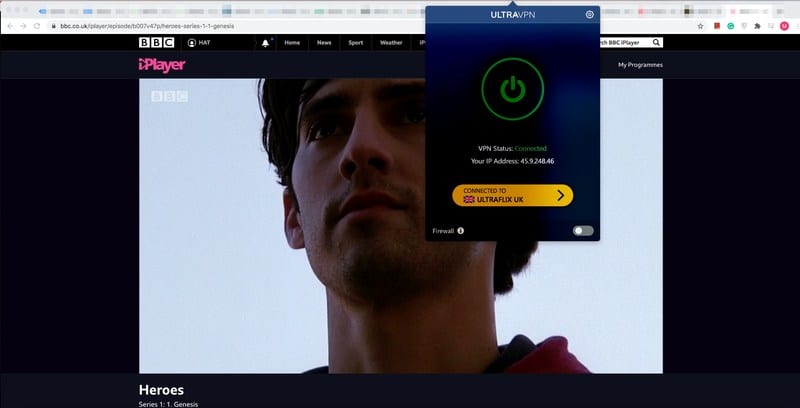 Based on the issues we encountered while using the UltraVPN app itself, we didn't think that the VPN would excel as much as it did in this department. UltraVPN proved to be a worthy/credible VPN for unblocking restricted content anywhere in the world.
Smart DNS Proxy
Gaining access to restricted content has become a habit among millions of people who use VPNs. As we explained, a Virtual Private Network alters our IP address to one where the server we're connected to is based.
Once the connection is established, the VPN shields our data with military-grade encryption, which slows down our internet connection. This might be a bit frustrating considering that streaming requires fast speeds.
As a solution to that, top VPN providers nowadays offer what we call Smart DNS proxies – the ultimate VPN alternative for unblocking geo-restricted content.
Unlike VPNs, Smart DNS doesn't encrypt users' traffic nor does it change their IP address. It simply spoofs their location by redirecting some of their traffic to make it look as if they're in the area where the channel actively services.
In other words, the device's IP address never changes, Smart DNS just makes it appear that way. Such a feature is very important and we take its availability as part of our evaluation process.
However, UltraVPN doesn't offer such technology at the moment. It simply relies on its fast servers to get the job done, which we found to be effective.
Torrenting
Despite having hundreds of streaming channels out there, torrenting is still as massively popular as it ever was before. Mainly because this popularity is driven by the fact that it's free and that it's an easy method to download movies, TV series, books, games, or music.
BitTorrent alone has around 170 million users, which shows how much torrenting has taken over the internet. That being said, a lot of those who download torrents don't know that in some countries torrenting is illegal. Not to mention that it's also not safe if done without proper precautions.
Whenever someone downloads a file, his/her IP address becomes visible to everyone sharing the same file, compromising their location and other data in the process.
Also, torrenting illegal content that is deemed to be violating copyright laws, gets the downloader in trouble with the government. They either get notices from their ISP (warning) or be asked to pay a certain fee for their violation.
A VPN hides users' IP addresses and cloaks their online presence. That way, they'll be able to browse the internet and download torrents anonymously without being tracked by their ISP, government, or any other online entity.
However, not all VPNs support P2P actions. Some of them partially allow it on some of their servers, which is the case with UltraVPN. In fact, the provider's servers are all P2P friendly, except for ones in South Africa and India.
Other than that, UltraVPN customers can download torrents freely no matter where they are as long as they're not using it for illegal purposes (We don't condone that).
Privacy
Whenever we speak of privacy, we have to mention the VPN's origins. Based on the VPN provider's physical address, it could be compelled to hand over any information it has, including connection logs and browser traffic.
That goes specifically to countries included in the 14 Eyes Alliance. UltraVPN is based in the United Kingdom, which is one of the founders of the association (UKUSA).
So, technically speaking, the provider is required by British law to collect records about its customers and store them until the government decides to make use of them.
Privacy-wise, this is quite concerning as the UK is a terrible place for a VPN to be based in and users' private information is always compromised. Now, the provider claims that they have a strict no-logging policy, so UltraVPN's location should not be a problem.
Well, based on what we've seen in their privacy policy, some things should be noted about this so-called no-logs policy. It does raise some major concerns in terms of the data UltraVPN collects. Here's what the privacy policy states:
"We may collect information about the device you access the Services from, such as the IP address or other unique device identifiers. If you access your account from a mobile device, that mobile device may also provide us with details of your location. Most mobile devices allow you to disable this functionality."
They do collect data, including their customers' IP addresses, which can give away a lot of information about the user who signed up for this VPN to hide it, in the first place.
There's More!
Also, in their privacy policy, UltraVPN states that it uses our personal information in some instances. This is what's included in their policy:
"Where we need to comply with a legal or regulatory obligation."
UltraVPN does use personal data to comply with legal regulatory obligations. Regulations in the UK require the VPN to store all user connection logs next to an IP address, which is very alarming.
To make things worse, UltraVPN also mentions that they use automatic data collection and that some of their customers' data is shared with third parties. Finally, it's worth mentioning that UltraVPN rents its servers from the Canadian VPN; Windscribe.
However, that doesn't change anything as the provider is still UK-registered and will abide by UK laws. So, while the idea of renting its servers from Windscribe is pretty good actually, anyone who's interested in the service is better off with Windscribe itself.
Security
A VPN is first and foremost a security tool, created to protect users from any online threat or monitoring attempt that might target their device while browsing the web.
Once a connection is established, the VPN applies encryption, which transforms basic information into unreadable gibberish. This encryption is done using an encryption key that is next to impossible to crack if it was strong enough
Within the VPN industry, the gold standard is the Advanced Encryption Standard (AES). Most VPNs nowadays use the industry-standard AES-256 bit encryption, which is the most secure one out there.
However, a VPN is not fully equipped for ultimate protection without offering top-level protocols. UltraVPN uses 256-bit AES encryption along with two protocols – IKEv2 and OpenVPN.
If UltraVPN customers are using Mac and Windows, they can switch between the two at will. If they're using the Android client, their only option would be OpenVPN, while iOS users get IKEv2.
Despite being faster than OpenVPN, we generally prefer OpenVPN as it's more secure than IKEv2. UltraVPN also ups its security game by adding a Kill Switch. This is a technology that terminates internet access if a sudden drop in the VPN connection occurs.
With it, the users' browsing activities won't go leaking back to the ISP's servers, ensuring that nothing will be compromised. UltraVPN did disconnect a couple of times all of a sudden, so a kill switch is an essential feature of this service.
Now, encryption, protocols, and features are important for security, but there are other tests that we needed to perform.
Virus Scan
Despite their various efforts for protection, official app stores might slip up sometimes. They really do their best to keep viruses and malware out of the store, but hackers still manage to implement their malicious apps disguised as legit ones.
Viruses and malware are everywhere, which is why scanning the app's installer for viruses should be the first step to do. As a result, users would know whether the client is safe to install on their device or not.
Google Play and the iOS store mark the UltraVPN app as safe-to-use. Therefore, it was up to us to examine the desktop version. We downloaded the dmg file on our Mac and ran it through a credible Virus Test. Here are the results:


As seen in the image above, UtraVPN passed all the tests performed by 57 credible sources. This makes the provider's client totally safe to install on our Mac device.
We installed it on our device, and so far, it's working perfectly. No glitches or issues, unlike our experience with the Android applications.
DNS Leak Test
In every single review, we perform leak tests to determine if DNS requests are being leaked as they may represent a critical privacy threat. A VPN reroutes users' traffic through an encrypted tunnel, anonymizing and protecting their data all the way.
All the traffic should go through the VPN servers once a connection is established. However, not every VPN is capable of maintaining the data sent and received.
With some unreliable VPNs, queries might travel to the default DNS servers, which belong to internet service providers (ISP). In other words, a DNS leak is in place.
What's worse is that users won't be aware that their data can now be monitored or even collected. The VPN would be providing a false sense of security without delivering what it was created to do in the first place, protecting privacy.
DNS leak tests are the ultimate way to know if the VPN is doing its job well. We gave UltraVPN's US Ultraflix server a try and found no leaks in the process. The results are presented in the screenshot below: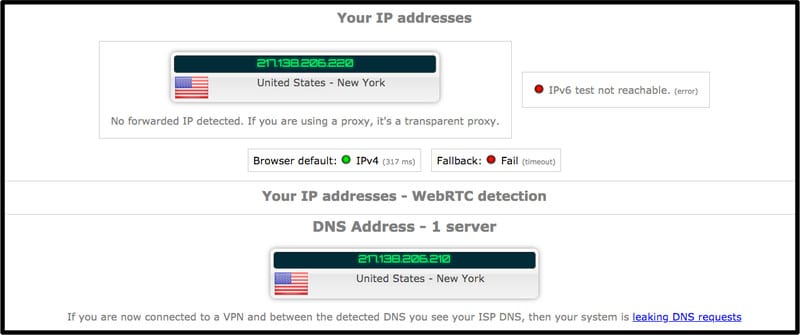 Aside from witnessing no IP or DNS leaks, we also didn't find any WebRTC leaks while connected to the same server. This time we used our own engine to test for such leaks, and the results were great.

The test does show a potential leak, but that doesn't mean that the VPN itself is leaking any of our data. In the image above, the IP address shown to be leaked is that of UltraVPN, not ours. In other words, no WebRTC leaks are recorded.
WireGuard Support
Recently, a lot of top VPN providers have been implementing the very popular WireGuard protocol as it's considered to be the future of VPNs.
It's said to provide safer and faster connections than OpenVPN itself. UltraVPN is not there yet, but due to the fact that it might be renting Windscribe's servers, it might be on its way to Wireguard support soon.
Third-Party Auditing
To better show their transparency, some VPNs run their services through independent auditing, mainly focusing on the software itself or their logging policy.
Such an auditing process verifies that the VPN's no logs policy is legit or that all privacy protections are being adhered to correctly. However, only a few VPN providers have done this before, and UltraVPN is not one of them.
We already mentioned in the Privacy section that UltraVPN collects some of its customers' data. In other words, such a third-party audit is important as their no-logs policy can not be trusted.
Warrant Canary
For better transparency and reliability, top VPN providers started adding Warrant Canaries on their websites. This feature is a statement that indirectly informs customers if the company itself received a subpoena or any kind of secret request by the government to hand over user data.
In fact, the Warrant Canary idea came from miners, who used to send birds into mineshafts to check for toxic gases. With VPNs, having such a feature is crucial, especially if they log some data as UltraVPN does.
In the interests of transparency and accountability, VPN providers issue a warrant canary, which is updated regularly. If not, the VPN's customers would know that their provider has been served with a secret warrant.
UltraVPN does collect some identifiable data and unfortunately, it does not include a Warrant Canary on its website. This can be troubling for most of their customers as their data is always compromised, especially due to the fact that UltraVPN is based in the United Kingdom – one of the founders of the Five Eyes Alliance.
Customer Support
To be honest, customer support is the first thing we check before getting to assess a certain VPN service. We even contact customer support before getting the service's application.
Now, like many other providers in the industry, UltraVPN has a live chat option for instant help. They also provide support using email tickets and calls.
However, the problem we faced was with every single agent that got back to us. Apparently, they're completely untrained and none of their answers were helpful.
We contacted their support team in hopes of shedding some light on their servers' situation. As mentioned earlier, we found reports stating that UltraVPN shares the same servers with Windscribe. That's not a problem actually, but we just wanted to confirm the fact.
It was a simple question that demanded a simple answer, yet we got a completely irrelevant one. The agent informed us that we can use their service on Windows, which had nothing to do with the question we asked.


After that, the agent asked us to repeat a written question! Confusion doesn't make a good customer support service – UltraVPN has to work on that.
More Issues!
Another problem we faced is when they ended the chat without giving us the answer we were seeking. We asked if they offered a free trial, got the usual automatic greeting message, and then the chat ended. This occurred 3 times in a row, which was pretty frustrating.
Can our readers guess the ratings we gave them? We kept trying, pushing for answers, and they kept terminating the chat every time. Also, they kept providing us with a link to their Knowledgebase section.
As a verdict, this is massively disappointing for a live chat service. Apparently, they only have the right answers when users are having problems paying for the VPN. What's worse is that their Knowledgebase section is more helpful than the live chat support itself.
Languages
Navigating UltraVPN's website is very easy as everything is presented as it should be. However, for a better browsing experience, top VPNs allow their visitors to surf their pages using the language they prefer.
Some take on the English language only, but not everybody speaks/reads that. UltraVPN allows us to view their page using one of three languages – English, French, and Deutch.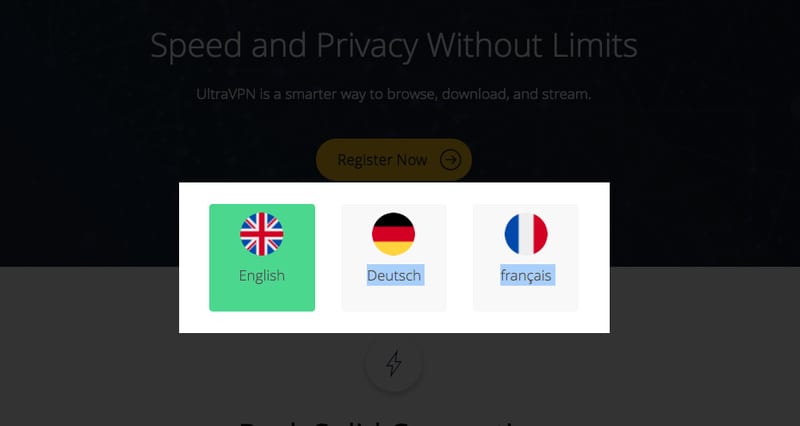 That was just their websites. If new customers managed to get past that and subscribe, navigating the UltraVPN client itself will get so much easier. We don't know why they did this, but the app is available in about a dozen languages.
Inside the settings section, users can switch between the following:
English
Danish
Deutsch
Spanish
French
Italian
Dutch
Norwegian
Polish
Portuguese
Swedish
Turkish
We hoped to see that variety of languages used on their website as well. At least, UltraVPN uses three languages there, where a lot of VPNs just stick to the
English
language instead.
Pricing and Subscriptions
The cost of a VPN subscription is probably the first thing new customers look at when they visit its page. If a VPN offers reasonable prices along with top-level security features, then it's the provider to purchase.
The vast majority of Virtual Private Networks offer three different subscription plans, and UltraVPN is one of those. Users can purchase UltraVPN by choosing one of the following plans:
Monthly: $7.99
6 Months: $35.94, billed at $5.99/month
1 Year: $45, billed at $3.75/month

As seen above, the longer the UltraVPN subscription is, the bigger the discount. In other words, UltraVPN rewards those who commit to the service with cheaper subscription costs.
Application issues can be easily fixed and confusion wouldn't cost the user anything. However, when the website's pricing section is confusing, that's where questions arise.
When we clicked on the Choose Plan button, the whole subscription section shifted into another. UltraVPN prices changed. Here's a screenshot of the pricing page we got:
Monthly: $6.99
6 Months: $29.95, billed $4.99/month
1 Year: $35.88, billed $2.99/month

Although cheaper, it's still confusing. We didn't know which price we were actually getting, but according to the bill, the second price is the fixed one. The fact that we got a cheaper price is very good, but the shift in prices was a bit confusing.
We're reviewers and we know how to handle such incidents. New customers who don't know their way around might change their mind instantly, despite getting a cheaper price eventually.
Payment Methods
A page after clicking the Choose subscription button, we ran into another problem considering the payment options. Almost every VPN service out there allows new customers to purchase a plan using Credit Cards.
When we visited UltraVPN's payment page, we couldn't find that option anywhere. The only method we got is subscribing via PayPal, which is not suitable for a lot of users.


We didn't stop there. Apparently, the payment methods are presented based on the customer's location. In other words, users get to pay with the method UltraVPN sees fit for their country.
To prove that, we used another VPN to connect to an American server. Once we established a connection, we refreshed the UltraVPN page and got Credit Cards as an extra payment.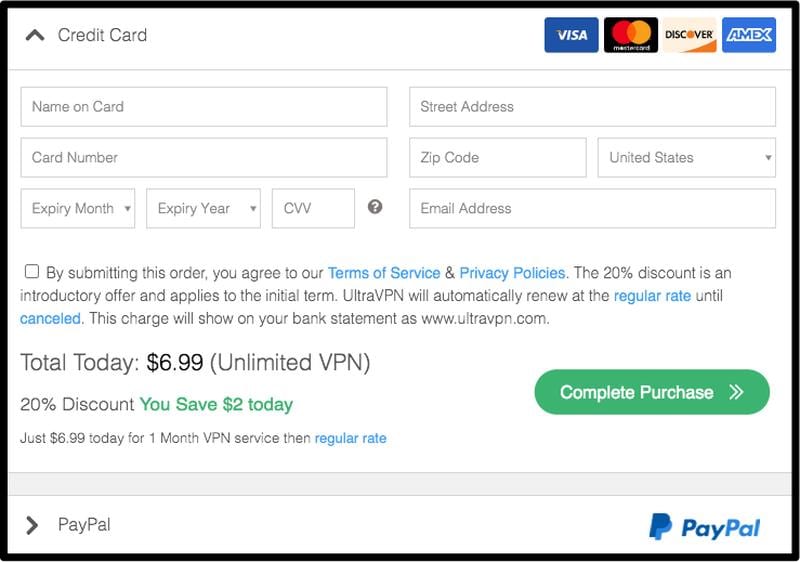 Not all users may know what to do in such situations, and certainly, not all of them reside in the United States. A non-PayPal user would exit the page the moment he/she sees that there are no other options available.
Unfortunately, the provider doesn't accept any cryptocurrencies, which enhances the anonymity of its customers' payment. Most VPNs allow payment using Bitcoin and the likes. This definitely affects UltraVPN negatively as cryptocurrency is a crucial factor we look for in our evaluation.
So far, the pricing section has not been very straightforward, especially when it comes to payment options. We consider this as a huge con for UltraVPN.
Refund Policy
No matter how high or low the VPN's price is, the provider has to offer its users a way out in case they weren't satisfied with the product. A money-back guarantee is the ultimate way to do so and UltraVPN has a very generous one.
With any of the subscriptions the VPN offer, users get to ask for a refund during the first 30 days of purchase. This duration is provided by almost every top-tier VPN in the industry, excluding the ones such as IPVanish that only has a 7-day refund policy.
Free Trial
Getting the chance to test out a VPN for free is an excellent way to show customers how proud the provider is of its product. When we downloaded the UltraVPN Android client, we got a 7-day free trial offer.
However, the moment we clicked on that, the VPN asked for our credit card information. While that's mostly due to the fact that a lot of users abuse such a privilege, asking for our credit card credentials isn't what a free trial should be like.
Another way to test the service for free is by using their free version. Yes, UltraVPN allows customers to create a free account and use its service free of charge indefinitely.
However, even free products come with a price, and in UltraVPN's case, it's the features we have to sacrifice. To be more precise, users wouldn't get as many servers as they would while using a premium account.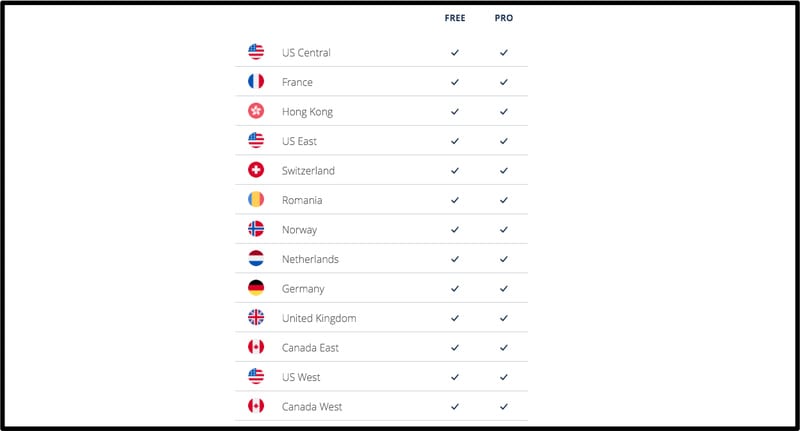 The image above showcases what VPN servers the free version allowed us to connect to. At least, that's what the website states. We had to try it ourselves and the results weren't as UltraVPN mentioned on its website.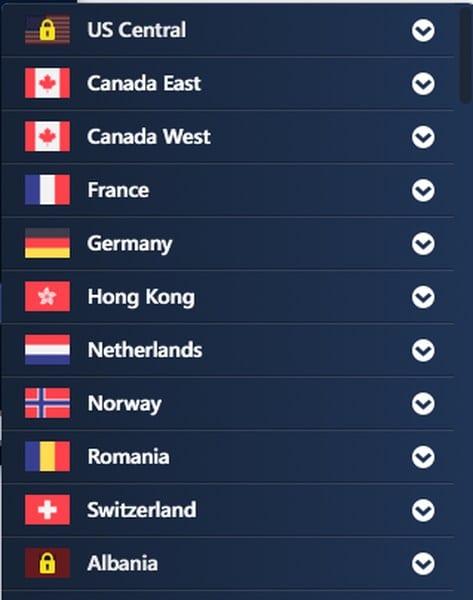 Apparently, with a free account, the number of servers we get to access is a lot less than the list in the image above. A simple example is the US Central server that's stated to be available on the website, yet locked on the application.
No servers in the UK or the US are available in the free version, which deems it useless, especially to those who are looking to unblock geo-restricted channels in the country. Other features such as a kill switch are available, so it's better for security.
Streaming Using the Free Servers
We had to see if the free servers are reliable to unblock Netflix, at least in the available regions. So, we decided to use the Canadian servers, despite missing the Ultraflix Canada one.
Our first attempt was with Canada East, which gave us nothing at all. It even failed to show the Canadian library and left us with Netflix's originals that are available everywhere.
To prove it, we searched for a title that's only available in Canada – The Predator. As seen in the image below, the title is missing from the page we landed on:

We had to make sure that the results we got were true, which is why we used our premium account, connected to Ultraflix Canada, and searched for The Predator again.

This time, the results were completely different as the title showed up instantly on our screen. So, we can conclude that only the premium version of UltraVPN can unblock Netflix and the free one is only there for extra security. Well, minus the fact that UltraVPN, in general, collects user data.
UltraVPN Review – Final Thoughts
There you have it. We've assessed UltraVPN's service in every way possible. As a verdict, we have to say that the service isn't that good at all, except for the streaming part.
It is low on features and offers nothing of the top-end privileges you can find with many top VPN services. Moreover, their payment section can be confusing to a lot of new users and their free version is practically useless.
Do we recommend it? No, we don't. You can find a lot of other services that have a lot more for the same price or even less. The review is in your hands now. Let us know what you think about UltraVPN in the comments below.
UltraVPN Review
Name: UltraVPN
Description: A VPN service that excels in unblocking streaming channels from all over the world.
VPN Apps

Support

Speed

Access to Geo-blocked Content

Security & Privacy