Mozilla Firefox is one of the most used browsers in the world. Back in 2019, the company launched its Firefox Private Network add-on, which helped users take control of their privacy and stay safe while browsing the web. However, it did have its limitations as it only protects web browsing, leaving the rest of the device unattended. Now, Mozilla launched a fully-fledged virtual private network tool that encrypts its users' entire device's traffic for a small monthly fee. What is Mozilla VPN? What features does it bring to the table? And how does it compare to the other VPNs in the industry? Find out in this full Mozilla VPN review.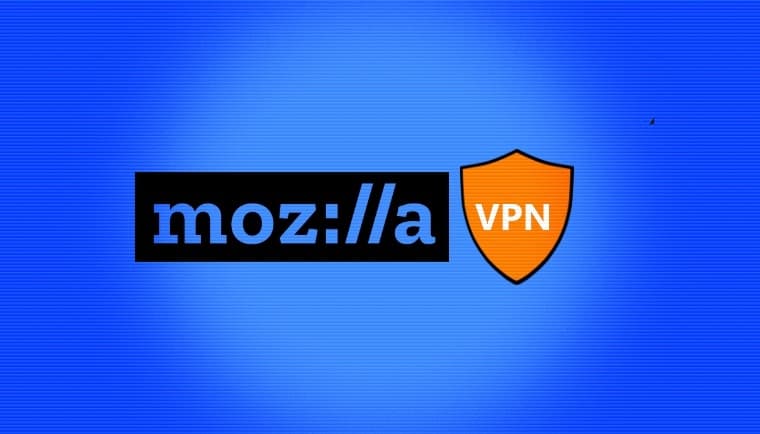 Mozilla VPN Review – Content Index
Today, we'll be reviewing the recently released Mozilla VPN – a continuation of the Mozilla Firefox VPN browser extension. It has evolved into a full standalone VPN service with plenty of features to cover and assess.
In this review, we'll be looking at each and every feature Mozilla VPN has and we'll run it through our strict evaluation process to determine how credible it is to use in 2023. Here's what we'll be covering:
Quick Stats
| | |
| --- | --- |
| Money-back guarantee | 30 days |
| Allowed concurrent connections | 5 devices |
| Supported streaming services | BBC iPlayer and Amazon Prime |
| No logs policy | Yes |
| Encryption | Military-grade 256-bit AES |
| Protocols | WireGuard |
| Special features | VPN Split tunneling, and a Kill Switch |
| Customer support | Email Support |
| Server locations | 30+ countries |
| Number of servers | 750 servers |
| Server Switches | Unlimited |
| Data traffic | Unlimited |
| Supported devices & web extensions | Windows, iOS, Mac, Linux, and Android |
| VPN legal jurisdiction | The United States |
Mozilla VPN – Pros and Cons
We have a lot to cover in this review. But before we do, let's take a quick look at the advantages and disadvantages of using Mozilla VPN. Please note that the service is still new, so it has a lot to improve in the near future:
Pros:
Military-grade encryption

Strict no-logs policy

Five simultaneous connections

P2P Support

Good speeds

DNS leak protection

Split-tunneling
WireGuard support

30-day money-back guarantee
Cons:
Based in the US
No free trial
Lacks a built-in kill switch
Small server network
No live chat support
Doesn't unblock Netflix and Hulu
Few configuration options
Only available in 6 countries
Doesn't allow Cryptocurrency or Paypal payments
Only one subscription plan
Apps and Interface
Mozilla's attempt to create a Virtual Private Network is certainly not the first. In fact, some time ago, the company tested its capabilities by creating the Firefox Private Network browser add-on.
It's not bad, but it's limited, allowing users to protect their browsing activities on their browser only. However, now, the company is more confident than ever, coming up with a privacy-enhancing product in the form of Mozilla VPN.
The VPN is still new, so there aren't many supported devices yet. According to its website, Mozilla VPN is available on Windows, Android, Mac, Linux, and iOS devices.
Signing up wasn't that easy as the service is only available in select countries. However, once we got ourselves an account, we were able to use it on five simultaneous devices.
The apps aren't that hard to navigate. In fact, they were very simple, making Mozilla VPN a user-friendly interface that anyone can operate, even those with no technical background.
Our Experience
We always prefer mobile apps over desktop ones due to their simplicity. The first app we tried for Mozilla VPN was the Android one, but it sure took a lot of time to get it.
At first, we went to the website in order to subscribe, and we did. However, the app was nowhere to be found since we're located outside the supported regions.
Even the Google Play Store gave noted that this app is not available in our country. But we managed to get it by connecting to a VPN server in the US and changing our Google Play Store's region.
Finally, the app was installed and the testing began. The first glimpse showed us how user-friendly the client is. Nothing extraordinary about it. We just launched the app, signed in, picked a server, and a connection was established. Here's the Android app in the screenshots below.
As seen in the images above, it's more than easy to establish a connection using Mozilla VPN. The server list isn't that grand, so navigating to a US server was seamless.
An Issue?
During the connection process, we faced a couple of problems. First, the connection did not establish, giving us an error instead. Second, when it finally did, the Mozilla VPN client marked its connection as unstable for some reason. Since this might be the first time we see this, we have to raise some privacy concerns about the matter.
Another thing we didn't like very much is the fact that the Settings section isn't packed with any extra features. We only found that Mozilla VPN has a split tunneling feature, which is a valuable addition. Please note that not all VPNs have this option.
Also, we couldn't find a kill switch, which is an important feature that terminates internet access if a sudden drop in the VPN connection occurs. This ensures that no important traffic is sent over an unprotected connection through the ISP's servers.
Technically, the kill switch is not built-in, we had to enable it from within the Android's Settings by activating the "Block connections without VPN option." Overall, the app is easy to use, but it does lack some features, and it sure can add a kill switch to the app itself for more convenience.
App Store Rating
Checking what users have to say about a certain product before opting for them is an important thing to do. On the app store, users get to share what they experienced while using specific apps, and Mozilla VPN is no different.
We assessed the ratings of each App Store and how well the client received among consumers. First, we kicked it off with Google Play Store. The app hasn't been around for a long time, which might explain the low ratings.
It's also very obvious, considering the number of reviews presented in the Android Store. According to Google Play, Mozilla VPN has a 3.6/5 rating based on 67 reviews.

Now, while surfing through the comments, we found a very interesting and on-point review. This is what the user said:
"How come the VPN works from 6 countries only out of which belong to the Five Eyes spy network? Dubious. Oh, and, until this VPN isn't globally available, it is of no good for a traveler, not that that matter much with travel being so restrictive currently, but once it lifts it's going to be an issue."
He's 100% right, and we'll be shedding more light on the matter later on in this guide. There's more to add, actually, especially when it comes to Mozilla VPN's base of operation.
As for not being able to use it while traveling, that's where we disagree. We don't reside within the supported countries, yet we have the app, tested it, and came up with this review. It's a matter of knowing how to get it – using a VPN is the easiest way of course.
iOS
Now, for those operating an iOS device, the Mozilla VPN client is slightly more popular than its Android counterpart. According to 12 reviews, the app harnessed a solid 3.2/5 rating.

12 reviews are certainly not enough to judge the VPN's credibility. That's why we're testing the service for further details about how it operates.
Keeping in mind that the app is still new, these are very good ratings. Not to mention that we tried the app ourselves. It had its ups and downs, but it was very easy to navigate and use.
Trustpilot Reviews
Trustpilot is another way to check for a provider's credibility as it has honest/unbiased reviews of any VPN that may come to mind. However, since Mozilla VPN is still new, the website has no reviews for it yet.
We only found reviews regarding the Mozilla Firefox browser, which has several criticizing comments, but 46% of the reviews deemed it as excellent.
Mozilla VPN – Availability and Servers
We've come across Firefox Private Network before. While some might not know this, the FNP extension was only available to US desktop users only.
Now, the company has the US and provided online users with a fully-functioning VPN that is available in several other countries. No, it's not globally accessible yet, but anyone residing in the US, UK, Singapore, Malaysia, Canada, and New Zealand can benefit from what Mozilla VPN has to offer.
As for servers, figuring out where the service has spread its network was a bit daunting for us. Their official website only states that it offers servers in 31 countries, yet no list was provided.
After a bit of digging, we found that Mozilla VPN is cooperating with Mullvad VPN, using their Wireguard servers in the (not-mentioned) countries. That's when we contacted Mullvad's customer support in hopes they can shed some light on the matter and the did.
According to them, Mozilla VPN operates its infrastructure of Wireguard servers.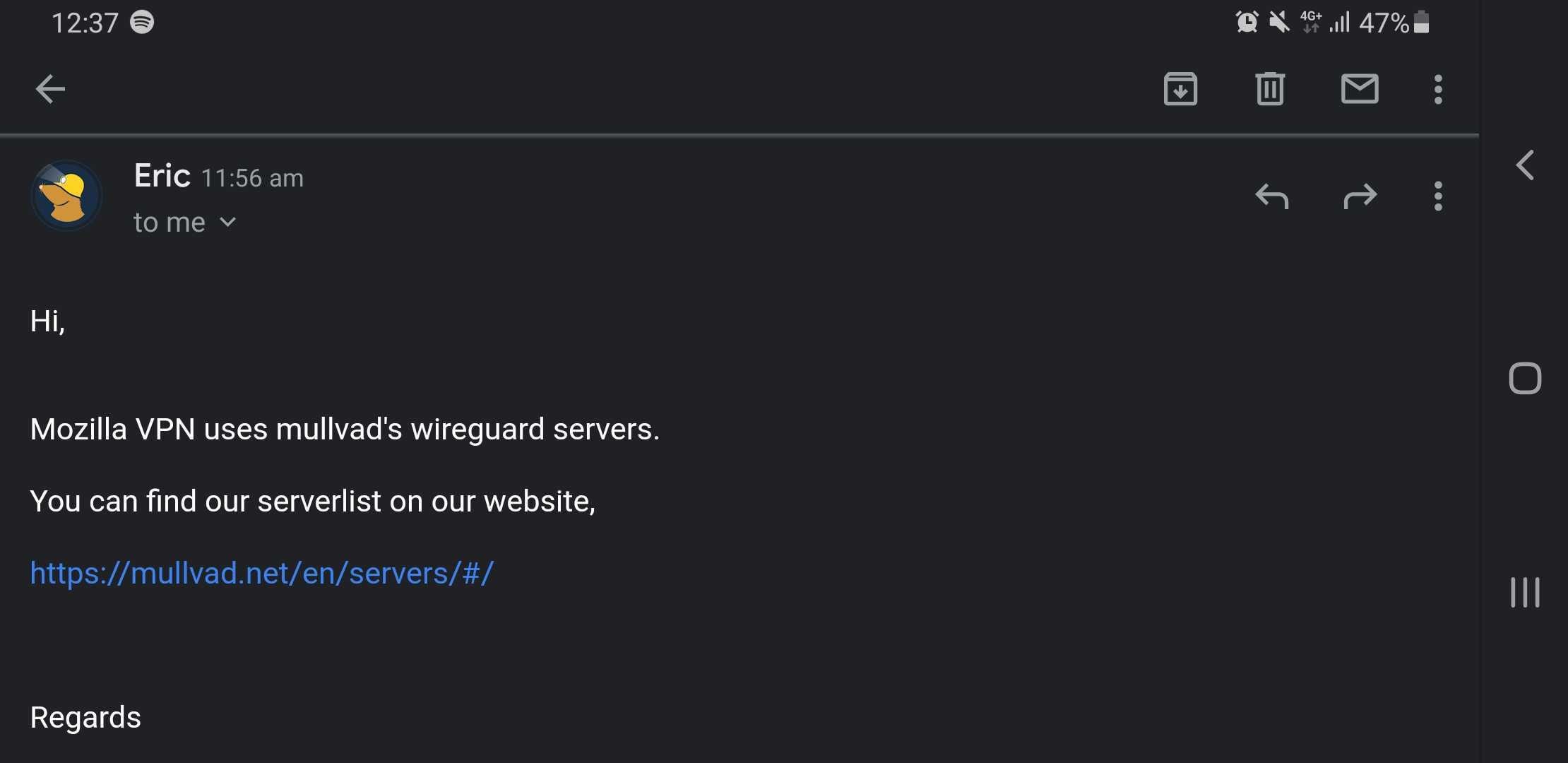 They sent us a full list, where we filtered their Wireguard servers from other ones. Basically, what they're saying was true. Here's a full list of the 30+ countries that Mozilla VPN covers:
Australia
Austria
Belgium
Brazil
Bulgaria
Canada
Czech Republic
Denmark
Finland
France
Germany
Hong Kong
Hungary
Ireland
Italy
Japan
Latvia
Luxembourg
Moldova
Netherlands
New Zealand
Norway
Poland
Romania
Serbia
Singapore
Spain
Sweden
Switzerland
The UK
The USA
While Mozilla VPN does not cover that many countries around the world, which shows how it's slightly more limited than other services in the industry.
However, they do cover key global locations for anyone who's trying to bypass regional restrictions. Do these servers actually work with major streaming services? That's a question we're going to answer later on in the review.
Speed Performance
Speed is definitely one of the most important features a VPN should include within its arsenal. If the VPN is slow, it's no good. Many have given providers bad reviews in the past for their slow performance, especially the ones that claim to be the fastest in the world.
Whenever a connection is established, encryption takes place. That takes a toll on a user's connection speed, resulting in a bad internet experience. Well, that depends on how well the provider has equipped its servers.
We were for this section to test out how the Wireguard protocol used by Mozilla VPN will affect the speed. In essence, we connected to several servers across the globe, and the results were as such:
First, we've recorded what our connection speed is without using Mozilla VPN's servers. It stands at 180 Mbps.
Next, we connected to a server in France. We did notice a slight drop, but the VPN maintained excellent speeds for streaming, torrenting, and gaming. The test recorded a 16.70% drop, which is great compared to other providers.
We gave it another try, but this time, we used an American server where most of the top streaming services are available. Despite being far from our location, which affects the speed a lot, the US server showed very good speeds, recording an 11.20% drop only.
Apparently, using MullVad's Wireguard servers has its perks. Aside from security and privacy, Mozilla has very good speeds no matter what server we used during our evaluation.
Mozilla VPN – Unblocking Performance
This is perhaps the most important feature any VPN should have or be capable of fulfilling. We all know that Virtual Private Networks exist to enhance security and privacy. However, as studies show, VPNs are mostly used for entertainment purposes.
In fact, among all the VPN users out there, only 31% use these tools to maintain their anonymity. A shocking 50% of them use them to access geo-blocked content abroad.
Streaming channels around the world apply this geo-blocking technology to limit users' access to the internet, based on their geographic location. This is mainly for copyright and licensing reasons.
Now, a VPN is well known to change the IP address of the user and allow him/her to appear in a country of their choosing. While this process might unblock certain channels, others have found a way to counter that.
Major streaming channels have been blocking VPN traffic for quite some time, which is why we test VPNs for unblocking purposes in our reviews. We have to see whether it's credible enough to access such content or fail to do so and join the other banned victims.
Today, we'll be looking at the tests performed using Mozilla VPN. It's still new in the industry, but since it's using Mullvad's servers, it's worth the evaluation. Let's begin.
Netflix (US Version)
With over 192.8 million subscribers, Netflix has become one of the world's largest entertainment services. The problem with Netflix is that despite being available on a global scale, its available content varies based on a user's location.
When streamers launch the channel, it examines their IP address and assigns a specific library accordingly. That's its type of geoblocking aside from being unavailable in select few regions such as China, North Korea, Syria, and Crimea.
With a credible VPN, anyone can get a hold of Netflix's richest library – the US version. However, Netflix has one of the toughest VPN blocks, which may result in a proxy error.
That of course is after we get to the US library and click on the show/movie we wish to watch. In some cases, the entire library doesn't show up, granting us access to Netflix's originals only.
The Test
In Mozilla VPN's case, we encountered both issues. During our first try, we got the proxy error we mentioned above. Here's how it looks like:
"You seem to be using an unblocker or proxy. Please turn off any of these services and try again."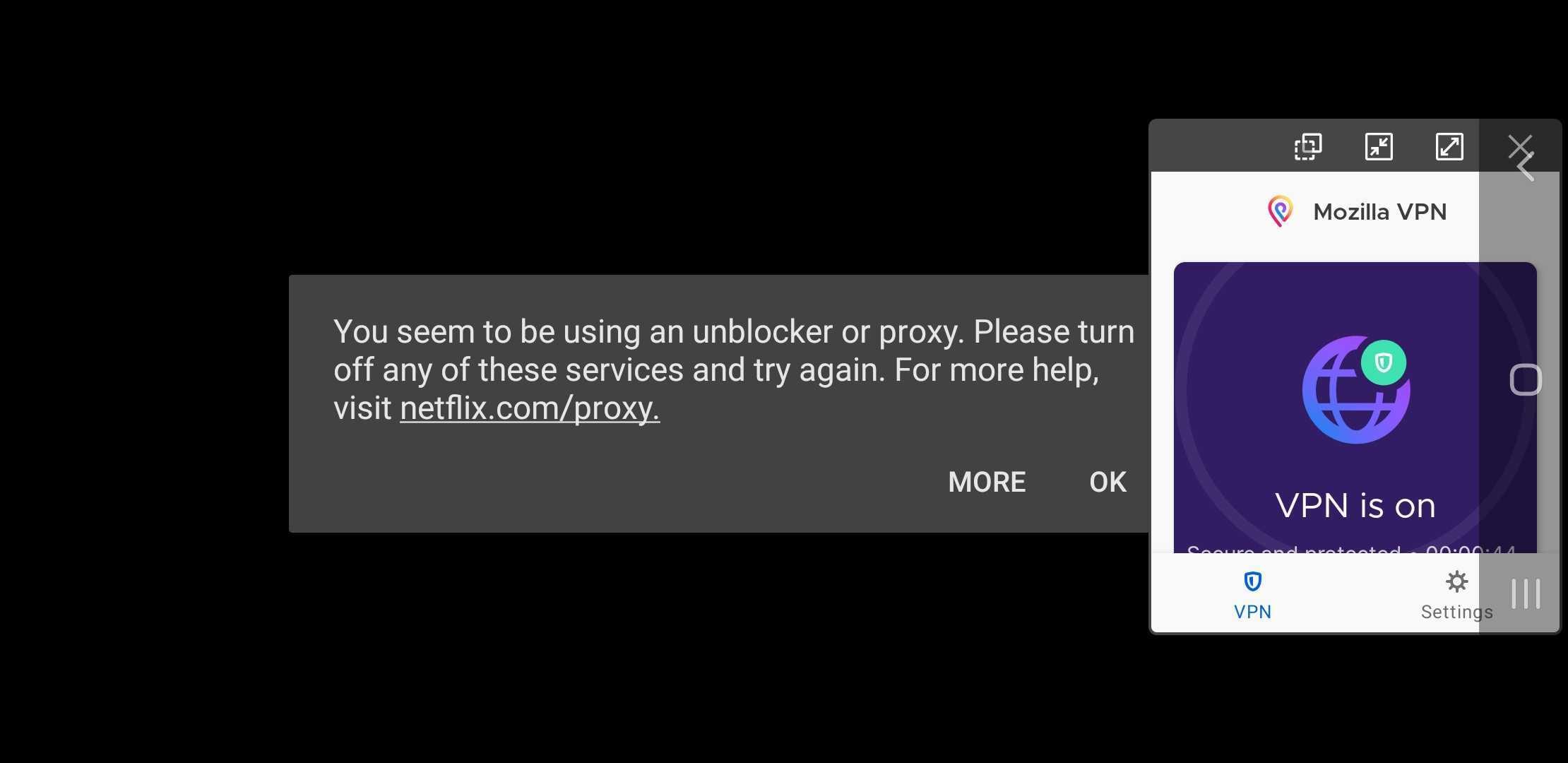 We didn't stop there, as we had to try its other servers in the US to see whether they could unblock the channel or not. The results gave us a big "Not." Here's where we encountered the second issue.
The US library did not show up at all. We specifically selected a US-only title "Norm of the North: Family Vacation" for further proof and it didn't come up. Below, we have two separate screenshots – one for Mozilla VPN and the other for ExpressVPN.
We're not comparing the two; we're just showing that the US library was not shown while using Mozilla VPN.
As seen above, both VPNs are connected to US servers, yet only ExpressVPN was able to unveil the American library. Few providers nowadays cannot access Netflix (most found a way around the block), and Mozilla VPN is one of the banned victims.
Hulu (American Channel)
Hulu is another service that has joined the ongoing streaming war against Netflix and other channels out there. It has 32 million subscribers in the United States, which is a huge number for a channel that's available in one country only.
Hulu is well known for its content, especially its originals and everything that has to do with Disney. Aside from that, Hulu gives the opportunity to watch content from over 60 channels, including CBS, NBC, and Food Network, among many others.
Now, unlike Netflix, Hulu's geo-blocking method involves restricting access to the United States only. In other words, users are required to hold a US IP address if they wish to stream Hulu's content.
To be honest, any VPN can get a US IP address, but not all of them can grant access to Hulu's library. The channel applies a similar VPN blocking mechanism, which makes it quite daunting for a lot of providers out there.
According to our tests, Mozilla VPN was not credible enough to access Hulu. The channel instantly determined that our traffic was coming from an unblocking tool and terminated our access instantly. Here's what we got:
"You appear to be using an anonymous proxy tool. Disable it to play videos on Hulu. If you think you're receiving this message in error, please contact Viewer Experience at help.hulu.com. Error code: BYA-403-011."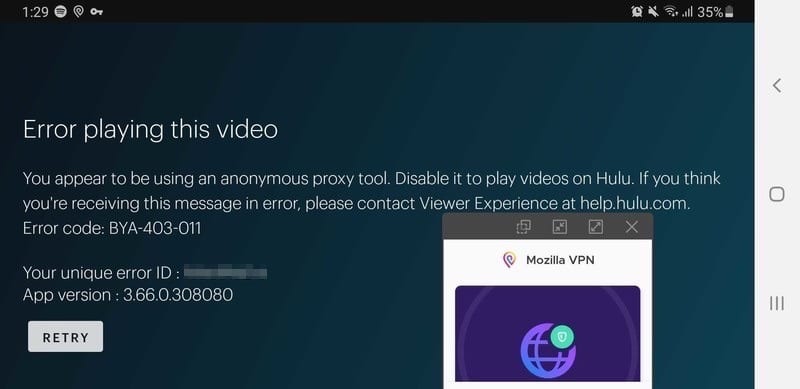 We weren't able to access any video using Mozilla VPN, which puts it so far on a bad streak. First, it did not unblock US Netflix abroad. Then, it failed to bypass Hulu's VPN blocking. Not looking good for Mozilla VPN up till now.
Amazon Prime Video
When we speak of a VPN's unblocking capabilities, we have to test it on every single streaming giant out there. So, by default, Amazon Prime Video has to be included in our evaluation.
Amazon Prime Video is available all over the world (Just like Netflix), and as of late 2019, it counted over 150 million Prime subscribers globally.
The service is very popular, offering originals, movies, and dozens of series for consumers to sink their teeth into. However, much like Netflix, Amazon Prime Video assigns a specific catalog in each region.
It also determines users' location by examining their IP address. Once users' are pinpointed, they get the Prime library respective to the region they reside in.
This is the channel's geo-blocking method, aside from being unavailable in a few countries such as Mainland China, Iran, North Korea, and Syria.
Now, Amazon Prime's richest catalog is in the US, and a US IP address can get that. However, a VPN ban awaits any unreliable VPN, and based on what we've seen so far, Mozilla VPN isn't that credible.
Well, during our tests, the VPN proved us wrong. We came across several reviews stating that Mozilla VPN failed to unblock Amazon Prime. Yeah, that's half true.
During our first attempt at Amazon Prime, the service did manage to block our access as it figured out we were using a VPN.
The second time around, we changed our server and connected to a different American one. That's when Mozilla VPN managed to unblock Amazon Prime so we could stream Homecoming Season 2.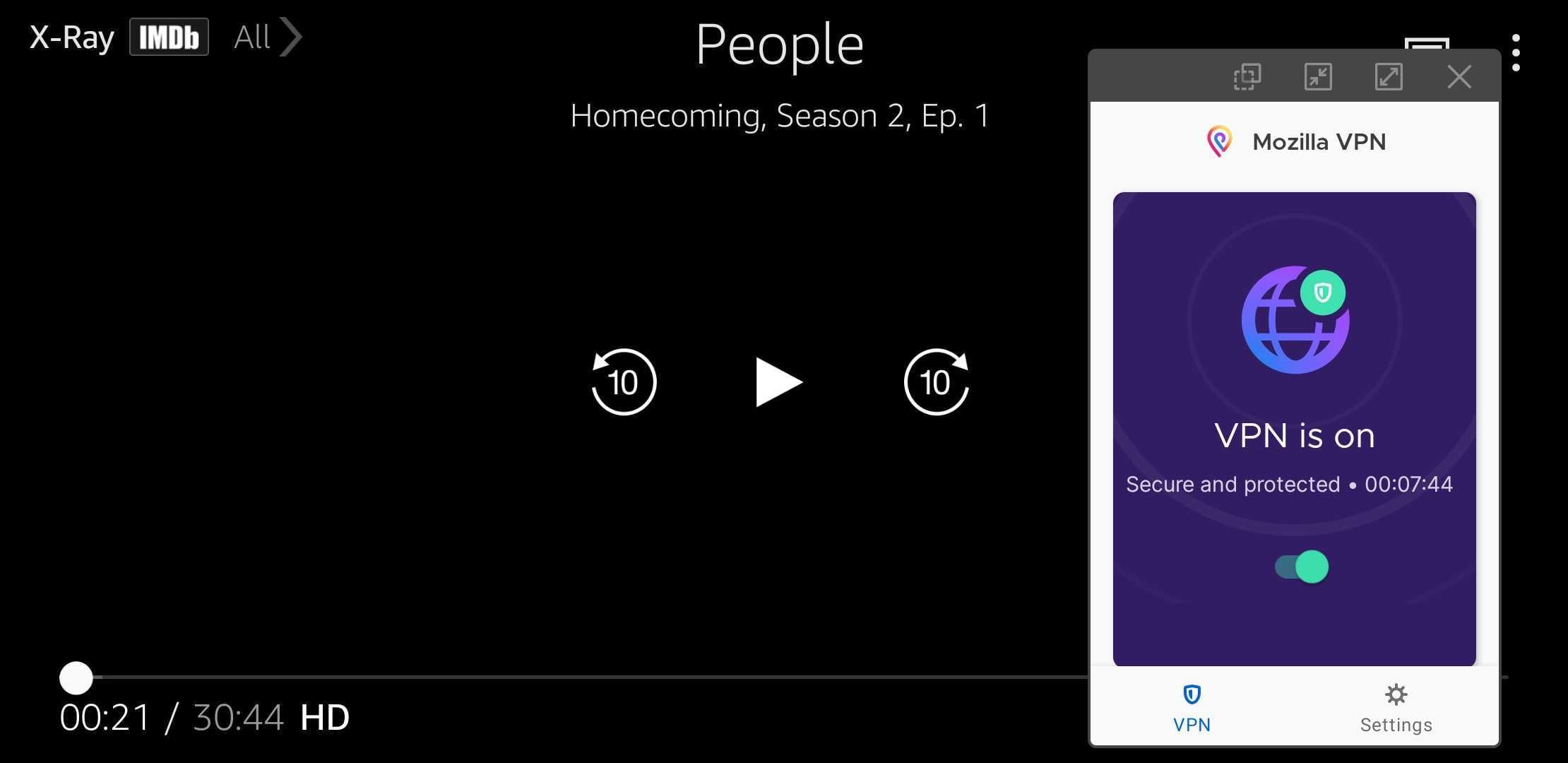 The losing streak is over. Mozilla VPN did access Amazon Prime Video after some trial and error attempts. At least it got the job done. Let's see if it was able to proceed with that.
BBC iPlayer
The United States does indeed host the world's biggest streaming channels. However, it's not the only country. Now, all the way to the United Kingdom, we had to test how Mozilla VPN fares against BBC iPlayer.
iPlayer is definitely one of the most popular channels in the world. Who doesn't know the BBC? Numbers don't lie, and May 2020 saw a huge boost in the service's viewership.
In fact, there were 570m requests to stream programs on iPlayer in May; let's not forget that the channel is only available in the UK, which makes this number extraordinary.
BBC iPlayer is popular in the UK, but it's popularity reached global status. Millions living abroad regularly access the BBC catch-up TV service using virtual private networks (VPNs) or proxy servers.
However, not all of them succeed as iPlayer has a strong VPN block that no ordinary VPN can bypass. Did Mozilla VPN get the job done? Well, the answer is yes. We were able to unblock BBC iPlayer outside the UK without getting blocked using Mozilla VPN.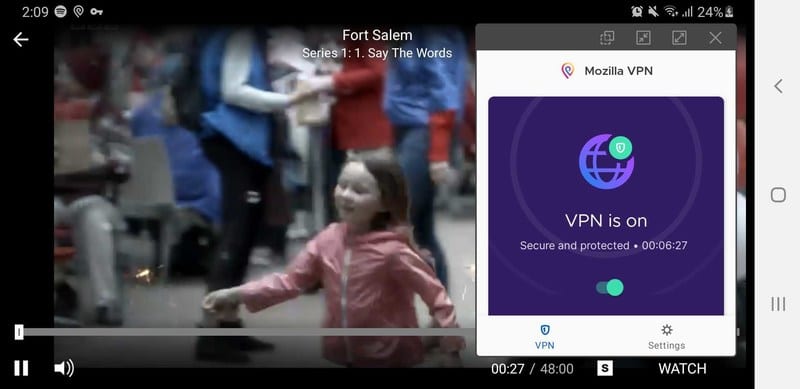 There's another channel unblocked. Please note that BBC iPlayer has previously blocked VPNs that were easily able to unblock the aforementioned channels. In other words, BBC iPlayer's VPN block is very strong, and Mozilla VPN managed to bypass it.
Streaming capabilities, in general, are not that bad. However, Mozilla VPN did fail to unblock US Netflix and Hulu, which makes us question its credibility in this department.
Smart DNS
Unblocking geo-restricted content can be done with several means other than connecting to a VPN server and obtaining a required IP address. There are other means to do so, including a technology that goes by the name of Smart DNS.
This feature doesn't reroute the users' entire traffic and alters their IP addresses to change their location. In fact, it only directs a part of their traffic – namely, their DNS queries – to its own servers.
Once Smart DNS is set up, users will be able to access any streaming channel that's supported by the provider they're using. It's a great alternative if the main motive is to unblock channels.
Extra security is not an option here as there's no encryption present. However, the best part is that Smart DNS allows users to stream their content with minimal speed loss.
A lot of VPN providers offer this service for free within their subscriptions, but Mozilla VPN doesn't. We don't know whether it's going to add this feature to its arsenal in the near future or not, but it would be a big plus if it does.
Torrenting
Many internet users are interested in downloading torrent files. It's one of the most popular activities on the web as it's convenient and helps them access a lot of material.
We're talking about movies, series, music, books, games, and so much more. In fact, BitTorrent alone has more than 170 million users despite all the restrictions imposed on the use of this software.
Torrenting has two challenges, and they're very serious. The first one is that it's illegal in a lot of countries and may result in lawsuits if any of the content downloaded is deemed to be violating copyright laws.
Another reason is that when users are downloading a torrent file, their IP is exposed to whoever is sharing the same file, compromising a lot about themselves in the process.
That's why using a VPN is essential when performing P2P actions, as it hides their IP address and allows them to download their torrent files anonymously.
However, to do so, users have to opt for a VPN that supports this, and Mozilla VPN does. The VPN uses MullVad's Network, which supports P2P actions. We asked MullVad ourselves, and they confirmed it via email.
Torrenting using Mozilla VPN is not only private, but it's also very fast. Well, the provider does use WireGuard protocol, after all, and that's a huge plus in terms of speed.
Mozilla VPN – Privacy
Before we dive into what Mozilla VPN has to offer in this department, we have to mention the mother company. The VPN product comes from a company with "a name" users can trust, and that's a major plus. In general, the company itself is famous for its transparency and trustworthiness.
Now, here's where we have to raise some questions. There are three factors we need to consider when it comes to our privacy:
Mozilla is a company based in the United States, one of the founders of the Five Eyes association.
The VPN users Mullvad's VPN servers to form its network. However, Mullvad is based in Sweden, a member of the extended version of the Five Eyes, The Fourteen Eyes.
Here's where the comment on Google Play Store comes in. The service is available in 6 countries and four of them are members of the Five Eyes: the US, UK, Canada, and New Zealand.
That's quite concerning if we were to speak about privacy matters, as the government can issue warrants any time asking for user information in the process.
Now, the assuring thing is that Mozilla does not keep any logs of its users' browsing activities. According to the company, no personally-identifiable data would be logged by the VPN.
We're talking about the likes of users' IP, used bandwidth, visited sites, DNS requests, or session times. None will be tracked or recorded. In addition to their strict no-logging policy, Mozilla VPN uses servers from the network MullVad VPN. That alone ensures how private and secure the servers are based on MullVad VPN's reputation as a very secure and reputable VPN.
Collected Data and Additional Features
The only data it collects is the location of the user the moment they create a Mozilla account. That's only to see if the service can operate in the country they reside in.
Also, they check the current version of the VPN client/app that their customers are using, their hardware configuration, and the type and the current version of their OS.
Unfortunately, Mozilla doesn't come with a built-in kill switch, but on Android, it can be configured by visiting the device's settings section.
Moreover, Mozilla has a split-tunneling feature, which gives users the option to make some of their programs/apps not use the VPN and instead use the regular connection for better connection speed when protection for their traffic isn't required.
Security
Whatever a VPN can do or accomplish, the sole purpose of its existence is to enhance users' security and privacy. If it fails in that department, it's doing exactly the opposite of what it was created for.
Almost every VPN provider in the industry uses the same encryption, and Mozilla VPN is no different. The VPN shields its customers' data with industry-standard 256-bit AES encryption.
As for protocols, there's not much to mention. In fact, Mozilla uses one single protocol, and it's WireGuard. This makes it one of the few services to run this so-called "future of VPNs" open-source protocol.
The company says that this protocol makes its VPN servers a lot faster and more secure than the services using more common VPN protocols like OpenVPN. While that might be true, emphasis on might, and have several options to choose from would've been a great feature as well.
WireGuard is still being tested, and it's showing amazing results. However, OpenVPN is still the most used protocol in the industry and is considered to be the safest so far.
Assessing what the VPN has in terms of security isn't the only thing we do to ensure its credibility. There are other tests we perform as we dig deeper into the matter:
Virus Scan
This part doesn't only target VPN but any application we wish to download on our devices. No matter what source hosts the application, users should always check and test the app's installer before setting it up on their platforms.
Anyone can pose as official app, especially experienced hackers who want to get a hold of their targets' data. Even the Google Play Store and iOS App Store might have apps of the sort.
To make sure that Mozilla VPN's application is clean, we went ahead and ran it through a virus scan. And according to 61 credible sources, the Windows installer passed with green colors.

As seen in the screenshot above, the client is completely clean. We've rarely encountered a premium VPN that has infected clients. As far as we can remember, a few had Trojans embedded, which can be very dangerous when it comes to users' privacy.
DNS Leak Test
Most premium VPNs are dedicated to securing users' browsing activities and helping them surf the web without being tracked by their ISP, government, and any other entity.
However, one small slip-up can compromise everything without the users even knowing about it. DNS leaks are a dangerous incident, and if the VPN is leaking data, their customers should look the other way immediately.
It's definitely a privacy threat as the VPN would be providing a false sense of security while private data is leaking and everything the users are doing is in the open.
We had to test Mozilla VPN's servers to see if anything of the sort occurred, so we connected to an American server. The first recordings we got were a bit unusual but not necessarily a DNS leak.
In fact, when we connected to a server in New York, the test results came in Romania. Here's what we got: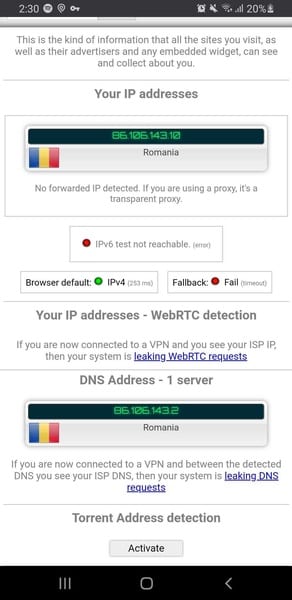 Since both the IP address and DNS servers match the location, it's definitely not a DNS leak. But still, the location we chose is the USA and we got Romania instead.
Now, back to our tests to see if anything is leaking. We tried a different US server, and the results this time were totally positive. No DNS leaks were recorded during the second evaluation.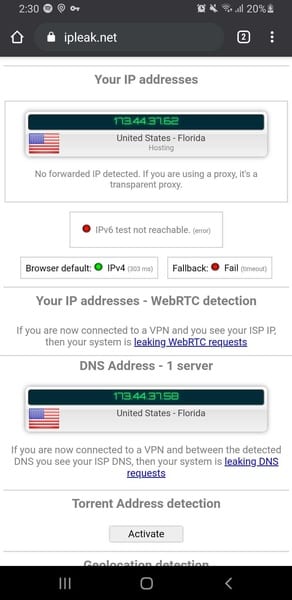 The weirdest part about this is that we used the same server that gave us the Romanian IP address to access US Amazon Prime Video. Well, since it did work, it doesn't matter how Mozilla VPN is operating.
As for DNS leaks, the provider showed no signs of such incidents, making it a private and secure VPN to use.
Third-Party Auditing
Checking what security experts have to say about a certain product is a great way to determine the provider's credibility. A lot of VPNs had their service checked and assessed by third parties, mainly involving their no-logging policy.
VPN giants like ExpressVPN and SurfShark both allowed independent auditing – it simply shows how transparent the service is when it comes to its products.
In Mozilla VPN's case, this kind of auditing by an independent third party is yet to be done. However, there's still time for that as the service itself has just been released.
That being said, there are reports that this will soon change. There are plans for such an audit, especially since they're using the WireGuard protocol, which is written in a much more concise code, allowing easier auditing.
Warrant Canary
In the past, workers used to send birds down mineshafts to alert them if there were any toxic gases present. In the digital world, companies are adopting this in the form of Warrant Canaries.
This feature is a statement used by VPN providers and other companies to indirectly inform their customers that they have not received secret requests or subpoenas for user data from the government or law enforcement officers.
Having a warrant canary on a website indicates the "All Clear" and that the page is completely safe. It's regularly updated. However, if it disappears or the page fails to update, visitors should assume that the website has received classified requests for data.
A Virtual Private Network should definitely add this feature, especially if it resides in a country within the Five Eyes Alliance. Mozilla VPN is in the US and might receive such gag orders anytime.
However, as stated above, the provider keeps no identifying information about its users, so it would be next to impossible for the government to harvest anything.
Keep in mind that the provider is still new, so we can hope that Mozilla VPN will add this feature in the near future as a means to increase its transparency with its customers.
Customer Support
Whether users are new to the VPN industry or not, they will eventually need some help, be it in setting up the service or with a technical problem they might face.
To do so, they have to contact the provider's customer support, which is essential to make sure that customers get properly acquainted with the service faster than they do on their own.
The ways of contacting the support team vary from one VPN to another. The best way so far is through an available 24/7 live chat feature or via phone.
Some VPNs also offer a way to contact them through tickets and emails, which is what Mozilla VPN has. It doesn't offer live chat, a feature we always look for in a VPN.
It's the most efficient way to get your issues solved on the spot, not having to wait for hours or even days to do so. When we contacted their customer support via email (only available through the app itself), they responded with the following:
"Hello,
Thank you for reaching out to us. We've received your support request and opened a ticket (6938). We are processing your request. We appreciate our subscribers and will make every effort to get back to you within 2 business days. To update your request, simply respond to this email.
Thank you for being a valued subscriber!
Firefox Support Firefox is Here for You"
The website does not have a support option; it just takes users to the FAQ section. It might be able to help them on the spot, but speaking to a human professional is so much better.
Finally, the fact that it takes them 2 business days to reply is quite daunting actually. Who would want to wait two whole days for a problem to be solved? No one.
Languages
Having a language-change option on the website is an important feature to have, especially when the service is available in several countries.
Now, English is a great choice, to begin with, as over two billion people speak English around the world. However, some users prefer reading and operating a service using their own language.
The likes of ExpressVPN have more than 17 languages to choose from, while Mozilla VPN only has one – the English language. Considering the popularity of Mozilla as a company, we think that a language-changing option would be added in the near future.
Pricing, Subscriptions, and Payment Methods
Pricing is probably the first thing any new customer checks before opting for a VPN service. Almost every VPN provider we reviewed in the past has two or more subscription plans to choose from.
This expands the options for the user, depending on his/her budget or the amount of time they wish to have the service. For example, other providers offer monthly, yearly, and 2-year plans.
When it comes to Mozilla VPN, prices start at a low $4.99 for monthly billing, and they end there, too. In other words, Mozilla VPN has no other subscription plan at the moment.
That's not a good thing actually, but it redeems itself with the low cost it offers. It's much cheaper than some providers out there. However, if we were to calculate this monthly subscription on a yearly basis, it surely does give a high price.
With other VPNs, a yearly plan will lower the cost per month, making it a better option to choose. As for payment methods, we weren't that satisfied with what Mozilla VPN had to offer.
The only available payment method allowed by Mozilla VPN is through debit/credit card. New customers cannot pay using BitCoin or PayPal payment variants. We also have to state that Mozilla VPN is still new, so this might change with time.
Money-Back Guarantee & Free Trial
It doesn't matter how cheap the service is; offering a way out for customers always gives an impression of the VPN's credibility. A money-back guarantee is a perfect way for users to test the service out, using its full features.
If they happen to dislike what they're using, they can simply ask for their money back within an assigned period of time. Just like most top VPNs in the industry, Mozilla VPN offers a 30-day refund policy.
So, if users are not satisfied with what the VPN has to offer, they can ask for their money back within 30 days of purchase. As for a free trial, a lot of VPNs have adopted this feature yet pulled back after a while.
The feature was abused by a lot of users who submitted several emails in order to benefit from an indefinite trial period. However, some VPNs require credit card information to activate a free trial, which is technically the opposite of what a free trial represents.
Mozilla VPN doesn't offer a free trial, but their 30-day refund policy is more than enough to test their service out.
Mozilla VPN Review – Final Thoughts
From what we've seen during our evaluation, Mozilla VPN is still far from being a full-fledged VPN. It hasn't been around long enough, which means that it's still in its infancy stages, and not quite strong enough to compete in the industry.
It managed to unblock two out of four streaming services, uses WireGuard, and allows torrenting. These are good quality, but unfortunately, they're not enough.
Do we recommend it? For the time being, no. However, if it continues on the same path, Mozilla VPN will be one of the top competitors on the VPN market. You have everything you need to know about the provider now; let us know what you think of Mozilla's new creation in the comment section below.
Mozilla VPN Review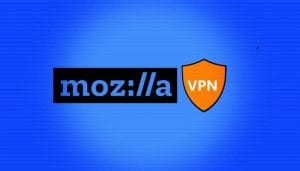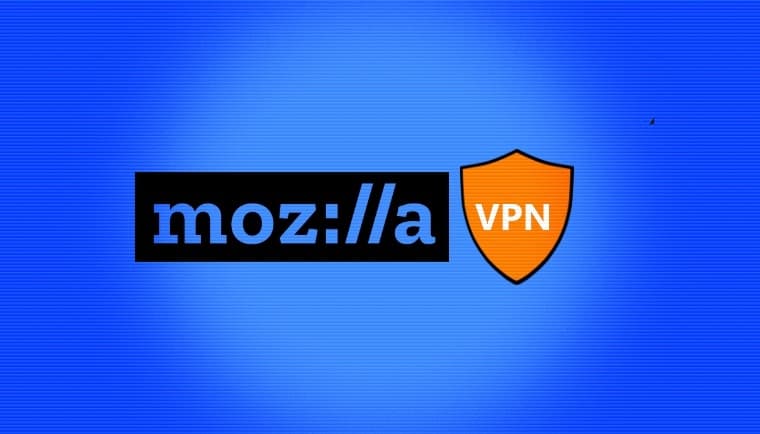 Name: Mozilla VPN
Description: A new stand-alone VPN service available on Android, iOS, and Windows. Mozilla VPN uses WireGuard and military-grade encryption to shield user data and anonymize their internet browsing.
VPN Apps

Support

Speed

Unblocking Capabilities

Security

Refund Policy