NordVPN is a Panama based VPN that is often denoted by its advanced security, internet freedom, and complete privacy. It is a premium service that ships with a ton of superior features, which make it a complete VPN. NordVPN is one of the most popular VPN providers of 2023. Now, the question is: Does NordVPN have what it takes to be within the top spots in the industry? What features does it offer in order to stand out? Find out in this review.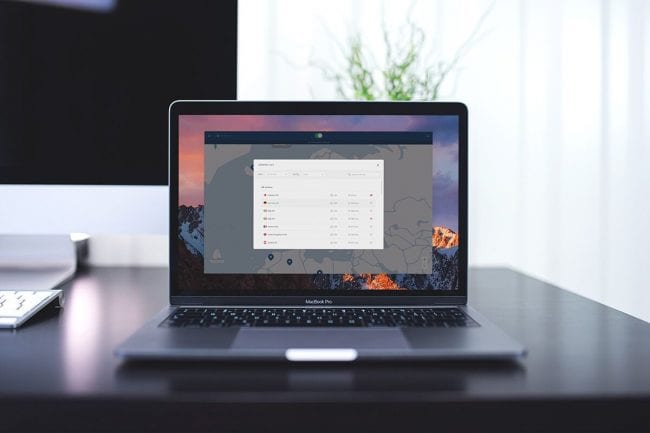 NordVPN Review – Content Index
It took us days to compile this NordVPN review, and we continue to update it as the service keeps making changes each waking dawn. In this review, we tried to look at all the features that come with the VPN, highlight the areas we feel can be improved, while pinpointing why NordVPN is worth a try.
Quick Stats
| | |
| --- | --- |
| Money-back guarantee | 30 days |
| Allowed concurrent connections | 6 devices |
| Supported streaming services | Netflix US, BBC iPlayer, Hulu, HBO, Amazon Prime, and more |
| No logs policy | Yes |
| Encryption | DHE-RSA-AES-256 SHA encryption |
| Special features | Double VPN, Onion over VPN, Obfuscation tech, Kill Switch, SmartPlay tech, CyberSec, DNS Leak Resolver, |
| Customer support | 24/7 live support |
| Server locations | 61+ countries |
| Number of servers | 5400+ servers |
| Server Switches | Unlimited |
| Supported devices | Windows, Linux, Mac, iOS, iPhone, iPad, iPod, Android, Apple TV, Routers, Fire TV, Smart TV, Gaming consoles |
| VPN legal jurisdiction | Panama |
NordVPN Review – Pros and Cons
Any VPN provider has its ups and downs no matter how high they rank in the industry. NordVPN isn't any different as it also has some pros and cons to mention before we kick off this review. Here they are:
Pros:
Complete no-logs policy

24/7 customer support

Up to 6 concurrent connections

5400+ servers

Customizable kill switch

Double VPN

Obfuscation tech

Works in China

Unblocks Netflix US

Wireguard protocol
Warrant Canary

Excellent speeds

All-in-one encryption

30-day money-back guarantee
Cons:
Some slow servers
Canceled the free trial
NordVPN Client Apps

NordVPN ranks among the best VPNs when it comes to its compatibility with various platforms and devices. Among some of the common platforms supported include Windows, Android, macOS, iOS, Linux, ChromeOS, DD-WRT, and more.
Compatible browser extensions include Chrome and FireFox. NordVPN also supports devices such as Raspberry Pi, Gaming consoles, Smart TVs, Apple devices, Routers, and more.
To help users connect as many devices as possible under their account, NordVPN now allows for up to 6 concurrent connections.
Desktop Client
NordVPN's desktop client offers a simple and straightforward user experience. Moreover, bearing in mind the massive ton of the features provided by the client app, this is highly impressive.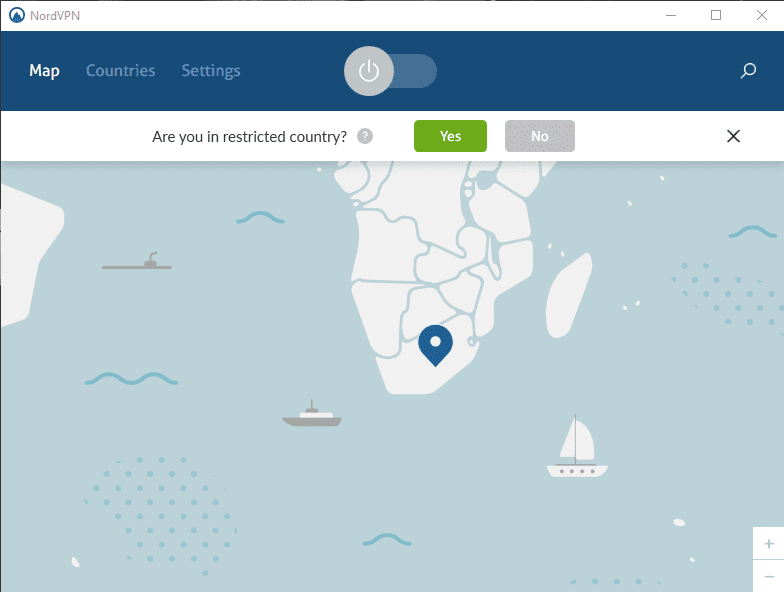 Clicking the 'Quick Connect' button automatically connects you to the best server depending on your actual location. It should take between 15 to 20 seconds to connect to a server.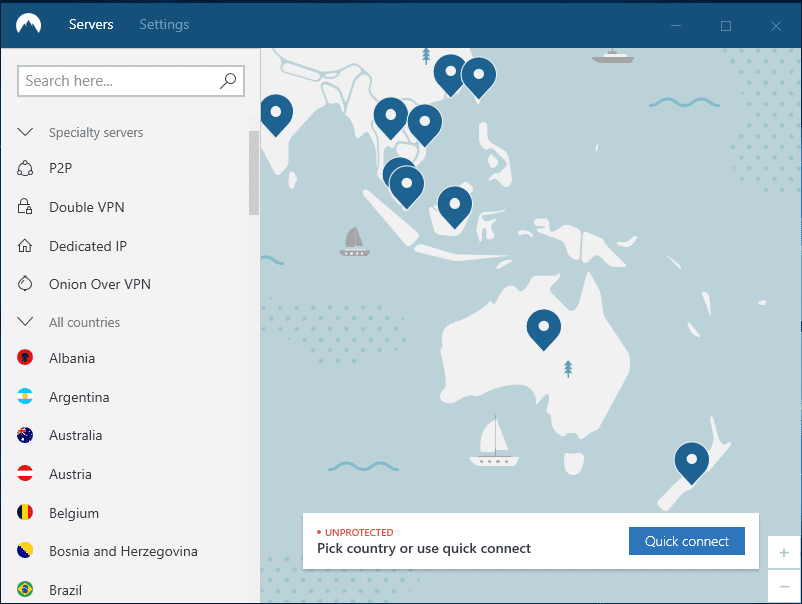 If you don't prefer the Quick connect option, then you can always opt to connect manually. To achieve that, click on the Servers page and scroll down to view the complete list of server locations available.
You can also access the settings page where you can play around with the available features to suit your connection. The desktop version offers you various customization options depending on what you're looking for.
Mobile Client
The mobile client has a similar design and mostly the same features as its desktop counterparts. Working around it as straightforward as the desktop client apps.
Connecting to a server didn't take long and the app's settings allowed us to enable any of NordVPN's features – nothing was missing. This is what the app looks like:
As seen in the images above, choosing a server was pretty easy. Within the server list, we were able to choose Specialty servers, which includes Obfuscated ones and P2P friendly.
On the other hand, the Settings section had everything we need, including the Kill Switch, Split-tunneling, and the CyberSec technology. We'll be talking a bit more about those later on in the article.
App Store Reviews
Back in 2018, NordVPN was used by over 8 million internet users worldwide, which, of course, is a lot higher. We had to see what the fuss is all about, so we turned to the reviews the provider got on the official App Stores.
First, we checked the iOS App Store and it had nothing but good things to say about NordVPN's application. According to the App Store, NordVPN has a 4.6 rating based on 9K reviews, which is excellent.

Next, we checked what the Google Play Store had to say about NordVPN's service. The rating is slightly less than the one on iOS, but it still marks NordVPN as a very good service with a 4.5/5 rating.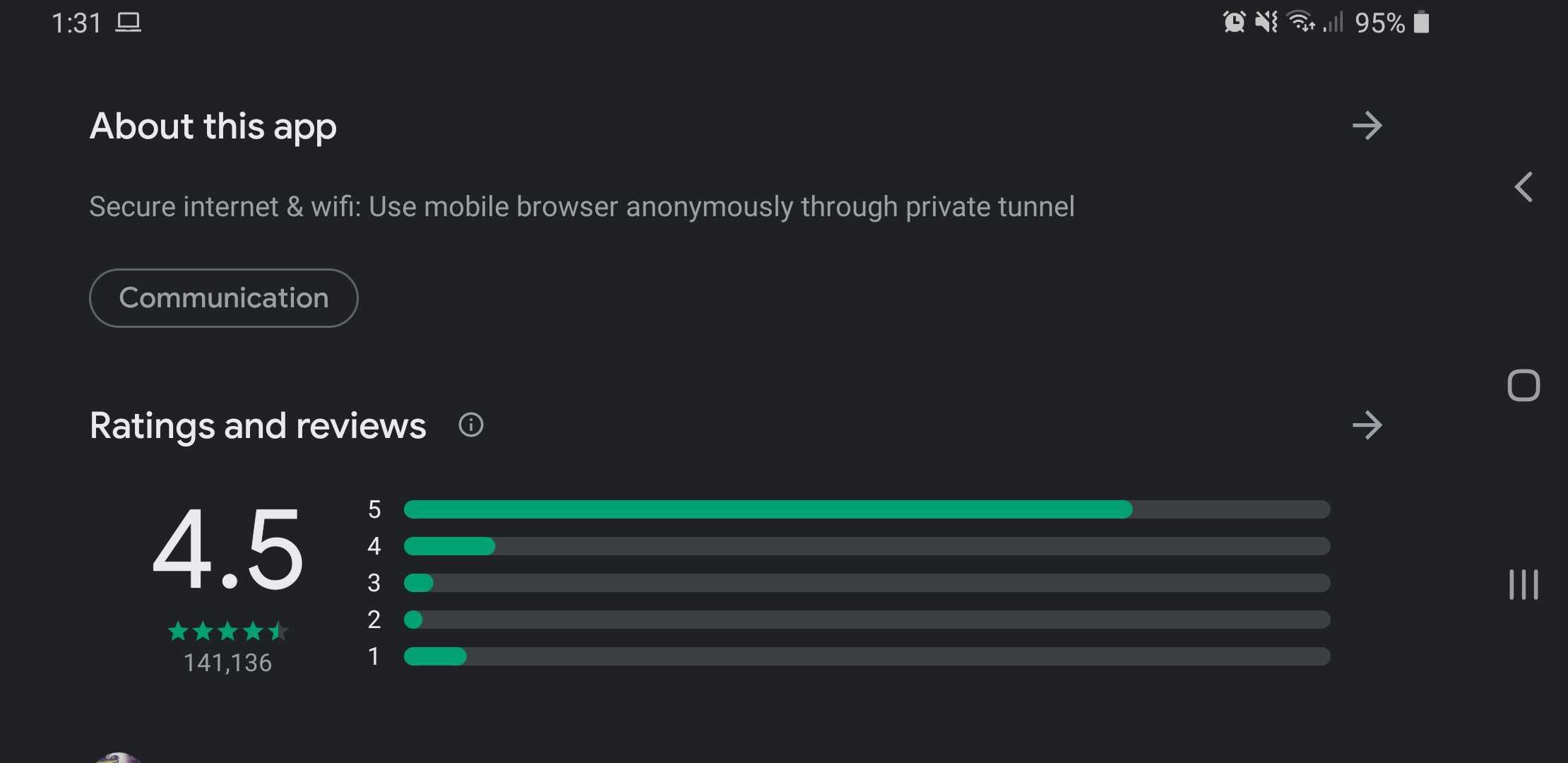 Bad reviews are inevitable and we saw a couple of them. There's one stating that NordVPN disconnects a lot. However, according to our tests, this didn't happen.
Trustpilot Review
In case you don't know, Trustpilot is one of the most credible sources to check for a VPN's credibility. We use it in our reviews to get a slight idea about what users have experienced with a certain product.
Please note that we're covering every angle here, and as a start, we have to mention that NordVPN did not get a good start on Trustpilot. A while ago, Trustpilot penalized NordVPN for inserting fake reviews in an attempt to rank higher.
This might have worked on other review sites, but as we mentioned, Trustpilot is a credible source. The website gave NordVPN a very low "Poor" ranking at the time.

However, NordVPN managed to make a come back after such a downfall and got back its high ratings based on what it has to offer. NordVPN now scores a 4.5/5 on Trustpilot, marking it as "excellent".
Of course, we didn't stop there. Not all users experience the same thing while operating a VPN, which was proved by a comment we found that states the following:
"How do I cancel my service, this has been a waste of money I don't really know what it does Try to use it in my computer said it was a virus and it shut my computer down had to buy a new one."
This review tackles everything NordVPN is capable of and we follow a very strict evaluation process to perfect it. We're unbiased when reviewing and we mention everything about a service, be it a pro or con.
Before you get a bad idea about the provider based on the comment above, we'd like to state that we witnessed nothing of the sort. You can check that in the Virus Scan section.
NordVPN Server Locations
NordVPN boasts of an extensive network of servers and locations – the most numbers by any top VPN in the industry. The VPN has over 5413 servers well distributed across 61+ countries around the world. Moreover, we predict that the server distribution by this VPN is only going to increase.
We compiled a list of the server distribution by this VPN:
The Americas
United States
Canada
Brazil
Argentina
Mexico
Chile
Costa Rica
Europe
United Kingdom
Germany
France
Netherlands
Switzerland
Sweden
Denmark
Italy
Spain
Belgium
Norway
Poland
Ireland
Czech Republic
Austria
Finland
Portugal
Serbia
Ukraine
Romania
Hungary
Luxembourg
Greece
Latvia
Bulgaria
Slovakia
Estonia
Albania
Cyprus
Iceland
Croatia
Georgia
Moldova
Slovenia
Bosnia and Herzegovina
North Macedonia
Asia Pacific
Australia
Singapore
Taiwan
Japan
Hong Kong
New Zealand
Indonesia
Vietnam
Malaysia
South Korea
Thailand
Africa, The Middle East, and India
South Africa
India
Israel
United Arab Emirates
Turkey
Notably, all NordVPN servers support both shared and static IP addresses. Moreover, while in the past NordVPN had failed to identify the specific server regions, they now indicate regions where the servers are located.
Special Servers
NordVPN has an impressive feature that offers various dedicated servers depending on the task you want to achieve. Here are the special servers:
Anti DDoS:

These servers have an improved stability system that offers uninterrupted connection

Dedicated IP servers:

These servers are only available to users on dedicated IP addresses

Double VPN servers:

These servers provide double encryption. Meaning your online traffic is passed through two servers – therefore double security.

P2P servers:

These servers are optimized for torrenting and secured file-sharing.

Onion over VPN:

These types of servers first re-route your traffic through the VPN before passing it to the Tor network – ensuring an added anonymity.

Obfuscated servers:

These are servers dedicated to users in highly censored countries. The servers work by disguising the VPN traffic to appear like regular HTTPS traffic to avoid restrictions.
Speed Performance
We were impressed with the performance levels of NordVPN. Apart from minor glitches with the Windows client at startup, we didn't experience noteworthy issues.
Compared to other top VPNs, NordVPN speeds come short – but with good reason. The reduced speeds are often attributed to the impressive layers of security offered by the VPN.
Nonetheless, we had to perform several speed tests to learn precisely how the speeds vary on various servers. To provide us with a reference point, our first speed test was done without a VPN connection. Here's a screenshot of the results we got:

Now we connected to a server that wasn't too far from our actual location, and the snapshot below shows the results we recorded:
Next, we connected using the double-hop feature. And while we anticipated reduced speeds, the results proved to be better:
Finally, we connected to Tor over VPN servers, which we anticipated to offer the slowest speeds – however, the speeds we recorded were nothing but impressive.
Keeping in mind that we always take our results with a grain of salt, it's not time to write off NordVPN. Overly, the VPN still offers unlimited bandwidth. Therefore, speed throttles are not a subject attributed to this VPN. 
Unblocking Capabilities
Online streaming has become a habit for most internet users around the world. However, due geo-restrictions, it's not that easy – or should we say, it's limited.
Everyone can access what they're country has to offer, and if they try looking for something else, let's say a channel abroad, they get blocked.
This is what we call geo-blocking, a mechanism used by streaming channels to restrict user access to specific locations. They use a user's IP address to determine his/her whereabouts within seconds.
If users are not within the channel's area of coverage, their access gets terminated almost instantly. Now, some users might say that location spoofing using a VPN is easy, and it is.
However, some channels have found a way to block VPN traffic and terminate user access regardless. That's why we run each VPN we review through various tests to determine its unblocking credibility.
We tested NordVPN's capabilities with the top streaming channels that are not for their VPN blocks and the results were as such:
Netflix US
Netflix is the most talked-about streaming service in the world. In fact, it has the highest subscriber-rate on a global scale.
As of now, Netflix has more than 182.8 million subscribers, which makes it one of the world's largest entertainment services. Despite being available almost everywhere, its full catalog isn't.
The channel's geo-blocking works by offering select titles in each country. So far, the US version is the richest and can be accessed using a US IP address.
As we mentioned, not every VPN can access Netflix US, even if it grants users a US IP address. Netflix can determine if the user's traffic is coming from a VPN server if the VPN isn't credible enough. Once it does so, this proxy error will appear:
"Pardon the interruption. You seem to be using an unblocker or proxy. Please turn off any of these services and try again. Error Code: M7111-5059."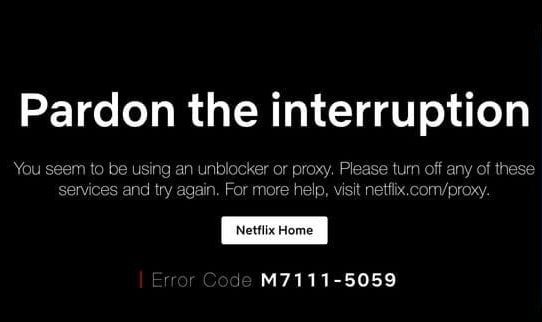 With NordVPN, the proxy error above was never witnessed. We connected to an American server and the channel allowed us access to its US library just like that. Take a look.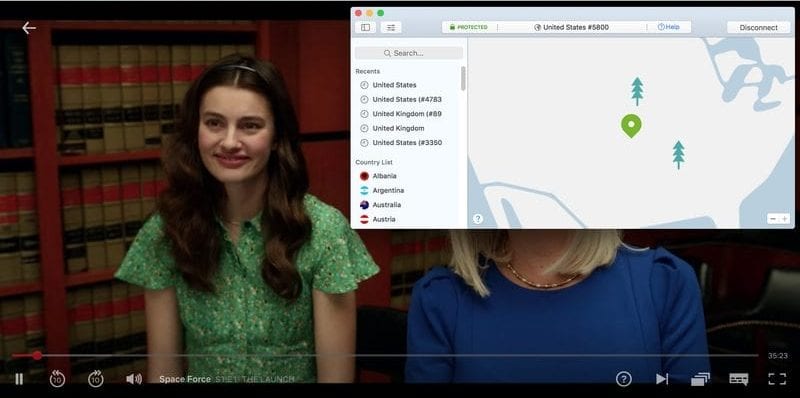 We were very pleased to learn that NordVPN unblocked Netflix US without outstanding issues. You can use the VPN to access the broad library of the content offered by the US Netflix that is otherwise not available on Netflix's library for the rest of the world. What's more, the content is also available in Ultra-HD quality. Impressive, right?
Hulu
Hulu is another competitor in the streaming industry with thousands of streaming hours and top original content. What differs here is that its geo-blocking works by restricting user access to the United States only.
It's not available worldwide, only those in the US can access its content. Normally, with a VPN, users can watch US channels abroad by connecting to a US server.
However, it's not that normal with Hulu as it too has VPN blocking technology. If it was a free or non-credible VPN, users will witness yet another proxy error that looks like this:
"It looks like you're using an anonymous proxy. You'll need to disable it to watch Hulu. Hulu Error Code: P-EDU101."
Now with that out of the way, we can move on to the tests we performed using NordVPN. It actually didn't take that much time as we remained connected to the same server used while testing Netflix.
With a US IP address provided by NordVPN, we were able to watch The Handmaid's Tale outside the US with ease.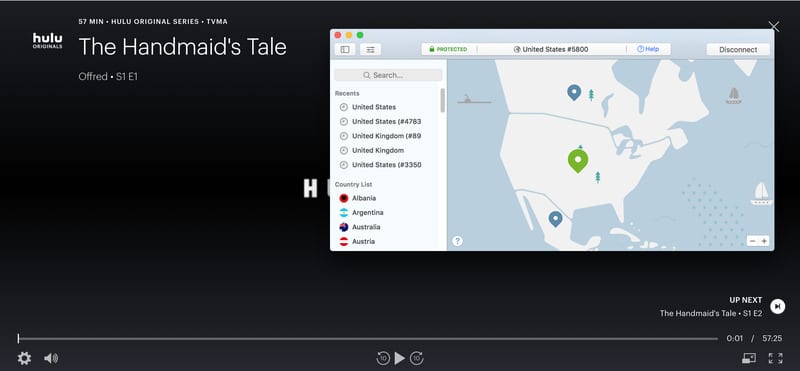 Being able to access both Netflix and Hulu is a very excellent way to show how credible NordVPN's service, but it's still not enough. We did a few more tests to make sure it's good all the way.
Amazon Prime Video
Amazon Prime Video works the same way as Netflix does. It assigns specific catalogs to certain countries, and the US version is the riches so far.
It also applies VPN blocking, which gave us a hard time with NordVPN. Yes, unfortunately, NordVPN failed to access Amazon Prime's US catalog using multiple servers. Here's what we got during our first couple of tries: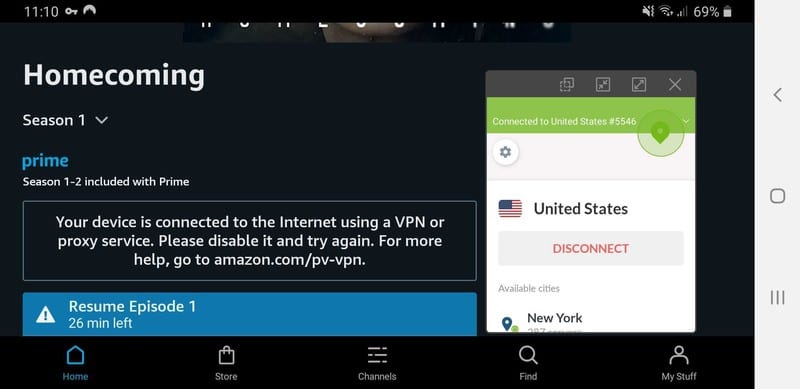 After a few tries, we were able to unblock the channel using NordVPN's Los Angeles server. The following is a screenshot of us watching Truth Be Told on Amazon Prime Video.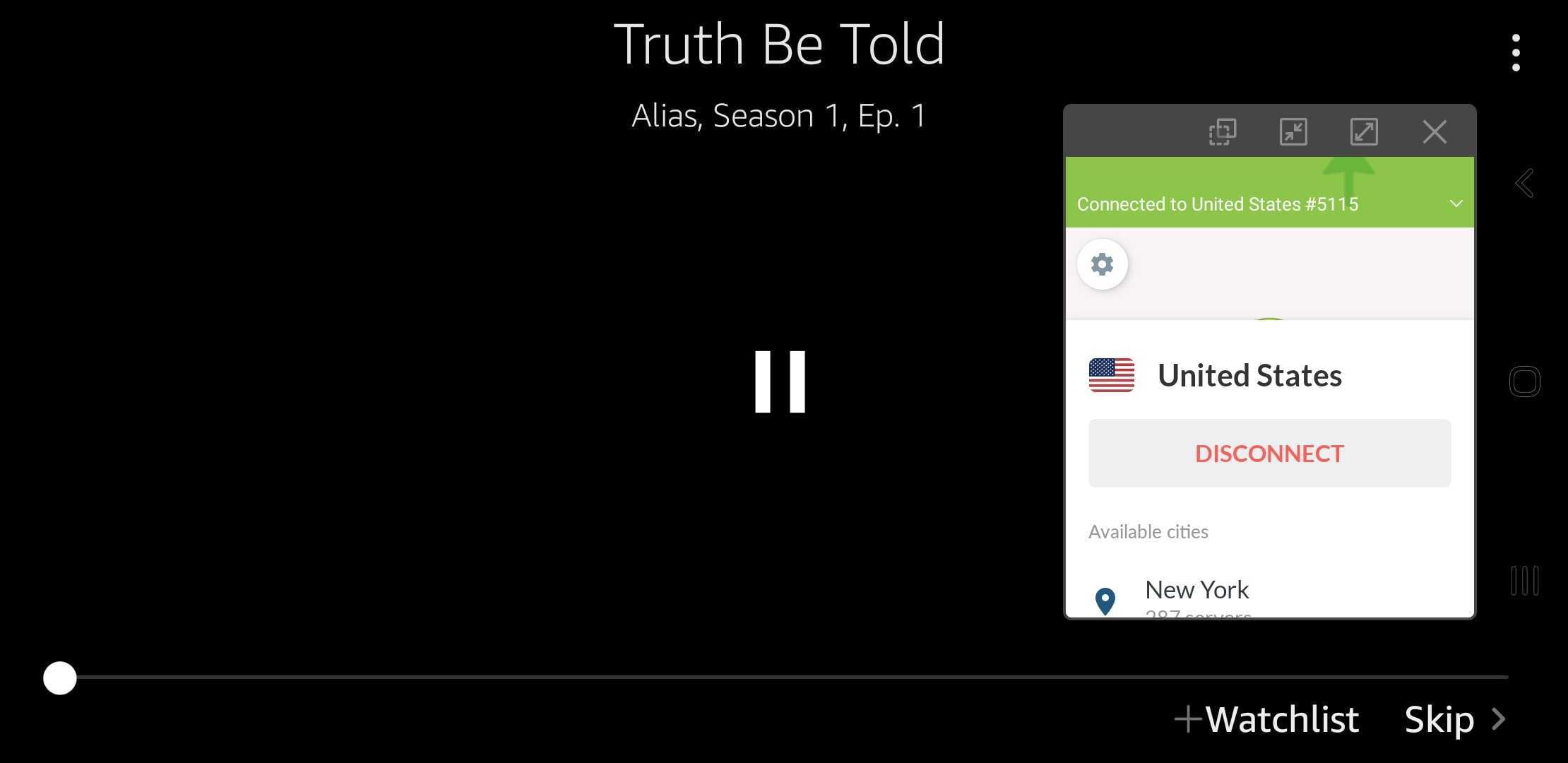 Despite minor hiccups with Amazon Prime, NordVPN managed to unblock it using some of its servers, which is still considered good quality. Now, let's head over to the final test in this department.
BBC iPlayer
Finally, we're moving from the United States to the United Kingdom. The country has quality streaming services such as Channel 4 and Sky Go.
But what we're going to cover today is BBC iPlayer as it's one of the channels that apply VPN blocking. The channel is very popular in the region with more than 9.9 million successful requests per day.
Residents in the UK can enjoy all kinds of content, but those abroad, though, can't unless they get a UK IP address.
Even with that, access to the BBC isn't that easy as the channel itself has its own defense mechanism. In NordVPN's case, that wasn't a problem.
The second we established a connection to a UK server, we were able to unblock the channel and watch Killing Eve instantly.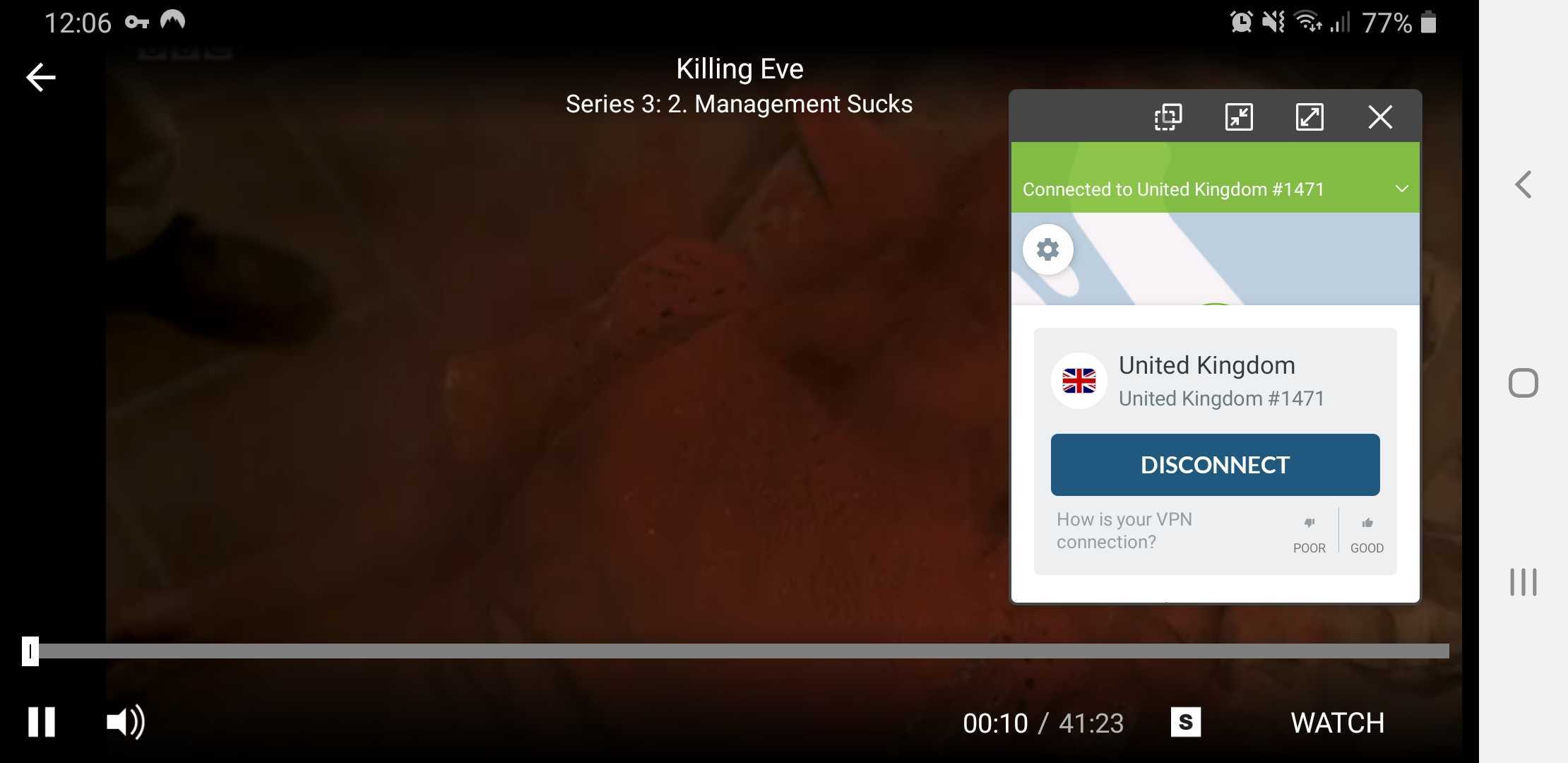 We can say that NordVPN is one of the top services when it comes to unblocking geo-restricted content all over the world.
The VPN managed to unblock all the top streaming services that can terminate VPN access, which is an excellent way to rank higher in our reviews.
NordVPN Compatibility in China
China is without a doubt a tough country to use a VPN – and that's true because most VPNs don't work in the country. China has a legendary 'Great Firewall' which blocks any OpenVPN traffic – rendering most VPNs useless.
Nonetheless, NordVPN has somehow found a way of going around the great firewall. The VPN recently introduced obfuscated servers for the Windows client.
The obfuscated servers have an integrated stealth mode tech coupled with an obfuscation tech, which works by masking its OpenVPN traffic to appear as the normal HTTPS traffic – thus, overcoming firewalls.
SmartPlay Technology
SmartPlay is a special Smart DNS for NordVPN that is often automatically turned on when you run a client app – allowing you access to blocked websites and censored content.
The VPN's SmartPlay tech allows you to blend the numerous advantages of a VPN, super-fast speeds, and impressive stability of a Smart DNS. Not to mention, the feature is easy to use.
Moreover, the fact that the functionality is initially integrated at the base of the VPN server means that you won't need to update or activate it manually. 
P2P Support
Torrenting is a very common practice among online users. It allows them to get access to rare content, including books, music, series, movies, and so much more.
However, it's also a risk to their privacy as they'll be compromising their sensitive information while sharing a file. The fact is that their IP address is visible to anyone sharing the same file, which might lead to hacking attempts.
Also, in some countries, P2P actions aren't tolerated and the user committing those acts might be legally charged for copyright infringement. That's why hiding his/her IP address is the best way to circumvent all of the issues above.
Some VPNs don't support P2P actions, but NordVPN does. It doesn't allow this on every server, but it sure does offer a lot of locations to choose from. You can check the full list here and the ones for torrenting have P2P listed under them.
NordVPN Review – Privacy
NordVPN has legal jurisdiction in Panama –a location best suited for a VPN. Moreover, the Panama government is always advocating for cybersecurity and online freedom. This means that the Panama authorities are against collecting users' data – therefore very supportive of VPNs.
The country is also outside the reach of the NSA, GCHQ, and other global agency surveillance. All these aspects favor the seamless operation of NordVPN in its quest to observe a strict no-logs policy.
However, there was an incident back in March 2018, where NordVPN suffered a breach in its system. Apparently, one of the data centers in Finland they were renting servers from was accessed with no authorization.
This might not be a problem due to their strict no-logging policy, but the idea of hackers being able to access some user data might be quite alarming.
Other than that incident, there are no other reports of breaches. We can say that NordVPN is completely safe and does indeed maintain users' privacy.
If you're looking for a VPN service provider that offers users features that aren't available with others, NordVPN is definitely worth checking out, especially when it comes to security and privacy.
DoubleVPN
Double VPN is a unique security feature by NordVPN that guarantees a double layer of security. Normally, whenever you connect to a VPN, your traffic is rerouted to a VPN server for encryption before it's exciting to the internet.
However, with Double VPN, your traffic is first tunneled to a first VPN server, then it's rerouted to a second VPN server before arriving at its final destination. The feature ensures double encryption.
However, you should know that with double VPN, comes reduced speeds. Moreover, this feature is not available on all NordVPN servers, but it's available on a limited list of double-hop combinations such as Canada-US, Netherlands-Russia, Sweden-Netherlands, France-UK, Netherlands-UK, and Hong Kong-Taiwan.
Notably, the feature comes in handy for users in densely censored countries and areas where strict cyber-regulations apply.
CyberSec
CyberSec is a NordVPN feature that automatically blocks suspicious sites to ensure your connection is not vulnerable to cyber-attacks. The feature also protects you from falling for DDoS attacks by keeping you off botnet control.

Additionally, CyberSec acts as an Ad-blocker by preventing unwanted pop-ups, auto-play content, and other annoying adverts on various websites.
Kill Switch
NordVPN also has a Kill Switch that is available in its client apps. The feature works by disconnecting your device from the internet whenever your VPN connection drops.
A Kill Switch comes in handy when users want to leave their device unattended, and they don't want to risk getting exposed. Moreover, the feature will also benefit them when toggling between VPN servers.
While the Kill Switch feature is common among VPNs, NordVPN has taken it a notch higher. The VPN allows users to kill the internet for particular apps and servers on their devices.
DNS Leak Resolver
A DNS leak could be fatal if you're after total online privacy while connected to a VPN. If a leak were to happen, it means that your DNS will send unencrypted data to your ISP, or any other prying eyes – rendering you vulnerable.
To go around the issue, NordVPN has a special DNS Leak Resolver functionality that is integrated into its client apps. The feature guarantees that no accidental data is leaked through your DNS.
And while users might have a complaint of the infectiveness of the feature, NordVPN seemed to have resolved the issue, considering we got zero DNS leaks in our test.
Onion over VPN
Onion over VPN is a feature that allows you to connect to Tor – an Onion Router – via a NordVPN server. The feature enables you to connect to the Tor network without necessarily having to download the Onion Browser.
Therefore to access the Onion Browser. First, you need to connect to a Tor server within the NordVPN network. However, keep in mind that this feature reduces the connection speeds. Therefore, Onion over VPN is only useful if you want to access blocked websites and censored content.
NordVPN – Security
NordVPN is among the VPNs that use what is considered the best security infrastructure for a VPN of its capacity. The VPN uses the trendy DHE-RSA AES-256 SHA encryption combination on its OpenVPN protocol.
This implies that NordVPN employs the RSA-2048 encryption and the HMAC SHA2-384 authentication protocol to guarantee integrity. Additionally, the VPN uses the famous 3072-bit Diffie Hellman key exchange (DHE) – perfect for Perfect Forward Secrecy.
To enhance your security, NordVPN offers limited double-hop tech, which allows for double-encryption of your data.
That's not all. When we test VPNs, we run their service through various testing mechanisms and check for certain qualities before we recommend it. Here are the things we check for:
Virus Scan
Checking a certain app for viruses is the first step anyone should take before installing it on their device. Even if a VPN is a security tool, it might have embedded malware within it.
We performed a virus scan on NordVPN's installation file before we set it up on our PC. The results were excellent scoring 0 malware infections.

So, according to the results we got, which are based on 72 credible sources, NordVPN's application is totally safe to install and use on your device.
DNS Leak Test
DNS leak tests are also a crucial part of this review. If a leak occurs, all of the user's browsing history would be exposed to their Internet Service Provider.
The worst part is that they wouldn't even know that it's happening, jeopardizing every private thing they were doing while using a VPN.
Now, with NordVPN, no such leaks were recorded. The results we got are that of the server we're connected to, including the borrowed IP address.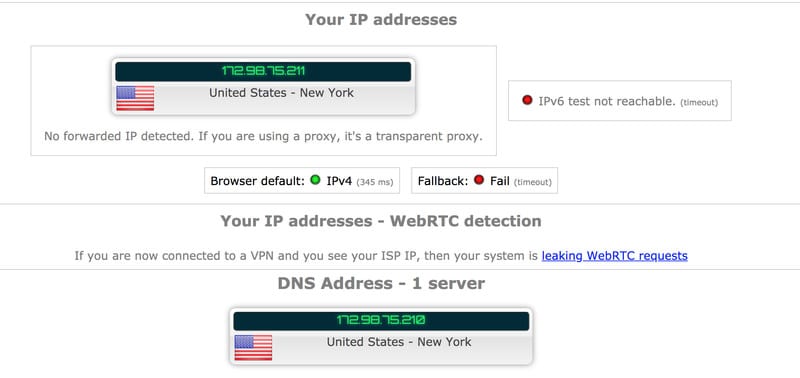 NordVPN promises to protect its customer's privacy, which according to our tests, is a claim they're easily backing up.
Independent Auditing
Third-party auditing is allowing security experts to test a certain service to ensure transparency to customers. A lot of VPN providers have done this before in order to show customers that their claims are legit.
NordVPN is no different and has run its service through several audits in the past. One of those would be allowing VerSprite, a leading security research group specializing in software vulnerabilities, to search their apps and find any kind of flaw.
According to NordVPN's website, the following vulnerabilities were found:
7 Low-level vulnerabilities were found and fixed;
6 Medium-level vulnerabilities were found and fixed;
4 High-level vulnerabilities were found and fixed;
0 Critical-level vulnerabilities were found and fixed.
Another audit was performed to back up NordVPN's claims about their product. This one targeted their no-logging policy and the fact that they don't store identifiable user information under any circumstances.
The audit was performed by PricewaterhouseCoopers AG, Zurich, Switzerland, and you can find the full one here.
WireGuard Support
We've tested NordVPN a lot ever since it launched, and the provider never seized to add more features to its already-existing top security factors.
This brings us to their NordLynx, the name of their WireGuard protocol adaptation. Alongside the security and privacy, the protocol provides, NordVPN also developed the double NAT (Network Address Translation) system.
This covers and secures users' network, without having to compromise their privacy as the protocol alone may not be enough.
NordVPN is one of the few providers that support WireGuard, and to top that, they added an extra layer of security to it. By our standards, this a great way to solidify their security claims.
Warrant Canary
Having a Warrant Canary shows how transparent the VPN is with its customers. A Canary Program is a way to notify customers that their VPN service has been compromised and has received a subpoena by the authorities.
Legally speaking, they cannot inform their users, but a Warrant Canary is an indirect way to do so. NordVPN happens to have one on its website, which gives it an edge over its competition as not many VPNs offer that.
According to NordVPN's Warrant Canary (Updated on 2020-12-31), NordVPN has not received any:
National Security Letters.
Gag orders.
Warrants from any government organization.
Warrant Canaries are an excellent way to build trust between a company and its customers. By the looks of it, NordVPN is doing a good job.
Customer Support
NordVPN has a superb 24/7 customer support system. In particular, we were impressed with their 24/7 live chat support which has an actual human being on the other end. In our review, we chatted with an agent who was quick, polite, and gave us a detailed answer to all the questions we threw at him.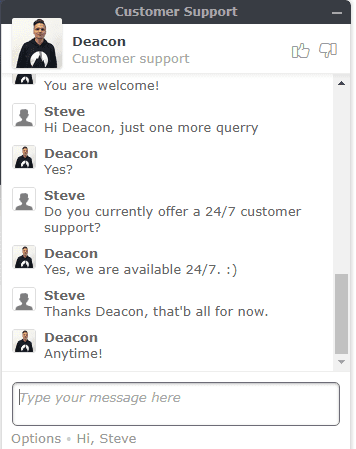 If you don't want to use the live chat tool, you can always try their ticketing system. Even better, you can sort to use the VPN's categorized guides depending on what issue you need assistance in.
Some of their main support categories include billing, connectivity, general info, or getting started. There's also an FAQ section, troubleshooting guides, and a search panel where you can search for virtually anything about the VPN.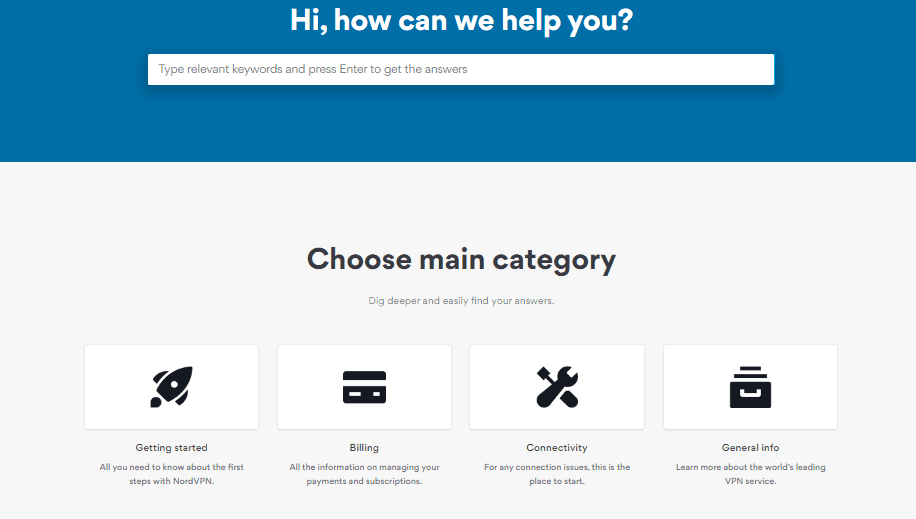 NordVPN's Languages
NordVPN's website is dynamic, and they keep adding new content to the site. A quick look at the site and you'll experience the premium feel that comes with it.
To help aid all kinds of customers, their website allows users to select the language their comfortable with. They can choose any of 20 languages, including:
Danish
English
Spanish
French
Italian
Dutch
Norwegian
Polish
Portuguese
Brazilian Portuguese
Romanian
Finnish
Swedish
Turkish
Russian
Ukrainian
Korean
Arabic
Japanese
Chinese
So, wherever a user might be residing or whatever language he/she speaks, they'll be able to comprehend what the website includes by choosing their native language.
NordVPN Price and Payment
NordVPN has four plans to choose from. Just like all top-rated VPNs, its plans offer the same features but differ in the period of subscription.
We reviewed all the price plans, and here's what they entail: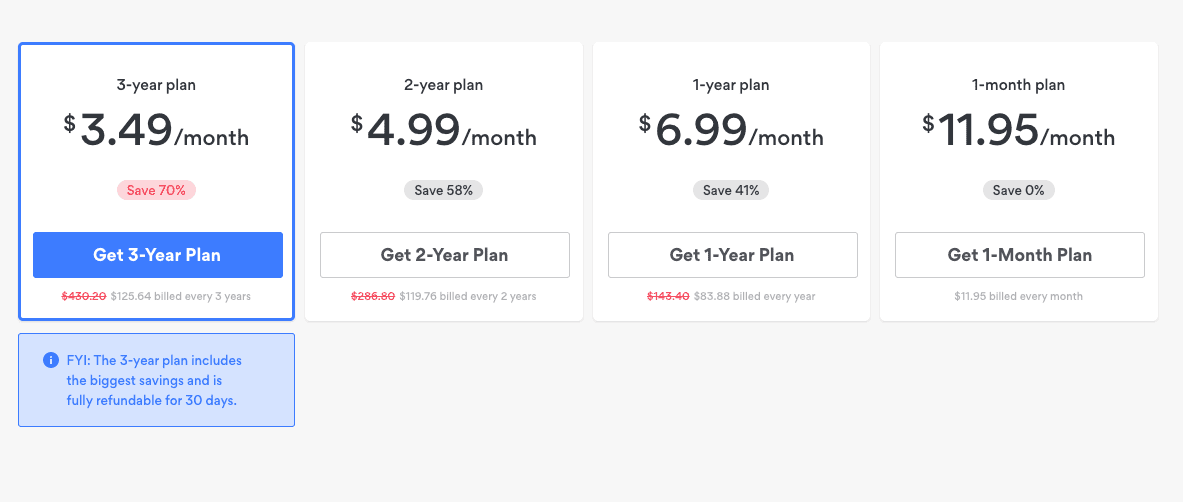 There's

the monthly plan

which is the most expensive, and it goes

for $11.95 per month

.

Coming close is

the annual plan

that retails at

$6.99 a month

, but you'll be

billed $83.88 every year

. Only worth it, if you need the service for a year.

Its 2-year plan

sells at

$4.99 every month

and

billed at $119.76 every 24 months

. It used to be the best plan, but you can hold out for the newly introduced plan.
Finally, the 3-year plan that was recently added. It's currently the cheapest plan going for $3.49 a month and is billed at $125.64 every 3 years. Moreover, we highly recommend this plan.
Verdict: In terms of prices, NordVPN is much cheaper than other top VPN providers, especially in the long run.
Payment Methods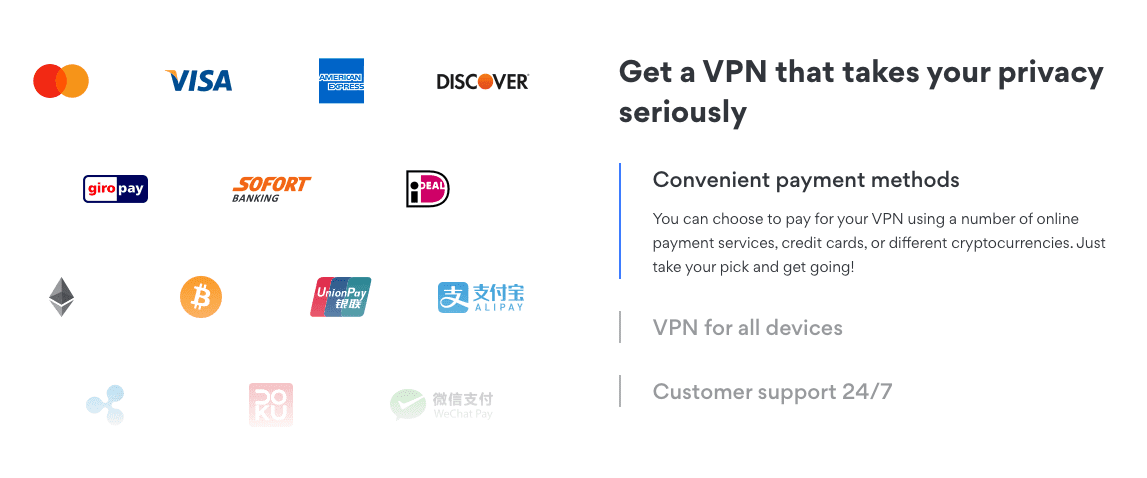 With most top VPNs currently having limited payment methods, NordVPN takes the lead with its several payment methods. Arguably, NordVPN has partnered with Norton Security to securely accept all payment options including all major credit cards, AliPay, UnionPay, Crypto Currencies, and many more.
Notably, the VPN no longer accepts PayPal as a payment, and after consulting with their superb technical support, here's what Deacon [the agent at the time] had to say:
"Unfortunately, we no longer accept PayPal payments. The decision to discontinue PayPal support was made to have complete control over our customer purchase experience and mitigate security risk. Now we will be able to provide a unified, self-hosted payment system, manage all customer data and recurring subscriptions by ourselves, instead of driving them to the third party. We are sorry if this has caused you any inconvenience."
Noteworthy, we were overly impressed with their cryptocurrency payment option. You can pay for your plan using the various crypto-currencies while maintaining your online privacy – no need to enter personal information.
Refund Policy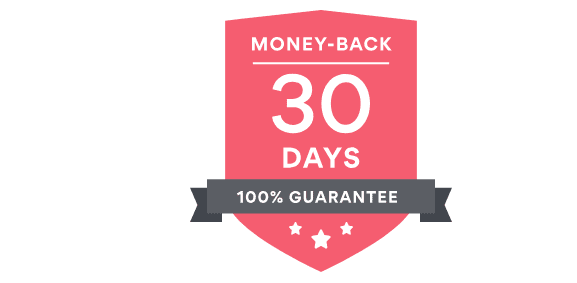 NordVPN's 30-day money-back guarantee without a doubt a significant selling point. This means that you have a whole 30 days to test the VPN, and if within that period you experience an issue that cannot be solved, then you can always ask for a refund. Thanks to this money-back guarantee, you can benefit from the VPN's trial without risking a penny.
Note: After a lengthy discussion with NordVPN's payment support agent, we learned that the 30-day refund policy doesn't apply if you purchase the VPN's plan via the App Store or Google Play Store. That means that you'll have to ask for a refund from the stores manually.
NordVPN Free Trial
At the moment, there is no way you can benefit from a free NordVPN trial. There was a time when this popular VPN service offered a free 7-day trial.
However, due to the fact users would abuse it, a free trial is no longer an option. But you can benefit from their 30-day money-back guarantee.
A Quick Summary
What NordVPN offers is a feature-packed, premium service that is mainly designed for an ultimate online experience while keeping you private and secure. The VPN lives up to the hype by its excellent combination of features and functionalities.
NordVPN is based in Panama, which is a big plus for its quest to keep zero logs. Moreover, the VPN is also stable, reliable, and works well with Netflix US as well as other major streaming outlets.
All these are great features that are enough to allow you to experience the full potential of the internet. What's more, NordVPN has the cheapest subscription plans in the VPN industry, coupled with an impressive 30-day money-back guarantee.
NordVPN Review – Final Thoughts
In short, NordVPN ticks a lot of boxes, if not even all of them. Regardless of whether you are looking for a reasonably priced VPN service that bypasses regional restrictions on streaming channels like American Netflix or just want to protect your privacy and online security at the same time, this particular VPN provider has you covered.
If you are looking for a long-term VPN, we definitely recommend using NordVPN. So, what do you think? Is NordVPN worth checking out? Let us know in the comment section below. In case you think this VPN service doesn't meet all your needs, you can always check our top-recommended NordVPN alternatives.