SwitchVPN is a newcomer in the VPN industry. The VPN is built on a decent server network of over 230 servers in 43+ locations worldwide. We've heard so much about it, especially when it comes to its lack of privacy and security. That's why we decided to review it for ourselves. So, without further ado, here's the full SwitchVPN review.
Warning: Do not install the SwitchVPN app before you read this review. Otherwise, you might be risking your online security. In case you have already set up SwitchVPN on your device, we advise you to uninstall it immediately. More details about this below.

Switch VPN – Content Index
When a VPN shows potential security threats, it directly grabs our attention. We decided to review Switch VPN based on our strict evaluation techniques, which resulted in the following review:
Quick Stats
SwitchVPN is a simplified VPN that takes great pride in putting your privacy above all else. However, in all honesty, we're not entirely sure if this is the case. We've put together weeks-worth of work in this SwitchVPN review 2020.
Our review entails first-hand experience, pricing, server network distribution, features offered, as well as quantitative analysis from various third parties.
Money-back guarantee

30 days

Free trial

3-day Trial for $1

Allowed concurrent connections

3 devices for SwitchVPN Premium

6 devices for SwitchVPN Families

Supported streaming services

Netflix, Hulu, Amazon Prime, Disney+, and BBC iPlayer

No logs policy

Yes

Security protocols

OpenVPN, P2TP/IPSec, IKEv2, SSTP, PPTP

Encryption

AES 256-bit

Special features

NAT Firewall, Kill switch, DNS leak protection, internal DNS System

Customer support

24/7 live support

Server locations

43+ countries

Number of servers

250+ servers

Server Switches

Unlimited

Supported devices & platforms

Windows, Linux, Mac, iOS, Android, Routers

VPN legal jurisdiction

United States
Stay with us throughout this review to find out whether SwitchVPN is worth your trust and investment.
SwitchVPN – Pros and Cons
Every product has it's pros and cons, and from what we've seen, Switch VPN has a lot of negatives in its service. On the other hand, it does provide a decent service with a lot of advantages, so let's check out what it's all about:
Pros:
No logs policy

Unlimited downloads and uploads

P2P support

Port forward

DNS & IPV6 leak protection

Works with Netflix, Hulu, and iPlayer

NAT Firewall

Automatic Kill Switch

Multiple protocols

30-day money-back guarantee
Cons:
Controversial 24/7 customer service

Vague contradicting logging policy

Limited server distribution

Based in the US
3 concurrent connections for the standard plan
Paid trial.
Inconsistent speeds
Detected virus
Mac app requires rooting
Compatibility and Interface
SwitchVPN has custom apps available for popular platforms such as Windows, macOS, Android, and iOS. While there isn't a dedicated client for routers, you can manually set up your router to secure your whole network. Unfortunately, it only supports a few routers as listed on their website.
However, if you aren't confident with the setup process, the brand offers a remote installation service. The VPN manually configures your router, as long as it's supported.
The process only takes minutes, and you don't have to lift a finger. Moreover, you can secure various gaming consoles using SwitchVPN.
But the only way to do so is by connecting the consoles to a configured router. That way all your home devices will be secured.
Getting Started
To get started with SwitchVPN, follow these simple steps:
Click on either the "Get Started" button or the "Sign Up" link text.
Choose your preferred plan to and click Checkout.
You'll be redirected to a page where you'll enter your email, and password details.
Select your ideal payment method and sign up.
Download the client and install it.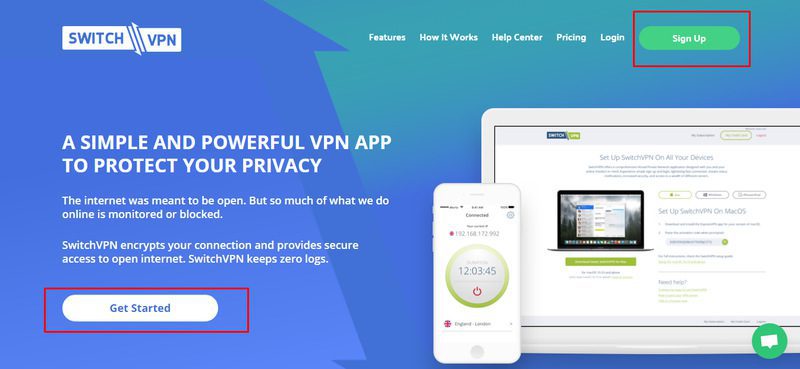 Ease of Use
SwitchVPN has come a long way with its website, which is now impressive, very well designed, detailed, and simple. The home page displays all the useful information that can give you a hint of what the service has to offer. There's also a "Get Started" button at the top half of the page, and an illustration confirming that they're a multiplatform VPN.
If you scroll down, you'll view information on why you should settle for the VPN and the pricing of the two packages on offer. At the bottom of the website, you'll find a variety of useful links like how to check your IP address, different client downloads, privacy policies, and DCMA statements. Although, the DCMA page is still empty.
SwitchVPN Clients
The VPN offers dedicated clients for all major platforms including Windows, macOS, Android, and iOS. The VPN doesn't have a client app for Linux and routers, but you can still configure them using a verified guide.
You can't also install an app directly to other devices like gaming consoles, but you can always secure them by connecting to a configured router.
Desktop Client
At first glance, you'd think it's a mobile app: very sleek, simple, well-labeled, and easy-to-use. Once you enter your login details – which are often different from the website account logins – click connect to initiate the VPN connection. The app has an Auto Selection feature that will choose the best available server and connect to the location.
SwitchVPN is among the few VPNs to offer a variety of features to tweak in the settings page. The latter is categorized into various tabs including general settings, protocols, advanced features, subscription details, and the diagnostic window.
The General tab allows you to toggle startup options as well as the Network Lock settings. Moreover, if you find the app's white background too bright for your eyes, then you can always use the Night Theme on the Personalization section.
The brand also offers the highest number of connection protocols on the desktop client including OpenVPN (UDP and TCP), L2TP/IPSec, IKEV2, SSTP, and PPTP.
However, the app automatically selects the UDP-OpenVPN protocol by default, since it's the most secure option.
Furthermore, the Advanced tab has security and privacy features such as an automatic Kill Switch, an internal DNS system, DNS & IPV6 leak protection, and more.
Users can also view the subscription details on the Subscription window, and the Diagnostic tab helps you solve connections issues including contact links to access customer service.
Mobile App
The mobile app is very similar to its desktop counterparts in terms of design, navigation, and the number of servers. The connection process was quick as we established a connection within seconds. Here's how the mobile app looks like: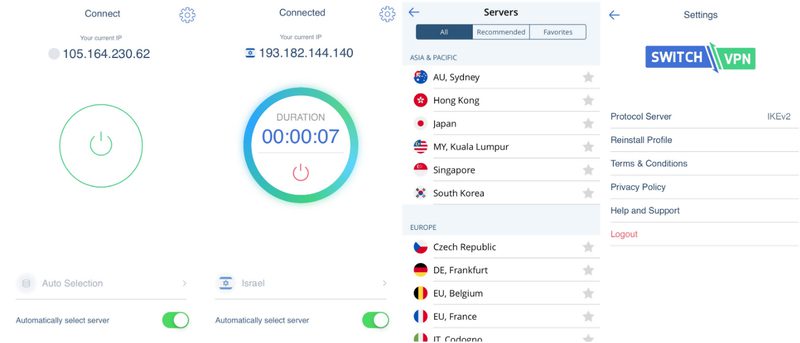 Unfortunately, the app doesn't provide enough features on its settings page. Even worse, it only has IKv2 for connection protocols available.
macOS
By far, this is the worst experience we've had since we started reviewing VPNs. For the first time ever, our Mac asked us for root permission.
We reviewed countless VPN service providers and not once were we asked for root permission during the VPN app installation process.
This is a huge con, and if you're using Mac, you better avoid downloading the installer in the first place as we also encountered a virus infection when we got it.
App Store Reviews
App stores have their own review section, and based on the users' experience, one can easily determine how credible the VPN is.
According to the iOS Store, Switch VPN has poor ratings, scoring 2.8/5.
On Android, SwitchVPN's client has a better rating than the one provided for iPhones and iPads, but it doesn't differ much. In fact, we found more positive reviews on Apple Store than we found on Google Play.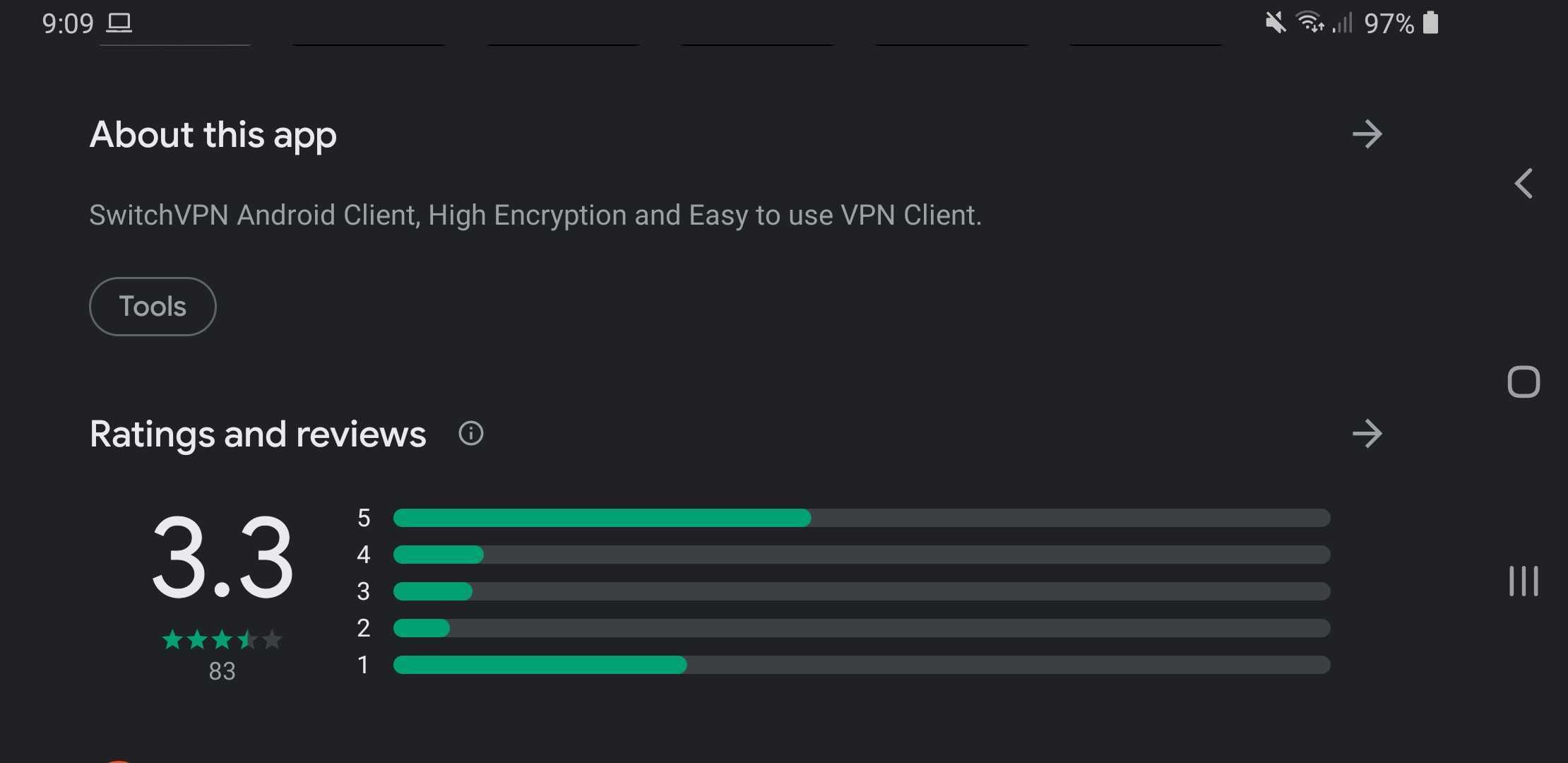 Basically, the reviews aren't good enough to invest in the VPN provider, especially when some of them imply that SwitchVPN has been leaking IPv6.
Trustpilot
Trustpilot is another credible source we rely on during our evaluation process. According to the website, SwitchVPN has an average rating of 3.1/5 according to 9 reviews.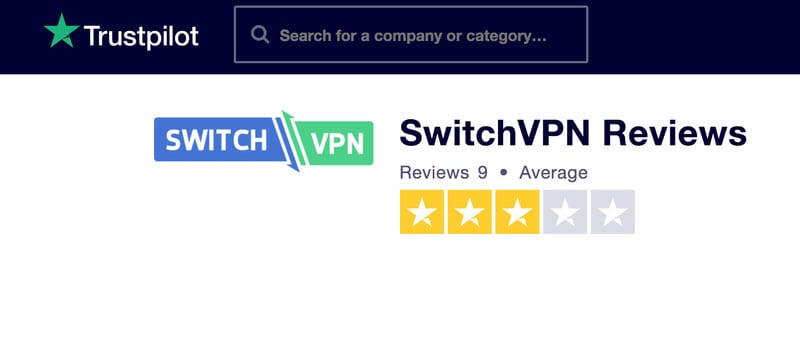 The average review is pretty common, especially when the number of reviews is that low. However, one of the reviews caught our attention, stating nothing but cons and advising users to look elsewhere. Check it out:
"Don't bother, look elsewhere.
I had been with this company for a couple of years and i suspect this is a one man band operation. It came to a point where all UK servers weren't working and fed up with the experience i looked elsewhere and found a much better service for a cheaper price. I then requested a refund which i was within my rights but the company dragged there heels for 6 weeks with several exchanges with them. Realising this isn't going to work, i then threatened them that i was going to let my card issuer deal with this and surprise surprise i got my refund."
Problem with getting a refund shouldn't be a problem. If a user is not satisfied with the service, they should get their money back without a hitch. It looks like we have a lot to talk about in this review, so scroll a bit further and find out everything about Switch VPN.
Servers
The company offers over 250 servers in 43 countries worldwide – a decent network that offers super-fast speeds across all locations. As usual, their best coverage is in Europe, the US, Asia, and the greater Pacific.
While they still don't have a presence in Africa, the VPN recently added servers in Brazil – thereby including South America. Moreover, we were delighted to see up to 10 server locations in the US. Europe also boasts several city-level servers including UK, London, Maidenhead, and Gosport.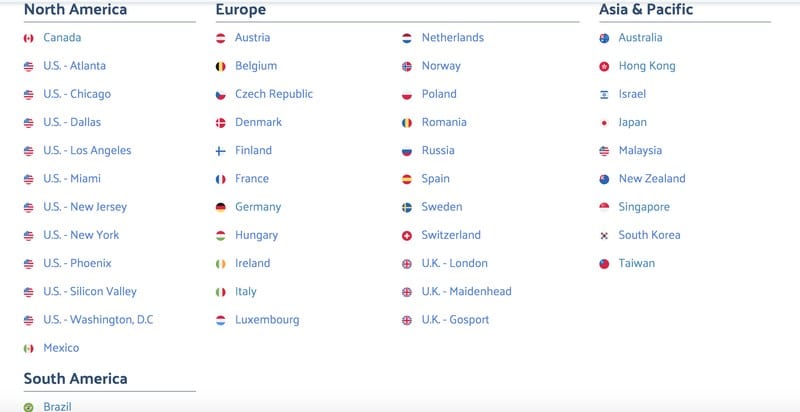 The Americas
Canada
The United States
Mexico
Brazil
Europe
Austria
Belgium
Czech Republic
Denmark
Finland
France
Germany
Hungary
Ireland
Italy
Luxembourg
Netherlands
Norway
Poland
Romania
Russia
Spain
Sweden
Switzerland
The United Kingdom
Asia Pacific
Australia
Hong Kong
Israel
Japan
Malaysia
New Zealand
Singapore
South Korea
Taiwan
Speed Test
According to the website, the company says that you can stream online content with top speed rates from anywhere in the world. But how accurate are these claims? We had to be sure, so we conducted a speed test.
Since we needed a benchmark result, we tested our internet speed without a VPN connection. The image below displays our baseline result:
At first, we recorded the results of our connection without connecting to a SwitchVPN sever.

In our first VPN speed test, we connected to a nearby server. Looking at the results below, you'd notice that speeds went down but at a reasonable rate.

We also connected to a remote server location. While the speeds dropped significantly, we were still able to stream and torrent online content with little to no difficulties. The results were as illustrated by the screenshot below:
SwitchVPN doesn't precisely offer competition in terms of speed, but they're certainly fast enough to prevent any connection lags or streaming playbacks. In fact, you should be able to stream HD content without any buffering issues and enjoy general surfing as well.
Compatibility with Streaming
Bypassing regional restrictions and accessing blocked content abroad is one of the main jobs of a Virtual Private Network.
In fact, the majority of users operate a VPN for entertainment purposes, not to secure their network. However, as easy as it sounds, it's not a simple task.
VPN providers have to keep up with the advancement of technology and optimize their servers accordingly. Most streaming services nowadays can detect if a user's traffic is coming through a VPN, blocking it almost instantly.
A lot of top providers aren't able to circumvent the issue, which brings us to the tests we performed using SwitchVPN.
From what we've seen, SwitchVPN is an excellent choice for streaming online content. Surprisingly, it can unblock Netflix US and works on eight out of ten US servers – only Miami and New York didn't work.
The VPN also unblocks other giant services, including Hulu, Amazon Prime Video and Disney+. It doesn't end here. All the way to the United Kingdom, SwitchVPN was able to unblock BBC iPlayer, which is notoriously hard to crack. 
Smart DNS
Many providers offer Smart DNS as an alternative for streaming geo-blocked content abroad. It mainly exists to aid users in streaming their channels without having to lose speed in the process due to encryption.
In fact, it has become a common practice among top VPNs in the industry, but in SwitchVPN's case, the technology is not applied.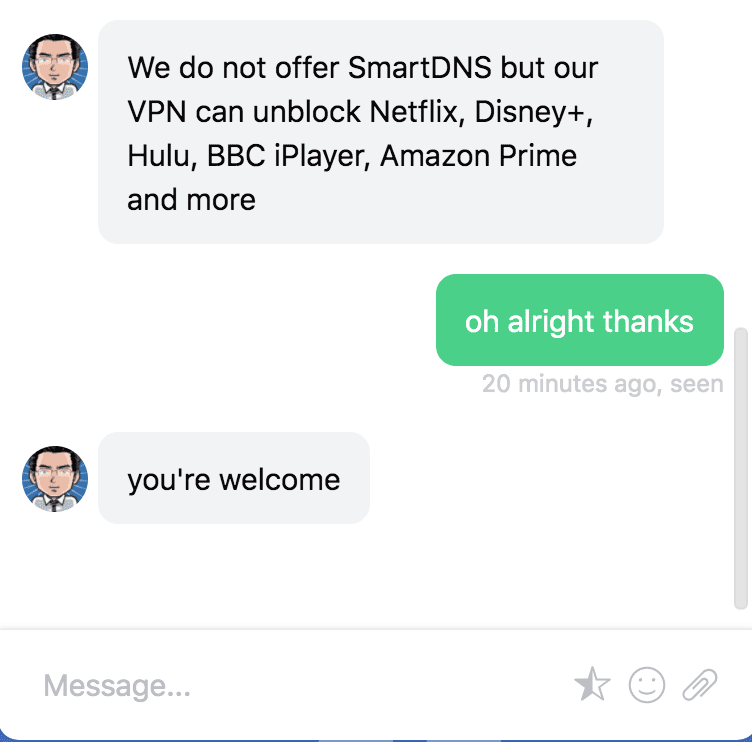 We couldn't find anything about Smart DNS on their website, which took us to their customer support agents. According to them, the service doesn't have the feature.
P2P Support
Streaming aside, torrenting is also a daily habit for most of the online users across the globe. Getting rare files for free, be it shows, games, books, or songs, has never been easier with torrents.
However, such actions may not be tolerated in most countries due to copyright violations. Any user downloading a torrent file exposes his/her IP address to others who are sharing it as well.
This compromises the anonymity of the user and may lead to drastic legal measures if the file violates any laws. That's why using a VPN that supports P2P actions is always recommended.
SwitchVPN supports P2P on all of its servers. This means that users can access all popular torrents from any region in the world and download them with complete anonymity.
Bypassing Censorship
The company confirmed during our little chat that its service works effectively to bypass heavily censored countries. In particular, SwitchVPN can overcome the Great Firewall of China, thanks to an "Advanced Algorithm" that uses IP switching and redirecting traffic to other servers if it gets blocked.
Regrettably, we couldn't find a way to confirm the claims since we're not in China, but the folks at SwitchVPN assured us that they have servers in the country that are monitored continuously.
Switch VPN – Privacy
The company was founded in 2015 by CS Systems Inc., a Delaware corporation out of the US. Notably, SwitchVPN was established because the founders were worried that, "free internet was under threat," and wanted to take back online freedom.
However, SwitchVPN's DCMA, Terms of Service (ToS), and Privacy Policies look obviously suspicious even for an undemanding user. Moreover, the company doesn't seem bothered to disclose its origins, and that makes them look even more prohibitive.
SwitchVPN has a somewhat confusing privacy policy, which states that it "doesn't collect or log any traffic or use its VPN service." At first sight, the information was suspicious, but once we read on, we discovered that there's some truth to their claim.
However, when we kept reading, we found that SwitchVPN admits that it "may disclose your Personally Identifiable Information if required to do so by law or in the good faith belief that such action is necessary." This is implausibly worrying since it openly implies that some data logs are collected – otherwise, the VPN won't have anything to turn in.
Furthermore, the provider has recently switched its base operation to the US (Five Eyes), making its vague no-logs policy even more concerning. This means that the VPN is likely to fully comply with invasive US surveillance laws.
It does a good job of hiding its India-based origins, which raises more questions about its shadiness.
Moreover, we now know that any user data can be shared with several other countries as per the US and UK data retention laws. Therefore, their claims to observe a strict zero-logs policy are entirely controversial.
On the other hand, SwitchVPN has some exciting features and utilities that can restore your confidence in them. For instance, they provide an advanced virtual firewall, as well as a best-in-class internal DNS system.
Kill Switch
SwitchVPN offers a Kill Switch feature that automatically stops any incoming or outgoing internet traffic on your device whenever a VPN connection drops.
This is to prevent your network from revealing your online identity to prying eyes. Thankfully, torrent lovers and gamers can leave their devices unattended without risking exposure.
High-Security DNS
The company has also developed an advanced internal DNS system to give you end-to-end security. This includes providing safety and freedom in heavily censored countries like China, Russia and more.
SwitchVPN – Security
SwitchVPN offers a series of encryption options including the strong AES-256 bit encryption for OpenVPN protocol. There's also the 128-bit Blowfish for data-stream – which is the default for OpenVPN, and an RSA-1024 with a 2048-bit handshaking key.
Drawing from our review tests, we were pleased to find zero DNS & IPv6 leaks – a clear indication that the VPN has invested well in your online privacy.
There are also features like automated Kill Switch – though only available on Windows and macOS clients – which protects your online activity whenever the VPN connection drops.
We also discovered that SwitchVPN operates up to 80% of its DNS servers, and Cloudflare Anonymous maintain the remaining 20%. This will keep your identity and activity away from the reach of intrusive parties like ISPs and cybercriminals.
Overall, we're happy with SwitchVPN's level of security. But to be more solid about its security, we ran the following tests:
Virus Scan
Checking a certain app for viruses is an essential step to take before installing it. We did that with SwitchVPN and the results weren't what we hoped for.
The installer wasn't clean as the virus test scanned a Virus.Win32.Neshta.mDTw infection.
W32/Neshta-A is an appending virus that searches for files to infect within logical drives, including network shares.
It connects to remote servers in Russia and uploads the data gathered from the infected system, such as existing applications, running programs, and SMTP email accounts.
We installed the file anyway to check the app on Mac. However, as we mentioned above, the Mac client asked us for root permission, which is why we directly uninstalled the app and deleted the installer.
This is very bad considering that SwitchVPN is supposed to enhance a user's security.
DNS Leak Protection
To find a mid-range VPN that offers a useful DNS leak protection feature is a rare case. Thankfully, this brand has a built-in feature that will prevent your DNS information from being sent to your local ISP.
Meaning once you turn on the function, you can browse without having to worry about who's monitoring your online activity.
Independent Security Audits
Audits done by security experts help determine the provider's quality when it comes to privacy. We couldn't find any independent audits for SwitchVPN, which raises concerns about how it handles its customers' data.
Their website clearly states that it collects information, yet it does state that it offers a no-log policy. In the past, Switch VPN's Privacy Policy included the following:
A security audit has to be done in SwitchVPN's case as the contradiction doesn't instill trust.
Warrant Canary
Since it's based in the US, the government can send a gag order to the company in an attempt to get access to user data.
It's called a subpoena, and it's illegal for the company to notify its customers about it. This is where Warrant Canaries come in handy as they're an indirect way to inform the customers that their information is compromised.
A Warrant Canary has to be present on the website and updated regularly. If it's not, the provider has probably received a gag order.
Now, SwitchVPN doesn't have a Warrant Canary, which is a bad thing considering what's stated in their Privacy Policy:
Email address is used to send account information, payment receipt, customer correspondence and access promotional offers.;
Payment data is used to manage customer signups, payments, and cancellations,
Compliance with valid legal process.
Temporary cookie is used to handle customer portal logins.
According to what the website states, they have to comply with legal processes. In other words, user data is at risk.
Customer Service
Unfortunately, SwitchVPN's customer service is not up to elite standards and can do with a bit of polish. However, their help center has a vast knowledge base system that will solve most of your issues quickly. For instance, they have a search bar feature, a collection of frequently read articles, FAQs, and other manual guides.
We were disappointed with their live chat service that did not meet our expectations. Regrettably, they claim to be available 24/7, but they took several hours before they could get back to us.
Moreover, the delayed replies to our queries went on for days, asking for our email address on every occasion. Nonetheless, the agents were polite and knowledgeable enough to handle our technical inquiries.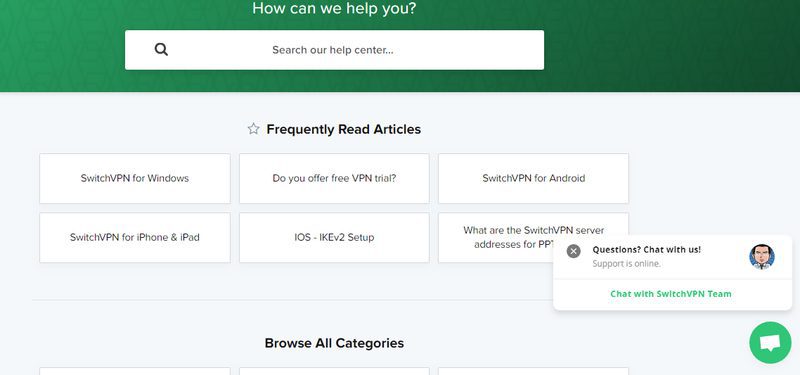 On the other hand, when we asked them about Smart DNS, it only took them around 10 minutes to answer. It's still a very slow respond-rate, but it's so much better than waiting for hours.
Pricing and Payment Options
Although the VPN offered multiple packages in the past, it now sells two subscription plans – SwitchVPN Premium and SwitchVPN Families. While these two are the same, the Families option allows you to secure up to six devices, compared to the 3 concurrent connections on the standard option.
You can pay for either plan on a month-to-month or annual basis. However, if you'd rather pay monthly, you'll have to incur the extra cost, which is $6.95 for the standard plan and $9.95 for the Families package.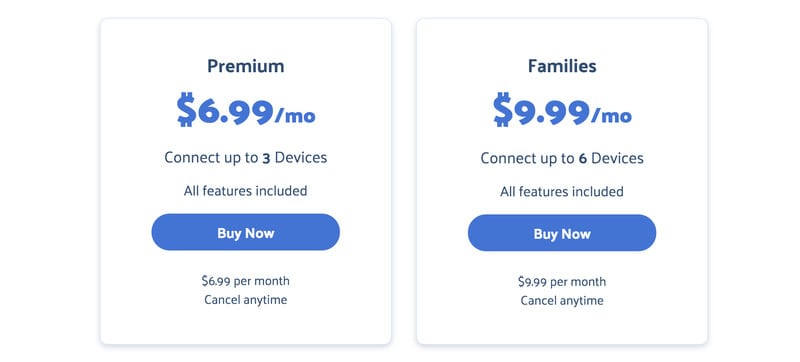 Alternatively, you can choose to go for the annual rates and save up to 44% of your money. The standard plan costs $3.33 per month and is billed at $39.95 every 12 months. The Plus plan goes for $5.89 per month totaling to $69.95 yearly.
Payment Options
You can choose to purchase SwitchVPN using a credit/debit card, PayPal, or Bitcoin. However, we highly recommend you settle for Bitcoin as a payment method if you wish to keep your identity anonymous during purchase. Otherwise, you can choose to pay via Ali Pay if you're not too concerned about privacy.
30-Day Money-Back Guarantee
SwitchVPN offers a no-questions-asked, 30-day money-back guarantee on all packages. Enough time to try out SwitchVPN before you commit your trust in their service.
If users feel like exploring other options, the can simply email the helpdesk team within the first 30 days of your initial subscription, and they'll get your money back. Thankfully, the refund policy doesn't have any exceptions or caps.
A Not So Free Trial
While we were exploring the website, we noticed that SwitchVPN offers a free trial. It's right there at the bottom of the page – fully visible and straightforward.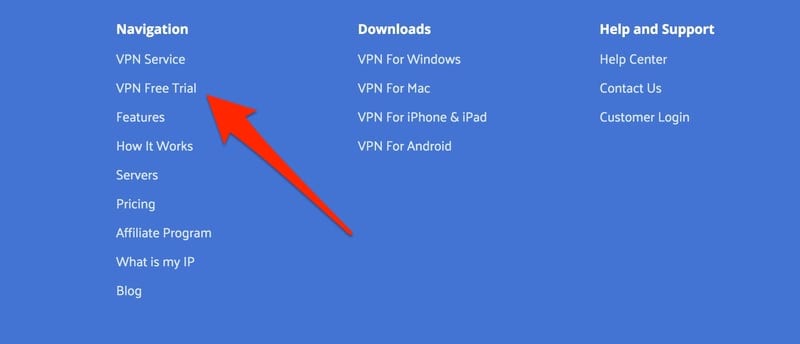 The problem was that the free trial isn't what we thought. When we clicked on the option, Switch VPN offered a different kind of trial, not-so-free.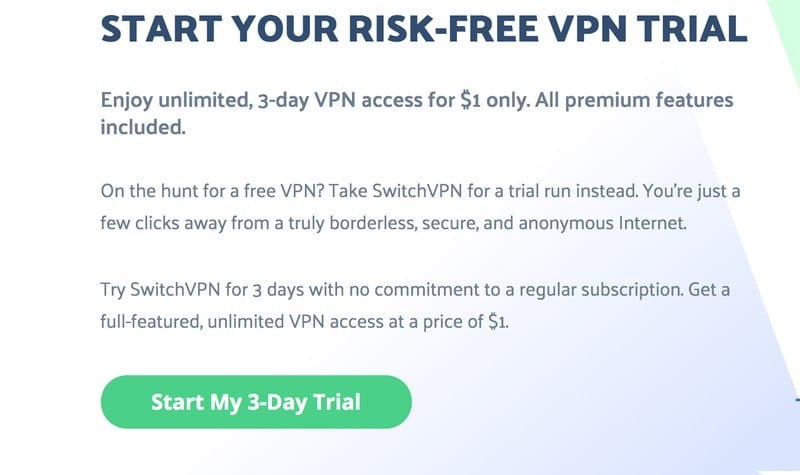 SwitchVPN has a 3-day trial that costs $1. We don't know if the Free Trial title is there to lure customers in, but no free trial is offered.
Conclusion
SwitchVPN can not compete with other top VPNs in the industry. They lack security, their privacy is questionable, and what's with the Mac client?
If we were to list some pros, the provider does have good speeds and able to unblock geo-restricted channels. However, if that's what all of the users are looking for, they're better off with a Smart DNS service.
Security is important, and from what we've seen, SwitchVPN isn't capable of maintaining a solid one. Based on our opinion, Switch VPN is not recommended. You now have the review, what do you think? Share your thoughts in the comments below.