Let us kick off this review by saying that this VPN changed our point of view on free VPNs. Qamo VPN is a new free VPN service that launched a couple of months ago. We had the chance to test it out, and the results were not as expected – It is a free VPN worth investing in.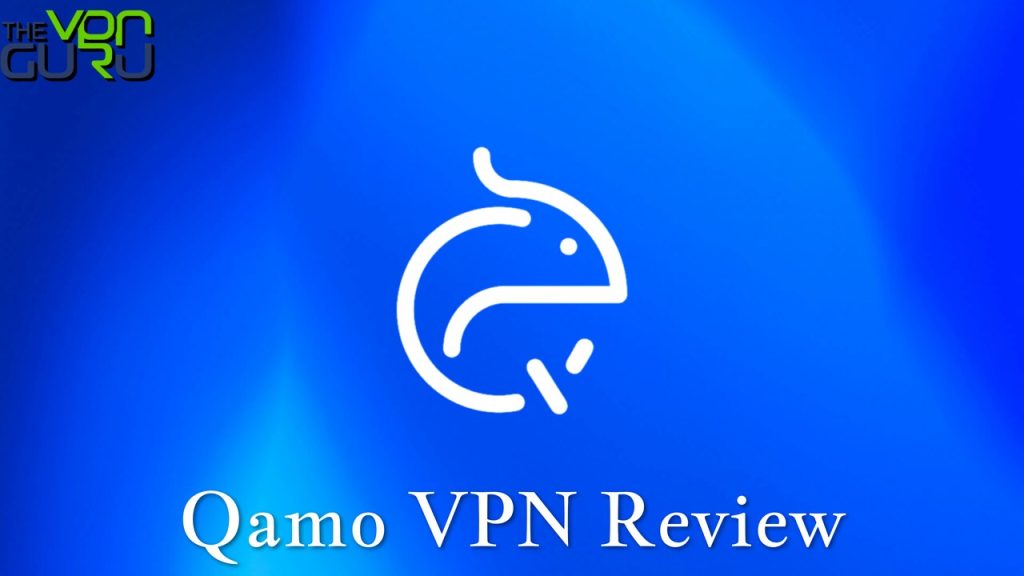 During our long years of reviewing VPN providers, we've never recommended using free VPNs. They're not safe, and they don't deliver the quality needed to surf the internet conveniently.
However, when we took a dive into what this VPN had to offer, our beliefs shifted. So far, it's in its Beta release and is only available on Android, but we have a lot to cover. Here's the full Qamo VPN review.
Qamo VPN – Quick Stats
| | |
| --- | --- |
| Money-Back Guarantee | Free |
| Allowed Concurrent Connections | 1 |
| Supported Streaming Services | BBC iPlayer, Netflix, Hulu |
| No-logs Policy | Yes |
| Encryption | AES-256 Encryption |
| Security Protocols | OpenVPN |
| Special Features | Kill Switch |
| Customer Support | Email Support |
| Server Locations | 11 |
| Number of Servers | 11 |
| Supported Devices | Android |
| VPN Legal Jurisdiction | Cyprus |
| Free Trial | Free Version |
The Qamo VPN Application
When you download a VPN application, the first thing you look for is simplicity. If an app is not convenient enough to navigate, users would lose interest instantly.
Why invest in a VPN client if you can't figure out your way around it? We've encountered this problem in several VPN applications in the past, but it's definitely not the case with Qamo.
First of all, the VPN's launch only includes Android devices, including Huawei. You can simply download it through your native app store or via the links provided on the VPN's website.
Again, what piqued our interest in Qamo's application is its simplicity. You can do everything with a push of a button.
When we launched the app, we were prompted to sign in with our account. Of course, we didn't have one, so we signed up by creating a free account.
Once signed in, we were able to choose our desired server and connect instantly.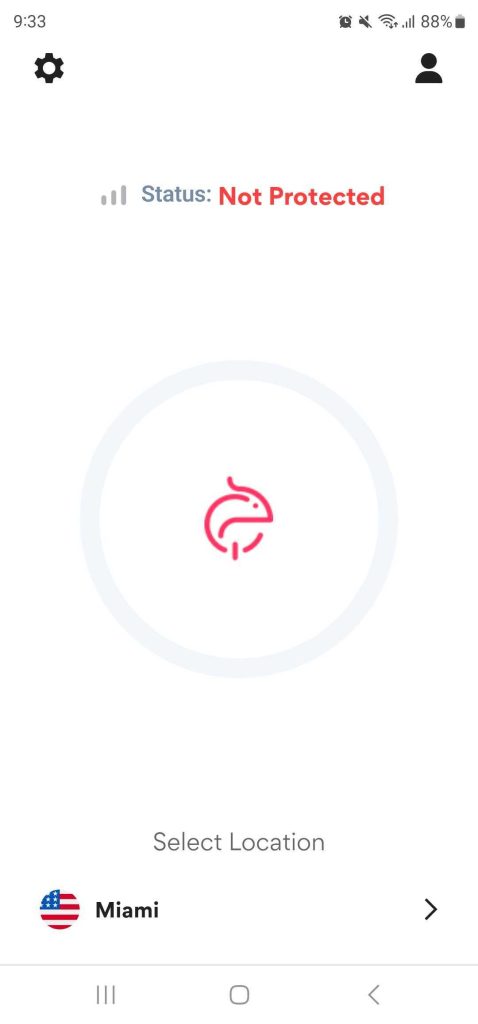 The connection process took around 2 seconds, which is perfect for a VPN that's currently using the OpenVPN protocol.
The connection was seamless, and we witnessed no outages along the way. We were connected for hours after that.
Moreover, the Settings section includes far more features than even a premium service could provide. What free VPN has a kill switch? Don't answer that, Qamo does.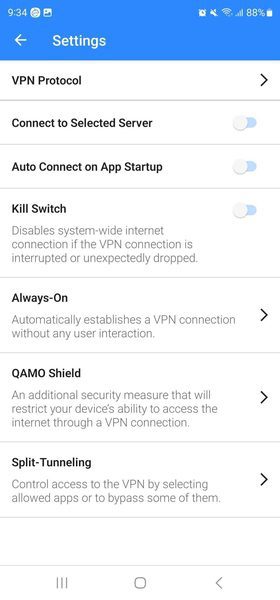 The Settings section has a kill switch, split tunneling, and Qamo Shield. You can also change the protocol with a few clicks here and there.
We'll be shedding more light on those features later on in the "Security" section. We just wanted to give you a glance at what Qamo is providing.
Qamo VPN Servers
Before we kick off with this section, we have to note again that Qamo VPN is a free service. In other words, we didn't expect much in this category.
We expected to see 2 to 3 functional servers, just like what any free VPN might offer. Instead, we found a list of 11 servers scattered around 11 countries.
Canada
Denmark
France
Germany
Italy
Japan
The Netherlands
Russia
The United Kingdom
The United States
All the servers are fully functional, and all of them are well-optimized for streaming, browsing, and seamless online surfing.
As we mentioned above, the connection was established at an excellent rate. Once we clicked on the connect button, we were halfway across the world, virtually.
Qamo VPN vs. Streaming Services
When it comes to VPNs, in general, unblocking streaming services is, by far, the most important reason for operating with one.
Let's face it. You already know what the most common reasons for using virtual private networks are. Users look for a VPN that can maintain their online security and privacy.
However, while this is the sole purpose of a VPN at its core, it's not what most people look for in one. In fact, reports state that VPNs, in most cases, are not being used for such a task.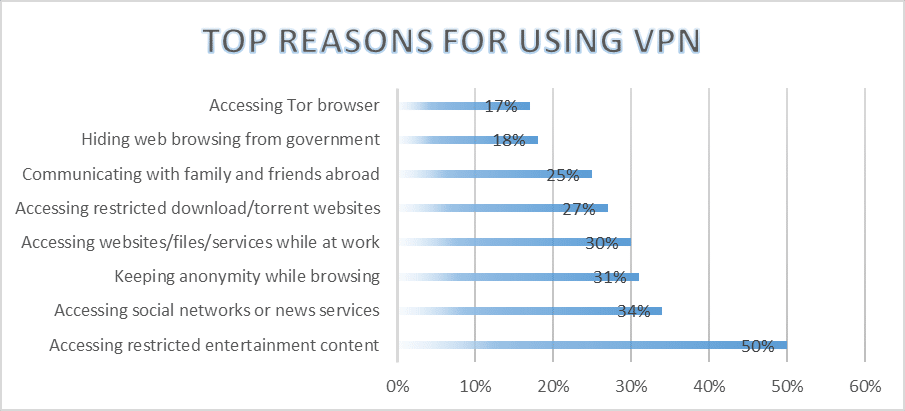 A lot of the users seek anonymity, access to the Tor browser, and online security. But, most of them turn to VPNs for entertainment purposes, i.e., accessing geo-restricted content such as Netflix, Hulu, BBC iPlayer, and more.
The thing with popular streaming services is that they're able to detect VPN traffic. In other words, they can block VPNs from accessing their content.
For example, Netflix US is meant for those in America (US IP address). With a VPN and a US server, you can shift your IP address and access that library. Well, not if you get caught – You'll receive the following error message:
"You seem to be using a VPN or proxy. Please turn off any of these services and try again."
This error doesn't just pop up when using a free VPN. Even the biggest providers struggle to bypass Netflix's detection techniques. Now, the question is: Can Qamo VPN, a free service, do it? Find out below.
Netflix
As we mentioned, Netflix is one of many streaming services that can detect VPN traffic and block it on the spot.
The reason why users tend to change their virtual location and appear in the US is to unblock Netflix's best library.
Every region has its own Netflix titles, which is a huge benefit to those operating a Virtual Private Network.
Free VPNs never had a chance against Netflix's detection mechanism. Even premium ones struggle at some point. But what about Qamo?
When we downloaded the app, we directly connected to a US server. The application automatically connected us to a Miami server, which is great considering the limited options we had – It's still a free VPN, after all.
Once connected, we launched Netflix and searched for a "US-only" title – Supernatural. Normally, if a VPN doesn't work with Netflix, the title doesn't show, but this one did.
In some cases, the channel gives you false hope and lets you choose the title but later presents you with the error provided above. Not with Qamo, as we were able to stream the show instantly: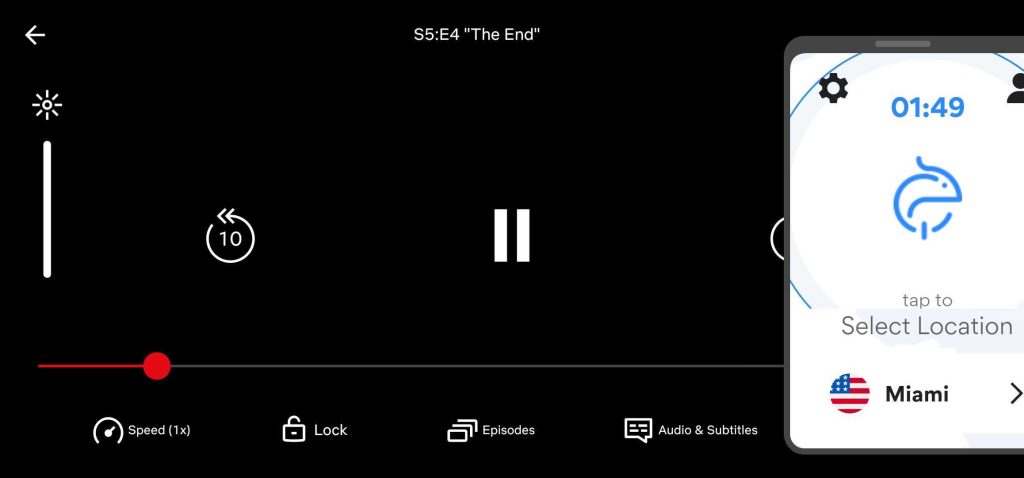 Due to copyright reasons, Netflix doesn't allow screenshots to show its content. However, the main focus here is that the video worked, and the quality was at its best.
If you think that the good results with Qamo ended here, think again! The VPN service continued to impress us even more in further tests.
Hulu
Hulu is yet another streaming service that's demanded all over the world. However, the channel itself and its library are geo-blocked outside the United States.
Unlike Netflix, Hulu doesn't exist outside the US, which makes the task even harder, as here, you won't be switching libraries – You'll be attempting to access the channel as a whole.
Hulu has been around for quite some time, solidifying its place as one of the best streaming services in the US.
As of now, the Walt Disney Company reported that Hulu had 48.3 million paid subscribers, which is a huge number in one country.
Unfortunately, as we mentioned, streaming Hulu is only permitted within the US. Those trying to stream it abroad will only get blocked.
While with a VPN, users can unblock the channel. However, that's not always the case, as Hulu can also detect VPN traffic. If a VPN is not credible, this error might show up: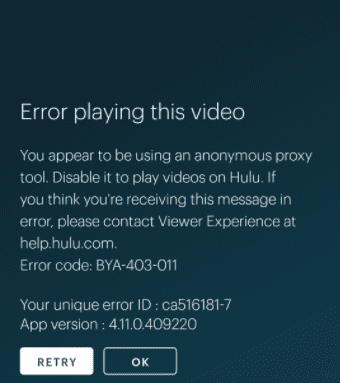 We've tested several free VPNs with Hulu in the past – None of them managed to bypass Hulu's detection techniques. That's why we were shocked when we saw what Qamo VPN was able to do.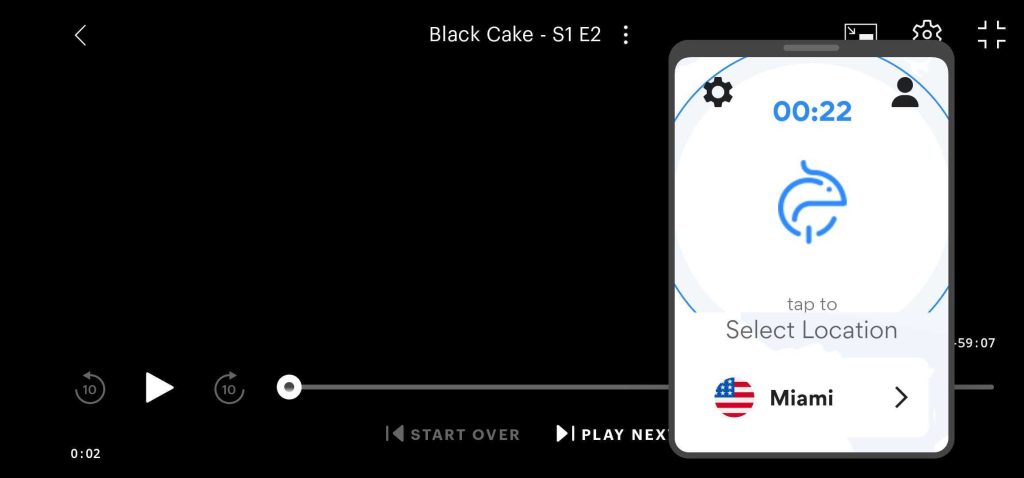 Not only did it unblock Hulu, but it also played the video in high quality, which is something you rarely see with free VPNs.
BBC iPlayer
Now, we head all the way to the UK with one of the most popular streaming channels, BBC iPlayer. Back in 2022, the channel harnessed over 7 billion streams for the first time ever – definitely a good year for BBC iPlayer.
This particular channel is tough to get, as it also can ban VPN access easily. When you try to access BBC iPlayer from abroad with a not-so-credible VPN, you'll receive this error: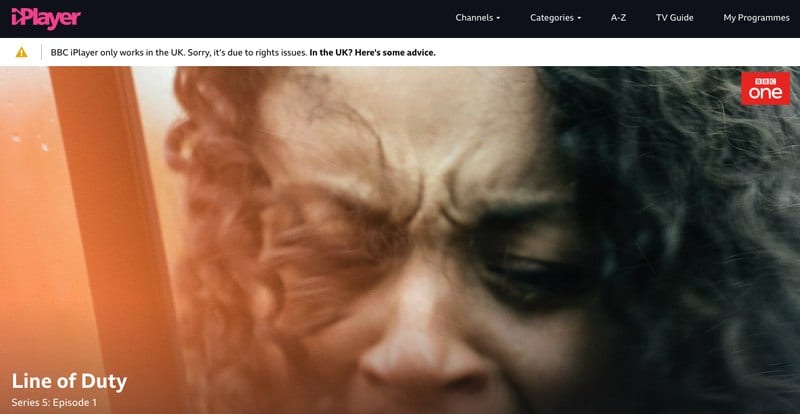 Now, with Qamo, things turned out to be a bit different. We used Qamo VPN's dedicated BBC UK server during our tests.
Once we connected, we launched BBC iPlayer's app, signed in with our account, and launched a video. The moment we hit play, the stream was successful.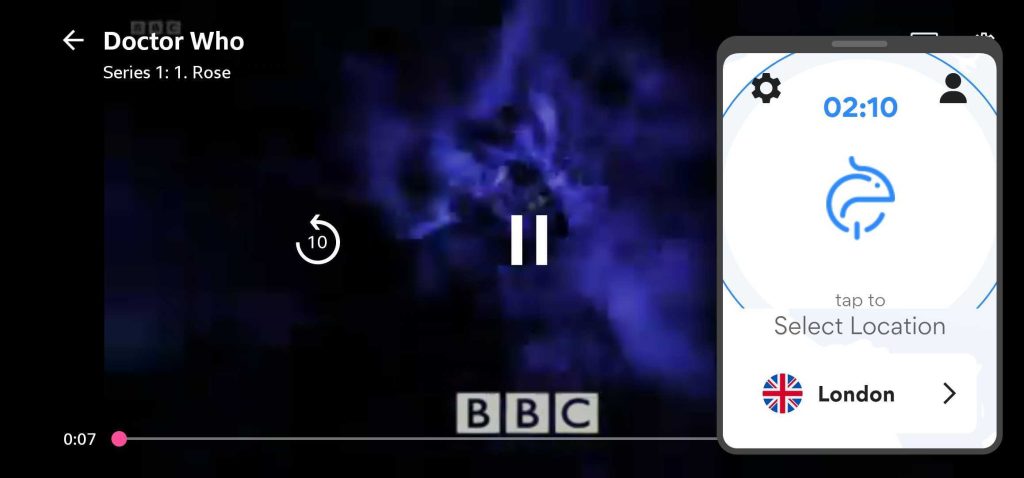 Not only that, but the quality was excellent – no video quality loss was encountered. This is a big accomplishment for Qamo VPN.
Why? Well, first it has 1 server in the UK and it managed to unblock the channel. Second, it's a free service, which means it succeeded where premium providers failed.
Disney+
Disney+ launched a couple of years ago, and it has been giving VPNs a hard time when it comes to unblocking its content.
Apparently, it's still doing that, as its VPN detection mechanism is unrivaled. Yes, Disney Plus is the one that stopped Qamo in its tracks.
We connected to an American server and launched Disney Plus. The channel didn't even give us the chance to log in with our account. It instantly presented us with the following error:
While this is a disappointment, considering how well Qamo has been doing so far, it's not the only VPN that fell flat against Disney+ security measures.
We also tried several premium services, including ExpressVPN and SurfShark – The same results befell upon them as well.
In general, Qamo VPN proved to be an excellent VPN for streaming. Despite being free, it managed to unblock the top streaming services in the industry.
If you're looking for a provider that costs nothing but unlocks plenty – Qamo VPN is the service to use.
Security and Privacy
Virtual Private Networks, in general, are tools to elevate your online security and privacy. When you invest in a VPN provider, you must always check what security measures it has to offer.
To be exact, a VPN's security lies in its protocols and its encryption. Unfortunately, being "Secure" isn't a title free VPNs have earned, so what makes Qamo different?
We never trust free services with our data, but tests are the way to go if you want to make sure that the VPN is exactly what it claims to be.
The VPN adopts a zero-logging policy, which means it does not collect your data or monitor your browsing activities. We have to note that the service is based in Cyprus, a country where no data retention laws apply. (Outside the 14-Eyes Jurisdiction).
While it does generate some ads – It's a free service, after all. But with what we've encountered, you won't even notice them.
Qamo VPN applies the industry-standard 256-AES encryption, which can't get better than that. As for the protocol, Qamo happens to provide OpenVPN, one of the safest options to choose from.
However, when we were in its "Settings" section, we did notice a very intriguing protocol just lying there – WireGuard.
We went ahead and asked the support team about the fact that we couldn't select WireGuard. They told us that it's a feature they're willing to add in the next update.
Security/Privacy Features
Qamo VPN has been out for a couple of months only, which explains why more features are coming to its applications in the near future.
Now, moving on to what the VPN actually has. First of all, Qamo is probably the only "Fully Free" service that has a kill switch.
This is a feature that cuts off your internet access if a sudden drop in the VPN connection occurs. That way, your browsing activities won't end up running through your ISP's servers until the VPN connection is re-established.
Another interesting feature would be Split-tunneling – A tool that allows you to choose what applications can use the VPN's servers and what can't – It really comes in handy at some point.
Finally, Qamo Shield is a feature that's not seen even with premium providers. This feature doesn't allow you to connect to the internet if a VPN connection is not established. Talk about online security from the kickoff.
Qamo – Pros and Cons
In case you want a summarized review of Qamo VPN, give this section a quick read:
Pros
Free VPN
Unlimited bandwidth
Servers in 11 countries
Unblocks Netflix, Hulu, and BBC iPlayer
Kill Switch
Qamo Shield
Split tunneling
256-AES encryption
No Logs Policy
Based in Cyprus
Upcoming WireGuard support
Excellent speeds
Cons
No live-chat support (Currently)
Have to click on the connect button after choosing a server
Apps for Android only
Yes, we didn't add the "Advertisement" factor to either of our lists. That's because the ads are a normal thing in free services, and they did not affect the overall experience at all.
We encountered one or two only throughout our testing duration. Moreover, the support team mentioned that ads will be used to unblock premium features in the future.
We'll just have to wait and see how this turns out. A free VPN granting premium privileges for watching ads… Interesting indeed.
Qamo VPN Review – The Final Verdict
Now we've seen everything. Throughout our VPN reviewing years, we've never encountered a free VPN that actually deserves our praise.
Qamo VPN has a long way to go, but with what we've seen, it's partially there. Customer support can be improved as the service doesn't have live chat yet. We contacted them through email to get the information we needed.
Streaming-wise, the VPN exceeded all of our expectations, unblocking Netflix, Hulu, and BBC iPlaye seamlessly.
As for the security features, since WireGuard is going to be added in the next update, Qamo seems to be headed in the right direction.
Our verdict is the following: If you're looking for a free VPN that has it all, Qamo VPN is the service to choose from.
If you're premium VPN is charging you too much, you can settle for a free alternative now in Qamo. This review will be updated regularly, as the VPN has yet to update its applications.