The term 'Proton' might sound familiar if you've encountered ProtonMail in the past – and you'd be correct to relate the two. Both ProtonVPN and ProtonMail share the same parent company, a Swiss-based organization called Proton Technologies AG. However, the VPN runs independently under ProtonVPN AG because of security and legal reasons. ProtonVPN markets its service with the famous phrase "high-speed Swiss VPN that safeguards your privacy." Today, we're here to see if what they claim is true by assessing its features and services. So, with that said, here's the full ProtonVPN review.
ProtonVPN Review – Content Index
It's no surprise that it is a feature-packed service that includes best-in-class security and excellent speed levels. However, these services do not come cheap, and their subscription plans are likely to cause controversy.
Our ProtonVPN review was mostly driven by the controversy caused by users who have been wondering if the VPN is worth their money. We wanted to find out what the VPN has to offer to make up for the pricey plans they give. Therefore, we've been testing with ProtonVPN, and here's the full information review about their service.
Quick Stats
Money-back guarantee

30 days

Free trial

Free plan with a 7-day Plus trial

Allowed concurrent connections

1 device for the Free plan

2 devices for the Basic plan

5 devices for the Plus plan

10 devices for the Visionary plan

Supported streaming services

Netflix, Amazon Prime, BBC iPlayer, and Hulu

No logs policy

Yes

Security protocols

OpenVPN, IKEv2/IPSec

Encryption

AES 256-bit

Special features

Kill switch, DNS leak protection, Perfect Forward Secrecy, Secure Core, Tor over VPN, and Split-tunneling

24/7 Customer support

No

Server locations

55 countries

Number of servers

1200+ servers

Supported devices & platforms

Windows, macOS, iOS, Android, Linux

VPN legal jurisdiction

Switzerland
ProtonVPN – Pros and Cons
Before we head over to the full ProtonVPN review, let us sum up everything we liked and disliked about the provider during our evaluation:
Pros:
Strong security

Strict no-logs policy

Supports P2P

Offers Secure Core servers

Unblocks Netflix, BBC iPlayer, and Hulu

Fast speeds

Tor over VPN

Perfect Forward Secrecy

DNS leak protection

Kill Switch

30-day money-back guarantee

Warrant Canary
Cons:
Very pricey

Poor customer support

Limited compatibility with platforms and devices
Ease of Use
At first sight, ProtonVPN's official website gives you a blissful feeling. The website is well optimized, looks futuristic, and very easy to navigate. Every button and text link are well placed and lead to relevant pages of the VPN.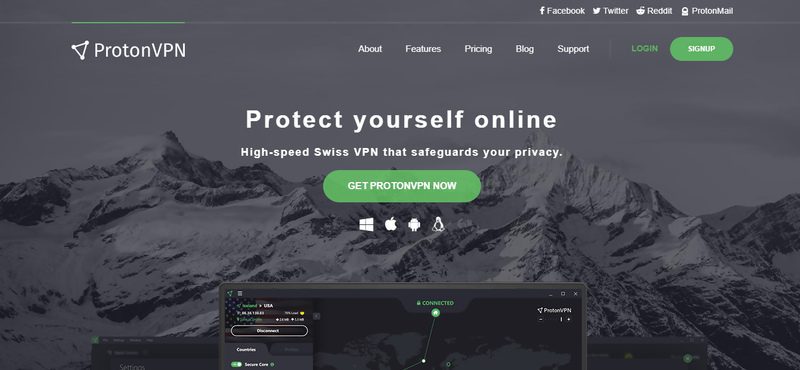 The top bar has all the social links as well as a link to ProtonMail. The main menu contains crucial text links including About, Features, Pricing, Blog, Support, and login & sign up options.
The landing page sports a Swiss landscape background – something that ProtonVPN prides itself with. The footer menu also contains all-important links.
Getting started
You can start by clicking on the "Sign up" or the "Get ProtonVPN" buttons. You'll then be redirected to a subscription page, where you follow these simple steps:
Select a plan that fits your needs

Enter your email

Key in your payment details

Download the client, install, run and connect to get started
ProtonVPN Clients
ProtonVPN offers custom apps for Windows, macOS, Android, and iOS. There's also a command-line Linux script available that you can use to auto-configure and control OpenVPN, which you can only install independently alongside other packages.
The company also offers a manual IKEv2 setup guide for Linux platforms. Notably, the Windows client uses OpenVPN, while the remaining macOS, iOS, and Android use the IKEv2 protocol.
Windows client
The Windows client is futuristic, has a simple design, and packs a ton of exciting features. All the options on the screen are well-placed and easy to navigate as well.
The app also houses an impressive server map that is mainly for show. Although, once you connect the app displays significant session traffic data. Moreover, the Windows client offers the OpenVPN protocol for UDP or TCP connections.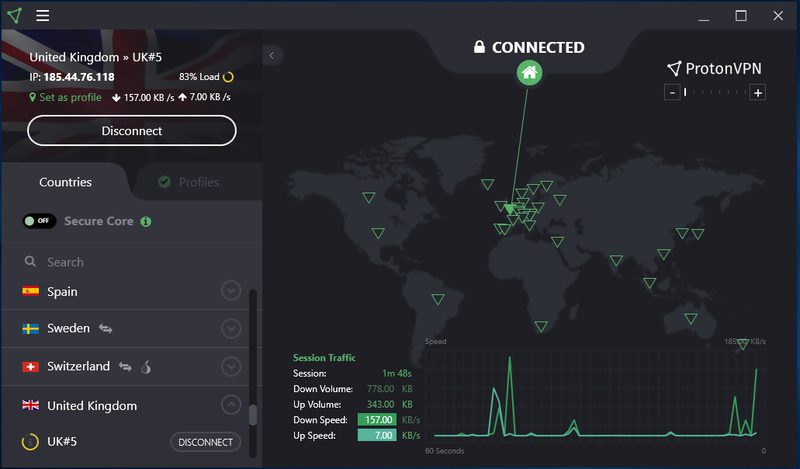 The app will automatically connect users to the best server in any country that you select. Also, they can also connect to a specific server if they want. Thankfully, ProtonVPN has labeled all the servers as to which of them are available to free users, P2P supported, or Tor over VPN enabled.
You can toggle to the advanced section where you get connection settings and tweak them. The Kill Switch feature has a firewall design but doesn't use the Windows system firewall either.
This means that you risk exposing your real identity if the OpenVPN daemon crashes or suddenly stops. Otherwise, the Kill Switch feature works well. As for the DNS Leak Protection, it's usually enabled by default, and from our tests, it works remarkably well.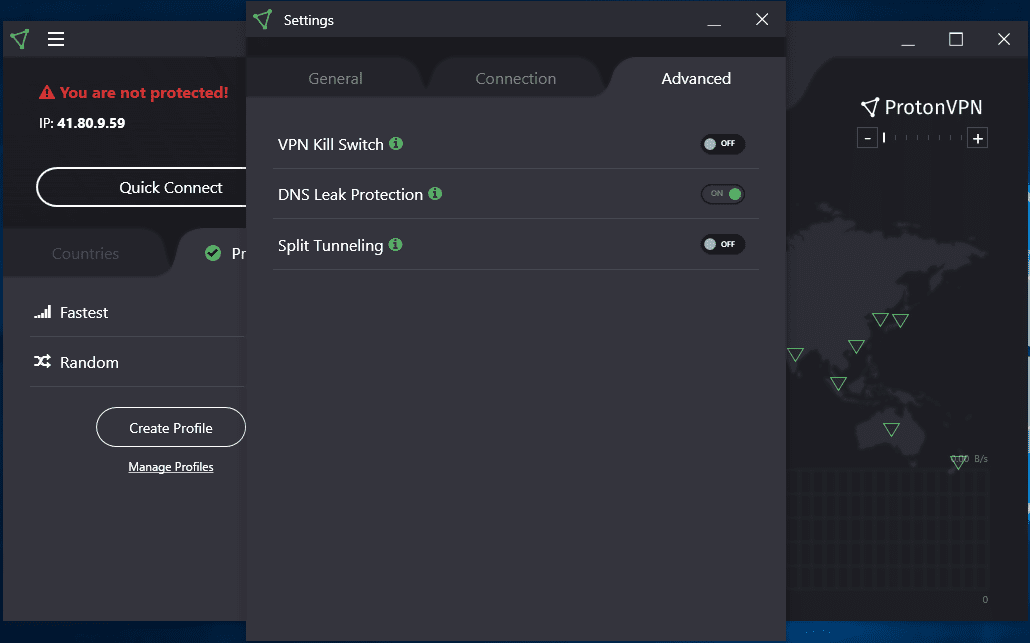 ProtonVPN Mobile client
The mobile app for both Android and iOS platforms is the best we've come across – and that's in terms of design. The app has a simple design, very well-optimized, and looks futuristic as well.
And like its desktop counterparts, it has the best user interface. Furthermore, almost everything about it is similar to the desktop app, and the user experience is the same too.
The mobile client apps for both iOS and Android don't feature a Kill Switch. Instead, they have the "Always-on-VPN" feature, which reestablishes a secure VPN connection seamlessly and automatically.
This happens whenever your service malfunctions. For security reasons, the feature is always turned on. In the images above, the Plus servers can be seen. These are only accessible if a user subscribes to ProtonVPN's Plus or Visionary plans.
ProtonVPN has decent compatibility with all major platforms including Windows, macOS, Android, and iOS. Like we've seen already, it doesn't have an app for Linux, but issues a manual IKEv2 setup guide. Just like almost every VPN out there, users can't install the service on gaming consoles or smart TVs.
Servers
ProtonVPN has a network of over 1200+ servers in 55 countries around the world. And according to the website, these servers offer a total of 817 Gbps capacity. Though the server network isn't as wide as some competitors, we've seen many VPNs with small server networks perform excellently.
Unfortunately, ProtonVPN doesn't have an even server distribution, with most of its servers located in Europe and North America. You'll find a limited number of servers in Asia, Australia, and South Africa.
The full list of ProtonVPN's servers is presented below:
France
Greece
Hong Kong
Hungary
Ireland
Israel
India
Iceland
Italy
Japan
Korea
Lithuania
Luxembourg
Latvia
Moldova
Mexico
Malaysia
Netherlands
The UAE
Argentina
Austria
Australia
Belgium
Bulgaria
Brazil
Canada
Switzerland
Chile
Colombia
Costa Rica
Czechia
Germany
Denmark
Estonia
Spain
Finland
Norway
New Zealand
Peru
Poland
Portugal
Romania
Serbia
Russian Federation
Sweden
Singapore
Slovenia
Slovakia
Turkey
Taiwan
Ukraine
United Kingdom
United States
South Africa
Nonetheless, the company offers various servers depending on their security strength and purpose, including Secure Core, P2P, Tor, and standard lists. You can also create multiple VPN profiles from these categories.
Secure Core servers
ProtonVPN offers an exciting security feature they call Secure Core. When we enabled it on the client app, our online traffic was automatically redirected via double servers instead of the usual one.
Furthermore, users can find Secure Core servers in Switzerland, Iceland, as well as Sweden; and they can only connect to them in conjunction with a specified list of servers.
For instance, users can choose to connect to a Russian server via Iceland. Moreover, they can turn the Secure Core feature on and off in the server list within the client app.
Keep in mind that it will significantly slow down their connection speed once they turn it on. Therefore, they should only use it when they suspect a privacy breach. 
ProtonVPN Performance
We tested several servers in various locations including the US, UK, Australia, as well as South Africa. We did this every day while carrying out several online tasks such as streaming HD content, torrenting, online gaming, and general browsing.
Thankfully, we didn't experience any noteworthy lags or buffering errors and video playback issues. Unfortunately, the 'Connect' and 'Disconnect' processes took long across all clients – but it worked after a few clicks.
Speed test
To find out the speed levels ProtonVPN offers, we had to test it using a speed test tool, while connecting to multiple servers around the world. We precisely experimented on a server close by, then a remote server, since we thought it'd be enough to sample the speed levels.
Of course, we had to establish a baseline for our speed tests; therefore, in our initial run, we tested the speeds without the ProtonVPN connection. Below is an illustration of the results we recorded: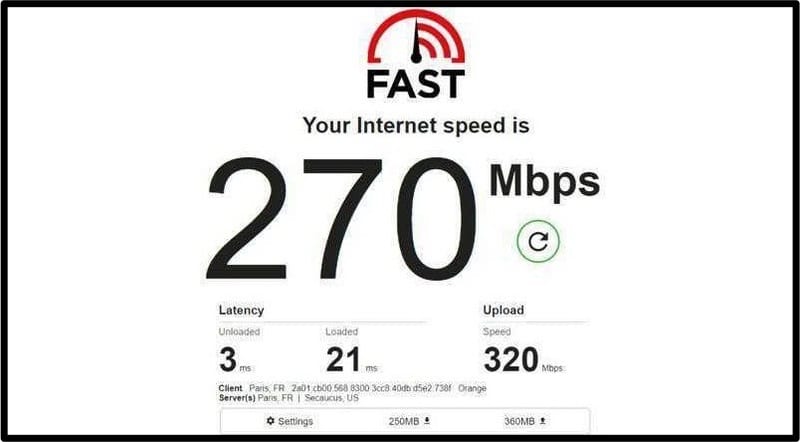 Next, we experimented with ProtonVPN after we connected to a nearby server location. Despite the near location, the speed wasn't good enough. Usually, we get this kind of drop when we use a distant server. While using a French server, Proton VPN caused an %82 drop in our connection.
In our next test, we connected to a distant server location and the results just got worse. A server in Canada didn't do our connection any good. It only increased the speed drop to 89.3%.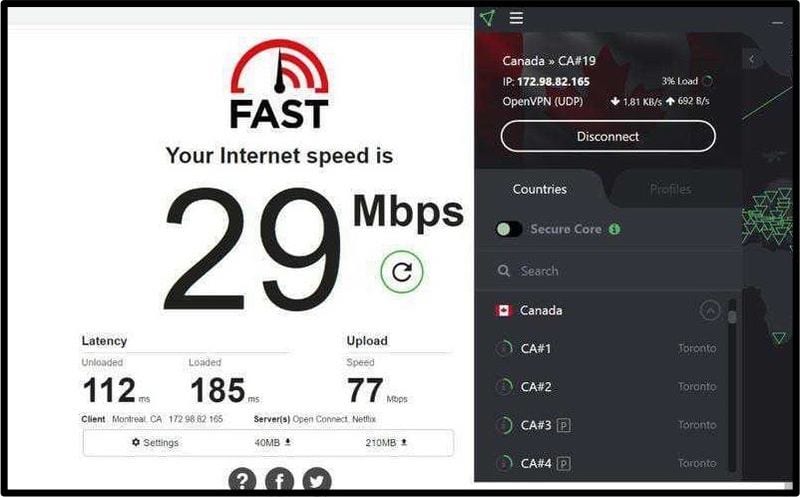 Overall, the results show that ProtonVPN not a very good service when it comes to speed. We also tried their Secure core servers and the VPN recorded worse results than the ones above due to double encryption.
If it's the speed you're looking for, we don't think ProtonVPN has what it takes to maintain a decent connection. 
Netflix Compatibility
A VPN isn't just a tool to enhance your privacy and security. In fact, most users around the world are using VPNs for entertainment purposes (Accessing geo-restricted content), such as American Netflix, Hulu, BBC iPlayer, and more.
One of the main attractions in the streaming industry is none other than Netflix. Despite offering its services to almost every country in the world, the service does apply geo-blocks.
It limits its content based on a user's geographical location, which results in getting a certain catalog to access. Moreover, Netflix is one of the channels that are able to block VPN access. That's why it's very important to check whether this VPN can circumvent such a blocking mechanism.
We ran a few tests using ProtonVPN. At first, we used a normal server in the United States. The results were negative as Netflix caught us using ProtonVPN and blocked us immediately.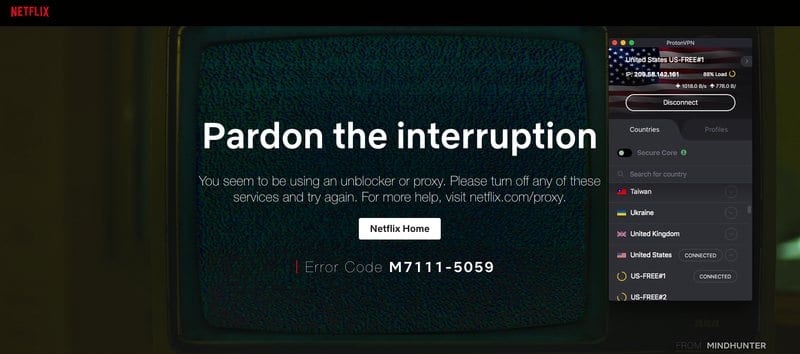 We didn't stop there. According to their official website, only the Plus servers are able to get the channel to operate. That's when we used a US server with the label "P" next to it. As a result, we were able to stream Star-Crossed ( A US Netflix title) in our region.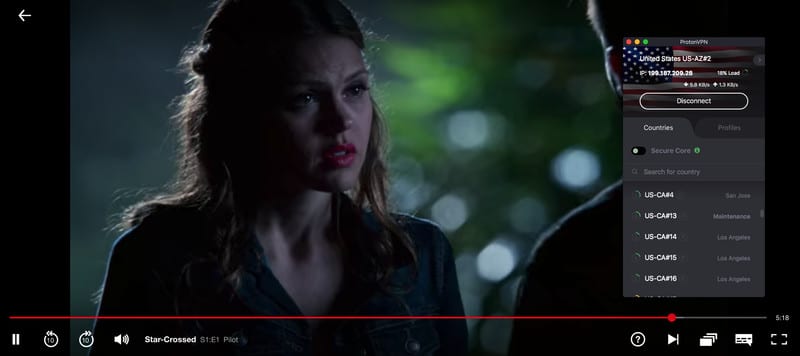 This has its ups and downs. Why? Well, anyone who's subscribed to the service's free or Basic plan will never get to access Netflix. Therefore, we can conclude that if users want to unblock restricted content, they should pay more, which is kind of disappointing.
ProtonVPN and Other Streaming Services
The streaming tests aren't just performed on Netflix. We also had to see if ProtonVPN can unblock the notoriously strict services like iPlayer, Hulu, and Amazon Prime.
These services are also able to block VPNs from accessing their content. We ran a few tests on all of them and the results were as such:
First, we had to check if Hulu can be unblocked outside the US. So, we connected to a Plus server in the United States, and Hulu was fully accessed in our region.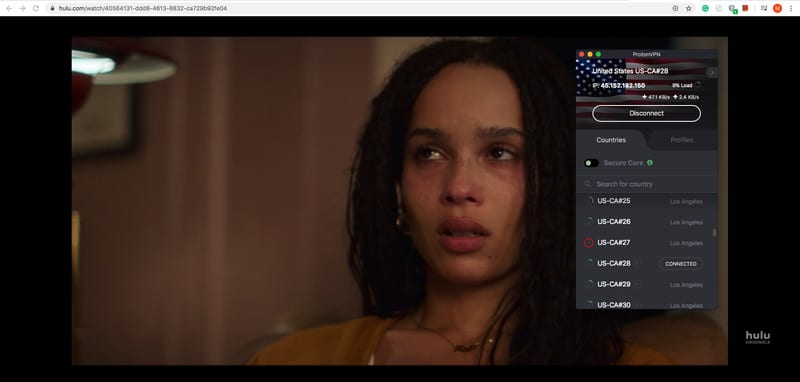 Next, we used the same server that helped us unblock Hulu to check if Amazon Prime falls into the unblocked channels category. We've read old reviews stating that ProtonVPN is not compatible with Amazon Prime. Today, we're here to correct that.
ProtonVPN did, in fact, bypass Prime's VPN blocking mechanism and access its content without any issue.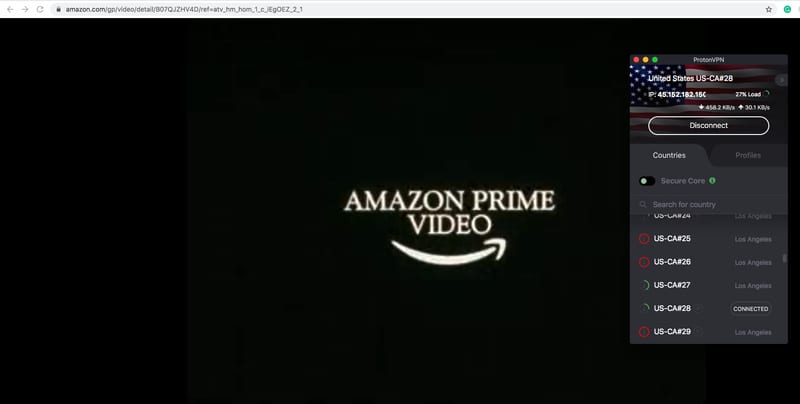 Finally, we headed to the UK to see how ProtonVPN can fare against BBC iPlayer's VPN blocking. The channel is very popular in the United Kingdom, but its popularity did not stay there.
Millions of viewers are using proxies and VPNs to watch BBC iPlayer abroad. But the question is, did ProtonVPN unblock it during our tests? Quick answer, yes it did. Here's what a Plus server in the UK did:
Basically, ProtonVPN is a reliable provider for streaming. However, just like with Netflix, users have to opt for their Plus plan in order to get the job done. Otherwise, they're getting none of the channels above if they're overseas.
Compatibility in China
We believe that ProtonVPN works in China – though on specific servers. After consulting with the support team, we were able to use some US, as well as the Secure Core servers to overcome the Great Firewall of China. However, we had to use Tor over VPN to unblock various websites.
P2P Support
Torrenting is a common practice among internet users nowadays. However, such acts can be dangerous and may compromise your true identity. That's one privacy breach users wouldn't want to go through.
Users sharing or downloading a torrent file can see each other's IP addresses. This puts their privacy at risk because it is possible to see who is downloading and sharing which files.
On the other hand, ISPs can tie torrenting activities to a certain IP address, revealing the user's true identity in the process. ProtonVPN allows P2P actions, including torrenting. However, it doesn't do that without some sense of hostility.
According to their website:
"ProtonVPN does not condone the use of BitTorrent to share copyrighted material illegally."
Moreover, not all servers allow such actions. First, users should be subscribers to the Basic Plan or the ones above, which means free accounts won't be able to use ProtonVPN for torrenting.
Even with the Basic Plan, if you use a non-P2P friendly server, a message will pop up and the VPN will disable the connection immediately. Here's what we got while we were using the app:
"Your connection has been disabled because you are using a server that does not support peer-to-peer (P2P traffic. P2P is not supported on free servers and servers with # higher than 100. Please use a different server for P2P."
In the application, we found servers with Two Flashes next to them. These are the ones that support P2P actions.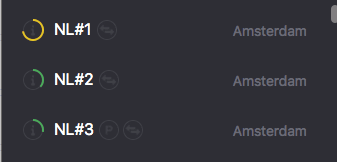 So, basically, if we want to avoid the notice presented above, we have to connect to P2P-friendly servers directly.
Privacy
Privacy is undoubtedly ProtonVPN's forte, and they take great pride in their ability to keep users' online identities anonymous. The company is based in Switzerland, one of the countries with the best privacy laws.
Furthermore, the VPN benefits from the reputation set by its creator, Proton Technologies AG, as a highly secure email service. This helps them implement an absolute no-logs policy, and thus they will never share user data with third parties under any circumstance. What we liked the most is that their zero logs policy applies to free subscribers as well.
According to their Privacy Policy, ProtonVPN does not:
Log users' traffic or the content of any communications
Discriminate against devices, protocols, or applications
Throttle your Internet connection
ProtonVPN is also quite transparent with their service and provides insights about who is running the VPN. They also have a good reputation for advocating for online privacy and actively contributing to the open-source community.
Furthermore, the brand doesn't require information that can lead to your identity. During sign up, we were able to use fake details and register via their secure ProtonMail, which is anonymous.
DNS leak protection
Having a VPN that offers strong encryption is a must. But getting one that can also protect your DNS queries is a plus. ProtonVPN doesn't disappoint as it provides DNS leak protection, and they certainly don't rely on third-party DNS providers.
Thanks to this, they're able to protect your online activity against the snooping eyes of governments, ISPs, and cybercriminals.
Secure Core
ProtonVPN's Secure Core infrastructure makes it possible to defend against server network attacks. The feature secures your network by redirecting your browsing activity through several servers before exiting ProtonVPN servers.
This means that even if someone with snooping intent tries to monitor network traffic at the exit servers, they won't differentiate the IP addresses of various ProtonVPN netizens.
According to the company, Secure Core servers are only located in "hardened data centers," including Switzerland, Iceland, and Sweden.
Forward Secrecy
The brand offers carefully selected encryption cipher suites that have Perfect Forward Secrecy. This creates a new encryption key with each connection – so a key is never valid for more than one session.
This means that even if someone manages to get their hands on the decryption key, they won't be able to crack your encrypted traffic. 
Swiss-based
Apart from the robust advanced security, ProtonVPN also enjoys strong legal privacy protection, thanks to its Swiss base of operation. Switzerland somehow manages to stay out of the reach of the invasive US and EU data retention laws.
And since the country is also not a member of the "14 eyes," they can never be influenced to spy on its users. However, due to their dubious logging policy, some might consider ProtonVPN unsafe to use.
Kill Switch or Always-on VPN
ProtonVPN clients give an inbuilt automatic Kill Switch. But the feature is not supported on iOS, so instead, the service offers "Always-on-VPN" functionality.
Therefore, once you connect to the app and you happen to lose the connection, the feature will block all network traffic, while it automatically re-establishes a secure VPN connection seamlessly.
Thanks to this feature, you can confidently assign tasks (such as torrenting) to your machine and leave it unattended.
Tor over VPN
ProtonVPN also packs Tor support built-in utility. Therefore, you can re-route all your browsing activity through the Tor network that is available on selected servers. You can also access both Onion websites and dark websites instantly.
Security
In terms of security, ProtonVPN uses "the highest strength encryption" to secure your connection. The VPN encrypts your network traffic with the best-in-class AES-256 bit with the advanced 4096-bit RSA key and HMAC. They couple this with SHA-384 message authentication.
The VPN also offers multiple connection protocols including OpenVPN and IKEv2/IPSec. However, the company doesn't support PPTP or L2TP/IPSec protocols, regardless of its cheap cost of operation.
Noteworthy, ProtonVPN has gone to lengths to ensure the security of its Secure Core servers. For instance, the Swiss servers – whose infrastructure is vital – is located in a former Swiss army fallout building, which is 1000 meters underground.
Sequentially, the Icelandic infrastructure is also based on a former military base. What's more, their Swedish servers are located in an underground data center as well. ProtonVPN also ensures hardware security by shipping their equipment to those locations.
Now, what's obvious might show that any VPN can be safe to use. However, when we're reviewing a VPN service, we dig a bit deeper and perform a few extra tests.
Virus Scan
Back in November 2019, a fake ProtonVPN website was created to deliver the AZORult information-stealing malware to potential victims in the form of fake ProtonVPN installers.
Such incidents can not be taken lightly and we should be very careful when we download and install certain software on our devices. That's why we ran the ProtonVPN application through a virus scan before we installed it for the testing.

The Mac application showed nothing but good colors. According to 57 sources, no viruses were found on the client, which makes ProtonVPN completely safe to use.
However, users should stay cautious when they visit their website. You don't want to end up on the fake page, installing the data harvester app in the process.
DNS Leak Test
If the VPN is leaking data, it's not doing its job right. If your data is leaking, that means that your ISP can see whatever you're doing while connected to a VPN.
This brings us to our second test in this review, DNS Leak. We've connected to a ProtonVPN server in the US and performed two separate tests, one of them is our own.
According to the first test, we did not come across any leaks. Therefore, we can assume that ProtonVPN's claim of offering leak-proof tunneling is legit.
When we performed our own WebRTC leak test, we noticed that our IP address has been exposed to the websites we visit. However, the IP visible here is the one provider by ProtonVPN, which basically means that we're totally safe.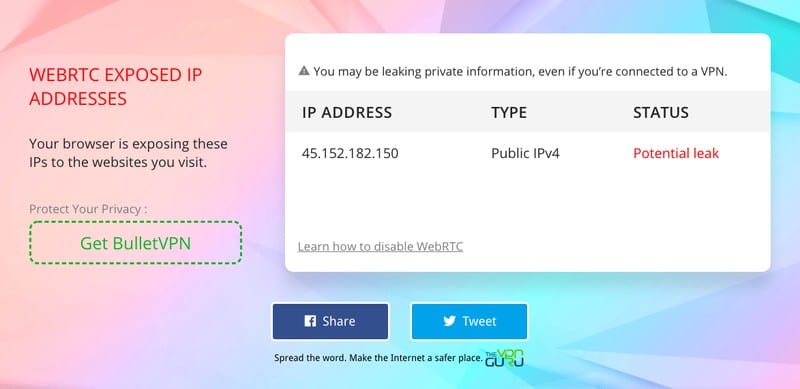 In general, ProtonVPN's DNS and WebRTC leak protection is as effective as they claim.
Third-Party Auditing
ProtonVPN has made a name for itself in the VPN market. However, to further cement its position, it has now decided to open-source its software.
Changing software to open source and being very transparent about it is kind of a bold move, considering the fact that it shows a service's potential weaknesses. In other words, anyone can inspect the way this service functions,
In fact, an independent audit done by SEC Consulting inspected the security of this ProtonVPN's individual applications. You can see the audit's results below according to each device it was performed on:
Such audits help us a lot in determining how credible the VPN is. According to the audits above, all the ProtonVPN apps have medium-risk and low-risk vulnerabilities. So, technically, using the provider's app is safe.
Warrant Canary
Warrant Canaries are also an important feature that a VPN should offer to their customers. It's common among VPN providers to receive a subpoena by the government.
Such legal measures require a VPN to hand over user data to law enforcement without notifying them. In fact, it's against the law to inform a customer of such a gag order.
Warrant Canaries are an indirect way to notify a VPN user of such incidents. We can say that ProtonVPN does have a Warrant Canary on their official website.
However, according to the service, they can only comply with a Swiss court order, nothing foreign.
"The only legally binding requests are ones from the Swiss courts that we are legally obligated to comply with. Under Swiss data protection regulations, we cannot legally comply with foreign requests that are not supported by a Swiss court order."
Switzerland has the toughest laws that protect privacy. Therefore, ProtonVPN is not obligated to save connection logs, and they adhere to a strict no-logs VPN policy. So, if a request was sent by the Swiss government, ProtonVPN will have nothing to submit or disclose.
A similar incident occurred back in January 2019. This is what happened:
"A data request from a foreign country was approved by the Swiss court system. However, as we do not have any customer IP information, we could not provide the requested information and this was explained to the requesting party."
As seen, ProtonVPN respects a user's privacy and their data is never collected.
Customer support
If users need help with account management, client setups, troubleshooting, and more, they can benefit from the guides offered on the support page. The information available isn't much, but it's arguably sufficient to help them solve common problems.
And if they prefer to speak to the support agents directly, ProtonVPN doesn't have a live chat service in place. Moreover, their email support is not recommendable considering we had to wait for up 72 hours before we could get a response.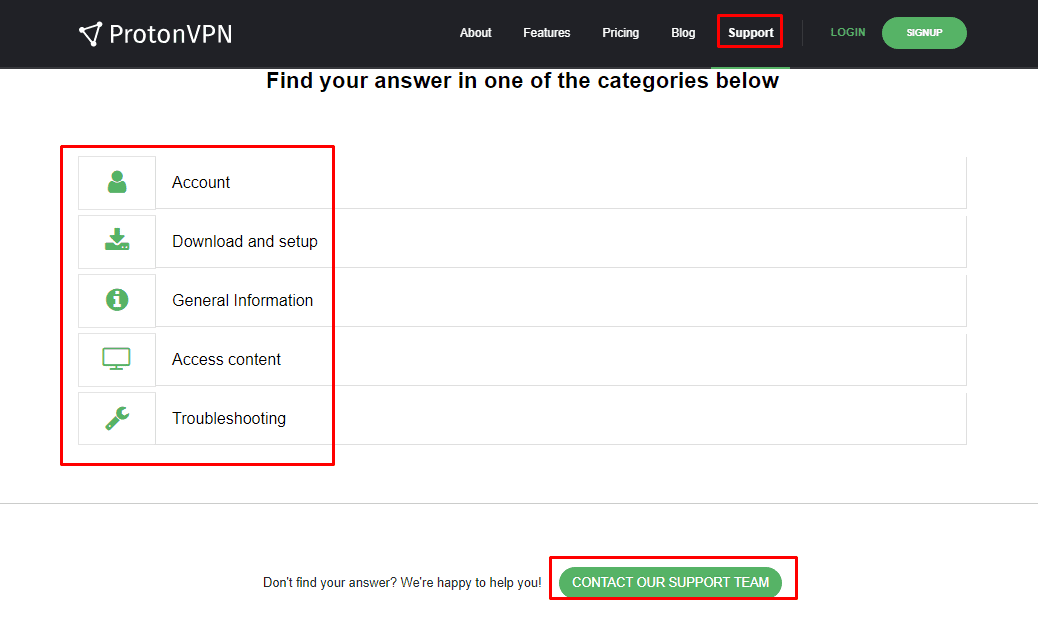 The fact that ProtonVPN does not offer a live-chat feature doesn't place it well among other competitors. Users should get help immediately if they run into an issue. This is definitely considered a negative point for the provider by our standards.
Pricing and Payment Methods
ProtonVPN offers four subscription plans: Free, Basic, Plus, and Visionary. Admittedly, the price plans are somewhat confusing considering you have to use a toggle button in the top-right side of the page to switch between monthly and yearly rates.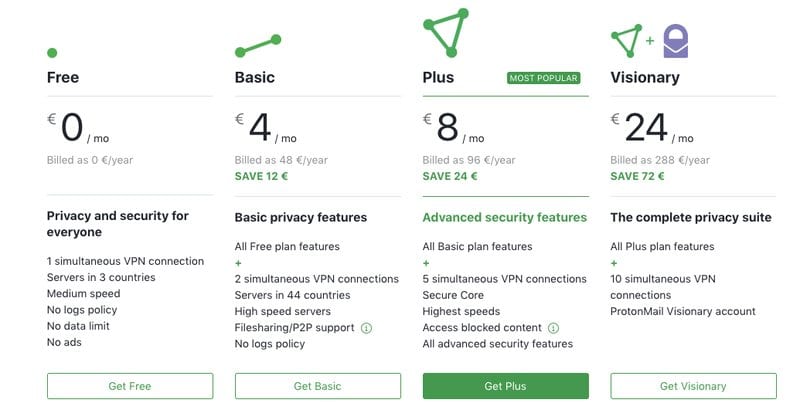 Free package
The free package provides limited features and its perks are nothing noteworthy. However, it has no catches and doesn't have ads or store your browsing data. In fact, ProtonVPN says that its free plan is subsidized by the premium users, and therefore, urges you to consider upgrading to a paid plan. Furthermore, if you sign up for the free package, you automatically qualify for the 7-day 100% free trial of the Plus plan.
Basic plan
The Basic plan costs €5 ($5.60) per month, but the rate goes down to €4 ($4.48) when billed annually. It has a couple of downsides like two concurrent connections and zero access to ProtonVPN streaming servers. Otherwise, you'll enjoy top speeds on the remaining servers, and that includes torrenting servers.
Plus plan
This is the most recommended plan, and it costs €8 ($8.96) per month if you subscribe for an entire year. But that price will increase to €10 ($11.20) if you choose the monthly subscription.
Regardless, the 'Plus plan' is the main most preferred option, and it offers 5 simultaneous connections as well as all ProtonVPN's top features.
Visionary Plan
The visionary plan is a combination of the "Plus plan," and an extra 5 simultaneous to allow you to secure up to 10 devices simultaneously. It costs €30 ($33.60) per month, or €24 ($26.88) if you make a yearly payment.
Regrettably, the Visionary plan doesn't hold good value for your money. But it'll appeal to business setups and users who only believe in Proton products.
Payment options
You can pay for the premium plans via credit card (Visa or MasterCard) or PayPal. And if you're a more privacy-conscious user, you can use Bitcoin.

Paying with Bitcoin is a bit confusing. Apparently, we could not use this privacy feature while trying to purchase an account. Users who are opting for paid plans using Bitcoin need to message ProtonVPN, and then they'll facilitate the transaction.
However, if they already have an account (Free), they can visit their Dashboard and select the plan they want to purchase – the Bitcoin feature will be there.
Money-Back Guarantee
A good refund policy ranks a VPN high in our evaluation. Top VPN providers always offer a 30-day money-back guarantee or even more. When it comes to Proton, all available plans include a 30-day money-back guarantee, so users have enough time to test the service then ask for a refund if they end up not liking it.
Free Trial
It's not what we call a free trial, but it's the same. When users subscribe to ProtonVPN's free plan, they a 7-day trial which is equal to the ProtonVPN Plus subscription plan.
In other words, during the first 7 days of subscriptions, ProtonVPN users can connect to the provider's Plus servers and use all the features included in the Plus Plan.
Conclusion
ProtonVPN is a feature-packed VPN. In terms of streaming, they give fantastic speeds and their ability to unblock Netflix, Hulu, Amazon Prime, and BBC iPlayer is pretty straightforward.
The VPN is an excellent choice for torrent lovers considering they support P2P on multiple servers, have a strong privacy policy, and offer unlimited bandwidth. The service was also fast and reliable in terms of performance – therefore, excellent for general online surfing.
On the downside, their customer support service was somewhat poor – something that might put you off if you're a beginner who needs help to get started. Finally, ProtonVPN is very expensive; so if you're on a budget, we suggest you consider other options.
This is the full ProtonVPN review, let us know what you think about the provider in the comments below.
ProtonVPN Review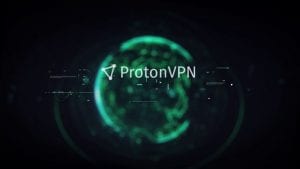 Name: ProtonVPN
Description: A Swiss VPN that promises ultimate security, enhanced privacy, and unlimited internet access.
VPN Apps

Support

Speed

Access Geo-blocked Websites

Security