PureVPN Review – Is it Worth It Again in 2023?
Last Updated On: December 6, 2022

|

1 Comment

|
A few years back, PureVPN was all the rage. Now, though, PureVPN has a reputation for being a bad VPN service provider. Issues like
IP leaks, DNS leaks, slow internet speeds, connection problems
, and feature
malfunctions
started popping up all over the internet. Probably the most alarming reports, however, were those of PureVPN storing logs, even though it explicitly claimed to have a
zero-log policy
. However, it seems that
PureVPN
is trying to clean up its act, and has updated its services and features to gain back its once stellar reputation.  So, we decided to write a review to see if PureVPN has managed to make a comeback. You can read the
PureVPN review for 2023
 below.
PureVPN Overview
PureVPN currently has a reputation for being a VPN service provider that isn't very truthful with its clients.
Now, though, the updates and additions to PureVPN's features may turn the tables once more.
From finally adding a live chat option for support to putting out a new set of Terms & Conditions, PureVPN seems to be listening to the demands of its users.
PureVPN, as it stands now, is a solid VPN service for users looking for an affordable VPN subscription. With that said, here's everything included in this review.
Quick Stats
Money-back guarantee
31 days
Allowed concurrent connections

10 devices

Supported streaming services

Netflix, BBC iPlayer, Hulu, Amazon Prime, and more.

No logs policy

Yes

Encryption

Military-grade 256-bit AES

Protocols

OpenVPN, L2TP-IPSec, PPTP, and

IkEv2
Special features

VPN Split tunneling, Port Forwarding, and a Kill Switch

Customer support

24/7 live support

Server locations

90+ locations in 78+ countries

Number of servers

6500+ servers

Server Switches

Unlimited

Data traffic

Unlimited

Supported devices & web extensions

Windows, Linux, Mac, iOS, macOS, Routers Chrome, Firefox

VPN legal jurisdiction

Hong Kong
PureVPN – Pros and Cons
With so many features to cover, we've listed a couple as pros and cons to give users a comprehensive look at what PureVPN is all about. This is what we got:
Pros:
2000+ servers in 78+ countries.

Military-grade encryption

Strict no-logs policy

P2P Support

Unblocks Netflix, Amazon Prime Video, BBC iPlayer, and Hulu

DNS leak protection

Kill Switch

Split-tunneling
10 simultaneous connections

31-day money-back guarantee
Cons:
Free trial requires a $0.99 fee.
No split-tunneling on Mac app.
No quick connection to nearby servers.
Previous privacy scandal.
Lacks Smart DNS.
PureVPN Review – Clients and Apps
PureVPN offers both native apps and setup guides for configurable devices. Its apps work on:
Windows, Mac, iOS, Android, Linux, Apple TV, Amazon Fire TV, Chromecast, Nintendo, PlayStation, Roku, Xbox.
You can also configure PureVPN onto the following routers:
Asus, Linksys, Synology NAS, Belkin, MikroTik, Tomato, DD-WRT, Pfsense, TP-Link, D-Link, Sitecom Gigabit.
You can find a handy how-to guide for router installations on their website, too.
Let's take a look at PureVPN's applications. We downloaded both the Mac and the Android client to see how easy it is to navigate through them. This is what we came up with:
Mac
The macOS client has a simple interface that anyone could operate without the need for VPN knowledge.
In fact, it has a section that allows users to connect to a server based on what they're looking for, including streaming, security, File Sharing, Dedicated IP, and Internet Freedom.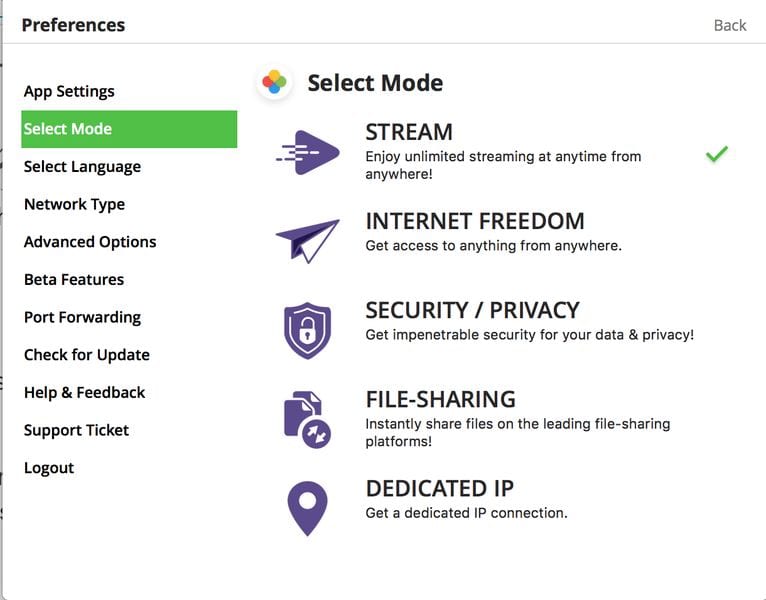 In the Settings department, users can activate PureVPN's internet kill switch – a feature that disables internet access if a sudden drop in the VPN connection occurs.
Also, the application is available in 8 different languages: English, Arabic, Chinese, French, Dutch, German, Spanish, and Turkish.
The connection process couldn't be easier. On the main screen, we selected the server (United States) and hit connect.
It took the app around three seconds to establish a connection. Here's how the Mac app looks like in general while connecting:


Some essential features were missing, including their split-tunneling option. However, we liked the fact that it labeled its servers with P2P so that users would know which ones to choose while torrenting.
Android
The Android application does not differ that much from that of Mac. But according to what we saw, we have to say that the Android app is our favorite.
The logging process in both apps is kind of annoying actually. The username and password aren't chosen by us, instead, the provider selects those.
However, once we got in, we found that the client is full of options to choose from. Connecting to a server took us a couple of seconds. The images below show our progress.




Usually, the red symbol usually represents the disconnected status, but PureVPN got it all mixed up. That's not important as long as it's safe to use, but worth mentioning.
Unlike its Mac counterpart, the Android client does have a split tunneling feature, which allows you to choose the apps you want to protect with a VPN connection.
Also, both apps have a live chat feature, connecting you to a support agent instantly. Moreover, the Android app allows you to choose a specific server for specific functions as well.
In general, both apps are very easy to use. However, the Android app is the superior one based on our testing, but still, they're both good.
App Store Ratings
While we're still at it, we should note that more than 3 million people use PureVPN's services.
As we mentioned, based on our experience, PureVPN's clients are quite good. But let's not forget that users have an opinion to share as well.
We took it to the app stores to see how the provider fares in comparison to the users' experience.
First, we checked Apple's App Store. PureVPN's app has a 4.1/5 rating based on 700+ reviews.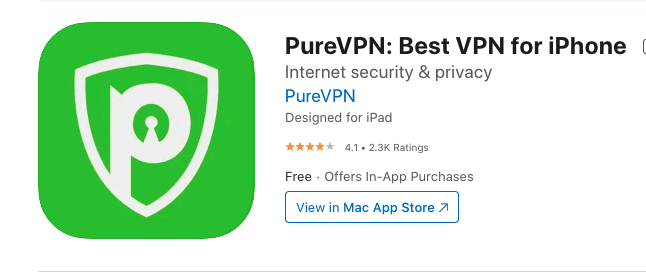 The number of reviews and the rating it got isn't bad. But we've seen several VPNs before with higher numbers.
As for the Android client, apparently the VPN is much more popular on the platform. The app has more than 1 million downloads with a 3.7/5 rating.

More than 25K users reviewed the app on the Google Play Store. And the fact that it maintained high ratings, tells us that we weren't the only ones impressed with its features.
Trustpilot Review
It has trust in the name. Trustpilot is one of the most credible websites where users check VPN reviews.
This website helps a lot in our strict assessment of a certain VPN based on its transparency and the fact that it's unbiased.
In fact, a while ago, a VPN tried to insert fake reviews to elevate its status on the website. Well, it didn't turn out the way they wanted and they got demoted instead.
Now, in PureVPN's case, to be honest, we were shocked. We did not expect such a high rating.
PureVPN has a 4.7/5 rating based on 12K+ reviews.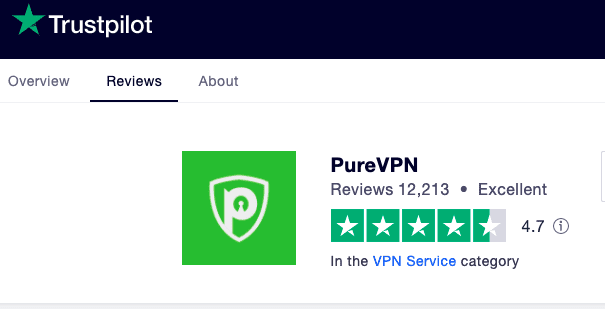 This is something we don't see much, especially with that number of reviews. This is a good sign and it shows how reliable the VPN is.
PureVPN Review – Servers and Locations
When it comes to servers and their locations, PureVPN has upped its game. It now offers servers in 78+ countries, and over 90 cities, with more than 300,000 IP addresses on offer.
Let us explain what that means in a way that the less tech-oriented of us can understand.
Usually, a VPN will have a certain number of IPs on offer per server. When you connect to a server, you share an IP with a few other people who have also connected to that server.
This is great for your privacy because no one can really pinpoint who's doing what with the IP. Now, PureVPN maintains anything between 120-150 individual IP addresses for each server. This means 2 things:
Servers don't get overloaded that easily, so the connections should get faster.
PureVPN can now unblock Netflix, which we'll be talking about later on in the article. We're not really sure how long this will go on, but so far it looks like the provider is back in the Netflix unblocking game!
Users can check out all of their server locations here. It's important to note that they have some really neat options in locations where VPN providers don't usually have servers in (Asia, Africa, and South America are covered very nicely).
For a more comprehensive look, here's where PureVPN's server locations are based:
North America
United States
Canada
Bahamas
Jamaica
Mexico
Guatemala
El Salvador
Honduras
Puerto Rico
Trinidad and Tobago
Grenada
Dominica
Barbados
St Lucia
Dominican Republic
Turks and Caicos Island
Cayman Islands
Bermuda
Montserrat
British Virgin Island
Central America
Europe
United Kingdom
Albania
Austria
Belgium
Bosnia
Bulgaria
Croatia
Cyprus
Czech Republic
Denmark
Estonia
Finland
France
Germany
Greece
Hungary
Iceland
Ireland
Isle of Man
Italy
Latvia
Liechtenstein
Lithuania
Luxembourg
Malta
Montenegro
Monaco
Netherlands
Norway
Poland
Portugal
Romania
Serbia
Lovenia
Spain
Sweden
Switzerland
Turkey
South America
Aruba
Argentina
Brazil
Chile
Colombia
Ecuador
Peru
Bolivia
Panama
Suriname
Guyana
Oceania
Australia
New Zealand
Papua New Guinea
Asia
Afghanistan
Armenia
Azerbaijan
Bangladesh
Bahrain
Brunei
Cambodia
China
Georgia
Hong Kong
India
Indonesia
Japan
Kazakhstan
Kuwait
Jordan
South Korea
Malaysia
Oman
Macau
Mongolia
Pakistan
Philippines
Qatar
Saudi Arabia
Kyrgyzstan
LAOS
Singapore
Sri Lanka
Tajikistan
Taiwan
Thailand
Turkmenistan
UAE
Uzbekistan
Vietnam
Africa
Egypt
Ethiopia
Ghana
Madagascar
Mauritania
Kenya
Niger
Mauritius
Senegal
Nigeria
Tanzania
Tunisia
Seychelles
South Africa
Cape Verde
Morocco
Angola
Algeria
Speed Performance
We won't lie and say PureVPN is the fastest VPN provider out there. It doesn't really compare with the speeds of ExpressVPN, for example.
However, server tests have shown that PureVPN servers are consistent in their individual speeds and provide steady streaming and download speeds on a regular basis.
It may be better for users to pick a server that isn't very far from their actual location, as the download speeds for distant servers are a little lacking.
PureVPN Review – Streaming, and Torrenting
As seen in the speed tests above, PureVPN isn't really the fastest, but it can sustain a decent connection for streaming.
While VPN's main purpose is to enhance a user's security and privacy, you'd be shocked to know what they're mostly used for.
As reports state, most internet users operate with VPNs for entertainment reasons, mainly to unblock geo-restricted content overseas. Let's see what PureVPN is capable of:
Netflix
One of the main attractions would be the American version of Netflix, which contains the biggest library in the world.
Netflix applies what we call geo-blocks, a mechanism that restricts user access based on their geographical location.
In the service's case, it assigns a certain catalog according to the country we reside in. However, that's not the only problem users encounter with the streaming giant.
Netflix has the ability to block VPNs, and it has been a major issue for top VPN services around the world. This is what pops up if Netflix manages to identify VPN usage:
"You seem to be using an unblocker or proxy. Please turn off any of these services and try again."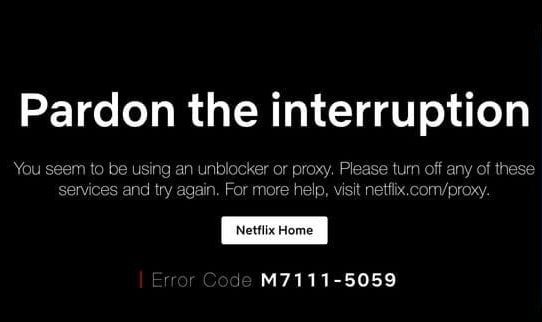 If a VPN manages to unblock it, we can say that it's a "credible and recommended" one.
When it comes to PureVPN, we were amused by its performance. As soon as we established a connection to a US server, we were able to stream Star-Crossed (US-only title) in our region. No block was encountered.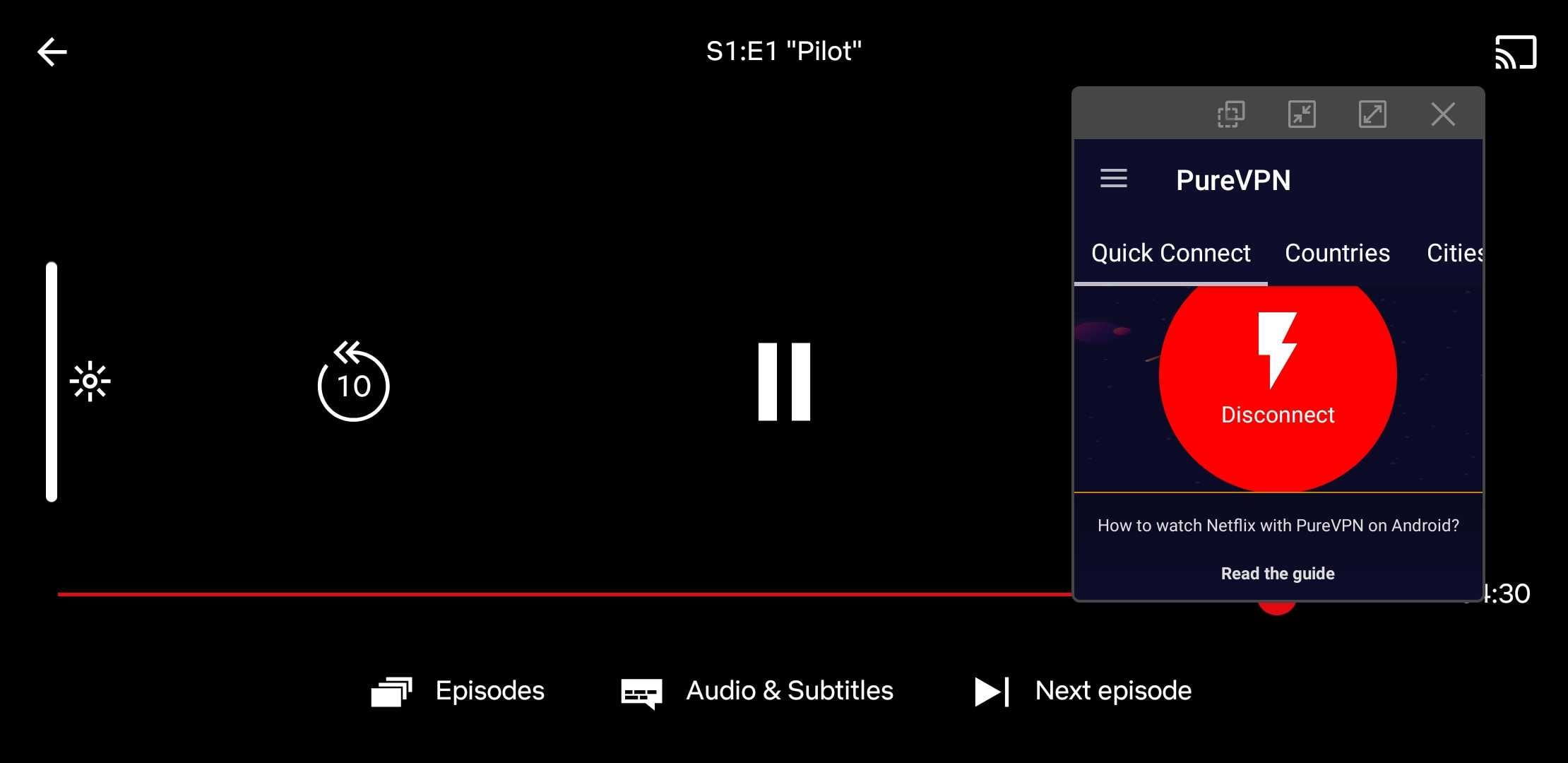 So, we can concur that PureVPN is a top candidate for unblocking US Netflix anywhere in the world.
Hulu
Hulu is another challenge for VPNs as it applies the same block that Netflix does. The channel is only available in the United States, which means it requires an American IP address to operate.
Since we've already tested a US server with Netflix, we remained connected to see how it fares with Hulu.
The screenshot below shows the results we got:
Again, PureVPN did not disappoint and it unblocked yet another top streaming service without a hitch in the road.
Amazon Prime Video
Amazon is one of the top competitors nowadays in the streaming industry. It has more than 100 million subscribers across the world.
Just like Netflix, Prime Video assigns a certain catalog to each country, and by far, the US catalog is the richest.
Now, here's where we encountered a problem while using PureVPN. We remained on the same US server we used with both Hulu and Netflix. However, this one did not fare too well with Amazon Prime.
The service detected PureVPN and block us immediately. Here's what we got: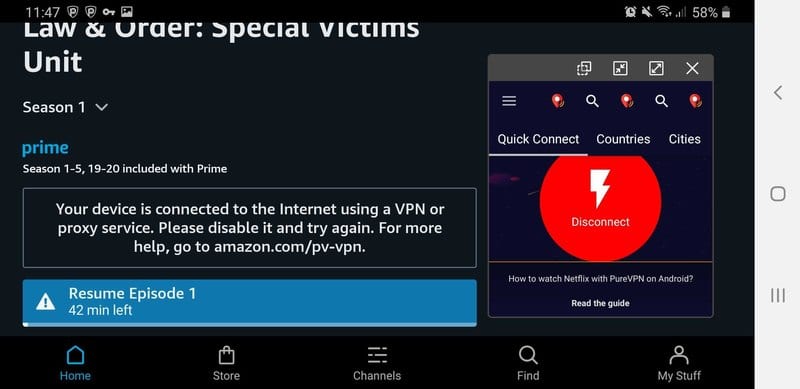 We didn't stop there. We terminated the VPN connection and retried a couple of seconds later. This time, Amazon Prime was fully functional in our region.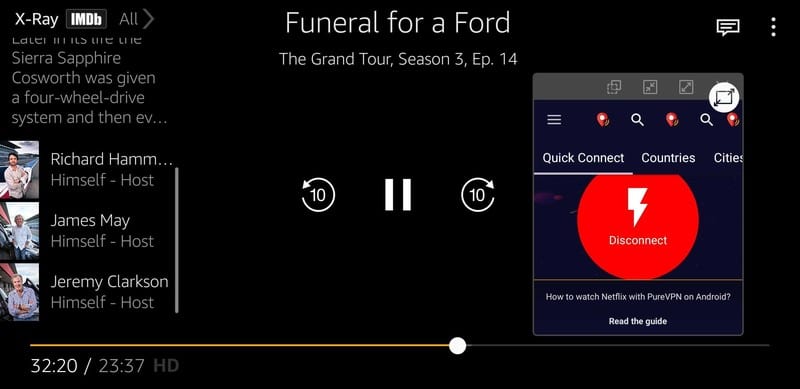 Again, PureVPN proved to be excellent in unblocking geo-restricted content.
BBC iPlayer
Finally, we have to mention one of the UK's finest, BBC iPlayer. Aside from its rich catalog of content, the service is completely free, provided users have a valid TV License.
In the UK, almost everyone has one of those, which brings us to how popular the service is. BBC iPlayer has more than 9.9 million successful requests per day.
But if abroad, users get blocked. The channel requires a UK IP address to operate. If that's not available, it's not accessible.
Also, iPlayer applies VPN blocks, which is why we put PureVPN to the test. With a single tap on a UK server, the provider was able to get around BBC iPlayer's "blocking" mechanism and access its content.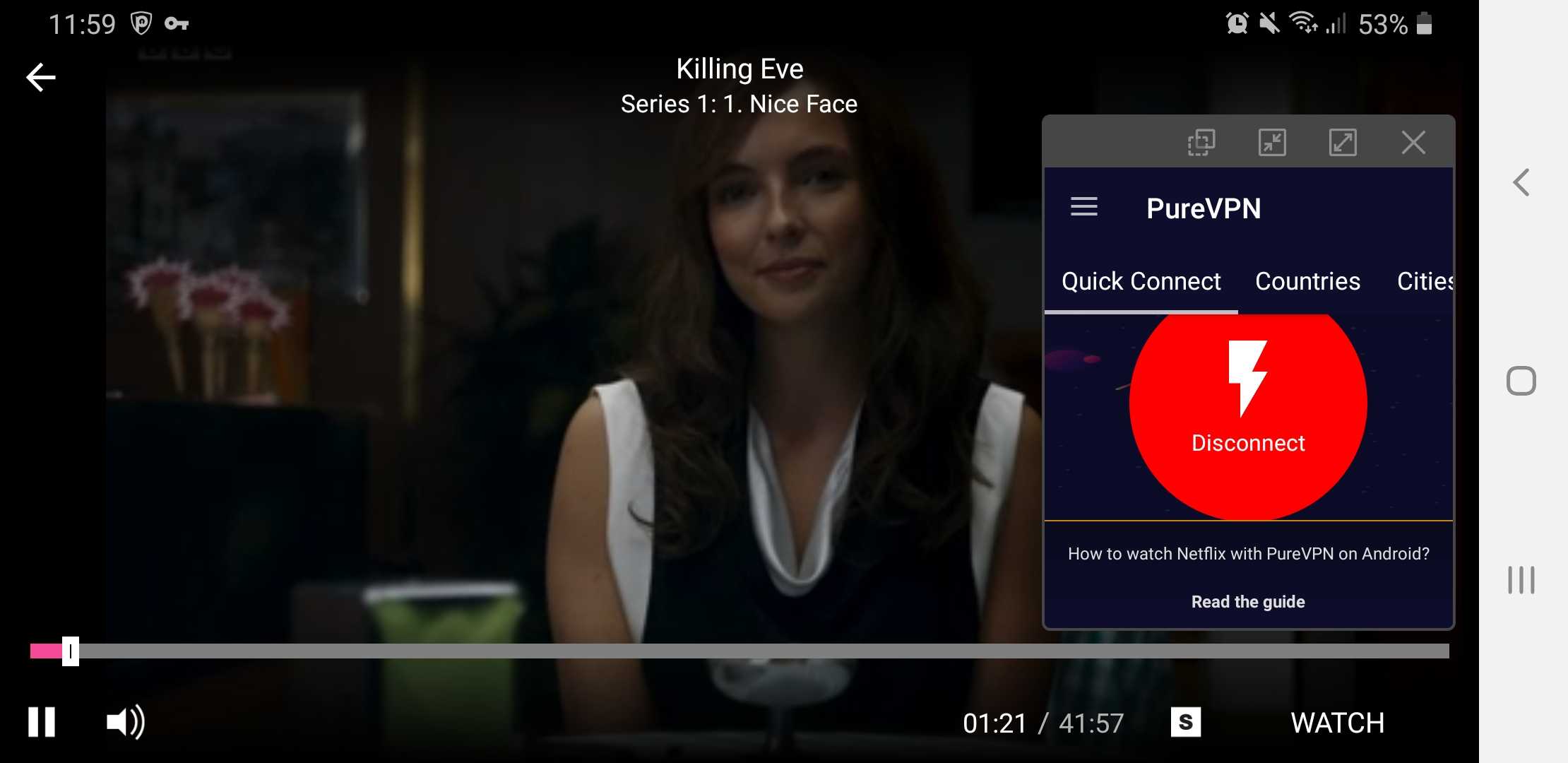 There we go. Unlike most VPNs out there, PureVPN proved to be compatible with major streaming platforms around the world.
By our standards, this VPN is incredible when it comes to bypassing geo-restrictions.
Smart DNS
This is an important feature to have in case the provider's speeds aren't good enough for streaming.
Smart DNS is a technology where the parts of the user's traffic that highlight his/her location get rerouted.
During the process, their IP remains intact and no encryption will be present. While it doesn't provide security, it does ensure fast speeds.
However, PureVPN doesn't have that within its arsenal. In fact, we should say it doesn't have it anymore. We asked the support agent about it and he informed us that they used to offer the service but don't nowadays.


What the agents stated is that Smart DNS requires a lot of research and development effort, which is why they canceled the service, to begin with.
Based on what we say in the streaming tests above, PureVPN is more than capable of unblocking content using its VPN servers.
Moreover, the speeds are not that bad, we were still able to stream in HD and the quality remained stable all the time.
Torrenting/P2P
PureVPN can also be used to Torrent, as its servers to support P2P file sharing, fantastic upload speeds, and low latency in popular locations.
As an added bonus, PureVPN's IP range has brought it back into the "Unblock US Netflix" club, which is always a nice perk to have.
We have to note that not all PureVPN servers support P2P actions. There's a specific list for those and another for the ones users shouldn't use as PureVPN blocks P2P on them.
P2P Friendly Servers
First, let's check the ones torrent downloaders can use for such a task:
Afghanistan
Algeria
Angola
Armenia
The Bahamas
Bahrain
Bangladesh
Barbados
Belgium
Bermuda
Bolivia
The British Virgin Islands
Brunei Darussalam
Bulgaria, Cambodia
Cape Verde
The Cayman Islands
Chile
Colombia
Denmark
Dominica
Dominican Republic
El Salvador
Estonia, Ethiopia
Germany
Ghana
Guatemala
Guyana
Haiti
Honduras
Kazakhstan
Kenya
Kyrgyzstan
Laos, Latvia
Lebanon
Lithuania
Luxembourg
Macao
Madagascar
Mauritania
Mauritius
Moldova
Monaco, Mongolia
Montserrat
Myanmar
Netherlands
Nicaragua
Niger
Nigeria
Norway
Oman
Pakistan
Panama
Papua New Guinea
Paraguay
Peru
Portugal
Puerto Rico
Romania
Russia
Saint Lucia
Saudi Arabia
Senegal
Serbia
Seychelles
Slovenia
Sri Lanka
Suriname
Sweden
Tajikistan
Tanzania
Trinidad and Tobago
Tunisia
Turkey
Turkmenistan
Turks and Caicos Islands
UAE
Uzbekistan
Venezuela
PureVPN made it clear that these and only these servers allow torrenting actions. Some other servers are not good for that, and we directly guessed which ones.
Pure VPN states that they have blocked P2P on some of their servers as per changing Global Web Policy. They don't allow p2p/filesharing where it's illegal by law, especially in countries such as the United Kingdom, United States, Canada, and Australia.
Sounds familiar? Yeah, the Five Eyes Alliance.
Privacy
As you may recall, PureVPN received a huge backlash from the VPN community after it cooperated with the FBI.
While it's commendable of them to help out in an investigation, it still shocked their user base to the core. This was a provider that said it had a zero log policy, and it turned out that that was a lie.
After the backlash, people started giving up on PureVPN. In a way, the company's downfall might have been its greatest asset:
PureVPN changed up their ToS, now its logging policy is way clearer than it used to be. PureVPN directly states that it collects:
The day you connect to a particular server.
Your ISP.
That's it. It doesn't collect your IP address, connection timestamps, the IP of your chosen server, or DNS requests.
In other words, PureVPN finally provides the privacy it has always advertised for: nothing you do online with PureVPN can be traced back to you.
To add to this, PureVPN is located in Hong Kong, which has no mandatory data retention laws.
In other words, it's not a legal requirement to store user data or share the data with third parties (like it would be had it been based in the US).
This, coupled with PureVPN's new no-logs policy, is a great added security feature for PureVPN's users.
Security
Security is one of the main keys that should be assessed when evaluating a VPN provider. If it's lacking the ability to protect its users, it's not doing the job it was made for.
A VPN should shield a user's traffic with the latest military-grade encryption. Well, PureVPN offers that with not one, but a couple of cherries on top.
As we mentioned,  PureVPN underwent a bit of a revamp, especially in the security department. As of now, the service offers the following security features:
Military-grade 256-bit encryptions.
Ozone add-on for proactive protection.
Port Forwarding add-on
A working Kill Switch
DDoS Protection add-on
Dedicated IP add-on
DNS leak protection
Web RTC leak protection
IPV6 leak protection
Split Tunneling
The one downside I found is that when connected to its desktop app, the default VPN protocol is IKEv2. The good thing is that this could be easily changed to OpenVPN in the drop-down list in the settings menu. PureVPN offers the following VPN protocols:
IkEv2
L2TP/IPSec
OpenVPN (TCP/UDP)
PPTP
SSTP
When we tried their mobile app, we noticed that the default protocol used is OpenVPN, which is the best in the industry in terms of privacy and security.
Stating the above is one thing, and testing how secure this service can make users' browsing activities is another.
When it comes to privacy, we perform a couple of tests and we search for specific services within the provider. Here's what we do:
Virus Scan
Before anyone installs an application on their device, they should check if it's infected with any virus, malware, or malicious software.
A lot of VPNs on official app stores come with a lot of malware embedded within them. That's why a virus test is essential when it comes to installing their clients.
When we downloaded the PureVPN Mac client, we performed the test and found nothing to worry about.

According to 56 sources, the app is totally clean. We didn't expect anything different to be honest, but it's always a good idea to double-check.
DNS Leak Test
DNS leak tests are also a crucial part of this review. If the VPN is leaking user data, it's not doing its job as a security tool.
PureVPN promises to protect its customer's security and identity, which according to our tests, proved to be legit.
The results gave us peace of mind that our online activity isn't visible to anyone other than us.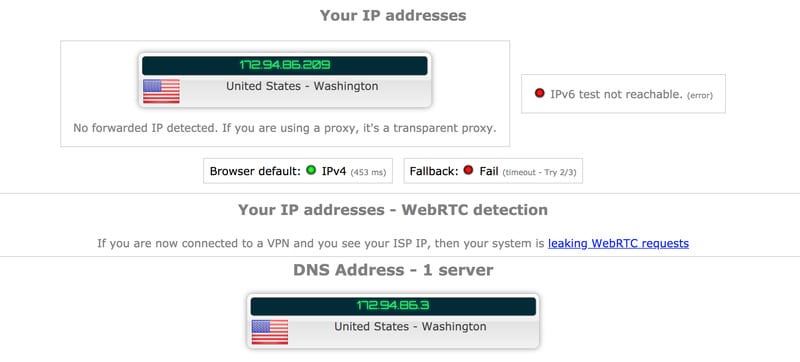 As seen in the image above, the IP address shown is the one provided by PureVPN. This means that our true identity and location are hidden.
Independent Auditing
Third-party auditing is a huge part of our reviews as they show us what security experts have to say about a certain provider.
After the huge backlash, PureVPN went through, they decided to up their game in terms of privacy and security.
PureVPN hired Altius IT, a leading independent California-based Certified Information Systems Auditor, to assess their systems and their no-log policy.
And according to the firm:
"[we] did not find any evidence of system configurations and/or system/service log files that independently, or collectively, could lead to identifying a specific person and/or the person's activity when using the PureVPN service."
So, it's safe to say that the new revamped edition of PureVPN is as secure and private as they can be.
Warrant Canary
Warrant Canaries work as an alarm that sets off if the government issued a subpoena. If that's the case, VPN providers are required to submit user information.
It's not even legal to inform the customers of such a gag order, which brings us to Warrant Canaries.
They're an indirect form of alarm available on the provider's website. If the section is not updated regularly, it means that the VPN has received an order.
PureVPN does not have that and based on our knowledge, it doesn't need it. Here's what their privacy policy states:
"PureVPN specifically chose Hong Kong (HK) for its headquarter because there are "No Mandatory Data Retention Laws" in Hong Kong.
We are, therefore, not legally obliged to store user data and share it with anyone. Moreover, as stated above, we have no worthwhile data to share with any law enforcement agency from any particular country in the world.
Even if and when we receive subpoenas that are legally upheld in the court of law in Hong Kong, we won't be of much help since we have almost nothing of value to share."
So, basically, users don't have to worry about their information being handed to the authorities as PureVPN has nothing to give away in the first place.
PureVPN Review – Support
With new releases come new features. PureVPN has recently added a live chat option for their customer support. We gave them a try, and we have to be honest, they're excellent.
When we first signed up for the service, we had a bit of a problem logging in to our account. Every time we enter the credentials provided by PureVPN via email, for some reason, it wouldn't work.
However, when we spoke to their support agent, everything changed.



As seen above, our problem was solved instantly and we have to comment about the quickness of their replies, in one word, superb.
Riley, their support agent, guided us through everything. In the images above, it's pretty obvious how professional the agent is.
PureVPN is doing a very good job to satisfy its customers. Eventually, the provider has more than 3 million users, which brings us to how efficient this VPN has become ever since it's launch back in 2007.
PureVPN Review – Pricing and Accounts
To start with subscription prices, PureVPN is considered an "affordable VPN" service provider. The pricing plans are very direct and you get discounts the longer you subscribe for the service. Here's how the offers break down: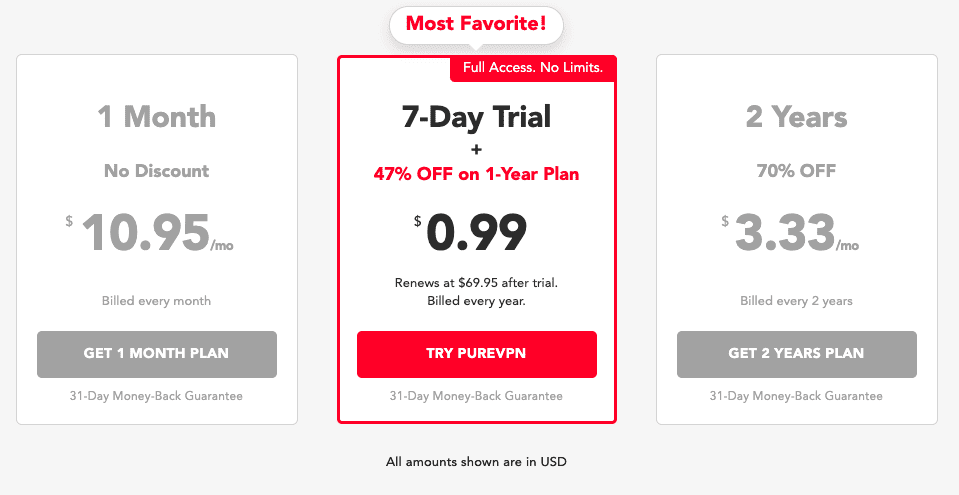 Monthly Plan: $10.95 per month.
12 Month Plan: $69.95/year, free trial for $0.99
3 Year Plan: $3.33 per month.
As we mentioned, the plans are affordable compared to other VPNs on the market. It's even more worth it than some when it comes to the services users get in return.
Having servers in 78+ countries isn't cheap for the service. It has to pay for them, eventually. Well, you get what you pay for in the end, and PureVPN sure does deliver.
Payment Options
Having a wide variety of payment methods for all kinds of users is very important. In PureVPN's case, to pay for your subscription, you can use any one of the options listed below: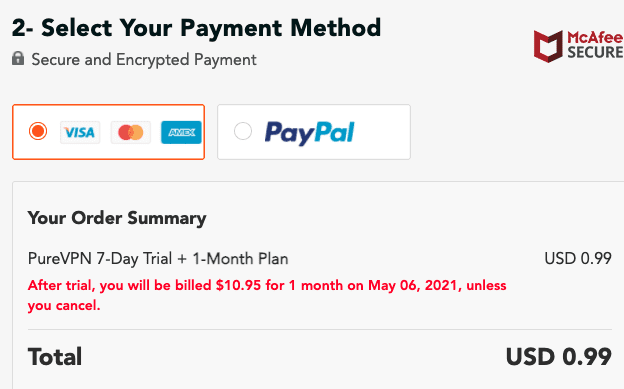 Credit Cards (like Visa and MasterCard)
PayPal
One thing to add. It's one of the best features any VPN could offer, Cryptocurrency. The fact that PureVPN doesn't allow payment via Bitcoin gives it a big fail in the payment department.
VPNs are all about increasing users' anonymity, and with cryptocurrency, anonymity is guaranteed. It's a shame PureVPN doesn't support that.
Money-Back Guarantee
PureVPN offers a 31-Day Money-Back Guarantee on new orders and order renewals. This puts it ahead of other top providers in the industry that offer a 30-day refund policy.
1-day isn't that much of a difference, but at least it's an effort. We've reviewed other VPN providers that only have a 7-day policy, which is certainly not enough.
With PureVPN, users can check every little feature the service offers. And if they weren't satisfied with what the have to offer, they can ask for a full refund within 31 days of purchase.
Do keep in mind that it could take up to 30 days for the payment to show up back into your bank account.
Free Trial
Previously, PureVPN had a 7-day refund policy that was outed as being not-so-transparent (it came with a bandwidth and user session contingency).
However, a free trial replaced recently. The provider still offers a 7-day free trial, but only to users who operate mobile devices.
Having a free trial is pretty essential if a customer wants to take the service for a test drive, but it doesn't come without a catch.
When we clicked on the free trial, the app redirected us to the billing section. Apparently, we have to submit our credit card information to get that, and that somehow works against the concept of a free trial.
We do acknowledge the fact that some users might abuse the service and create various accounts, which gives PureVPN the right to do so.
Therefore, we have to give a plus to the provider for offering such a trial, even if it comes with a few conditions.
A Not-So-Free Trial
As an added offer, PureVPN has a 7-day trial account offer for only $0.99. The account has no data cap or usage restriction to it, so users can test out the service without going over their budget. Please note that this offer is also refundable.
We encountered an issue with this service, especially when we asked about the free trial. It's obviously seen in the images presented in the free trial section.
The support agent informed us about the trial. However, he stated that it cost $2.50 when it was only $0.99. Here's what the website actually states: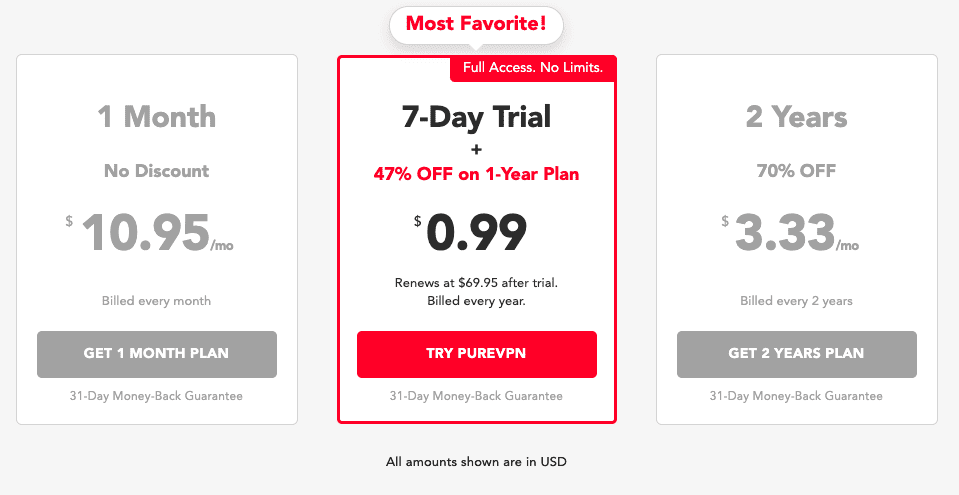 We told him about what we saw on the website and he apologized for the mistake. He said he was using a canned message, which he'll be correcting immediately.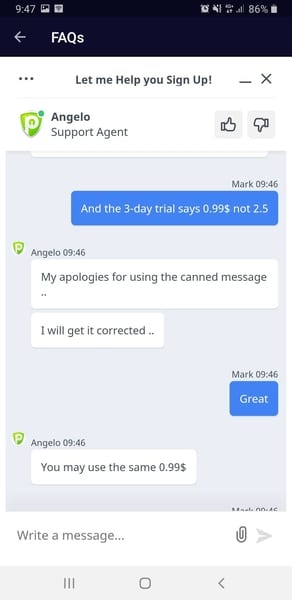 Such a trial won't be necessary if users opt through the mobile app, but it is a good head start for those who are not.
In our opinion, paying $0.99 for a 7-day trial is so much better than opting for a full month or year before getting to know the service even if they offer a 31-day refund policy.
PureVPN – The Verdict
PureVPN definitely isn't the best VPN on the market, but it still counts as a solid choice for us.
It's affordable, has managed to get its privacy issues in check, and has an awesome amount of servers.
We understand being discouraged from subscribing with PureVPN based on the reputation it garnered in 2017, but for all intents and purposes, the VPN does seem to be getting its act back together.
We would definitely recommend giving PureVPN another shot. If you aren't all that convinced with what this VPN service provider has to offer, check out these PureVPN alternatives instead.
If you have any more questions about PureVPN, you can contact us in the comments below and we'll get back to you.
PureVPN Review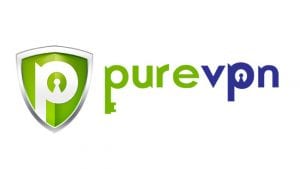 Name: PureVPN in 2021
Description: PureVPN are finally taking all the right steps towards becoming a top VPN service provider.
VPN Apps

Support

Speed

Access to Geo-blocked Sites

Security