KeepSolid's VPN Unlimited and Smart DNS Review
|
Once we heard that there's a VPN that can unblock any streaming channel, we dived right into this review. VPN Unlimited is headquartered in New York and is the subsidiary of KeepSolid. According to what's been reported, this VPN is rivaling the giants, including ExpressVPN, BulletVPN, and more. We had to see for ourselves what this VPN is capable of, and we came up with this full KeepSolid Unlimited VPN and Smart DNS Review.
VPN Unlimited Review – Content Index
We read a couple of good things about VPN Unlimited, so we decided to run some tests and review ourselves. We follow a strict evaluation process, which led us to this full review:
Quick Stats
Money-back guarantee
30 days
Allowed concurrent connections

5/10 devices

Supported streaming services

Netflix, BBC iPlayer, Hulu, Amazon Prime, and more.

No logs policy

Yes

Encryption

Military-grade 256-bit AES

Protocols

OpenVPN,

IKEv2, and Wireguard
Special features

VPN Split tunneling, Kill Switch, DNS Firewall

Customer support

24/7 live support

Server locations

80+ locations in 54 countries

Number of servers

400+ servers

Server Switches

Unlimited

Data traffic

Unlimited

Supported devices & web extensions

Windows, Linux, Mac, iOS, macOS, Routers Chrome, Firefox

VPN legal jurisdiction

United States
Pros and Cons
No matter how good the service might be, it's enviable to slip up in some departments. VPN Unlimited proved to be a very good provider, but it does have its cons. Let us show what we got:
Pros:
Servers in 54 countries.

Military-grade encryption

Strict no-logs policy

P2P Support

Unblocks Netflix, Amazon Prime Video, BBC iPlayer, and Hulu

Kill Switch

Split-tunneling
Browser extensions
DNS Firewall

7-day free trial

Wireguard Protocol
Smart DNS
Variety of subscription plans.
Accepts Cryptocurrency.
30-day refund policy.
Cons:
Based in the US.
Inconsistent speeds.
Apps and Interface
Probably one of the greatest qualities of this VPN is that they offer user-friendly applications that anyone could operate.
Applications are essential when offering a VPN service. They have to be dedicated to all kinds of users, not just the ones with technical backgrounds.
VPN Unlimited has applications for all major operating systems, including Windows, Mac, PC, and iOS. We wanted to see what the applications are all about, which is why we tested two of them.
Mac
We have to be honest in this part. The Mac application is one of the best we've seen so far. Compared to other providers, this one takes the lead.
Their client is simple, easy to navigate, and the connection took only 2 seconds to establish. There are three categories to choose from: Favorites, General, and Streaming.
In the Streaming Section, we found all the unblockable channels. We also performed tests in that department later on in the article.
Here's how the Mac client looks like:




As seen in the image above, there isn't much to discover in the client. It's very straightforward, and the features it offers are all in one place.
However, one thing was missing – a kill switch. This technology is very important for privacy, and with its absence, user data is always compromised if a sudden drop in the VPN connection occurs.
Android
VPN Unlimited's Android app is not that different from the Mac one, but a few added features are present. When we launched the client, VPN Unlimited gave us a map of the servers they host.
Although maps in an application aren't our preferred way to navigate a VPN and connect to a server, it's still an added feature that makes the app look good.
When we clicked on the location name at the bottom of the screen, we got the server lists. Just like the Mac application, the servers were sorted in terms of functionality. We got favorites, general, torrent, and streaming.



We picked a server and hit connect. Despite being an Australian server (Distant), it took the client around 4 seconds to establish a connection, which is considered to be a very fast process.




We've always seen in previous VPN reviews that the Android app is the superior client. Apparently, VPN Unlimited is no different. In the settings section, we were able to locate and enable the kill switch and App Exceptions.
Both of these features are missing in the macOS client, and App Exception is an important feature, considering it's the VPN's own split-tunneling technology.
In general, both applications were easy-to-use, very well structured, and the connection was fast. This is a plus in the client department.
App Stores Reviews
Since we reviewed what some of the apps look like and how well they function, let's take it to what the actual customers have experienced.
To do so, we took a look at the App Store reviews on both iOS and Android devices. The iOS app store gives the client a 4.5/5 rating based on 7.9K reviews, marking it as excellent.

As for Android, the client also has high ratings on Google Play Store. According to 17K, the VPN Unlimited Android app has a 4.2/5 rating, which also deems it as excellent.
Both the Android and iOS clients have great reviews, so overall, these applications are well received by almost every VPN Unlimited client.
Trustpilot Reviews
Trustpilot is one of the most credible review sites in the world. If this website gave a bad review to a VPN, rest assured there's something wrong with the product.
We searched for VPN Unlimited to see what rating does it have based on Trustpilot's standards. Apparently, the service has great reviews with a rating of 4.5/5, marking it as an Excellent service.

One review grabbed our attention as it was targeted to VPN Unlimited's speed performance. According to the user:
"I subscribed to VPN unlimited that tells me – among other things – that there is decent speed.
But actual user experience says otherwise. My speed with my VPN subscription just follows the slow speed of my ISP.

Then I came across with another subscription you were offering: PERSONAL VPN SERVER. So I got one with the impression that it was going to boost the speed of my ISP's slow 'throttle' and my existing VPN subscription with KEEPSOLID. Result: NO DIFFERENCE IN SPEED – just the same old speed that my ISP provides."
The only way to determine a VPN's speed is by performing a couple of tests and we did. The results are presented later on in the review.
Server Network
A VPN's server network is one of the first things we look for in a credible provider. It's an essential feature to cover as many locations as possible, granting users several connection options.
VPN Unlimited has a small server network, consisting of 400 servers. That pales in comparison to other top providers in the industry. However, we did notice that these servers are widely spread across more than 80 locations.
New additions include Libya, Serbia, Costa Rica, and "Bosnia and Herzegovina". The website didn't mention how many countries are included. We had to count them manually, recording 54 countries.
According to their website:
"Our team does our best to provide you with lightning-fast connection speed and unmatched performance."
We'll be the judge of that when we perform our speed test later on in this review. But for now, here's where VPN Unlimited's servers are located:
Americas
United States
Canada
Costa Rica
Mexico
Brazil
Chile
Europe
Austria
Belarus
Belgium
Bosnia and Herzegovina
Bulgaria
Croatia
Cyprus
Czech Republic
Denmark
Estonia
Finland
France
Germany
Greece
Hungary
Iceland
Ireland
Isle of Man
Italy
Latvia
Lithuania
Luxembourg
Moldova
Netherlands
Norway
Poland
Norway
Poland
Portugal
Romania
Serbia
Slovakia
Slovenia
Spain
Sweden
Switzerland
The UK
Asia, Africa, and the Pacific
Australia
Hong Kong
India
Israel
Japan
Malaysia
Singapore
South Korea
Thailand
Turkey
UAE
Vietnam
Libya
South Africa
This is a great improvement for the provider, and if it keeps up at this pace, it's going places. We can't forget that VPN Unlimited started off in 2013 with only 2 servers in the USA and the Netherlands and was available only for iOS.
Speed Performance
No matter how good the VPN is in terms of privacy, security, and unblocking channels –  if it's slow, it's practically useless.
Streaming geo-restricted content requires speed, and as we all know, a VPN encryption takes its toll on that. Before we reviewed its unblocking capabilities, we tested VPN Unlimited's speed. This is what we got:
At first, we recorded our connection's speed without connecting to a server.
Next, we connected to a US server, where most of the top streaming services are available. So, while hoping to get Netflix, Hulu, and Amazon Prime, we recorded a big drop in our speed. To be exact, we witnessed a 74% drop.
We continued our tests by connecting to a server in the United Kingdom. Based on what we saw, the results are somewhat the same as the ones we got in the United States. It's slightly faster since the server is closer to our location than the one in the US.
We thought that 74% will be the highest drop we'll get. However, that changed when we connected to a server in Australia. The results are very bad, resulting in a 85.5% drop.
Finally, we tried a nearby server in France. This one did show a slight drop, but it did maintain a good connection for HD streaming.
VPN Unlimited's speed was pretty good and about average for VPNs. It was slow using some servers, especially the one in Australia. It can maintain decent speeds, but it's not the best we've seen so far.
VPN Unlimited – Streaming Capabilities
A Virtual Private Network is the ultimate tool to enhance online security and privacy. We know that and everyone who uses one knows that.
However, as studies show, VPNs aren't always used for such practices. In fact, they're used more for entertainment purposes such as accessing geo-restricted content abroad.
Due to copyright and licensing reasons, streaming channels across the world apply what we call geo-blocking. This method restricts user access according to their geographical location.
The services rely on the user's IP address to determine his/her location. A VPN fixes that by assigning a new IP based on the country where the server is located.
However, this part isn't to show what a VPN does, it's to test whether VPN Unlimited is up for the task. Lately, streaming services has developed the necessary technology to block VPN access.
If a service isn't credible enough, it's not unblocking the channel. We're talking about the likes of Netflix, Hulu, Amazon Prime, BBC iPlayer, and Disney+.
These services can detect VPN traffic, which leads to the blocking of dozens of free VPNs and premium ones alike. Can VPN Unlimited do what some of the others couldn't? Let's find out.
Netflix
Netflix is the most dominant streaming service in the industry now. It has more than 182.8 million subscribers, making it one of the world's largest entertainment services.
However, being the largest isn't the issue, it's that Netflix has one of the toughest VPN blocks. A lot of VPNs fell victim to this tough blocking mechanism, resulting in an instant ban.
To those who don't know what a Netflix VPN ban looks like, here's what they should expect:
"Pardon the interruption. You seem to be using an unblocker or proxy. Please turn off any of these services and try again."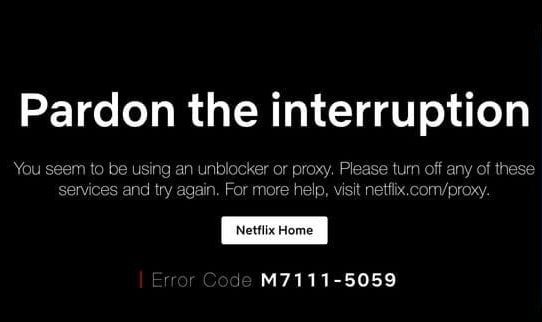 Despite great efforts, some of the top premium services weren't able to bypass this, which lead to losing their customers. Now, the question is, can VPN Unlimited do what several others couldn't?
The answer is yes. From within the app, we selected the servers under (Streaming). After that, we clicked on Netflix and waited for a connection to establish.
Once a connection was granted, we launched Netflix and we were able to stream its content without having any problem.
So, we can say that VPN Unlimited is an excellent US Netflix unblocker. Let's see what it can do with other streaming channels.
Hulu
Hulu is another difficult task for VPNs as it applies a similar block to that of Netflix. Also, geo-blocking differs from Hulu as the channel is only available in the United States.
Netflix is an international channel. That's why its geo-blocking comes in the form of different catalogs in each region. If Hulu figures out that a VPN is in place, this proxy error will appear:
"It looks like you're using an anonymous proxy. You'll need to disable it to watch Hulu. Hulu Error Code: P-EDU101."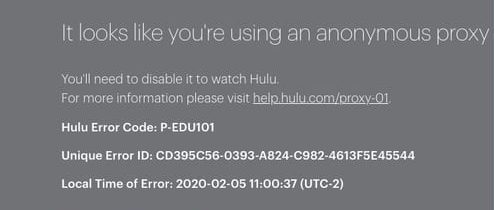 Now, to access Hulu, we need an American IP address. We did no use a US server from VPN Unlimited's list, we used the streaming option that says "Hulu." Once clicked on, an automatic connection to the United States was established.
VPN Unlimited did not disappoint and unblocked Hulu in our region.
Two major streaming channels in a row. Can it keep up with the rest? The following tests will show that.
Amazon Prime Video
Just like Netflix, Amazon Prime also assigns different catalogs in certain regions. It is also able to detect whether we're using a VPN or not.
If our traffic was coming from an uncredible VPN, this message will pop up:
"Your device is connected to the Internet using a VPN or proxy service. Please disable it and try again."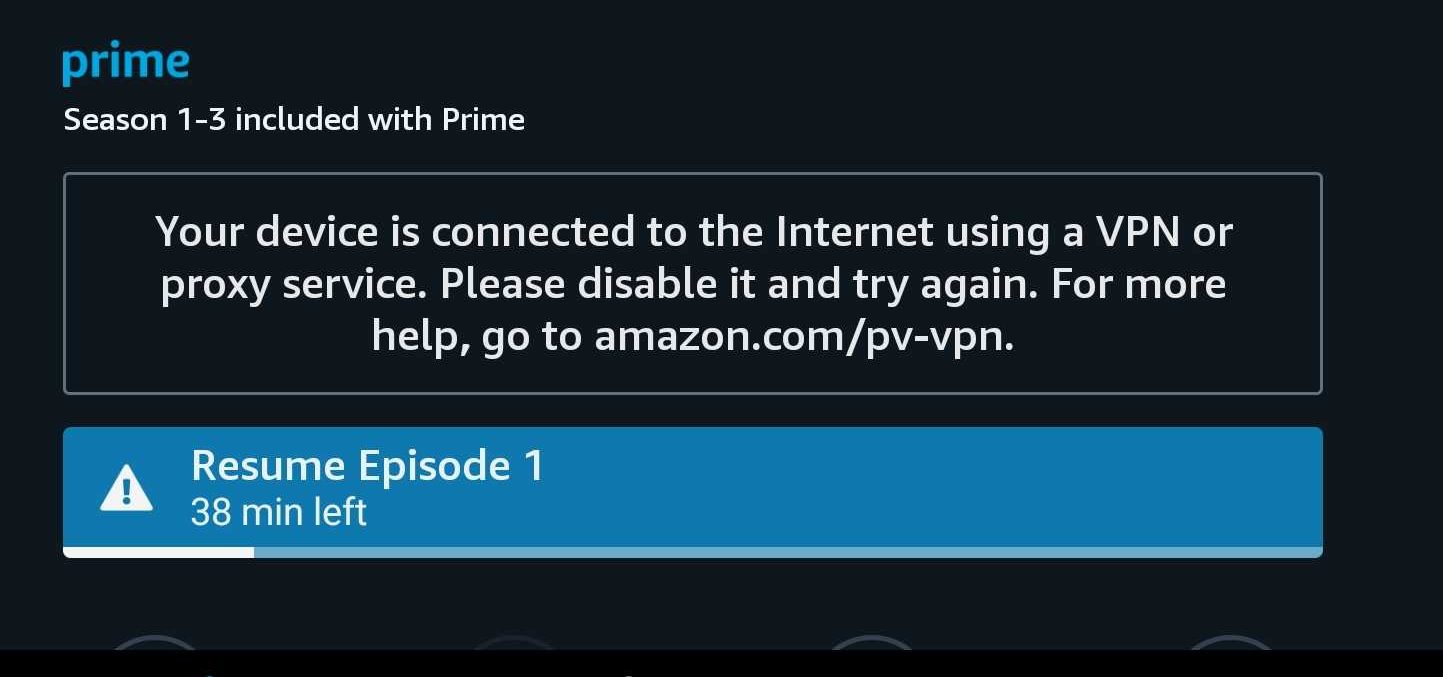 We did the same thing as above. We opened the Streaming servers' list and chose the one referring to Amazon Prime Video. Next, VPN Unlimited granted us a US IP address, and we were able to stream Prime VIdeo with ease.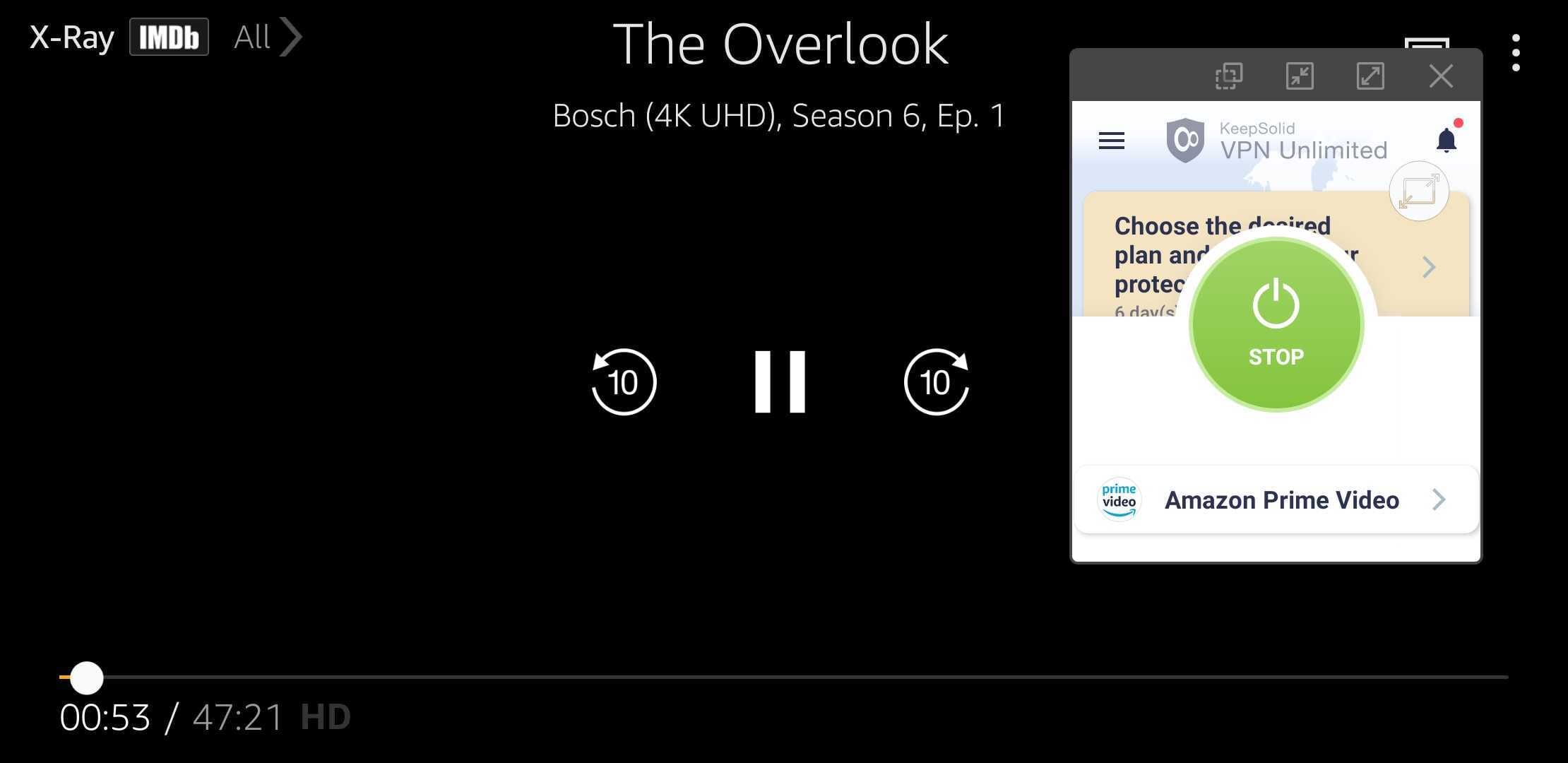 BBC iPlayer
From perfect libraries in the United States to a perfect library in the UK. Now, we'll test how VPN Unlimited fares with one of the biggest channels in the world – BBC iPlayer.
The streaming service is very popular, not just in the UK, but internationally. In fact, back in the day, it was an easy service to access abroad.
However, BBC iPlayer upped its game, adopting a similar VPN blocking mechanism. Now, only those reliable VPNs can get around that, and VPN Unlimited falls into this category.
When we selected BBC iPlayer on the server list, the client connected us to a UK server. We launched BBC iPlayer and the results were as such:
VPN Unlimited was on a roll, but it had one more challenge to go through. Our final test was performed on the new popular service, Disney+.
Disney+
Despite being new, Disney+ has 50 Million Subscribers around the world. The service first launched in the United States, then started expanding all over the world.
However, the supported regions are still limited, and its content depends on where the user is based, which brings us the US Disney Plus.
We used VPN Unlimited to see whether it can unblock the new streaming contender. To be honest, a lot of VPNs cannot bypass Disney+'s blocks, but this one did.
Here's what we got when we tried to watch Disney+ using VPN Unlimited: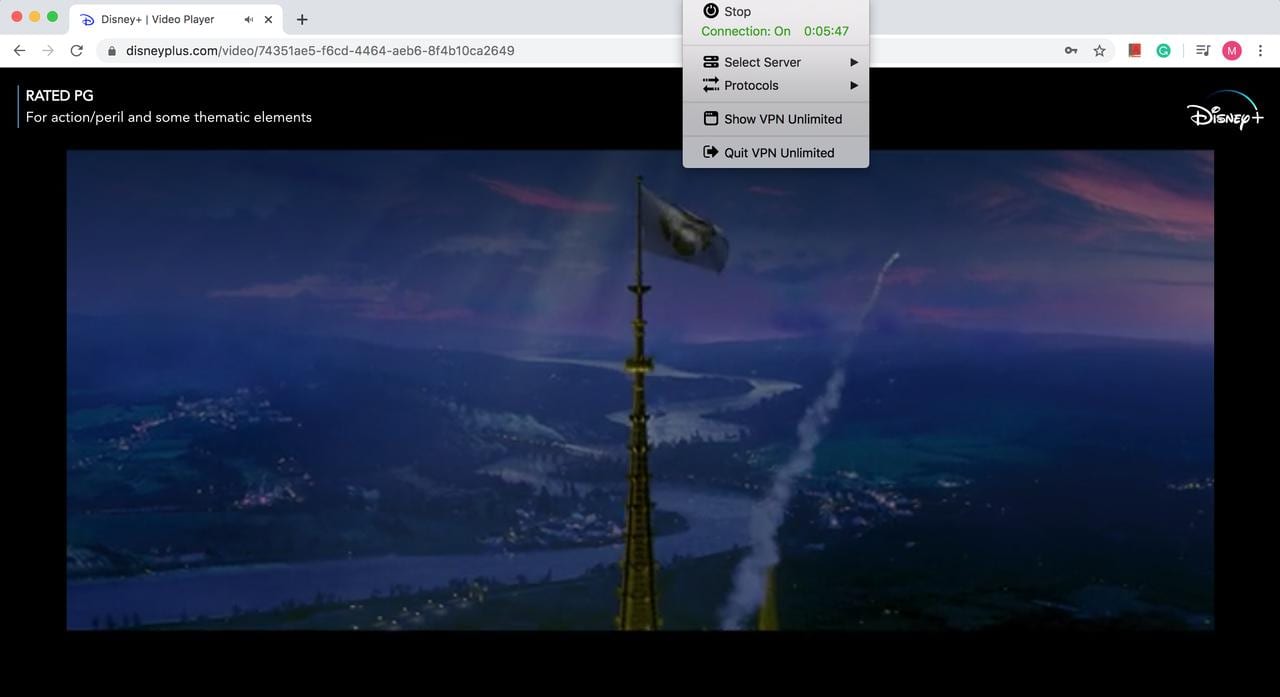 As we mentioned in the introduction, this VPN caught our attention based on its excellent unblocking abilities. We wanted to see and test the provider for ourselves, and it did not disappoint.
The Verdict: If you're looking for services that can block any channel around the world, VPN Unlimited is definitely among them.
Torrenting
Unlike many US-based VPNs, this service supports torrents, but it's not that fond of it. While it's clear that the VPN allows P2P actions, especially when a section for the task is present in the apps, VPN Unlimited clearly shows how much it doesn't support it.
We took a look at their FAQ section to see which servers allow torrenting actions. We already know that the answer is yes, but the way it was mentioned shows how unenthusiastic the company is about it:
"The primary use of KeepSolid VPN Unlimited is not to download torrents, but to offer online security. There are limited cases when our technical team has to subside connection speeds due to torrenting. We allow legal usage of P2P file sharing on US-California 1, Canada-Ontario, Romania, Luxembourg, and France servers."
Stating that their service might throttle a user's connection isn't a good thing when we compare to other service providers. Top VPN providers promise unlimited speeds even if the user is torrenting.
But that's not the problem at hand. VPN Unlimited warned us about throttling our connection, which leaves us wondering: Is VPN Unlimited monitoring our data? We'll be talking about that later on in the article.
KeepSolid Smart DNS
Most top VPN in the industry offer an alternative for their VPN service. Some users aren't interested in enhancing their security and privacy, they just opt for a VPN to bypass censorship and geo-restrictions.
In that case, a VPN's encryption might get in the way as it tampers with their connection speed. However, VPNs are now offering Smart DNS proxies that help get the job done, with minimal speed loss.
Smart DNS might sound like a hard technological term, but the concept behind it is very simple: Changing a user's location so that it seems that you're in a whole different part of the world, accessing all the restricted content in the process.
Now, unlike ExpressVPN, Unlocator, BulletVPN, or NordVPN, KeepSolid has its Smart DNS as a standalone service. All of these services have a VPN subscription that includes Smart DNS while VPN Unlimited doesn't.
The service as a standalone is very good for those on a budget. Why pay for a VPN when you don't want it, to begin with? If users are looking for streaming geo-blocked content, then KeepSolid Smart DNS is a great option as it costs:
1 Month: $3.99
1 Year: $19.99
3 Years: $39.99
10 Years: $99.99
KeepSolid offers long-term subscription plans, which might not be everyone's choice. However, there's always their 7-day free trial to check their service out before opting for any of the plans above. Not to mention a transparent 30-day money-back guarantee.



Now, according to our tests, KeepSolid Smart DNS was able to unblock all major streaming services, including Netflix, Hulu, and Disney+. However, Disney+ blocked our access a couple of times, before we got in later on.
Privacy
KeepSolid is based in the United States and Ukraine, which gave us mixed emotions when it comes to privacy. Having a service headquartered in the United States isn't a good move, considering the US' reputation with data retention laws.
It's one of the founders of the Five Eyes Alliance after all. But on the other hand, Ukraine is as free as they can be. No laws that require VPNs to submit user information. This leaves us hanging, but their privacy policy gave us what we were looking for:
According to their privacy policy, the following data is collected automatically by VPN Unlimited:
IP address;
Browser type and operating system;
Device name, code, manufacturer, and language;
Time zone, connection type, WiFi network name;
Country;
(Certain products only) The total amount of web traffic for each session and session dates;
Number of your devices using the Services;
Other data collected in accordance with our Cookies Policy; and
KeepSolid website/app usage, including version used, activation date, and updates installed.
The VPN's policy also states that it does not monitor, store, or log user internet activities (including the internet sites that you visit). Despite collecting some data, the provider does mention that they delete it once a user's session is over.
KeepSolid VPN Unlimited never stores or logs personal information after the end of the user's session. They delete such data immediately.
As an added privacy feature, VPN Unlimited offers a kill switch. This technology cuts off a user's internet access if a sudden drop in the VPN connection takes place.
If a kill switch is not present, the data will flow back through the ISP's servers, compromising everything done while using a VPN. With it on, users can ensure that whatever they were doing remains private until the internet reboots.
Moreover, KeepSolid offers its own Wise technology. It's the standard OpenVPN protocol, scrambled and obfuscated a bit to allow users to bypass VPN detection and blocking systems in highly censored countries like China. We found the feature in all of the apps we tested.
Security
KeepSolid's VPN Unlimited uses top security protocols to protect user data. By default, their clients use OpenVPN, which is the standard protocol ion both Mobile and Desktop apps.
VPN Unlimited also uses AES-256 encryption for industry-standard levels of security. Aside from OpenVPN, IKEv2 is available with most clients as an OpenVPN alternative.
In general, VPN Unlimited uses the following protocols. Users can pick whichever they want, based on their needs:
OpenVPN.
IKEv2
KeepSolid Wise
WireGuard
Having WireGuard is an added plus as it's said to be the future of VPN protocols, offering the best security and fastest speeds.
The protocol is still in its Beta version, but this early adoption indicates that it's going to be used among all top providers in the near future.
Also, VPN Unlimited's applications come with a DNS Firewall, a feature that performs web filtering and blocks malicious websites when enabled.
Having such features is good and all, but it's not enough to determine a VPN's credibility when it comes to security. That's why we conducted a few extra tests to see how secure KeepSolid's VPN Unlimited is:
Virus Scan
A virus scan is very essential whenever we install an application on our device. This does not only include VPN clients but all apps in general.
That's why we performed a couple of virus tests on VPN Unlimited to see whether there's something malicious embedded in it or not.
First, we tested their Installer, which turned out to be clean. According to 59 credible sources, the app installed is totally virus-free.
So, basically, it's safe to install the VPN Unlimited application, which we eventually did. Now that we got the client, we performed the same test on it. The results weren't any different scoring green colors based on 61 sources.

KeepSolid's Unlimited VPN app is clean. There's no indication of any kind of infection and no virus, malware, or malicious software was spotted.
DNS Leak Protection
When connected to a VPN, the DNS requests a device sends flow through the VPN tunnel along with other traffic. This is practically a VPN's main job.
However, sometimes these DNS requests might slip and flow back into the ISP's server, compromising everything. This is what we call a DNS Leak.
The moment users install a VPN service, they should connect to a server and check if it's leaking any of their information. We performed such tests on VPN Unlimited and the results were as such:
First, we used a credible IP leak test and the results were positive. VPN Unlimited was not leaking any of our data as the IP shown in the image below is the one given by the provider.
We also found that VPN Unlimited has its own leak test, so we decided we give that a try as well. We connected to an Australian server and clicked Go. This showed that our IP is not being leaked to the websites we're visiting.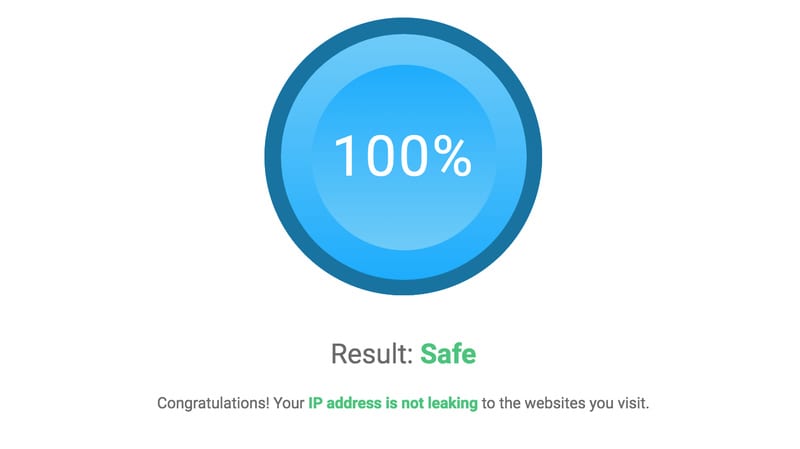 Finally, we used our own tool to check for IP and WebRTC leaks. According to the results, it showed that there's a potential leak.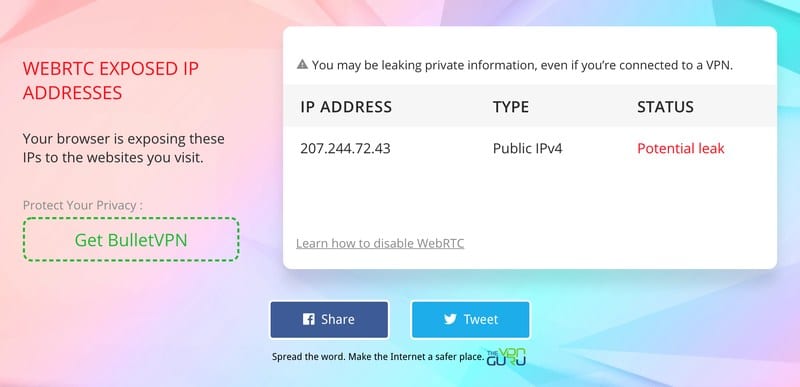 However, the IP shown is the one provided by VPN Unlimited, so technically, no leak is present. So, despite not having anything related to DNS Leak protection within their apps, it's safe to say that the VPN does not leak any data – according to our tests, of course.
Third-Party Auditing
Independent auditing is a crucial part of our reviews as it shows us what security experts have to say about a certain provider.
We didn't find anything related to third-party auditing, but we did ask their customer support about it.
They were very transparent about it, stating that they haven't run their service through independent auditing, but they're planning on doing so in the near future.
WireGuard Support
We previously mentioned that VPN Unlimited supports the new state-of-the-art security protocol, WireGuard. However, this particular technology needs to be explained as it's not available among many providers.
WireGuard is still in development, but it's said to be more secure and faster than the popular protocols in the industry such as OpenVPN and IPSec.
Speaking of speed, this protocol will come in handy among internet users as it's a kernel-based VPN. It uses high-speed cryptographic primitives, which will ultimately be adapted for high-speed use on smartphones and routers. 
Warrant Canary
Warrant Canaries allow customers to be notified whenever a VPN receives a subpoena by the government. This gag order gives the authorities the right to harvest user data without them even knowing.
It's even illegal to inform the customers about such an order. However, with a Warrant Canary, the VPN can notify them in an indirect way, putting them in the picture if anything of the sort occurs.
While we were searching for a Warrant Canary associated with VPN Unlimited, we came across this Reddit comment:
"We do not have any system such as a "warrant canary" for our users. There has been no situation that has required such measures."
Apparently, this is what the customer support told the user back then. Since there's no Warrant Canary on their website, we decided to contact their support as well.
Here's what they replied with:
"No user data has been turned over in the last 365 days to any Government agency. Currently, there are no gag orders for user data. Even if so – it would be nothing for us to transfer because we do not log or store any activities of our users."
Their answer was pretty convincing. We searched the web for incidents where they've submitted data, but none was found. Apparently, their no-logging policy is as solid as they claim.
Customer Support
Whenever users run into problems with a certain service, the VPN has to provide the means to help them out.
VPN Unlimited has a web knowledge base with troubleshooting advice, FAQs, and guides. However, the most important part is that they have a support team available 24/7 to answer questions via ticket, emails, and Live Chat.
We contacted their support team a couple of times as seen above. But the first time we did so was to ask about their Smart DNS service.
We asked them about the number of channels their Smart DNS service unblocks. Moreover, we also asked about their support's availability. The answers were as such:



Whenever we asked a question, the support team had an answer to that. They were very friendly and professional. On the other hand, their reply didn't take more than seconds, which was very convenient.
They helped us a lot during this review, and they were very clear and transparent about their service. To be honest, this was one of the best support teams we've contacted so far.
VPN Unlimited – Pricing and Plans
VPN Unlimited, by KeepSolid, Inc. offers more than most in its price range. However, the plans vary not just based on the duration, but also on the simultaneous connections users get.
There are two types of subscriptions with different duration costs. Here's what VPN Unlimited offers when it comes to their five simultaneous connections' subscription:
1 Month: $9.99
1 Year: $5/Month, $59.99/Year
3 Years: $2.78/Month, $99.99/Year
Lifetime: $199.99, billed once

As for a subscription with 10 concurrent connections, the plans look like this:
1 Month: $14.99
1 Year: $7.50/Month, $89.99/Year
3 Years: $4.17/Month, $149.99/Year
Lifetime: $299.99, billed once
There are other options provided by VPN Unlimited. For example, users can purchase their own personal server that comes with 100 Mbps speed, 2GB RAM, and Single Core CPU for $19.99/month.
On the other hand, users can purchase a personal Static IP address, which will only be used by them. VPN Unlimited shows a list of countries in which users can choose the IP in, and they'll be billed for $14.99/month for each IP address.
Moreover, there's a VPN for Teams, where a single purchase allows multiple accounts and a big number of simultaneous devices. For $19.99/month, users get five accounts and 25 active devices.
However, for $79.99 a month, users get 20 accounts, along with 100 active devices. Users can also add extra devices to their subscriptions. The options are one, five, or ten devices for $0.99, $2.99, $5.99 a month respectively.
Payment Options
VPN Unlimited doesn't just offer a variety of plans, it also allows paying through several payment methods. Users can subscribe to the service using:
Visa Card
PayPal
Bitcoin
According to what their website states, if users buy a subscription through PayPal, they get a 10% discount on their purchase.
Refund Policy
Most VPN providers offer a money-back guarantee as a way out for their customers in case they change their minds about the service.
Top providers in the industry offer a solid 30-day refund policy and VPN Unlimited is no different, offering the same duration you get to try their service as they others.
In the past, VPN Unlimited had a 7-day refund policy, which pales in comparison to other top-tier providers in the industry. We're glad to see that it has upped its game in the past year.
Free Trial
There are only a few VPNs that offer free trials, and apparently, VPN Unlimited is one of them. For example, BulletVPN offers a free trial for Android users and by contacting the support team.
Unlocator relates more to VPN Unlimited as it also has a separate Smart DNS service. However, the other common point between them is that they both have a 7-day free trial.
VPN Unlimited allows users to try their service out, completely free without the need for a credit card. That's a legit Free Trial and gives the impression that this VPN has nothing to hide and is fully confident about its service.
If both of these options aren't enough, VPN Unlimited also offers KeepSolid VPN Lite. It's a free application that offers access to one US server, along with an unlimited, throttle-free connection. No servers for torrenting though.
VPN Unlimited Review – Concluding Words
From what we've seen, VPN Unlimited is a capable service with some excellent features that users won't always find elsewhere.
Its unblocking capabilities are very good as it was able to access all the major streaming services we tested it with. Moreover, they offer a wide variety of subscription plans to suit anyone with a 30-day refund policy and free trial.
Is it recommended though? By our standards, this VPN is worth trying out. Tell us what you think in the comments below.
VPN Unlimited Review
Name: VPN Unlimited
Description: A VPN and Smart DNS service with excellent unblocking capabilities and top-level security features.
VPN Apps

Support

Speed

Access Geo-Blocked Sites

Security

Refund Policy

Free Trial