With more than 435 million monthly active users, Avast has certainly become very popular globally. It also holds the largest market share in the anti-malware software industry. In 2014, the company added SecureLine to the mix. A Virtual Private Network that adds an extra layer of security and privacy to users' browsing activities. But the question is: What does Avast have to offer in the VPN industry? Can it compete with other competitors, or should it just stick to what it does best (Anti-malware)? Find out in this review.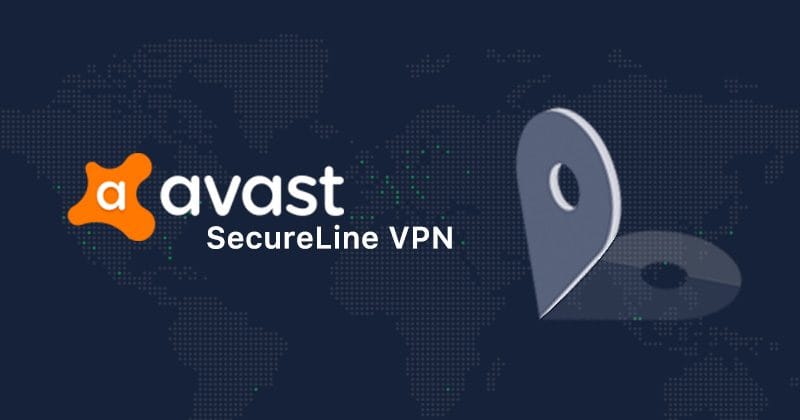 Avast SecureLine VPN Review – Content Index
Avast, the globally popular security company, is allowing users to roam the internet freely thanks to its SecureLine VPN. We went ahead and assessed every little feature provided by the service. As a result, this full Avast SecureLine VPN review was created.
Quick Stats
| | |
| --- | --- |
| Money-back guarantee | 30 Days |
| Allowed concurrent connections | Ten |
| Supported streaming services | Netflix and BBC iPlayer |
| No logs policy | Yes |
| Encryption | AES 256 encryption |
| Security Protocols | OpenVPN, IPSec |
| Special features | Kill Switch |
| Customer support | Call support |
| Server locations | 34 countries |
| Number of servers | 55 servers |
| Server Switches | Unlimited |
| Supported devices & web extensions | Android, iOS, PC, Mac |
| VPN legal jurisdiction | Czech Republic |
| Free Trial | 7 days |
Avast SecureLine VPN – Pros and Cons
Just like any other software out there, SecureLine is bound to have some cons in its service. That doesn't mean that it doesn't offer a great service. So, before we head over to the review, here are Avast SecureLine VPN's pros and cons:
Pros:
User-friendly interface
AES-256 bit encryption
Unblocks Netflix & BBC iPlayer
Unlimited bandwidth
Kill Switch available
DNS and WebRTC leak protection
Supports English & 20+ other languages
Compatible with Android, macOS, PC, and iOS
Good speeds
Warrant Canary
Cons:
Some logging
History in selling data (Avast)
No split tunneling
Small server network
Can't select protocols
Lacks Smart DNS
Doesn't unblock Hulu, Prime Video, and Disney+
May share data (Its jurisdiction)
No Monthly Subscription
Applications and Interface
Avast SecureLine launched back in 2014 to help further protect users' online identity while browsing the internet. To make the connection process easier on any customer, VPNs offer dedicated clients.
We had to assess how efficient and user-friendly SecureLine's application is, which is why we tested both their Mac and Android clients.
Mac App
At first, we downloaded the macOS client that was shockingly very simple and easy to navigate through. All it took us to connect to one of Avast's servers was a push of a button.
However, there was something that we didn't quite understand. When we first launched the app, we couldn't find the server list to choose from. There was the big Connect button, with an indication to "Start Here."
Clicking the button got us an optimal connection. That's when the server list showed up under the name of "Change Location." Other than that, the client is very user-friendly, and the connection process looks exactly like this:
Once we clicked on the Change Location button, a full list of servers popped up. We'll be talking about how many of those does SecureLine VPN offer.
On the right side of the application, there's the settings option. Inside, we were able to enable the VPN's kill switch – a technology that cuts of the internet if a sudden drop in the connection occurs.
Finally, from within the app itself, users get to add Avast SecureLine VPN's browser extensions to both Firefox and Chrome.
Android
Just like we've seen while reviewing other VPNs, SecureLine's Android application's usability as sophisticated and simple as the one provided on Mac.
Ir doesn't differ much from the desktop interface, and connecting to a VPN server is very simple. It took us little to no time to establish a connection.
With that said, here's what the Android application looks like:
Instead of Change Location, the Android Client clearly states, "Server Location." As for the settings, we got to enable the VPN kill switch from within, as well as activate Auto-Connect and set our trusted networks.
App Store Rating
Reviews are always based on our experience with the VPN provider. However, we also take what the actual customers go through while operating the VPN itself.
That's why we check the reviews on Application stores and compare them to what we witnessed while trying out the product. We checked what both the iOS Store and Google Play's users had to say about SecureLine VPN.
First, on Google Play Store, the client has a 4.3/5 rating, which is considered to be excellent.

We didn't just stop there. As we searched the comments, we found a very interesting one, yet very negative. Here's what it states:
"TOTAL WASTE !!! Works ONLY WITH WiFi, cellular networks are out of scope. Despite being on a 40mbps broadband internet connection, speeds NEVER exceed 400kbps (a 1GB file took 7 hrs to download after 2 failed attempts caused by automatic drop-offs). Frequent drop-offs. No matter what server location is selected, performance is consistently pathetic."
During our evaluation, we did not witness any drop. As for speeds, we have a dedicated section for that below.
Now, we move to iOS devices, and according to the App Store, SecureLine is an amazing provider, satisfying more than 10.1k reviewers.
The service has a 4.7/5, which is an almost-perfect score.

So, in general, the Avast SecureLine VPN application on both iOS and Android Stores has high ratings. This can reflect how credible the service is, but we wouldn't know unless we tried it out ourselves.
Trustpilot Reviews
Trustpilot is one of the most trusted websites on the internet that hosts hundreds of reviews for any online product out there.
A lot of VPNs have tried to fake their reviews so that they can rank even higher, but the website penalized them by degrading their status. We highly rely on what the users on Trustpilot have to say, and when it came to Avast, the outcome wasn't that good.
Avast, in general, has a 2/5 rating on Trustpilot based on 2,808 reviews. The image below clearly states how poor this rating is.
That's not all. We saw a lot of negative feedbacks towards Avast, but we were searching for anything regarding their VPN business. We found a comment that is yet to be confirmed. First, this is what it says:
"While the antivirus was a good product it slowed my computer down way to much.. The VPN is decent, the speeds were good but the problem i had was, while the company says it keeps no logs of your VPN activity it does keep the time you are connected to the VPN and how much Bandwidth you are using, also while using it i encountered numerous DNS leaks which give out your location, whats the point of a VPN if it cannot disguise your IP or location? Use a VPN service that has no DNS leaks and keeps a strict no logs policy."
So, we have different points of view here. Most VPN providers store the time users connect to their service to increase the service's efficiency and upgrade what they have to offer. As for the DNS leaks, we'll be testing those later on in this review.
Server Locations
The VPN industry is stacked with top providers that offer servers across dozens of countries. Now, if we were to compare what Avast SecureLine has to offer, we'd say that it pales in comparison to most of them.
Take ExpressVPN, for example. The VPN has servers in 94 countries. This allows several options for customers to choose from, especially if they're looking to access geo-restricted content.
Now, when we speak of SecureLine VPN, the numbers drop to just 55 servers across 34 countries. According to our evaluation standards, this is quite underwhelming.
In each country, users may find a server or two to pick from, which is definitely not enough. The United States is the country with the most server locations (16 cities), followed by the UK with only three.
The complete server list it's presented below: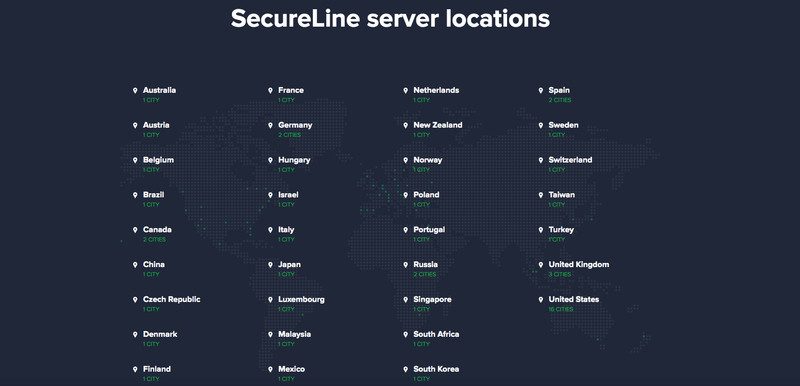 Australia
Austria
Belgium
Brazil
Canada
China
Czech Republic
Denmark
Finland
France
Germany
Hungary
Israel
Italy
Japan
Luxembourg
Malaysia
Mexico
Netherlands
New Zealand
Norway
Poland
Portugal
Russia
Singapore
South Africa
South Korea
Spain
Sweden
Switzerland
Taiwan
Turkey
United Kingdom
United States
Numbers do matter, and SecureLine VPN did not deliver. In the VPN industry, the more server location a VPN has, the easier it is for a user to find a faster nearby server.
Moreover, if the customers are looking to bypass regional restrictions, they'd have more options to choose from with a bigger server network.
And finally, with more servers, you won't be connected to an overcrowded server and get the worst speeds while browsing the web.
Speed Performance
Speed is a very important element in a VPN's review. What good is a provider that slows down a user's connection to a point where the videos watched are low quality?
A Virtual Private Network will indeed slow down the connection speed. That's due to encryption, which protects the data sent and received online.
However, top VPN providers optimize their servers and upgrade them regularly so that users won't feel that speed drop.
So, the question is: Does SecureLine host well-optimized servers that can maintain excellent speeds? Let's find out.
The Test
Here's what we got when we evaluated SecureLine's Speed:
First, this is what we recorded without using Avast SecureLine.
Next, we used one of the most popular locations VPN users tend to connect to servers in, the United States. The US is considered to be a distant server, considering our location. However, even if it was far, the speed dropped drastically, reaching 74%.
After that, we tried a server in the United Kingdom. The results weren't that bad at all. In fact, it was so much better than what the server in the US gave us. Witha server in Great Britain, we only witnessed a 52%.
Finally, we used a German server to see how this one wraps up when we connect to a nearby server. Apparently, distance does matter with SecureLine as with a German server; we were able to maintain excellent speeds. The drop we saw was only around 7%, which is very good for UHD streaming.
As seen in the images above, SecureLine had some mixed results, but it is considered fast. In the reviews we read, especially the negative ones on Trustpilot, the users praised their excellent speeds, yet they did not like anything else.
Speed is good, the streaming quality remained good, and downloading was very efficient. In this section, SecureLine succeeds.
SecureLine VPN – Streaming Capabilities
Virtual Private Networks are first and foremost online security tools to protect user data while browsing the web. However, they are also great apps for bypassing regional restrictions and accessing blocked content abroad.
In fact, most users sign up with VPN services to watch geo-restricted channels in unsupported countries. A VPN changes one IP address and assigns him/her with a temporary one based on the server they connect to.
For example, if the user connects to a US server, he/she gets an American IP address. As a result, they can access all US-restricted content wherever they are.
Now, this might sound easy, and it is with some channels. However, we don't deem a VPN credible until we run it through some tests first.
Major streaming services can now detect if a streamer is using a VPN or not. Once it does, it blocks them instantly. A lot of VPN services fell victim to this VPN blocking, but some of them did manage to optimize their servers enough to bypass it.
Does Avast SecureLine VPN have what it takes to access the biggest streaming channels in the world? Can it bypass the tough VPN blocks applied by the likes of Netflix, Hulu, Amazon Prime, and more? Here's our full streaming evaluation.
Netflix
The streaming giant is probably the one who started it all with the VPN blocking. Most VPNs have admitted defeat and stopped trying to optimize their servers as they're not able to keep up with Netflix's capabilities.
Aside from assigning different catalogs in different locations, we have to focus on circumventing Netflix's VPN block. When we assess VPN providers, we test them with the streaming giant first.
Before we head over to the testing part, here's how a Netflix block looks like:
"You seem to be using an unblocker or proxy. Please turn off any of these services and try again. Error Code: M7111 – 5059".
It's time to see whether Avast SecureLine can unblock the channel or not. We connected to an American server that's labeled as (Optimized for Streaming). Once the connection was established, we launched Netflix.
In the image below, it's clearly seen that Netflix was unblocked using SecureLine.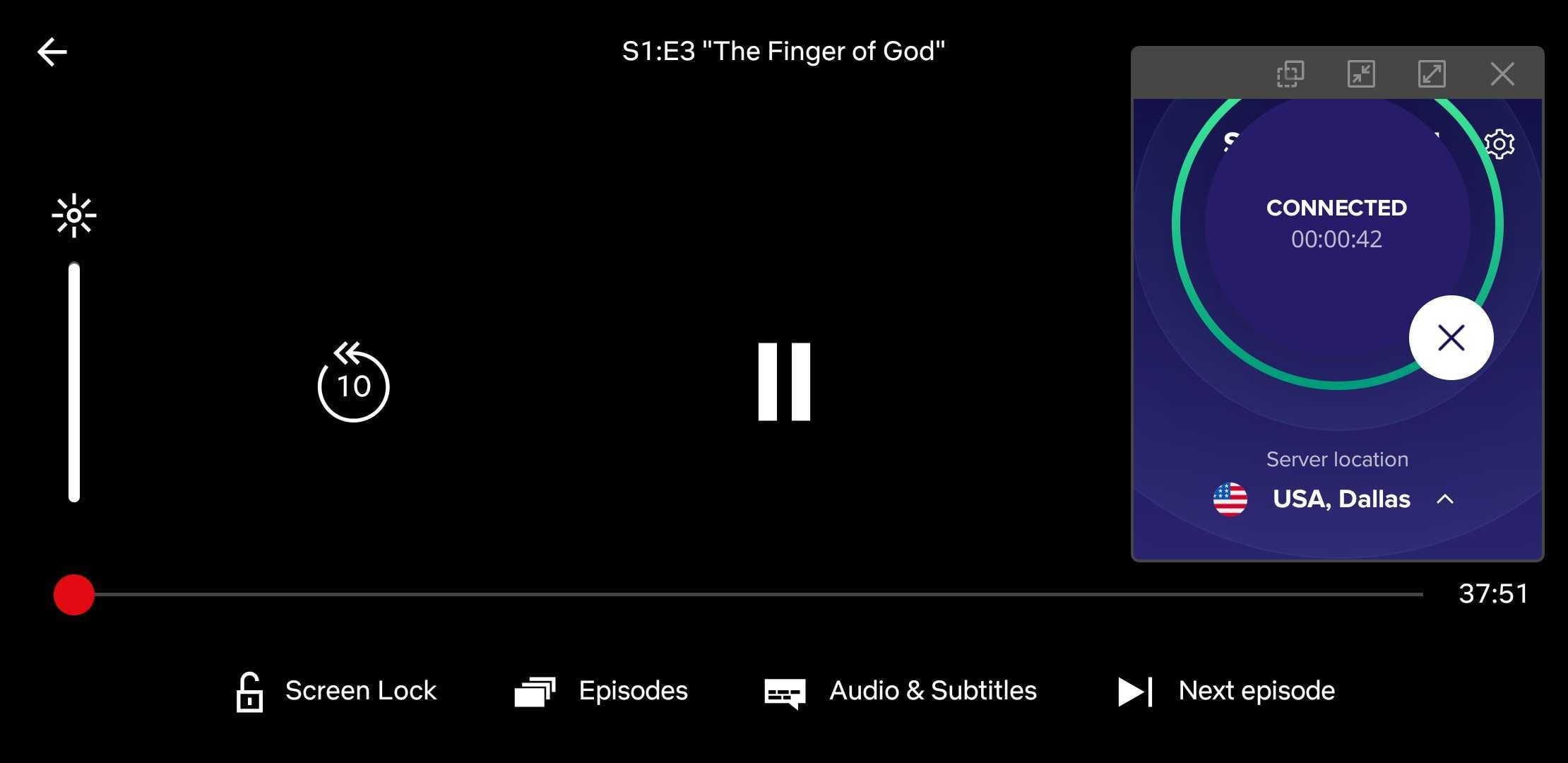 Please note that we used several servers, and the SecureLine accessed US Netflix using each one of them. In other words, SecureLine is an excellent VPN to bypass Netflix's VPN blocking mechanism.
Hulu
The streaming war has been going on for quite some time now and Hulu is considered to be a top competitor in it.
The channel has more than 30 million subscribers, but unline Netflix, those subscribers are only located in the United States.
Hulu cannot be accessed abroad, which is what it's geo-blocking mechanism is. If a user doesn't have a US IP address, he/she is not getting in. With Hulu, there are two obstacles users need to bypass.
First, the have to get a US IP address as the channel is not available abroad. If anyone with a different IP approaches the service, this geo-error message will appear:
"Video not available in this location. This video is not available in your current location. Please select something else to watch. Error code: BYA 403-007"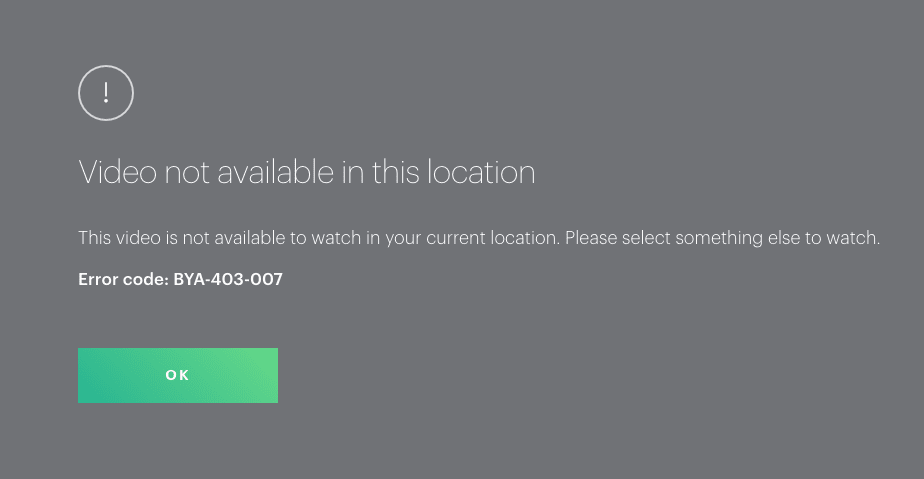 Getting a US IP address is something very easy and almost every VPN is capable of granting users one. However, circumventing Hulu's VPN blocking isn't an easy job, which brings us to the following proxy error.
This is what users get if Hulu has blacklisted the IP address given by the VPN provider:
"It looks like you're using an anonymous proxy. You'll need to disable it to watch Hulu. Hulu Error Code: P-EDU101."
Here's where we started testing SecureLine VPN's capabilities with Hulu. We stayed connected to the same server we used with Netflix.
However, although it did work with the streaming giant, it didn't manage to unblock another giant, Hulu. Once we clicked on a video using the Android application, this proxy error appeared: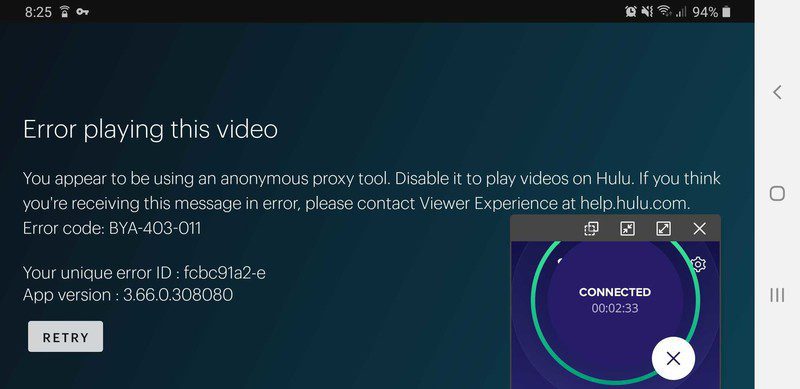 Avast SecureLine VPN did very well with Netflix, but it failed when it came to Hulu. We have a couple more tests below. You'll see whether this VPN is credible for streaming or not.
Amazon Prime Video
Just like Netflix, Amazon Prime Video also assigns certain catalogs to different countries. And also following in Netflix's footsteps, the American version is the richest.
In our previous reviews, we witnessed a lot of VPNs failing to unblock the channel's US library, including ones that were successful with Netflix.
In other words, just because a VPN provider can unblock Netflix, it doesn't mean that it's credible with other streaming services.
Now, we stayed connected to the "Optimized for Streaming" US server we used with Netflix, and that's where things took another bad turn.
SecureLine VPN was not able to get access to Amazon Prime. Instead, the service determined our VPN traffic and blocked us instantly. The following is the error we got:
"Your device is connected to the internet using a VPN or proxy service. Please turn."
The problem here is that we didn't just test it with one US server. We connected using multiple ones, and the results were the same. So far, aside from Netflix, SecureLine isn't that reliable when it comes to unblocking content.
BBC iPlayer
The United States isn't the only country that has top streaming services. In fact, the United Kingdom also has a host of channels that everyone should have around the world.
In this review, we tested how SecureLine fares against one of the UK's finest, BBC iPlayer. The channel also applies strict VPN blocks, which most VPNs weren't able to circumvent.
We connected to a UK server that's also optimized for streaming. Apparently, SecureLine was able to turn the tables here and managed to unblock BBC iPlayer in our region.
With a UK IP address provided by SecureLine VPN, we were able to watch Glow Up: Britain's Next Make-Up Star without a hitch.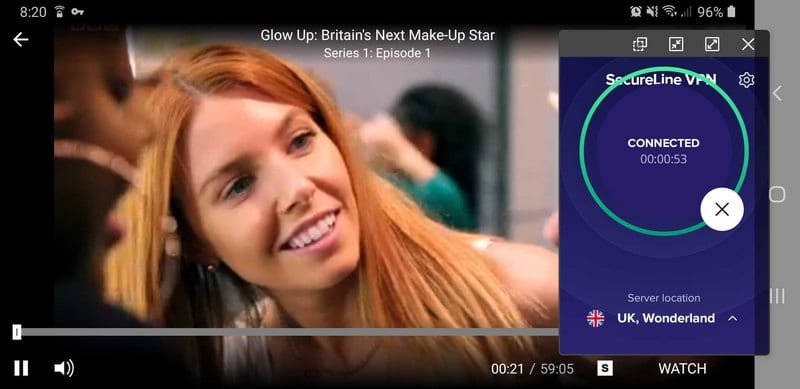 Being able to unblock BBC iPlayer outside the UK got SecureLine back on the right track. However, we still had one test to perform to see whether it's going to keep this up or fail again.
Disney+
Disney+ has been around for long, but it sure did attract a huge fanbase in the countries where it's made available. As of now, Disney+ has more than 90 million subscribers.
Again, we have to mention that Disney Plus' US catalog is the richest, which is why we tried to access it using Avast SecureLine VPN.
Before we present our results, we have to note that a lot of previously reviewed VPNs were not a match for the channel's tough VPN block.
And, apparently, neither was SecureLine VPN. Despite connecting to several US servers, the outcome remained the same – an error message:
"Disney+ is only available in certain regions. Depending on where you are located, you may not be able to access Disney+. If you think you are seeing this message in error, contact Disney+ Support (Error Code 73)."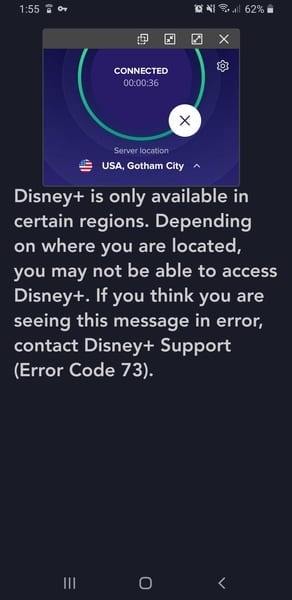 At first, we were very skeptical of SecureLine's streaming capabilities. Avast is a company that focuses on security. To be able to access Netflix and BBC iPlayer is a very good thing for a security company.
However, it's not considered as grand when we speak of it as a VPN provider. There are top services out there that can unblock all of the aforementioned channels. It's a fail for SecureLine.
P2P Support
Torrenting is very popular among internet users. They can download ebooks, movies, series, and music seamlessly. However, in some countries, such P2P actions are not legal as they break copyright laws.
Moreover, if users are downloading a certain file, their information is exposed to anyone else sharing the same content, which compromises their privacy.
With a VPN, users get to hide their IP address and download torrents anonymously. That, of course, is possible only if the VPN allows torrenting on their servers.
In Avast SecureLine VPN's case, torrenting is allowed, but on specific servers. According to their FAQs section, the servers that support P2P actions are the following:
Prague, Czech Republic
Frankfurt, Germany
Amsterdam, Netherlands
New York City, New York
Miami, Florida
Seattle, Washington
London, United Kingdom
Paris, France
So, if users are keen on P2P filesharing and uTorrent downloads, Avast SecureLine allows file-sharing traffic on the aforementioned servers.
Smart DNS Proxies
Smart DNS has been an outstanding VPN alternative to those who wish to stream restricted content without losing speed in the process.
The technology reroutes the parts of users' data that highlight their actual location, spoofing it in the process. As a result, they'll be able to unblock streaming channels with minimal speed loss.
However, they'll be losing the added security in the process, making them completely vulnerable when browsing the web.
Avast doesn't offer this top-notch technology. We couldn't find anything regarding Smart DNS, but we did come across their SecureDNS.
Users should not mix between the two as they have different purposes. According to their website:
"SecureDNS protects you against DNS (Domain Name System) hijacking. Some malicious programs can quietly redirect you from an authentic URL to an inauthentic website to acquire sensitive information such as usernames, passwords, and credit card details that you enter.

Every time you enter the URL of any web site to address box (like www.avast.com) in your web browser, it must be translated to the IP address of the web server where the target web page is stored.

SecureDNS provides an encrypted connection between your web browser and Avast's own DNS server to be sure the translation is not hijacked. In other words, SecureDNS ensures that the displayed web page is the authentic one."
So, the bottom line is: Avast SecureLine VPN does not have Smart DNS proxies for streaming purposes. It only offers SecureDNS for extra privacy.
Avast SecureLine VPN – Privacy
This will be a long part since we have a lot to say about Avast in general in terms of privacy. First, let's talk about their headquarters.
Avast, the company behind the SecureLine VPN is located in the Czech Republic. The country has no data retention laws that are known to the public (Emphasis on the last statement). We'll get back to that in a few.
SecureLine VPN claims that it does not keep any data logs of users' online activity. In fact, it's mentioned on their main page of the website.

Apparently, they did not mention that they actually do collect a couple of things. One has to know where to search for stuff like that.
In their Privacy Policy, Avast SecureLine VPN did mention that the company limits the information it collects to metadata, such as the time of connection and users' network location. They do not log any of the data content.
Moreover, their privacy policy also mentions the metadata collected is deleted within 30 days. What's more important is that unlike free VPNs, SecureLine does not bombard users' web traffic with, nor does it profit from the sale of user data.
That might be true, but from previous experience, we know that Avast is well-known for collecting and sharing personal information.
Of course, this incident occurred with Avast's antivirus software. It's not clear yet whether their VPN service is also considered as Spyware.
Finally, Avast has a kill switch, which is an important feature in the privacy department. This technology cuts off the internet if the VPN connection suddenly fails.
It prevents user data from flowing back through the ISP's servers and stopping it from compromising everything they were doing online.
The Vague Jurisdiction – Eyes Everywhere
So we go back to Avast's headquarters. As we mentioned not everything is what it seems. Despite having no data collection laws and the fact that the region is not part of any intelligence-sharing alliances (Known), the Czech Republic is in fact in cahoots with the Five Eyes Alliance.
It's not part of the Alliance, but it is considered one of the Tier B countries that have focused cooperation with Five Eyes on computer network exploitation.
We call them the 41 Eyes – countries that are friendly with the 14 Eyes and are willing to cooperate on intelligence sharing. This can be very alarming in terms of user privacy.
So, we should always keep that in mind even though there hasn't been any evidence to show that Avast is actually sharing data with the countries.
SecureLine VPN – Security
SecureLine VPN applies the industry standard, AES-256 bit encryption, which is the same kind of encryption used by the NSA to secure their data.
As for security protocols, we didn't find Avast very amusing in that territory. It only allows specific protocols on specific devices. Avast SecureLine VPN uses:
OpenVPN on Windows, Android, and iOS.
IPSec on macOS
Sadly, no other protocols are supported. However, both of these protocols have high security, especially OpenVPN, which is what most users need to operate on.
Encryption and protocols are what a VPN is made of. Although what SecureLine has to offer is enough, we can't just determine its credibility based on that.
That's why we test other factors to determine its level of security.
Virus Scan
We always advise users to check the app they're downloading before installing it on their devices. No matter what the app is, there might be something deeply embedded within that might compromise their security and privacy.
In the past, we've come across several VPN apps that had malware such as Trojan in them. However, Avast SecureLine VPN does not fall into the same category. In fact, when we ran their Mac installer through a virus scan, we got green colors all over.
According to 59 credible sources, the Mac application is totally malware-free.

Despite stating some privacy risks, the SecureLine application is completely clean and safe to install on your compatible platform.
DNS Leak Tests
Even if the VPN states that it provides DNS leak protection, we should always second guess their claims. It's in the word "Claim," they might be saying that to sell their merchandise.
That's why we tested Avast's SecureLine VPN for any leaks. We were very satisfied with the results actually. We connected to a US server and checked for any leaks using a very reputable Leak Test. Here's what we got:

We stayed connected to the same US server and tested for any WebRTC leaks using our own Tool. According to the results we got, we found that our real IP address wasn't being leaked.
The test does show a Potential Leak warning, but the IP shown above is not ours. It's the one provided by SecureLine VPN, so basically, everything is fine.
Independent Auditing
Running a certain service through independent auditing is very important to determine how secure or reliable the service is.
Third-party auditing is a huge step towards full transparency any VPN service should do. However, Avast SecureLine VPN did not undergo any audits by security experts.
We don't know whether the VPN would run its service through third-party auditing in the future, but for now, none has been done. In our opinion, they should do this as their parent company isn't that trusted when it comes to privacy.
Warrant Canary
Transparency is everything, and thinking about customer's privacy is a very good gesture towards better trust between the company and the consumer.
That's why a lot of companies issue Warrant Canaries as a form of an in-direct way to inform customers that the service they've invested in has been compromised.
In several countries, the government can issue what we call a subpoena, which forces a VPN provider to share user data without notifying them.
It's even illegal to do so. Here's where a Warrant Canary steps in. It exists to do the job in an in-direct way. However, it has to be regularly updated. If not, then the VPN has received a gag order and users' information has been compromised.
In Avast's case, they do offer a Warrant Canary, which is updated quarterly. Here's what their current one looks like:
Avast Warrant Canary, March 1, 2020:
"Avast has not produced any information in response to a secret subpoena, such as one served under 18 U.S.C. Section 2709(c) of the U.S. Patriot Act, and has not built "backdoors" for any government into our products.
All government requests for user data need to come through the front door (i.e., by serving valid legal process upon Avast).
The statement is published quarterly (March 1, June 1, September 1, December 1)."

According to the Warrant Canary presented above, the company has not submitted any of its users' information to the government. We don't know whether it's true or not. After all, we now know the history of Avast in terms of data sharing.
Customer Support
SecureLine's customer support doesn't offer that many options as other VPNs do. They don't have email support, nor do they offer Live-chat.
However, the best thing about them is that they have a number that users can call so they can solve their problems instantly.

SecureLine also has a knowledgebase full of helpful articles, a lot of support pages, and a dedicated forum. Users get to search within the Knowledgebase so that they easily find what they're looking for based on keywords.
Finally, they can be connected via a Twitter account. Users can send direct messages, which kind of resembles a live chat. The difference is that it takes them hours to reply.
Having call support puts Avast SecureLine VPN ahead of its competition. However, the lack of live-chat puts it a couple of steps back.
Pricing and Subscriptions
Pricing is mostly what users look at first so that they can see what their budget can afford. Usually, offering several subscription plans is a good thing as it gives customers more options to choose from.
But sometimes more is less, and that's exactly the problem we faced with SecureLine VPN. Let's talk about the obvious choice.
Avast SecureLine VPN sets its packages based on the duration of the subscription. When we visited the website, these pricings showed up:
1 Year: $59.88 – $4.99/month
2 Years: $95.76 – $3.99/month
3 Years: $143.64 – $3.99/month
We didn't like the fact that they don't offer a monthly subscription. So, if users are looking for a monthly subscription with Avast SecureLine VPN, they better start searching elsewhere.
Refund Policy
Offering a no-questions-asked money-back guarantee is a great way to establish a trusting relationship between a VPN and new customers.
With it, they can secure the money they paid if the service did not live up to their expectations. Most top VPNs offer a 30-day refund policy, and SecureLine VPN falls into the same group.

That's a very good thing, considering other top VPNs' offers. The likes of IPVanish, for example, only provide a 7-day refund policy, which is not enough to test a service out.
Free Trial
Although Avast SecureLine VPN has a free trial, we had some problems with it. Unlike most VPNs, the service allows users to test their service out for 7 days free of charge.
They're not even required to submit any of their credit card information. However, the first time around, it worked. We were able to download the Mac app and benefit from the trial.
The problem started when we exited the application. It wouldn't let us connect again as it opened the payment page. That's not all. It did show us that we don't have to pay a dime, but our payment information was required.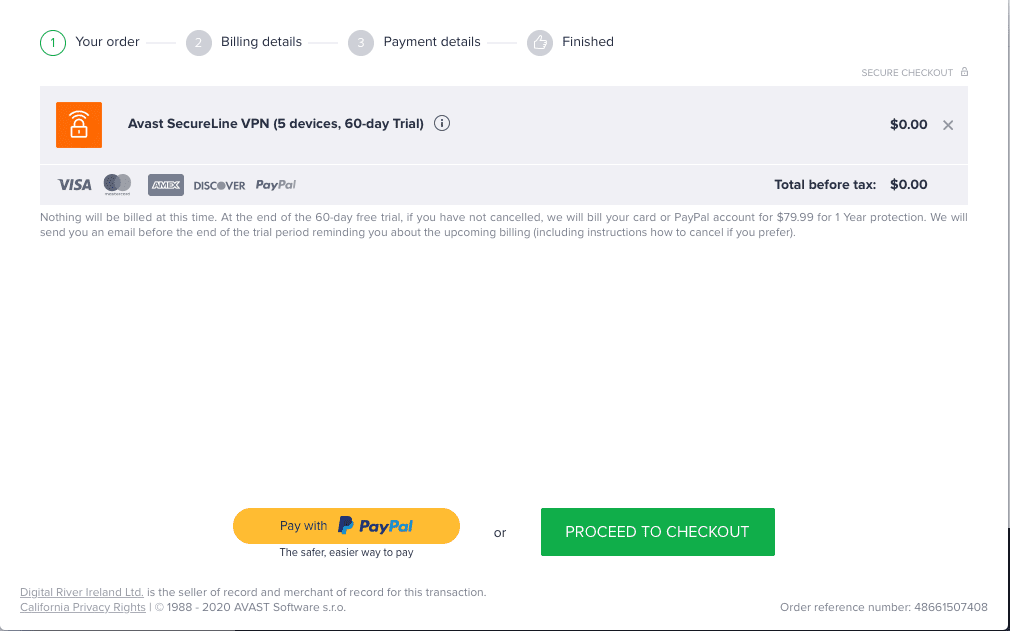 Moreover, the free trial shifted from 7 days to 60 days, which was very weird. It's clearly seen in the image above.
In general, their pricing section was very confusing. Even the Android app stated that there's a free trial, yet took us to Google Play's payment page. That's definitely a con for Avast SecureLine VPN.
Avast SecureLine VPN Review – Final Words
Avast SecureLine VPN does have some good features to offer. However, based on what we've seen in this entire review, we have to say that it's not that good of a VPN.
As reviewers and security experts, we cannot look past the fact that Avast has a history in data collection. Not to mention its jurisdiction's relationship with the Five Eyes Alliance.
Finally, their server network is very small, and their unblocking capabilities are not that grand compared to other VPNs on the market.
So, in general, users can find many other VPNs that respect their privacy and offer better functionality than Avast SecureLine VPN. If you have any more questions, drop them in the comment section below.
Avast SecureLine VPN Review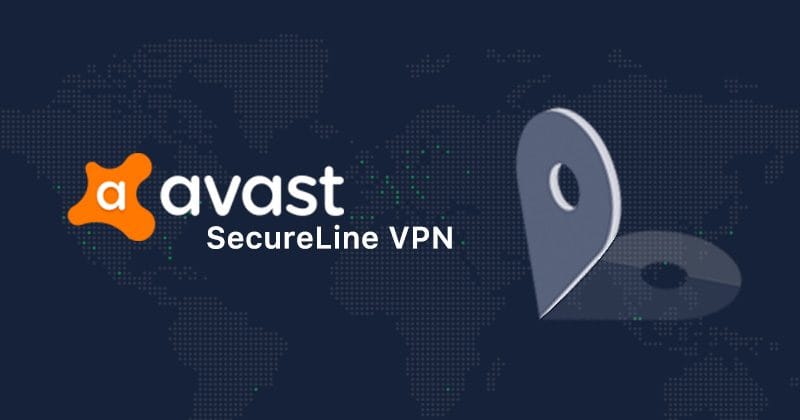 Name: Avast SecureLine VPN
Description: A VPN by the globally known security company avast, allowing users to surf the internet with an extra layer of security and anonymity.
Price: 8.99
Currency: $
Operating System: Windows, OSX, Android, iOS
Application Category: Multimedia
Refund Policy

Speed

Support

VPN Apps

Unblocking Capabilities
Comments Rating
( reviews)