Encrypt.me VPN – Worth a Go?
|
Encrypt.me is a VPN service founded back in 2011. Recently, its mother company J2Global purchased Buffered VPN and merged the two together, in hopes of giving the "best of both worlds" to customers. In theory, this type of fusion should enhance the quality of their service. However, we encountered some issues while testing Encrypt.me's various features and servers. To get a better idea about where this VPN shines, and more importantly where it falls behind, read our full Encrypt.me VPN review.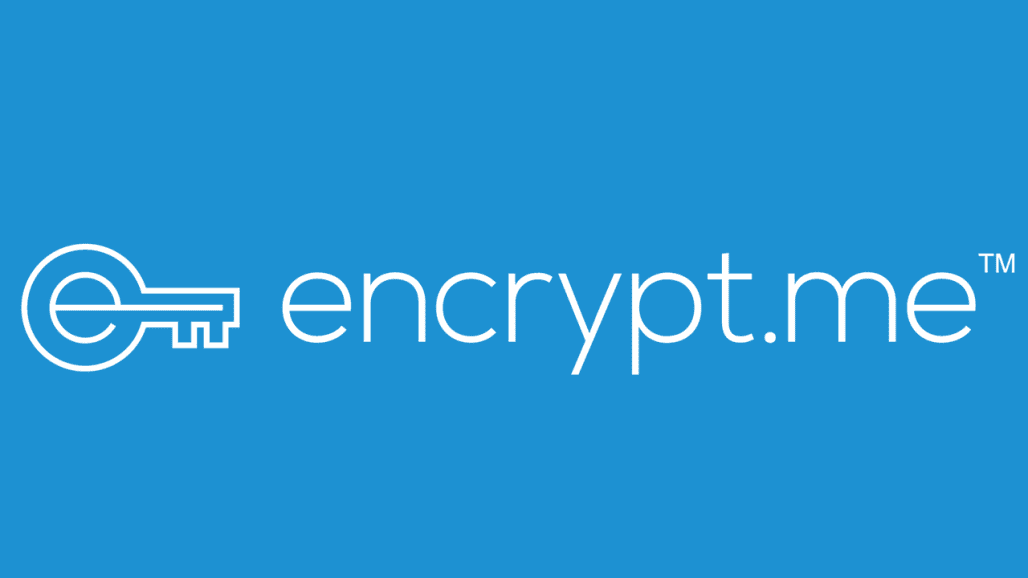 Encrypt.me Review – Content Index
Evaluating a VPN depends on a strict testing process. We assessed every service Encrypt.me VPN had to offer and we came up with the following review.
Quick Stats
| | |
| --- | --- |
| Money-back guarantee | 30 days |
| Allowed concurrent connections | Unlimited devices |
| Supported streaming services | Netflix, BBC iPlayer |
| No logs policy | Some logs (16 days) |
| Encryption | 2048–bit and 1536–bit DH group encryption |
| Protocols | OpenVPN, IPSec, IkEv1, IkEv2 |
| Special features | VPN Split tunneling, and a Kill Switch |
| Customer support | Email |
| Server locations | 49 countries |
| Number of servers | N/A |
| Server Switches | Unlimited |
| Data traffic | Unlimited |
| Supported devices & web extensions | Windows, Linux, Mac, iOS, macOS |
| VPN legal jurisdiction | United States |
Pros and Cons
Every VPN has its advantages and disadvantages no matter the reputation it has in the industry. Encrypt.me is no different, even though it recorded more cons than we expected.
Pros:
Servers in 49 countries
Good connection speeds
30-day refund policy
14-day free trial
Unblocks Netflix
User-friendly interface
Security audit
DNS leak protection
Unlimited concurrent connections
Cons:
Some session logging
No P2P support
No Smart DNS
Quite expensive
Servers give different locations
Based in the US
Apps and Interface
A VPN's application's simplicity is very important in case users are not very fond of the technology. This helps them navigate through the app without any problems, considering they lack technical knowledge.
When we evaluated Encrypt.me's apps, we downloaded both the Mac and Android versions. First, let's start with macOS. The connection process didn't take more than a couple of seconds.
While the app is very simple and needs more work, it does get the job done. We didn't like the fact that it shows the name of the network we're connected to, but that's not that big of an issue. This is what the app looks like:




When we launched the application, a Free Trial option showed up. We'll be covering that later on in the article, but it's a good thing that they included such a trial.
Moreover, the Mac app includes Auto-Secure and OverCloak features. Also, you're able to switch between UDP and TCP modes, which means that the Mac app certainly uses the OpenVPN protocol.
There are two problems within the Mac client. First, a kill switch was missing. Second, we much prefer VPN apps that make their servers searchable and sortable. Encrypt.me does not allow users to do that.
Android
The macOS app wasn't as good as we expected, but we always note that Android apps are what we prefer. Fortunately, the Android app is much better. The interface is very nice and the servers are sorted according to the continent (just like the macOS app).
Just like in Mac, connecting to a server was very fast. The screen starts off in red, notifying users that their connection is not secure. Once a connection is established, the screen will turn blue, which means that they've successfully secured their connection.
When the app marks a user's network as trusted, the screen will turn green. But still, it would state that there's no VPN connection.




The app's interface is pretty straightforward. Anyone with minimal tech knowledge can navigate through it. However, what we liked more is that it offers services that the macOS app lacks, including a kill switch and split-tunneling.
Inside the Settings option, we found App Lock and a kill switch. This feature helps secure your browsing activities by terminating internet access if the VPN connection took a sudden drop.
In general, the Android app is better than the client on Mac. It has more security features and is much better to look at in terms of interface.
App Stores Reviews
iOS and Android app stores have their own reviews about apps. All the users who download the client from these stores have something to share about their experience.
In the iOS Store, Encrypt.me's iOS App got an outstanding 4.5/5 rating based on 3.7k reviews, marking it as excellent to use.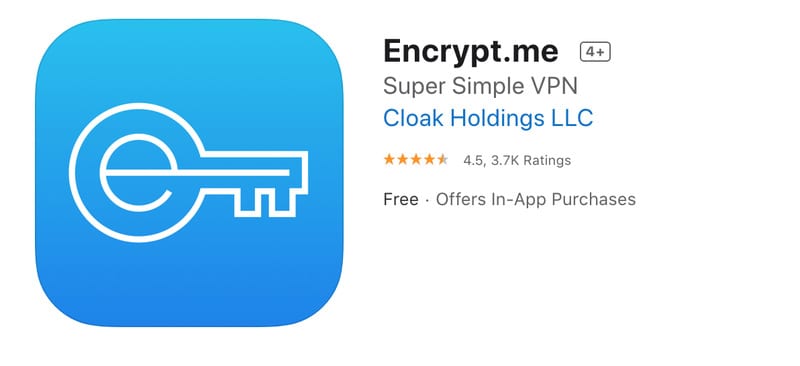 Despite the high ranking, we came across the following bad review:
"Unfortunately as of the last few weeks, the service has become basically unusable. I have to reinstall the VPN Profile almost everyday, and when it does work, the connection speeds are so slow that I have to sacrifice security over productivity and just disconnect so I can get things done. I really want love this app, but it's in dire need of horsepower and stability. I'll give it a go again on their next update."
Well, nothing always comes in green colors, it differs from user to user. As for the Android app, it also has good reviews, getting a 4.1/5 rating on Google Play Store.
One user stated that why would he own a VPN if it doesn't work with Netflix. We want to say that the service does unblock Netflix but on select servers. All the streaming tests are presented below.
Trustpilot Reviews
We only seek to bring the best, unbiased point of view when we asses VPN providers. One of the top sources we rely on is Trustpilot.
The website allows everyone to check what users have been through when operating a certain service. And to ensure that none of the information is fabricated, Trustpilot penalizes any VPN that tries to spike-up its rankings with fake reviews.
It happened before with one of the best VPNs out there, and it will definitely happen again. As for Encrypt.me, we saw nothing but positive reviews, granting it a 4.3/5 rating on Trustpilot.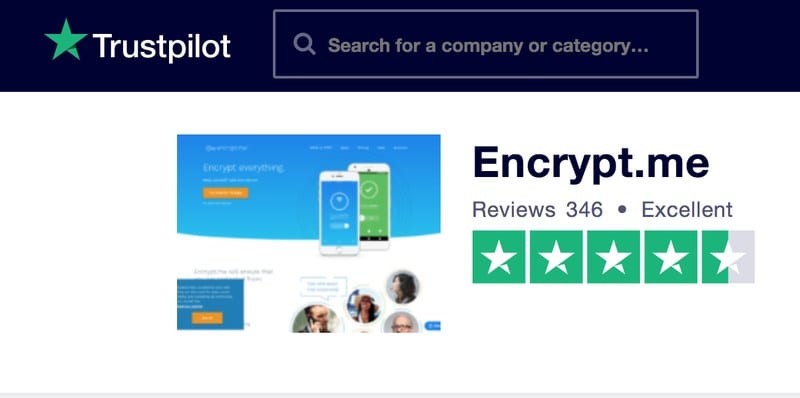 However, one comment grabbed our attention, and the most shocking part about it is that we agree. Every flaw this user mentioned is definitely what we witnessed with the provider. This is what he had to say:
"Pros: Generally services are not blocked from Encrypt.me IP ranges, except streaming services Cons: No ability to block adverts, no no ability to set own DNS servers, no response or useless & arrogant responses from support, the company that is now in charge of Encrypt.me seems to be a merger based on shared office space or something, the Windows client was/is still next to useless.

Overall there are better and cheaper VPN services out there. Encrypt.me brought something unique when deciding to encrypt between mobile networks and WIFI was desirable based on battery life and general trust if cellular providers by the public. No longer the case, VPNs should be up at all times and Encrypt me/Cloak's overcloak feature no longer is as much of a necessity as it once was. Paid for a year stopped using it a long time ago."
The VPN does lack security features as mentioned in the Apps' part above. Everyone has an opinion, and this one was worth mentioning.
Server Locations
A wide server network is necessary for a VPN to provide in order to give customers a variety of options to choose from. That goes specifically for those who want to access geo-restricted content.
Encrypt.me has servers in 49 countries. However, it's not their official website that gave us the exact number. We visited their help section, and it was very out-dated.
The server list was posted back in 2017, and it hasn't been updated since. After that, we launched its Mac application and counted the servers manually. For a better look, Encrypt me has servers in the following countries:
Africa
North America
North America
Canada Mexico
United States
Oceania
South America
Argentina
Brazil
Chile
Colombia
Asia
Hong Kong
India
Indonesia
Japan
Philippines
Singapore
Taiwan
UAE
Europe
Austria
Belgium
Bulgaria
Croatia
Cyprus
Czech Republic
Denmark
Estonia
Finland
France
Germany
Greece
Hungary
Iceland
Ireland
Italy
Latvia
Moldova
Netherlands
Norway
Poland
Portugal
Romania
Serbia
Slovakia
Spain
Sweden
Switzerland
Ukraine
United Kingdom
The spread of the servers doesn't matter here. Why? As we mentioned in the introduction, we had some problems with the location spoofing process.
The main reason why users connect to VPN servers is to change their location and appear to be browsing in the country where the server is based.
In other words, obtain an IP address in that region. With Encrypt.me, that wasn't the case. We connected to several servers and got blocked on various streaming channels.
At first, we thought that the VPN wasn't reliable. However, it turned out that we're in a location opposed to the one we chose. This is what we got:
USA (Atlanta, Chicago, Cleveland, Miami, Milwaukee, Nashville, and a couple more) located us in Cyprus.
A server in France showed that our traffic was coming from Germany.
The UK (Manchester) server also showed us Cyprus.
Basically, when you sign up for a VPN service, you do so in hopes of changing your location. Encrypt.me cannot do that reliably.
Speed Performance
Speed is a crucial factor to look at when assessing a VPN service. If it's not fast enough to handle all of our browsing activities, then we probably should look the other way.
Encryption does a lot to speed, and not to mention the distance between our location and where the server is based. That's why we performed a few speed tests on several Encrypt.me servers.
As stated above, a lot of servers are redirecting us to different locations, but we recorded the speed results anyways. Here's what we got:
First, this is our connection without connecting to an Encrypt.me server.
Next, we used a server in Germany. The drop in our connection was very clear as our speed witnessed a 39% drop.
When we connected to a server in the Netherlands, our location showed to be in the United States. That's very bad in terms of location spoofing, but for speed, the hit was kind of decent, recording a 39% drop.
One of the servers we connected to was in the United States. However, the results were completely off as our location was shown to be in Germany. That aside, the connection didn't drop much, recording a 29% hit.
As seen in the result images above, the speed is pretty decent. However, just like in almost every section of the review, the location spoofing is quite an issue.
Streaming Capabilities
Accessing geo-restricted channels overseas is one of the main things a VPN can do. Or in other words, should be able to do.
In fact, most internet users operate a VPN to bypass such restrictions and pay no attention to security and privacy.
Nowadays, bypassing regional restrictions is not the same as it was a few years ago. Especially when we speak of top streaming services like Netflix, Hulu, Amazon Prime, and BBC iPlayer.
It was quite simple: Connect to a server in the channel's respective country, obtain a native IP address, and stream away. However, these streaming channels have developed a VPN blocking mechanism that terminates access to their catalogs if a VPN connection is present.
This VPN blocking can detect if a user's traffic is being rerouted through a VPN's service, resulting in an instant block. That's why we conducted a few tests to see whether Encrypt.me can unblock these top channels, even though we had some problems with location spoofing.
Netflix
The first test we conducted was on Netflix as it's by far the most popular streaming service in the world. Netflix has more than 150 million subscribers globally, but there's one problem, it's geo-restricted.
The channel is available in most of the countries, but the content it offers differs based on the location. Each region has a certain catalog, which Netflix assigns based on the individual's IP address.
The US library has been streamers' main target for quite some time now as it's considered to be the richest of them all.
However, this is not the problem we face. We assess a VPN if it's capable of bypassing Netflix's VPN blocking, and according to Encrypt.me's sister companies such as IPVanish, Netflix has always been a hard task.
It wasn't different for the provider. It too got blocked by Netflix a couple of times. The image below shows the results we got using a server in Seattle:
As we mentioned above, Encrypt.me didn't always give us the location we're connected to, which gave us some issues with US Netflix. However, with a Dallas, Texas Server, Encrypt.me managed to unblock Netflix in our region.
The good news is, Encrypt.me can and did unblock Netflix US. However, it took a lot of time to figure out which servers can do so, which is considered to be inconvenient to most customers.
Hulu
Netflix isn't the only channel online users look for. At least Netflix is available to some extent, in their region. However, another popular streaming service with top original shows and movies is always targeted.
We're talking about none other than Hulu, the American streaming giant. However, unlike Netflix, the service is only available in the US, which requires a US IP address provided by the VPN to operate.
Now, that problem aside, Hulu also applies a tough VPN blocking mechanism. If a VPN is not credible enough, this error message will pop up:
"It looks like you're using an anonymous proxy. You'll need to disable it to watch Hulu. Hulu Error Code: P-EDU101."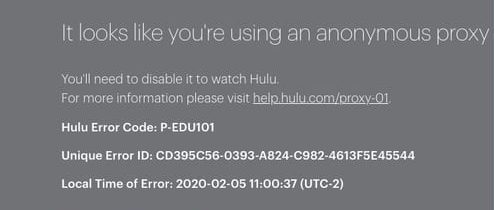 In Encrypt.me's case, we didn't have much trouble while searching for a suitable VPN server to connect to as we remained on the Dallas, Texas one. The negative part of the process is that just like IPVanish, Encrypt.me cannot and did not unblock Hulu in our country.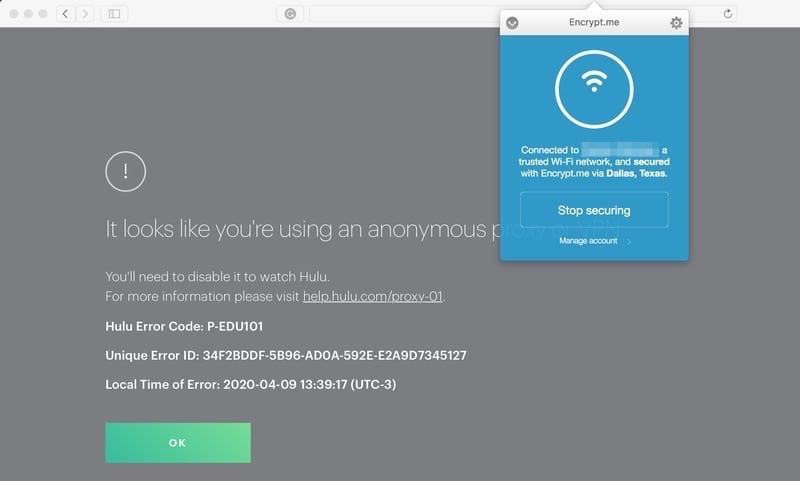 It took us some time to filter the American servers that gave another location and the ones that didn't. However, the ones that did (all of them) couldn't unblock the channel at all.
Amazon Prime Video
Amazon Prime falls in the same category as Netflix does. It assigns certain categories to each country it's available in.
For quite some time now, Amazon has become a must-have service, especially the catalog it gives to US residents. But at the same time, it applies geo-blocks and VPN blocks.
A VPN that unblocks Netflix doesn't really consider it credible enough to unblock Amazon Prime, just like we saw with Hulu.
And to prove that, we used several Encrypt.me, if not all of its US servers to access Amazon Prime. In every case, the VPN got blocked.
As seen above, the VPN wasn't able to get around Amazon Prime's VPN blocks, resulting in this error message:
"Your device is connected to the internet using a VPN or proxy service. Please disable it and try again."
That happened using every US server that showed a US location, which shows that Encrypt.me is not reliable when it comes to streaming US Amazon Prime abroad.
BBC iPlayer
BBC iPlayer is one of the most-watched channels in the United Kingdom. However, according to the BBC itself, the channel is watched by more than 60 million users outside the United Kingdom by masking their location.
Well, it's safe to say that they're using a credible VPN provider, and we're not talking about Encrypt.me. The provider has two server locations in the UK, one showed Cyprus, and the other gave us a British IP address.
Encrypt.me was successful in spoofing our location to the UK and consequently, we were able to watch BBC iPlayer in our region. Here's what we got:
Basically, Encrypt.me can unblock a couple of streaming services, but it's not deemed reliable for the task. It took us a lot of time to find a server that gave a US location and more time to find a suitable server for Netflix.
In general, if it's streaming users are looking for, Encrypt.me isn't that good of an unblocker. Other services can benefit more in this department.
Smart DNS
Most top VPN providers are aware that a lot of their customers are not looking for security and privacy. They're just searching for a way to stream blocked content in their regions without losing their connection speed.
A VPN's encryption will tamper with internet speed. However, top providers optimize their servers in an attempt to make the impact as low as possible.
On the other hand, they provide what we call Smart DNS proxies, an alternative that allows users to spoof their location and access geo-restricted channels with minimal speed loss.
What's missing with this technology is the added security. But if an official website is being accessed, there's no need for that, especially if you're using your home network.
So, those who are just looking for fast streaming, Smart DNS is the ultimate tool. We searched Encrypt.me's website and couldn't find anything about Smart DNS.
Even in their application, no sign of the feature was found. Apparently, the service lacks this important feature.
P2P Support
Encrypt.me is trying to be as transparent as they can to why their service exists, in the first place. According to their website:
"Encrypt.me is a little different than other VPNs. We are focused on solving one, and only one problem: helping you make secure use of untrusted and unknown networks."
So in other words, torrenting and streaming restricted content isn't their top priority. However, most users operate a VPN for such purposes, and torrenting actions is growing every day.
Being based in the United States raises some questions about the provider's privacy. However, the good thing is that Encrypt.me is completely transparent about it.
In fact, in their help section, the provider states that they do not support torrenting/P2P actions:
"By default, new users have BitTorrent and similar peer-to-peer file sharing protocols blocked.

Encrypt.me is not, and has never been, an appropriate service to use for downloading copyrighted material."
It's final, the service does not allow P2P actions. So, if users are looking to download torrent files anonymously, they'll have to search elsewhere.
Encrypt.me – Privacy
Privacy is one of the main, if not the main job for a VPN. Encrypt.me does collect some data and they're transparent about it. This is what they store:
The number of bytes sent and received
The length of time connected
The IP address connected from and the (virtual) IP we assign
The source port of the outgoing connection with start and end times
According to them, this data collected is only kept for 16-days before it's completely deleted.
Moreover, the country it's based in speaks a lot about this department, especially if it's located in one of the countries that apply mass surveillance by the NSA and other government agencies.
Encrypt.me is based in Dallas, Texas. As we mentioned, it's now owned by J2 Global, which is based in the US and hosts other VPN brands such as IPVanish and StrongVPN, and SaferVPN.
The US is one of the founders of the Five Eyes Association, which is a very bad place to base a VPN service in. Previously, IPVanish witnessed a scandal, considering its no-logging policy.
Apparently, IPVanish helped Homeland Security track down a criminal back in 2016. The service claimed that it does not store logs, but the following is what was presented to the authorities.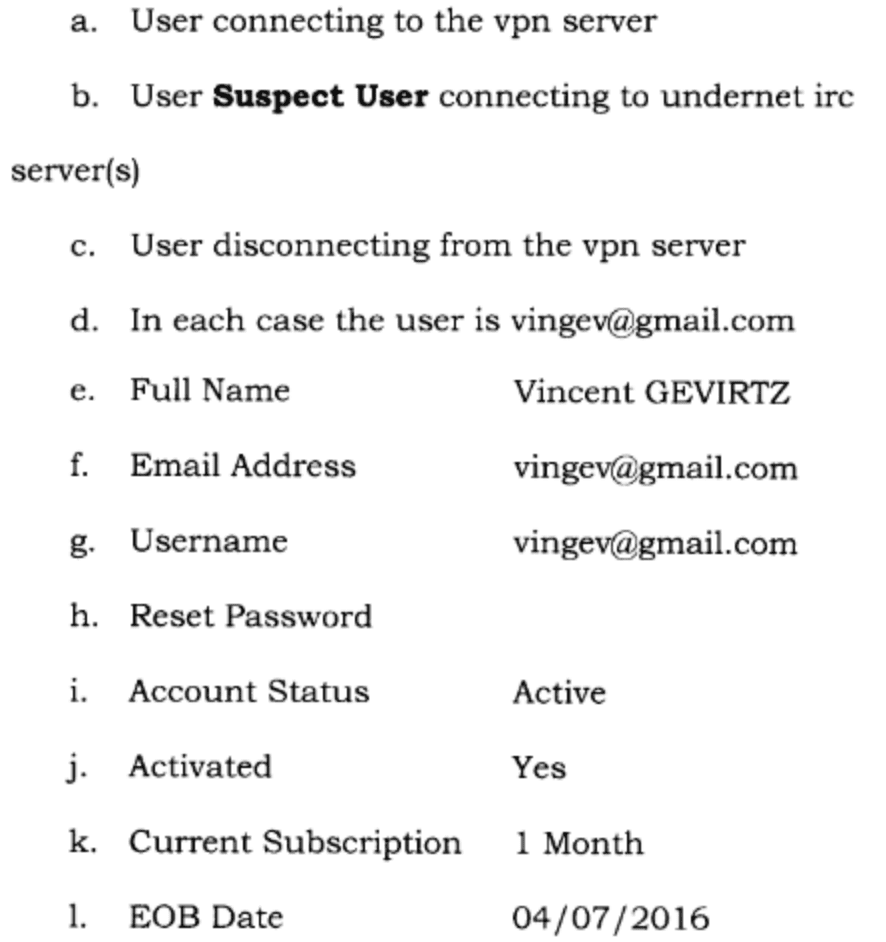 If Encrypt.me is anything like IPVanish, user privacy will always be compromised. However, we conducted a few tests to check if that's true. You can find them in the security section.
Other than that, mobile clients have a kill switch, which ensures that none of the data goes flowing back to the ISP's servers in case a drop in the VPN connection occurs. So, in general, privacy is looking good so far.
Encrypt.me – Security
As we mentioned before, Encrypt.me doesn't offer that many security features, but it does provide users with enough security, overall. The provider protects user data with 2048–bit and 1536–bit DH group encryption along with a few basic features.
On the other hand, it offers IP Sec protocol for iOS and OpenVPN for macOS and Android. For Windows, they use an open-source StrongSwan protocol with the combination of IKEv1 and IKEv2.
The question is: Why don't they offer OpenVPN for Windows? Every other VPN service, literally, offers that as a default. The security is decent, but that doesn't deem a VPN as credible in that department.
This is why we run a few tests to determine how reliable it is. Here's what we do:
Virus Scan
Any downloadable app should be checked before installing it on our device. We're not just talking about VPN clients. In general, whatever app we use could have malicious software embedded within it.
Even if the app is downloaded from the official App Store, hackers have found a way to pose as legit software in an attempt to take over users' devices.
So, whenever we download an app, we run it through a Virus Scan before we install it, and the same goes for Encrypt.me. We scanned the Mac client and nothing came out negative.
All the results are green and the test recorded zero infections based on 59 credible sources.
As seen in the image above, no virus, malware, or malicious software is present in the Encrypt.me Mac client. This indicates that the app is safe to use.
DNS Leak Test
DNS and IP address leaks are very dangerous in terms of privacy and security. If these are leaked, whoever is monitoring the user won't just get some numbers, they can narrow down where the user resides, and harvest much more info.
One of the VPN's main job is to secure that and offer as many features as they can to prevent such leaks. We used an IP Leak test to check whether Encrypt.me protects us or not, and apparently, it did.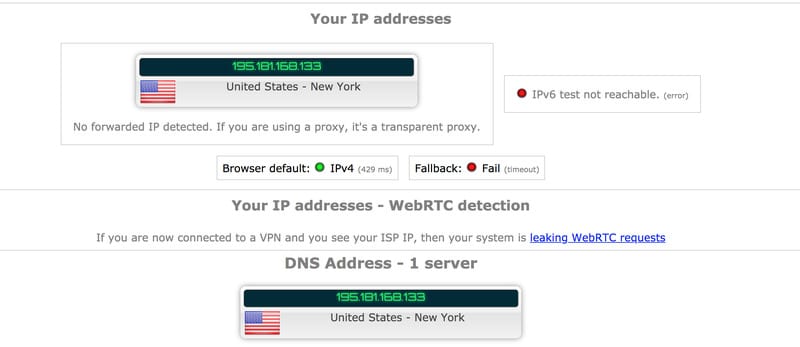 While no leak was recorded, we have to keep noting that the spoofing mechanism Encrypt.me uses isn't great. The image above represents one of the servers we connected to. However, the others (in the US) did come up showing a different address, mainly Cyprus.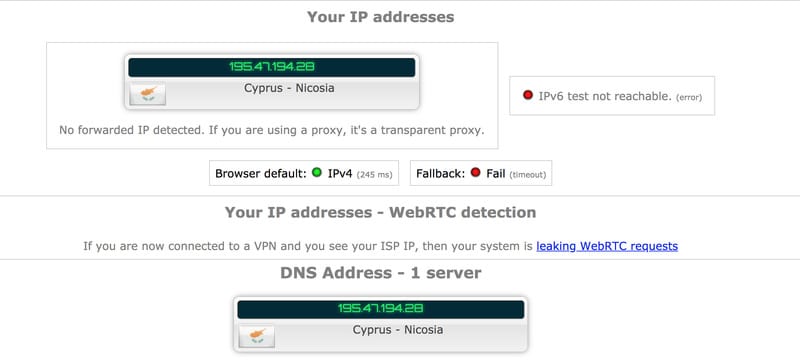 Encrypt.me calls its servers transporters. The problem in that is the location they transport us to. If we were looking to unblock a certain channel, connecting to a server in its region will cause problems, which is exactly what happened with Netflix.
Third-Party Auditing
We already mentioned that we skimmed through reviews on Trustpilot to see if there's a problem with the service anyone could have experienced.
However, we found something better. In every review, we seek the help of experts, which comes in the form of independent auditing. It helps users know everything about the provider's transparency.
Just take a look at what a user has stated on Trustpilot:
"Secure reliable service with a clean easy to use app. Im on the mini-plan which meets my needs. Ive used the service for years. They recently had public security audit which is also adds the credibility of the service and very important in climate of cyber security for a VPN service – you never know who's harvesting your data."
Back in 2016, Encrypt.me underwent their first audit by Security Innovation – a leading application security consultant.
The company tested all of the provider's application, focusing on the VPN's network, including the application servers, web application, iOS mobile app, macOS client, and the two administrative interfaces.
Back then, the applications showed some vulnerabilities. However, in 2019, the service went through a follow-up security audit and found zero sensitive customer information leaks.
Warrant Canary
Governments around the world serve secret warrants for digital data of online users all the time. It's what we call a subpoena, which a VPN provider receives in order to submit its customer data to the authorities.
Such warrants aren't supposed to go public, and it's illegal for the VPN to notify the customers of the gag order. However, some VPNs do in an indirect way – Warrant Canaries.
It's mostly a section on their website that gets updated regularly. In case it doesn't, customers can assume that the provider has received a subpoena.
Adding this feature is good for privacy, but if a VPN is transparent enough, it's not that important. Encrypt.me doesn't have a Warrant Canary and it's very transparent about its logging policy.
We do know that the data they collect stays for sixteen days. But the fact that the data is collected still haunts privacy-minded users.
Customer Support
This section won't be too long as Encrypt.me doesn't have a lot of options to back it up. The service's website provides a number of FAQs, but from what we've seen, they're pretty basic.
They failed to answer a lot of questions we had in mind. The only way to contact them is by clicking on the "Contact Us" section, which will open the email option.
On the positive side, when we sent them an email regarding Smart DNS' availability, the answer was pretty much faster than most of the VPNs with an email option.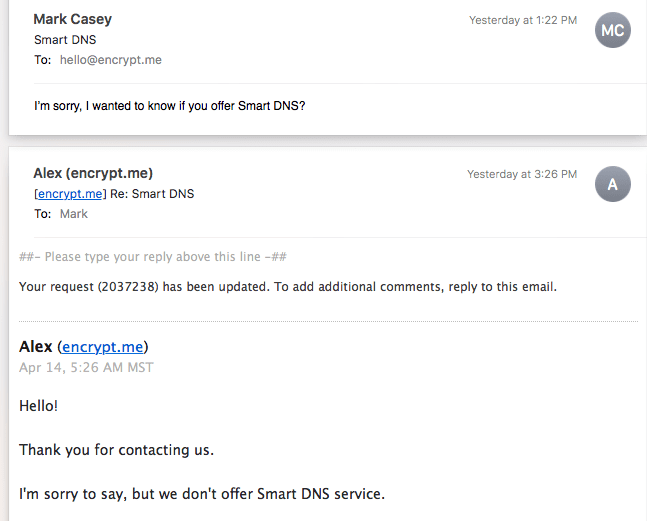 It only took them around an hour and a half to reply. This is considered to be fast, considering how long other VPNs take to solve a certain problem.
Pricing and Plans
Encrypt.me offers a distinction between "passes" and subscriptions. The difference between the two is that subscriptions renew automatically when the duration is over, while Passes don't.
Other than that, they're both the same in terms of unlimited access and devices per account. Speaking of, with a single subscription or pass, users can operate unlimited devices per account, which is a good thing compared to the other VPN services in the industry.
For example, ExpressVPN allows five concurrent devices, while BulletVPN allows six with any subscription. The only other VPN that allows unlimited connections, that we know of, is SurfShark. With that said, the following are the passes provided by Encrypt.me:
Weekly: $3.99.
Monthly: $9.99.
Yearly: $99.99.

The subscriptions only fall into two plans, a monthly and a yearly one. Users have to pay $9.99/month or $99.9/year. We have to note that if users opt for a subscription, payment will be automatically settled by the end of the duration.

Another option provided by Encrypt.me targets family members. Subscription to that varies depending on the duration. A monthly subscription costs $12.99 and a yearly one goes up to $149.99.

Encrypt.me also offers a Mini Plan for $2.99/month. It lets you secure up to 5GB data each month. It's limited, it's cheap, and convenient for anyone who's traveling and wants to use the VPN in a limited matter.
Finally, one more subscription remains where users get to pay for extra members/accounts – it's called Encrypt.me Teams. Users can add extra members for $7.99/month.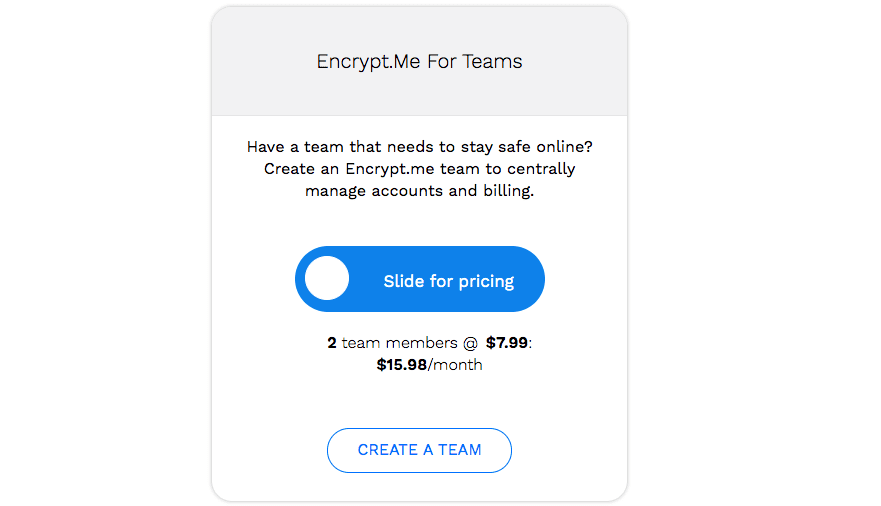 In general, no matter how many plans, subscriptions, or passes, Encrypt.me is expensive. There are top VPNs out there with a lot more features and benefits that offer their services for a lesser price.
Payment Options
When it comes to payment methods, Encrypt.me doesn't have that many options to choose from. Users can only pay through Visa, MasterCard, American Express, Discover, Diners, and JCB credit or debit cards. They can also pay through in-app purchases.
What's missing here is PayPal, which has become an important addition to the department with most VPNs out there. Moreover, we couldn't find anything related to cryptocurrency.
A VPN helps enhance anonymity, and adding an anonymous payment to the mix is very important. Sadly, Encrypt.me doesn't have that.
Refund Policy/Free Trial
If users are unhappy with Encrypt.me for any reason, they can contact the service through email. After that, they can ask for a full refund, provided they've purchased the service through their website within 30 days.
However, those who subscribe through the application can only get the refund provided by the App Store. On the other hand, users can take advantage of Encrypt.me's 14-day free trial. It does not require any credit card information – a valid email address is enough.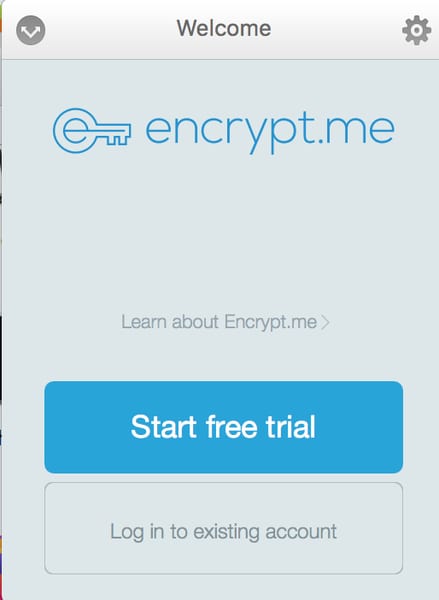 That way, users can take their time while testing out the VPN's services without paying a dime. Offering 14 days is very generous as most of the VPNs have canceled this option or don't have it, to begin with.
Encrypt.me Review – Final Thoughts
Encrypt.me showed some good features and it looks promising. However, we cannot look the other way when it comes to the cons it has. The fact that it logs IP addresses, while temporary, is very disappointing.
And the prices, while semi-affordable, they're still expensive. Speed wasn't much and the spoofing mechanism was terrible. It has its ups and downs, but for the time being, it still needs a lot of work to compete in the industry.
For now, we don't recommend Encrypt.me, but there are other top VPN providers to check. If you have any more questions about Encrypt.me, kindly drop them in the comment section below.
Encrypt.me Review
VPN Apps

Unblocking Capabilities

Speed

Support

Security & Privacy