ZenMate VPN Review – Free Trial Available
|
2023
ZenMate is a popular VPN with millions of users. From 2013 to 2017, ZenMate has done its best to build its user base and become one of the top competitors in the industry. Years ago, the service was small covering 30 countries only. Now, under a new roof (Kape Technologies), ZenMate claims that it has a better service founded on three simple words: Fast. Secure. Easy. The question is: Does ZenMate VPN meet its promise? Find out in this review.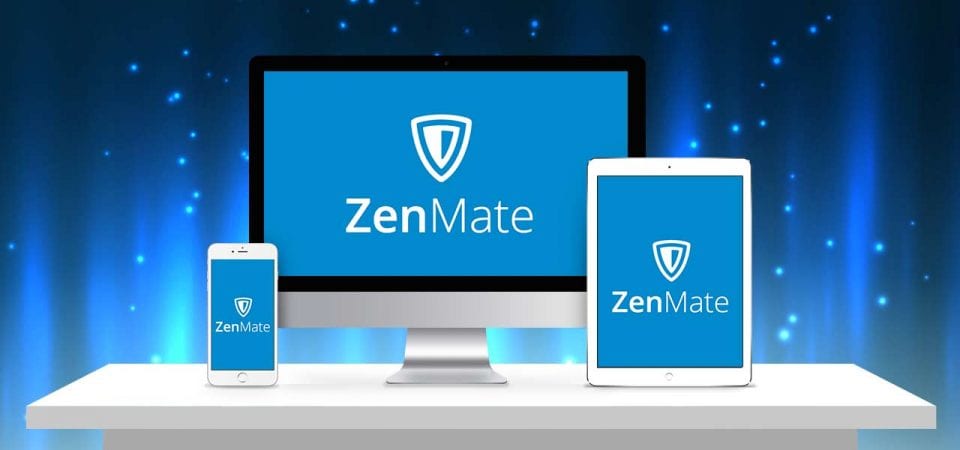 ZenMate VPN Review – Content Index
ZenMate VPN has proven to be a VPN worth reviewing in 2023. The provider has upped its game and claims to be safe, fast, and a great unblocker. In this 2023 ZenMate review, we used our thorough testing regimen to examine the newly enhanced service. Here's what we got:
Quick Stats
| | |
| --- | --- |
| Money-back guarantee | 30 Days |
| Allowed concurrent connections | Unlimited Devices |
| Supported streaming services | Netflix, BBC iPlayer, Hulu, Amazon Prime, and more. |
| No logs policy | Yes |
| Encryption | Military-grade 256-bit AES (Apps), 128-bit AES (Extension) |
| Security Protocols | OpenVPN, IKev2 |
| Special features | Kill Switch, Malware Blocker, Tracking Blocker, WebRTC Protection |
| Customer support | 24/7 Live Chat |
| Server locations | 79 Countries |
| Number of servers | 3000+ servers |
| Server Switches | Unlimited |
| Supported devices & web extensions | Android, iOS, PC, Mac, Routers, Chrome, and Firefox |
| VPN legal jurisdiction | Germany |
| Free Trial | 7-day Free Trial, Free Proxy Extension |
Subscribe to ZenMate VPN through TheVPN.Guru and get an 80% discount on their annual plan +6 months for free.
ZenMate VPN – Pros and Cons
No matter how good the VPN has gotten, it can never reach perfection. There are always flaws that we need to point out before we jump right into the review. So, here are the advantages and disadvantages of ZenMate VPN:
Pros:
3000+ servers in 79 countries.
Military-grade encryption.
Automatic kill switch.
Supports P2P.
Unlimited simultaneous connections.
Free browser extension.
Unblocks all major streaming services.
30-day refund policy.
Free premium 7-day trial.
User-friendly apps.
Excellent live chat support.
Affordable prices.
Cons:
Based in Germany (Five Eyes).
DNS leaks.
Might log IP address.
Minimal settings control.
No anonymous payment.
Doesn't work in China.
Below average speeds.
No Smart DNS.
Apps and Interface
A VPN's clients are the most important factor that makes a VPN what is. Well, that and the fact that it's able to secure the customer's private information. We always state that not all internet users have the tech knowledge to operate advanced software.
That's why a VPN should always offer a user-friendly interface no matter what the target audience is. Zenmate's clients couldn't get any easier. They're very simple to navigate and the connection process is seamless.
The best part about Zenmate's service in this department is that it allows unlimited simultaneous connections for a single account. The only VPN provider that offers this is SurfShark, so it's quite amusing to see that Zenmate has applied this as well.
When we checked their app settings, we did see a section stating that 3/100 devices are connected. While this might show that 100 is not what "Unlimited" means, it's definitely Unlimited Concurrent Connections. Now, with that said, let's review the applications we downloaded.
Mac
ZenMate's macOS VPN is practically the same as the Windows one. It's easy on the eyes, simple to navigate, and full of everything a user needs to establish a connection of his/her choosing.
We checked the app's settings at first to see what features it includes. Simplicity isn't always what we look for, especially when the Settings section has nothing to offer.
There's no option to change the VPN protocol, so we're stuck with the default IKEv2. It's not bad, to be honest, but it's always better to include additional options to choose from.
Unlike the Android app, for instance, the Mac client doesn't feature random port selection or the ability to switch from UDP to TCP. And apparently, we cannot disable the Kill Switch feature. It's always on.
As stated on their website:
"ZenMate VPN comes with the kill switch already turned on. This protects all the data on your device from being stolen. From the moment you fire-up our VPN service you're protected against DNS leaks and your information is permanently shielded."
In general, having a kill switch (always on) is a great way to maintain one's privacy. Now, based on what we've experienced, here's how the Mac app looks like:



Establishing a connection took around 3 seconds, which is considered to be very fast despite the server's location. Pressing on the 2 flashes on the left side of the app opens a new window with all ZenMate's servers. That's where we got the US server from.
Special Servers?
Speaking of a new window, we saw that ZenMate offers an easier way to connect based on the user's demands. It allowed us to choose servers according to the action we want to perform, be it "Streaming", "Downloading", or pick a server from its entire list.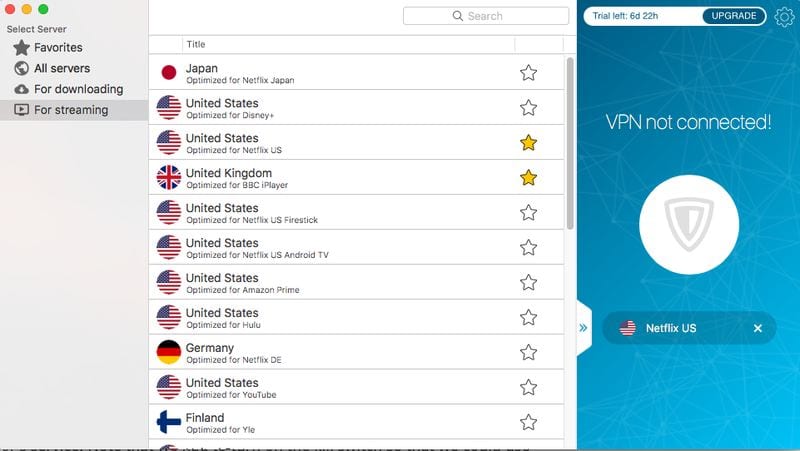 This helps ease the user's experience, especially if the customer isn't that well-rounded when it comes to Virtual Private Networks. All they have to do is pick a server according to what they're looking for and it's done.
Android
It's well known that most users who use VPNs are more likely to do it from a mobile device, while the drop in the access frequency goes in favor of desktop devices.
That's why a VPN should always work harder on its mobile app so that most users can benefit from its ease of use, as well as its wide variety of features.
With ZenMate, we can't speak much of features as there aren't that many to talk about. Just like the Mac app, there's no option to disable the kill switch – it's automatically activated the moment we launched the app.
However, what differs from the Mac client is that on the Android App, we were able to switch from UDP to TCP and use a random port. As for the connection, it was much faster on Android. The moment we clicked on the connect button, we had ourselves a connection.
The design is nice and the connection is easy. Here's how it looks like:




Another similar feature is the ability to choose a VPN based on what we're looking for. However, in the Android version, there's no dedicated section for Downloading (torrenting), which is not that important. Who uses mobile devices to download torrent files anyway?
As we mentioned, the apps are very good, the design is great, and the client's navigation can't be easier. ZenMate has done a pretty good job developing its clients.
Browser Extension
Another added feature to ZenMate's already huge arsenal is their browser extension. The extension is very efficient and works just as well as the VPN applications they offer.
However, security-wise, the extension only applies 128-bit AES encryption, which is less than what the apps have. Also, we did notice that when it comes to streaming, the extension only shows the US and the UK as valid options. It's missing streaming services in Brazil, Austria, Germany, France, and more.
What was really intriguing is the fact that the connection took around a second to establish. That's so much faster than what the app did in our previous tests. The extension also looks a lot like the client, yet it does offer more features such as Tracking Blocker, Malware Blocker, and WebRTC protect.
These options are not featured in ZenMate's clients. With that said, let's show our readers what the extension looks like in the screenshots taken below:





The browser extension was also efficient when it comes to unblocking geo-restricted channels in our region. We were able to access Hulu, Netflix, and BBC iPlayer without any problems.
Please note that ZenMate's browser extension only protects and cloaks what users do on the web browser. It does not include any other app on the device.
App Store Rating
Checking what users have to say on their device's official app store can give a quick idea about the service's quality. They used it, had to see what it offers, and judged it based on that.
We always check what they experienced as it helps us a lot in our evaluation. ZenMate is apparently very popular on both iOS and Google Play Store.
iOS users gave the app a 4.2/5 rating. That's excellent for a VPN app, especially when it based on 466 reviews.
As we mentioned, the app is pretty popular among Android users as well. Its design alone can tempt anyone to download, let alone its over-the-top performance. We checked what ZenMate's Google Play Store rating is and it turned out to be excellent as well.
ZenMate is downloaded 1 million+ times and has a 3.8/5 rating, which is less than that of iOS. However, we can't ignore the fact that the rating is based on 68K reviews. That's a lot more than the ones on the Apple Store.
Finally, we get to the extension that has more than 2 million downloads on Chrome. It has a 4/5 star rating, marking it as an excellent feature to have on browsers, especially when users want to surf the web anonymously.
One user said: "One thing that annoys me is the fact that every time you try to use the app it sends you to their page to tell you to get premium." That's definitely true. We experienced the same thing while using the mobile app.
Every time we launched it, we had to click on the "Continue Trial" button in order to use it. But overall, whether it's an app or an extension, ZenMate has done a wonderful job and users seem to like it so far.
Trustpilot Review
A user's review matters, which is exactly why we take it into consideration when we're evaluating a certain product. Trustpilot is one of the most credible websites to check how good a VPN is.
The best thing about it is that it only includes user reviews and deletes any attempted "fake" reviews, in hopes of elevating the product's status.
We did expect ZenMate to get good ratings, but we never foresaw that it would be that high. According to Trustpilot, ZenMate has a 4.7/5 rating, marking it as "excellent service".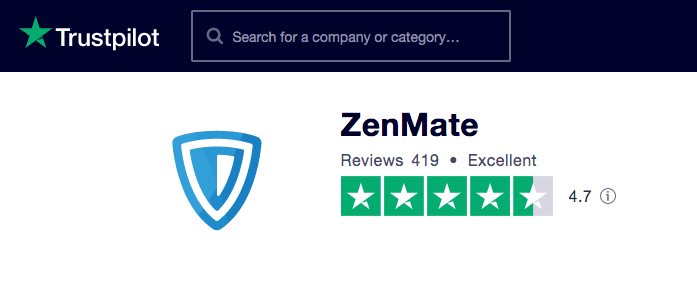 While almost every single review included positive experiences by users, a single comment caught our attention. Hint, it's a negative one. According to the user's post, ZenMate's free trial is a scam and there's no 7-day free trial. Here's what it said:
"Their website advertises 7 day free trial. (If you look under any of their download option, like windows it also let's you download the app for a free trial). Yet when I downloaded it and signed up into the app it said I need to upgrade my account in order to use it. Just out of principle I won't now purchase it, it's a scam."
In the applications section, the images clearly show that we're using a 7-day free trial. We'll be talking about that later on in the article, in a detailed explanation.
But the point is, ZenMate does have a 7-day free trial, though not very straightforward, it does exist.
Subscribe to ZenMate VPN through TheVPN.Guru and get an 80% discount on their annual plan +6 months for free.
Server Distribution
Having a decent server network is an essential feature as it gives users more options to choose from. That goes specifically to those who are looking to unblock geo-restricted content.
Zenmate has worked very hard on its server distribution. At first, it only provided around 1000 servers across 30 countries. Now, users get to access more than 3000+ servers in 79 countries.
The best part is that ZenMate owns all of its servers, which is a great deal actually, considering most VPNs rent them. It's considered as an added plus as it gives ZenMate full control of its servers from a security and performance perspective.
Zenmate has more than 1 server location in a lot of the countries it supports. However, it's not possible to choose the server location. When we selected the United States, for example, Zenmate automatically connected us to one of its own choosing.
So, in other words, it's the luck of the draw as to which one we get. Server location choosing comes in handy sometimes, especially when users are trying to bypass blackouts in a specific country. Unfortunately, we didn't find that option in Zenmate's service.
The Servers
Now, the server network is way beyond decent – it's great actually. Here's the full list:
Albania
Algeria
Andorra
Argentina
Armenia
Australia
Austria
Bahamas
Bangladesh
Belgium
Bosnia and Herzegovina
Brazil
Cambodia
Canada
China
Croatia
Cyprus
Czech Republic
Denmark
Egypt
Estonia
Finland
France
Germany
Greece
Greenland
Hong Kong
Hungary
India
Iran
Ireland
Isle of Man
Israel
Italy
Japan
Latvia
Liechtenstein
Lithuania
Luxembourg
Macau
Malta
Mexico
Moldova
Monaco
Mongolia
Montenegro
Morocco
Netherlands
Nigeria
Norway
Panama
Philippines
Poland
Portugal
Qatar
Romania
Russia
Saudi Arabia
Serbia
Singapore
Slovakia
South Africa
South Korea
Spain
Sri Lanka
Sweden
Switzerland
Taiwan
Thailand
Ukraine
UAE
United Kingdom
United States
Venezuela
Vietnam
Ideally, VPN customers want a provider that has a lot of servers in every location. This way, they won't have to worry about missing a channel just because the service does support this region.
Moreover, having a lot of servers can avoid slow speeds as it gives alternative options to connect to if a certain server is overloaded. This might occur with Zenmate because, as we mentioned, it has more than 40 million users around the world. In other words, connecting to an overloaded server is bound to happen.
Speed Performance
It's common knowledge that a VPN's encryption lowers users' connection speed. On top of that, some VPNs don't offer a vast number of servers so that their customers can shift to another if one is overloaded.
Slow speeds will definitely ruin the users' experience, especially when streaming HD content is in the mix. That's why performing speed tests is the best way to find out if the VPN is credible enough or not.
The Test
We tested ZenMate's speed, and before we begin, it wasn't really that promising. We'll leave our readers to judge. Here's the full speed test.
At first, we recorded our connection without connecting to ZenMate. We had a pretty decent connection to use as a baseline.
As an initial attempt, we connected to a nearby server in the Netherlands. We didn't expect the speed to drop that much, but our connection took a 66% hit. Our connection wasn't bad to stream good quality videos, but for a nearby server, it's pretty slow.
Next, we used a server in the United States. We connected to a server in Los Angeles and as soon as we established a connection, we ran the speed test. The drop was a bit high, but it didn't affect our video quality. 48% is still considered to be somehow average. Let's not forget that the server is a distant one from our actual location.
After that, we used a server in Australia. While we were able to access 9Now, our speeds weren't that great while doing so. In fact, ZenMate caused a huge drop in our connection speed as it went all the way down to 58 Mbps. That's exactly a 75% decrease.
Some of the top sports streaming channels reside in South Africa, which is why we tried a South African server to see what the tests record there. We didn't expect our speed to drop lower than it did in Australia, but it happened. Our connection took an 87% hit.
Finally, we used a UK server to check if the speed is enough to watch BBC iPlayer. What we got was weird and we didn't know whether it's ZenMate or the speed test we're using. We kept trying but we got the same results every time.
The Verdict
In terms of speed performance, ZenMate is average, not that stellar. However, it's not considered to be too bad, we've seen worse in previous reviews.
We did witness some low speeds while using distant servers, which can be understandable. An 87% drop is a bit too much, but ZenMate does have a lot of servers to try out.
We tested the first server we connected to, which is the only option we have since the app does not allow us to choose specific locations – only the country. So, if we were to get a good working server, we guess it's a matter of trial and error.
Unblocking Capabilities
Protecting one's privacy and security isn't the only thing a VPN excels at. In fact, almost 50% of VPN users operate one just for entertainment purposes.
A Virtual Private Network is a tool that shields data with encryption and changes the user's location based on the server he/she connects to. A lot of websites and services apply what we call geo-blocking, which terminates users' access based on their physical location.
Streaming channels are the most common services to use this mechanism for copyright reasons. They use geo-location techniques such as checking users' IP addresses to determine where they physically reside.
If they're not within the channel's area of coverage, it blocks their access almost instantly. A location can be easily altered with any VPN, but actually getting the channel to operate is a hard task nowadays.
Most streaming services are able to determine whether a user is accessing its service with a VPN or not. This made the VPNs' job a bit harder as a vast number of them fell victim to this blocking mechanism.
That's why we tested Zenmate's capabilities of unblocking top streaming services that are well known for applying such a VPN ban. Did it fare well against them? Here are the results.
Netflix
Netflix is one of the first streaming services to apply such a blocking mechanism. In the past, people started taking advantage of the ban's absence and started using VPNs to access the channel's American library.
With over 180 million subscribers around the world, Netflix has become the biggest streaming platform to ever exist today. The channel is available on a global scale, which means that its geo-blocking differs from what others apply, except in few countries where it's not available at all.
The channel assigns a specific catalog in each country. By examining a user's IP address, Netflix can determine one's location and set him/her up with the corresponding library.
So far, Netflix's US catalog is the richest, and to be able to get that, users have to connect to an American server. However, if the VPN is not credible enough, Netflix can determine that the users' traffic is coming from a VPN server and ban their access instantly. This is the proxy error that appears:
"Pardon the interruption. You seem to be using an unblocker or proxy. Please turn off any of these services and try again.".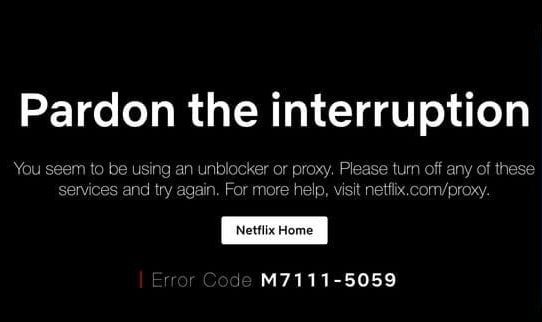 Now, the question is: Did Zenmate suffer the same fate during our tests? The answer is NO. When we launched the app, we opened the "For Streaming" section and chose the server that says "Optimized for Netflix US."
Once the connection was established, we visited Netflix's website and searched for "Norm of the North: Family Vacation" as its a US-only title. The video played normally and no block was present.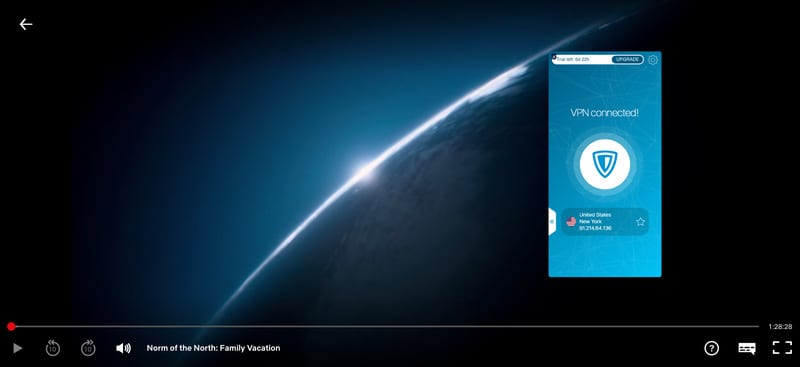 Zenmate was one of the VPNs to avoid if accessing Netflix was our main goal. Apparently, the service has optimized its servers, and now is one of the recommended ones to get the job done.
Hulu
This one is yet another streaming giant that has gained a lot of success in the United States and around the world. Hulu has around 32 million subscribers in the US and a lot of potential ones abroad.
However, unlike Netflix, Hulu's geo-blocking revolves around restricting the service in one country only, the United States. In other words, only those with a US IP address can access the channel, which means a connection to a VPN US server is required.
Now, here comes the similarity with Netflix. Hulu also applies one of the toughest VPN blocking in the industry, which means that no ordinary VPN can unblock the service.
We've tested a lot of VPNs, including free ones in the past. Most of them couldn't manage to subdue the ban and we ended up receiving the following proxy error:
"It looks like you're using an anonymous proxy. You'll need to disable it to watch Hulu." Hulu Error Code P-EDU101."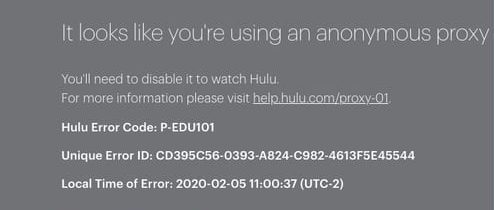 Once again, we opened the "For Streaming" section in Zenmate's app, and connected to a server labeled as "Optimized for Hulu." As soon as we established a connection, we launched Hulu along with the first episode of "Taste the Nation with Padma Lakshmi" and started streaming normally.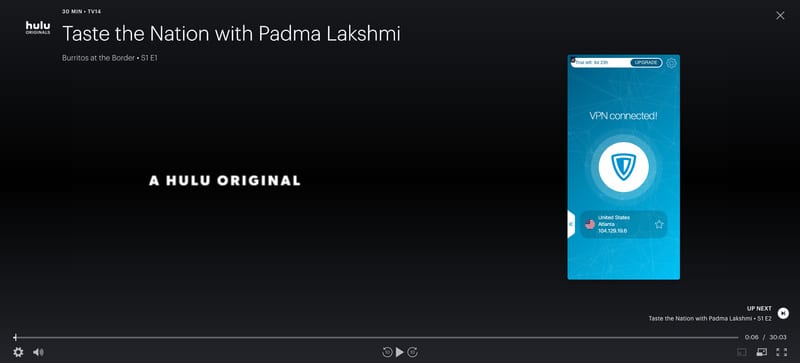 Zenmate managed to unblock another streaming service using the first server we connected to. It usually takes us a few tries before we get positive results with other providers. However, this one fulfilled the task from the first try.
Streaming evaluation is far from over. We still have two more top services to try out before we reach a final verdict. Let's move on.
Amazon Prime Video
Prime Video is a global channel, available in almost every country in the world. The service has more than 150 million subscribers, which makes it a fierce competitor to Netflix.
Actually, both channels aren't that different. Both are global, both offer original content, and both apply the same geo-blocking mechanism. Amazon Prime Video also grants a certain library in each country.
Based on the users' IP address (location), the titles differ. The US library is also the richest one, which is why Amazon Prime subscribers tend to use VPNs, connect to US servers, and try to access that huge catalog – emphasis on try.
The fact is, Amazon Prime bans VPNs as well, which makes it extremely hard, if not impossible for VPNs that don't optimize their servers regularly. We've come across dozens of VPNs that fell victim to Amazon's VPN bans. We tried all of their servers, nothing worked.
All we were able to harvest from the experience is this proxy error:
"Your device is connected to the internet using a VPN or proxy service. Please disable it and try again."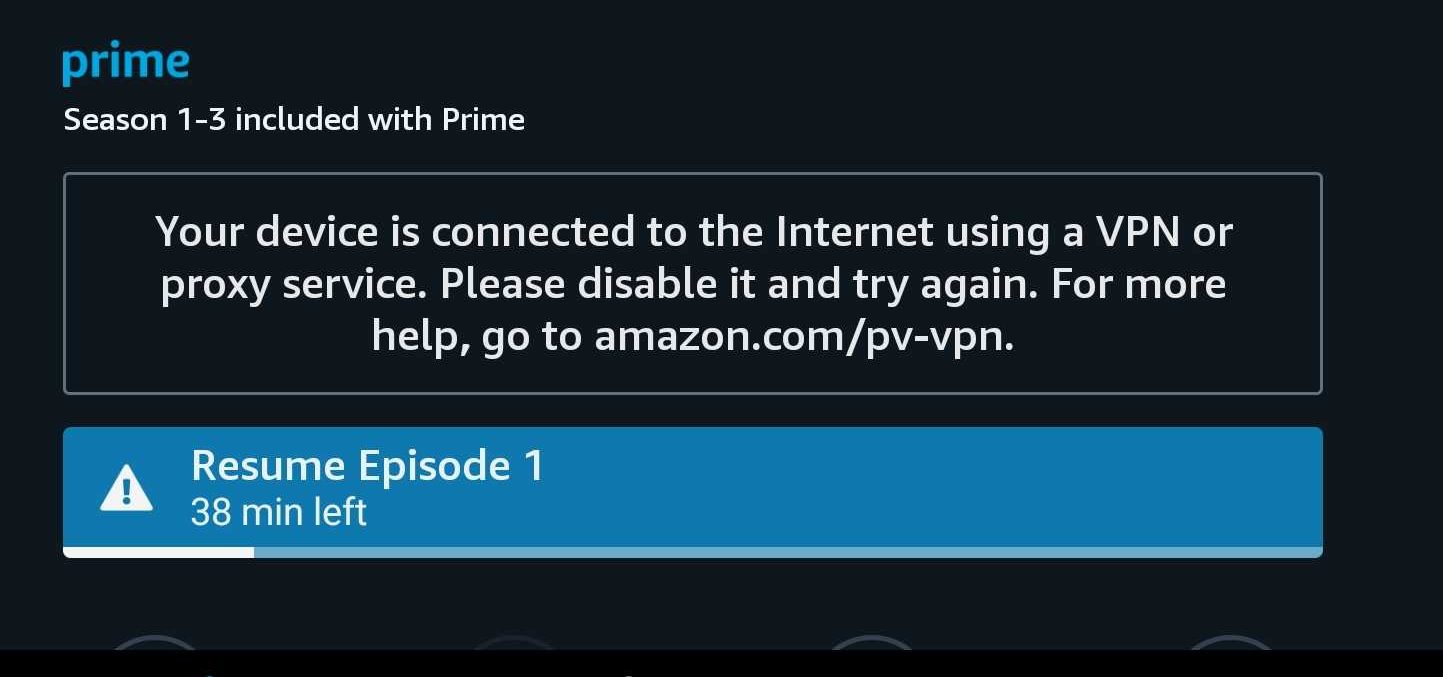 It's actually pretty common now. Most providers focus on unblocking Netflix and forget that other streaming services are worth accessing as well. Zenmate, on the other hand, did not forget that.
We used their "Optimized for Amazon Prime Video" server and we were able to watch the first episode of Hanna with complete ease.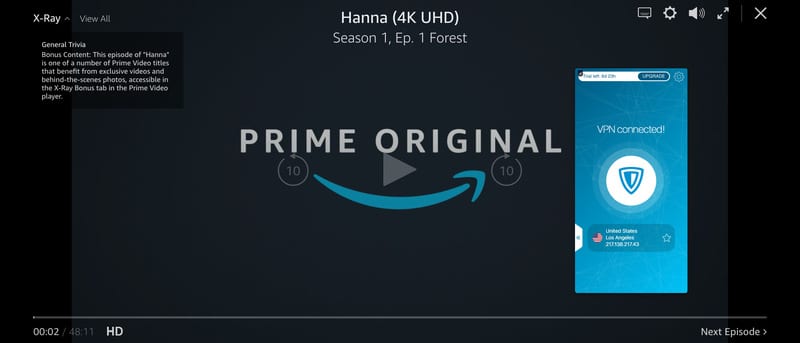 So far so good. Zenmate has really worked on its servers to enable users to watch all kinds of channels no matter where they are. Amazon Prime is a hard service to access using a VPN and Zenmate got the job done from our first server connection.
BBC iPlayer
Now, we're going to be shifting continents. We've tried 3 services using a US server. Now, we go all the way to the United Kingdom to evaluate Zenmate's unblocking capabilities with one of the most popular streaming channels in the world, BBC iPlayer.
The channel is getting bigger and bigger by the day. Back on May 10th, 2020, BBC iPlayer received more than 22.5 million requests, in the United Kingdom only.
We should state that the service is only available in the United Kingdom, which means it blocks everyone living abroad (non-UK IP address) from accessing its content.
But the weird thing is, although the channel is only available to UK residents, analysts estimate 65 million people regularly access the service from different locations around the world using VPNs or proxy servers.
Well, at least we know they're using a VPN that's able to unblock the channel. When we used an unreliable VPN, we got the same error message we usually get when we're trying to access the channel overseas.
"BBC iPlayer only works in the UK. Sorry, it's due to rights issues."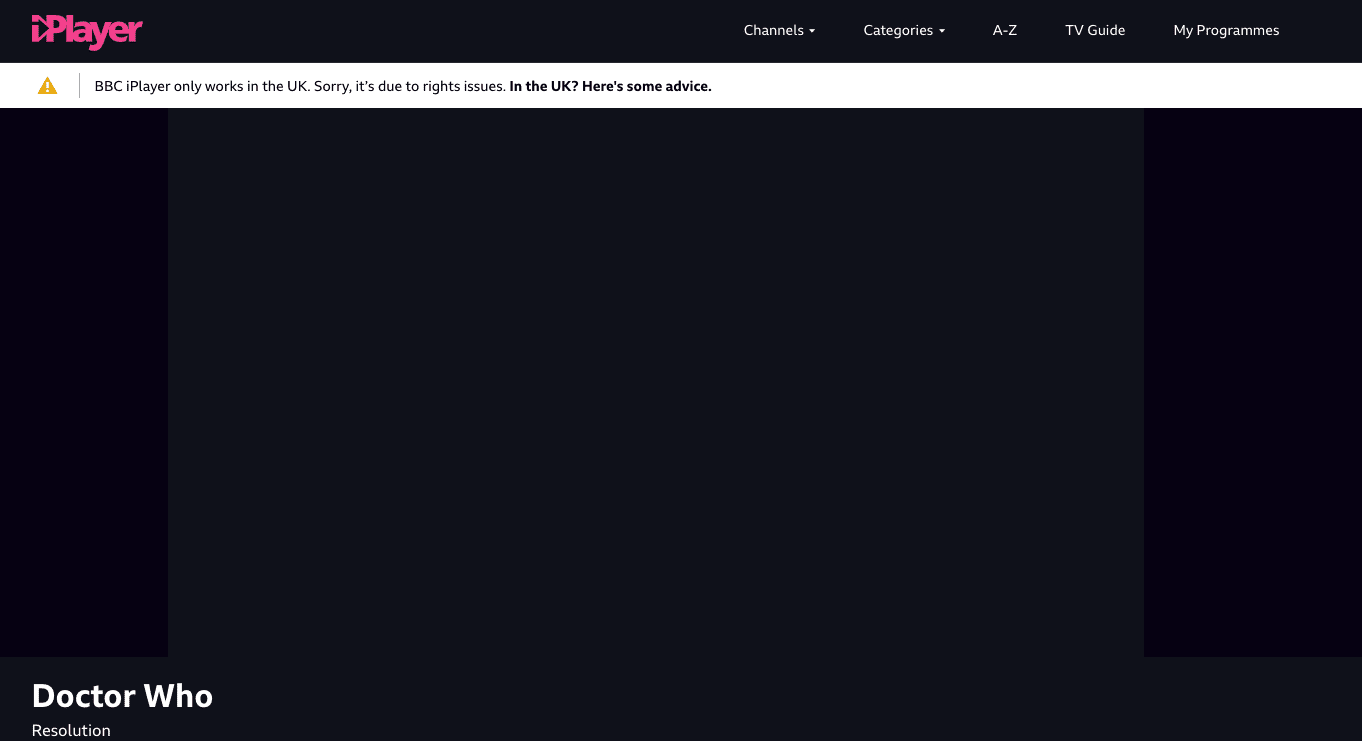 On the mobile application, we only get "Content not available." Well, that did not happen with Zenmate as it effortlessly unblocked the channel in our region. We just used an "optimized for BBC iPlayer" server and we were able to watch its content block-free.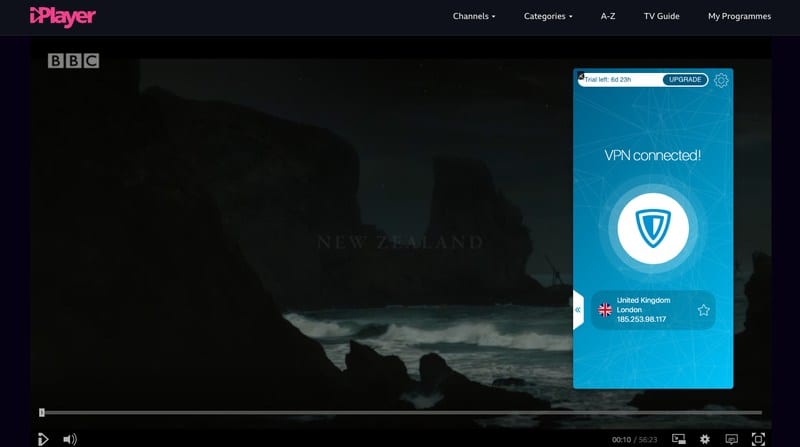 Based on several old reviews, Zenmate wasn't the VPN users seek if they want to bypass regional restrictions and access channels abroad. We didn't think that this VPN can improve this much. Zenmate managed to optimize all of its servers and do what dozens of VPNs failed to do. It's a thumbs up in this department.
DStv & Showmax
Lately, the talk of the town has been all about DStv and Showmax as they are now able to block major streaming services. Yes, we've tested the channels using top providers such as ExpressVPN and NordVPN, neither one of them was able to access their content, be it live or on-demand.
The only VPNs that passed the tests were Unlocator and BulletVPN. Therefore, we wanted to see if Zenmate was also capable of unblocking the channels outside South Africa. First, we checked their "For Streaming" section to see if they have any dedicated servers for accessing the channels.
That was a miss – we found nothing. Next, we connected to a South African server and kicked off the test with Showmax. The channel's geo-blocking starts the moment a user visits their website. We got a taste of that as we too got a proxy error, marking ZenMate as one of the blocked VPNs.
"Connection not allowed. Proxy or unblocking service detected. Please disable and try again."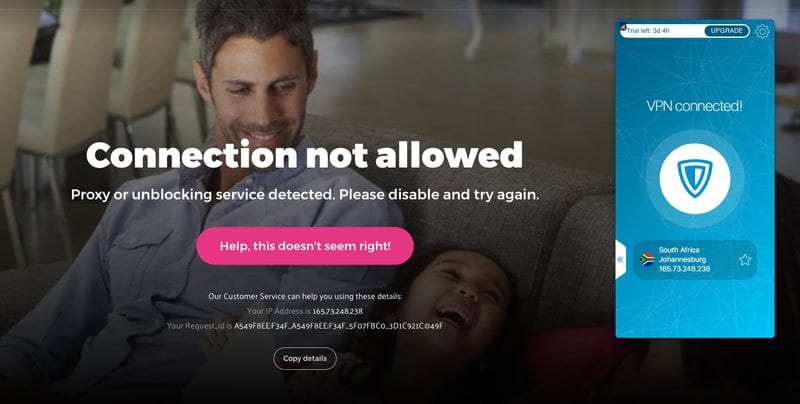 DStv allowed us to enter its website and check out what content it has to offer. However, the moment we clicked on its live feature, this error appeared:
"Sorry, we're unable to play this video right now, something went wrong on our side."
The same thing occurred while trying their on-demand content. Therefore, it's safe to say that ZenMate cannot unblock either of the channels. The good thing is, ZenMate was able to access all the services above – a single slip doesn't deem it as unreliable.
Smart DNS
Aside from providing thousands of servers to connect to in hopes of bypassing regional restrictions, some Virtual Private Networks also offer alternative services such as Smart DNS proxies.
A VPN's encryption takes a toll on a user's connection speed, which might ruin the overall streaming experience if the servers are not well-optimized to maintain good speeds.
As a result, the user might end up suffering from buffering issues and low-quality videos. Smart DNS comes in handy if the sole purpose of using a VPN is to bypass regional restrictions. It does not encrypt user data, nor does it change their IP address.
It only reroutes part of the traffic that is responsible for highlighting the users' location. When it's set up, users can stream their favorite geo-blocked channels anywhere at maximum speed.
That's not all. They also can access their local channels as their IP stays intact. In other words, they have the ability to navigate between local services and geo-restricted ones simultaneously.
As for ZenMate, there was no mention of the service on their website, so we had to contact them. According to the support agent, Zenmate does not have Smart DNS.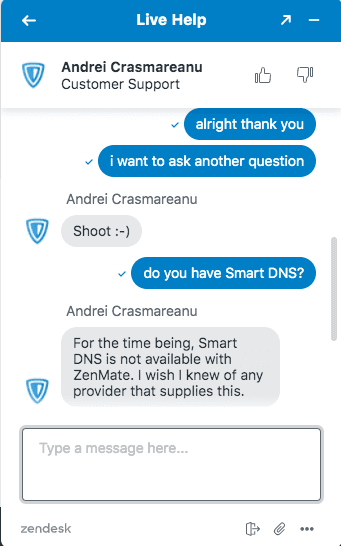 In his reply, he mentioned that he doesn't know any provider that supplies such a service. As we mentioned, we reviewed dozens of VPNs so far, and yes, there are plenty of providers that offer Smart DNS, including the likes of BulletVPN, ExpressVPN, and Unlocator.
P2P Support
Torrenting is simple, convenient, and it allows users to get files they wouldn't dream of at excellent speeds. However, as good as this may sound, downloading a single torrent file may compromise a lot. Whenever someone is downloading a torrent file, his/her IP address gets revealed to other parties who are sharing the same file.
Not to mention that in some countries, torrenting is considered to be illegal, regardless of the files users are downloading. In order to protect their privacy, users tend to use VPNs to hide their identities and cloak their IP addresses in the process.
That way, no one can get a hold of their IP address, nor trace anything back to their real identity. In the past, Zenmate didn't even consider supporting P2P actions. Not allowing torrenting is simply a negative factor that can cost a VPN its customers as most of them now use VPNs to safely download torrent files.
Now, Zenmate is one of the top services that support the feature. Users can connect to almost any server in Zenmate's list and torrent as private as it can be. It should be noted, however, that Zenmate does talk about banned activities in their terms of service.
While Zenmate has never promoted itself as a torrenting provider, it sure does make it very easy to find an ideal server for torrenting. It's all in the app. Just like we chose a server from the "For Streaming" section, there's also a category labeled as "For Downloading."
It only took us seconds to find an optimal server for torrenting. We just clicked on the For Downloading section, checked the speed next to the servers, and connected. We chose one next to our location eventually as it showed the best speeds.
ZenMate in Countries with High Censorship
The service has proved over and over again how reliable it is, especially when it comes to unblocking geo-restricted channels. However, it's not all bright colors, especially when we speak of countries with high internet censorship.
ZenMate doesn't work in countries like China, Iran, and Saudi Arabia, despite having servers in Hong Kong. They clearly stated that on their website, along with other minor restrictions:
"We do not publish our applications in certain countries because, unfortunately, we cannot guarantee that the product will work reliably. Please be aware that these issues are not caused by us, and that we are investigating ways to get around it. However, we cannot promise that it will work in the near future.

Even if you are able to download the application in these countries, we strongly recommend that you do not sign up for a paid subscription. We are not responsible for the lack of service and are not liable to provide refunds. This applies to China, Iran and Saudi Arabia."
Other possible blocked by specific ISPs are in countries like Turkey, Pakistan, and the United Arab Emirates. So if users planning to get a VPN in these countries, ZenMate isn't the provider to choose.
Subscribe to ZenMate VPN through TheVPN.Guru and get an 80% discount on their annual plan +6 months for free.
Privacy
When we speak of privacy, we first have to start with the VPN's jurisdiction. ZenMate is based in Germany, which is well known for its data privacy laws. Aside from that, Germany is one of the founding members of the Five Eyes alliance.
This means that user data can be collected, stored, and shared between all the members of the association. That's quite alarming. Another thing to look out for is that back in 2016, a new Communication Intelligence Gathering Act came into place, allowing the BND (Germany's Federal Intelligence Service) to monitor internet traffic, both entering and leaving the region.
We also should consider the VPN's parent company – Kape Technologies. It's based in the UK, where the most extensive mass surveillance laws exist.
Despite having all these obstacles in our way, we were relieved to see that ZenMate abides by a strict no-logging policy, which ensures that none of our data is being stored. If the government or any other entity approached the company with a gag order or subpoena, there's nothing to disclose.
Some Logs?
Now, we have to note that this no-logging policy only applies to ZenMate's applications and extensions. We can't say the same about its actual website. Apparently, ZenMate does collect some personally identifiable information of those who visit or register through its website.
According to their privacy policy:
"As part of our fraud detection measures, we shall collect data relating (i) to Website usage information, such as IP address (captured and stored in an anonymized format), approximate location (country only) and (ii) transaction information, items purchased, the price paid, billing method, partial credit card information, chargeback requests, cancelled orders."
They do mention that none of the data collected is shared with third parties. More details about that are presented in their privacy policy. We must not forget that the provider has its own private DNS servers. That's a plus from a privacy perspective.
Security
Being able to secure user data is one of the main jobs for a VPN provider. Fail to do so, and they'll be doing exactly what they were created for. As we mentioned, ZenMate uses both an app and a browser extension as services.
Each one has its unique features, but we all know that the app is more capable. Security-wise, ZenMate's browser extensions use AES 128-bit encryption, which is rarely seen nowadays as there are more advanced options.
Now, desktop and mobile apps use the industry-standard AES 256-bit encryption, one of the most secure nowadays used by the US government to send and receive sensitive files safely.
With encryption out of the way, we have to speak of the protocols provided by ZenMate. The service uses three options: OpenVPN, IKEV2, and L2TP. We couldn't find the newly popular WireGuard protocol, which a lot of VPNs are applying nowadays. It's said to be faster and more secure that none other than OpenVPN.
The Windows client has OpenVPN set up by default, but it can be changed manually to IKEv2 or IPsec. Mac and iOS use IKEv2 as default, nothing can be changed. And finally Android uses OpenVPN and it's also unchangeable. Speaking of unchangeable, ZenMate has a kill switch that cannot be disabled.
It's automatically turned on and can only be deactivated on the Windows client for some reason. We don't want to argue with that since a kill switch is an important feature. It terminates the internet if a sudden drop in the VPN connection took place. That way, none of the browsing data will go flowing back through the ISP's servers.
Encryption and protocols are important, but to call a VPN secure and private, we must perform several more tests. Here's what we did:
Virus Scan
No matter how secure the VPN claims to be, we always check the provider for viruses to see if anything could be betraying system security. We recommend doing so before installing any application, not just VPNs, on our devices.
A lot of users download software from unofficial sources, allowing malware to infect their platforms. That's why a virus scan is always the best way to kick it off.
We ran ZenMate's Mac and Windows applications through the same virus test. On Mac, the results were excellent, scoring nothing but green colors. According to 59 credible sources, the file had no malware or viruses.

We didn't stop there as we also checked the Windows installer for any embedded malware. The virus scan recorded the same outcome, scoring nothing but excellent results. This time, according to 73 sources, the ".exe" file has no malware, viruses, or malicious software in it.
As seen in the images above, ZenMate VPN is completely clean and malware-free, which means that it's definitely safe to install on any device. The Android and iOS apps are already available on the respective App Stores, so they're also safe to get.
DNS Leak Test
DNS leaks can be very dangerous. Such incidents can completely show a VPN's inability to protect its customers' information. It doesn't matter what happens or how it occurred, the results are the same.
The user's original IP is out for the world to see. We had to see if ZenMate falls into the category of VPNs responsible for compromising most of their customers or not.
At first, the results were disappointing. We connected to an American server and launched the leak test. In the DNS Address section, we saw the United Kingdom, which is a sign of a DNS Leak.
When we ran it through the test again, the provider showed no leaks at all. It only showed the information on the VPN server we connected to – The United States.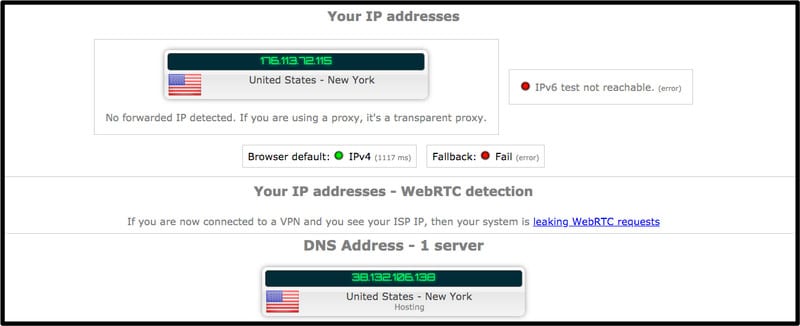 Despite getting good results on the second try, the VPN did leak DNS in the first one. ZenMate did fail once, but even one failure is enough to put a VPN's credibility when it comes to security and privacy into question.
We also checked for WebRTC leaks while trying the service using our own testing engine. At first, we got a potential leak, which might raise some questions. However, the IP address shown to be leaked wasn't ours – it was the one provided by ZenMate. In other words, we're safe.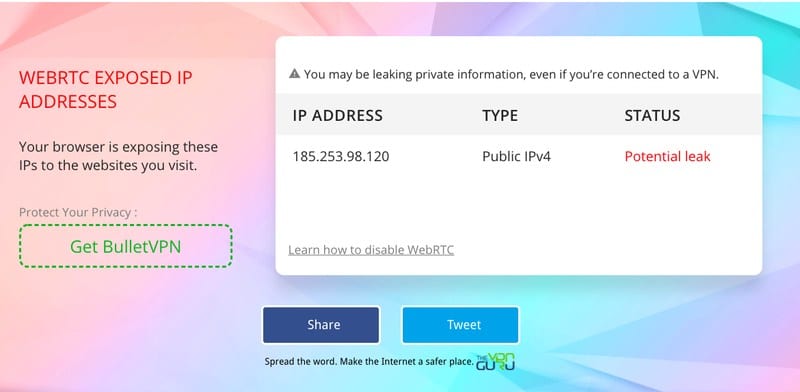 Next, we decided to give it another try. This time, no leak was recorded. The results we got are presented in the screenshot below.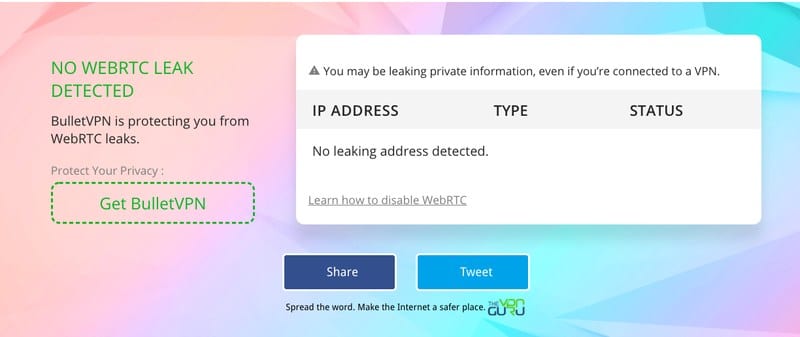 ZenMate is in general a good VPN for privacy. However, those slight missteps caused us to question its reliability to protect its users. No further leaks were recorded, just the ones mentioned above.
Independent Auditing
Third-party auditing is a step every VPN should take as it helps examine the service for any flaw that might harm their customers. A lot of VPNs have taken this step and invited security firms to evaluate their services.
It's not only a way to make sure that everything is in check, but it's also a step towards transparency. Publishing the results of a third-party audit strengthens the trust between the company and its customers.
We searched a lot for a ZenMate VPN independent audit, but we couldn't find any. By our standards, that's kind of a con when it comes to their privacy policy. Independent auditing should be performed to further support the claims they make.
Warrant Canary
As mentioned above, ZenMate is based in Germany, one of the founders of the Five Eyes. This means that authorities can come knocking any time requesting data about the provider's users.
If a VPN receives a subpoena or a gag order, it must comply with the government and disclose user data. What's worse is that the affected users are not allowed to know.
That's where a warrant canary comes in as it allows the provider to inform its customers indirectly. It's a page on their website that's updated every once in a while. If it's not updated, users will know that the government has something to do with it.
A lot of VPNs have adapted this very important privacy feature. However, we can't say the same about ZenMate. Now, a warrant canary is indeed important, but ZenMate also states that if it receives a gag order from authorities, they won't find anything to collect courtesy of their strict no-logging policy. That's kind of a relief.
Customer Support
A VPN's customer support should always be ready and have the proper knowledge to aid customers. Most of them won't have the technical knowledge to operate one, so they'll need all the help they can get.
Live chat is always the best and fastest way of contacting a service. When we visited ZenMate's website, we found the live chat feature on the bottom right of the screen.
We had to test it out because we've had previous live chat encounters that weren't so pleasant. At first, we asked them if they offer their live chat service 24/7, and the answer was yes. Here's how the conversation went:


Andrei was quite helpful along the way. We asked a lot of questions and he was always ready to answer them. Not to mention that replying to our messages took seconds. It was a great experience overall.
However, the next time around, the 24/7 claim wasn't in place. The moment we clicked on the Support Bubble, this showed up: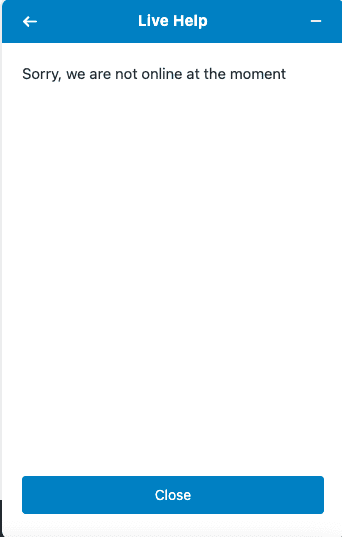 Yeah, they weren't online at the moment. But hey, one block in the road doesn't deem it unreliable until a confusing conversation occurs.
When we were asking about the kill switch, another agent mentioned CyberGhost instead of ZenMate. Now, for us, that's a normal mix-up as we know that they both belong to the same company. For newbies, that might be confusing.


Aside from live chat, ZenMate also has a database of helpful questions and answers that help users on the spot without having to contact anyone. And if that wasn't helpful, emailing the company would be a good idea.
However, an email response can take some time (a couple of days), so the best way to contact them is through their live chat feature. Overall, ZenMate has outstanding customer support – very helpful, professional, and most importantly, friendly.
Languages
Targeting a wide audience is always a good way to promote a certain business. We're now referring to languages as VPNs are used by millions of people in different countries (different languages).
A lot of providers offer several languages to make it easier for everyone, and ZenMate is no different. Their official website can be viewed in 7 languages, including:
English
Deutsch
Spanish
French
Turkish
Russian
Korean
We encountered a problem while changing the website's language. Apparently, only the home page can be altered. If we're on another page, let's say, the download section, changing the language won't do a thing. Here's a screenshot of the issue:
As seen in the image above, we changed the language to Deutsch and the page remained in English. It's not that big of a deal, but it's something to point out.
Finally, we've checked for languages on the VPN client and we couldn't find any. Apparently, their VPN app is only available in English, which can be a bit daunting for customers who don't speak the language.
Pricing and Subscriptions
When it comes to pricing, ZenMate offers some pretty good options based on a user's budget. That's excluding the free version, which we'll be talking about later on.
Now, since the free option is limited (we saw that coming as well), the only good option to choose is an Ultimate account. Premium packages come in the form of three different subscription plans:
Monthly: $10.99
1 Year: $4.49/month, billed $53.88 every year
3 Years: $1.64/month, billed $59 on a 3-year basis
The cheapest subscription is clearly the 3-year one as users get a special offer. In both cases, $1.64 per month is so much cheaper than other VPNs on the market.
Payment Methods
Offering a variety of methods a user can pay through is also an important service for a VPN to offer. However, ZenMate falls way behind other VPN providers in this department.
The only two ways to pay for a ZenMate subscription is through Credit Card or PayPal, nothing else.

We hoped to see ZenMate allowing users to pay through Cryptocurrency, but unfortunately, it didn't. Using Bitcoin has become a common practice among internet users as it provides anonymity.
Other top providers such as ExpressVPN and BulletVPN allow their customers to pay with Bitcoin and several other methods.
Refund Policy
Most VPNs, big or small, offer their customers a way out if they didn't like the service. That's mostly done through a money-back guarantee available for a limited period of time.
Some VPNs provide a 30-day refund policy, while others only allow it for 7 days. In ZenMate's case, users can ask for a full refund during the first 30 days of purchase, which is an excellent way to gain a user's trust.
Free Trial
Having a free trial is definitely a positive service as the company would be giving new customers a chance to test their service out before opting for anything.
A lot of VPN providers have adapted such a feature, but later on, canceled it due to users abusing it by creating several email addresses. Not to mention that other VPNs now require credit card information to activate the free trial.
ZenMate does have a free trial, but it's not that straightforward to acquire. At first, we thought it would be easy since it's right there on the home screen of the Android app.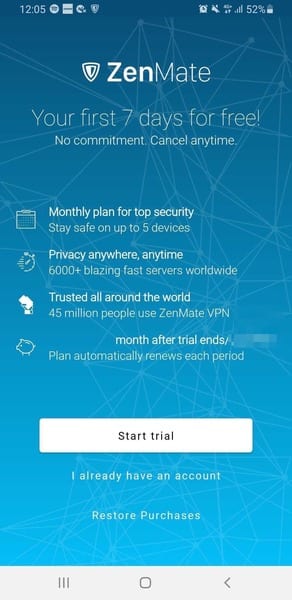 However, when we clicked on "Start Trial," the app redirected us to Google Play's payment section, asking us to provide our credit card information. This isn't how a Free Trial should be, which is why we kept searching.
Finally, we found out how free trials truly work. Apparently, we had to download their browser extension and sign up from within it. After that, we had to verify our email address using the link sent to us, and eventually, use the new account on any device.
Here's what their website states, along with a step-by-step process showcasing how to get a ZenMate VPN free trial:
"Your Premium 7-day trial will automatically start as soon as your e-mail is verified and since it's a free trial, no billing information is required. Simply sign up through the ZenMate extension in order to receive your verification e-mail to activate the trial."
The free trial includes every bit of the premium service, including speed, servers, and security. It's a great way to test the service even though it took us quite some time to find out how to get it.
The Free Extension
Another way to try ZenMate's service for free is through its dedicated browser extension. We downloaded it on our Chrome browser and signed up with a new email address.
It's the same as when we were using a premium account, except for a few limitations within. Apparently, we weren't allowed to use more than 4 servers that were located in the US, Italy, Germany, and Romania.
Another locked feature would be the inability to use the "Streaming" section, which previously enabled us to choose a country based on the streaming service we want to unlock.


Moreover, Smart Location is inaccessible, but the features within the settings section are. Now, the free version might sound good, and it does include a server in the United States. However, it wasn't that beneficial to us as it did not unblock any of the streaming services in the country.
Once we connected, we launched two of the biggest services in the industry – Hulu and Netflix. Both of which gave us a proxy error, blocking our access in the process. As an example, here's a screenshot from Netflix's website: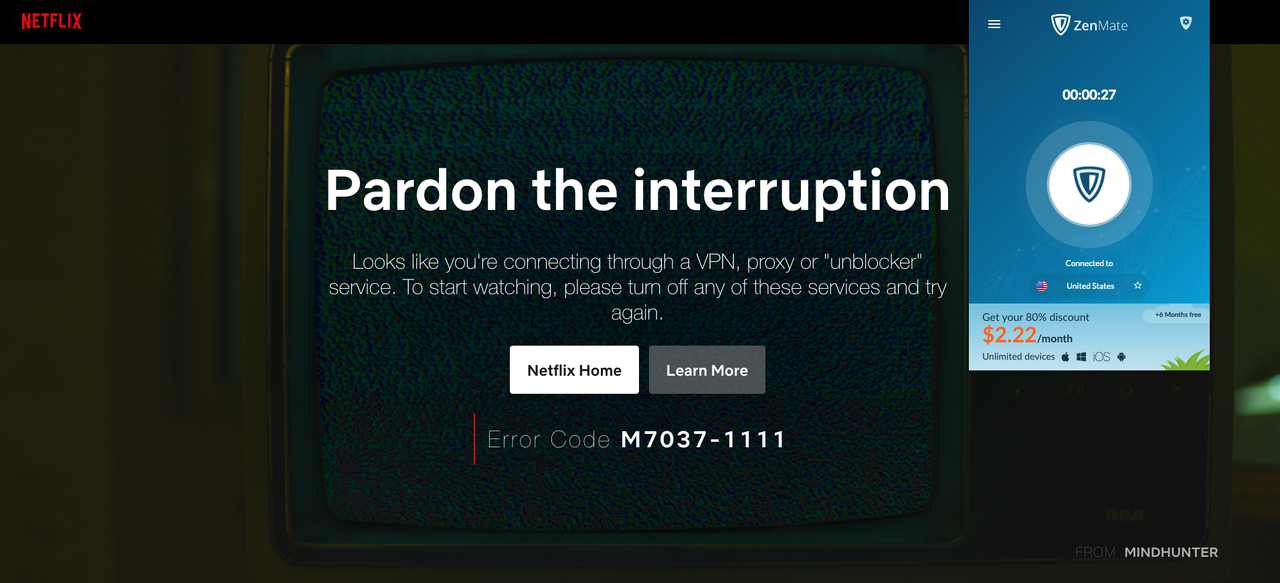 Based on the speed tests we performed on the premium version, torrenting is not that efficient. So, if users are using the free one, it would be even worse.
Furthermore, the free proxy extension cannot unblock streaming services at all, which means that it's only there to enhance security and privacy. Other than that, it's practically useless.
Special Offer
To all our TheVPN.Guru readers, ZenMate has a special offer that will definitely grab your attention. If you subscribe to ZenMate through our website by clicking on any link/button, you'll save up to 80% on their annual plan, dropping the price to $2.22/month.
That's not all. A yearly plan consists of 12 months. However, according to the deal, users will get 6 extra months for free. Overall, they will get a premium ZenMate subscription for 18 months by just paying $2.22/month.
ZenMate VPN – Final Words
Our review of ZenMate VPN's service has come to an end. The VPN was reliable and showed great results during our tests, especially when we tried to unblock geo-restricted channels.
While there's no ability to change VPN protocols, disable their kill switch, or manually choose the servers (inside the same country), ZenMate proved to be a top competitor in the industry.
Thanks to its simplified interface, anyone regardless of their technical knowledge can use it. Note that simplicity isn't always a good thing. As for if we recommend it or not, yes we do. 
It has a huge server network, great security, and can unblock every streaming service out there. But truth be told, there are other VPNs out there "with the same price or lower" that offer more.
Our review is in your hands now, do your research and let us know everything about your experience in the comment section below.
ZenMate VPN Review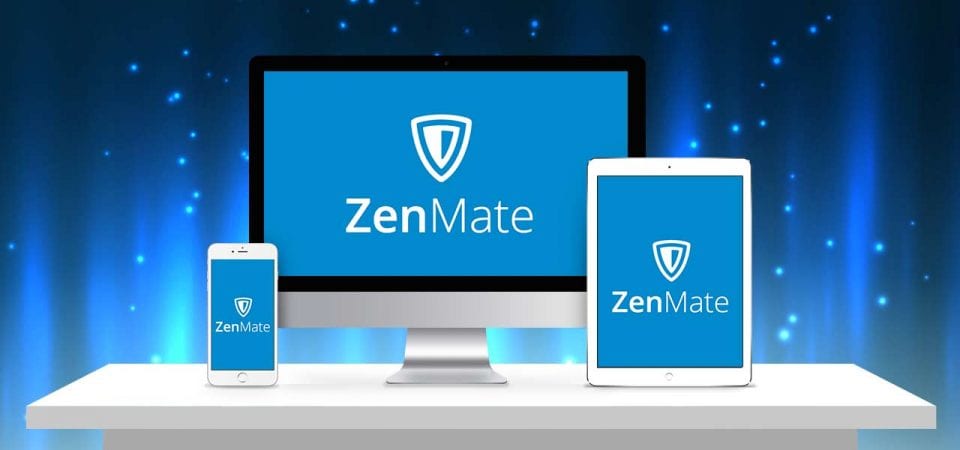 Name: ZenMate VPN
Description: A reliable VPN service that enhances your security and unblocks any major streaming service anywhere.
Price: 10.99
Currency: $
Operating System: Windows, OSX, Android, iOS
Application Category: Multimedia
Refund Policy

Speed

Support

Unblocking Capabilities

Security

Privacy

Free Trial
Comments Rating
( reviews)