CyberGhost VPN Review 2023
|
Co-founded in 2009 by Robert Knapp, CyberGhost is one VPN provider that has gained a lot of customers considering the number of years it has been active. As of now, the provider has slightly above 15 million registered users. With all that in mind, we have prepared the following CyberGhost VPN review. Does this VPN live up to its hype? Let's find out.
CyberGhost Review – Content Index
It comes in the name – Ghost. The ability to move about invisibly, untraceable, and unbound by physical barriers. This is exactly what CyberGhost claims to provide to its customers. However, today, we're here to test that. Is it just talks, or does CyberGhost actually walk the walk? Let's find out in this full CyberGhost review.
CyberGhost VPN – A Quick Insight
The question is: How does CyberGhost compare to other top VPN service providers? Whenever you choose a VPN service to protect your online privacy and bypass geo-restrictions, there are several elements you need to consider.
VPN apps, server locations, speeds, unblocking capability, security, and privacy are the most essential. Below, you'll find a table giving you a quick look at CyberGhost's features. After that, you'll find the full in-depth review of this provider:
| | |
| --- | --- |
| Money-back guarantee | 14 days (Monthly Subscription, 45 days (Yearly Subscriptions) |
| Allowed concurrent connections | Seven |
| Supported streaming services | Netflix, BBC iPlayer, YouTube Red, Amazon Prime, and others |
| No logs policy | Yes |
| Encryption | AES 256 encryption |
| Security Protocols | OpenVPN, IKEv2, and WireGuard |
| Special features | Kill switch, NoSpy servers, Ad-Blocker, Malware protection, Data compression, Torrenting, and streaming features. |
| Customer support | 24/7 live support |
| Server locations | 112 server locations |
| Number of servers | 6900+ servers in 90+ countries |
| Server Switches | Unlimited |
| Supported devices & web extensions | Windows, Linux, Mac, iOS, macOS, Amazon FireTV, Chrome (free), Firefox (free) |
| VPN legal jurisdiction | Romania |
| Free Trial | One day |
CyberGhost Pros and Cons
Some people might wonder why they should sign up for a CyberGhost VPN. In this review, we've presented you with enough details to help you make up your mind. As for now, let's take a look at the advantages and disadvantages of CyberGhost VPN's service:
Pros
112 server locations in 90 countries.
Protection against malicious websites.
An ad-blocker.
Data compression.
Online tracking prevention.
Force HTTPS.
Automatic Kill Switch.
Unlimited Bandwidth and Traffic.
Simultaneous VPN Connections on up to 7 devices.
256-bit AES Encryption.
Strict No Logs Policy.
DNS and IP Leak Protection.
45-Day money-back refund guarantee.
Cons
Inconsistant speeds.
1-day free trial (Mobiles only).
Expensive monthly rate.
The owner company used to sell malware.
CyberGhost VPN Review
Now that you know a little bit about the service, we can begin our review and have a look at what CyberGhost has to offer. We tried out the Android and Windows version just to give you an example.
Windows Client
The Windows client is very transparent. Once we logged into the app, we were greeted with a screen full of options to choose from. The best thing about this is that you don't have to guess what server suits you best; the app chooses it for you. These are the titles we got once we launched the app and signed in: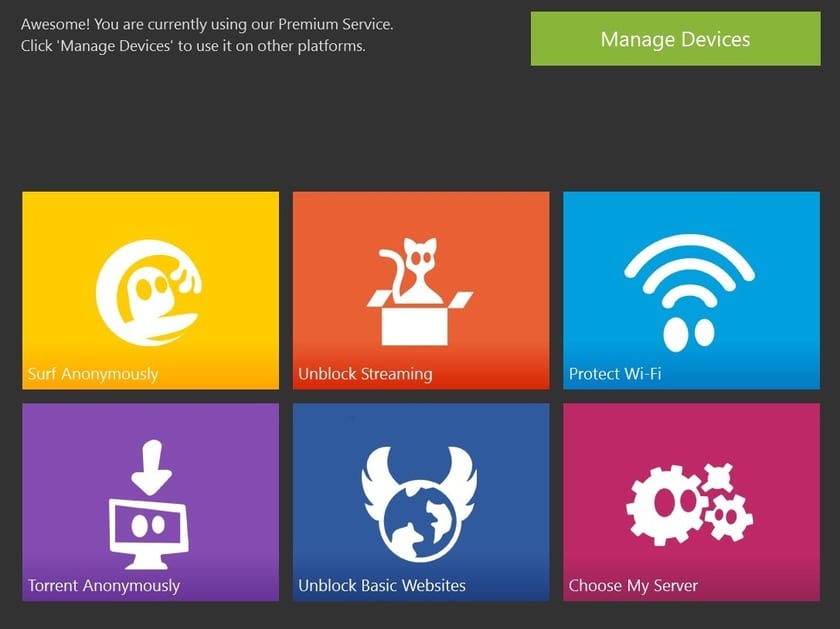 Surf anonymously – The app will connect to a server that provides the fastest speed and lowest latency. Note that streaming channels and the sort may not be available while using these servers.
Unblock streaming – The feature is self-explanatory. We clicked on this feature and found a whole list of streaming services. We clicked on BBC iPlayer, and the provider connected us to a UK server. In other words, we didn't have to guess which server unblocks a certain channel. We picked one, and CyberGhost automatically launched our browser and opened the streaming service we wanted to access, along with connecting to a server in its respective country.
Protect Wi-Fi – This mode keeps your data and activity protected when you're using public networks. You can enable its automatic connection whenever you're using unknown networks.
Torrent anonymously – Several VPN providers allow users to download torrents on almost all their servers. However, CyberGhost doesn't. This feature selects the best server for torrenting and connects to it, making it so much easier for users to torrent anonymously.
Unlock basic websites – This feature is important, especially in countries with high internet restrictions, including countries that block the likes of Facebook, Instagram, and any other website the deems inappropriate to the government.
Choose my server – Finally, users can manually select a server to connect to if they know what they're doing.
Android App
Second, we headed over to the Android client. It seems quite different from the Windows one, but it can do all the same stuff. As we navigated through the app, we noticed that instead of tiles, it presented everything in the form of slides.
Unlike the Windows app, "unblock basic websites" and "torrent anonymously" options are unavailable. Here's how the app looks like before you visit the server list.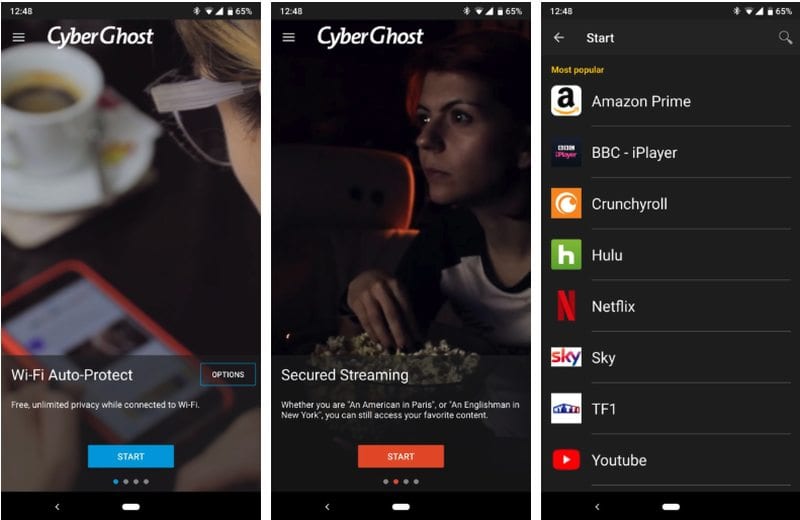 Basically, the Android version is much simpler than the Windows app, but that doesn't mean that it lacks the essential functionalities. As for connecting to a server, the process is very easy. All we did is picked a server, hit connect, a few seconds later, we had ourselves a Cyberghost VPN connection.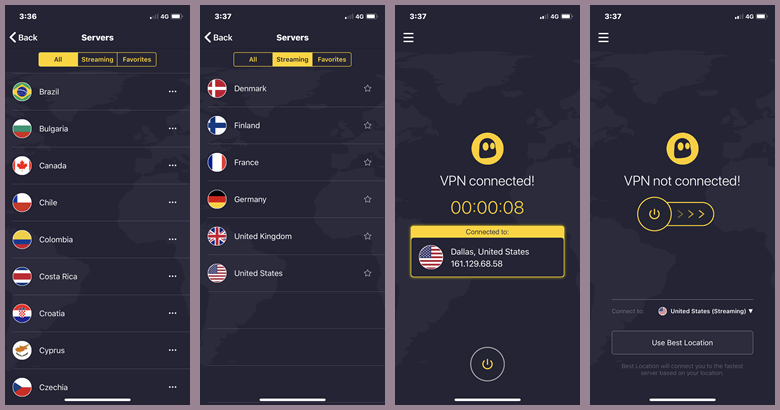 As we mentioned before, CyberGhost has more than 15 million users, which explains how popular the provider is. In fact, the Android application has been downloaded more than 10 million downloads and a 4.1/5 rating.
Apparently, Android users aren't the only ones praising the service's credibility. iOS users gave the app high ratings on the App Store, giving it a 4.4/5 rating.

To sum it up, we found the whatever device you might be using, CyberGhost has a friendly user interface that even non-tech-savvy individuals can operate.
User reviews are an important factor in determining whether or not the service is worth your money. In essence, we checked what the credible review website Trustpilot had to say about CyberGhost. The provider has a 4.5/5 rating on Trustpilot, which is considered to be excellent.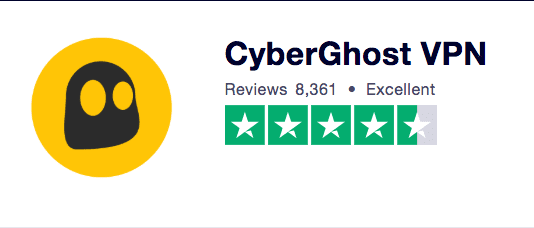 Server Locations
CyberGhost has a decent number of servers that are well able to support its expanding network of users. People who are looking for a way to bypass geo-restrictions will definitely feel a lot more inclined to join this service, seeing that it has more than 112 server locations across 90+ countries, including 11 in the US and 3 in the United Kingdom.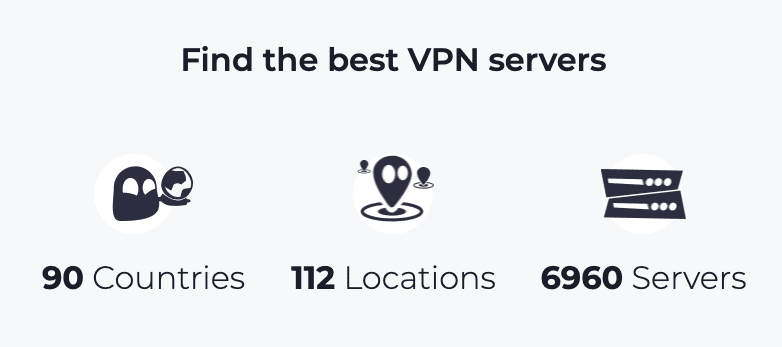 You can find the full CyberGhost VPN Server location list below:
Albania
Algeria
Andorra
Argentina
Armenia
Australia
Austria
Bahamas
Bangladesh
Belarus
Belgium
Bosnia
Brazil
Bulgaria
Cambodia
Canada
Chile
China
Colombia
Costa Rica
Croatia
Cyprus
Czech Republic
Denmark
Egypt
Estonia
Finland
France
Georgia
Germany
Greece
Greenland
Hong Kong
Hungary
Iceland
India
Indonesia
Iran
Ireland
Isle of Man
Israel
Italy
Japan
Kazakhstan
Kenya
Latvia
Liechtenstein
Lithuania
Luxembourg
Macau
Macedonia
Malaysia
Malta
Mexico
Moldova
Monaco
Mongolia
Montenegro
Morocco
Netherlands
New Zealand
Nigeria
Norway
Pakistan
Panama
Philippines
Poland
Portugal
Qatar
Romania
Russia
Saudi Arabia
Serbia
Singapore
Slovakia
Slovenia
South Africa
South Korea
Spain
Sri Lanka
Sweden
Switzerland
Taiwan
Thailand
Ukraine
UAE
United Kingdom
United States
Venezuela
Vietnam
Speed & Performance
This would not be a complete review if we never went out and tried to test the kind of speed a service such as CyberGhost has. Just like any VPN out there, CyberGhost claims to be the fastest.
However, our speed tests did not back the provider's claims. Most of the servers we tested came back with a significant drop of around 60 to 70 percent despite some of them being in a close location.
In theory, the closer the VPN server you are connected to is to your actual location, the less impact the VPN connection will have on your Internet speed. The VPN protocol you use can also impact your Internet speed.
But we have to note that, with CyberGhost, the drop in speed stays in the same range regardless of the server's position. In other words, whether it's distant or nearby, close results were maintained.
Here's what the tests showed after we connected to a couple of VPN servers in different countries.
First, this is our connection without using CyberGhost VPN.
Next, we tried a close-by server, and CyberGhost automatically connected us to India. Notice the drop in the connection:
We didn't want to stop there. Most internet users look for servers in the US, and that's exactly what we connected to next. The results weren't that promising.
And to wrap it up, we connected to a server in Australia. The speed dropped even less.
So the speed drop is very noticeable, but it does not vary much between servers, especially if they're not at a close location. This means that if users are looking for fast speeds, it's highly recommended they use a nearby server.
CyberGhost – Does It Support Netflix?
The question most VPN seekers ask before they invest in any VPN service: Can this provider unblock Netflix even though it's able to block VPNs?
You see, Netflix is known for blacklisting common IP addresses that various VPNs operate on. However, CyberGhost managed to circumvent the blocking mechanism Netflix adopted and unblocked it with ease when we first tried it.
This is what we did:
We used the Secured Streaming option in CyberGhost's Android App. As we mentioned in the app section, you can choose your streaming service, and CyberGhost will connect to a relative server accordingly.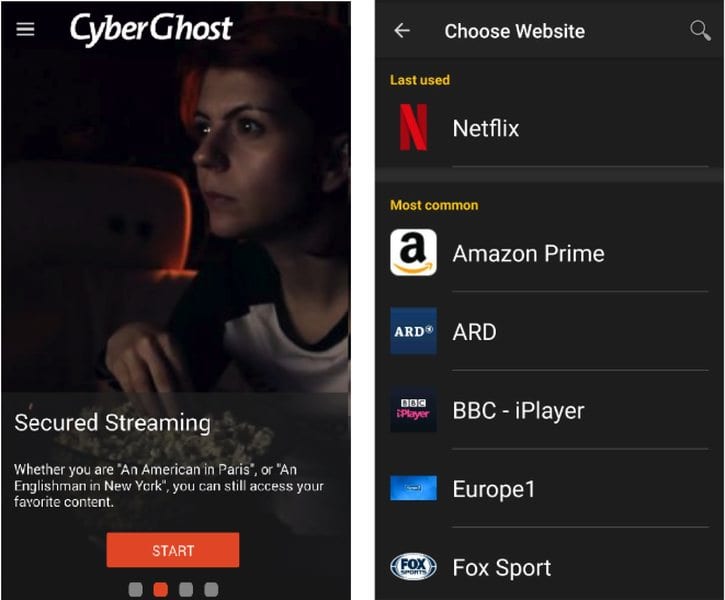 Once we clicked on Netflix, we had to choose the country, which is the US. Finally, we launched the Netflix application on our Android platform, searched for Star-Crossed, and the video played normally.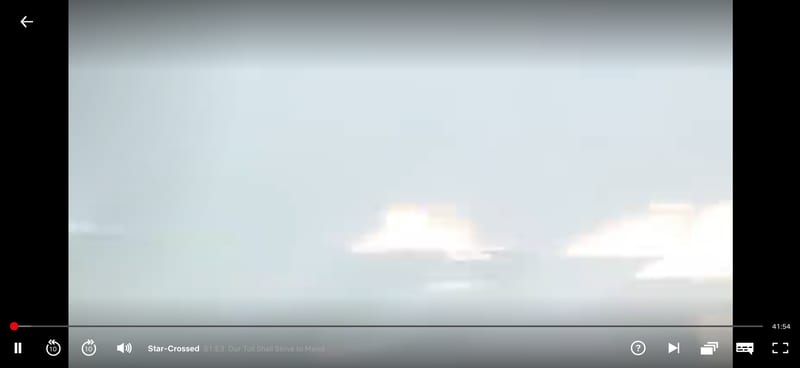 So, in general, CyberGhost is one of the few VPNs that could unblock the streaming giant.
CyberGhost and Other Streaming Platforms
Netflix isn't the only streaming service internet users look to unblock. You have dozens of top channels around the world that are just as good. These services have their own VPN-blocking mechanisms as well.
When it comes to streaming content, we should make sure that the VPN we're using can unblock most, if not all of them. When we put CyberGhost to the test, the provider didn't disappoint.
But first, let's talk about what CyberGhost was able to unblock. If you use the Secure Streaming option, you'll find the following services along with their respective server:
Netflix (US, UK, DE)
Europe1 (FR)
Hulu
7TV (DE)
Amazon Prime (US)
CBS (US)
ORF (AT)
HBO Now (US)
Eurosport (UK)
ITV (UK)
Spotify (US)
ESPN+ (US)
YouTube (US, DE, CA)
Comedy Central (US)
RTL (FR)
YouTube Red (US)
Pandora (US)
NBC (US)
Yle (FI)
Crunchyroll (US)
ARD (DE)
TF1 (FR)
Globo (BR)
Fox Sport (BR)
MTV (US)
Canal+ (FR)
Fox (US)
CBC (Canada)
Zattoo (DE)
During our tests, CyberGhost was able to unblock the likes of Netflix, Amazon Prime, BBC iPlayer, Hulu, Sky, and a slew of others. This is exactly what we expected from a provider that's dubbed as one of the best VPNs in the industry.
However, while we're still talking about unblocking content, we have to mention that a Smart DNS feature is also available. Some users prefer to access content without the need for extra protection (mostly to maintain their speed). CyberGhost has that service, which means that we don't have to stick to their servers and the few devices their VPN app supports.
In other words, you can configure Smart DNS and bypass regional restrictions on PlayStation, Xbox, Chromecast, Apple TV, and Smart TVs.
P2P Support
This brings us back to their dedicated application. While using the Windows client, we used the Torrent Anonymously option. Apparently, CyberGhost has dedicated servers for P2P-related actions.
Moreover, if you're using CyberGhost's mobile application, this option won't be available to select. However, the provider's website states which countries include special P2P servers you can use. That includes:
Albania
Algeria
Andorra
Austria
Canada
Denmark
Italy
Netherlands
Norway
Sweden
UAE
United Kingdom
United States
These are just a few locations that have P2P-friendly servers. To check the full list, users can visit their server page.
Privacy and Some Old Concerns
When we speak of privacy, a provider's headquarters matter a lot. Some VPNs are based in countries where data retention laws apply. As for CyberGhost, it's a little bit of both.
The provider is based in both Romania and Germany. Romania is fine in terms of censorship and surveillance laws. Germany, however, is part of the 14 Eyes – an expanded version of the Five Eyes. So this raises some privacy concerns among users.
Till now, no data breaches have been reported, which means that CyberGhost's no-logging policy is as legit as they claim it to be. This is what their privacy policy states:
"When using the CyberGhost VPN, we are NOT storing connection logs, meaning that we DON'T have any logs tied to your IP address, connection timestamp, or session duration. We do NOT have any access to the credit card information you submitted to our payment processor, and we DO NOT connect your payment or information with any kind of online activity done by you inside the CyberGhost VPN tunnel."
Moreover, CyberGhost has a kill switch feature. This technology terminates a user's internet access if a sudden drop in the VPN connection occurs.
While we were browsing, we tried this feature out, and it works perfectly fine. Other CyberGhost features include:
NoSpy servers (Servers that are independently operated by CyberGhost's team end-to-end. They employ the highest security standards).
Ad-Blocker
Malware protection
One Concern Though
When we evaluate a VPN, we check its origin first. No matter how credible the VPN is, if the original company has a past, one must take proper precautions.
CyberGhost was launched in 2011 by the German-Romanian company. However, six years later, the company and the CyberGhost brand was acquired by an Israeli company that goes by the name Crossrider Group.
The deal wasn't cheap, and Crossrider bought the service for 9.2 million Euros. It's all normal until now. But what raises questions is the fact that Crossrider is well-known for selling malware. To get rid of this dark past and reputation, the company had to alter its name to Kape Technologies instead.
It is not the best news for CyberGhost, but up till now, the company's reputation is just, well, reputation. No reports of malware in the apps were found.
Third-party auditing and Warrant Canaries are essential extra features we look for when we're evaluating a VPN. In our search, CyberGhost lacked both. No external professional assessment was found, nor did we find a Warrant Canary.
Encryption & Security
For those who are keen on the technical aspects of the service, CyberGhost VPN offers an AES 256-BIT Encryption that has a 2048-BIT Key and MD5 for HMAC authentication.
Plans are in place to upgrade to SHA-2 authentication in the future, but in the meantime, the industry standard is all we have. CyberGhost offers OpenVPN, IKEv2, and WireGuard.
Another added benefit is the use of perfect forward secrecy to further hide your identity. Each time you log in, the feature randomly puts together a new private key in order to protect your browsing history in case the privacy of your connection is threatened.
CyberGhost is certified by QSCERT with ISO 9001 and ISO 27001 certificates. ISO 9001 relates to working procedures, while ISO 27001 regularizes technical procedures and security standards. Both are very high-quality attributes.
DNS Leak Protection
Privacy isn't ensured if several tests are not made. That's why we did some DNS leak examinations to check whether CyberGhosts leaks your data or not.
We tested for IP leaks, WebRTC detection, and DNS leaks and found no flaws. The following image shows the results of the tests we performed: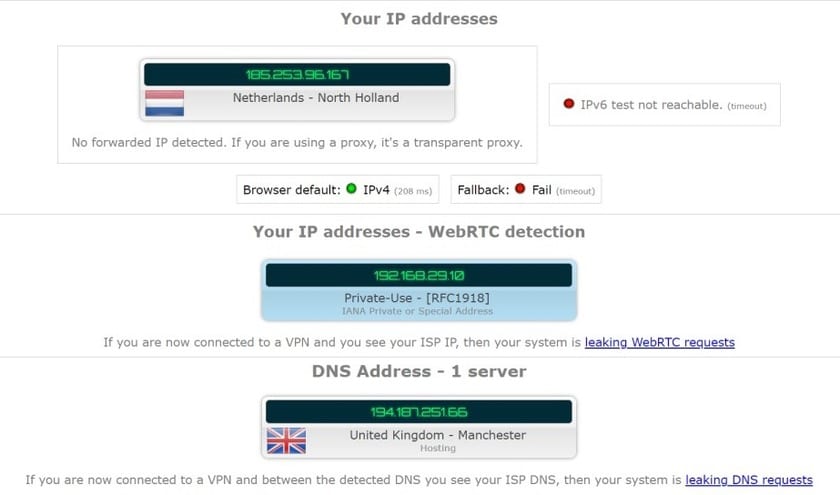 Customer Support
For customers who have no previous experience using a VPN service, an available customer care team always comes in handy. Similarly to all other major VPN service providers, CyberGhost VPN offers live support.
Their website encourages anyone with a query to create a ticket and wait for them to reach out to you. Moreover, we found a "FAQ" section that helps us check if our concern/issue might've already been addressed.
I used their live chat feature to ask if they offer a Smart DNS feature. To be honest, the reply was the fastest I've seen among other VPN providers. It only took seconds to get a reply.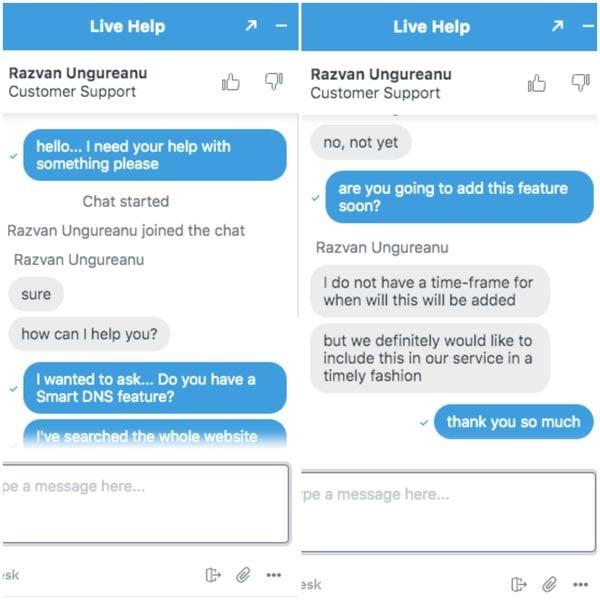 Fast replies are what we were looking for, and CyberGhost delivered. This is definitely a great plus in the provider's features.
Pricing and Available Plans
CyberGhost offer subscribers three different plans. Monthly, annual, 2-year, and 3-year subscriptions are all available.

CyberGhost's premium services are quite expensive compared to most other paid VPNs. It basically costs the same as one of the most expensive VPNs in the industry, ExpressVPN. Their Premium plan goes for $12.99 a month, and if you choose the annual plan, your fee will stand at $3.99/month ($47.88 in total). Finally, there's a 2-year plan for just $3.49/month ($83.76 every two years). 
If you're looking for a long-term VPN solution, you can benefit from CyberGhost's exclusive offer and get a 3-year VPN subscription for as low as $2.25 a month, along with three free extra months. As far as premium VPN service providers go, it's one of the best VPN deals we so on the market.
All subscriptions come with a 45-day money-back guarantee where if the unlimited bandwidth, unlimited traffic, and OpenVPN protocol don't work to your advantage you're welcome to ask for a complete refund.
CyberGhost Payment Methods
You can sign up for a premium VPN account using the following payment options.
Credit cards (Visa/Mastercard)
Paypal
Cryptocurrency
Having Cryptocurrency as a payment method really got us intrigued. If a provider is concerned about its customer's privacy, it gets our attention.
Refund Policy and Free Trial
This VPN offers customers one of the longest money-back policies ever. You get to try out their service for 45 long days before you have to make a decision and commit.
If the service did not live up to your expectations, simply ask for a full refund, and you shall get it. On the other hand, a free trial is rare among VPNs nowadays. But we found the CyberGhost actually has one, it's not grand, but at least it exists.
It is possible to use the VPN for 24 hours only. You won't be limited in features, and no credit card is required with this method. However, 1 day is a too short period of time.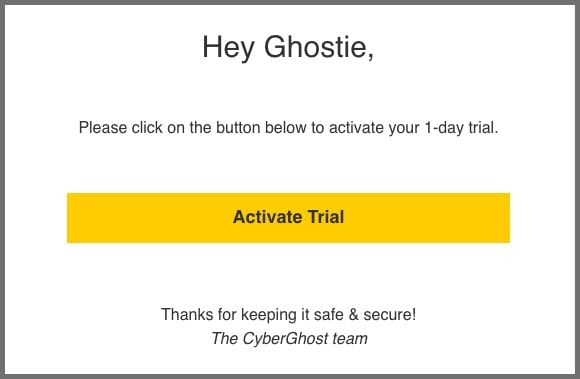 That's why I recommend you look through other methods that allow using CyberGhost for free. A while ago, there used to be a free version with limited access to CyberGhost. Now, that's all in the past. Here's what CyberGhost had to say:
"As of December 2017, the free CyberGhost VPN service for Windows clients discontinues operation, due to overall service improvements. Existing free users can continue using our service as before for a few more months, new users will be restricted to a trial version of CyberGhost."
Users like free products, and the provider still allows you to use its services for free. Users can download their extension onto their Firefox and Chrome. They're completely free of charge and also able to hide your IP and provide you with complete anonymity.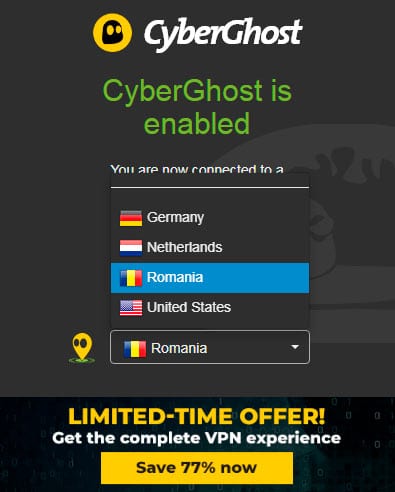 CyberGhost VPN Review – What We Didn't Like
There weren't many flaws with the various CyberGhost VPN apps we tested. On Mac, establishing the VPN connection did take a couple of seconds longer when compared to the same process using the Android app.
The cost of a one-month CyberGhost subscription is a bit pricey, too, although you can save a lot with long-term plans. We would also like to see more South American VPN server locations added.
Still, with all the unique features CyberGhost has to offer, this certainly is one of the best VPN service providers out there.
Conclusion on CyberGhost Review
This being the end of our review, we hope you've gained a lot more insight into CyberGhost and the range of features that they have to offer.
The provider is a good choice to consider, especially if you're getting started with VPNs and would like to add an extra layer of privacy and security to all your online dealings. Take your time, check if this VPN is what you're looking for, and let us know what you think in the comment section below.

Price

Support

Servers

Apps

Refund Policy