StrongVPN is a premium American-based VPN provider (founded in 2005) that offers users VPN servers in 30+ different countries. StrongVPN also provides up to 2048-bit encryption which makes them an optimal solution for Internet users who wish to add an extra layer of security and privacy to their online activity. However, that's not all to it. In this review, we will shed more light on what StrongVPN is capable of and what services does it offer.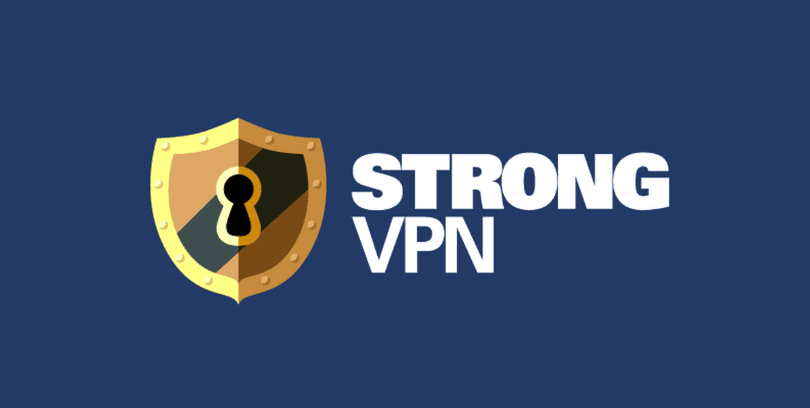 StrongVPN Review – Content Index
We follow a very strict evaluation process while reviewing a certain VPN provider. According to the results we got with StrongVPN, the following review was created:
Quick Stats
| | |
| --- | --- |
| Money-back guarantee | 30 days |
| Allowed concurrent connections | 12 |
| Supported streaming services | Netflix and others |
| No logs policy | Yes |
| Encryption | AES 256 encryption |
| Security Protocols | L2TP, SSTP, OpenVPN, IPSec, IKEv2, and WireGuard protocols |
| Special features | Kill switch, Light/Dark Mode, StrongDNS |
| Customer support | 24/7 support, Live Chat (Monday to Friday) |
| Server locations | 35 countries |
| Number of servers | 950+ servers |
| Server Switches | Unlimited |
| Supported devices & web extensions | iOS, Android, macOS, Windows |
| VPN legal jurisdiction | USA |
| Free Trial | No Free Trial |
StrongVPN Pros and Cons
Despite the name, StrongVPN isn't that strong in certain departments. Therefore, prior to reviewing the provider using a strict evaluation process, here's a sum-up of all the things we liked and didn't like about it:
Pros
30-day money-back guarantee.
950 servers in 35 countries worldwide.

12 simultaneous connections.

24/7 customer support.
Advanced encryption technique.
Strict no-logs policy.
DNS leak protection.
Has a Kill switch.
Works with Netflix and Hulu.
Smart DNS proxies.
P2P support.
WireGuard Protocol
Cons
Inconsistant speeds.
Expensive monthly plan.
No free trial.
Based in the US.
StrongVPN's Application and Interface
StrongVPN offers its clients VPN apps for Windows PC, Mac, iPhone, iPad, and Android. These apps are user-friendly.. Additionally, there are setup guides for all of these devices if you prefer do install a VPN manually.
Despite lacking special features, StrongVPN's applications are pretty straightforward. We downloaded both the Windows application and the Android App to see what difference it makes in terms of accessibility.
According to what we see, StrongVPN's Windows app has a minimalistic design that is well simplified. The connection process is very easy. We just visited the server list, picked a server, and we connected. That's all. Here's how it looks like:
In the Windows client, there's a "Best Available" option, which connects us to the best server (mostly nearby) in order to maintain great speeds. That's a very good option if bypassing ISP throttling is some of the users' main interest.
As simple as the PC client is, the Android app comes a bit easier to navigate through. There's nothing complicated about it and even non-tech savvy individuals can operate it without prior knowledge to the technology.
We couldn't find the kill switch option within the Android app, which is disappointing considering most VPN users operate an Android. The Windows client though includes a kill switch, but still, we consider the kill switch's absence on Android a huge con.
StrongVPN Review – Servers and Locations
While they do claim to have 59,500 VPN IPs, one would be amused thinking that the service has a wide server distribution.
Well, that's not what we found when we visited their website. Apparently, Strong VPN has servers across 35 countries only. To be honest, this isn't the biggest that we've ever seen but it might provide users with multiple options to choose from.
Actually no, it didn't turn out this way. We found that most of the servers are located in North America and Europe, with a bunch in Asia and South America, and nothing in Africa.
We'll get back to that, but for now, here are the countries included in StrongVPN's server list:
UnitedStates
United Kingdom
Turkey
Taiwan
Switzerland
Sweden
Spain
South Korea
Singapore
Romania
Portugal Poland
Norway
Philippines
Netherlands
Mexico
Malaysia
Luxembourg
Latvia
Japan
Italy
Israel
Ireland
India
Hong Kong
Germany
France
Estonia
Czech Republic
Cyprus
Costa Rica
Colombia
Chile
Canada
Brazil
Australia
Argentina
Although it's a decent server coverage, StrongVPN pales in comparison to top VPN providers in the industry. Even those with a relatively small network. These ones cover key spots across the globe, including Africa and the Middle East, StrongVPN doesn't.
StrongVPN Review – Speed
VPNs are first and foremost tools to secure your data and anonymize your internet browsing. However, even with the top security-related features, a VPN does not count as reliable if the speed performance bummed.
Speed tests performed on various servers in the USA, UK, and Romania showed minimal speed loss (not all of them though). We also had no issues while streaming videos online in HD.
First, these are the results of our internet speed without the use of a VPN.
Now the test begins. Here's what the test recorded after we connected to a StrongVPN server in Romania. We witnessed a huge drop in our speed.
A US server was also not that great in terms of speed. The speed loss was obvious the moment we connected. Also, the ping was really high.
Finally, the best results we got were when we connected to a server in the United Kingdom. We can say that streaming in HD and UHD is possible with ease.
Basically, these are considered as mixed results, but overall, StrongVPN delivers fast speeds for efficient streaming.
Unblocking Geo-Restricted Content
Getting around the internet's limitations is one of the main jobs for a VPN. Most users around the world just want to access geo-restricted channels in their country.
If the VPN cannot do this task, it's practically useless to them. That's why we put StrongVPN to the test and run it through several evaluations to see whether it can unblock major streaming channels.
Netflix
For years now, paying Netflix subscribers all over the world have used VPN proxies to disguise their location in order to access more content.
As of 2016, Netflix has waged a war against such acts and started blocking Virtual Private Networks. In other words, most VPN users' access to the US library, for instance, gets terminated depending on how credible their VPN is.
Yes, it's all about what the VPN is capable of. Some of them have given up, while others, particularly StrongVPN, hasn't. During our tests, it turned out that StrongVPN is more than capable of unblocking the streaming giant without any issue.
We connected to a US server and tried a video on Netflix, this is what we got: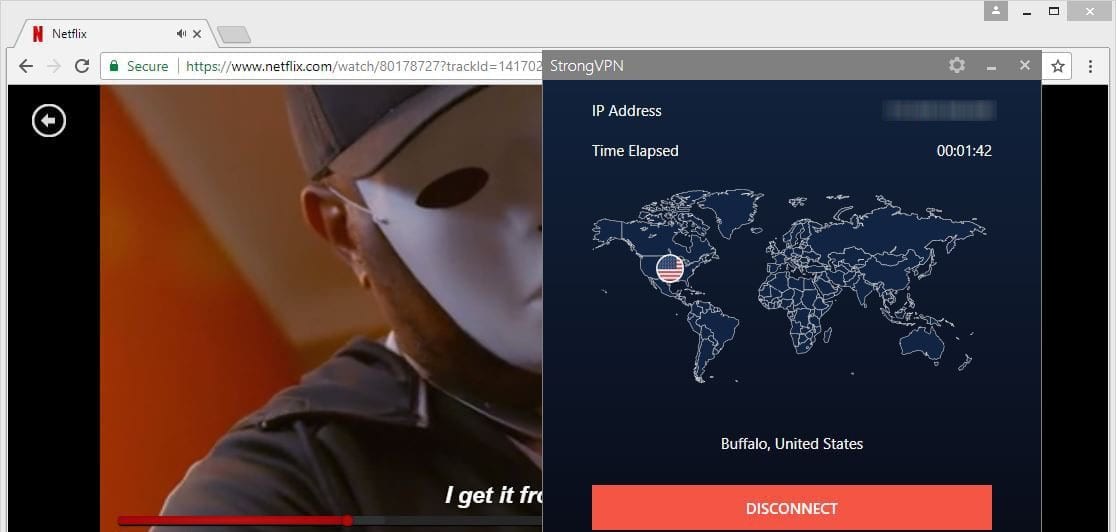 The US library has been successfully accessed. So, in other words, StrongVPN is an excellent way to stream Netflix no matter where users reside. We were totally impressed with the results.
Other Streaming Services
Netflix isn't the only major streaming service we tried. There are top channels around the world that have millions of subscribers in several countries.
We're talking about the likes of Hulu, Amazon Prime Video, BBC iPlayer, and the likes. While the service is capable of unblocking some websites/services, it wasn't that formidable against others.
Just like Netflix, Hulu comes with an aggressive anti-VPN ban. So, it was very impressive to see that StrongVPN has what it takes to circumvent such defense mechanisms and access the channel's library outside the United States.
In the past, StrongVPN was not recommended for such a task. Hulu and Netflix were always able to block it. Now, it bypassed the strongest bans in streaming history. However, it still has a long way to go.
Why is that? Well, we tried several servers in the United Kingdom. Apparently, StrongVPN is not capable of getting around BBC iPlayer's block, neither did it do well against Amazon Prime Video's VPN ban.
Do we recommend StrongVPN? If users are interested in Netflix and Hulu, we sure do. As for the others, StrongVPN failed to access them. We don't know whether the VPN will support the other media streaming services in the future, but according to how it's doing so far, it sure will.
Smart DNS
Virtual Private Networks aren't the only way to circumvent geo-restrictions. It's what we call Smart DNS proxies, a technology used to change a user's location without tampering with their IP address or internet speed.
Nowadays, most top VPN providers offer such a service, including StrongVPN. Dubbed as Strong DNS, users get to stream dozens of channels around the world, including Netflix without losing access to their local channels.
Users can purchase the service on its own or get it for free with a full VPN subscription to StrongVPN. Here's the image for their Smart DNS service.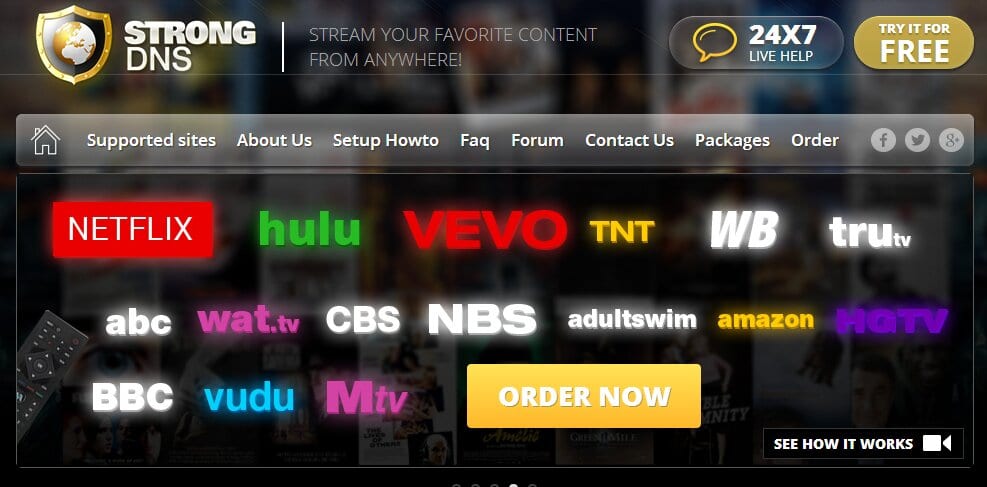 Having a Smart DNS service really gives StrongVPN a thumbs up 8from us. We were very impressed by its unblocking capabilities.
P2P Support
StrongVPN allows torrenting on all of its servers. Users can do whatever they want as it also provides unlimited bandwidth. However, they must not forget that StrongVPN is based in the United States. We strongly recommend they download legal torrents and stay away from illegal ones.
Privacy
StrongVPN's website states how proud it is of its privacy and security features. However, being based in the United States does not back up their claims at all.
The country is the home of the NSA and one of the founders of the Five Eyes Intelligence. In other words, the government and the CIA can enforce warrants, gag orders, and subpoenas anytime they want, ordering the provider to give up data about its users.
But as the service advertises, StrongVPN offers a strict no-logging policy, which means that it does not store user information, browsing history, IP addresses, or any other data that identifies the user's identity.
According to their Privacy Policy:
We are a zero-logging VPN service, meaning we do not track or store your data while connected to our VPN service.
The only personal information we collect from you is used for your account setup, such as an email address and payment information.
We do not sell your personal information to third parties.
We use cookies on our Site to provide basic functionality and understand Site activity in aggregate. You can disable cookies on our Site at any time.
So far so good. It looks like StrongVPN holds one strict no-logging policy. But is it enough? No, it's not. There are a lot of things we need to consider to determine the provider's transparency.
Security
Like other premium VPN providers, users get access to PPTP, L2TP, SSTP, OpenVPN and IPSec Protocols i.e. no shortage of online security options.
StrongVPN uses 256-bit AES encryption, which is the strongest commercial type of encryption, used by all top-rated VPNs right now
Also, StrongVPN has a kill switch, which terminates user access to the internet if a sudden drop in the VPN connection occurs. This helps secure user data from traveling through their ISP servers when the VPN connection gets cut.
According to StrongVPN's privacy policy, they keep no logs of your browsing activity. Like other VPN providers, records of the time you connected/disconnected, the duration of the VPN connection, and the bandwidth used are kept.
However, what a VPN claims on its website is not enough for us to determine its credibility, which brings us to the next part.
Virus Scan
Checking for viruses is very essential before installing any of the VPN's clients. Today, we went ahead and tested their Windows application.
Apparently, it's not that clean. We noticed that there's a Trojan virus embedded inside. The Trojan malware is disguised as legitimate software, which can be employed by cyber-thieves and hackers in order to gain access to users' systems
This is what the test shows: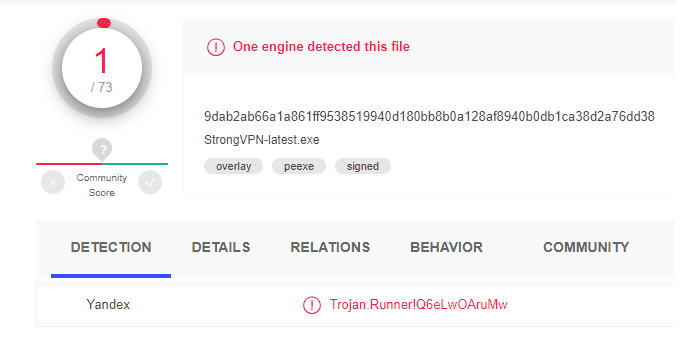 Based on 73 sources, only one deemed StongVPN to have malware installed in it. The other 72 showed excellent results.
DNS Leak Test
We also want to make sure that the DNS is not leaking while connected to a StrongVPN server. If such a leak occurs, the websites we visit can see our true identity, and we don't want that as it beats the purpose of using a VPN.
Our VPN test showed nothing about a leak. In other words, third-parties on the web see what StrongVPN allows them to see, which is mostly the borrowed IP address and nothing can be traced back to our exact location.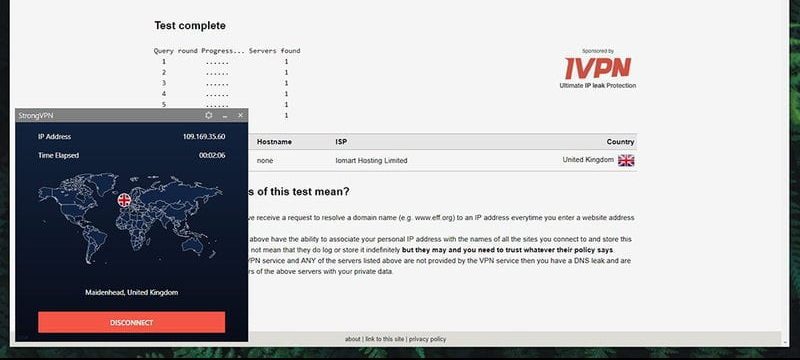 Third-Party Auditing
As we know, several top VPNs claim that they stop tracking, but only some offer tools to strip online trackers from the webpages users access.
According to recent tests, StrongVPN has some embedded trackers, which help invade user's privacy. Any one of these trackers can connect users'activities while using a VPN to their ISP provided IP address.
This is what the test shows:
Sets 11 cookies, 10 of them associated with various tracking services.
Contains 11 external trackers
Utilizes 7 external analytical services
3rd party hosted email
WireGuard Support
Alongside the protocols mentioned above, StrongVPN supports the new layer 3 security network, the new it-protocol, WireGuard.
The technology utilizes state-of-the-art cryptography and shows promise to be simpler, more secure, and faster than the likes of OpenVPN and IPSec.
So far, the protocol has not been implemented by many providers, but StrongVPN does not fall into that category. This shows how dedicated the provider is when it comes to security, and that's considered a top Pro in its arsenal.
Warrant Canary
Some times, law authorities rely on a VPN's help to catch criminals. That's when they issue a subpoena to the VPN provider, ordering them to submit information about their customers.
By law, it's illegal to inform the customers of such gag orders, which brings us to Warrant Canaries. They're an indirect way to warn VPN users that the provider has been served.
We did not find anything related to Warrant Canaries with StrongVPN nor do they offer a transparency policy to show how many requests they've received so far.
But so far, no reports have been stated about submitting any of their customers' data, which brings us back to how efficient their no-logging policy is.
StrongVPN Review – Support
A 24/7 support system means that there always is a support agent at hand ready to help you out with whatever issues you might be facing. StrongVPN's live support response time was pretty impressive and it is clear that they do take their client's inquiries seriously. Support via Skype, email, and phone are also available.
We tried their live chat support and we were very pleased. The response was very fast despite us being number 5 on the queue list. We don't know whether they make up such numbers to show how popular or busy they are. Either way, we got our response very quickly.
Yeah, we knew that they had Smart DNS, but it's a way to figure out how efficient their support is.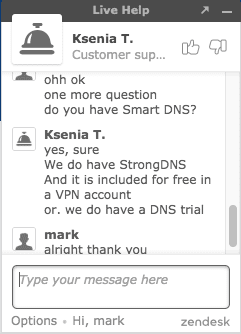 The support team member was very helpful and professional while helping us. Also, we got a lot of help considering the free trial (we'll be talking about that later on).

Despite having a superb customer support service, we found out that it's limited, at least when we're talking about their call support. The company only operates between 9 a.m and 5 p.m, Monday to Friday.
So, if users have any sort of trouble with the service on the weekend, they have to use StrongVPN's live chat support, which is available 24/7.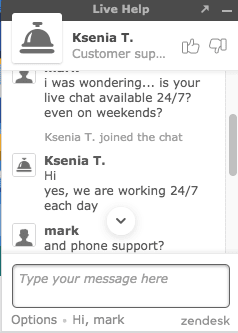 In general, having call support, to begin with, is a huge advantage over other competitors. We didn't see such a privilege with other VPNs as it's very rare to include a phone number. So, when it came to customer support, we were very pleased with what StrongVPN had to offer.
StrongVPN – Pricing
The cost of a VPN provider is probably one of the first things you usually compare before choosing which service you should subscribe to. In terms of pricing, StrongVPN compares favorably with other VPN providers especially if you choose their annual plan.
A monthly subscription sets you back by 10$ whereas a yearly subscription will only cost you 5.83$ per month. That means you can almost save 50% if you buy their annual package.
By using this coupon code: GURU15 you can even save an additional 15%.
Payment Methods
You can subscribe to StrongVPN using all major payment methods including Visa, MasterCard, American Express, Paypal, and Alipay.

What we didn't find is the anonymous payment, such as Cryptocurrency. Most users who like to keep their payment private prefer to pay in Bitcoin and the likes.
That doesn't put it in a good position with other top VPNs in the industry as most of them offer anonymous payments.
Refund Period
Most VPN providers offer a 30-day money-back guarantee in case the service did not live up to the user's expectations. StrongVPN is one of those with a no-questions-asked 30-day refund policy.
So, if the service wasn't what anyone is looking for, they can simply ask for their money back within a 30-day period.
Free Trial
Free trials can some times be tricky as a provider might ask for a user's credit card information. With StrongVPN, we did not find anything about a free trial.
We even contacted their customer support team and they informed us that no trial of the sort is available.
Free trials are a great way for users to give a VPN a test drive before opting for any long term subscription plans. But in StrongVPN's case, that's not possible. Users can only benefit from their 30-day money-back guarantee.
StrongVPN Review – The Verdict
StrongVPN have recently made major changes to their pricing, region switching, and encryption policies in favor of their customers. Some StrongVPN reviews users might find online are outdated and do not make these changes in mind. Given the low annual subscription price and the fact users can use their service to unblock American Netflix, We definitely recommend StrongVPN to anybody who wishes to bypass regional restrictions or protect their online privacy.