When a new VPN makes an impact in a short period of time, rest assured it's going to grab our attention. Today, we'll be reviewing a brand new name in the business, with a pretty big headstart – WeVPN. Their website states that it has it all, but we're here to test that. WeVPN shows a lot of promise, and their claims should give them a spot with other top competitors. So, the question is: Is WeVPN all talk and no walk? We're here to answer that. Here's our full WeVPN 2023 Review.
WeVPN Review – Content Index
WeVPN promises a lot, and their website shows how serious this VPN is when it comes to providing a better internet experience. That's why we ran this VPN through our strict evaluation process to determine if what is stated on the website is true.
We ran a lot of tests in every single department, including speed, security, privacy, and unblocking capabilities. As a result, this 2023 WeVPN review was created:
Quick Stats
Money-back guarantee
30 days
Allowed concurrent connections

10 devices

Supported streaming services

Netflix, BBC iPlayer, Hulu, Amazon Prime, and more.

No logs policy

Yes

Encryption

Military-grade 256-bit AES

Protocols

OpenVPN, IK

Ev2, Wireguard
Special features

VPN Split tunneling, Kill Switch, WeBlock

Customer support

24/7 live support

Server locations

55 Locations in 39 Countries

Number of servers

100+ servers

Server Switches

Unlimited

Data traffic

Unlimited

Supported devices & web extensions

Windows, Linux, Mac, iOS, macOS

VPN legal jurisdiction

The British Virgin Islands
Pros and Cons
No matter how good the VPN is at what it does, there has to be a flaw or two in its service. Not even the biggest providers in the industry have reached perfection, and neither will they as technology keeps evolving.
WeVPN does give a lot of beneficial features, but it does have its cons as well. Let's take a look:
Pros:
Military-grade encryption
User-friendly design
Unblocks major streaming services
Kill Switch
Unlimited Bandwidth
30-day refund policy
24/7 chat support
Affordable prices
P2P friendly
Split-tunneling
WeBlock
10 simultaneous connections
Smart DNS
Wireguard support
Browser extension
Cons:
Small server network.
No Wireguard on desktop devices.
Free trial requires credit card information.
WeVPN – Apps and Interface
A VPN that wants to make an impact in the industry should support all major operating systems. Despite being a couple of months old, WeVPN's device support is impressive.
It supports basic platforms such as Windows, macOS, iOS, and Android. However, it also expanded its service to TV sets and gaming consoles courtesy of its Smart DNS feature. We'll be talking a bit more about that later.
Amazon Fire and Fire TV have a dedicated app that users can download from Amazon's Store, and the rest use the Smart DNS technology. Now, a single subscription with WeVPN allows users to connect 10 devices simultaneously, which is a great offer compared to other services.
WeVPN also offers browser extensions for Chrome. This makes it simple for those who are browsing the web. However, extensions don't encrypt other applications than the web browser, so sticking to the app itself is the best option.
Before we dig into a VPN's features, we need to assess its application. We have to make sure that everything goes smoothly and that no issues are encountered in the process, which is why we tested both macOS' and Android clients. Let's begin:
macOS
Desktop clients are usually very popular among businesses and companies as they protect their sensitive data. But that doesn't mean that individuals don't make use of the cybersecurity tool at home.
WeVPN has a dedicated client on macOS, and from what we've seen, anyone can operate it with ease. The app is very user-friendly, and it's navigation could not be any easier.
It didn't take long to establish a connection. In fact, all we did was sign in, select a server, and wait for almost 3 seconds. That's how efficient WeVPN was during our initial app evaluation.
Here's how the WeVPN's Mac application looks like:
The settings section is also stacked with top-notch security features. First, we were able to enable the kill switch, which cuts the internet if the VPN connection drops. Second, we also found the split tunneling feature and WeBlock, which we'll be talking about in the privacy section below.
Moreover, in the protocol section, we were able to switch between OpenVPN (UDP), OpenVPN (TCP), and IKEv2. Despite supporting the most popular protocols in the VPN industry, the desktop version lacked the Wireguard protocol.
Luckily for Mobile users, the newly dominant protocol is supported by the respective clients. We'll be highlighting that in the next section.
Android
There's no denying that mobile VPN clients are the most popular of all. Among all the VPN users who employ the service, 42% are on mobile devices, 35% use desktops, and the rest operate various other platforms.
Mobile applications are mainly the easiest to operate. With a few clicks, anyone can establish a VPN connection. As for WeVPN, we downloaded the app, signed in, and started testing.
We first encountered a notification asking us to choose which background we'd prefer while using WeVPN. It's actually a good feature to include, as users get to choose between Dark or Light themes.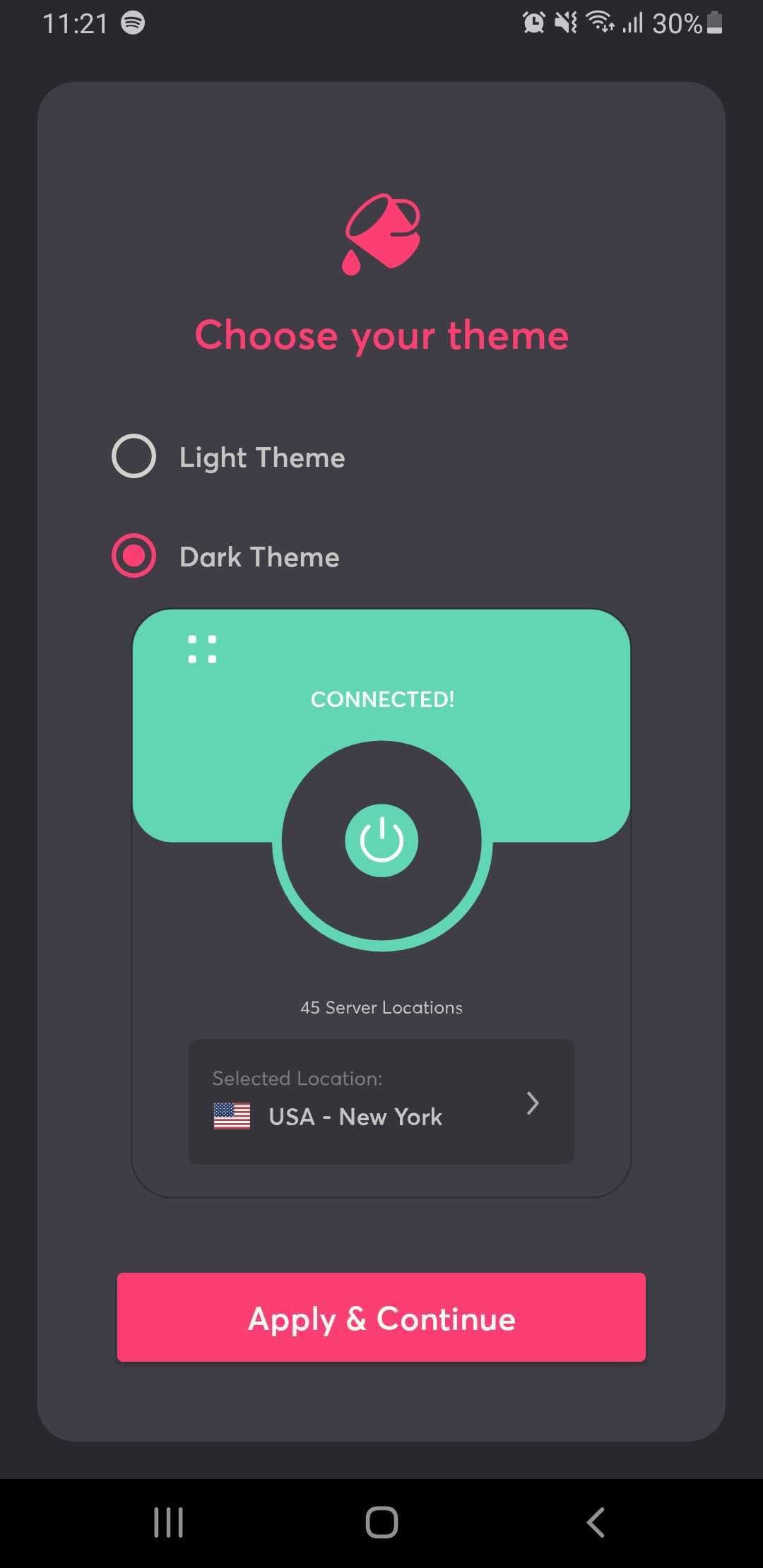 The connection process took longer than the one on Mac, but it did manage to connect after around 10 seconds. That wasn't the case with all the servers, though.
We really liked the app's design, though adding servers to Favorites was missing. It can give convenience if they add this feature in future updates. So far, here's how the application looks like:
As seen in the images above, the mobile client can't be any easier to navigate. The settings section is filled with security features, including a kill switch, split tunneling, WeBlock, and IPv6 leak protection. Moreover, when it comes to protocols, everything supported on the Mac client can be found on the mobile counterpart.
However, we consider the mobile application to be the superior one as it supports the Wireguard protocol, which is said to be the future of VPN providers in terms of security and speed.
App Store Rating
Google Play Store and Apple Store are the official ways to get applications on both Android and iOS, respectively. However, both of these stores allow users to submit reviews based on their experience with the downloaded software.
That way, they'll be giving their feedback, which in turn helps other users in the future. With such reviews, newcomers would know whether the app is worth getting or not, it's pros and cons, and any other issues that they might face.
Again, ratings help a lot, which is why we'll be highlighting what both Stores have to say about WeVPN, starting with iOS. The service is actually very popular on iOS products with a rating of 4.2/5. This shows that the service is "Great" based on what the users have experienced so far.

As for Android, Google Play Store also has high ratings for WeVPN's application. The service has a 3.6/5 rating, and it's based on 100+ reviews.

If we want to compare the two, WeVPN seems to be more popular on Android devices than iOS. We did encounter a negative comment on Google Play Store, and we had to share it. According to an Android user:
"App constantly fails to open. Force close it, uninstall it, it still won't open and yes, I tried restarting my phone and even did a hard restart. I have to force the VPN on from my phone's settings to get it to work. This is happening on a US Note 10 plus, it's not like it's not a popular phone. Please fix and I'll update this review."
This might have been the user's experience, but we have to note that nothing of the sort happened with us. The application on our Samsung Galaxy S9+ worked seamlessly.
Trustpilot Review
Trustpilot is a credible source to check for online products, especially Virtual Private Networks. It's full of honest and unbiased reviews, and fake ones are instantly deleted.
Users can check what others have experienced with a certain provider and come to a rational decision accordingly. As mentioned, the website only accepts honest reviews, and any product that uses fake ones to increase their ratings will get penalized.
It happened before with a certain VPN that tried to insert fake reviews, but Trustpilot ended up demoting it instead. As for WeVPN, the service seems to have gained a lot of popularity ever since its launch back in March 2020.
There are a lot of positive reviews, which eventually increased the provider's rating on Trustpilot to 4.2/5, marking it as great.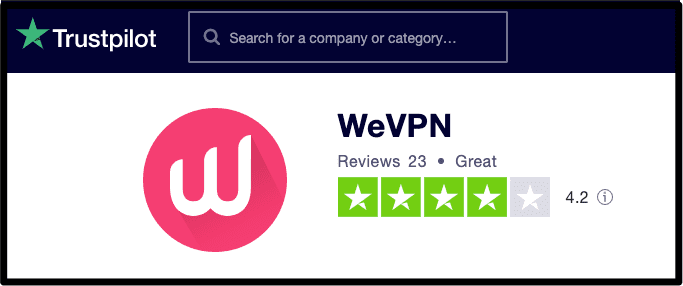 Despite having dozens of positive reviews, we found one that wasn't so, well, positive. Apparently, one user was complaining about how WeVPN handles criticism and stated that it doesn't take the blame for any issue that the user might encounter. Here's his statement:
"Imagine a company who does nothing but blame the user, then when they prove them wrong kicks them off their discord server, thats WEVPN. Deleted Google play store review.
Deleted post on reddit and blocked me.
Pay and shut up and your OK with Wevpn.
I am glad I pay monthly so have safety net of not losing much if cancel."
During our evaluation process, we encountered no issue that required us to contact WeVPN for a solution. Again, Trustpilot's ratings are based on the users' experience, and it was just not what we encountered.
Server Distribution
A VPN's server network is one of the most important features we look at while reviewing the product. VPNs change the users' virtual whereabouts and allow them to appear to be browsing the web from a country of their choosing.
However, this process is not possible if the VPN doesn't have a server in the desired region. We've reviewed dozens of VPNs before with huge server networks, scattering around 50+ countries.
WeVPN does not excel much in this department as its network pales in comparison to other top services in the industry. The provider offers 100+ VPN servers in 43 VPN server locations scattered around 31 countries.
While the number is a bit low, we have to say that WeVPN distributed its servers across key locations where major streaming services are available. In other words, if users are looking to unblock geo-restricted content, they won't run out of options.
With that said, here's WeVPN's full server Network:
Americas
Brazil
Canada
Mexico
United States
Europe
Austria
Belgium
Bulgaria
Czech Republic
Denmark
France
Germany
Greece
Hungary
Ireland
Italy
Netherlands
Norway
Poland
Portugal
Romania
Spain
Sweden
Switzerland
UK
Asia Pacific
Australia
Hongkong
Indonesia
Japan
Malaysia
New Zealand
Philippines
Russia
Singapore
South Korea
Africa, the Middle East, and India
It's not shameful to have such a small server network, especially since WeVPN launched to the public back in March 2020, making it the new kid on the VPN block. It still has time to expand even more.
Speed Performance
It doesn't matter how secure the VPN is or how much coverage it has; these services are practically useless if the VPN is slow. VPNs are well known for taking a toll on the internet connection due to the fact that the traffic is taking a longer route to reach its destination
Top VPN services make sure to optimize their servers in a way that the user will notice no such connection drop or at least a minimum effect. So, how does WeVPN perform in the speed department? Let's find out in our next evaluation:
First, we'll begin by testing our connection speed without using WeVPN.
We kicked off our speed tests with a connection to a US server. We didn't think that WeVPN would disappoint this much, especially in a country were users watch most streaming channels. WeVPN recorded a 94% drop, which is very bad considering what our baseline was prior to the connection.
Next, we connected to a server where BBC iPlayer is located – A UK server. Unfortunately, WeVPN did not improve its performance much, it was still slow, causing a 93% drop in our connection.
Finally, we connected to a nearby server in France. We expected better speeds when we established the connection, but that wasn't the case. The speed drop was still huge, as WeVPN caused a 94% drop in our connection.
WeVPN showed a lot of excellent features, and their application is outstanding, be it on desktop or mobile. However, speed-wise, WeVPN failed terribly, as the minimum drop was around 93%. So, the verdict is, if you're looking for a VPN that offers good speeds, WeVPN is not it.
Streaming Capabilities
It's well known that VPNs aren't just used worldwide for security and privacy reasons. In fact, when utilized correctly, VPNs can be used for entertainment purposes as they allow users to access geo-restricted content from all over the world.
Almost 50% of VPN users operate VPNs to unblock streaming channels from different countries. Here's the thing. Streaming channels apply geo-blocking technology, which restricts user access based on their location.
Geo-blocking is used in several ways. However, the most common practice lies in restricting access to premium multimedia content on the Internet. We're referring to movies and TV shows from major streaming services, mainly for licensing and copyright reasons.
Let us give an example before we start testing WeVPN. Streaming channels have the right to distribute their content in specific regions. For example, the likes of HBO Max can only operate within the United States.
In other words, users should have an American IP Address to watch HBO Max. Anyone living abroad lacks that, which brings us to this error message:
"Not in Service Area. HBO Max is currently only supported in the U.S and certain U.S territories."

With a VPN, users can obtain a US IP address by connecting to an American server. As a result, they can access HBO Max and other US services wherever they might be.
While this sounds easy, it's actually not. Most streaming services have adapted to such circumvention techniques, and now, they apply VPN blocks. Only credible providers can bypass those, which brings us to the WeVPN channel unblocking test.
We evaluated WeVPN's capabilities using major streaming services that have the strongest VPN bans. And the results were as such:
Netflix
Netflix is by far one of the largest streaming services in the world. Back in 2019, Netflix ended the year with over 167.1 million users with 61 million of them registered in the US. The remaining 106.1 million (63%) are spread over the rest of the globe.
Now, Netflix has more than 182.8 million subscribers, which brings us back to calling it one of the biggest entertainment services. Despite being available on a global scale, Netflix does have its own geo-blocking technique.
Netflix operates in over 190 countries, which is almost everywhere. However, each country gets its own catalog due to copyright reasons. That's Netflix's geo-blocking method, except for the countries where the channel is not available at all.
We're referring to the likes of China, North Korea, Syria, and Crimea. Now, based on the user's IP address, Netflix assigns a certain catalog for the customer. Even the price differs based on the IP address, which helps the channel in determining the location.
For example, those who have Netflix in the US can watch more movies and shows than the ones in Canada. But that doesn't mean that Canada's library is inferior in terms of quality, as it, too, has its exclusive content.
The biggest library lies in the US and a VPN can get that with a few clicks. However, not all VPNs are capable of unblocking Netflix, courtesy of its tough VPN ban. It can detect VPN traffic and block users almost instantly, presenting this proxy error in the process:
"Pardon the interruption. You seem to be using an unblocker or proxy. Please turn off any of these services and try again."

In 2016, Netflix started blocking connections from proxies and VPNs to enforce its copyright obligations. This gave VPNs a hard time as a lot of them weren't able to bypass that.
Some VPNs optimize their servers well enough to circumvent the ban, while others remained on the margin. When we review a certain VPN, unblocking Netflix is one of the tests that it needs to pass to deem itself as a credible provider.
Evaluating WeVPN
We used WeVPN's Chicago server during the evaluation. Once we established a connection, we launched Netflix and searched for "Children of the Sea" – a US-only Anime movie.
With some VPNs, even the desired title won't appear if Netflix figured out where the traffic is actually coming from. However, with WeVPN, the movie showed up.
After that, we selected the movie, and we were able to stream it without any problem or proxy error, as seen in the image below.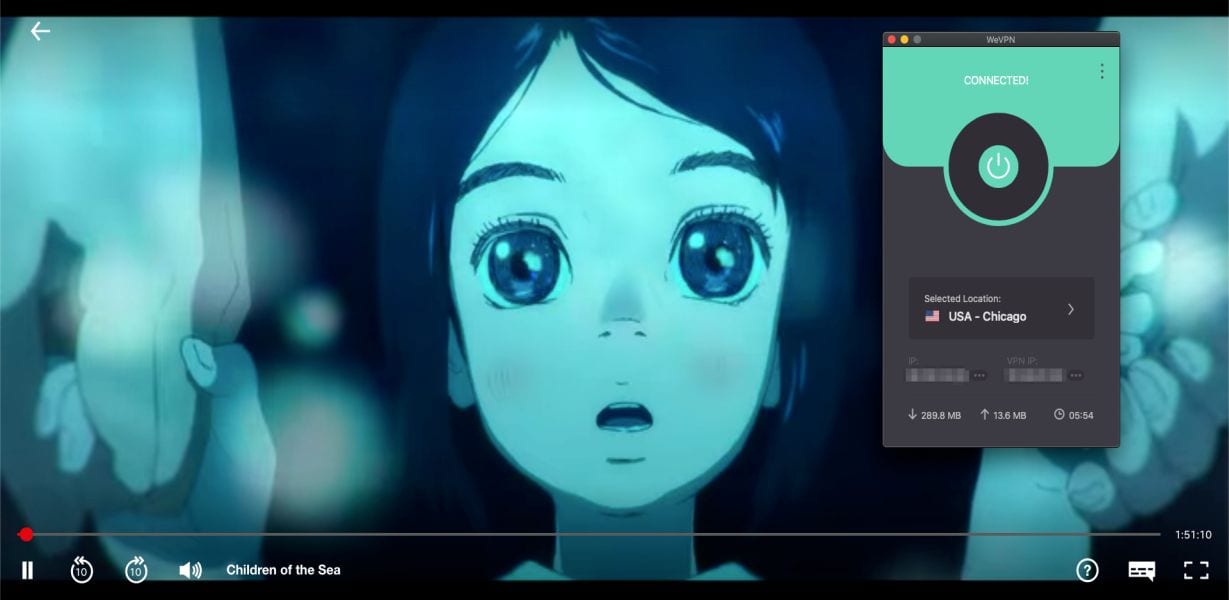 Unblocking, Netflix is a major advantage when it comes to reviewing VPNs. With so many providers unable to fulfill the task, WeVPN proved to be a worthy Netflix unblocker regardless of its short existence in the industry.
Hulu
Hulu is yet another top streaming service in the industry that also applies tough VPN blocks. Back in December 2018, Hulu had 22.8 million subscribers, thanks to its top movies, series, and of course, original content.
However, the channel exceeded 30 million paid subscribers due in part to its partnership with Disney+, which makes it one of the biggest channels in the United States.
Now the reason Hulu is far behind Netflix in terms of users is the fact that it's only available in the US. In other words, no one abroad can access its content. Users need a US IP address to stream the channel, and individuals living overseas lack that.
In the past, using VPNs to get a US IP address and watch Hulu abroad was an easy task. Now, with strong technology, Hulu is able to ban proxies and VPNs with ease.
If the VPN is not well equipped to unblock the channel, this proxy error appears:
"It looks like you're using an anonymous proxy. You'll need to disable it to watch Hulu. Hulu Error Code: P-EDU101."

This is a sign that Hulu has determined that a user's traffic is coming from a VPN server. We wanted to see if WeVPN can bypass that, so we kept the connection we used with Netflix on.
With WeVPN's Chicago server, we launched Hulu, and streamed its original show "Pen15." No proxy error was witnessed, and Hulu was fully functional in our country.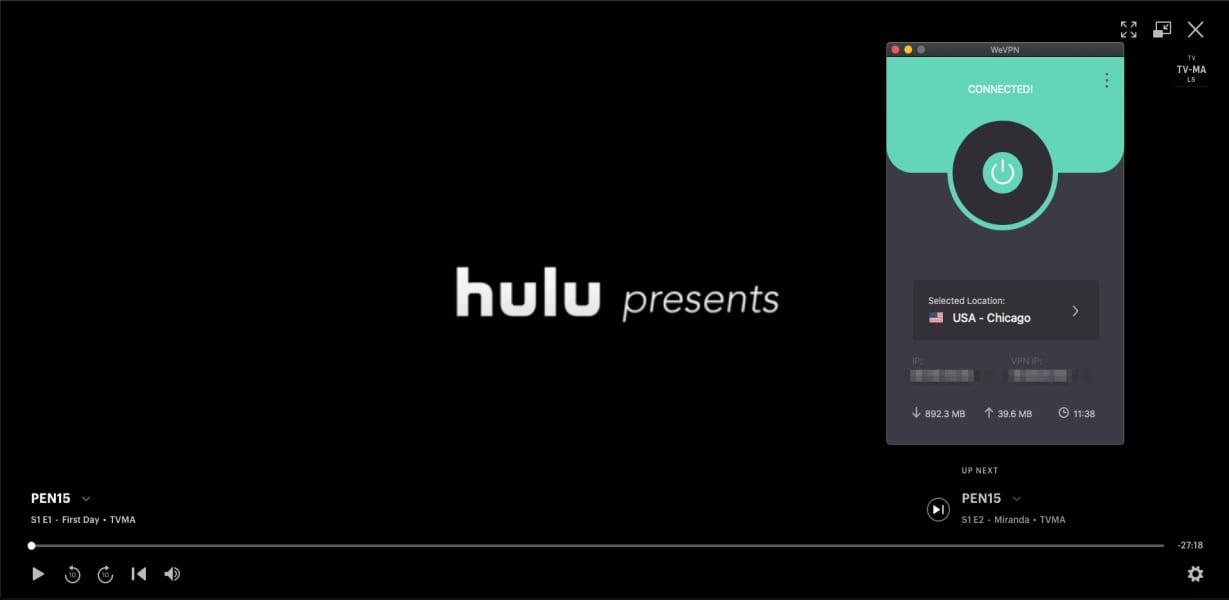 The video worked seamlessly, which shows that WeVPN had done it one more time. The provider was able to unblock yet another top streaming service with a tough VPN block.
Amazon Prime Video
WeVPN has a lot to prove in the streaming department, and another way to see how credible it can be is by testing it with Amazon Prime Video. The streaming giant started off small, covering countries like the United States, the United Kingdom, Japan, Germany, and Austria.
Later on, it became a global service that is available everywhere except in a few countries like Mainland China, Iran, North Korea, and Syria. Just like Netflix, Amazon Prime, regardless of its global availability and the fact that it has 150 million Prime members, applies geo-blocking.
It also assigns specific catalogs to certain regions. Of course, that's based on the user's IP address. Each country gets a different library, and with a VPN, users can access the most popular one, the American version.
However, another common feature of Prime Video is that it, too, can block VPNs. We've come across several providers that failed to get the channel to work in previous reviews, and the only thing we got out of them is this proxy error:
"Your device is connected to the internet using a VPN or proxy service. Please disable it and try again."

Seeing that the US library is the largest among all, we remained connected to the WeVPN American server. The results were great, as no proxy error popped up. The series we chose, "The Boys," worked perfectly fine.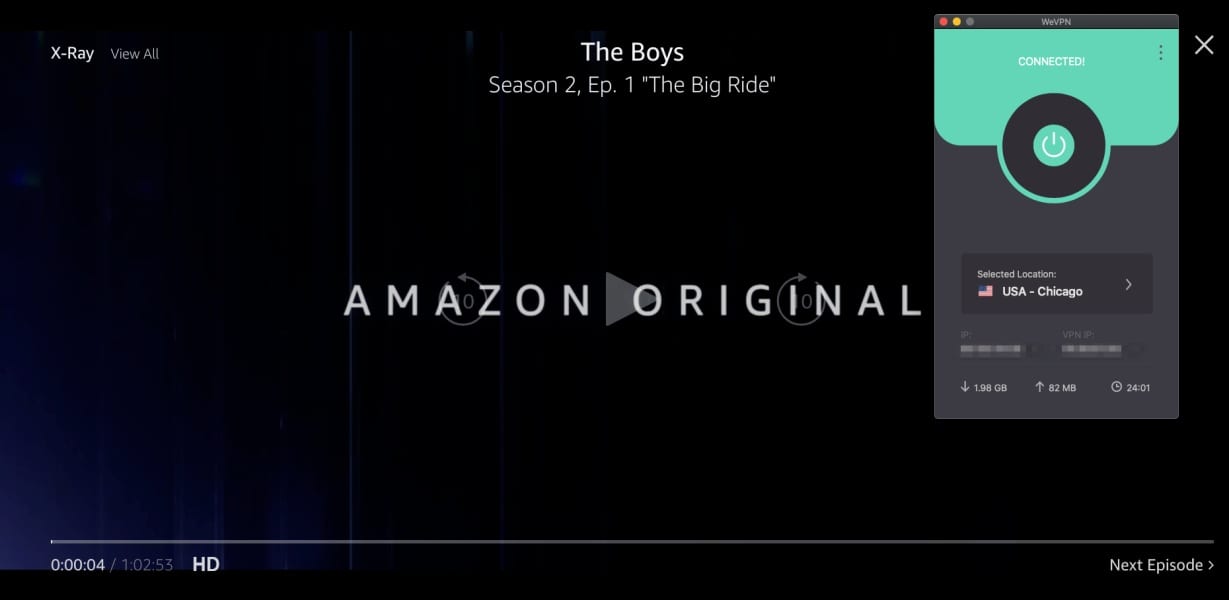 Amazon Prime was WeVPN's third successful attempt at unblocking geo-restricted channels. We had one more test to give it a perfect score, which is with our last channel for this review.
BBC iPlayer
Finally, we conclude our streaming tests with a streaming giant in the United Kingdom. BBC iPlayer has been around for quite some time now, offering everything a streamer could ask for.
From movies and TV series to live TV, anything can be found, including BBC originals. However, just like Hulu, BBC iPlayer only allows access to its service in a specific country, the United Kingdom.
Although in the past BBC iPlayer was very popular abroad as users around the world used to circumvent the channel's geo-restrictions. In fact, more than 60 million viewers streamed the channel's content using Virtual Private Networks or proxy servers.
However, what's in the past stays in the past as unblocking BBC iPlayer isn't an easy task anymore. Even popular VPN providers are having a hard time cracking the defense mechanism iPlayer has put up.
Unlike the other channels, BBC iPlayer does not inform those using a VPN that it has detected the traffic. On the contrary, it gives them the same error message anyone living abroad gets. Take a look at the image below:
"BBC iPlayer only works in the UK. Sorry, it's due to rights issues."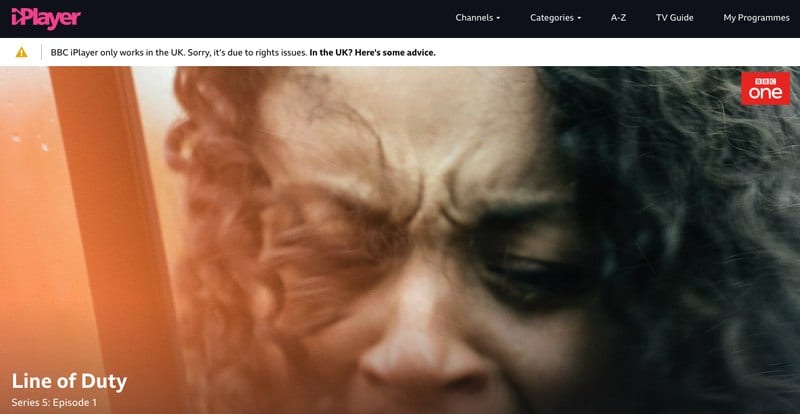 The error appeared a lot in previous VPN reviews. Even if the service managed to unblock Netflix, Hulu, and Amazon Prime, it's not certain that it's going to unblock this one.
With that in mind, we connected to a UK server using WeVPN and launched BBC iPlayer. Next, we clicked on a video and waited for the stream to initiate. A few seconds later, the video was streaming seamlessly.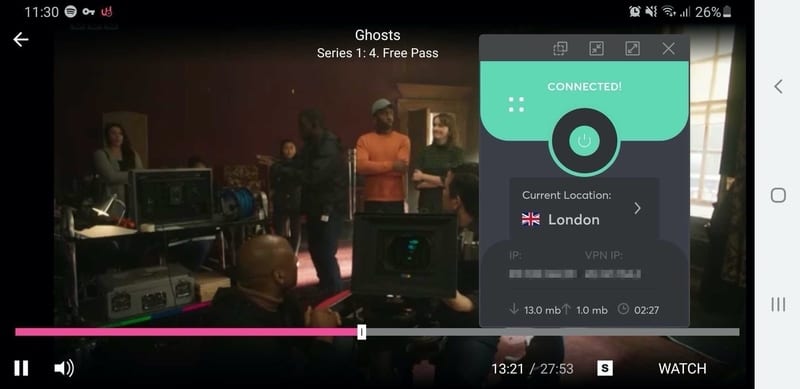 WeVPN has only been around for a couple of months and managed to unblock every major streaming service we tested it with. Some VPNs have been in the industry for years, and they still haven't figured out a way to bypass such VPN blocks.
in our opinion, and based on several tests, WeVPN proved to be an outstanding channel unblocker. We have to note that VPNs are not easy to bypass, and WeVPN uses special technology – WePlay –  to do so.
Smart DNS
No matter how reputable the VPN is or how big its name is on the market, it will always have one thing in common with others – its encryption. Actually, the encryption differs, but what it does to the connection speed is the common factor.
A VPN encryption takes a toll on the internet speed, and so does the rerouting process as the data goes through a different server, which introduces extra travel time for requests and responses.
Moreover, the server users choose to connect to might also have an effect. Imagine connecting to a server that has enough capacity to handle 300 requests at a time, and yet, there are 500 connecting to it.
Most providers have optimized their servers well enough to endure such incidents. However, the speed drop is inevitable, regardless of whether it's noticeable or not.
This can be a problem for those trying to stream content from abroad due to buffering and video quality issues, which is why a lot of VPNs have resorted to an alternative – Smart DNS Proxies.
It's a technology based on using a user's DNS to unblock geo-restricted sites and services. Unlike VPNs, this feature directs a part of a user's traffic – namely, his/her DNS queries to change the location.
No encryption or IP change will be within the process. In other words, users would sacrifice security and anonymity for unblocking content with minimal speed loss.
WeVPN has this technology and it comes as a benefit for dedicated streamers. If they're using official websites to stream their content, no harm can be done even if their security is not enhanced.
WeVPN subscribers can easily set it up on any of their devices, as it's not limited to what the VPN application supports. They can configure it on the likes of Android, iOS, PC, Mac, Apple TV, PlayStation, Xbox, Chromecast, Android TV, and Samsung Smart TV.
P2P Support
Torrenting has become a daily habit for most internet users around the world. It's easy, fast, and convenient since it offers hundreds of newly released movies, TV series, music, books, and so much more for free.
However, this act has its disadvantages, and they all revolve around a user's privacy. Downloading torrents is completely legal as long as the content can be downloaded or uploaded legally without violating any copyright laws.
If that's not the case, users can get themselves into a lot of trouble. For example, the likes of BitTorrent are well known for downloading pirated movies and other copyrighted content.
Here's where ISPs come in. They can know the downloaded files and send warning letters and anti-piracy educational materials to BitTorrent users.
In fact, thousands of users in the US were sued for downloading copyrighted material using BitTorrent. This legal action is widely popular in countries such as the US, Germany, Italy, and France as they are strong opponents of torrenting.
Whenever a user downloads a torrent file, his/her IP address becomes visible to everyone sharing the same file (The Swarm), including Copyright trolls. This is what helps ISPs and copyright holders in their search for those who download illegal content.
Aside from that, cybercriminals roam such websites in search of their victims. They can determine their real address by looking up their IP address, which is totally compromised, as we mentioned before.
To hide such activity and enhance their privacy, users who download torrents should use a VPN. They can change their IP address and download torrents anonymously, evading any cybercriminal and copyright troll.
However, a lot of VPNs do no support P2P actions and can be a threat to one's privacy. WeVPN, on the other hand, has all the green flags for torrenting, as every single server they have is P2P friendly. Their app doesn't show it, but the server list on their website has all the information needed.
Bypassing Censorship
Bypassing censorship has become a very hard task for Virtual Private Networks, mainly in countries such as China, Iran, KSA, and UAE. Such precautions have become an integral part of the internet, and we can't avoid them.
However, with a VPN, users can at least bypass it as long as they're connected. Several sources state that WeVPN is not the right provider to use in such countries. If a VPN is detected by the Great Firewall of China, for instance, it's practically useless.
We took it to their customer support to shed some light on the matter. According to Nathan, WeVPN's agent, they tested the service in both UAE and China. He said that the provider worked normally.
According to the conversation that occurred between us, WeVPN uses OpenVPN over ShadowSocks, which aids in avoiding such censorships. However, when we asked about Iran and KSA, Nathan did not confirm that WeVPN works.
Instead, he stated that it should work unless they use a different system than the one in the UAE and China. In other words, VPNs credibility in this department is questionable, which is why we don't recommend using it in highly censored countries.
Privacy
When we speak of a VPN's privacy, we should first kick off with the provider's location and jurisdiction. This is an essential factor in determining if the provider is safe to use or not.
WeVPN operates straight from the British Virgin Islands, the home of ExpressVPN and SurfShark – two of the top VPNs on the market. This location is perfect for a VPN to set its headquarters in as it's outside the 5/9/14 Eyes jurisdictions.
In other words, there are no excessive government surveillance and data-retention laws to compromise users' privacy, collect their data, and share them with the other countries in the alliance.
Even if WeVPN was in a restrictive region, the provider adopts a strict no-logging policy, laying a great foundation for privacy lovers. Their privacy policy clearly ensures that none of the following data is collected:
Traffic.
DNS requests.
Connection details, including when one is connecting, connected, or disconnected.
VPN session connection details, including timestamp, duration, or location of the connection.
User IP addresses.
User bandwidth.
They also state that they do collect some data, but none of it compromises a user's privacy. WeVPN collects just enough data to make the service run smoothly and without problems.
The data we're referring to is a user's email address, payment data, and crash reports. Finally, we have to mention one of the most important factors in WeVPN's privacy protection.
WeVPN uses the latest RAMDisk firmware and all of their VPN servers are entirely run on RAM. When the power is turned off, all the data gets deleted instantly, which, unlike Hard Drives, allows the provider to shield a user's privacy from possible hacking attempts and data collection.
Security
VPNs are, first and foremost, security tools, so no matter what else they're capable of, protecting a user while browsing the web is their main job. The key to strong security is the VPN's encryption, and WeVPN provides a solid one.
The provider uses the strongest encryption available in the industry, which is AES-256-GCM + SHA512 + MODP4096. It comes as the default encryption level on both their OpenVPN and IKEv2 protocols.
Speaking of, security and privacy are not provided if it wasn't for protocols. They are the tools used to negotiate a connection between the VPN client and the VPN server. Some are better than others, but WeVPN ensures to use the best.
Users of WeVPN's apps have a choice of:
IKEv2
OpenVPN (UDP)
OpenVPN (TCP)
Wireguard
We have to note that these protocols are not available on each device. They vary depending on the operating system the user is operating. That goes specifically for the Wireguard protocol, which is only available on the mobile app.
Users will be connected to WireGuard by default and therefore benefit from its faster speeds and enhanced security settings. Wireguard is said to be the future of VPNs, yet is still new. 
Not a lot of VPNs support it, including the veterans. However, it's a pleasant surprise to see that WeVPN hasn't wasted its time by adding older outdated protocols such as PPTP. They went straight for the strong ones, and we applaud them for that. 
Extra Features:
Aside from military-grade security measures, WeVPN does offer top-notch security and privacy features. While we were evaluating their application, we found the following unique features:
Kill Switch: A technology used to terminate internet access if a sudden drop in the VPN connection occurs. In other words, if the VPN suddenly fails, the kill switch cuts off the internet and prevents any browsing activities from flowing back through the ISP's servers.
WeBlock: This is practically an ad-blocker, which prevents ads from popping up every second and ruining users' browsing experience in the process. However, the technology also blocks malware, viruses, and any malicious software that may target a user's device.
Split-tunneling: The feature allows users to choose the app they want to use a VPN connection on, i.e., use the VPN-given IP and native IP concurrently. For example, they can use the borrowed IP address to watch Netflix and use their local IP to access their local online store simultaneously.
Security features and encryption are very important when it comes to evaluating a VPN provider. But that doesn't mean that it's safe already. There's still more to check, and it's represented in the following tests:
Virus Scan
Before we think about protecting ourselves from malicious entities on the internet, we should consider protecting ourselves from the VPN app itself. In fact, we should always check if the app has viruses or malware before we install it on our device, regardless of whether it's a VPN app or another.
Official App Stores have thousands of apps, and even though they scan them with top-level technology, some of them might still be tools for cybercriminals in disguise.
When the users install such apps, their device gets infected, and their data gets harvested by the attackers. That's why we always run the app we want to download through virus scans before we set them up on our device.
WeVPN is no different, which is why it, too, got a virus scan of its own. The provider was doing an excellent job so far in our evaluation, and it continued its winning streak in this department as well.

We scanned the Mac WeVPN installer for malware, viruses, or any malicious software. According to 59 credible sources, WeVPN is completely clean and safe to use.
DNS Leak Test
When using a Virtual Private Network, all traffic originating from a user's computer is routed through its network. The VPN's main job here is to encrypt the data, anonymize it, and hide it from online entities such as ISPs and cybercriminals.
However, despite implementing top-level encryption and using kill switches, a slip-up might occur, leading to a DNS leak. If the user's traffic leaks outside this secure tunnel, anyone monitoring the connection will be able to log the user's activity.
What's worse is that the VPN would give the illusion of browsing the internet safely, when in reality, the user would be compromising everything without even knowing.
A lot of VPNs in past reviews have recorded DNS leaks, which is why we made it an essential part of our evaluation process. We tried WeVPN's US server and tested it to check for such leaks. The provider showed nothing but excellent results.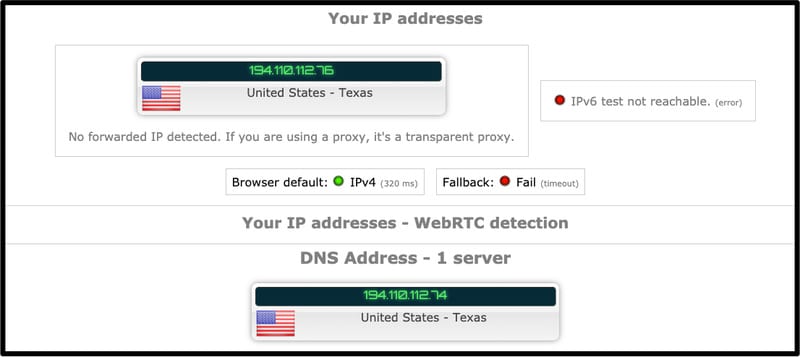 As seen in the image above, everything is in place. Both our IP address and DNS address belong to the WeVPN server we're connected to, which means that no leaks are present.
Now, to dig even deeper, we ran the same server through a WebRTC test. That way, we'll know that no hidden leaks are happening without us even knowing. We used our tool to check for leaks and the results were great: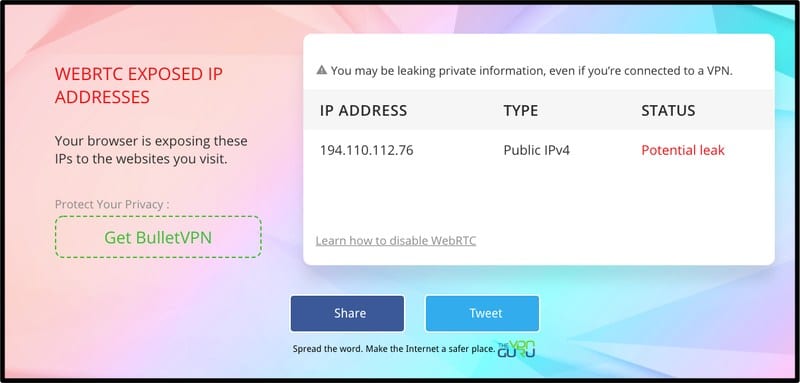 It might seem suspicious as according to the image, there's a potential leak. However, the IP address shown above is the one assigned to us by WeVPN, which does not compromise anything related to us. So far, in the security department, WeVPN owns it.
Independent Auditing
A zero-logging policy is probably the first thing we look for in a VPN. All of the providers state that they have one on their website. However, not all of them live up to it.
That's were third-party auditing comes in. Such practices help verify that the VPNs no-logging claims are true or that all its privacy protections are being adhered to correctly.
As of now, WeVPN's no user logging policy has not been independently verified. Well, we weren't surprised at all, given how young this provider is.
On the other hand, WeVPN does have a strict no-logging policy, and they do keep some minor data that doesn't compromise the user's privacy or identity.
Not to mention that their privacy policy clearly states that anyone can request the deletion of any information held by the company if they wish to convert to another provider.
Warrant Canary
When it comes to VPN providers, transparency is the most important thing, especially when it comes to privacy. If a VPN stores data, there's always a possibility that the authorities might request it.
In countries with high censorship, such incidents are bound to happen. Not to mention that if a VPN is based in one of the 5 Eyes' countries, it's required to submit the data if it received a gag order.
However, as a precaution, most top providers have added a warrant canary section on their websites. This is an indirect way to inform its customers that the company has been served with a subpoena or secret request by the authorities to give away user data.
The term canary is based on what miners used to do back in the day. Before they started working, miners used to send birds into mineshafts to make sure that there are no toxic gases.
With VPNs, the warrant canary is updated regularly. If this stops, it means that the company has been served with a secret gag order and customers can indirectly know what happened.
A VPN should have such a feature to ensure transparency and accountability. However, WeVPN does not have a Warrant Canary, but it does have a strict no-logging policy.
Also, it operates RAM servers, which means that the data gets deleted as soon as the server is shut down, ensuring that nothing remains for future collection attempts.
Customer Support
A provider's support is one of the most essential factors in our reviews. We always start by contacting them to see how fast and reliable the team is before we proceed.
WeVPN's support has been praised a lot, based on sources, at least. However, our experience wasn't that smooth at first, despite the good end result.
WeVPN has a live chat option, which is probably the most efficient way to aid its customers. Their website states that they operate 24/7, but that wasn't the case with us.
The live chat feature can be seen floating on the lower right part of the screen. When we clicked on it, we were surprised to see a ticket form. No live chat appeared.
1 hour later, we checked again, and the live chat section was there. We asked the agent about their live chat timing; he did mention that it's 24/7. However, according to Nathan (WeVPN support agent), the live chat feature is disabled if the agent isn't available at the moment.
To be honest, that's the only hiccup we encountered with their support. After that, Nathan was with us the whole time, answering all our questions within 10 to 15 seconds, which is extremely fast.
Moreover, Nathan was knowledgeable, polite, and extremely professional while fixing our problems. That aside, WeVPN also has an email option for those who are not in a hurry.
With some providers, an email is responded to within 1 to 2 business days. We sent WeVPN an email regarding the live chat issue, and they responded within 1 hour and 10 minutes. Not to mention that users can join their Discord page and share their problems with both staff and other customers at the same time.
We can confirm that aside from the minor hiccup, we had an amazing experience with the members of the WeVPN support team.
Languages
WeVPN's website is very easy to browse, especially since everything is presented as it should be. But that doesn't suit everybody, especially those who do not speak the English language.
Top VPN providers allow visitors to change the website's language to whatever suits them best, offering about 14 languages in total. On the other hand, some providers only present their websites in English, and WeVPN is one of them.
The VPN is still new, and based on what we've seen so far, it has a lot to offer in the near future. Hopefully, it will add more languages to its website, as well as its applications.
Pricing and Plans
To determine whether the VPN has good pricings or not, we have to look at the plans it offers and if the price matches the services it offers. In other words, if the features are not enough to justify the price it comes at, we're practically spending money for no reason.
In WeVPN's case, we think that we're not paying for what we're getting. Instead, we're paying for getting so much more than that. WeVPN offers top services with a lot of features for a small price in-return.
For $4.99/month, users can benefit from 10 simultaneous connections, kill switch, split-tunneling, WeBlock, military-grade encryption, and unlimited channel unblocking.
That's a very cheap price compared to the competition. That's not all. It gets better when the longer the plan is. Here, take a look at WeVPN's subscription plans:
1 Month: $9.95.
1 Year: $2.33/month, billed $39.95 every year.
2 Years: $2.69/month, $69.95 biannually after the first 26 months.

The 2-year plan is the most popular one as new customers will be saving 73% in the process. So, it's quite clear that WeVPN is affordable, but at the same time, efficient and full of benefits.
Payment Methods
Giving customers' a wide selection of ways to pay for the service is a neat business trick. The more payment options a user has, the higher the probability of him/her subscribing to the service.
With WeVPN, credit cards are available, as well as PayPal, Amazon Pay, and Cryptocurrencies. The image below represents every single payment option that WeVPN supports.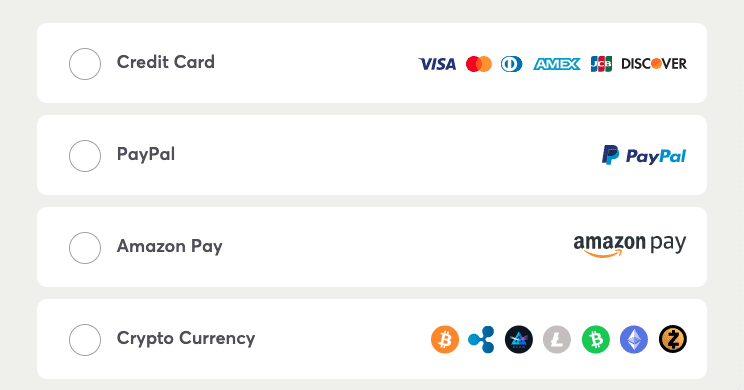 Please note that cryptocurrency is always an added plus, given that the use of Bitcoin or Litecoin allows users to pay for the service anonymously.
Money-Back Guarantee
Despite its affordable pricing plans, WeVPN offers its new customers a way out in case the service doesn't live up to their expectations. Just like many other VPN providers, WeVPN has a money-back guarantee.
This means that if the service wasn't good enough for the customer, he/she could ask for a full refund within a certain period of time. Top providers offer a 30-day refund policy, and WeVPN joins this mix.

There are a lot of providers that come with either none or a short period policy, which is not enough for a user to give the service a try. WeVPN's 30-day refund policy ensures how proud the service is of its product, which we can't argue with at all.
Free Trial
While a refund policy is a good way to test a service out, getting the chance to test out a VPN for free would be even better. The moment we got the WeVPN application on our Samsung phone, a 7-day free trial notice popped up. We clicked on the signup button, but we got what we're used to getting with other VPNs – a page asking for our credit card information.

We've come across a lot of VPNs that do this, and that's mainly because users abuse such a service. They keep creating new emails to benefit from the free trial, which, in return, damages the VPN's service in many ways.
We don't consider this kind of free trial to be efficient as it goes against what the term "Free" actually represents by asking for the users' credit card information.
WeVPN Review – Final Words
It's time to conclude this review with a few words about the VPN and to answer the question you've all been waiting for. WeVPN offers a lot for a cheap price. It has security and privacy and unblocks all major streaming services.
Also, they have an outstanding support team and creative app design. Do we recommend it? For the price and the features that come along with it, definitely.
However, the VPN is still new, and the server network is still relatively small, which doesn't give WeVPN a chance to be on the level of other leading companies on the market.
It will definitely be a worthy competitor in the future, and based on what we've seen, it has already started the competition. Now, it's up to you to check the review and make your decision. Let us know what you think in the comment section below.
WeVPN Review
VPN Apps

Support

Access to Geo-blocked Content

Security and Privacy

Server Network