VPNs are becoming more and more popular, no matter where a user resides. In fact, in 2020, it's been reported than more than 26% of internet users surf the web using a Virtual Private Network. However, maintaining privacy and security is no joke, which is why a good and reliable VPN is required. With the wide variety of VPN software on the market, one would fall for any VPN, be it credible or not. We at The VPN Guru try our best to narrow things down for users, which is why we come up with detailed VPN reviews. Today, we'll be looking at OVPN – a popular provider that focuses on protecting online users. But how does this VPN fare compared to other giants? Does it have what it takes to compete in the industry? Let's find out in this OVPN review.
OVPN 2020 Review – Content Index
Reviewing a VPN requires a lot of tests in terms of speed, applications, security, privacy, unblocking capabilities, and pricing. We ran OVPN through our strict evaluation process to see how the provider fares in this competitive industry. Here's what we got:
Quick Stats
| | |
| --- | --- |
| Money-back guarantee | 10 Days |
| Allowed concurrent connections | 4 Devices |
| Supported streaming services | Netflix |
| No logs policy | Yes |
| Encryption | AES 256 encryption |
| Security Protocols | OpenVPN, WireGuard |
| Special features | Kill Switch |
| Customer support | Live Chat |
| Server locations | 17 Countries |
| Number of servers | 89 servers |
| Server Switches | Unlimited |
| Supported devices & web extensions | Android, iOS, PC, Mac, Routers, Chrome, Firefox, and Vivaldi |
| VPN legal jurisdiction | Sweden |
| Free Trial | None |
OVPN Review – Pros and Cons
No VPN is perfect. It's inevitable to have some negative factors in a certain service, no matter how credible the VPN is. OVPN has a lot of pros to mention, but it sure does have its flaws. Before we take off with this review, let's give our readers a quick idea about what OVPN really is:
Pros:
Easy-to-use app.
Military-grade encryption
Unblocks Netflix
Unlimited bandwidth
No-logs policy
Kill Switch
DNS and WebRTC leak protection
Legal Insurance
Multi-hop
WireGuard
RAM Storage
Transparency reports
Browser extensions
P2P support
A variety of payment options
Cons:
Small server network
No Smart DNS
Doesn't unblock Hulu, Prime Video, and BBC iPlayer
10-day refund policy
Live-chat support is not 24/7
No apps for Android and iOS (Uses OpenVPN Connect)
Ad-blocker only available through browser extensions
OVPN Review – The Apps
A VPN's simplicity is one of the essential features it could provide, especially to users that don't know their way around complicated apps. OVPN offers a mix of both as it differs based on the platform.
We downloaded OVPN's application on Mac and Android to see how well these clients work, how simple they are, and whether OVPN's features are all included.
Before we head over to the applications we got, we have to note that OVPN has browser extensions for Chrome, Firefox, and Vivaldi. According to their website, an extension for Opera is on its way.

Mac
First, we got the Mac client, which was very easy to use. The app was easily downloaded via their website. Next, we signed in with our credentials, chose a server, and established a connection within seconds. It was that simple, nothing tech-savvy, which means that anyone can use the app without a hitch. Here's how the Mac client looks like:
As we mentioned, the app is very easy to navigate. The Settings section allows us to enable any of OVPN's features. There's also a kill switch, which is one feature that always makes a VPN stand out.
The feature kills the internet if a drop in the VPN connection occurs, not allowing data to flow back through the ISP's servers in the process. Other options include IPv6, compression, and streaming services' activation.
Note that compression is a technology that helps speed up an internet connection. However, it might lower the extra security layer users have on with it disabled.
As for using WireGuard, which is very rare in the VPN industry, we needed to download the Wireguard application from the App Store.
Mobile
Usually, Android and iOS applications are the easiest to operate. However, with OVPN, things can get a bit tricky for those who don't have enough technical knowledge. The Android approach is a bit raw, which means that we had to do everything to connect.
Users will have to download and import the servers manually from their website. When we got ourselves an account, we visited the website and went to the Android setup guide. The download files for each server were there.
Now, on Android and iOS, there's no OVPN app. To use their OpenVPN servers, we needed to download OpenVPN Connect. Once we got the app, we imported the servers we were going to use. This is how it looks like:
It might seem a bit technical, but once we got the servers all imported to the app, everything else was seamless. Speaking of seamless, we noticed that a kill switch is not available. However, as we searched the app, there was a feature called Seamless Tunnel, which is the app's kill switch.
Android
In this section, we're going to be giving you an exclusive look at OVPN's Android application. It's still in its beta stages, so there's nothing too grand about it and it still lacks some of the main features.
The Android app is very simple and the connection process was very fast. In fact, upon pressing on the connect button, OVPN managed to establish a connection instantly. As we mentioned, no features are included yet, but all the servers in the 17 countries are there.
As of now, this is how the OVPN application looks like:
The app's design is nice and the navigation is very easy. Again, there are no features to enable, but users can check OVN's Privacy and Transparency policies, as well as their terms of service straight from the app's settings.
OVPN is still working on its Android application, so stay tuned to further updates as we'll be reviewing it once the official version is out.
App Store Rating
App Store rating is very important as users get to share what they went through while using a certain application. On the iOS Store, OpenVPN Connect scores a solid 3.9/5 rating based on 2.6K reviews, which is considered to be good.
However, based on a review by an iOS user, OVPN had a lot of problems during the connection progress. The review stated the following:
"This app was reliable. No more. Since the new graphical interface came, it acts so poorly. I often encounter issues when the app can't connect to the VPN server at all. Mostly happens when I've turned off cellular data and using wifi when I activate cellular again I'm unable to connect to the VPN server through cellular.
And with this new graphical interface, the amount of info given on the screen has been reduced. We no longer see the amount of data sent or received live. I use the app every single day for most of the time I am using the internet. It's very, very disappointing."
Everyone shares their personal experience while using a certain product. During ours, nothing of the sorts occurred, and OpenVPN Connect using OVPN's servers worked perfectly without disconnecting even once.
As for the ratings on Google Play Store, OpenVPN Connect seems to have gained more popularity than it has done on iOS. The OpenVPN application has been downloaded more than 10 million times, and it has a rating of 4.1/5.
There are a couple of negative comments on Android as well, but the overall rating is better than the one on iOS. Apparently, Android users are more satisfied with the OpenVPN application than those operating iOS.
Trustpilot
For those who seek honest reviews on products, Trustpilot is one of the most credible websites they can use. It allows users to review the product based on their personal experience, and it penalizes any fake review that's aiming to boost the product's rating.
A very popular VPN was penalized by Trustpilot for committing such an act a while ago. That's why we take what Trustpilot has to say seriously and we use it in all of our reviews.
As for OVPN, the provider isn't that popular on Trustpilot. In fact, it only got a 2.9/5 rating, marking it as an average VPN.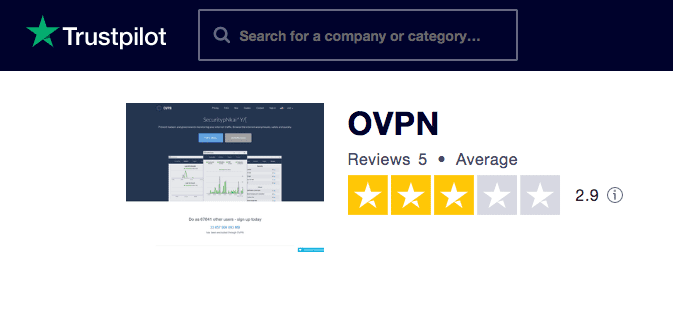 According to one of the reviews, OVPN has major privacy issues, especially when it comes to disclosing user data to the government. This is what the review had to say:
"They release "transparency-reports" stating that they have never responded to any requests from law enforcements, even though there is evidence that they routinely disclose customer data to Swedish Police in Swedish Court Documents."
Being based in Sweden is alarming when it comes to user privacy and we'll be talking about that later on in the article. As for disclosing data, we haven't found any reports about that, despite the user stating that there is evidence.
In our review, we found nothing of the sort. From beginning to end, OVPN is a privacy-focused provider. This only means two things: It's either a dissatisfied customer or a competitor company trying to bash the VPN's reputation by posting fake reviews.
Server Network
Probably not the biggest or best server network in the industry, but OVPN manages to cover key countries across the world. The service boasts 26 server locations across 17 countries, and according to their website, these help users achieve the best in peering capabilities, reduce latency and increase speeds.
Austria
Canada
Germany
Denmark
Finland
Amsterdam
Romania
Sweden
Australia
Switzerland
Spain
France
Japan
Norway
Singapore
The United States
The United Kingdom
Based on what we've seen in previous reviews and on the VPN market, OVPN pales in comparison to other providers. Top VPNs offer thousands of servers across 50+ countries, which makes OVPN's server list very small as it lacks the wide variety of options to choose from.
Speed Performance
A VPN's encryption grants security, but it does take a toll on the internet speed. Top VPN providers optimize their servers to be able to maintain the fastest connection possible.
Technically, a slow VPN isn't recommended since a user's browsing experience might get ruined, especially if he/she is trying to stream geo-restricted channels.
Now, to check OVPN's credibility when it comes to speed, we performed a couple of speed tests using several servers. This is what came out of this evaluation:
First, the screenshot below represents our connection without using OVPN.
Next, we connected to a nearby server. The results were ok, but not that great. In fact, our internet speed suffered a 68% drop.
A server in Germany gave us the same exact results as the French one did. Technically, they're both considered as nearby servers, so we kind of expected these recordings.
After that, we used OVPN's only UK server. Speed is essential here since the UK is the home of several top streaming services. However, the speed test recorded a huge drop in the connection. To be exact, our connection to a 71% hit.
We also tried an American server, but for some reason, everything crashed. The speed test engine stopped working, asking us to check our connection in return. You can see the results in the screenshot taken below.
The final test we performed was using an OVPN Australian server. Among all the servers, this one had the worst result. We witnessed the biggest drop as our connection slowed down by 92%.
Compared to what other VPNs offer, OVPN's speed isn't that good to praise. If the speed drop ranged between 50 to 60 percent, it would've been acceptable, but OVPN's Australian server caused a 92% drop, which will definitely ruin a user's browsing experience.
OVPN Review – Streaming Capabilities
Unblocking geo-restricted content and accessing streaming channels all over the world is part of a VPN's primary job. A Virtual Private Network, in general, changes a user's IP address and spoofs his/her location to a destination of his/her choosing.
Of course, with OVPN, the choices are somewhat limited as we previously mentioned that it has servers in 17 countries only. However, the supported countries host the best streaming services in the world, including the likes of Netflix, Hulu, Amazon Prime Video, and BBC iPlayer.
Back in the day, accessing these streaming services was very easy. But now, it has become very difficult to do so as they started blocking VPN traffic. If the VPN isn't credible enough, the access will be terminated almost instantly.
That's why, in our review, we take this section very seriously. Some VPNs fail to bypass the VPN blocks these services apply. Therefore, we conducted a few tests using OVPN to see how the provider fares against the streaming giants mentioned above. Here's what we got:
Netflix
Probably the hardest channel to acquire abroad as it boasts one of the toughest VPN blocks in the industry. Netflix, the most popular streaming service in the world, now has more than 182.8 million subscribers, marking the channel as one of the world's largest entertainment platforms.
Unlike some other streaming services, Netflix is not restricted to a specific country. On the contrary, Netflix is available across 190 countries. What's geo-blocked, though, is its content. The channel assigns a certain catalog to each country, unavailable in the other. In other words, what users get to stream may vary by location and will change from time to time.
For example, in Canada, users get a different catalog than the ones in the United Kingdom. Among all the regions where Netflix is available, the US is by far the best and richest one. With a US IP address, the US version of Netflix can be anyone's provided they work with a VPN that's capable of unblocking the channel, to begin with.
A lot of VPNs have failed to get the job done, and the users operating them were greeted with the following proxy error.
"Pardon the interruption. You seem to be using an unblocker or proxy. Please turn off any of these services and try again. Error Code: M7111-5059."
Now that we provided our readers with the proxy error they might get if their VPN is not credible enough for unblocking Netflix, let's find out if OVPN falls into that category.
The Test
We launched the OVPN app, and we established a connection to an American server. A few seconds later, we signed in to Netflix and searched for a title that's only available in the US – Norm.of the North: Family Vacation.
Finally, we selected the movie and OVPN was successful as no proxy error was witnessed.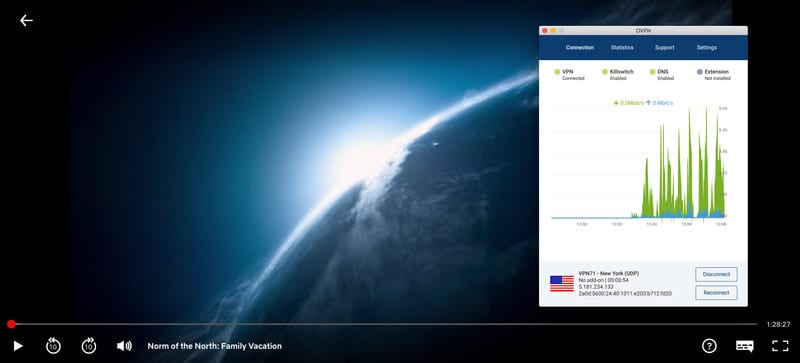 Apparently, what OVPN stated on its website is legit. They did say that they're able to unblock American Netflix, and based on our tests, it's true.
Hulu
Hulu is yet another top streaming service with over 30 million subscribers in the United States. What differs with Hulu is that it's only available in the United States – nowhere else. Hulu requires an American IP address.
Without it, the channel will block any access even if a valid subscription is available. As we mentioned, this is geo-blocking, one of the easiest ways to meet the licensing terms. Once the channel determines that the traffic is coming from overseas, it will show this error message instead of the desired video.
"This isn't available to watch in your location. Your Live TV coverage, including how it's determined and what's available (and when) may vary based on different factors. Hulu Error Code: P-EDU122."
Some users might say that it's easy to get a US IP address and access Hulu no matter where they reside. Technically, a US IP is all they need, but it's not that simple courtesy of Hulu's very strong VPN blocking. Just like Netflix, Hulu is able to determine VPN traffic, and the VPN's challenge is to bypass that.
When we tested OVPN, the results weren't satisfying at all. Apparently, no matter what American server we connected to, OVPN was never able to unblock Hulu in our region. Take a look at what we got in the image below.
"It looks like you're using an anonymous proxy or VPN. You'll need to disable it to watch Hulu. Hulu Error Code: P=EDU101."
Well, OVPN managed to hit a small snag along the way, but will it stay down with the other streaming services we tested it on? Let's find out.
Amazon Prime Video
Amazon Prime Video is also one of the biggest streaming services in terms of content and popularity. The channel has around 150 million subscribers around the world, with 120 million of them in the US alone.
Unfortunately, despite offering thousands of movies and TV series, many of the titles are restricted by the country or region a user resides in. That's, of course, excluding countries like Iran, North Korea, Mainland China, and Syria, where the channel is not available at all.
Just like Netflix, Amazon is available on a global scale, yet its content library isn't. The service's geo-blocking mechanism works by assigning a specific catalog to each region, which means that some titles won't be available if a user travels to a different country.
If a streamer already has a video ready and traveled to a different country where it's not available, this error message will appear.
"This video isn't available due to geographical licensing restrictions. Error: 4601."
So far, the US library is the richest, and with a US IP address, streamers can access it instantly. But there's one more problem they have to worry about – Amazon Prime Video's VPN block. The service is very effective at blocking VPNs with very few providers consistently beating the VPN ban.
The Test
Does OVPN belong to that VPN category or will it be blocked just like most did? During our tests, we connected to an American server and launched the Amazon Prime Video application.
Upon choosing the video we wished to watch, the app presented us with the following proxy error message:
"Your device is connected to the internet using a VPN or proxy service. Please disable it and try again."
Here's yet another streaming service that OVPN was not able to unblock. Will it be able to get the job done on our next channel? The answer is next.
BBC iPlayer
BBC iPlayer is the final channel we're going to be testing in this review. The service is one of the biggest in the United Kingdom, and it's only available in that region. Back in 2019, BBC iPlayer got more than 4 billion requests to stream programs for the first time ever, rounding up the year with an all-time record high of 4.4 billion requests.
The best part is that BBC iPlayer doesn't only get requests from the UK. According to their official website:
"Analysts estimate 65 million people regularly access the BBC catch-up TV service using virtual private networks (VPNs) or proxy servers."
Now, of course, these requests are successful for a reason. The VPN used to unblock the channel abroad is credible enough to get the job done. It's not just about obtaining a UK IP address; the VPN has to bypass the VPN block.
The on-demand service employs one powerful anti-VPN software. Even the best-known VPNs don't work with iPlayer, and according to our tests, neither does OVPN. We've seen previous reviews showing how the provider works well with iPlayer, but apparently, now it doesn't. Here's what we got when we connected to OVPN's only UK server.
BBC iPlayer only works in the UK. Sorry, it's due to rights issues.
Being unable to access the top streaming services above puts OVPN behind other providers in the unblocking territory. However, aside from those, OVPN managed to unblock US Netflix, which is a very hard task for many VPNs in the industry. Moreover, OVPN is able to access the likes of HBO Nordic, C More, TV4 Play, and SVT Play.
Smart DNS
Smart DNS proxies are an effective alternative for VPNs in terms of bypassing regional restrictions and accessing content around the world. A VPN's encryption causes speed loss, and speed loss might affect the streaming experience if the provider cannot maintain excellent speeds.
That's where Smart DNS comes in as it doesn't encrypt user data, nor does it change their IP address. It simply reroutes some of the user's traffic, tricking the channel/website into thinking that they reside within its coverage area. This grants them access to the service, and they can stream the service's content with minimal speed loss.
As we mentioned, encryption is not included with Smart DNS, so users will be out in the open with no protection. But if they're just looking to stream content from official websites or apps, it shouldn't be a dangerous thing to do.
Now, as for OVPN, the service does not provide Smart DNS, and apparently, it's not willing to add the feature anytime soon. Based on a conversation with their support team after we asked about Smart DNS availability:
"No, as of now there are no plans for this. We use a circumvention method for certain streaming services."
Smart DNS has become a key feature in most VPNs' arsenals. Not having that give competitors an edge over OVPN as it only allows users to bypass restrictions using its VPN servers only.
P2P Support
Torrenting is yet another hobby for most internet users nowadays. It allows them to download movies, TV shows, books, and even music with ease. However, as convenient and effective torrenting is, it's also very dangerous to a user's privacy.
Downloading a torrent file compromises a user's IP address as it becomes visible to whoever is sharing the same file. Not to mention that in some countries, torrenting is considered illegal since it violates copyright laws.
An IP address can be used to track down the user's whereabouts, but with a VPN, they can conceal their identity and download torrent files anonymously and freely.
Most VPN allow torrenting actions on specific servers, while some don't tolerate it at all. OVPN allows such P2P actions across all of its servers, and the strict no-logs policy they adopt means it's safe for torrenting as well.
Privacy
We kick off this section with the company's headquarters. OVPN is based in Sweden – a country within the 14 Eyes Alliance. This raises some questions as the company is required to share any information it collects on its customers with other members of the alliance.
However, before we start pointing fingers and raising questions, OVPN is very clear about its logging policy. In fact, OVPN stores no logs on its users. According to their privacy policy, no personal data or online traffic gets harvested and logged.
Aside from their no-log policy, OVPN is one of the few VPNs that don't operate with a hard drive. It's kind of outdated, so they use RAM storage instead to ensure that every chunk of user data is wiped when they reboot the systems.
Moreover, the provider disables OpenVPN's write privileges and Syslog, which ensures that not even temporary logs are created anywhere in the RAM.
As we mentioned in the app section, OVPN provides features such as Kill Switch. With that, the provider safeguards users' data from data leakages if an unexpected drop in the VPN connection occurs.
Finally, aside from not keeping any logs, the service has legal insurance that aids it in fighting off legal requests by government agencies that might request user logs for any reason whatsoever. To be honest, this is the first time we've heard of anything of the sort done by any VPN in the industry.
Ad-Blocker?
Not having an ad-blocker on their applications was a bit disappointing. However, we did notice that their browser extensions offer the feature instead. This protects users from hackers, cookies, malware, and of course, ads.
If they add this feature to their applications, it would definitely elevate their status in the VPN industry.
Multi-Hop
So far, we've seen a lot of privacy features, and OVPN is checking all the boxes next to them. That's excellent in a VPN as it shows how dedicated it is to secure users' privacy and security.
But the list keeps growing as OVPN also offers a Multi-Hop feature for an extra fee. It's commonly known as Double-VPN, a technology that allows users to connect to two servers instead of one at the same time.
The encryption we get is doubled, and the data sent and received becomes harder to track or decrypt. However, while it enhances everything privacy/security-related, it does take a toll on speed.
The Piratebay Incident
A while ago, the Rights Alliance in Sweden targeted Swedish ISP Obenetwork. This anti-privacy thought that the ISP had ties with The Pirate Bay (TPB). They wanted to examine the IP address of the platform and trace back to locate its servers.
The Rights Alliance also told the court that Obenetwork could destroy evidence if measures are not applied immediately and demanded that it should be fined over $10,000 if it doesn't comply with the injunction.
The ISP replied to the allegations and stated that the IP address did not belong to them. Instead, it belongs to the Virtual Private Network OVPN. Here's what they said:
"The IP address that The Pirate Bay [allegedly] uses in our network belongs to the anonymous VPN provider 'OVPN.se'."
After the comment, OVPN did indeed declare that the IP is one of theirs. Whether ThePirateBay was ever one of its customers has not been confirmed, though. OVPN's owner, David Wibergh, confirmed that the IP address belongs to the company's IPv4 add-on. It is bought anonymously, and users can alter their IPv4 addresses at any time. In other words, it's impossible to track.
Add to this OVPN's no-log policy, and they get nothing that can be investigated. In the end, the Rights Alliance and the movie companies' attempts were all in vain. We still don't know whether OVPN had ties with TPB or not, but if they did, TPB chose the right VPN to work with.
Security
OVPN doesn't kid around when it comes to security. The provider uses 256-bit encryption with a 4096-bit RSA authentication key. It is the industry-leading encryption and the highest possible one available to shield user data as it leaves their devices to its destination, and vice versa.
The service also uses perfect forward secrecy – a technology that resets the encryption keys every time a user logs in. These are some technical terms we're using, but we have to note that it's very important as it leaves no data trail or link between previous sessions and new ones.
As for protocols, we can only talk about two. OVPN obviously supports OpenVPN UDP/TCP on all compatible devices, especially since it's only functional using the OpenVPN Connect app on Android and iOS.
So far, OpenVPN is the most up-to-date protocol, offering security and fast speed. However, there's also the new popular protocol WireGuard. Now, no matter what platform users are operating, WireGuard's application has to be downloaded separately.
But still, the provider supports it, which gives it an edge over its competitors. And that's it. These are the protocols OVPN has as there are no more options to choose from. In other words, OVPN does not support the likes of IKEv2/IPsec, PTTP, and L2TP.
Now, these features are important, and OVPN has proven worthy of protecting its customers. But is that all? Not quite. We performed a couple more tests to check this VPN's credibility, and this is what we got.
Virus Scan
Scanning software for viruses before installing them on our devices is an important step to take. This prevents any embedded virus, malware, or malicious software from invading the device's systems.
Some applications pose as legit apps on official App Stores, but in reality, they're just malware created by cybercriminal to infiltrate devices and harvest user data. For example, we reviewed several VPNs that had Trojan embedded within them.
For better security and to prove that a VPN is completely clean, we always run their installer through a Virus Scan, which is precisely what we did with OVPN.

As seen in the image above, OVPN is clean based on 58 credible sources. No malware or virus in the installer and everything passed the tests with green colors.
DNS Leak Test
Domain Name Server or DNS is the technology used to translate domain names into IP addresses. Users might not know this, but within the internet, the language comes in numbers, not letters.
Since it's the address book, it has an effect on everything a user does online, be it browsing the web or operating an app. A DNS leak is where a VPN fails to protect the lookups you do online, even when encryption is present.
In other words, the VPN would be a false sense of security while private data is leaking. We went ahead and tested if OVPN is leaking any data while connected to one of its servers in the United States.
The IP address above and the DNS servers are all in the United States. All the results are perfect, which indicates that OVPN does not leak user data. We also wanted to see whether OVPN causes WebRTC leaks or not, so we used our own test engine while connected to a US server.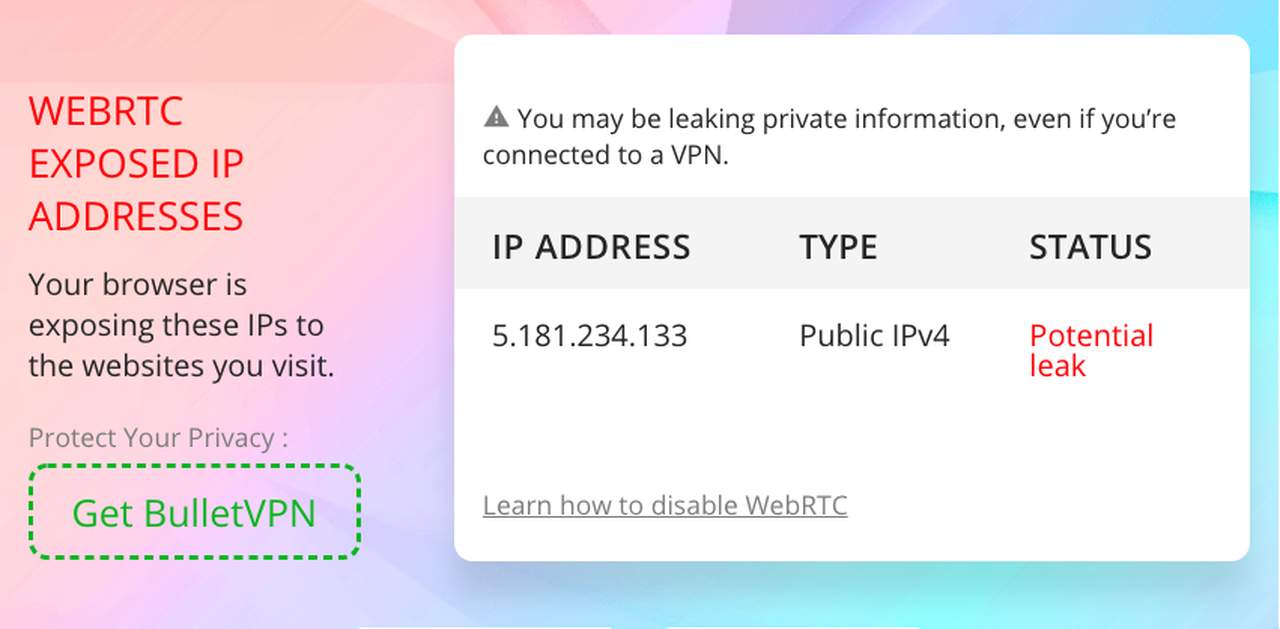 Our IP address is shown to be in the US, and nowhere is our actual one exposed. The test might have said that there's a potential leak, but the only IP address showing in the image above is the one provided by OVPN.
Third-Party Auditing
Independent audits are also a credible way to check how reliable a VPN is. Most VPN allow security firms to run tests on their product to further enhance the customer's trust in their transparency.
So far, OVPN hasn't had any security firm check out their security features and test their privacy claims. However, from what we've seen up till now, the provider cannot be any more transparent when it comes to protecting users' privacy.
WireGuard
WireGuard is the new popular VPN protocol that creates secure point-to-point connections in routed or bridged configurations. It's still new, but it provides a VPN that is both simple and highly effective.
Not a lot of providers offer WireGuard, but OVPN does. However, WireGuard's application has to be installed first if users want to make use of this special technology.
On our Android, we downloaded the WireGuard app. As mentioned above, OVPN does not have clients yet on the platform, which is why they use OpenVPN Connect as well.
We had problems at first while downloading the files as they were only downloaded as .txt. The WireGuard application did not accept such a format. We contacted the support team and they were very helpful.
The support agent told us to use our PC, sign in with our account, and scan the barcode using the WireGuard application on our Android. As a result, we got a WireGuard connection.
We were able to choose any country OVPN has servers in. That means users can operate with WireGuard using servers in 17 countries. WireGuard is a great addition to a VPN service. Although it's new, it promises better security and faster speeds than OpenVPN itself.
Warrant Canary
Despite being a privacy tool, a VPN can compromise an individual's identity by giving up identifiable information about them. In some countries, VPN services and other entities can be served secret gag orders, such as government subpoenas or national security letters.
When we say secret, it means that the customers are not allowed to be informed of such warrants. It's even illegal to notify them. However, some companies bypass that by issuing Warrant Canaries. These are regularly published statements, ensuring that the service has not received such warrants.
If the VPN does recieve such a request, the warrant canary statement is removed or becomes outdated. The provider has to regularly update the statement; otherwise, their customers might think that their data has been breached.
While OVPN does not have a Warrant Canary, they do publish monthly transparency reports detailing any requests of information from government agencies. To be honest, we've never seen any VPN do that ever since we started reviewing products.
Customer Support
Customer support is one of the key attractions to customers. This doesn't just include VPN providers; every company should have efficient, professional, and friendly customer support – it blooms the business.
When it comes to VPN services, a live-chat feature is always the best thing that can be offered, and OVPN delivers in that department. However, despite having live-chat support, it's not 24/7, which puts OVPN behind other top providers.
According to their support team when we asked them if they offer 24/7 support:
"No, we don't offer 24/7 support. As of now, the support hours are based 07:00 – 16:00 UTC."
They don't work on weekends as well. That's not the only drawback we encountered. Live chat support is supposed to be instant, and their's isn't. When we sent a message, the chatbox informed us that OVPN usually takes up to 30 minutes to respond.
During our test, it took them less than that, but it was still not instant. The response took almost 10 minutes, which is faster than they had stated, but slower than what it should be.
Moreover, a chat window is available within the desktop application. It makes it easier and more convenient for users as they don't to go to the website to get the help they're looking for.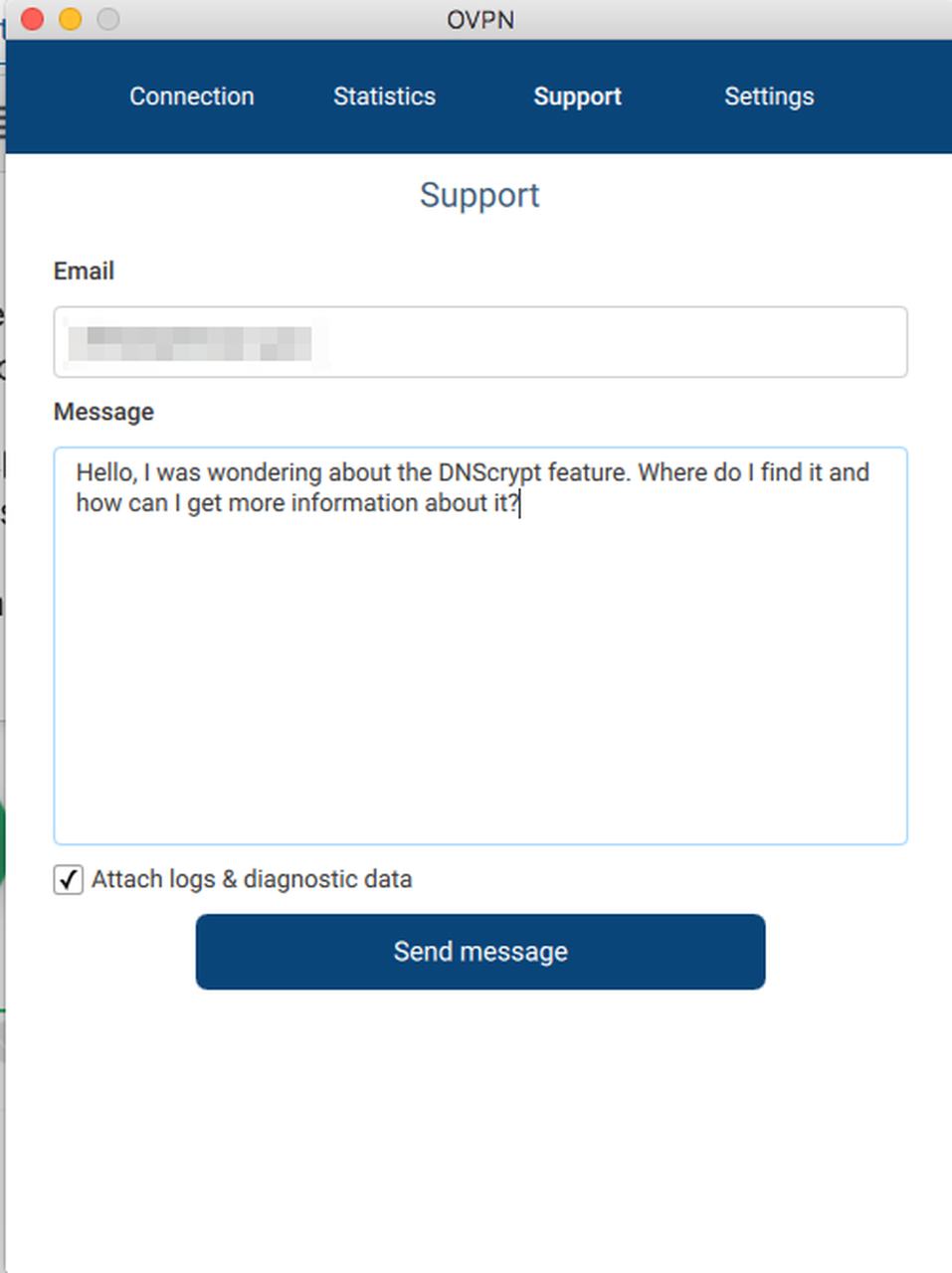 On the other hand, OVPN also aids its customers through email support. This, of course, takes more time to answer, so users are better off with live-chat, but they have to be cognizant of when to contact the company.
Languages
Targeting all kinds of users is a big step towards expanding one's business. A lot of VPN providers allow their users to switch the service's language to that they feel comfortable with.
Within the OVPN app, there's no such feature. All users should operate using the English language – no other options are available. However, those who visit the website have three options to pick from:
English
Deutch
Svenska (Swedish)
Since the provider is based in Sweden, it's typical to include the Swedish language on its website. However, a lot of VPNs offer a lot more as they target several countries, which is something OVPN should consider doing. That, and adding different languages to the app itself.
Pricing and Subscriptions
Perhaps, pricing is the first thing new customers check before they opt for a VPN service. OVPN has several plans to offer, and the longest one goes up to 12 months. The longer the subscription is, the cheaper the price gets, which is the case with every single VPN on the market.
As of the time of writing, OVPN's subscription plans are the following:
1 Month: $11.
6 Months: $6.99/month, billed at $41.94 (Free Multihop)
1 Year: $4.99/month, bullet at $59.88 (Free Multihop)

OVPN's pricing isn't that expensive, which can be very tempting. However, there are other VPNs that cost the same or less but were able to unblock the streaming services we tested above.
They also offer the same features and more for a lower price. It's something to consider before opting for a service, especially when it's a long-term subscription.
Payment Methods
Accepting several payment methods is also a great way to give customers more variety. OVPN excels in this department as it's the first VPN that accepts cash. The customer has to put the amount of money in an envelope with a note that has a specific code.
After that, they have to send the envelope via mail to the address provided on the pricing page. Other than cash, OVPN accepts the following payment options:
Credit Card
PayPal
Swish
Cash
Bitcoin
It's a good thing that OVPN accepts cryptocurrency. The latter option is dedicated to users who want to go as far as possible to stay anonymous. A lot of VPNs lack this method, and it is very important to maintain one's privacy.
Money-Back Guarantee and Free Trial
Refund policy is an option to give new customers a way out in case the service did not live up to their expectations. Almost all the top VPNs in the industry allow their new users to try their service out and ask for a refund within a 30-day period.
A couple of others have a 7-day refund policy, and OVPN's is ten. Users only have ten days to ask for a refund, but there's a problem, they might not get it.
According to their terms and conditions section:
"In accordance with Swedish law under which OVPN operates, we reserve the right to refuse refunds of renewal purchases."
Not to mention that if the payment was in cash, the customer has to visit OVPN's office, which is all the way in Sweden.
As for a free trial, this one is going to be very short. OVPN does not offer a free trial, so users will have to rely on the 10-day refund policy to check out the provider's service.
OVPN Review – Final Thoughts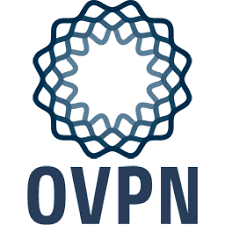 Despite its inability to unblock a lot of top streaming services, we consider OVPN as a hidden gem as it offers features few others can match.
The provider excels in terms of security and privacy, and we all know, we need that a lot. The pricing is fair, the speeds are not bad, customer support can be better, but overall, OVPN is worth a try.
The full review is in your hands now, let us know what you think of this security/privacy-focused VPN in the comments below.
OVPN Review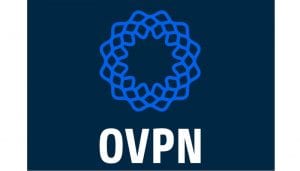 Name: OVPN
Description: A reliable VPN for privacy and security, offering features a few VPNs can match.
VPN Apps

Support

Access to Geo-blocked Sites

Security

Privacy

Speed