How does VyprVPN compare to other top VPN services in 2023? Those of you who know about VyprVPN are aware of some of its prominent features such as 'Chameleon', which provides a unique encryption protocol, and 'Cyphr', it's encrypted messaging service. If, however, these two services sound completely new, and you want to learn more about VyprVPN, then this review is for you.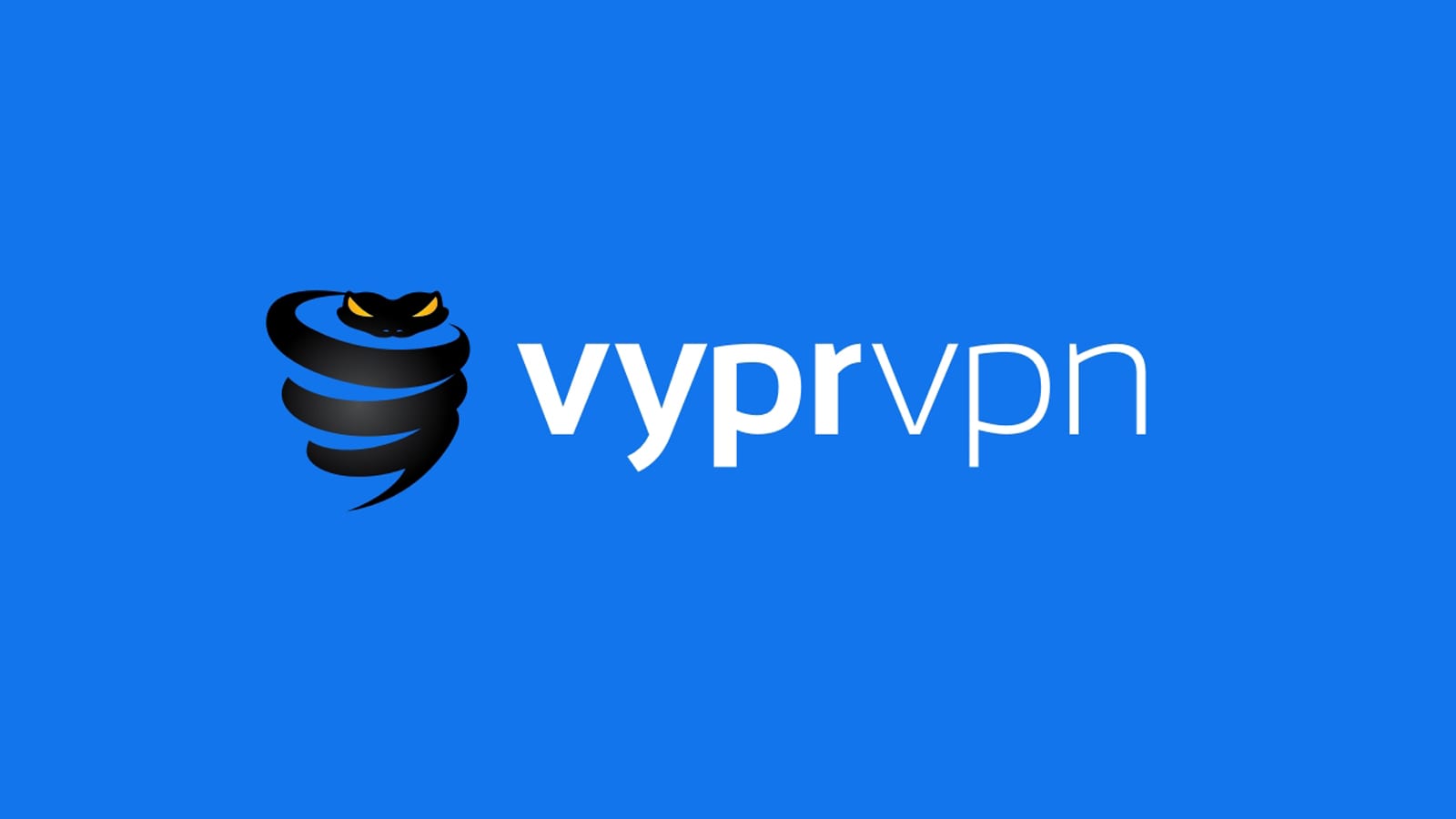 VyprVPN – The Full Review
Ever since its launch back in 2008, VyprVPN has continued to excel in popularity due to its innovative and highly unique services. Are there any more outstanding services aside from 'Cyphr' and 'Chameleon'? How does our strict evaluation process come in to place when it comes to ranking this VPN? Read on to find out.
Quick Stats
| | |
| --- | --- |
| Money-back guarantee | 30 days |
| Allowed concurrent connections | Five |
| Supported streaming services | Netflix, BBC iPlayer, Hulu, Amazon Prime, and others |
| No logs policy | Yes |
| Encryption | AES 256 encryption |
| Security Protocols | OpenVPN, IKEv2, and Chameleon |
| Special features | Kill switch, Cypher, VyprDNS, NAT Firewall, and VyprVPN Cloud |
| Customer support | 24/7 live support |
| Server locations | 71+ countries |
| Number of servers | 700+ servers |
| Server Switches | Unlimited |
| Supported devices & web extensions | Windows, Linux, Mac, iOS, macOS, Amazon FireTV, Chrome, Firefox |
| VPN legal jurisdiction | Switzerland |
| Free Trial | 3 days |
The Pros and Cons:
Just before we get on with the review, we've compiled a list of pros and cons to give you an idea about what to expect from VyprVPN:
Pros:
200,000+ IP Addresses

Vypr DNS

Chameleon Protocol

700+ Servers | 50+ Countries

Cyphr Encrypted Messaging

Free trial (Mobile Apps)
Five simultaneous connections
30-day money-back guarantee
24/7 live chat support
No-log policy
Supports Netflix
Browser extensions
Cons:
Bitcoin facility not available

No Smart DNS proxies
Inconsistent speeds
Expensive monthly subscription
The VyprVPN Application
The signing up process took us around 4 minutes to complete. Once you create an account, the website will automatically redirect you to the company's macOS, Android, Windows, and iOS applications.
Next, you get to download it, sign in, and connect in seconds. We tried out their Android application for two reasons. The first one is the obvious choice, as we own an Android. The second reason will be presented below, regarding a free trial.
Now, the app turned out to be very easy to navigate through. You have three options (Settings, Connection, and Servers).
The settings option will show you all the features you can activate using VyprVPN, including the kill switch feature.
When we connected to a server, it took it almost 5 seconds to establish a connection, which is considered to be very fast. It didn't matter how distant the server was, the connection was almost instant.



Setting up VyprVPN might be a bit of hassle for those who are not well-informed with the technology. As an added
pro
to this provider, VyprVPN has
setup guides
for almost any device that can establish a VPN connection, including:
Windows
Android
iOS
Mac
QNAP
Routers
Blackphone
TV
Anonabox
There's one thing we'd like to say about the Android App. Once we launched it, we were given the impression that we get to use it for free.
We got all the options in front of us. However, once we clicked on a server to connect, the sign-up page popped up.
The App's Rating
While downloading the Android App, we were able to see how popular VyprVPN has become over the years. Google Play Store's rating for VyprVPN's application is 3.9/5 and it has been downloaded over 1 million times.
Most of us turn to what other users have to say about a certain product before we invest in it. When it comes to VPNs, there's always a credible source with the right rankings and reviews needed to evaluate a service.
Trustpilot is an important website to check if you want to check the credibility of your VPN provider. And according to it, VyprVPN has a 3/5 rating, which is considered to be average. As you go through this review, you'll find out why.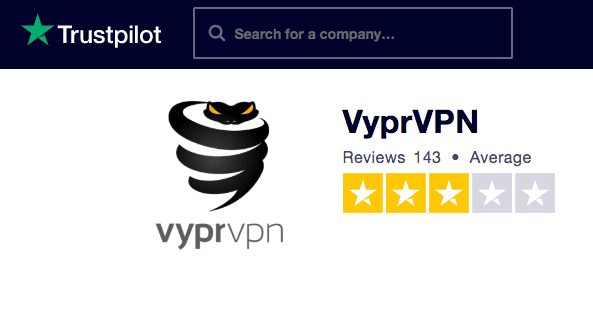 VyprVPN Server Spread and Location
VyprVPN's 700+ VPN servers are by any standards quite impressive. It allows it to satisfy customers based in Asia, North America, Europe, Oceania as well as South America. The servers are in over 71 countries, and they provide the platform with over 200,000 active IP addresses for their customers to choose from.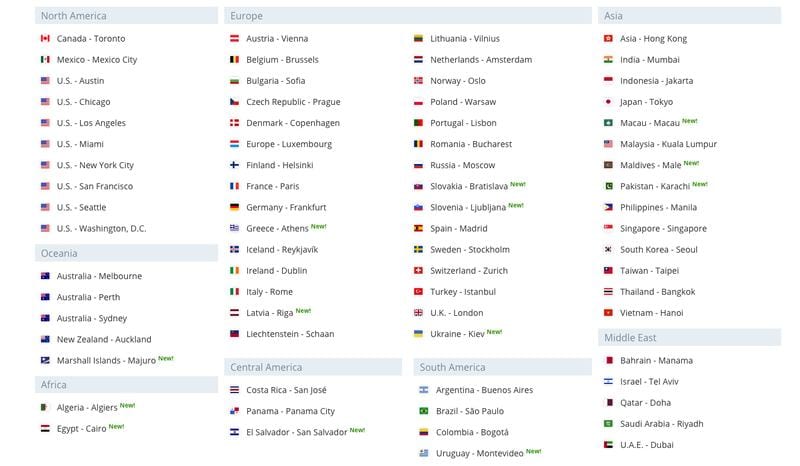 North America
Canada – Toronto
Mexico – Mexico City
USA

Austin
Chicago
Los Angeles
Miami
New York City
San Francisco
Seattle
Washington, D.C.
Oceania
Australia
New Zealand – Auckland
Marshall Islands – Majuro

New!
Africa
Algeria – Algiers

New!

Egypt – Cairo

New!
Central America
Costa Rica – San José
Panama – Panama City
El Salvador – San Salvador 

New!
South America
Argentina – Buenos Aires
Brazil – São Paulo
Colombia – Bogotá
Uruguay – Montevideo

New!
Middle East
Bahrain – Manama
Israel – Tel Aviv
Qatar – Doha
Saudi Arabia – Riyadh
U.A.E. – Dubai
Europe
Austria – Vienna
Belgium – Brussels
Bulgaria – Sofia
Czech Republic – Prague
Denmark – Copenhagen
Europe – Luxembourg
Finland – Helsinki
France – Paris
Germany – Frankfurt
Greece – Athens

New!

Iceland – Reykjavík
Ireland – Dublin
Italy – Rome
Latvia – Riga

New!

Liechtenstein – Schaan
Lithuania – Vilnius
Netherlands – Amsterdam
Norway – Oslo
Poland – Warsaw
Portugal – Lisbon
Romania – Bucharest
Russia – Moscow
Slovakia – Bratislava

New!

Slovenia – Ljubljana

New!

Spain – Madrid
Sweden – Stockholm
Switzerland – Zurich
Turkey – Istanbul
U.K. – London
Ukraine – Kyiv
Asia
Asia – Hong Kong
India – Mumbai
Indonesia – Jakarta
Japan – Tokyo
Macau – Macau

New!

Malaysia – Kuala Lumpur
Maldives – Male

New!

Pakistan – Karachi

New!

The Philippines – Manila
Singapore – Singapore
South Korea – Seoul
Taiwan – Taipei
Thailand – Bangkok
Vietnam – Hanoi
Speed Tests
We performed some speed tests to see how fast this VPN is. A lot of reviews have stated that it's one of the fastest in the world, but that's not what we saw. It's not bad, but the speed drop was present big time.
During the examination, the best results received were from Europe. However, that's still after a 50% speed loss as we're using a 100 Mbps broadband connection.
Let's take a look at the speed tests:
The first server we used was in Miami. You can see how much VyprVPN tampered with our connection. Also, check the high ping (delay). It's probably due to the number of users on the servers. Yet, knowing so will change the speed in no way.
Next, we used a server in Germany. As we mentioned, the speed results in Europe were good as our speed dropped to 46.41 Mbps. It's above 50%, but we were still able to stream content in full HD.
Finally, we used a server in Belgium. The speed results weren't that different from the one in Germany. Our test scored 46.48, which is so much better than the server in Miami.
So, basically, VyprVPN isn't that fast. Close locations brought the speed down by about 50%. However, owning their own VPN servers means that they can work on their speed easier. We hope to see better improvements in the near future.
Can VyprVPN Unblock Netflix?
Just like any streaming service, and we're sure most of you are aware of that, Netflix geo-blocks its content around the world. Each country has its own unique catalog, courtesy of copyright laws.
While this is an easy problem to circumvent using any VPN service, Netflix has made it next to impossible for most of them by blacklisting IP addresses connected to VPN servers.
VPN providers that are not credible enough to work around this issue will only get users this error message:
"Streaming Error. You seem to be using an unblocker or proxy. Please turn off any of these services and try again. For more help, visit netflix.com/proxy."
In VyprVPN's case, yes, it can, and does unblock Netflix. Using its unique Chameleon technology, Netflix won't even recognize that users are approaching its service with a VPN, making it 100% fully operational wherever they are.
Aside from that, we ran some tests. We connected to a server in Chicago and the results were positive. All in all, we were able to get US Netflix using VyprVPN.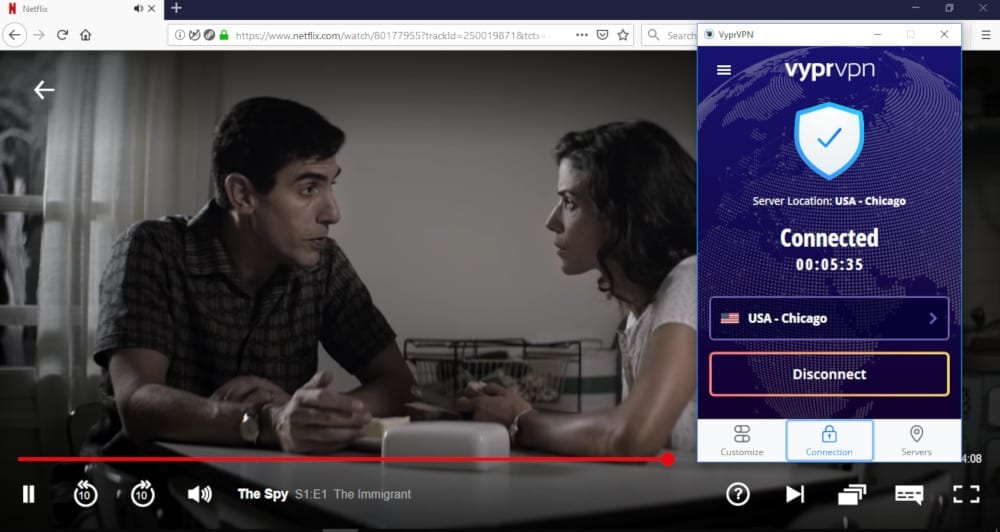 VyprVPN and Other Streaming Services
Aside from unblocking Netflix with ease, VyprVPN can access the likes of HBO Now, Hulu, HBO Go, Amazon Prime Video, and BBC iPlayer. Some time ago, VyprVPN took a hiatus from being able to unblock certain channels, but lately, it allows users access to most of them.
We had no issue finding a server that works with Hulu, but users can always contact the support team via Live Chat and ask about the servers themselves.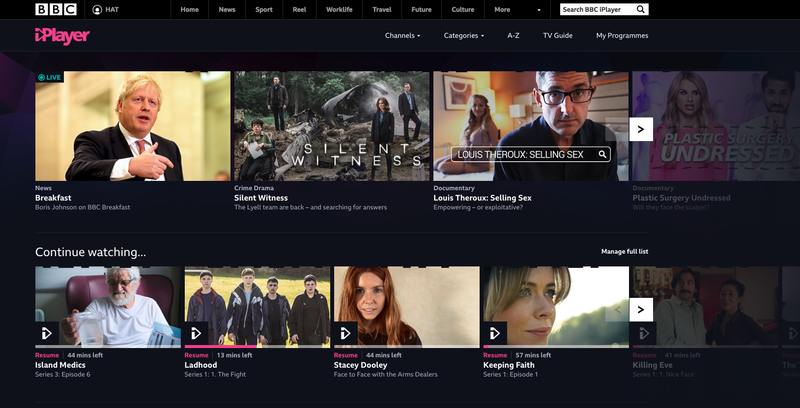 One other way to unblock geo-restricted channels is Smart DNS. It's a feature we look for in a VPN service and rank it higher according to its availability.
At first, we thought that VyprVPN does have this technology. Well, they do, but not in the way we hoped. VyprDNS is a way to unblock content and protect user data at the same time.
However, it's not Smart DNS and cannot be configured on devices. It's enabled through the app, which is only available on specific platforms like Android, iOS, PC, Mac, and FireStick.
We contacted the support team to explain what this technology is, this was their reply: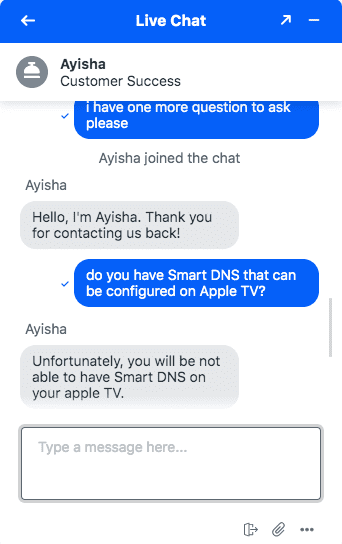 P2P Support
File sharing is an area where VyprVPN excels. Back in the day, VyprVPN did allow torrenting and other P2P actions. However, they used to log what users do and forward any copyright complaints to them.
Now, that's no longer the case as they follow a strict no-log policy. The provider no longer has the ability to identify who's doing what, which makes it next to impossible to file a complaint or forward one.
Their "Terms of Use" section includes that their service shouldn't be used for copyright, trademark, and patent infringement. But, it's mostly there for show – since VyprVPN no longer has any way to enforce it.
When we asked their support team to make sure they do support P2P actions, this is what they had to say:
As it says above, peer-to-peer actions and even BitTorrent traffic are allowed.
VyprVPN Privacy
VyprVPN claims to be an advocate for privacy rights and that it stands up against internet censorship. GoldenFrog launched the Swiss-based VyprVPN back in 2008.
Switzerland is one of the most open countries in the world with no privacy-stifling legislation in place. In the past, VyprVPN was one of those providers that log your information for 30 days. That includes:
Customer's source IP address (generally the IP address assigned by the customer's ISP)
VyprVPN's IP address assigned to the user
Connection start and end times
Total number of bytes used
They claimed that the collection of a minimal amount of data is aimed at improving customer experiences. However, this is not the case ever since 2009, and the VPN is now dubbed as the "World's First Publicly Audited No Log VPN Service."
No-Log Policy
Based on the reports we found, and as mentioned above, VyprVPN used to collect logs. That's why we paid their website a visit to check their privacy policy.
Here's their complete privacy policy according to their official website:
VyprVPN is a zero log VPN Service. We do not record or retain any data when you use the VyprVPN Service. This means:
We do not log a user's source IP address (typically assigned to the user by their ISP).
We do not log the IP address assigned to the user when using VyprVPN.
We do not log connection start or stop time.
We do not log a user's traffic or the content of any communications.
We are network neutral. We do not discriminate against devices, protocols, or applications.
We do not throttle or rate limit your Internet connection.
VyprVPN Security
Both 128-bit and 256-bit encryptions are offered by VyprVPN. These protocols encrypt all user traffic and make it impossible for hackers and spammers to intercept their private information.
As for security protocols, users can choose between OpenVPN, L2TP/IPsec, PPTP, and Chameleon.
Now the Chameleon technology is what caught our attention. None of the other VPN providers have that, which made us dig a little deeper to shed some light on the matter.
Based on reports, the Chameleon protocol uses unmodified OpenVPN 256-bit protocol and tampers with metadata packets to ensure that it is not recognizable via deep packet inspection, VPN blocking, and throttling.
Furthermore, this protocol is essential to use in China. We didn't get the chance to test it on for ourselves, but reports say that even the Great Firewall can be bypassed with ease using this technology.
VyprDNS
This service allows users to bypass censorship from any site as well as improve user privacy. It comes free with all the three VyprVPN plans and also doesn't keep any logs of a user's online activity.
At first, we thought that this was their own Smart DNS service with a hint of extra privacy. Well, it didn't turn out that way. According to their support team:
VyprDNS is Golden Frog's 100% owned and operated service available exclusively for VyprVPN users. They developed this zero-logging VyprDNS service to increase user privacy and defeat censorship across the world.
However, it's cannot be set up without having the application installed on your device. In other words, VyprDNS is not available on the likes on Apple TV, Smart TVs, Chromecast, PlayStation, and Xbox.
Self-Managed VPN Servers
VyprVPN is one of the few VPN providers that don't depend on any third-party support for running its hardware and VPN network. They do it all by themselves and this allows them to provide their customers with a reliable connection.
The ability to own and operate their own VPN infrastructure, both hardware and software from end-to-end, gives VyprVPN a solid stand when it comes to assuring its customers' online security.
Kill Switch
This technology is the ultimate to ensure user privacy. It's one of the main features we check for in order to determine whether this VPN is credible to use or not.
A kill switch is a tool that cuts a user's internet if his/her VPN connection took a sudden drop. This prevents "whatever they're doing" from flowing back through their ISP's servers.
NAT Firewall
The NAT Firewall provides online security by blocking all unrequested inbound traffic thus removing the need for any additional configuration after connecting to VyprVPN under it.
NAT Firewall guarantees that users have their data well protected from any malicious netizens.
DNS Leak Tests
Tests are the ultimate way to determine whether VyprVPN is good enough or not. One crucial examination should be a test to see if the provider is DNS leak-free and does not reveal any private information.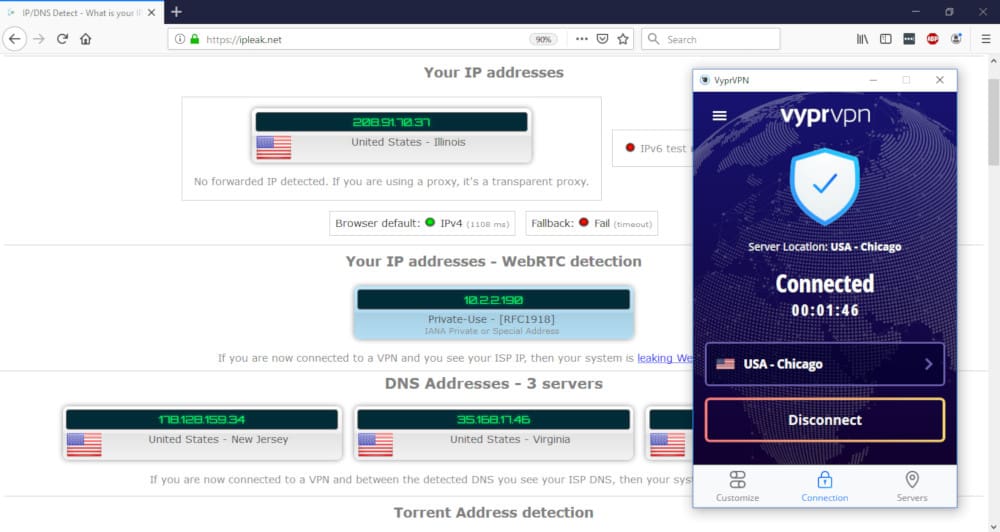 According to what we've witnessed during the evaluation, there were no IPv4 or IPv6 leaks, as well as no WebRTC leaks. VyprVPN passed all the tests.
Third-Party Auditing
Checking what experts have to say about a VPN and examining the tests done on it is a very important step. Upon implementing their no-logging policy, GoldenFrog contacted the highly trusted Leviathan Security to independently audit their VyprVPN servers.
The complete audit by Leviathan Security found:
"VyprVPN produces no identifying logs without the user's consent."
"The project revealed a limited number of issues that VyprVPN subsequently fixed."
"Golden Frog can provide VyprVPN users with the assurance the company is not logging their VPN activity."
Warrant Canary
Placing a Warrant Canary on a website indicates that no government investigations have taken or are taking place. If the company receives a gag order, the website will remove or change their "Canary" notice.
Canary Programs are very important to inform the users that the company they're dealing with has been served with a government subpoena. If we speak in legal terms, it's illegal to speak of the gag order.
That's where the Canary Program comes in as it's an indirect way to warn users of such legal actions. While checking for that, we noticed that VyprVPN does not have a Warrant Canary. It's not that big of a deal, but it sure helps their customers a lot if their privacy was about to get compromised.
Customer Support
VyprVPN provides reliable customer support that is available 24 hours a day throughout the year with live chat representatives that are always ready to help out.
The best thing about their live chat feature is that it only took seconds to respond to our message. It's almost instant. The bad part, however, is that they either didn't comprehend our question or they were trying to make their service look good.
We asked about their Smart DNS feature, but the support agent did not give us a direct answer. This is what it looked like:



The conversation continued and still, we didn't get what we needed. But that may be a misunderstanding of the question.
The point is, their support response is impeccable. There are options available to reach out to their support, including launching a complaint ticket or sending an email, for which the response time is 3-8 hours on business days.
The FAQ section, Troubleshooting and Manual Setup sections on the VyprVPN website are also good sources of information.
VyprVPN Pricing
The VyprVPN pricing guide is designed to be all-inclusive regardless of your income bracket. A while ago, users had the option to pick from VyprVPN and VyprVPN Premium that vary in terms of features.
In case you choose the Basic VyprVPN subscription you will only get to use 3 simultaneous connections, while the premium subscription allows you five, along with the Chameleon protocol.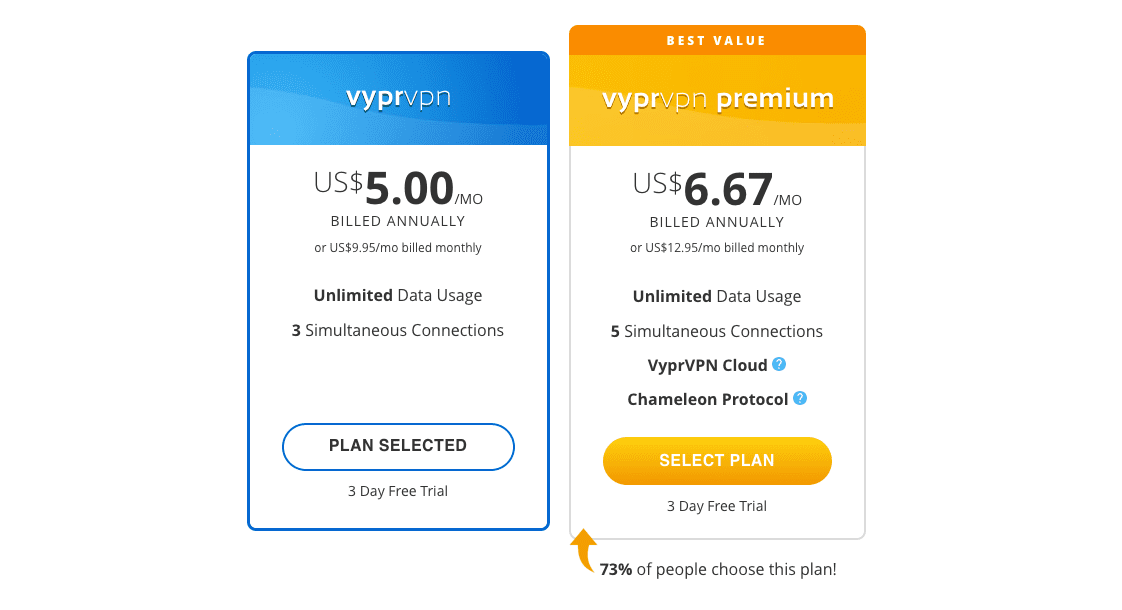 As of now, VyprVPN changed its subscription fees to include every feature it offers within all of them. There's no longer a premium subscription, instead, you can get everything VyprVPN has in a single subscription, yet with different periods. Here are your options:
Monthly: $12.95
1 Year: $3.75/month
2 Years: $2.50/month

VyprVPN Payment Methods
The payment options for VyprVPN are mainly through credit cards such as Mastercard, JCB, Discover, American Express, Visa and a few more, as well as through PayPal.

However, most users look for anonymous ways to pay for their products, and with VyprVPN, the widely popular Bitcoin payments are unfortunately not supported.
Money-Back Guarantee
Just like most of the top VPNs in the industry, VyprVPN allows users to test their service, risk-free, courtesy of their 30-day refund policy.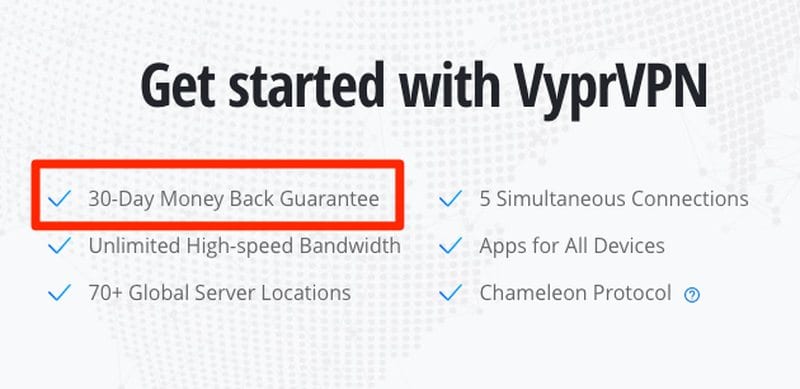 While it might not be much considering most VPNs offer it, but according to what we've seen so far, it's far better than some.
Other VPN services only allow you a 7-day refund policy or none. In this case, 30 days are more than enough to figure out whether a service is efficient or not.
VyprVPN Free Trial
Unlike many other VPN services, VyprVPN offers a free trial. You can try out VyprVPN for a full three days without getting billed. 
However, there's a catch. If the device you're operating does not fall under the Mobile category, you're not trying anything out for free.
Let's take Android as an example. Apparently, we could not benefit from the free trial when we tried to sign up from the website.
But when we tried that from the device's app itself, the 3-day free trial was presented on the Home Screen.
One set back though, they asked for our credit card information once we clicked on "Create Account."
Conclusion – VyprVPN Review
All in all, VyprVPN generally is a top-tier VPN service provider with unique services that can only be enjoyed by those who subscribe to it. Rest assured that as a company that handles everything by itself without any third-party interference, your security online is well guaranteed.  
The fact you can benefit from a 3-day free trial also speaks volumes of the confidence VyprVPN has in its product. Without a doubt, this is one of the world's best and most professional VPN services. Was this review helpful? Did you get everything you needed? Let us know in the comment section below.