As the only market player worthy of mention from the Eastern side of the world, Ivacy VPN has managed to establish a very decent reputation as a credible VPN service provider, boasting of over 1000+ servers across 100+ locations worldwide. How does Ivacy actually compare to other VPNs in terms of quality and features? We'll take a look at everything this service has to offer in this in-depth Ivacy VPN Review.
Ivacy VPN 2023 Review – Content Index
In the modern Internet landscape, staying secure online is imperative. Users shouldn't just go and subscribe to any VPN provider they come across. No. They should read more reviews about it and take into consideration what experts say.
That's why we took it upon ourselves to assess Ivacy VPN according to our strict evaluation process. We performed dozens of tests and the following review was created.
Quick Stats
| | |
| --- | --- |
| Money-back guarantee | 30 days |
| Allowed concurrent connections | Five or Ten depending on the subscription |
| Supported streaming services | Netflix, BBC iPlayer, Hulu, and Disney+ |
| No logs policy | Yes |
| Encryption | AES 256 encryption |
| Security Protocols | SSTP, PPTP, L2TP/IPSec,IKEv2 and OpenVPN |
| Special features | Kill switch, Malware protection, Split Tunneling, and Multiport |
| Customer support | 24/7 live support |
| Server locations | 100+ locations (50 Countries) |
| Number of servers | 1000+ servers |
| Server Switches | Unlimited |
| Supported devices & web extensions | Windows, Linux, Mac, iOS, macOS, Chrome, Firefox |
| VPN legal jurisdiction | Singapore |
| Free Trial | 1 day |
The Pros and Cons:
There's no such thing as a perfect VPN. Each provider has good and bad qualities, depending on the user's perspective. When it comes to ours, here's what we liked and disliked about Ivacy VPN:
Pros:
5/10 Multi Logins (Based on subscription)
30-Days Money Back Guarantee
Split Tunneling Option
Support P2P File sharing
'No-Log' Policy
OpenVPN
24/7 Support
Kill Switch
Unblocks Netflix and Hulu
1000+ servers in 100 countries.
Military-grade encryption.
1-day Free Trial.
Cons:
Poor speeds in some locations.
Live Chat not reliable for technical questions.
Ivacy VPN Device Compatibility and Apps
Ivacy VPN is compatible with devices and platforms running Windows (XP or later), Mac OS X, Android, iOS devices, Blackberry devices, and Linux OS. We tried both the Android and Mac clients, and in both cases, we were very satisfied with what they had to offer.
Let's first take a look at the Mac application. A very simple interface and it took us around 3 seconds to connect to a server. There's an automatic connection option that allows you to connect to the closest/fastest server available (according to your location).



Connecting to a server is very smooth, but unblocking geo-restricted channels is way smoother. In the first image, it's shown that there's a streaming option. Once we clicked on that, a long list of streaming channels popped up.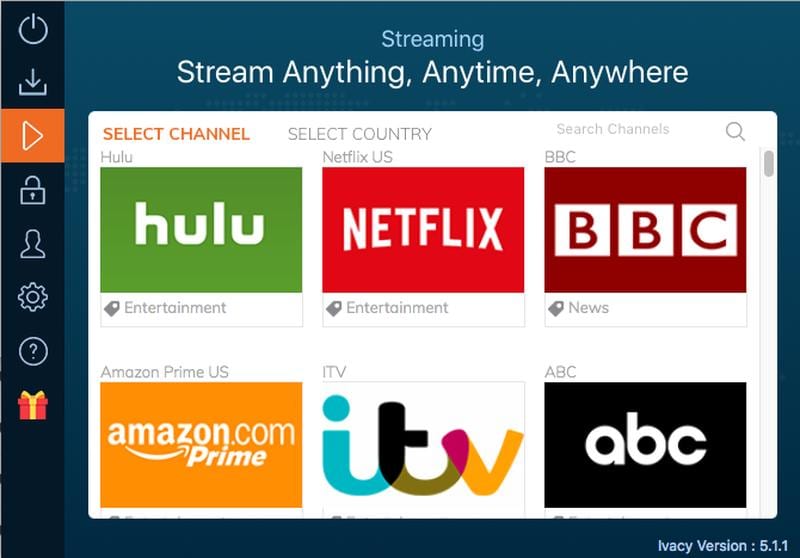 Apparently, Ivacy VPN allows users to automatically connect to servers based on the channel they wish to access. For example, clicking on Netflix's icon connected us to a US VPN server.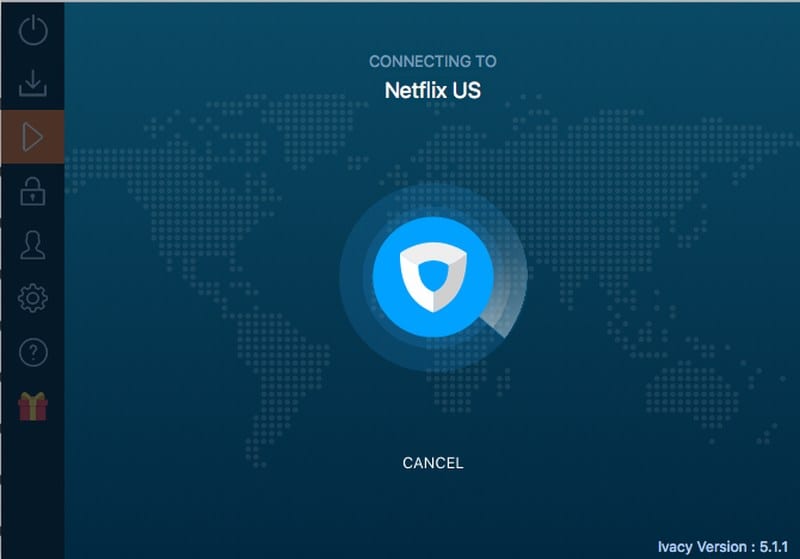 Despite having a cool design and the ease of it all, the Mac client lacked a lot of features. For example, we couldn't find an automatic kill switch to activate. That goes into the Con department by our standards.
Android Client
The Android version doesn't differ that much from that of Mac. However, we've always been fans of Android apps, no matter which provider we're assessing.
Design-wise, the Android app is not that different, but the features included within it make it the better version. We got to enable the kill switch, activate split tunneling, as well as choose the VPN protocol we're comfortable with.
Here's a look at how the Android application looks like:




As seen above, the connection process is very simple. However, the settings part is what caught our attention since every single feature appears on it. In our opinion, the Android app is the superior Ivacy client.
Note: No matter what device is being used, Ivacy VPN allows users to log in up to 5 different devices through a single account. However, users can benefit from ten simultaneous connections if they opt for a more expensive plan. We'll be talking about that later on in the guide.
App Store Ratings
App Store ratings are also very important to give users a brief idea about the product they're getting. Whether it's Apple's App Store or the Google Play Store, whatever review or comment there available helps a lot in making a decision.
First, we checked what the Google Play Store had to say about the Ivacy VPN application. Based on more than 3000 reviews, the app's rating hit 3.9/5. Let's not forget that the total number of downloads is also important. With over 100K, we can say that Ivacy is a top provider in the industry.

As for iOS users, the Ivacy VPN application has a 4.3/5 rating based on 600+ users. That's also a trustworthy number that gives us a solid answer about the VPN's credibility on the iOS platform.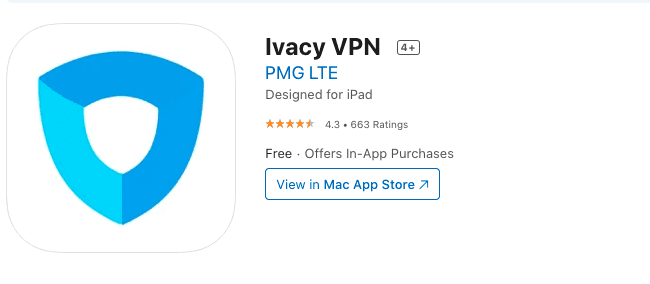 Basically, Ivacy VPN has very good ratings on both the Android and iOS platforms. We've seen better, but this one is more than ok.
Trustpilot Reviews
Trustpilot is one of the most trusted websites when it comes to reviewing VPN providers. No company could tamper with the results, despite several attempts in the past.
Once, a provider started adding fake comments to elevate its ranking. However, Trustpilot caught it with its hands in the jar and deemed it with a very low rating.
When we searched for Ivacy VPN on Trustpilot's website, we were shocked to see the results. By far, it's one of the few VPNs that have a full 4.8/5 rating, marking it as an "excellent service".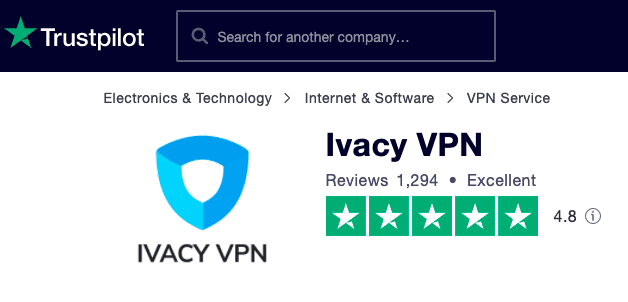 When checking a provider's ratings, we need to see how many reviews have given their opinion on its services. If it's low, it might not be that credible to go along with. However, Ivacy's ratings are based on 1000+ reviews, which is considered to be a trustworthy number. In general, we're very pleased with the outcome so far.
Ivacy VPN Servers
Ivacy VPN servers are allocated all across the world. Users get to access around 1000+ servers in 100 different locations, which means there are hundreds of thousands of IP addresses to connect with so as to anonymously browse blocked contents and geo-restricted websites.
North America
USA
Canada
Panama
Costa Rica
Mexico
South America
Chile
Brazil
Peru
Colombia
Asia
Turkey
Hong Kong
Indonesia
Taiwan
South Korea
Japan
Jordan
Kuwait
China
Philippines
Brunei
India
UAE
Saudi Arabia
Pakistan
Russia
Malaysia
Singapore
Europe
UK
Germany
Netherlands
Sweden
Romania
Switzerland
Luxembourg
France
Italy
Bulgaria
Poland
Czech Republic
Belgium
Denmark
Norway
Spain
Latvia
Ukraine
Finland
Austria
Oceania
Africa
Egypt
Ghana
Seychelles
Nigeria
South Africa
Speed Performance
Having great security and privacy features is good an all, but it's not enough without fast speeds to back it all up. According to Ivacy VPN, they consider themselves to be the fastest VPN out there.
They even compared their speed performance to other top VPN providers in a graph that shows how they're superior to them. Here's a look at what their website shows: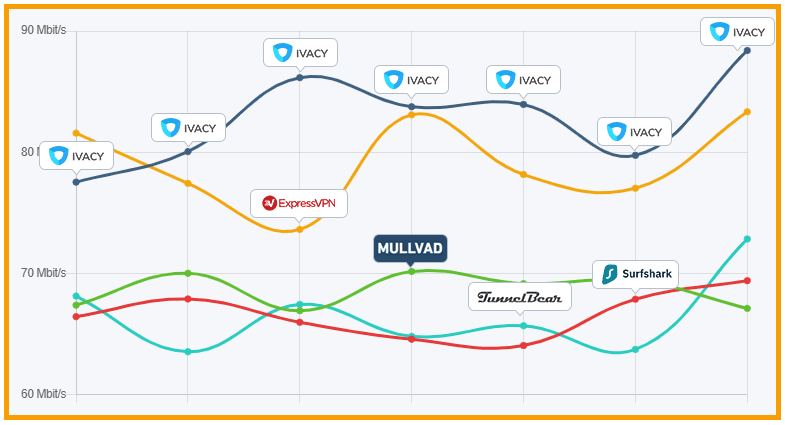 We had to see for ourselves if their claims are true or not. So, we performed a few tests on a couple of servers in the US, UK, and a nearby server. Here are the results we got:
First, this is our internet connection without connecting to an Ivacy VPN server. It's a bit slow this time around, but it won't affect the results.
Next, we connected to a VPN server in the United States, particularly using the "Streaming" option with Netflix as our choice. The server should be very fast, considering the high demand US Netflix has around the world. Well, that wasn't the case here as the drop we got was practically the highest of all the tests performed.
The best result we got was when we connected to a nearby server. We could barely see the drop in the connecting.
We also tested a couple more servers before we wrapped it up, but some of them weren't that great in terms of speed. Please note that we also tried a US server and a nearby server using ExpressVPN and the speeds were better than those of Ivacy's.
In other words, what the graph shows above is not as reliable as Ivacy wants people to think.
Unblocking Geo-Restricted Content with Ivacy VPN
Location spoofing and unblocking geo-restricted content around the world is one of the main features a VPN is popular for. Streaming channels apply what we call geo-blocking, a method to restrict or limit the access of certain content based on a user's geographic location.
When a streaming service examines a user's IP address, it can detect and pinpoint his/her physical whereabouts in mere seconds. However, as a VPN grants them an IP address according to the location of the server they connect to, these geo-restrictions can be easily circumvented.
Well, not quite. With the upgraded technology available nowadays, popular streaming services have taken restrictions to a whole new level now. In the past, users were able to change their location using a VPN and access these services no matter where they are.
But now, channels like Netflix, Hulu, Amazon Prime, and BBC iPlayer have upped their game and started blocking VPNs from circumventing such measures.
If a VPN is not credible enough, users will get blocked eventually. That's why we did some tests using Ivacy VPN to see how it stands in this department. With a dedicated section for unblocking channels, Ivacy has made it so much easier to get around such restrictions. Take a look at some of the channels included in the list:




These are just a few of the channels listed in their application. However, having them there is not enough, we wanted to see if the whole thing actually works. Well, this is what we came up with:
Netflix
Netflix, probably, has the toughest VPN blocking mechanism in the world. Even top VPNs lost this battle and decided to accept defeat when it comes to going head to head with the streaming giant.
If the VPN's servers are not well-optimized for such a task, users will receive a proxy error that states:
"You seem to be using an unblocker or proxy. Please turn off any of these services and try again. Error Code: M7111-5059."

Now with that out of the way, let's see what happened when we connected to an American server to unblock US Netflix. As we mentioned in the app section, users can connect to specific Ivacy servers based on the channel they wish to access.
We clicked on the "Streaming Option" and chose Netflix. The VPN directly connected us to a dedicated server in the United States. And the results were more than satisfying. We were able to stream Star-Crossed – one of Netflix's exclusive US-library titles.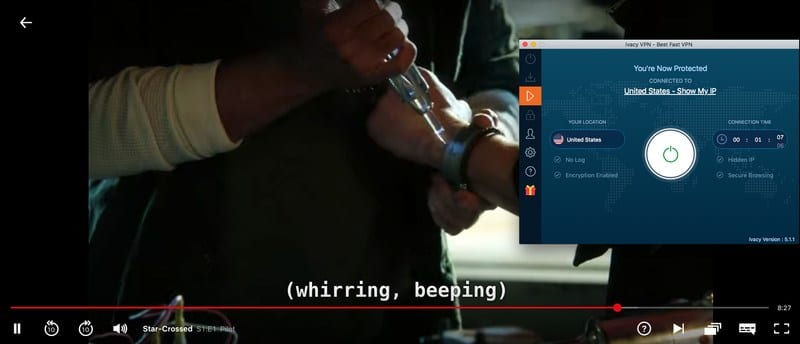 Moreover, it got better when the service asked us if we want to watch US Netflix. The moment we clicked ok, Ivacy VPN redirected us to Netflix's official website. On the Android version, Ivacy launched the Netflix application as soon as we accepted the request.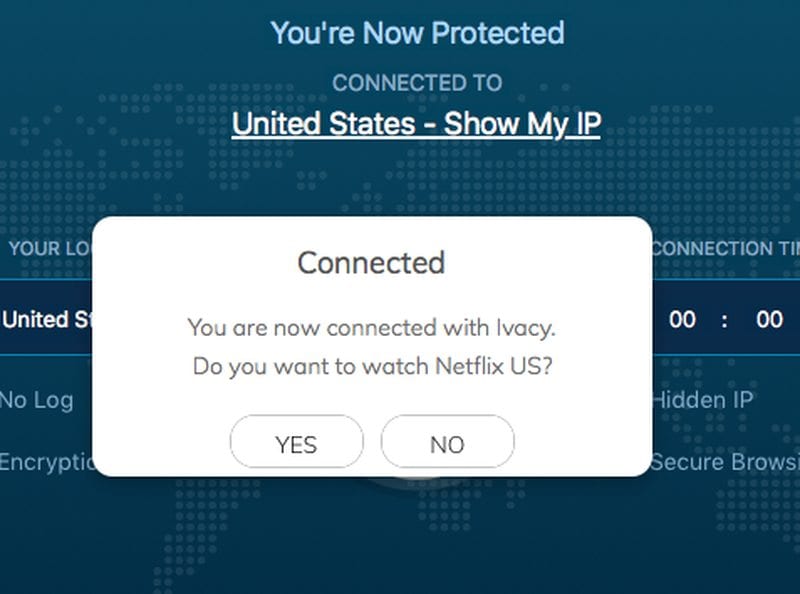 Finally, we can say that Ivacy is an excellent provider when it comes to unblocking US Netflix abroad. Not only that, but the app itself is well equipped to do so and it has a dedicated section for "Channel Unblocking."
Other Streaming Platforms
Netflix isn't the only channel we run tests on. With millions of subscribers around the world, services like Hulu, Amazon Prime, and BBC iPlayer are top priorities for VPNs.
While these services are included in the list of unblockable channels within Ivacy, the provider wasn't as successful as we thought it was, particularly with one of those channels.
Now that we ran a few tests, here are the results:
Hulu
First, let's take a look at Hulu. The service is based in the US, which explains the American server we connected to once we clicked on Hulu using Ivacy's client.
The connection was fast, and to be honest, we did not expect Ivacy to get around Hulu's VPN ban. Well, it did and we were able to stream Hulu's content outside the US hassle-free.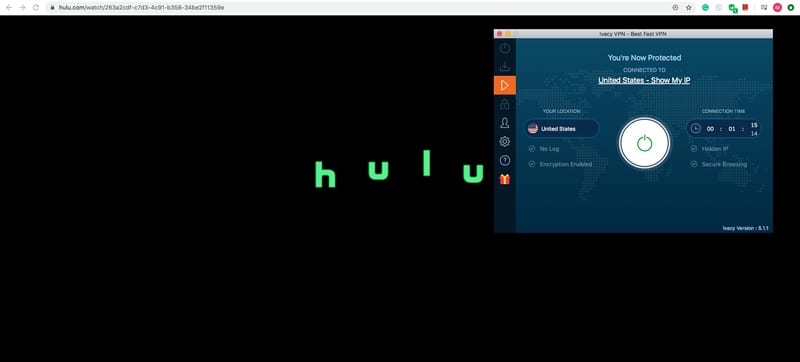 Usually, we try multiple servers before we get to something positive. However, with Hulu and Ivacy's "Streaming" feature, it only took us one try to unblock the channel. As seen in the image above, Hulu is 100% functioning using Ivacy's American server.
BBC iPlayer
BBC iPlayer is one of the most popular streaming channels in the United Kingdom. The service itself admits that there are millions of users outside the country accessing its content using VPNs and proxies.
As a retaliation, BBC iPlayer applied a similar VPN blocking technology to prevent that. But some VPNs stood tall and upped their game as well, provided dedicated servers for such a tough task.
According to what we went through, Ivacy is one of those services. We used the "Streaming" option again, this time clicking BBC iPlayer (obviously). Next, Ivacy VPN connected us to a server in the United Kingdom and asked us if we want to watch BBC.
With a click on the "Yes" option, we were taken to BBC iPlayer's website, we chose a video, and worked perfectly.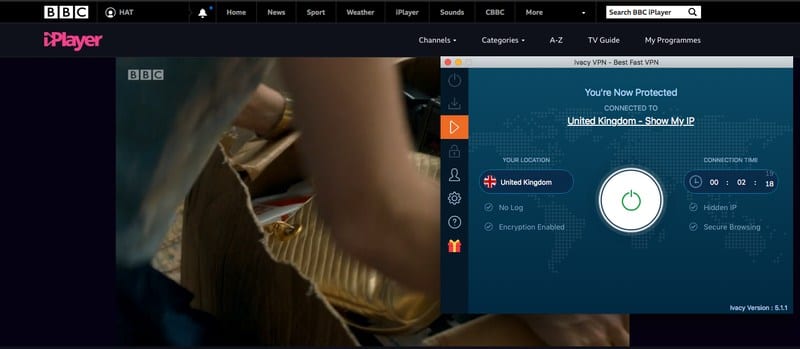 That's another victory for Ivacy VPN in terms of streaming. So far so good, the service is proving itself to be credible enough for bypassing regional restrictions.
Amazon Prime Video
This is when everything goes south in terms of unblocking major streaming channels. No VPN is perfect and not all of them can say they can unblock American Netflix.
Ivacy has an advantage in that department. However, when a certain service/product claims to do something and fails to deliver, that's when we speak up.
If the product does not deliver what it says it will, it kind of gets a negative point in our opinion. Ivacy claims that it can unblock Amazon Prime Video anywhere. It even included it in the "Streaming Section."
According to what we encountered, that's not one bit true. We used the dedicated server they gave us and launched Amazon Prime. The moment we clicked on a video, this geo-error message popped up:
"Your device is connected to the internet using a VPN or proxy service. Please disable it and try again."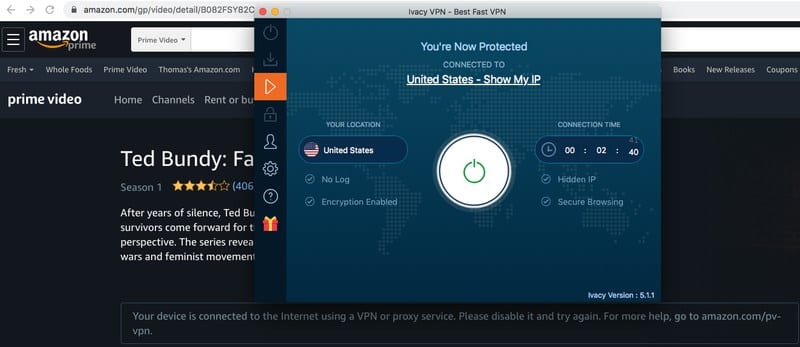 Amazon is considered to be among the streaming giants in the world. Being unable to block it is not that great when it comes to assessing a service's capabilities. However, claiming that it can and couldn't is a different thing. This is a con by our standards.
Smart DNS Proxies
Some VPN providers offer Smart DNS proxies as a VPN alternative to unblock streaming services and websites abroad. It's a technology that does not encrypt a user's data (no extra security), yet it offers blazing fast speeds.
On the other hand, VPN clients are mostly compatible with the likes of Android, iOS, PC, Mac, and Fire Stick. But Smart DNS can be configured on a wider range of devices, including PlayStation, Xbox, Chromecast, Apple TV, and Smart TVs.
We searched Ivacy's website for anything of the sort, but eventually, found nothing about Smart DNS. That's when we took it to their support team to shed some light on the matter. When we asked about the feature and if it's included in their service, their reply was as such: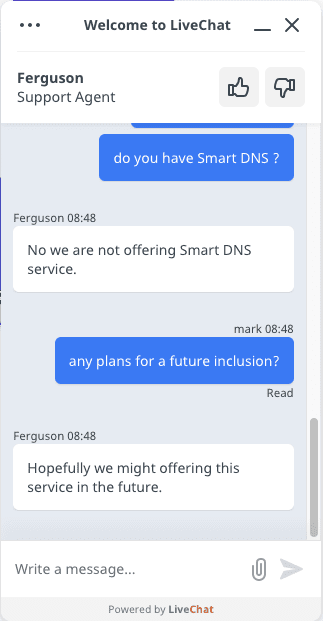 Apparently, Ivacy VPN does not offer Smart DNS proxies, but they did say that they might be adding it in the near future. If that's the case, Ivacy would excel and rank even higher among the top providers in the industry.
P2P Support
Downloading torrents, be it movies, series, books, and other online stuff is not tolerated in a lot of countries. This could get users in a lot of legal trouble. And while torrent clients offer different encryption options, it is not sure that they will protect you.
The biggest plus for Ivacy users has to be the ability to enjoy torrenting with guaranteed privacy and security through their P2P file sharing service. According to their website:
"Ivacy VPN works with all torrent programs, including uTorrent, BitTorrent, and Deluge flawlessly and without requiring any additional setting up."
Torrenting, in general, is not safe, but using optimized servers for such actions, it can be. As we mentioned, Ivacy has more than 1,000 servers working in 100+ distinct locations.
But when it comes to torrenting and P2P actions, their website states that servers in the following countries are the ones to use:
Belgium, Brunei, Bulgaria, Chile, Colombia, Costa Rica, Denmark, Germany, Ghana, Kenya, Latvia, Luxembourg, Netherlands, Nigeria, Pakistan, Panama, Peru, Russia, Saudi Arabia, Seychelles, Sweden, Turkey, UAE, Venezuela, UK, USA, and Canada.
That's a pretty good global spread actually. And since the service offers unlimited bandwidth, our torrenting speed did not get affected that much.
Privacy
VPNs are privacy tools, and if they don't keep a user's privacy in check, it wouldn't be doing the job it was designed for. Ivacy VPN maintains that it does not keep any record of its users browsing history and only keeps track of the connectivity time frame.
There have been no reports of collecting any sensitive user information and selling it to third-parties. According to their privacy policy:
"We strictly do not log or monitor, online browsing activities, connection logs, VPN IPs assigned, original IP addresses, browsing history, outgoing traffic, connection times, data you have accessed and/or DNS queries generated by your end. We have no information that could associate specific activities to specific users.
Ivacy assures its users of collecting minimal data. Data collected is to keep Ivacy running smoothly and to make our services better. We do not keep any personal and sensitive user information. By design, Ivacy VPN has no sensitive data to share, even when legally bound to do so."
It doesn't end here. Ivacy VPN has a lot of other privacy features up its sleeves. Here are some:
This feature basically shuts down your Internet activities whenever your VPN connection gets interrupted.
Back in 2010, Ivacy's technology team that was responsible for unveiling the revolutionary concept of split tunneling. With such a feature, users are able to decide what data requires VPN protection through Ivacy VPN, and what data does not so that it can run outside the VPN service. It's a nice little trick that'll help save on their Internet bandwidth.
Distributed Denial of Service attacks is meant to make a machine or network resource unavailable to the intended users, either temporarily or permanently. Ivacy VPN provides a DDoS protection add-on that prevents you from getting affected by such attacks.
This is an additional protection layer that blocks all unrequested traffic that could harm your device after filtering your connection.
Identity Theft Protection
Your online identity is encrypted and this keeps you anonymous from any malicious hackers.
Security
As a company based in Singapore, Ivacy VPN enjoys the lack of data retention laws and so they do not keep any logs of their user's online activities.
Ivacy offers up to 256-Bit encryption to users which makes penetrating the security next to impossible. Once they're connected to a server, their traffic is completely safe from hackers, cybercriminals, and their own ISP.
Users' private data is subject to 5 varying tunneling protocols to keep it safe from the public:
SSTP
PPTP
L2TP/IPSec
IKEv2
OpenVPN (either UDP or TCP)
The best protocol to use for the most security and privacy would be OpenVPN. However, PPTP is the fastest among all, but its speed comes at a price – very weak encryption.
While assessing a VPN, we take several steps to determine whether it's credible to protect our data or not. By steps, we mean several tests performed on its application and servers. Here's what we do:
Virus Test
Virus tests are very important before we install any applications, not just VPN clients. No one knows what kind of malware or virus can be embedded inside the application itself.
Sometimes, we might find applications that look as legit as they can be. However, they turn out to be filled with Trojan viruses, which can allow hackers to take total control of the data a user's device has.
So, the best way to prevent that from happening is to perform a simple virus scan before hitting the install button. Now, we did those tests on Ivacy VPN's Mac and Windows clients. This is what we got:
Mac: The Mac application recorded nothing in terms of viruses and malware. It passed the test with Green colors based on 55 sources.
Windows: The PC client does not differ from that of Mac. When we downloaded the .exe file, it also showed excellent results, scoring no record of viruses and malware based on 68 sources.
Following such results, it's safe to say that Ivacy VPN's clients are as clean as they can be. They have nothing dangerous embedded inside and their app is totally secure.
DNS Leak Test
No matter how secure the VPN is, if it's leaking your IP address or any other information, it's useless. A VPN should always protect a user's privacy, and if it does not hold it's part in the deal, we're practically better off without it.
We've addressed how secure Ivacy is. But to carry on with the good news, we've also performed a few tests to see whether the VPN is leaking our data or not.
One source is not enough, which made us use two sources, including one of our own. On the website we used, Ivacy VPN showed no results of leaking any of our information. That's a very good sign of how efficient their DNS Leak protection is.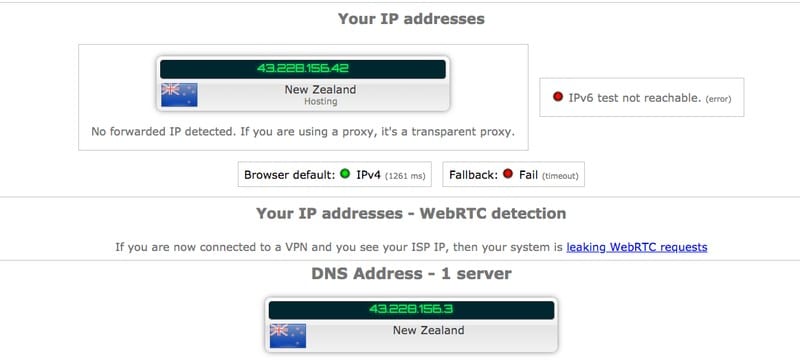 WebRTC leaks allow third-party websites to detect your IP address. They can use that to identify you and pinpoint your actual location. This is how important the test is.
Next, we used our own test to see if there's any WebRTC leak going on while connected to the same Ivacy server in New Zealand. At this point in the review, we weren't shocked to see that no leaks have been recorded. Ivacy showed great results.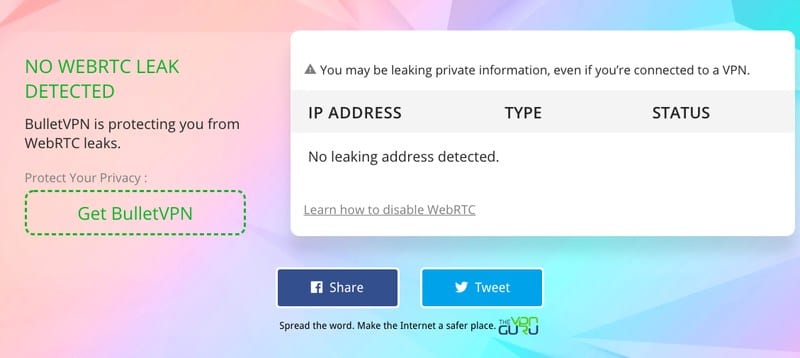 These are two essential tests we use to determine the safety of using a certain product, particularly Virtual Private Networks.
Third-Party Auditing
Security audits done by third-parties ease our work. We rely on such experts when we're evaluating a certain VPN. However, while searching for a credible audit for Ivacy, nothing came up.
We've recently seen complaints about Ivacy using the same infrastructure PureVPN uses. In 2017, PureVPN disclosed user information about a net stalker. While this is a heroic act by the VPN, it still goes against its main purpose.
We know, this is a "privacy" matter and has nothing to do with third-party auditing. However, our point is that if a VPN is as transparent as Ivacy, there might be no need for an audit. According to the PR Manager:
"Ivacy is an independent entity. Ivacy is an independently registered entity, with its own merchants, bank accounts, partners, and legally binding contracts. Ivacy's independently operated and developed apps, backend, billing, legal agreements, and partnerships are a testament to this fact."
This is but a chunk of their transparency page. Check the full article here.
Warrant Canary
Subpoenas can be dangerous to users' privacy. The government can approach a VPN provider, demanding personal information about their customers, and the VPN is forced to comply.
What's worse is that it's considered illegal to inform the customers of such gag orders. So, what do VPNs do to warn their users? Very few VPNs use it, but it's super effective – it goes by the name of Warrant Canaries.
It's an indirect way on the website to give customers a head-up in case their VPN provider received a legal notice. In Ivacy's case, there's no such thing as Warrant Canaries, but the provider states that the data they don't collect user information (that can help identify users) in order to protect customers even when presented with a legal subpoena.
According to a representative:
"Our servers, processes, and systems do not keep any personal and sensitive information. By design, Ivacy VPN has no sensitive data to share, even when legally bound to do so."
Aside from that, we haven't come across any reports stating that Ivacy has shared user data before. In terms of notices received, there could be thousands. The only problem here is if they disclose any of them. But so far, nothing of the sort has been reported.
Customer Support
The customer support team at Ivacy VPN is available 24/7 and is contactable through Live Chat. The email and ticketing systems are also well provided for, but they take too long compared to the telephone and Skype call options available to a customer.
We've tested their support credibility. First, we were 2nd in turn, but it took around five minutes to initiate the chat. But once the conversation kicked off, their support agent was very professional and helpful.
We asked him a couple of questions, including one about their 24/7 live chat support availability:


Some providers' support team take a break on weekends. Ivacy is available anytime, 7 days a week and 24 hours a day. Whatever the problem is, their support team is always ready to help users solve it. There are also guides for an assortment of installation, troubleshooting, and others.
However, we found that a few of the articles are outdated (for example using screenshots from old versions of the client), and it can't begin to match the professional articles from major VPN providers such as ExpressVPN.
On the other hand, the company maintains active social media accounts on Google+, Facebook, Twitter and even Youtube for customers to voice their concerns. On top of all this, their website invites customers to visit them by listing their street address if they feel they want to express their issues face to face.
Ivacy VPN Review – Pricing Guide
The biggest attraction for the customers who choose to subscribe to Ivacy VPN as their VPN service provider seems to be their pricing plans. Users, however, get to choose between two payments. They get to pay more if they like to add the simultaneous connections they get. Here are the Ivacy VPN subscription packages:
1 Month: $9.99.
1 Year: $44, billed at $3.66/month.
2 Years: $59, billed at $2.45/month.

In both cases, users can save up to 75% if they opt for the Ivacy VPN's 2 year-plan. We know that some of you don't like long term deals, but with VPNs, you could cancel anytime.
Ivacy VPN Review – Payment Methods
Not a lot of VPNs offer users the flexibility they need when it comes to Payment Options. As for Ivacy VPN, it offers six different payment methods, including:
Credit Card
Bitcoin
PayPal
Paymentwall
Perfect Money
Web Money.
Despite having a wide variety of payment options to choose from, there's one thing that caught our attention. Ivacy VPN allows people to pay for their service using Cryptocurrency, which is considered to be one of the best anonymous payment methods.
We've seen this before in top VPN providers, but it's still worth mentioning any time it pops up.
Refund Policy
Speaking of canceling anytime, there's a particular period, which allows users to cancel their subscription without losing the money they paid. It's called a money-back guarantee.
It's a very important feature as it allows us to test the service out and get a full refund in case it did not live up to our expectations. Now, while many other VPN services provide a 7-day money-back guarantee, such as IPVanish, there are some that actually offer a 30-day refund policy, including Ivacy VPN.
Free Trial
While a 30-day money-back guarantee is a perfect way to test a provider's services, users are still getting billed regardless. That's why we look for a free trial instead.
Some of us just don't like sharing our private information, such as our credit card number and the sort. With a free trial, you get to test the service without paying a penny and Ivacy VPN has one.
A 24-hour trial is not that much, but it sure was enough to make this review. You're only required to submit your email address and you've got yourself a premium Ivacy account for a whole day.
All the features are included and the server list is complete. We had to mention that because several VPNs limit what users get to access if they're using their services for free.
However, getting the free trial was a bit hard. We couldn't find anything on the website, so we took it to Google. We typed Ivacy VPN free trial and we got to the support page where it's listed.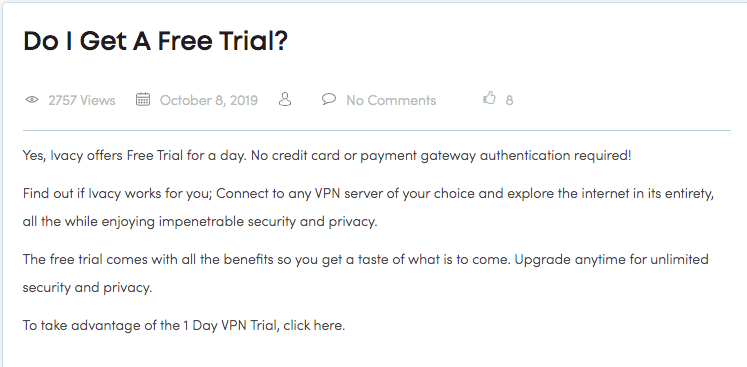 Actually, we were very pleased with Ivacy VPN's free trial, despite being a short one. There are other VPNs, such as Unlocator, that offer a 7-day free trial.
In a Nutshell – Ivacy VPN Review
The recently released new version of the Ivacy VPN is a clear indication that the VPN service provider has its customer's interests at heart. The quality of customer service offered by Ivacy VPN is also another reason to test them out.
In short, we would definitely recommend this particular VPN service to anyone who wants to bypass regional restrictions and browse the web anonymously without having to break the bank. Was the review helpful? Did it help you decide whether you should opt for Ivacy VPN or not? Let us know in the comments below.