VPNs have become important tools for securing and anonymizing our browsing activities. Every VPN has something unique to offer, and today, we'll be reviewing IVPN, the service that was founded back in 2009 by security professionals at the University of London. The VPN promises a lot, but does it have what it takes to compete in the industry? Let's find out in this full IVPN review.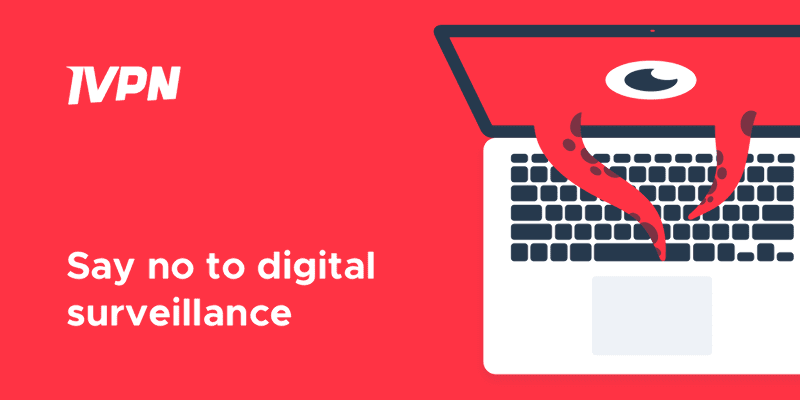 IVPN Review – Content Index
Choosing a good VPN can be quite daunting, which is why we create such reviews to help our readers out with their search.
IVPN is a service that has been around for more than a decade, promising ultimate security and privacy. But the question is: How well does this VPN operate? Is it worth using in 2021? Based on a strict evaluation process, this is what we came up with.
IVPN – Quick Stats
Money-back guarantee
30 Days
Allowed concurrent connections
– Standard Plan: 2 Devices
– Pro Plan: 7 Devices
Supported streaming services
Netflix
No logs policy
Yes
Encryption
AES 256 encryption
Security Protocols
OpenVPN, IPSec, IKEv2, and WireGuard
Special features
Kill Switch, Multi-Hop, Port-Forwarding, Obfuscation technology, and Anti-Tracker
Customer support
Live-chat, Emails, Tickets.
Server locations
32 Countries
Number of servers
76+ servers
Server Switches
Unlimited
Supported devices & web extensions
Android, iOS, PC, Mac, and Linux
VPN legal jurisdiction
Gibraltar
Free Trial
None
IVPN – Pros and Cons
Before we start off with the review, let's give our readers a quick sneak peek at what IVPN did best in this evaluation and the aspects it failed at:
Pros:
Military-grade encryption
Unblocks Netflix
VPN Kill Switch
Unlimited bandwidth
DNS leak protection
Obfuscation technology
Anti-tracker
Multi-Hop
No-logs policy
Affordable prices
30-day refund policy
P2P-friendly
WireGuard support
Warrant Canary
Third-party audit
Cons:
Can't unblock Hulu, Amazon Prime, and BBC iPlayer
Simultaneous connections depend on the subscription
No Smart DNS
No free trial
Small server network
Live chat isn't 24/7
Multi-hop & port forwarding unavailable in the standard subscription
IVPN's Applications
First, let's talk about the most important thing when it comes to getting a VPN – The Application. IVPN offers a range of custom apps that are perfect for new VPN users.
They're very easy to navigate, yet can offer enough options for more seasoned VPN users. At first, we download IVPN's Mac application to see what it has to offer.
The app's design is nice, easy to follow, and the connection process was seamless. All we had to do is pick a server, and 4 seconds later, we established a connection.
The settings section didn't include much. It mostly has the option to change the VPN protocol. On other hand, the multi-hop feature and the kill switch are there on the main screen, which eases everything for the users.
Android
The Android app also looks similar to the desktop counterpart, but the connection process differs here. It's not how we connected, it's the time it took to connect.
The app instantly connected us to the server. It took around 3 seconds to do so. Also, the app includes everything from a kill switch to multi-hop.
The Android app OpenVPN by default, but also supports the experimental WireGuard protocol.
As seen in the images above, everything is there. There's no need to be tech-savvy in order to use the Android application.
App Store Rating
Official App Stores are trustworthy (In a way) when it comes to downloading apps. They mainly check if the app contains any viruses or malware.
However, what they can't offer is advice about whether the app is good or not. This can only be determined based on the users' experience, which brings us to the ratings.
The iOS IVPN application has a 4.1/5 rating based on 117 reviews. That's pretty solid to help other users out and informing them that the app is good.


As for Google Play Store, the app also has positive reviews all over. It has a 3.4/5 rating, but this time, 600+ reviews were submitted.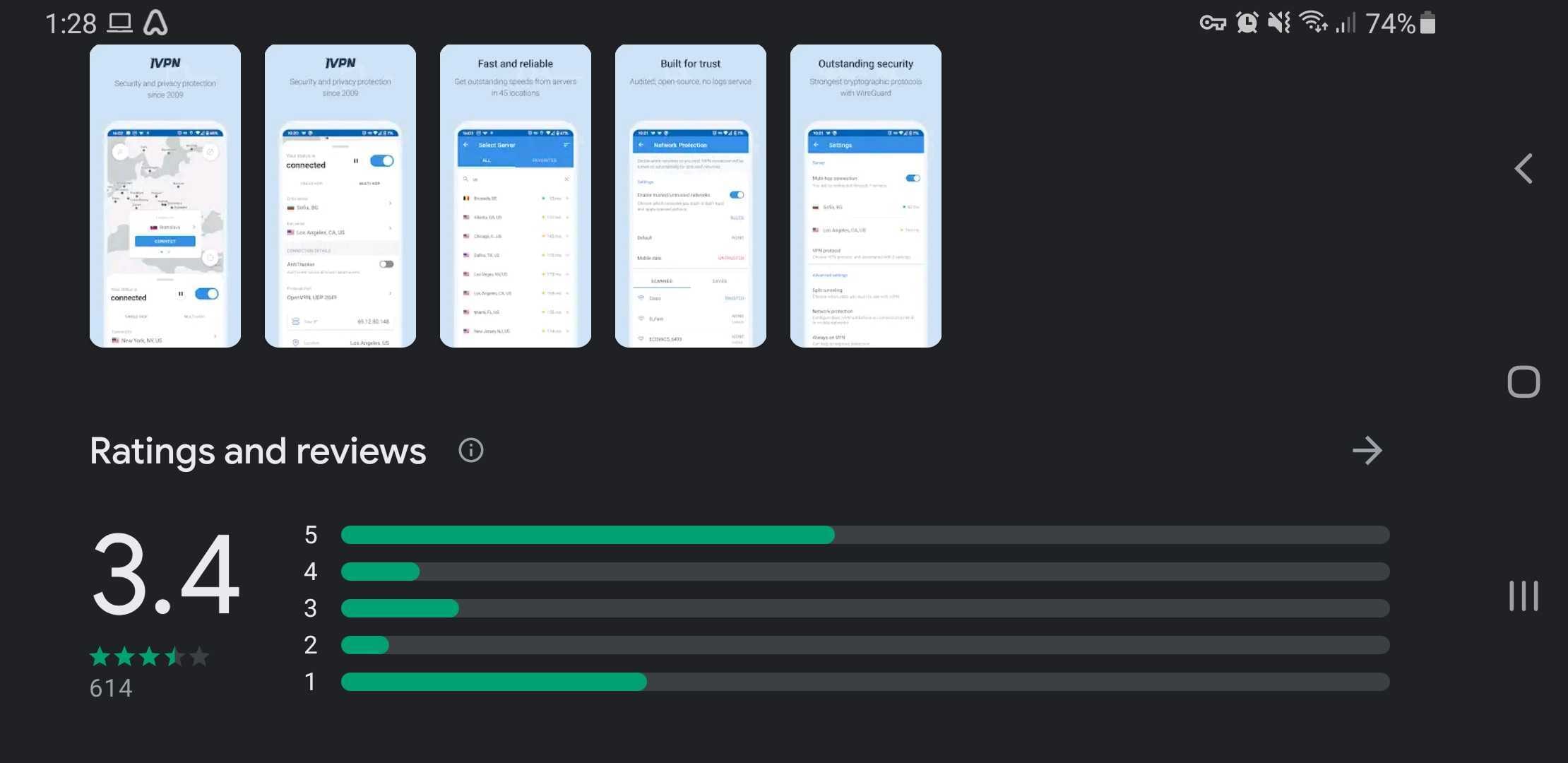 It looks like the provider's app is more popular on Android devices than it is on iOS ones. They both have high ratings, which show that the app is very well received by users.
Trustpilot Review
Trustpilot is one of the main sources we check to see if a VPN is good or not. IVPN has a good rating on the website as users gave it 3.9/5.

Please note that Trustpilot is a credible source, which penalizes any company if it tried to post fake reviews. It happened in the past with a major VPN provider and its ranking went down instantly.
IVPN – The Servers
A VPN connection cannot be established without its own servers, and the bigger it is, the better for the customer for a lot of reasons.
A VPN with plenty of strategically placed servers allows users to have dozens of options, especially when they're looking to unblock certain websites or streaming services.
However, that's not the case every time. Even if the main goal isn't for bypassing restrictions, a wide variety of server locations is definitely a must.
Speed-wise, being able to provide several servers in the same country is essential, mainly to avoid overloading the server.
Usually, this is a problem that free VPNs face as they only allow users to connect to a single server, overloading it with time, and ending up with slow to no connections at all.
The number of servers aside, another important factor to look for is the number of countries the VPN covers. We always go for the higher number of countries and then consider checking the servers. 
Again, a wide server network is an essential part of our evaluation and IVPN does a decent job at it.
The Servers
The service has around 76 servers in 32 countries. That's not bad, yet not very good compared to what we've seen so far with other competitors. Here's the full list:
Austria
Australia
Belgium
Bulgaria
Brazil
Canada
Switzerland
Czech Republic
Germany
Denmark
Spain
Finland
France
The United Kingdom
Hong Kong
Hungary
Israel
Iceland
Italy
Japan
Luxemburg
Netherlands
Norway
Poland
Portugal
Serbia
Romania
Sweden
Singapore
Slovakia
Ukraine
The United States
Basically, this is not a server network that can compete with other top providers. It does provide key locations, but for a VPN that has been around for more than a decade, this is kind of a letdown.
IVPN launched in 2009, and now, 12 years later, it only has servers in 32 countries. That's not enough, especially when the servers' count doesn't exceed 100.
Streaming Capabilities
A Virtual Private Network's sole purpose of existence is to enhance a user's privacy and security. When connected, the VPN hides our IP address and replaces it with one in the country where the server is located.
While this provides total anonymity, it also has other benefits we can take advantage of, especially when it comes to bypassing restrictions.
Streaming channels and websites apply what we call geo-blocking, which restricts user access based on his/her location. They use geolocation techniques, mainly examining the IP address, to determine our whereabouts.
If users are within their area of coverage, they can stream their content. If not, however, they'll be instantly blocked and they'll receive an error message instead.
Take HBO Max, for example. The channel is only available in the United States, which means that it requires an American IP address.
If users live abroad, a US IP address is exactly what they lack, resulting in the following error message if they ever attempt to access the channel in their region:
"Not in Service area. HBO Max is currently only supported in the U.S. and certain U.S territories."
With a VPN, this problem can possibly go away as it changes the users' location and makes it appear as if they're accessing the web from the channel's coverage territory.
In HBO Max's case, for instance, a connection to a US server should be established. With that, users will get an American IP address, and manage to watch the channel's content no matter where they are.
Geo-blocking Isn't the Only Issue Anymore
In case it wasn't clear above, we did say "possibly" when referring to bypassing the problem. That's because using the geo-blocking mechanism isn't the only obstacle we face now with streaming services.
Yes, a VPN can be used to not only shield a user's data, but also to gain access to international restricted services such as Hulu, Netflix, Amazon, BBC, Disney+, and so on.
However, these services are solely focused on protecting their content all the way, developing new techniques to do so in the process.
Nowadays, these services are currently on an active campaign to block all VPN and Proxy connections. They have blacklisted millions of IPv4 addresses, making it next to impossible for most VPNs to get the unblocking task done.
Testing whether a VPN is capable of unblocking streaming channels abroad has become a priority in our evaluation process, which is why we always test how the provider fares against top streaming channels' VPN banning techniques.
IVPN will be no different as we're going to see if it can bypass whatever ban the likes of Netflix, Hulu, Amazon Prime, and BBC iPlayer apply. Here's what we got.
Netflix
Netflix is by far the biggest streaming service around the world in terms of subscribers. The channel has more than 195 million subscribers across the globe, and 73 million of them are in the US.
The channel does apply geo-blocking, but in a different way than others. Since it's available on a global scale, Netflix only limits the content users get to access.
In other words, each country gets its own catalog and titles that they can watch. For example, in the United States, there are almost 5,638 titles on offer compared to 4,693 titles available in the UK.
That's why accessing US Netflix has always been a priority for VPN users. Here's where the test comes in place. Netflix is probably the first channel to apply VPN banning, and it's one of the toughest to break.
If a VPN isn't credible enough, two scenarios are encountered. First, the users would get a proxy error that looks like this.
"Pardon the interruption. You seem to be using an unblocker or proxy. Please turn off any of these services and try again. Error Code: M7111 – 5059."
The second scenario would be the lack of content intended to unblock. What we mean is that the targeted library won't show up despite gaining a US IP address from the used VPN. What happened with IVPN? Take a look.
IVPN vs. Netflix
Unlike some of the other VPN providers we tested before, IVPN doesn't have a dedicated section that shows which servers work with streaming services and which do not.
We had to try them manually. At first, we connected to the Atlanta server, in hopes of getting the US library provided by Netflix. However, it didn't work out well as the library itself didn't show up.
We searched for a US-only title – Gimme Shelter, and nothing popped up as seen in the image below.

This didn't seem promising at first, but we kept on trying other servers to see if one of them can unblock the library.
Actually, that did happen after a few trial and error attempts when we connected to the Chicago server. Once the connection was established, we found Gimme Shelter once searched for, and the video started streaming instantly.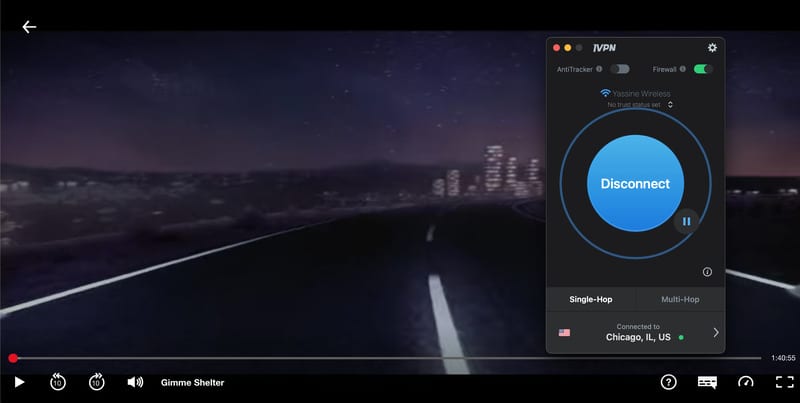 It took us a while to get the channel to work, but eventually, we can say that IVPN is a VPN that has the capabilities for unblocking US Netflix abroad.
Hulu
Hulu is another channel that applies one of the toughest VPN blocks in the industry. Unlike Netflix, Hulu's geo-blocking doesn't focus on the content a country gets, it restricts its entire library to one region – The United States.
In other words, Hulu's 38.5 subscribers consist only of those who live in the US to watch its series, movies, or live streams. A US IP address is required, and that can be easily obtained using a VPN.
However, just like Netflix, having a US IP address isn't enough with Hulu. The VPN should have optimized servers in order to unblock the channel abroad.
Otherwise, the VPN blocking mechanism imposed will be present to stop the users in their tracks. We tried IVPN to see whether it's capable of unblocking Hulu or not.
First, we stayed connected to the same server we used to unblock Netflix with. Well, that didn't work out very well as the channel detected our VPN traffic and blocked us instantly.
"It looks like you're using an anonymous proxy or VPN. You'll need to disable it to watch Hulu. Hulu Error Code: P-EDU101."
We tried every single server IVPN had in the US to see if any of them can unblock the channel just like we did with Netflix.
We had no luck as all of the 12 server locations available on both the Mac and Android apps didn't manage to get around the VPN ban. So, it's safe to say that IVPN cannot unblock Hulu outside of the US.
Amazon Prime Video
We continue our streaming tests with none other than the major streaming service Amazon Prime Video.
Similar to Netflix, this streaming giant is available on a global scale and has harnessed over 150 million subscribers, with 50+ million of them in the United States only.
Prime Video's geo-blocking works by assigning specific catalogs to each supported country. They follow the same criterion as Netflix does.
Also, another common thing between the two is the fact that the US library is the richest, tempting users from all over the world to use a VPN and try to unblock the US catalog.
In the past, it wasn't that hard to get around Amazon's restrictions. However, nowadays, it's very difficult to bypass its banning mechanism.
We tried IVPN to see if any of the servers can unblock the channel. The results were negative all the way.
"Your device is connected to the internet using a VPN or proxy service. Please disable it and try again."
Again, we tried all 12 servers in the United States and none of them worked. So far, IVPN isn't doing a good job when it comes to unblocking streaming services.
BBC iPlayer
Now, we head all the way to the United Kingdom and test IVPN with one of the most popular services in the region – BBC iPlayer.
The channel has been around for quite some time now, and it gained popularity in the country due to offering its services for free.
Yes, if anyone has a TV License, he/she can watch the BBC's content without paying a dime. BBC iPlayer gained more than 1.4 billion requests in the first 3 months of 2020.
It might be due to the pandemic as it got 34 percent more of total viewings than the first quarter of 2019.
However, we have to note that 1.4 billion is a bit much for one region, which brings us to how popular the channel is abroad.
BBC stated that these requests are coming from all over the world as people use VPNs and proxy tools to access the service abroad.
The problem is that this is not easy to do anymore thanks to BBC's tough VPN ban. This was very obvious when we tried IVPN as it too fell victim to the VPN blocking.
"This content is not currently available."
iVPN has two server locations in the UK and both did not manage to unblock BBC iPlayer. The channel was easily able to detect our VPN traffic and blocked us instantly.
IVPN Clarifies
After testing all of the services above, we went ahead and asked their customer support about their inability to unblock them.
Obviously, they stated that a VPN is created to enhance a user's security and privacy, and unblocking content is a plus.
The agent also redirected us to a page where they clearly elaborate on the matter. Here's what's mention:
"A VPN service can be used to not only protect your privacy but also to gain access to services not available in your current location, such as Hulu, Netflix, Amazon, BBC, Disney+ and so on.

However, IVPN is focused specifically on protecting the privacy of our customers and although many customers do use IVPN to access these services we make no guarantee about the availability of these services when connected to our network."
This comes both in a positive and a negative way. The negative is that the VPN isn't well-optimized to unblock streaming services, which is mostly what 50% of people look for in a provider.
The positive is that they're not ashamed of it and they openly mention it on their website so that new customers can know before they opt for the service.
P2P Support
Torrenting and downloading files through the BitTorrent network is a common practice among internet users.
They can basically find anything they want for free, be it movies, shows, music, concerts, and even books. In fact, more than 28 million users indulge in P2P file-sharing every day.
Despite being convenient, easy, and free, torrenting doesn't come without its own issues. First, in most countries, the practice is marked as illegal.
P2P file sharing is not illegal, and we're talking about the method of download. What's illegal though is the kind of content users download, especially when it violates copyright laws.
When the downloads affect the entertainment industry and cause financial hits due to everyone turning towards piracy, that's when the law interferes.
Some countries take this more seriously than others and sue anyone who indulges in such practices.
The United States, India, Japan, Germany, and so many more impose heavy penalties on those who download pirated content. They can even suffer imprisonment for years.
We're always against such practices and so are VPNs. However, mistakes happen and a lot of innocent torrent users have been penalized for doing nothing at all.
With a VPN, they can hide their IP address (conceal their identity) and download torrent files anonymously. Now, if they're downloading non-copyrighted material, they can rest assured that no harm will come their way by the authorities. 
The Dangerous Swarm!
Aside from getting users into legal problems, their privacy is at stake as they'll be exposing a lot of personal information while practicing torrenting.
Whoever is uploading or downloading the same file is marked as a peer, and several peers are known as a swarm.
In this swarm, everyone can see each others' IP addresses. By everyone, we're also referring to hackers who decide to join in order to commit malicious acts.
With a visible IP address, cybercriminals can determine a lot about the user, including his/her location. Now, with a VPN, that IP address can be concealed and replaced with a different one.
As a result, they'll be able to download torrent files anonymously without exposing anything. The only IP address visible in this process will be the one provided by the VPN.
However, not all VPN are P2P friendly, and some are semi-friendly when it comes to such practice. IVPN is P2P friendly, but it also advises its customers not to use US servers. According to their website:
"Yes, however, our upstream providers in the USA have threatened to disconnect our servers on multiple occasions as a result of the high number of DMCA notices we receive. We kindly request that customers avoid USA based servers for P2P (including USA exit servers on Multi-hop)."
So basically, IVPN does allow P2P traffic, but with limits. Unlike other top VPNs that provide obfuscation technology and optimize all their servers for P2P traffic, IVPN should work better on this.
Smart DNS
As mentioned, a VPN can be used to bypass the internet's limitations and allow users to access geo-restricted content wherever they may be.
One of these restrictions bending benefits is that we can region-blocked channels outside their area of coverage.
However, channels need connection speed for high-quality streaming, and a VPN, no matter which one it is, will definitely cause a speed drop due to the encryption applied.
Some VPNs manage to maintain excellent speeds, while others can't pull it off. Regardless, a lot of VPNs have given their customers an alternative for accessing restricted content with minimum speed loss – Smart DNS proxies.
With that, they'll never have to worry about encryption, server location, and server load, but their privacy and security won't be enhanced.
No encryption will be applied, nor will the IP address change. This technology only reroutes some of the users' traffic in order to trick websites and streaming channels into thinking that they reside within their area of coverage.
We searched the entire IVPN website and nothing about Smart DNS was mentioned. After that, we contacted their customer support to shed some light on the manner, and here's what they had to say:
With other VPNs, the answer would be "No" in case they didn't provide it. What we liked about this is that they actually added our request to their list and are willing to take any suggestions to further improve their service. That's quite interesting actually.
IVPN – The Privacy Sector
When it comes to privacy, the first thing we should look at is where the VPN is actually based. That determines a lot about how it handles its customers' information.
IVPN is based in Gibraltar, which is a British overseas territory. For those who don't know, the United Kingdom is part of the 14 Eyes Alliance, which imposes heavy surveillance in the region.
Despite its connection, Gibraltar has its own system of governance. In other words, it can adopt UK laws or make its own ones, so basically, IVPN has no obligation to collect data in Gibraltar as the UK government has no power over the territory.
We still have to be careful as there's no guarantee that our data is safe. The UK still has some sort of power in Gibraltar, regardless of the region's freedom to act on its own. 
Another way to make sure is by checking their privacy policy. What we found is that IVPN keeps absolutely no logs of their users' data.
IVPN claims to keep absolutely no logs of your data. Our first positive finding is that they don't collect cookies, which means that they don't sell information to third parties. IVPN doesn't collect the following:
IP addresses
Traffic
DNS requests
Connection timestamps
User bandwidth
This is what the privacy policy includes:
"We do not store any connection logs whatsoever. In addition, we do not log bandwidth usage, session data or requests to our DNS servers."
Finally, a kill switch is available to cut off the internet connection if a sudden drop in the VPN occurs. On the Mac app, we couldn't find it at first. However, it turned out to be the Firewall, which means that all supported devices have it.
Based on what we've seen, we're glad to say that unlike a lot of VPNs out there, IVPN has a transparent privacy policy that includes no hidden tricks and clauses.
What About Security?
When we speak of a VPN's security, we have to kick it off with the encryption it applies. The provider uses AES-256-GCM and AES-256-CBC, which is among the strongest encryptions.
It's basically uncrackable and if anyone gets a hold of the data, they won't be able to decipher it due to its complexity.
As for the protocols used, IVPN offers none other than the industry-standard – OpenVPN. It's one of the strongest and fastest protocols in the industry that comes with reliable performance.
Both mobile and desktop apps have OpenVPN as a choice. However, what we liked the most is that IVPN also allows the use of WireGuard, which is considered as the future of VPNs.
Moreover, IPSec and IKEv2 are also available. They do require some manual configuration, however, but users don't need to bother with that as OpenVPN and Wireguard are our preferred protocols anyway.
Also, IVPN has a Multihop feature that offers an extra layer of security. This technology works by rerouting the user's connection through multiple servers in different countries. While this doubles the encryption, it also doubles the speed loss.
In terms of security, assessing IVPN is far from over. There are a few more tests that should be done before we guarantee its credibility.
Virus Scan
Please note that this part is not only for VPN apps; it's for every software users install on their device, especially when the source is a website and not an official store.
Such installers or applications might include malware or viruses. Once installed, they may infect a device and harvest the users' information.
It's dangerous and users should be cautious all the time. Before we got to install the IVPN app on our Mac, we ran its dmg installer through a credible Virus Checker to see if anything is embedded within.
Based on 59 sources, the app is totally virus-free and safe to install.


Back in March 2020, Google found more than 600 malware-infected websites. That's why it's important to check the app before installing it to avoid any predicaments.
DNS Leak Test
VPNs exist to enhance our security and anonymize our internet browsing. They reroute our traffic through encrypted tunnels and hide whatever it is we do on the web, including our DNS requests.
However, the common thing between every single VPN out there promise privacy and security, but not all of them keep their promises.
It might happen unintentionally, but it causes drastic issues at the end of the line. When a VPN doesn't do its job right or a user connects to a misconfigured network, a DNS leak is bound to happen.
When this occurs, the DNS request will leak outside the encrypted tunnel and straight through the ISP's servers, which compromises everything the user is doing. 
In every review we create, it's critical to check if a VPN is leaking data, and IVPN is no different. We connected to a US server and scanned everything. Here's what we got:

As seen in the image above, everything presented in the test is based on the VPN server we connected to. There's no DNS leak whatsoever. IVPN is doing a great job so far in the security department.
Third-Party Auditing
So far, IVPN is doing great when it comes to security, but it's always better to dig deeper into the matter, just to make sure that everything is in place.
In our reviews, we always rely on third-party audits, which are tests done by security researchers that help verify a VPN's claims, mainly the logging policy, using hard facts.
Of course, the audit should be performed by a reputable company. Otherwise, the audit might be questionable.
This brings us to IVPN, which among other top providers, has run its service through a third-party audit done by none other than Cure53.
Cure53's aim is to test IVPN's service for weaknesses to be discovered and fixed. The company spent around 21 days assessing the security protocols that IVPN employs.
They found 9 issues that are now being fixed and resolved. They even posted the full audit on their website.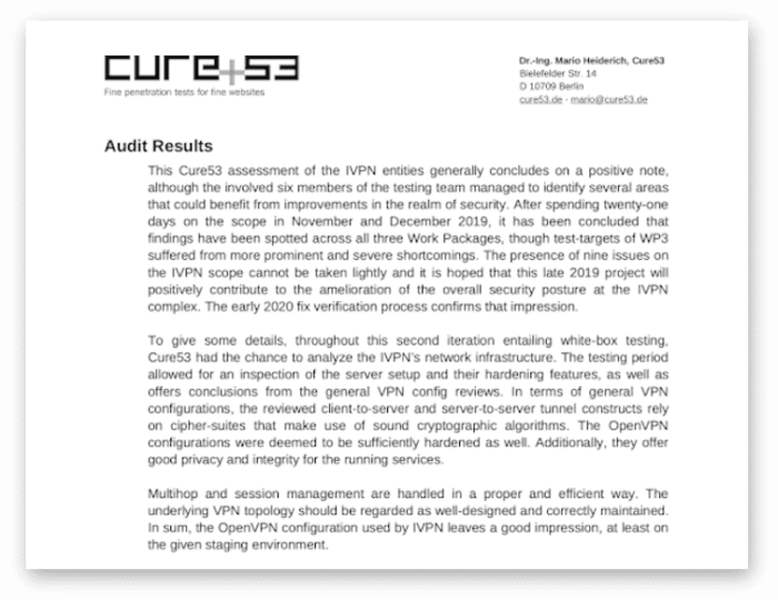 We've reviewed previous top VPNs before and a lot of them didn't go through this. We're pleased to see IVPN trying to improve both its security and trustworthiness.
Warrant Canary
Despite being in a jurisdiction where they're totally safe from the UK government, we already stated that there's no guarantee that it won't enforce anything in the near future.
No matter how credible the VPN is, governments can issue gag orders or subpoenas, forcing it to provide data about their customers.
VPNs have to protect users' personal data from any entity that targets it, but with a gag order, even the customers won't know that a breach has occurred.
That's why VPNs use a Warrant Canary – an indirect way to notify their customers that their service has been compromised by the government.
This note is usually on the provider's website and should be updated regularly. Once the message is left unchanged, users should know that the government has something to do with it.
Just like a lot of VPNs out there, IVPN does include a Warrant Canary on its website. So far, it states the following:
"As of 2021-01-03 no warrants have ever been served to IVPN or IVPN employees. No searches or seizures of any kind have ever been performed on IVPN assets.

IVPN has no direct or indirect knowledge of any backdoors, or potential backdoors in our servers or network and IVPN has not received any requests to implement a backdoor. IVPN has never disclosed any user communications to any third party."
Apparently, there's nothing to worry about as IVPN has not received any worrying subpoenas or gag orders up till now.
Customer Support
A VPN's customer support is one of the main attraction points when it comes to promoting itself. Most VPNs have live chat to further help new users with their inquiries on the spot.
Top VPNs like ExpressVPN, NordVPN, and SurfShark offer this service 24/7. IVPN, however, does not. While there is live chat, it's not always available.
The first time we contacted them was mentioned above when we asked about their Smart DNS feature. Luckily for us, they were online.
The support agents respond promptly and pleasantly, providing useful information and adding our request for future implementation. 
The problem is that most of the time we needed them, they weren't available. Therefore, we used their emailing option.
They do state that their reply takes around 24 hours, but we got ours in 35 minutes, which was excellent. We asked them about their live-chat hours and whether it's 24/7 or not. This is what they replied with:
Unfortunately, there's no 24/7 live-chat feature, but the customer support service is quite decent. IVPN also has a help center for frequently asked questions and solutions, which users can benefit from in case the support team wasn't online.
Languages
The website/app's language can help a lot of users around the world navigate with ease. A lot of VPNs have taken this under consideration and adapted it in the past.
They allow users to switch the language in hopes of catering to all their needs, aiding them all the way by letting them choose their native language.
However, IVPN doesn't have that option and the only language its customers get is the English one, which is not bad in the end as it's used by almost anyone in the world.
Pricing and Subscription
In the past, IVPN had decent pricing plans, but apparently, they thought this through. We don't blame them since the pricing page is probably the first thing users look at when they want to opt for a service.
The provider has recently updated its pricing plan, and it's now more affordable and convenient for anyone on a budget.
Users can pick between a Standard Plan and a Pro Plan. Both differ in the features they offer, and, of course, the price.
The Standard Plan does not support multi-hop VPN or port forwarding and it only allows two simultaneous connections.
The Pro Plan does support those extra security features, along with 7 simultaneous connections. Now, we're used to VPNs offering monthly plans as a minimum.
However, IVPN is among the few that provides a weekly one. With that said, these are the IVPN pricing plans:
Standard Plan
$2/week
$6/month
$60/year
$100/2 years
$140/3 years
Pro Plan
$4/week
$10/month
$100/year
$160/2 Years
$220/3 Years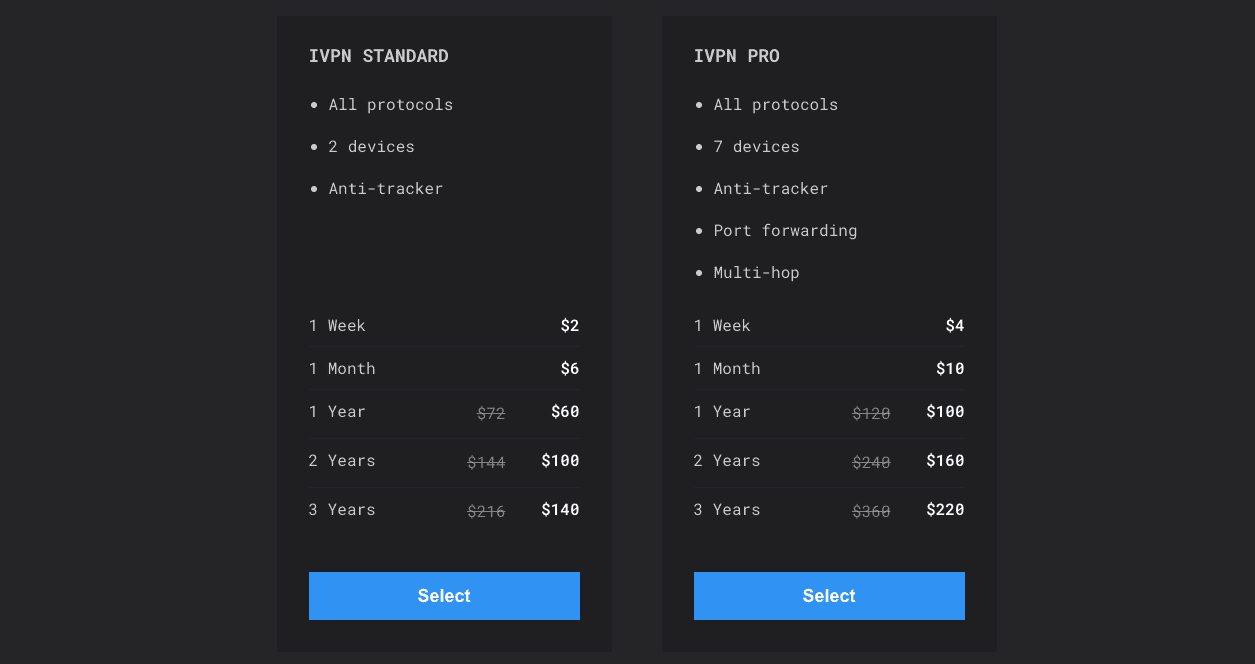 The prices are great, especially when users opt for a yearly plan. IVPN has a lot of security features one could benefit from, but its streaming compatibility isn't that great. One should set his/her priorities straight before opting for the service.
Payment Options
There are many methods you can use to subscribe to IVPN's service. These include the likes of Credit cards, PayPal, gift cards, Cryptocurrency, and Cash.
There aren't that many VPN providers that allow cash payments. It's actually pretty good when it comes to securing money online.
However, allowing payment via cryptocurrency is an added plus in this department since users can now pay anonymously without having to worry about revealing their identity.
Money-Back Guarantee & Free Trial
VPNs are products, and a product should have some guarantee that a customer's money won't go to waste in the end.
That's why most VPNs offer a refund policy to further increase the trust between them and the buyer. In IVPN's case, all of its subscription plans include a 30-day money-back guarantee.
If the new customer is not satisfied with what the provider has to offer, he/she can ask for a full refund within the first 30 days of purchase.
On the other hand, other providers allow their users to try their service for free for a short period of time. Providers like Unlocator and BulletVPN have that.
IVPN, however, doesn't. Here's what their website states:
"We don't have a free trial option. We offer an affordable one week paid plan which can be used to test our service out. With our 30-day money0back guarantee, you can sign up and try IVPN with no risks."
In our opinion, the pricing and money-back guarantee are more than enough to try their service out. However, it doesn't hurt to give a service a test drive for free without having to submit our credit card information.
IVPN Review – Final Thoughts
IVPN proved to be a solid provider when it comes to security and privacy. Its pricing is well thought of compared to what it has to offer.
However, the problem lied in their streaming compatibility as they weren't able to unblock any channel but Netflix. Even that took a few tries to work.
So, the verdict is: If you're looking for a more secure internet approach, IVPN is a very solid candidate.
If streaming is what you're looking for, IVPN isn't worth the money or time. You have to choose based on your needs, and once you do, let us know in the comment section below.
IVPN Review
Security and Privacy

Support

VPN Apps

Unblocking Capabilities