Atlas VPN 2023 Review – A New VPN Service
Last Updated On: December 5, 2022

|

1 Comment

|
During the Coronavirus crisis, we've come across a VPN, offering 90-days of free service. That VPN is the newly established Atlas VPN. So, since the offer is very intriguing, we decided to review what this VPN has to offer. Is it as good as it claims? Does this free offer come at a price – your privacy? Let's find out.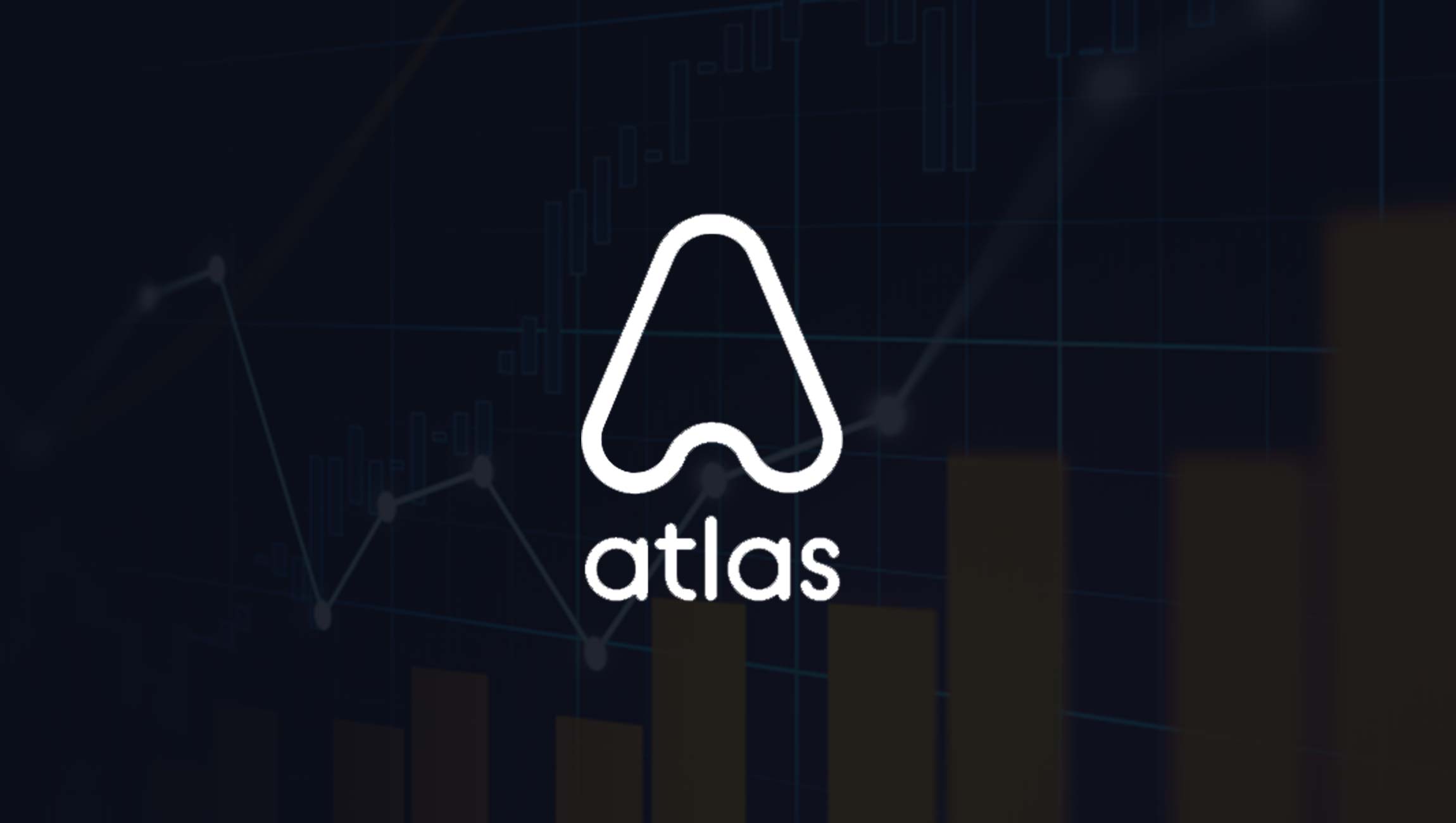 Atlas VPN Review – Content Index
A couple of months old, and so far, it has more thousands of users. Atlas VPN proved to be quite an intriguing provider, which lead us to review what it has to offer. Here's what we got:
Quick Stats
| | |
| --- | --- |
| Money-back guarantee | None |
| Allowed concurrent connections | N/A |
| Supported streaming services | Netflix, Amazon Prime, Hulu, Disney+ |
| No logs policy | Yes |
| Encryption | AES 256 encryption |
| Security Protocols | IKEv2 |
| Special features | SafeBrowse, Always-on VPN |
| Customer support | Email support |
| Server locations | 17 countries |
| Number of servers | 100+ servers |
| Server Switches | Unlimited |
| Supported devices & web extensions | Android, iOS |
| VPN legal jurisdiction | United States |
| Free Trial | A free version, 90-day free premium trial. |
Atlas VPN – Pros and Cons
The service is new, but that doesn't mean that there are some advantages and disadvantages we encountered while assessing Atlas VPN.
Based on our strict evaluation process, here's what we liked and disliked about the provider:
Pros:
Military-grade encryption

Strict no-logs policy

P2P Support

Unblocks Netflix, Amazon Prime Video, Hulu, and Disney+

DNS leak protection

90-day free trial
Free version
Cons:
No Smart DNS
Lacks a kill switch
Email support only
Small server network
Very few features
inconsistent speeds
Apps & Interface
Atlas VPN launched its free mobile app in January 2020 to help protect user's online identity while browsing the internet.
As we mentioned, the first thing that caught our attention was their free offering. But the question is, did they put effort into their applications?
The service has apps for mobile devices only, which means Mac and Windows users won't get to use Atlas VPN.
Now, we downloaded the application on our Android device, and the experience was not as we expected it to be.
AtlasVPN has both a "free" and a "premium" service. The free one includes three servers – two in the US, and one in the Netherlands.
Connecting to a server in the United States was very simple, straightforward, and fast. It took us around 2 seconds to establish a connection. This is how the app looks like:



The application still needs a lot of work. In the settings menu, there's nothing to be done there.
We're stuck with IKEv2 protocol, not able to change to anything else. On the other hand, unlike most reputable VPNs, a kill switch is missing.
Therefore, there's a high possibility that our data might be compromised if Atlas VPN suddenly disconnects.
App Store Rating
App Stores' rating is very important when it comes to figuring out how credible the VPN is.
We rely on users' experience when we evaluate a VPN, and what we've seen on both Google Play Store and Apple Store was pretty positive.
On the iOS Store, Atlas VPN's app has a 4.4/5 rating based on 12 reviews only. Well, the VPN is still new, and not many users know about it yet, so we can't judge.

However, a certain comment caught our attention praising the service. Here's what it said:
"I can't believe this is a free vpn Atlas vpn is by far better than Ipvanish and all other paid Vpn this is like a premium free Vpn i love it I'm glad i downloaded it i can't complain so far i will recommend it to anyone very strong and reliable keep it up Atlas 👍🏻👍🏻"
The Google Play Store showed the same points of view, as the Atlas VPN app has a 4.8/5 rating based on 500+ reviews.
So, basically, users are satisfied with the service that Atlas VPN offers. We're reviewing the provider to find out exactly why.
Trustpilot
The name says it all. We rely on the reviews provided on Trustpilot in our VPN evaluation, as it's one of the most trusted websites on the internet.
We should note that a lot of VPN services have tried to increase their rating by posting fake comments (reviews) on the website. However, Trustpilot was able to detect those and penalize them by degrading their ranking.
Atlas VPN is still new, and based on ten reviews, the provider earned a 4.3/5 rating.
Now, there's one comment that grabbed our attention, here it is:
"Changes my IP address and doesn't slow my phone down but doesn't unlock Crunchyroll."
We didn't leave it hanging, and we certainly did not judge the VPN's capabilities right away. In this review, we have a dedicated section for unblocking abilities, but to check out whether this comment is true or not, we performed an early test on Crunchyroll.
The fact is, Atlas VPN is more than capable of accessing Crunchyroll outside the US. Using a server in New York, we were able to watch One Piece's latest episode.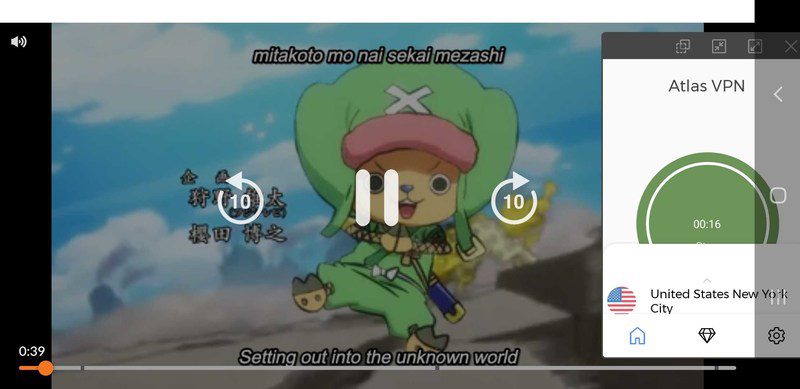 It's clear that not all users may have the same experience with a certain product. The reviewer's Crunchyroll encounter wasn't as good as ours.
We don't know what exactly went on when he was trying it, but as the image above shows, Atlas VPN can and did unblock the channel.
Atlas VPN – Server Distribution
The service is still new, so we didn't expect a wide range of server distribution. In fact, we were right as Atlas VPN has only around 17 servers around the world.
However, what we noticed is that these servers are well spread across key countries on the map – countries where major streaming services are available to unblock.
So far, Atlas VPN has three server locations for free users and the following for premium ones:
Australia
Austria
Belgium
Canada
Denmark
France
Germany
Ireland
Italy
Netherlands
Norway
Singapore
Spain
Sweden
Switzerland
United Kingdom
United States
The server network is still small, but we have to acknowledge the fact that Atlas VPN is still new, and on the verge of expanding even more.
Speed Performance
A VPN's speed is a crucial element when it comes to evaluating it. If it's not fast, it's most probably not worth it.
Whenever a VPN connection is established, the internet speed will, without a doubt, drop due to encryption. But if the VPN hosts well-optimized servers that maintain good speeds, that's a different equation.
Speeds are also essential for those who are using the VPN for streaming purposes. Slow speeds won't help them out as buffering and quality issues start to rise.
This is why we performed a couple of tests on Atlas VPN to see it's credible enough to provide the speed needed for a smooth internet experience.
The Test
According to the three servers we had in the free version, the following tests were conducted:
First, this is our connection without connecting to Atlas VPN.
Now the test begins. We started off using a New York server, which you'll see in the next part. If we look at the speeds recorded, we suffered a great hit, but our connection was still good enough to stream content in HD.
Next, we used another server in the United States – Los Angeles. The results were better but close. The Los Angeles server caused around 81% drop, which is considered to be very bad. But that didn't ruin our video streaming at all.
Finally, we connected to a server in the Netherlands, which is the last server offered in the free version of the service. We got the same results as with the New York server.
These are the servers offered for free. As we saw, the service offers 4K streaming options to premium users.
However, since we couldn't get a premium account, these are the servers we were able to test. To be frank and straightforward, when we were streaming, no quality loss of buffering occurred.
The tests showed that Atlas VPN isn't that fast, and it's not compared to other VPNs on the market. But it's still manageable according to our experience.
Atlas VPN's Streaming Compatibility
Bypassing geo-blocks and accessing geo-restricted content around the world are two of the VPN's main jobs. In fact, most people use VPNs, not for safety and security, but for entertainment purposes.
This brings us to unblocking channels in separate countries. Now, we'll be focusing on the top streaming services, including Netflix, Hulu, Amazon Prime, and Disney Plus.
It's not about the channel's location, we hand-picked those because they're able to detect VPNs and proxies, which has been a problem for most premium VPNs.
How does Atlas VPN fare when it comes to unblocking those services? Here are the tests performed:
Netflix
The streaming giant is well-known for its tough VPN ban. Even reputable VPN providers in the industry have admitted defeat when it comes to accessing the channel's US catalog.
Netflix can detect VPNs, and if it does, this error message will appear:
"You seem to be using an unblocker or proxy. Please turn off any of these services and try again. Error Code: M7111 – 5059".
To be honest, we were very skeptical about Atlas VPN's capabilities, especially that it offers its services for free. Well, the provider proved us wrong, even while using its Free US server.
Atlas VPN managed to unblock US Netflix, and we were able to stream Star-Crossed (US-only title) in our region without any problem.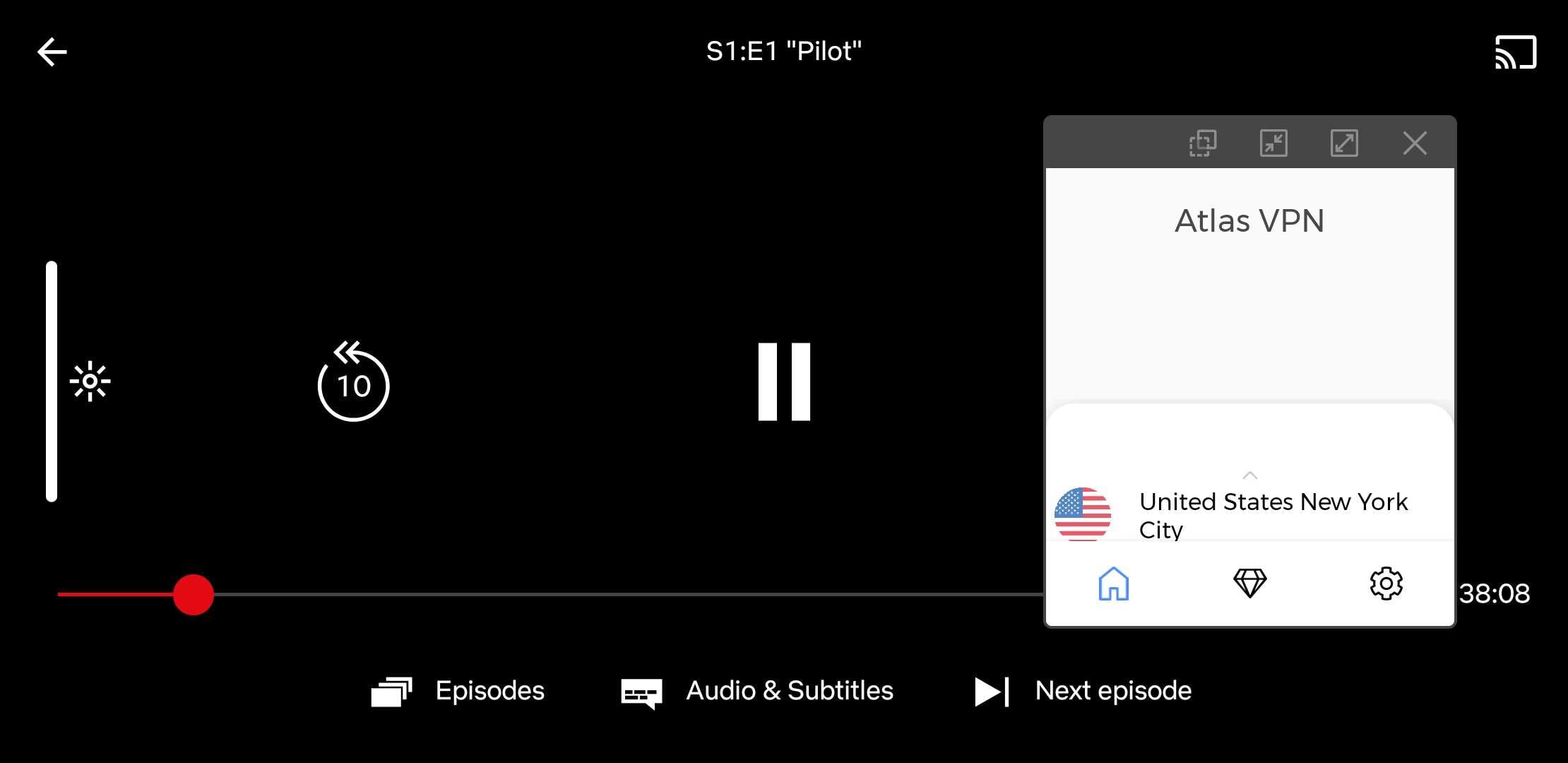 As you may know, Netflix doesn't allow screenshots, which explains the black screen above. However, it's proof enough that the video is working and no error appeared. We were able to stream US titles in our region using Atlas VPN's US servers.
Hulu
With over 30 million subscribers, Hulu has become a top contender in the streaming industry. But unlike Netflix, Hulu is only available in one country, the United States.
A VPN can help access the channel if users connect to a server in the United States. However, Hulu also has a tough VPN block that detects Virtual Private Networks.
If a VPN is not credible enough, this error message appears:
"It looks like you're using an anonymous proxy. You'll need to disable it to watch Hulu. Hulu Error Code: P-EDU101."
Again, despite being a free service, Atlas VPN managed to unblock Hulu outside the United States. We used the provider's New York server to do so, and the results were as such: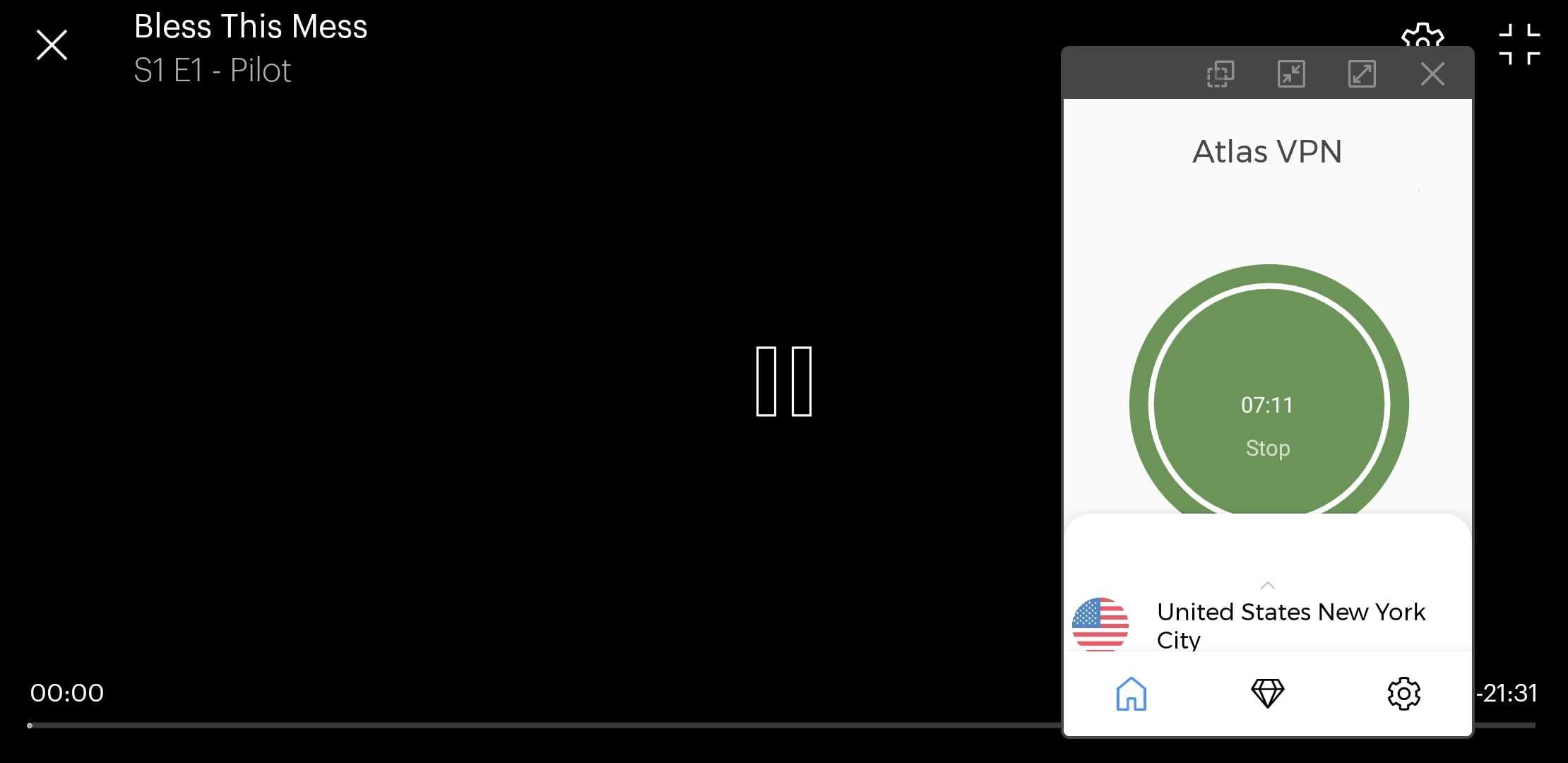 As seen in the image above, Hulu also doesn't allow screenshots. It's a mechanism used by most streaming services nowadays to protect their copyrights.
But the video was working perfectly, and we were very impressed by Atlas VPN's unblocking capabilities up to that point.
Amazon Prime Video
We continue our tests on streaming giants. And now, it's Amazon Prime Video's turn as it also uses a tough VPN blocking mechanism.
A lot of VPNs have failed to unblock the channel's US library before. Does Atlas VPN fall into the same category?
Well, not really. We remained connected to the New York server we used above, and the results were the same.
Atlas VPN managed to unblock Amazon Prime's US library, and we were able to stream The Grand Tour without getting any error message.
So far so good. Let's see what the VPN did when we tested on one of the latest, newest, and most popular channels in the world.
Disney Plus
Disney+ has recently launched and it attracted more than 28 million subscribers since November 2020.
These subscribers are located in certain regions, where Disney had made its service available. With big titles and amazing old-school series, the channel has become a target by viewers all over the world.
The US Disney+ is what we aimed for, and we remained connected to Atlas VPN's New York server.
The channel did unblock, we were able to stream The Good Dinosaur, but a screenshot of the video could not be taken.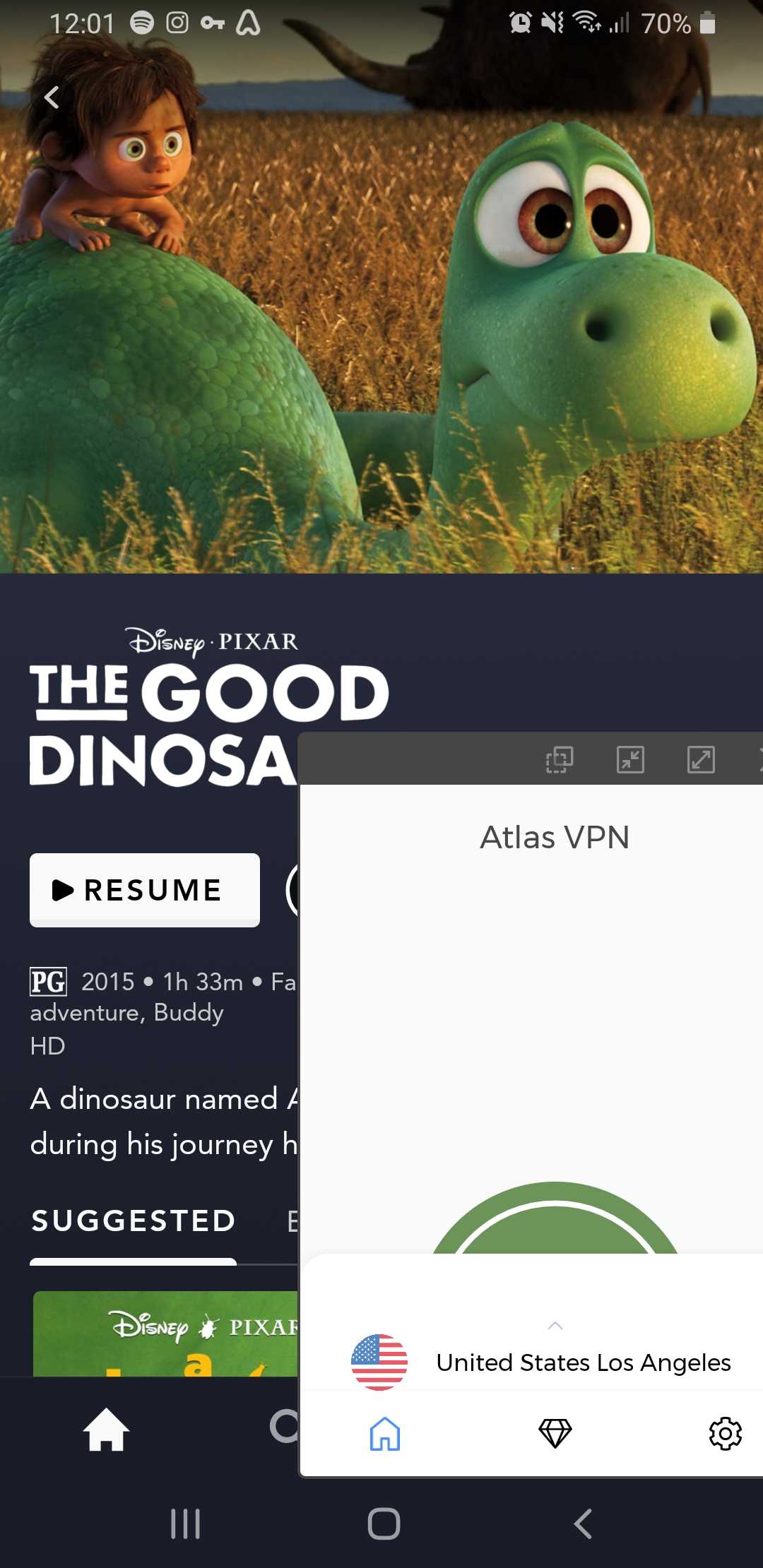 The video worked perfectly. If Disney blocked the service, it wouldn't allow us to reach the home page, to begin with.
So, in general, Atlas VPN is a very good service to unblock geo-restricted content. Using just its free servers, we were able to access top streaming platforms in the United States.
Smart DNS
Usually, when a VPN cannot maintain fast speeds, we search the service to see if they offer an alternative. To be exact, Smart DNS proxies.
Smart DNS works by rerouting the parts in users' traffic that showcase their location. By doing so, they can bypass regional restrictions without changing their IP address or losing speed.
However, what they'll be losing is the extra layer of protection the encryption adds. So, if they're using the VPN for streaming, Smart DNS is a perfect solution.
Atlas VPN doesn't have that, which gives a minus by our standards. Their servers were more than enough to unblock the channels, but as we witnessed, the speeds aren't that great.
P2P Support
Atlas VPN allows users to download torrents using their service. So far, there aren't that many servers to choose from, so we don't expect fast speeds.
Moreover, Atlas VPN doesn't have a SOCK5 proxy or port forwarding, so it's probably not the best for P2P actions.
However, as a free service, we applaud Atlas VPN for their great effort in allowing users to torrent anonymously.
Atlas VPN – Privacy
We couldn't wait to reach this part, because for the first time ever, we are not against a free VPN. It's well known that free VPNs collect user data and either sell them to sister companies and monetize using ads.
So far, we haven't found any free VPN that's fully transparent about its logging policy, until now.
Atlas VPN collects only a minimal amount of data, which is used to provide full VPN functionality and comply with applicable laws.
That's where it goes a bit to the south. The applicable laws we're talking about are those of the United State – one of the founders of the Five Eyes.
Atlas VPN states that it aims for transparent ownership, a clear privacy policy, and adherence to the highest privacy standards.
According to their privacy policy:
"We are no-logs VPN: we do not collect information that would allow us to trace Internet usage on Atlas VPN back to individual users."
The service is still new, so it remains to be seen if these words are true. But one thing for sure, being based in the US isn't the best place to host a VPN business.
We're quite sure of their transparency. In fact, there's no account registration in their free version, so it kind of speaks for itself.
Ad Added Negative
We know it's still new, but the fact that there's no kill switch within its application is an added con. A kill switch helps maintain a user's privacy if a sudden disconnection in the VPN occurred.
This prevents user data from going back to the ISP's servers without their knowledge. Technically speaking, the VPN did not disconnect even once when we were evaluating it.
However, a kill switch is an essential feature and we rank a VPN based on its presence as well. Currently, it might not be an issue, because we did find an "Always-on VPN" feature on the Android client.
It's just a couple of months old, so too early to judge or predict what security level Atlas VPN will offer users.
Atlas VPN – Security
So far, Atlas VPN launched the mobile application, supporting the fast and secure protocol IKEv2, which is one of the industry's standards.
No OpenVPN was found, which is practically the best. Their client users AES-256 encryption — the same standard used by other top VPNs and military institutions.
Such encryption is practically indecipherable, making Atlas VPN completely safe to use. As stated, Atlas VPN is planning to add other protocols later on in 2020. So, OpenVPN fans and users, we suggest you stay tuned.
Encryption and security protocols are what a VPN is made of. However, they're not the only factors that help us determine its level of security.
We perform several tests to see whether the VPN is credible enough to secure our data or not. Check them out below:
Virus Scan
A virus scan is always important when users are installing new applications. We're not just talking about VPN clients.
Any app might have malware embedded in it, which might infect the device, tamper with its functionality, and even steal sensitive data.
It wasn't easy because they only have clients on Android and the application could not be uploaded to the test engine.
However, their website provided an APK for the app and we ran it through the Virus Scanning engine, resulting in the following:
According to 59 credible sources, Atlas VPN's Android application is totally clean. So, it's safe to download, install, and run on your device.
DNS Leak Test
If a VPN is secretly leaking user data, it's doing exactly the opposite of what it exists for. DNS leaks are a dangerous thing when it comes to privacy.
The moment a leak occurs, everything the user is doing on the web is compromised and totally visible to his/her ISP and any other entity that may be monitoring.
To see if Atlas VPN leaks any data, we performed a couple of tests while connected to their Amsterdam server. This is what we got: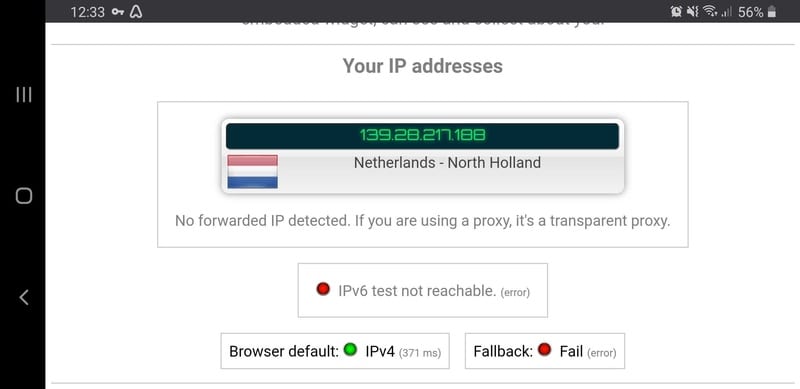 As seen in the image above, the IP that's showing is the one provided by Atlas VPN, so our IP address was not leaking.
The same good be said about the VPN's servers as no leak was recorded as well.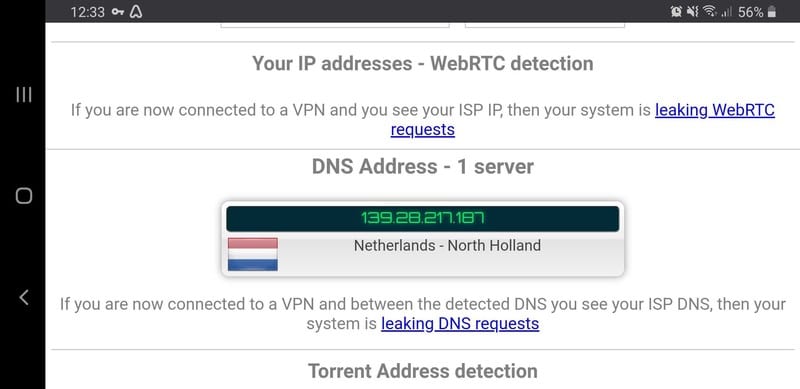 In general, Atlas VPN showed no IPv6, DNS, or WebRTC leaks on their servers. It's too soon to say how sophisticated their leak protection is, but so far, it's quite obvious that they've put a lot of work into it.
Third-Party Auditing
What security experts have to say is one of the most important factors to determine if the VPN is good enough or not.
Independent auditing is a huge step for a provider to submit its transparency to users. However, it's too soon for Atlas VPN as it launched a couple of months ago.
We don't know whether the VPN would run its service through third-party auditing, but it did acknowledge that it regularly audits its service.
Here's what their privacy policy has to say:
"We have implemented various information security measures, including SSL/TLS encryption for data transfers, hashed passwords, firewalls, and regular audits.
We take all steps reasonably necessary to ensure that your data is treated securely. Nonetheless, you should be aware that 100% security is not always possible.
By using our Website and Services, you expressly acknowledge and agree that we cannot guarantee the security of any data provided to or received by us through the Website and Services and that any general information, other data or information received from you through our Website or our Services is provided at your own responsibility."
Since Atlas VPN is that transparent, we definitely think that it's going to run its service through third-party auditing soon. It does increase its popularity and credibility.
Warrant Canary
Warrant Canaries are an in-direct way to inform users that their VPN service has been compromised.
Whenever the government issues a subpoena, the VPN cannot notify its users about it. So, their data might get compromised without them even knowing.
It's even illegal to do so. Therefore, a Warrant Canary exists to do the job in an in-direct way. If the Warrant Canary is not updated regularly, it means that the VPN has received a gag order.
Atlas VPN doesn't have a Warrant Canary, but they're transparent enough about their logging policy. They keep no-logs and collect no user information, which makes them trustworthy.
Customer Support
Customer support is a way to help users with their problems and give them answers to their questions.
Live-chat support is the best way to help users out, which is what Atlas VPN lacks.
So far, Atlas VPN does aid users through:
FAQ
24/7 Email
Submitting a ticket
Users can find the FAQ section on Atlas VPN's website and within the application. It covers some of the basic questions, but it's not that helpful so far.
3 days ago, we sent them an email asking about a premium free trial. Unfortunately, their reply came back very late.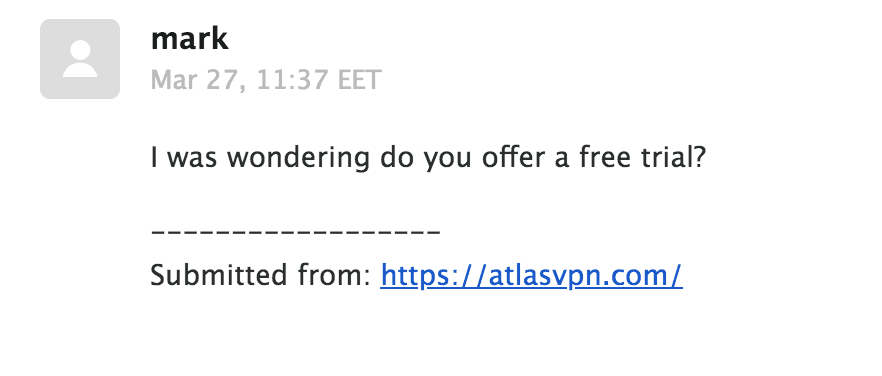 If we had a problem with the service, we would've waited a long time to get the solution. As seen in the image below, the reply was very accurate, professional, yet 3 days late.
This is the very beginning of a new service that's growing every day. If the VPN adds a 24/7 live chat support, it will rank even higher on the market.
Signing Up with Atlas VPN
Pricing and payment methods are two factors users look at first when they want to subscribe to a VPN service.
Atlas VPN fails in this department as their website has nothing about the two. Downloading the application on the mobile device got us the free version.
From within the app, we were able to find an "Upgrade" option, which offers monthly and yearly subscription plans.
It's based on the country we reside in. When it comes to our region, the cost of the service is as such:
Monthly: $9.99/month
Yearly: $49.99/year
Before checking out the prices, we asked their representative about them. We were informed that the price should attract potential customers, which has been proven right in certain regions.
However, based on the ones above, it's quite expensive considering the lack of features and servers in their service.
As for payment options, users can only pay with what Google Play has available as the app redirects you to the store.
It's safer, but still, more options should be added over time.
Refund Policy and Free Trial
A Money-back guarantee is a great way to secure the amount you pay if you didn't like the service you're using.
In Atlas VPN's case, we don't think it's necessary based on the prices it offers. Moreover, neither this or a free trial is important since a free version is available.
However, as we mentioned at the beginning of the review, the first thing that attracted us was the 90-day premium free trial.
For some reason, the free trial didn't work with us. We guess it was an offer to those who download the app in the early stages.
Atlas VPN did this because of the misinformation internet users are getting in countries that enforce strict online laws.
The service claims that the Chinese government is not allowing its citizens to stay up to date with what's going on during the pandemic.
It's also the case in several regions. The VPN believes that everyone should have unlimited access to the internet in order to take proper precautions and protect themselves from the virus.
Eventually, self-protection, fatality rates, and the spread, they all correspond to the level of preparedness.
Atlas VPN Review – Final Words
Atlas VPN is, without a doubt, the first provider to catch this much attention among internet users in the new decade.
According to what we've seen so far, this one has a bright future ahead of it. Also, giving 90-day access to internet users all over the world is a great gesture despite being new to the industry.
We had a good experience while testing the service out. What about you? Did you like what Atlas VPN has to offer? Share your thoughts below.
Atlas VPN Review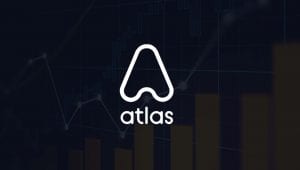 Name: Atlas VPN
Description: A new service with a lot of promise. It allows access to top streaming services, protects users' privacy and enhances their sercurity.
Price: 9.99
Currency: $
Operating System: Android, iOS
Application Category: Multimedia
Speed

Support

VPN Apps

Unblocking Geo-restricted Channels

Free Trial
Comments Rating
( review)