Turbo VPN Review – Should Stay Down The Rabbit Hole
|
Turbo VPN is a Singaporean VPN service that claims to be trusted by 300 million users. But when it comes to VPNs, claims and promises mean zilch – only a thorough evaluation matters. The VPN piqued our interest, so we decided to review it.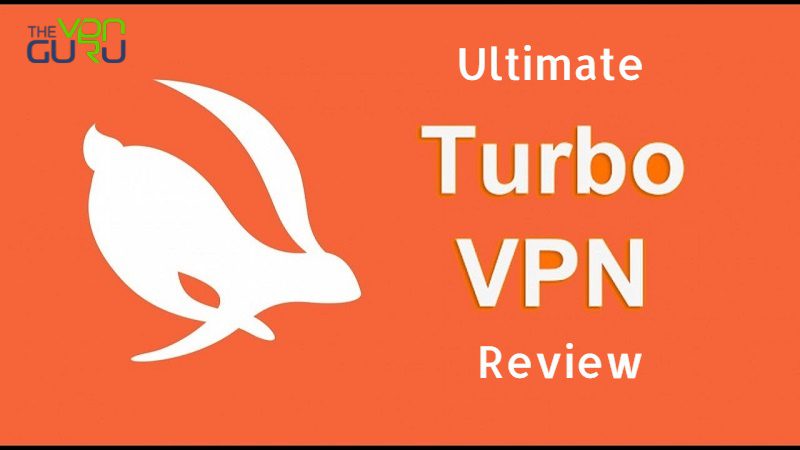 With a Rabbit Logo, you'd think that TurboVPN has the Bunny Feet for all the luck in the world. However, from what we've seen, this VPN provider needs all the luck it can get. Why is that? Find out in this full TurboVPN review.
Turbo VPN Review – Content Index
Turbo VPN claims to have millions of users worldwide, and we're here to see why. We ran this service through a strict evaluation process and came up with the following detailed review:
Turbo VPN – Quick Stats
| | |
| --- | --- |
| Money-Back Guarantee | 30 Days |
| Allowed Concurrent Connections | Five (Premium Subscribers) |
| Supported Streaming Services | BBC iPlayer |
| No-logs Policy | Yes (Possible Logging) |
| Encryption | AES-256 Encryption |
| Security Protocols | IPSec, IKEv2 and OpenVPN |
| Special Features | Kill Switch and Split Tunneling (Mobile Only) |
| Customer Support | Live Chat & Email Support |
| Server Locations | 45 Countries |
| Number of Servers | 22,000 Servers |
| Supported Devices | Android, iOS, PC, Mac |
| VPN Legal Jurisdiction | Singapore |
| Free Trial | Free Limited Version |
Turbo VPN – Pros & Cons
Before we begin our detailed review, we're going to show you the advantages and disadvantages of using Turbo VPN. Based on our evaluation process, the following outcome was deduced:
Pros:
Limited free version.
24/7 live chat support.
Kill switch.
Split tunneling (Mobile).
30-day refund policy.
Easy-to-use apps.
Cons:
Smaller server network than competitors.
Can't unblock Netflix, Hulu, and Amazon Prime Video.
Mac and Android apps don't have the same server count.
Possible logging.
No Warrant Canary.
Spelling mistakes on Website and application.
Questionable P2P support.
Free version contains ads.
Very expensive premium plan.
Low on features.
Ownership might have ties with China
Apps & Interface
Let's kick off the review with our first impression about the VPN. In previous articles, we discussed one of the most important problems on the internet – fake websites and how to spot them.
This may seem irrelevant, but we have a point! There are many ways to distinguish a fake website from a real one. The first method is to check for spelling mistakes.
When we first visited Turbo VPN's website, it had no shortage of spelling mistakes there, which made us question the VPN. Check the mistakes and (weak) language below:
Using VPN allow you to experience the faster transaction speed than by the normal internet browsing.
You can browse safely and privately no matter if you at indoor or outdoor environment.
One of the most useful Turbo VPN features is that it can help you bypass the geo-blocking content.
We picked a few mistakes that were clearly spotted during our visit to the website. We assure you there are more, and we'll be talking about the biggest one later on.
To sum it up, if we see a website with that many spelling mistakes, we always look the other way. Turbo VPN should work on that if they wish to attract customers.
Now, despite our experience with their website, we proceeded to the sign-up section, subscribed to the service, and downloaded the Turbo VPN app. Here's our testing process:
Mac
Alright! We already mentioned the biggest mistake, and it's time to reveal it. Again, logically speaking, you can never trust a website, let alone a VPN, that has spelling mistakes on its website.
However, Turbo VPN took it to a whole new level by presenting us with a word not known to the English dictionary yet. This is what we saw when we first launched its Mac application:
Unconnected? That's new. OK, moving on. The Mac application is quite decent. To access the server list, we clicked on the "Location" icon on the top right of the app.
We chose a server, clicked on it, and a connection was established almost instantly. This speed in connecting usually happens when the VPN is using the Wireguard protocol.
Turbo VPN uses IKEv2 on Mac and got us connected that quickly. It's something worth noting. This is how the Mac app looks like:
The app is quite easy to navigate, and the use of the "Rabbit" is fun. There's a special section for streaming, where dedicated servers are available for unblocking specific streaming services.
As for the "Settings" section, there's not much to do there. Well, at least they have a kill switch – an essential feature to protect your browsing activities if the VPN service suddenly shuts off.
All in all, the application is not bad. The little details matter a lot – Turbo VPN should fix that, and they'll have quite a decent Mac app.
Android
Mobile VPN applications are usually our favorites for many reasons, including the navigation process. The app is simple, uses OpenVPN (Unlike its Mac counterpart), and has Split Tunneling.
Adding the Split Tunneling feature is a plus as it allows you to decide which apps' internet traffic should be routed via an encrypted VPN connection.
The connection process was fast, yet not as fast as the Mac one. The app itself is quite likable, and it looks like this:
As seen above, there are special servers also dedicated to streaming. A kill switch is also included in the client. However, what really intrigued us was the Live Chat option.
You don't see that with many VPNs as you have to visit their website to chat with their support agents. Turbo VPN allows you to do so from within the client, which is an excellent route towards convenience.
App Store Rating
When it comes to reviewing VPNs, we take into consideration what the actual users have experienced. That's why we always check what the VPN's ratings are on both Google Play Store and Apple Store.
Now, we've seen what the VPN can do, and it's much. But for whatever reason, Turbo VPN has a very high rating on Apple Store. In fact, it was nearly perfect as it scored 4.8/5 based on 150+K reviews.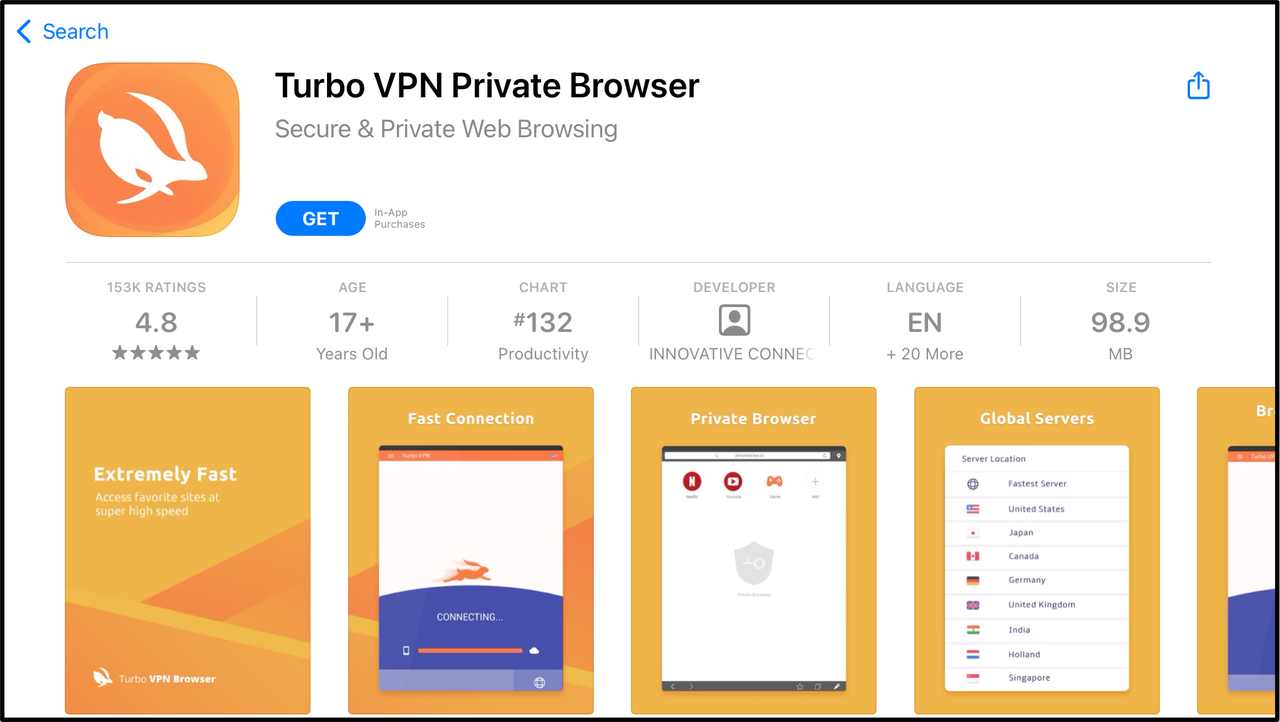 What's weird on iOS is that the app is called a Private Browser, and it's definitely not. It's just a regular VPN application. The ratings are excellent, but does Turbo VPN deserve them? The review will show you everything.
As for the Android counterpart, Turbo VPN seems very popular on Google Play Store. Based on 5 million reviews, the Android client has a 4.6/5 rating.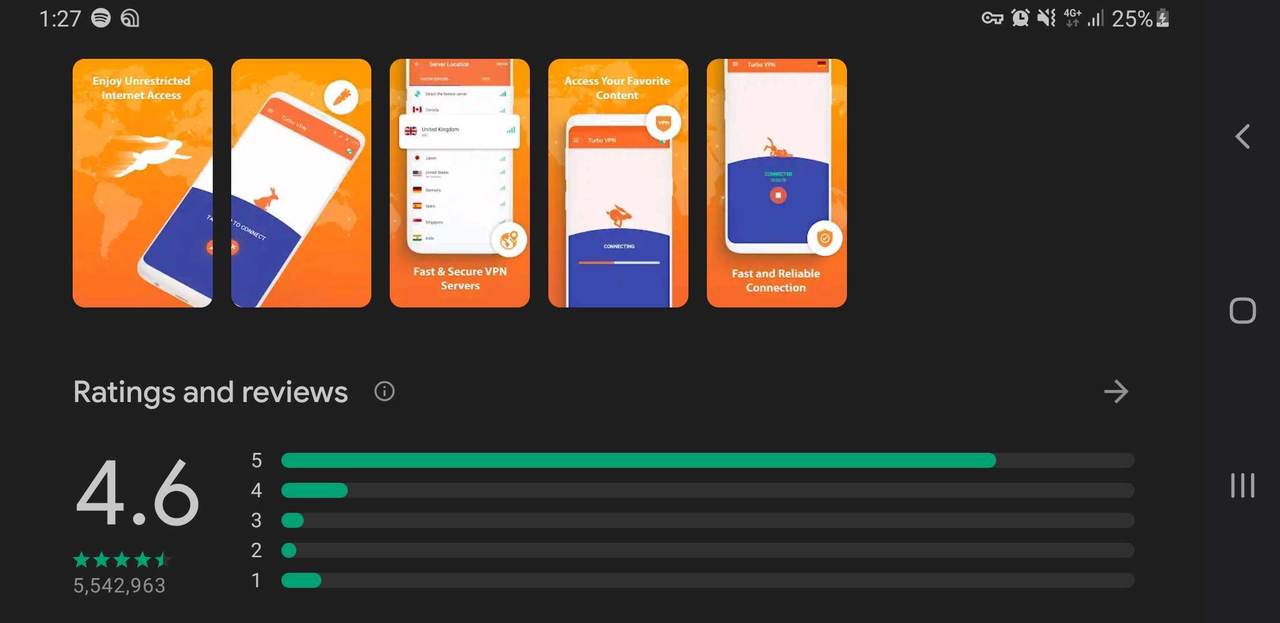 Turbo VPN has good reviews on Google Play Store and Apple Store. This may be credible enough for users to download the client.
Please note that calling the VPN client a Private Browser is a bit misleading. It's just a normal VPN app with normal VPN functions.
Trustpilot Reviews
To further investigate a VPN's efficiency, we always turn to one of the most trusted websites on the internet that hosts hundreds of reviews for any online product – Trustpilot.
Turbo VPN has a solid 4.8/5 rating on Trustpilot, which marks it as "Excellent."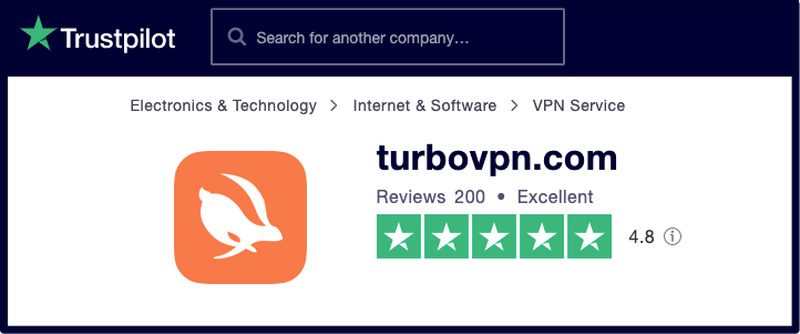 However, not everything that shines is gold, and one negative review caught our attention. According to the user, he subscribed to a 1-year plan, and the VPN did not meet his expectations.
He decided to ask for a refund, and Turbo VPN did not comply. The review is very long, so we're going to include the last sentence he wrote:
"STAY AWAY FROM THIS EXTREMELY SHADY BUSINESS!"
Now, when it came to canceling our subscription, things took some time. They kept asking us questions and giving us Deals to stay. It's a bit complicated. They should ease up the unsubscribing process for customers.
Server Network
Turbo VPN has a decent server network. However, the servers can only be accessed if you're subscribed to their premium Plan.
With the free version, you'll get a few random servers in the US, Canada, Singapore, UK, France, India, and the Netherlands.
Their country spread is logic. It doesn't come close to other providers, but it's not bad at all. What really threw us off was the number of servers.
On the website, Turbo VPN claims that it has 22,000 servers, which is kind of an odd number in the industry, considering most reputable VPNs have a total of 5000+.
Moreover, Turbo VPN states that it owns servers in 45+ countries. Well, that's not true. Based on the list in their application, only 38 countries can be seen.
We don't know if it's a way to grab a user's attention, but that's not a good sign if a VPN wants to build trust with potential customers.
The list below showcases the actual 38 countries that Turbo VPN has servers in:
Canada
USA
Singapore
India
The Netherlands
France
United Kingdom
Germany
Malaysia
Argentina
Kenya
Australia
Italy
South Korea
Switzerland
Thailand
Russia
New Zealand
UAE
Ukreaine
Turkey
Mexico
Denmark
Japan
Morocco
Hong Kong
Spain
South Africa
Austria
Finland
Indonesia
Brazil
Poland
Taiwan
Cambodia
Iceland
Sweden
Philippines
When we first checked the Android app, 38 countries were shown in the server list. However, on its Mac counterpart, the service has 39 countries.
Apparently, the KSA server on Mac is not available on Android, which strikes us as a bit weird. So, a lot of servers (Claimed) with a small-to-decent network with differences in the apps? It doesn't add up.
Speed Performance
When the company jas Turbo as part of its name and a rabbit as a Logo, it's practically a moving billboard for blazing-fast speeds.
Well, you'd think that, but you'd be wrong. We all know that a VPN's encryption can cause a loss in download and upload speeds. But with Turbo VPN, it's a bit too much.
Not to mention some weird results that don't make sense. For example, our baseline was 307Mbps. We first tried a server in Germany and the connection dropped drastically.
The download speed dropped to 100 Mbps, marking a solid 68% decrease in speed. When the speed drop is that high, rest assured any video you try to watch will buffer.
Now, another problem was encountered when the numbers were quite illogical. Servers in a country where speed isn't that high gave results much higher than our initial test (no VPN).
The speeds reported were too high for many locations where hosting providers do not provide that high of speeds. And we have to note that our browsing was slow.
So basically, we might assume that the VPN's speed tests come from a different location than where the actual vpn server is located.
The numbers just don't add up. And when they did, the speeds were mediocre. You can forget about streaming anything in HD.
In this department, it's safe to say that the BUNNY LAGS WAY BEHIND THE TURTLE.
Turbo VPN vs. Streaming Services
Despite being a security tool, a VPN is mostly used for entertainment purposes, such as unblocking geo-restricted streaming channels.
In fact, this practice is common in every single part of the world, except North America, where people tend to focus more on their devices' security.
Whenever we review a VPN, we test its unblocking capabilities with major streaming services. These channels are able to detect VPN traffic, and if the provider manages to bypass that, it gets our praise.
With that said, here's Turbo VPN's streaming test:
Netflix
Netflix is by far the biggest streaming with roughly 213 million global paid memberships. As known, Netflix assigns different libraries in the countries where it's available.
A lot of streamers use VPNs in an attempt to access the American version of the channel, as it's known to include the richest library.
However, for quite some time now, Netflix started blocking VPN traffic, prohibiting anyone from outside the US region from accessing its most desired catalog.
A lot of reputable VPNs have failed to unblock the channel, let alone free ones. That's why we decided to give Turbo VPN a try as part of our evaluation.
The free version did nothing – got blocked instantly. With a premium subscription, we had access to Turbo VPN's Streaming section, where dedicated servers are available.
We chose the one assigned to Netflix and launched the channel's website. Unfortunately, the results didn't go as expected. Netflix blocked our access:
"Pardon the Interruption. Looks like you're connecting through a VPN, proxy or "unblocker" service. To start watching, please turn off any of these services and try again. Error Code M7037-1111."
We have two problems here. The first one is Turbo VPN's inability to unblock Netflix. The second one, and it's the worst, is having a dedicated Netflix server that doesn't work.
We've reviewed dozens of VPN before, tried a lot of US servers that failed to unblock Netflix, but we've never come across a "Netflix" dedicated server that doesn't work. NOT SATISFIED.
Hulu
Hulu is another popular channel we use in our reviews to check if a service is credible or not. With over 42.8 million paid subscribers solely in the US, Hulu has earned its place as one of the best channels in the world.
Usually, with a credible VPN and a connection to a US server, Hulu can be easily unblocked anywhere. However, just like Netflix, the channel started blocking VPNs.
A lot of VPNs we tried managed to unblock Netflix but failed to get Hulu to work. This doesn't mean that Hulu has a better mechanism; they just used different algorithms.
With that said, we connected to Turbo VPN's Hulu dedicated US server, and the results were as such: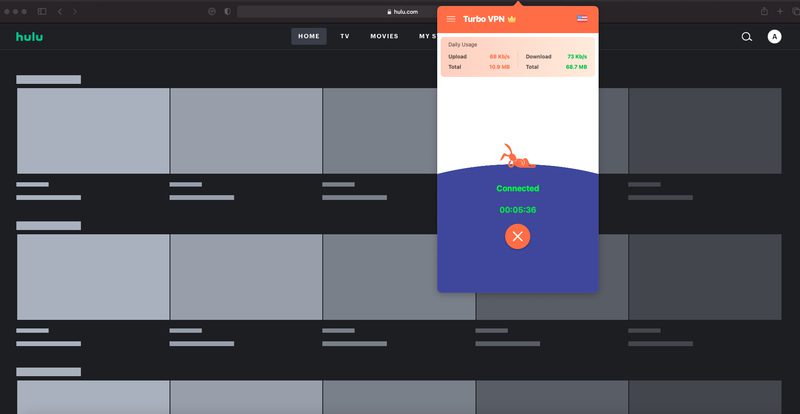 As seen in the image above, none of the titles showed while connected to this server. This is another disappointment, especially since we tried several browsers.
But wait, it doesn't stop here. The weird part was when we connected to a random US server, the titles showed up. Ironic, isn't it?
Well, we didn't expect much, to be honest. The titles did show up, but the video did not play. Instead, we got Hulu famous proxy error:
"It looks like you're using an anonymous proxy or VPN. You'll need to disable it to watch Hulu. Hulu Error Code: P-EDU101."



So far, not so good. Unblocking streaming channels is one of the most important tasks for a VPN, and Turbo VPN has failed with two of the giants. We'll have to see what it can do with the others.
Amazon Prime Video
When we speak of streaming giants, Amazon Prime Video should be mentioned. The service added 50 million new customers from January 30, 2021, to April 15, 2021, surpassing 200 million subscribers.
Just like Netflix, Amazon Prime is globally available, and its richest library lies in the United States. In the past, connecting to a US VPN server got the job done.
Nowadays, Prime Video can easily block VPN access, regardless of the provider's reputation. Turbo VPN hasn't had much luck so far with streaming services, so we tested it with Prime Video.
Once the connection was established, we launched Amazon Prime and signed it. And that's it. The process stopped right when we picked a video to stream as the service presented us with a proxy error.
"HTTP proxies and VPN connections not allowed. Your device is connected to the internet using an HTTP proxy a Virtual Private Network (VPN) connection. Please close or disable any proxy programs or VPN connections and try again."
When it's positive, the third time's a charm – when it's Turbo VPN's unblocking capabilities; it's more of a curse. We have one more channel to test – let's see if Turbo VPN can turn this around.
BBC iPlayer
Finally, we have BBC iPlayer – one of the UK's best streaming services ever. The channel is free – no subscription need, which is the main factor for its 1.7 billion streams in the first three months of the year.
According to the BBC, its streaming service receives requests from countries abroad on a daily basis, mainly by users operating with a VPN or proxy.
Not all of them are successful, that's for sure, as the channel can easily ban VPN access. We used Turbo VPN's dedicated BBC UK server during our tests.
Once we connected, we launched BBC iPlayer's website, signed in with our account, and launched a video. On our first attempt, Turbo VPN managed to unblock the channel.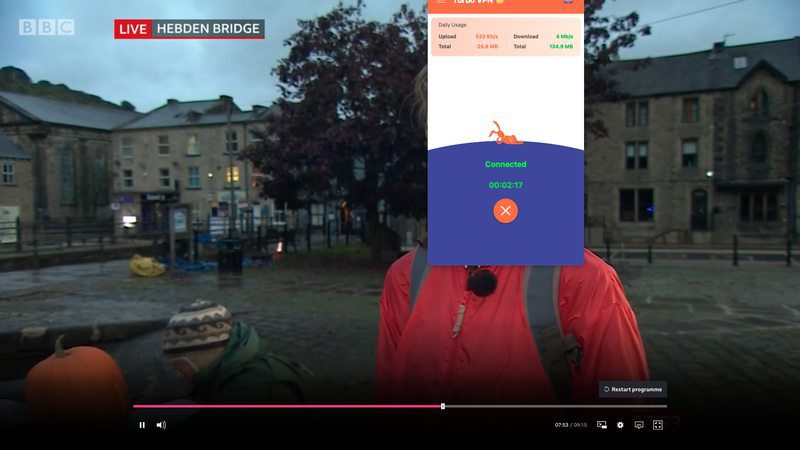 Finally, after several failed attempts with other channels, Turbo VPN managed to unblock something. Sadly, the Bunny's good luck did not last when we tested Disney+.
The channel's website did not even launch while connected to a Disney-dedicated server. In conclusion, if you're looking to unblock streaming services in your region, Turbo VPN is not the provider to opt for.
Smart DNS Proxies
Nowadays, it's a common practice among VPNs to provide alternative ways for streaming – mainly Smart DNS proxies.
A VPN's encryption tampers with your internet speed. So, if you manage to unblock a certain channel, chances are you'll witness some buffering issues here and there, depending on your provider's capabilities.
That's why some services provide Smart DNS – a different way for streaming geo-restricted content overseas. It doesn't change your IP address, nor does it encrypt your data.
As a result, you can stream your channel with minimum speed loss and manage to navigate between your local channels and restricted ones simultaneously.
Turbo VPN does not have this option, which limits its customers to the VPN server network to access channels. No variety there – we've seen the provider's unblocking capabilities.
P2P Support
Torrenting has become a very common practice as it offers everything. Yeah, you can get series, movies, books, music, and even the best software for free.
Unfortunately, some P2P practices are deemed illegal due to copyright reasons. It doesn't stop here. Downloading a torrent file can be dangerous in terms of your privacy.
Once you download a file, your IP address gets exposed to the same people in what we call a Swarm. Hackers always lurk in these to harvest your information.
With a VPN, you can conceal your identity and download your torrent files anonymously. Well, it's not always the case, as some VPNs don't allow such practices.
We searched Turbo VPN's website for any mentioning of "Torrenting" and found nothing. We searched the internet and found several reviews stating that it doesn't support P2P.
However, when we checked the app, particularly the "Video & Download Section," we found one server labeled "P2P/BT." We're talking about the premium subscription here.
While this seems like good news, it definitely is not. The dedicated P2P server is located in the United States – one of the toughest countries when it comes to data retention.
To be honest, this is the first time we have seen a VPN with a torrenting server in the United States. It just doesn't make any sense.
If you want to download torrents anonymously without any risk, Turbo VPN is certainly not the provider to use.
Privacy
A VPN's sole purpose is to enhance a user's security and privacy. The first thing we look at in this department is the location of the VPN's headquarters.
Turbo VPN is based in Singapore, where no data retention laws apply. That's great news if privacy is your main concern. However, with a bit of research, we found out that the VPN has ties with China.
In fact, the VPN's directors are both Chinese (Li Chenguang and Sun Kaixuan). This does raise some concerns since China is well known for collecting data.
On the other hand, Turbo VPN claims that it collects none of its customers' logs and browsing activities. They do mention that in their Privacy Policy.
They also mention that they do collect some of the data in order to enhance your Turbo VPN experience. Again, that's concerning.
When we visited their Policy Page, we found out that they collect data about the success of VPN connections, the VPN location you connected to, your country, and your internet service provider. Not to mention the following statement:
"With your consent and instruction, we may share your data."
Share our data? That's alarming. Please note that some VPNs do state that but share your data without your consent. That goes specifically for free VPNs.
Also, Turbo VPN has a free version that includes intrusive ads. What's free isn't always free, as your data might be a source of their income. Be careful.
Finally, in their Privacy Policy, the VPN informs you that Turbo VPN "may be compelled to disclose your data where [it is] served with a valid court order."
This is specifically what you're trying to avoid when you're using a Virtual Private Network. If a VPN doesn't collect data and logs, what is it going to disclose? Ask yourself that every time and you're on the right track.
Security
Security-wise, Turbo VPN uses the latest military-grade technology to shield your data – 256-AES encryption. That, paired with the OpenVPN protocol and a kill switch, ensures excellent security.
Unfortunately, the OpenVPN protocol is not available on Mac, so you'll have to use IKEv2. If you're operating on a mobile device, OpenVPN would be your default protocol.
It doesn't stop here. There are a couple more tests we had to perform to see whether Turbo VPN is a secure service or not. Check them out below:
WireGuard Support
WireGuard is an emerging protocol which a few VPNs have begun to support nowadays. In fact, some providers have built new protocols based on WireGuard.
The protocol is being dubbed as the future of VPNs as it offers the best security and speeds. Who doesn't want that in a VPN?
Turbo VPN hasn't come that far yet as it supports the OpenVPN protocol, which we don't have a problem with. Our only issue is that it's not implemented on all of its clients.
Virus Scan
Another way to prove a VPN's efficiency is by scanning its application for any viruses or malware. In some cases, hackers pose as a legit app in order to harvest your information.
Even if the app is available on the App Stores, hackers have found numerous ways to bypass the malware detection mechanisms.

As seen in the image above, we ran Turbo VPN's app through a credible scanning website, and it recorded excellent results. Based on 59 sources, the Turbo VPN app is completely clean.
DNS Leak Test
When you're connected to a VPN, all your data is encrypted and concealed from third parties. A single leak in the process might expose everything, including your sensitive information.
Even if a VPN claims that it has the ability to protect your activities, you should always have that "What If" factor and check for yourself.
We decided to run Turbo VPN through a DNS Leak test to check if any of our data is being exposed while connected to its servers. We used a server in the Netherlands and the results were satisfying.

As seen in the image above, the IP showing is the one granted by the VPN's server in the Netherlands. There was no leak at all.
Independent Auditing
As mentioned, a VPN's claims mean nothing if it's not backed up with hard facts. If a VPN says it doesn't collect your information, there should be proof to support what it states.
This brings us to Third-Party Auditing. Hiring an independent security firm to test your service is a huge step towards full transparency that any VPN service should do.
Unfortunately, Turbo VPN has not done that yet and kept reassuring us that none of our logs are being kept or collected.
Warrant Canaries
Hiring a third-party security firm isn't the only ticket towards transparency. In fact, a lot of VPN companies issue what we call Warrant Canaries in order to enhance the trust between them and their customers.
A Warrant Canary is a type of in-direct warning on the provider's website. It informs customers that the service has been compromised.
The Warrant Canary is updated regularly. If the VPN doesn't update it, this means that it has received a gag order or subpoena by the government requesting user information.
Turbo VPN doesn't have a Warrant Canary, and it doesn't have what it takes to replace such an important privacy feature. In fact, in their Privacy Policy, they do inform you that they might disclose your data if served with a valid court order.
There you have it. A VPN should build trust, and that's exactly what Turbo VPN is not doing.
Customer Support
In the past, Turbo VPN's customer support was non-existent. Recently, the provider performed a complete overhaul of its customer support.
During our evaluation, we've run into so many issues with Turbo VPN, and it's clear in the sections above. However, their customer support does not fit into that category.
Apparently, the service is invested pretty well to bring its support department to a level equal to some of the most popular VPNs.
When we first opened the chatbox, we were greeted by a Bot. Then a "Get in Touch" button appeared, which redirected us to a live chat.
The replies were fast, and the agents were very helpful. On the other hand, their email support has been improved, too.
The one problem we had was with canceling our subscription. We gave them our ID and billing receipt straight from the account, and they kept asking for more details.
It shouldn't be that complicated to cancel your subscription, and we hope that Turbo VPN can fix that as soon as possible.
Languages
A VPN is practically available everywhere. Before a purchase takes place, customers go through the website for a better understanding of the product.
Reputable VPN providers take that into consideration and offer several languages to further improve the users' experience and convenience.
Some VPNs present their website in English only, forgetting those that don't speak the language. Turbo VPN made sure it helps anyone, regardless of their spoken language.
When you visit their website, you'll have the option to choose between 15 languages:
Malaysian
Indonesia
Deutsch
English
Spanish
French
Italian
Dutch
Portuguese
Polish
Turkish
Russian
Ukrainian
Korean
Japanese
Surprisingly, Chinese is not among the available language despite Turbo VPN's Chinese background. Please note that these languages are just available on the website. The app is English only.
Pricing & Plans
Whenever we want to purchase something, we directly check its price tag. The same goes for VPN providers, and their pricing is literally very effective.
When we visited Turbo VPN's subscription page, we were kind of disappointed. The VPN charges too much for the very little it offers. The plans are as such:
1 Month Plan: $11.99
6-Month Plan: $6.67/month
12-Month Plan: $5/month
24-Month Plan: $3.75/month

The VPN provides discounts on its yearly and bi-annual plans. But still, even with such discounts, Turbo VPN is very expensive, considering it doesn't have that much to offer.
Payment Options
When it first launched, TurboVPN only accepted payments via Google Play or App Store. However, now, the VPN provides more options.
Users can pay through the following:
Credit Card.
PayPal
Bitcoin
Other (OVO, ATMSmart, etc…)
Accepting Cryptocurrency is an excellent option, and Turbo VPN has that. This is ideal for those who wish to pay for their subscription with complete anonymity.
Money-Back Guarantee
Refund policies are a common practice among online merchandise. When such a policy exists, customers tend to feel better and safe when purchasing the product.
A lot of VPNs implement this option, yet the duration differs. Some have a 7-day policy, while others go all the way to 30 days.
Turbo VPN used to have a 7-day money-back guarantee. However, recently, it extended that duration to 30 days, giving its new customers more time to test the service out.
That's quite generous, to be honest. Turbo VPN must be proud of its product and its efficiency. Well, it's up to the customer to come up with the verdict.
Free Trial
Aside from money-back guarantees, some VPNs offer free trials. Some are legit (Require no credit card information), and some ask for it.
With most providers, it's inconvenient to their business, so they stick to the refund policy. Turbo VPN, on the other hand, has a free version.
It allows access to limited features and servers. You can use the free app to connect to servers in the US, Canada, Singapore, UK, France, India, and the Netherlands.
Other than that, a kill switch is not available, neither is Split Tunneling or live chat. Finally, the free version includes ads, which can be alarming to a lot of users.
Turbo VPN Review – Final Words
Turbo VPN seems to be very popular among users. Unfortunately, it gains this popularity through its free version. The premium subscription adds little to nothing, and it's expensive.
Moreover, Turbo VPN seems a bit secure, especially while using mobile apps. However, when there's at least one question about their privacy, we should always look the other way.
Small VPN network, very few features, intrusive ads (free version), expensive premium plan, lackluster unblocking capabilities, and a questionable Privacy Policy.
These are more than enough to inform you that Turbo VPN doesn't score even the minimum for quality. In other words, this Rabbit is not worth your money.
Turbo VPN Review
Name: Turbo VPN
Description: A freemium VPN service that has a lot of users, yet a few features to offer.
Price: 11.99
Currency: $
Operating System: Windows, Mac, Android, iOS
Application Category: Multimedia
Refund Policy

Support

Unblocking Capabilties

Privacy

VPN Features
Comments Rating
( reviews)