Going back eight years now, TunnelBear has been operating from Toronto, Canada. The Canadian VPN, which began in 2011 has gained popularity around the world with its outspoken promise of "simple, private, free access to the open Internet." TunnelBear is well-designed for users with little to no knowledge of VPNs, explaining why it offers basic features. Noteworthy, the Canadian VPN has a sense of humor that is attributed to bears and their environments – enough phrases to make your blood pump.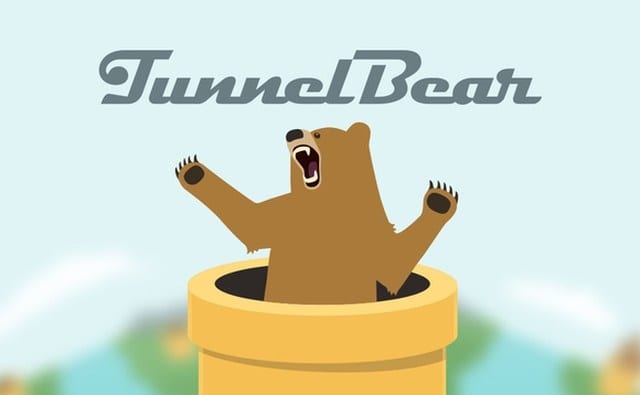 Quick Stats
| | |
| --- | --- |
| Money back guarantee | Not available |
| Allowed concurrent connections | 5 devices |
| Supported streaming services | Not supported |
| No logs policy | Yes |
| P2P allowed | Not supported |
| SmartDNS | Not available |
| Encryption | Advanced 246-Bit AES |
| Authentication | SHA-256 |
| VPN Protocols | OpenVPN, IPSec, IKEv2 |
| Special features | GhostBear, VigilantBear (Kill switch), Stealth technology |
| Customer support | Not available |
| Server locations | 22+ countries |
| Number of servers | 355+ servers |
| Supported devices | Windows, macOS, iOS, Android |
| VPN legal jurisdiction | Toronto, Canada |
We were curious about the VPN considering its base of operation. TunnelBear makes bold claims about its all-in-class security and privacy abilities. That is why we decided to conduct this extensive review to find out what the VPN has to offer. Stick with us throughout this TunnelBear review for 2023 to find out why TunnelBear is worth a shot.
Pricing and payment methods
TunnelBear offers three distinct subscription plans, including Little, Giant, and Grizzly.
The Little plan
The initial 'Little' plan gives you a free VPN service. We also learned that by tweeting about the VPN, you'd be awarded an extra 1 GB of bandwidth. Coupled with its limited bandwidth, TunnelBear's 'Little' plan doesn't give you access to connect to their Australian servers. Nonetheless, you can enjoy all the features that ship with TunnelBear – bearing in mind that it's free.
The Giant plan
TunnelBear's 'Giant' plan is available for $9.99 a month. The plan offers you unlimited bandwidth plus all the features and servers distributed across 22+ countries around the world. It's also worth highlighting that the plan allows for up to five concurrent connections.
The Grizzly plan
The 'Grizzly plan is a yearly plan that retails at $4.17 per month, which translates to a total of $49.88 billed every year. The plan allows you to enjoy all the advanced features that are available on its 'Giant' plan – but at a reduced long-term cost. We want to point out that this is the cheapest and most favorable plan offered by TunnelBear, considering it'll save you up to 50% of your money. Moreover, the 'Grizzly' plan allows for five simultaneous connections – just like its counterparts.
TunnelBear for teams
On the sideline, the Toronto-based VPN offers an extra special "TunnelBear for teams" plan for its private users. The plan is available for institutions and businesses that need to secure their team regardless of their location. This plan is said to cost $69 per person, and it's billed yearly.
Free Trial
TunnelBear doesn't offer a free trial of its service directly, but they have its 'Little' plan available for its private users instead. However, its "TunnelBear for teams" offers a 7-day free trial.
Payment methods
The Canadian VPN accepts limited but reliable payment methods. Apart from accepting all major credit cards and a secure Bitcoin payment method, TunnelBear has a particular mode of payment called 'Jars of Honey.' Unfortunately, you can't pay via 'Jars of Honey' at the moment.
Money-back Guarantee
TunnelBear doesn't provide a money-back guarantee since they assume it's covered in their fully featured free 'Little' plan. Therefore, you should ensure that you've thoroughly tested the free version before you commit to their premium plan.
Servers

TunnelBear provides a network of 355+ servers well distributed across 22+ countries around the world. However, that is a relatively less network when compared to most top VPNs in the industry.
Regardless of the limited number of servers available, the Canadian VPN has an evenly distributed network in all major regions globally. A premium TunnelBear plan allows you to connect to all these servers, considering the Australian server is only available to the premium users only. Moreover, all paid plans give you 5 concurrent connections, unlimited server switching, and unlimited bandwidth as well. Bear in mind that all servers use shared IP addresses for anonymity.
Features
VigilantBear (Kill Switch)
VigilantBear is TunnelBear's unique kill switch feature. It's a valuable security tool that disconnects you from the internet in case your VPN connection drops. This ensures that your data is not leaked and your identity exposed.
GhostBear
GhostBear is a special obfuscation tech that is usually regarded as "stealth mode." TunnelBear uses the feature to mask its OpenVPN traffic to appear as normal HTTPS traffic in densely censored countries like China. This feature works by implementing an off proxy, making TunnelBear's OpenVPN traffic less detectable by prying ISPs, corporations as well as governments.
Arguably, GhostBear can slow your connection speeds, and therefore, we suggest that you only turn it on when required. Otherwise, you have the option to utilize the normal OpenVPN's User Datagram Protocol (UDP), which offers super-fast speeds and a secure connection.
Unsupported P2P File Sharing
Unfortunately, the Canadian VPN doesn't support P2P file sharing. This is mainly because of its base of operation – Canada – which has strict laws against torrenting. Therefore, if you're a torrent lover, this might not be your VPN choice.
Privacy and security
Privacy
TunnelBear has legal jurisdiction in Toronto, Canada. And since Canada is one of the "Five Eyes" countries – it gives the bad image to the VPN. Canada has numerous laws that go against internet privacy – just like the US – as well as online freedom that is not guaranteed unless TunnelBear truly observes a strict no-logs policy.
On the upside, TunnelBear makes bold claims that they provide a "fierce no-logging policy." We went through their privacy policy in detail and discovered that they only store 'minimum logs.' According to their statements, the Toronto-based VPN keeps the following information:
Account information

Personal data collected at payment

Operational data
According to them [TunnelBear]:
"TunnelBear explicitly does NOT collect, store or log the following data:
IP addresses visiting our website

IP addresses upon service connection

DNS Queries while connected

Any information about the applications, services, or websites our users use while connected to our Service."
Going by their claims that they never collect your IP address whenever you connect their service implies that TunnelBear can't decode your identity.
We're convinced that their privacy policy is as robust as it gets. Since TunnelBear doesn't collect any user's data, means that whatever you're up to while surfing can't be linked back to you. However, for some reason, privacy buffs deem the Toronto-based VPN not safe to use and, as such, consider it a non-starter.
Security
Every time, TunnelBear implements extra measures to improve its robust security standards for users. The VPN uses an All-in-Class 256-bit Advanced Encryption Standard (AES) encryption technology that is coupled with the famous SHA-256 authentication. The encryption technique is offered on all client apps apart from iOS 8 and its earlier releases – where the 128-bit AES encryption is used alongside the SHA-1 authentication.
Just like its competitors, TunnelBear offers three connection protocols, including OpenVPN, IKEv2, and IPSec. OpenVPN is available in Windows, macOS, and Android clients, where it is working alongside the trendy RSA-4096 handshake. Whereas iOS version 9 and later use both IPSec and IKEv2 protocols coupled with the RSA-2048 handshake. The iOS version 8 and earlier use IPSec together with the RSA-1548 handshake. Perfect Forward Secrecy is also used through the Diffie-Hellman Key Exchange (DHE).
Notably, TunnelBear doesn't offer PPTP – which is considered to be an out-of-date encryption protocol and is often very insecure. To prove their security and levels of privacy trust, TunnelBear recently completed their first consumer VPN industry audit – as seen on their website.
Performance
All TunnelBear client apps are quite efficient and reliable. Throughout our testing, we didn't experience any connection issues noteworthy. However, the desktop client took about 20 seconds to connect compared to the mobile client which took less than five seconds.
Speed Test
To find out the actual speeds offered by TunnelBear, we conducted an actual speed test. In our initial test, which formed our baseline, we tested without a VPN connection.

We carried out our first TunnelBear speed test, where we connected to a server close to us. The results are displayed below were impressive:

In our final TunnelBear speed test, we connected to a distant server and recorded the following results:
You can observe how the speeds decreased when we used TunnelBear, and how significantly they went down when we connected to a distant server. The reason for this is the encryption and distance involved whenever we used the Toronto-based VPN. However, we discovered that servers in some countries performed better than others. For instance, both US and UK servers were saturated at the time of this review.
Ease of Use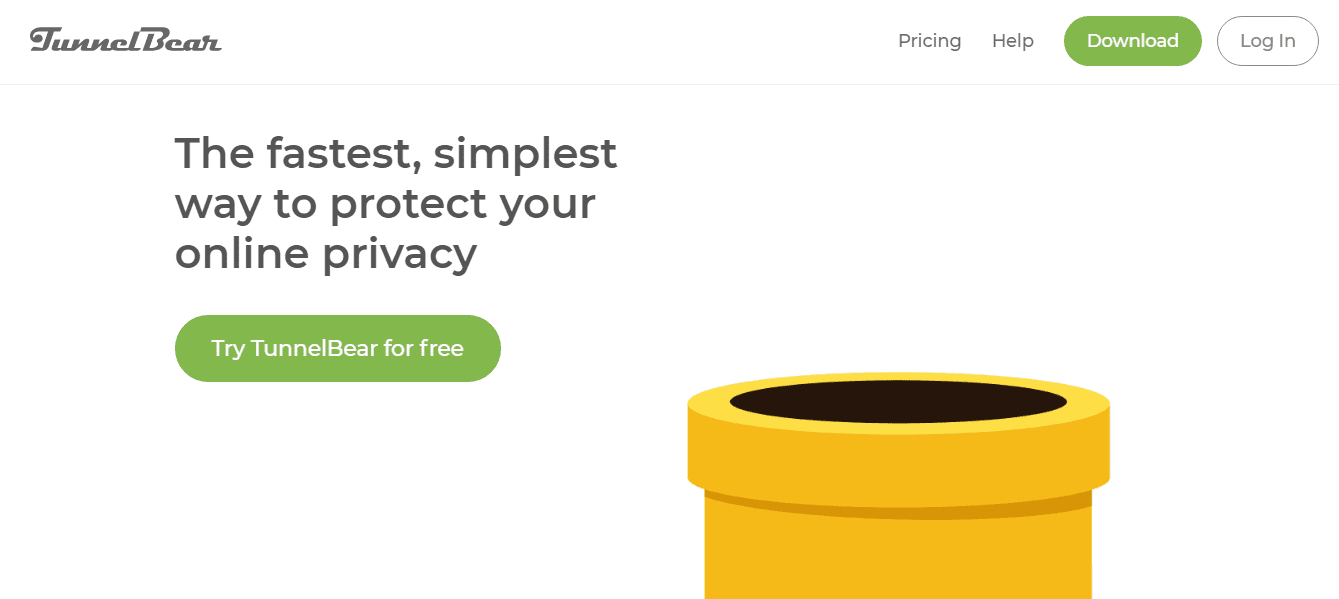 TunnelBear has a simple-to-navigate, well-crafted website. The information on the homepage is pretty straight forward and has limited links and categories, making it less confusing for normal users.
At the bottom section of the website, you'll find useful links that will redirect you to vital areas such as the Features, Apps, and Help sections.
Getting Started with TunnelBear
Getting started with TunnelBear couldn't be easier. Once you navigate to the homepage, you can choose to tap on the 'Try TunnelBear for free' button to get started. The website has a unique ability to identify the type of device you're using, and so it'll suggest the download link for the correct client. The registration, download, and installation of the client should take less than 10 minutes.
Once you're through with registration, you'll be required to confirm your account via a link that will be sent to your email. Apart from credit cards, you can choose to pay for your plan using Bitcoin – which is always recommended if you wish to remain anonymous.
TunnelBear client apps
Desktop client
The desktop client has an appealing look and is simplified for improved user experience. You also have the option to minimize the app to display only the connection area.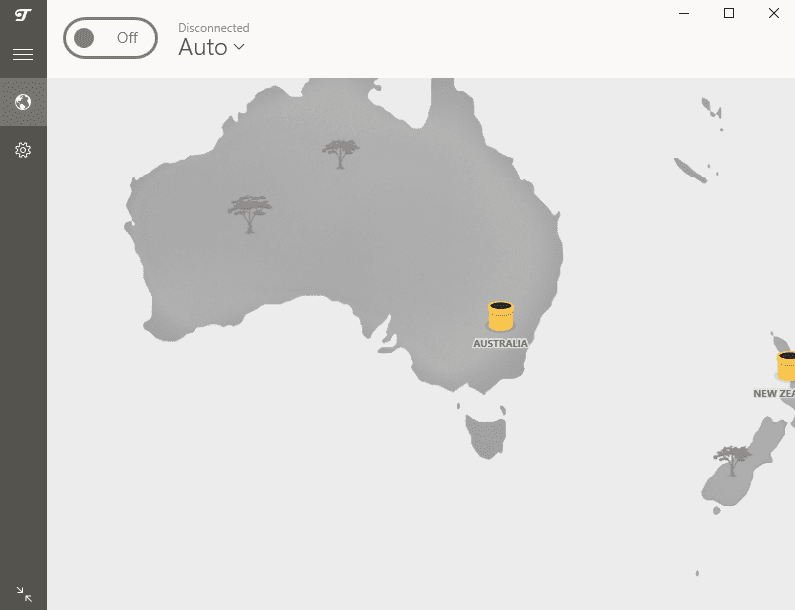 Immediately login into your desktop client, TunnelBear auto-identifies your physical location and shows you a map. You can choose to connect automatically, or you can opt for the server list by tapping on the drop-down menu next to the 'Auto' connect phrase at the top side. Optionally, you can also navigate the exact server location using the map. However, the map cannot be zoomed in. Therefore, if you have vision problems, the process might prove to be cumbersome.
Operating the desktop client is quite entertaining since TunnelBear does every process with a touch of humor. The VPN is often spotted to use 'bear' related phrases, such as 'grizzly greetings,' 'tunnel digging,' and so on.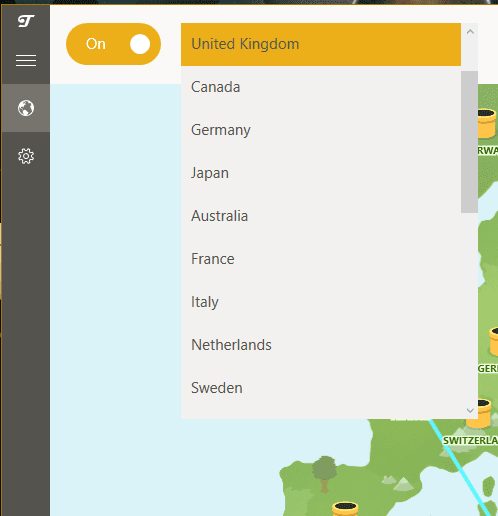 TunnelBear also gives you the opportunity to customize your VPN connection – but offers limited options. You can decide to run the desktop client at startup. There's also the option of turning on the 'TCP Override' feature, which will improve stability on less secure connections. Additionally, under security, you can choose to turn on the Kill Switch feature and GhostBear as well. You'll also have the option to add features such as Trusted Networks and more.
The whole connection to a server takes up to 20 seconds max.
Mobile Client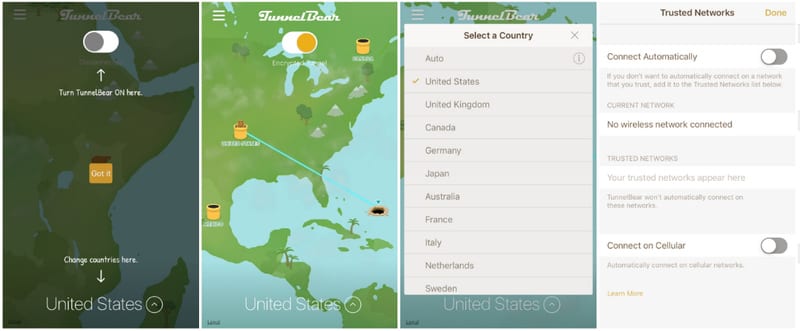 The TunnelBear mobile client is quite exquisite as well. The app is easy to work with; even normal users can go around the client without problems. You can access the server list section by clicking the arrow-up icon at the bottom of the app. Once you've selected your preferred server, click Connect button to get started.
You can also access the Settings page through the menu icon on the top-left side and then go to Trusted Networks. Unfortunately, the mobile client [iPhone client] we tested offered limited connection features.
Compatibility
Compatibility with client apps
TunnelBear provides VPN clients for all major platforms including Windows, Android, iOS, and macOS as well as browser extensions for both Chrome and Opera. You can download these apps before or after you've registered with the VPN. Additionally, you can use your TunnelBear on various streaming TV boxes.
Compatibility in China
Not all top VPNs can evade the solid firewalls in heavily censored countries like China, Russia, and Iran as well. However, TunnelBear has an obfuscation technology that is found in its GhostBear feature. The feature is designed to help users on Chinese soil go around the Great Firewall of the country. And while the feature is less reliable, it might not work at times. Fortunately, TunnelBear has a free plan that you can always test before you upgrade to either of the premium plans.
Compatibility with Netflix
Unfortunately, TunnelBear doesn't work with Netflix US. In our review, we tried to connect to a US server, but we got a streaming error.
Compatibility with BBC iPlayer
TunnelBear doesn't unlock BBC iPlayer as, well. We connected to the UK server and tried to stream a random show, but we were presented with a streaming error too.
Customer support
We were disappointed to learn that TunnelBear doesn't have a live chat service. That means that the only way you can contact their customer service is through the ticketing system.
To access the knowledge base as well as the support page, click the Help link found at the top menu or footer of the website. Once you're on the page, you'll be able to access information like Announcements, how to get started, Billing information, Troubleshooting, and the contact us link.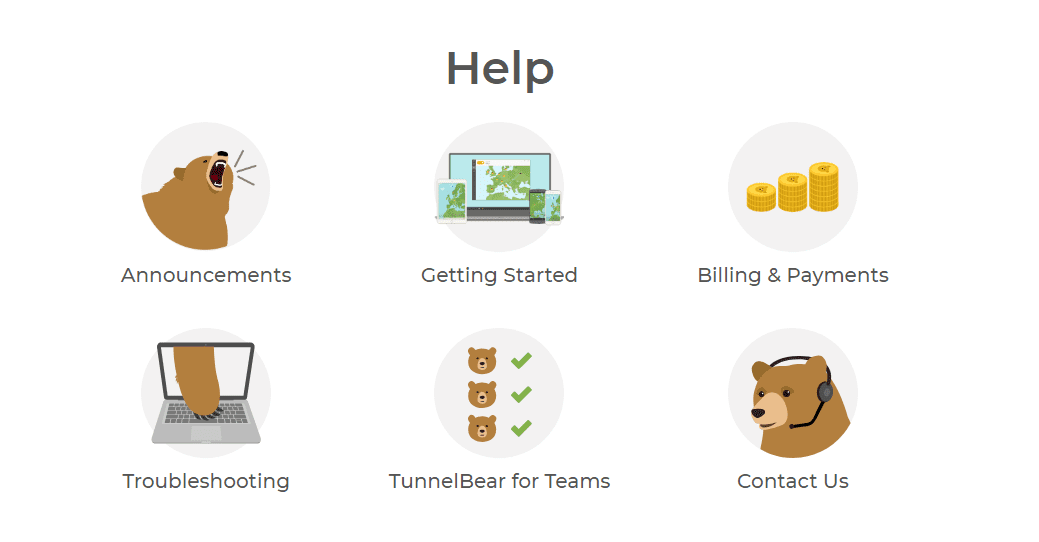 For this review, we opened a support ticket for assistance, but the results were displeasing. For more than 24 hours, we didn't get any communication from the support team. We were, therefore, led to conclude that TunnelBear has a virtually inactive customer support department. And since the VPN lacks a live chat system, we hope the TunnelBear is yet to invest more in the department.
Bottom line
Pros
Strict no-logs policy

Easy to use

Stealth technology

Automatic kill switch

Works in China

5 concurrent connections

Solid privacy and security

Fast speeds
Cons
Poor customer support

No P2P file sharing

Doesn't unlock Netflix, BBC iPlayer and more

Based in Canada

Limited server network
Conclusion
Overly, TunnelBear is an impressive VPN that works hard to provide the best service to its users. However, if you're a torrent lover, you might find TunnelBear unreliable since they don't support P2P file sharing. Additionally, TunnelBear doesn't unlock major streaming services, meaning it might not be a go-to for streamers. Feel free to check our list of TunnelBear alternatives in case you're looking for a more robust VPN.
On the upside, TunnelBear promises a solid private, and secure connection. Regardless of their base of operation, the VPN claims to observe a strict zero-logs policy. The VPN also offers a free version, which gives you a chance to test the service before you commit to a paid plan.
TunnelBear Review
Features

Speed

Refund Policy

Free Trial

Apps